First impressions count. Unusually, Romain Grosjean has had two cracks at making his first impressions in Formula 1 and not come out of it well on either occasion.
So it's no surprise that some will rail at Lotus keeping the 26-year-old and argue that he should have been flicked in favour of letting some fresh blood have a chance. But they are wrong. Lotus has made the only decision it could have done if it is to be taken seriously as an emerging world championship-challenging force.
While Grosjean is already older than triple world champion Sebastian Vettel, with only a season-and-change under his belt at the top level, he still has the right to be regarded as a rising star.
Mistakes are inevitable during a rookie season, and even though he did start seven races back in 2009 after being drafted in at Renault alongside Fernando Alonso (with no testing) Grosjean quite rightly asked to be regarded as "half-a-rookie" at the start of the year.
He made more errors than you would allow from most, certainly. Catapulting himself into world championship leader Fernando Alonso at Spa was as high-profile a blunder as you can get. He also rightly incurred the wrath of Mark Webber after the race at Suzuka when he punted the Red Bull driver into a spin at Turn 2. These weren't the only incidents and it would have put paid to the careers of many drivers.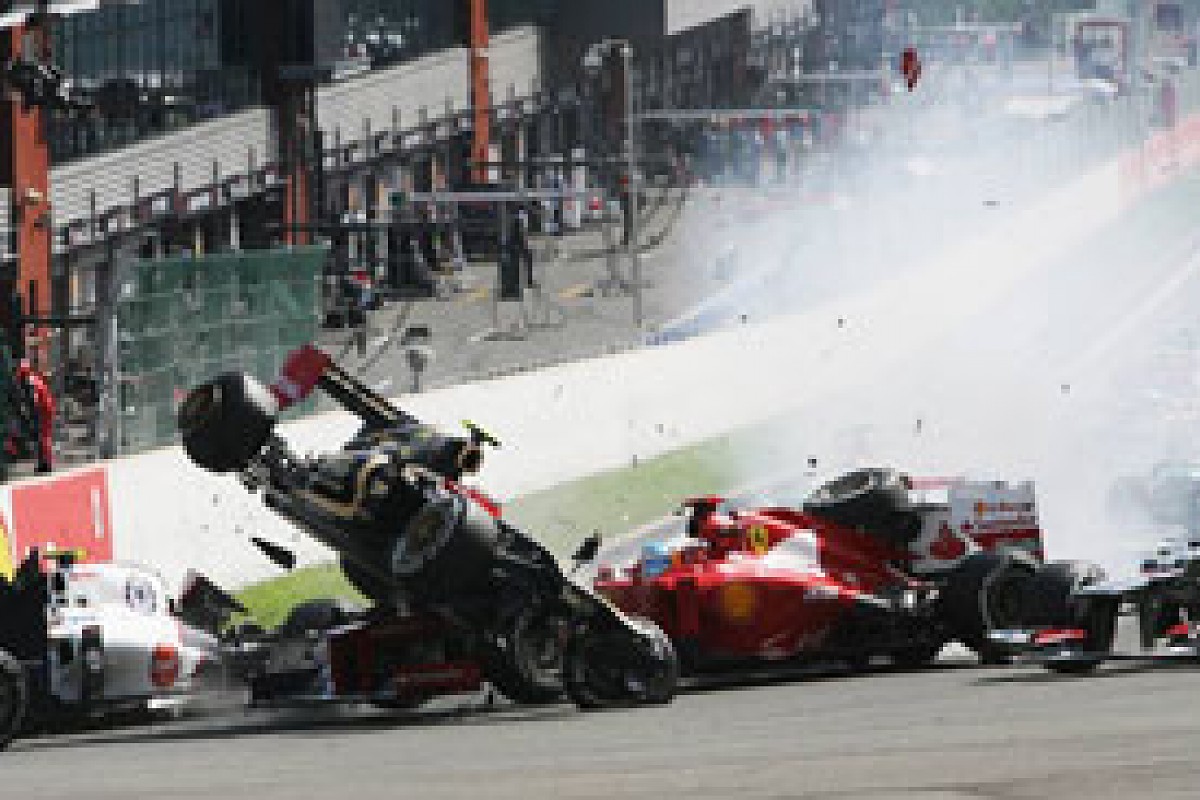 Vaulting into Alonso at Spa was the nadir of Grosjean's season... © XPB
So why not Grosjean? Well, the idea that 'everyone should have a go' in F1 is nonsense. Not all potential drivers are equal.
For Lotus, it's all about risk versus reward. Grosjean has to be considered something of a risk, for it's impossible to be certain whether he can wipe out the errors.
But the potential rewards are prodigious, for Grosjean is seriously quick. Not just fast, but attention-grabbingly fast. Lotus has not kept him on because he can emerge as a solid number two, but because he could be the long-term future of the team.
That has been noticed by several other top teams, which all recognise the raw materials for one of those rare gold-standard drivers. Were he just averagely quick, he'd be out of the door, but when team principal Eric Boullier describes him as a potential world champion, as he did earlier this season, he wasn't just talking up a driver who is part of the Gravity Sports Management stable that he runs.
To realise that Boullier's high regard for Grosjean's potential is genuine, rather than motivated by self-interest, you just have to look at their history. The Frenchman had nothing to do with Grosjean's career before taking over as Renault team principal in 2009. His first official contact with Grosjean was to sack him!
At that point, Grosjean wasn't even part of the Gravity stable, although he kept in contact with Boullier before eventually having the chance to return to GP2 via the DAMS Auto GP team as 2010 progressed.
Boullier doesn't have any vested interest in Grosjean beyond recognising that the Franco-Swiss driver has the ability to emerge as a regular race-winner and even title contender in a strong Lotus.
As the adage goes, you can make a fast driver consistent, but you can't make a consistent driver fast and Grosjean has the pace to be right up there with the Sebastian Vettels, Lewis Hamiltons and Fernando Alonsos of the F1 world. And if you don't believe that, check out his junior record and his qualifying performances compared with team-mate Kimi Raikkonen before that ban took the wind out of his sails.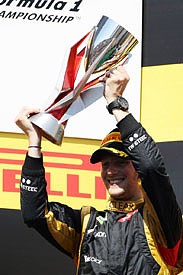 ..masking breakthrough moments like his podium in Canada © XPB
There's also a misplaced perception that Grosjean is too arrogant to recognise his errors. Perhaps the immature Grosjean of 2009 was, but the 2012 model is very different.
He knows exactly what his mistakes were, understands what he needs to do to correct them and very deeply feels responsibility to pay back the team's faith with the performances he is capable of. If anything, Grosjean's problem is thinking too deeply about this rather than not caring.
As Grosjean himself has admitted, the key to unlocking his ability is the mental side. When he returned in 2012, some regarded him not only as arrogant, but an aloof and unlikable character. He had to go on something of a charm offensive in the paddock.
This was a distraction and by the time things came to a head with that post-Spa ban, he found it very difficult to 'reset' and get his head down properly.
By the final couple of races, he had got the car to his liking and was quick again, but the baffling decision to assume Pedro de la Rosa would let him past at the kink by the pit entry during Q1 at Interlagos undid that good work.
This was, in many ways, the defining incident for Grosjean. While Spa was higher-profile, what Grosjean did at Interlagos was unforgivable and inexplicable.
It was Q1, he was very quick, he had sat behind de la Rosa for most of that lap already and had plenty of time to nail a Q2-worthy time. Had he waited until Turn 1, he'd have passed easily, completed the lap and made the cut comfortably. As far as risk versus reward is concerned, it was a disastrous failure.
These are the mistakes that he must eliminate. And he knows it. Whether or not he can do so, only the 2013 season will tell us.
If we get to the end of next year and Grosjean is still making such blunders, then it will be time to accept that the speed will never be consistently harnessed and for Lotus to cut its losses. And it could yet go that way. But such rare potential must not be discarded prematurely and that's why the team has made the right decision by keeping him on.
No self-respecting grand prix team with serious aspirations of cracking the top three could have made any decision other than to give him that final chance to make good.
Grosjean has come back from the brink before and there's every chance that he'll do so again in 2013. Big time.