No one has ever really resolved what Formula 1 is at any given moment. Just as the quantum physicist will tell you a particle cannot have both a velocity and location, only a precision of one and an approximation of the other, so F1 is at any given moment approximately a business, entertainment, sport, a political battleground and a technical exercise. What's more, that mix is by nature never static, or fully under control.
Where that combination took F1 to in 2012 was sometimes a baffling place so that we had, after the Spanish Grand Prix, the Red Bull team principal - a racer whose team is a key part of the marketing operation of a soft-drinks business and who employs the sport's best technical brain - saying: "Success in F1 has always been about aerodynamics. But this year that seems to be far less a factor than historically.
"I'm struggling to explain it and it seems to be all about the black art of managing these tyres. Whoever understands the tyres and broadens the window in which they work will prevail this year. But we are a long way from understanding it at the moment, and the only comfort we take is that it would appear everyone else is in the same boat!"
This was just after we'd had the fifth different winner in the first five races, a sequence that would extend to a record-breaking seven from seven.
"The lottery continues," said Mark Webber after Lewis Hamilton had taken that seventh victory, and in the wake of Mark having just finished seventh off the back of winning Monaco.
For some, all this was great entertainment. For those of a more purist disposition towards what they like to think is a sport, it was all a little too random.
There really didn't seem to be any particular merit about why one team or driver - and not someone else - had won on a given day, other than they'd stumbled into the right part of the tyre temperature-car continuum for reasons they didn't understand.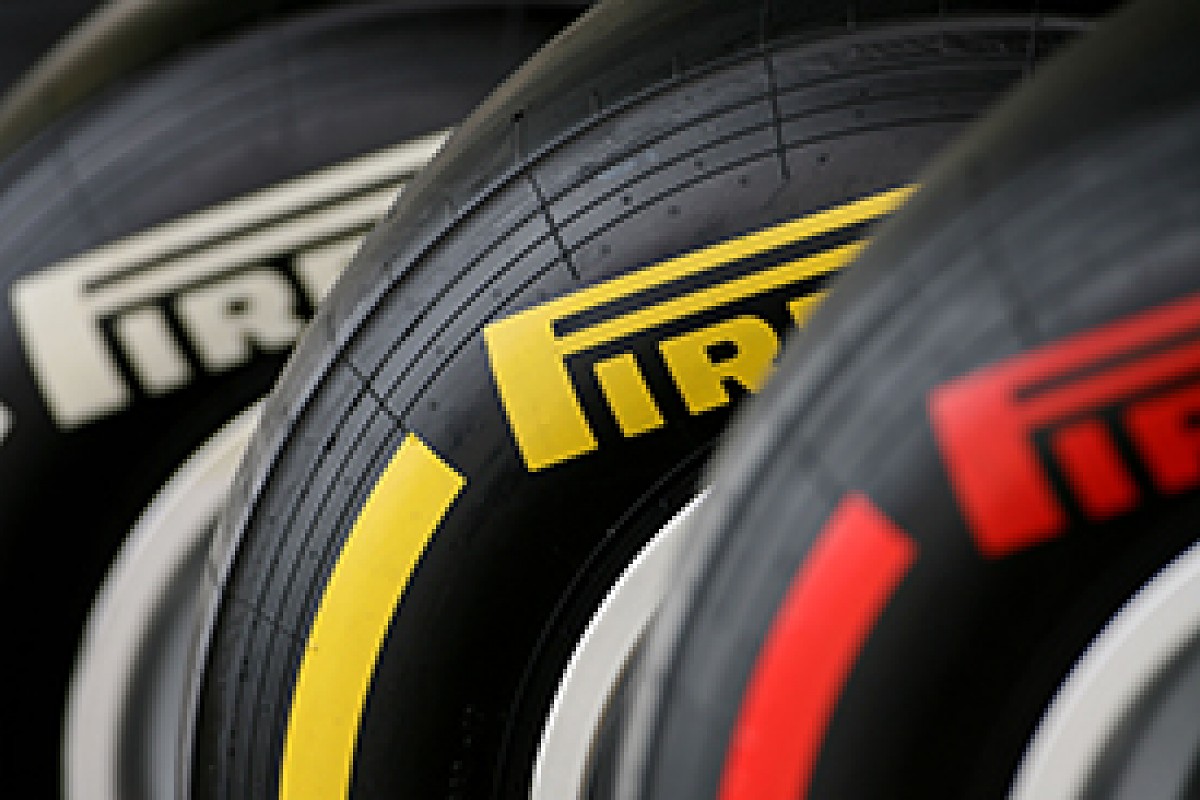 Pirelli's compounds provided plenty of good racing this year © XPB
That's how it was for most of the season's first half. The reduction in downforce resulting from the restriction upon exhaust-blown diffusers together with the latest-spec Pirellis gave the tyres an exceptionally narrow operating window - fronts reluctant to switch on, rears prone to a runaway state of overheating.
Untangling and understanding the unintended consequences of those changes occupied F1's best technical brains for much of the year. But they did it eventually - and then it became all about aerodynamics, just as always.
And as usual when it's about aero, Adrian Newey's design came to prevail - but only for the last third of the season, when a unique design feature of the Red Bull RB8 allowed it to take spectacular advantage of a double-DRS system.
There were times in those last few races when Sebastian Vettel was able to drive the car like this was still 2011, even if the third consecutive drivers' and constructors' championships were much more closely fought than in that record-busting season.
Up until the tyre conundrum was worked out - approximately mid-season - all you needed to be was in the hunt, among the contenders, among those who had stumbled onto a few good days. All you needed was this as foundation for the all-important run-in to the season's end.
Red Bull and McLaren each developed their cars to become ever faster, but the silver machines were punished by unreliability in addition to a series of pitstop dramas in the first half-season. Combined, that took Hamilton out of the championship equation despite driving at the absolute height of his formidable powers.
Ferrari, meanwhile, had put together a remarkable half-season, considering the car it began with was around one second off the pace. A bit of luck (the Malaysia weather), a quick correction of the initial car's more glaring faults, and a quite brilliant campaign by Fernando Alonso had him leading the championship into the second half.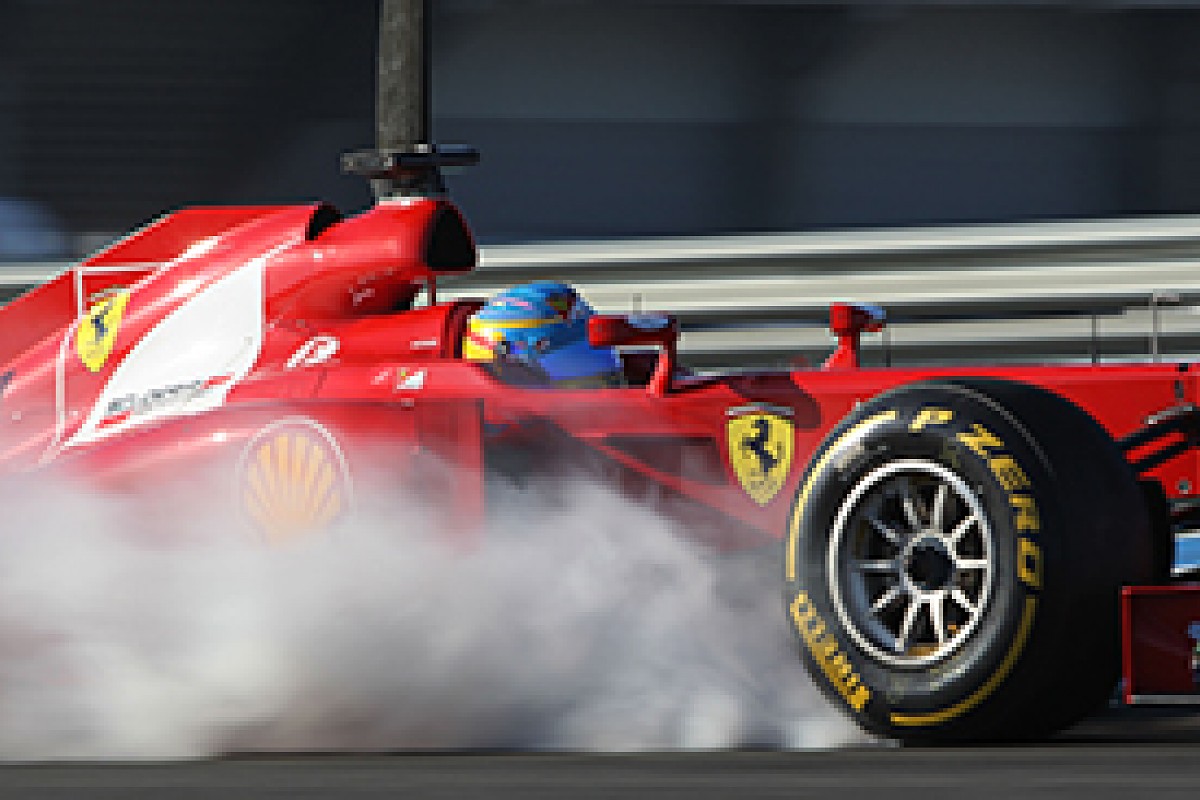 Ferrari struggled in pre-season testing and played catch-up all year © XPB
But the car was stubbornly resistant to further development and, for the second time in three years, he lost the title in the final round.
Pirelli's choice of a squarer-shouldered tyre and a narrowing of the gap between compounds was designed to give greater fidelity in tuning the tyre to the desired number of stops, something that had been difficult in 2011 because the round-shouldered shape had concentrated wear over a relatively narrow strip of the tread, thereby making the pivot between too many stops and too few overly delicate.
Instead, two entirely different things happened as a result of the square-shouldered shape spreading the load across a wider contact patch: at the rear, the greater energy fed into the tyre's core made that core overheat; at the front, the more evenly-spread load meant that generating tyre heat took longer than before. So you could begin a qualifying lap with not enough front temperature, and by the time they came in the rears could be overheating.
The high-downforce cars were still fast in qualifying, but the stiffer suspension that higher downforce generally demands made those cars more punishing of the delicate tyres in the races, so there were several Sundays where a Williams or, particularly, a Sauber would be the fastest thing on track. Williams and Pastor Maldonado together converted this to a brilliant win at Barcelona; Sauber converted it to four podiums over the year.
The exception to the high-downforce/stiff-suspension relationship was the Lotus, softly suspended and invariably fantastically fast in the early races, but missing a few tenths in qualifying. It was a very useful tool for Kimi Raikkonen to make his comeback in.
A couple of winning opportunities were lost early-season, but the breakthrough victory came in Abu Dhabi where Kimi delighted his fans with his laconic radio transmissions. Meantime, team-mate Romain Grosjean was alternately thrilling and terrifying, and was even briefly banned.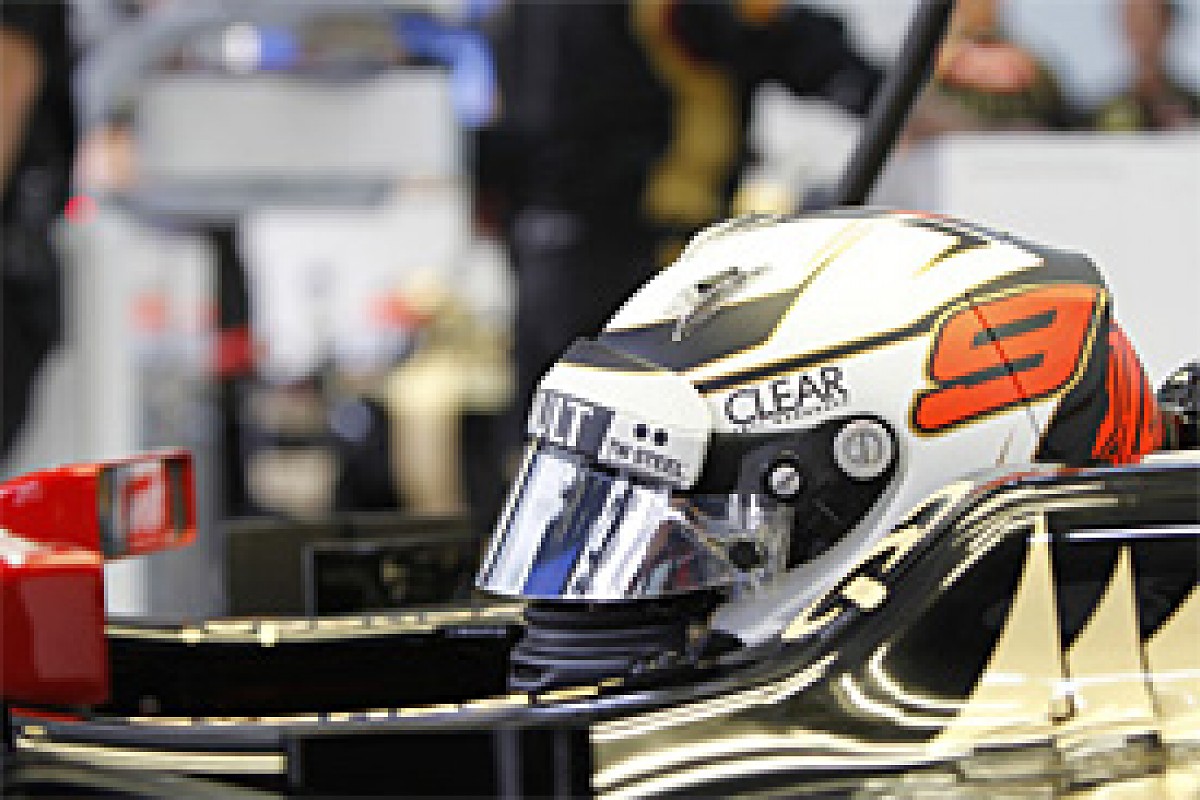 Raikkonen's return to F1 proved to be a success © LAT
As can be appreciated, this was a very bad year in which to come up with a car that was at all hard on the rear tyres, which is exactly what Mercedes did.
In China, unusually it was front-tyre wear rather than rear heat degradation that formed the generic limitation and this - in combination with how well the car's then-unique double DRS worked in qualifying - allowed Nico Rosberg to score a historic victory. But it was downhill all the way from there.
Michael Schumacher rewound the years to be fastest qualifier in Monaco, though a grid penalty left him starting sixth. Thereafter the car fell steadily down the grid as others developed and it stood still.
Schumacher was not sufficiently convinced by what he'd seen to immediately accept a three-year offer made to him and, as he hesitated, Hamilton's management - having failed to entice either Red Bull or Ferrari into signing its client - slotted him in, thereby leaving the seven-time champion rather hanging out to dry.
Only a week after Hamilton's place at Mercedes for 2013 was confirmed did Schumacher announce his (second) retirement.
The three-year comeback hadn't been a total failure, but obviously fell far short of his first career.
Meanwhile, Vettel has put himself on course to maybe one day approach the phenomenal Schumacher records, but it took time for his season to take off.
Red Bull believed it had devised a way within the new regulations to reclaim much of the effect of the 2011 blowing exhausts, with sophisticated ducts behind the rear-axle line that would redirect the exhaust flow exactly where it was needed - to the diffuser sides. This was banned before even being built.
The car therefore appeared with the exhausts more or less as originally configured but without the ducting, which made it a very plain-vanilla system compared to the Coanda-effect systems on the initial McLaren, Ferrari and Sauber. By the final day of winter testing and for the first race there was a Coanda system on it, but with a difference: undercut tunnel inlets that took flow off the bottom of the sidepod to a hole just ahead of the diffuser.
These tunnels simply didn't work as intended originally, but the concept would in time come to take the RB8 clear of the rest. Vettel wasn't sure if he liked the car in this form and it was definitely slower than the McLaren at this stage.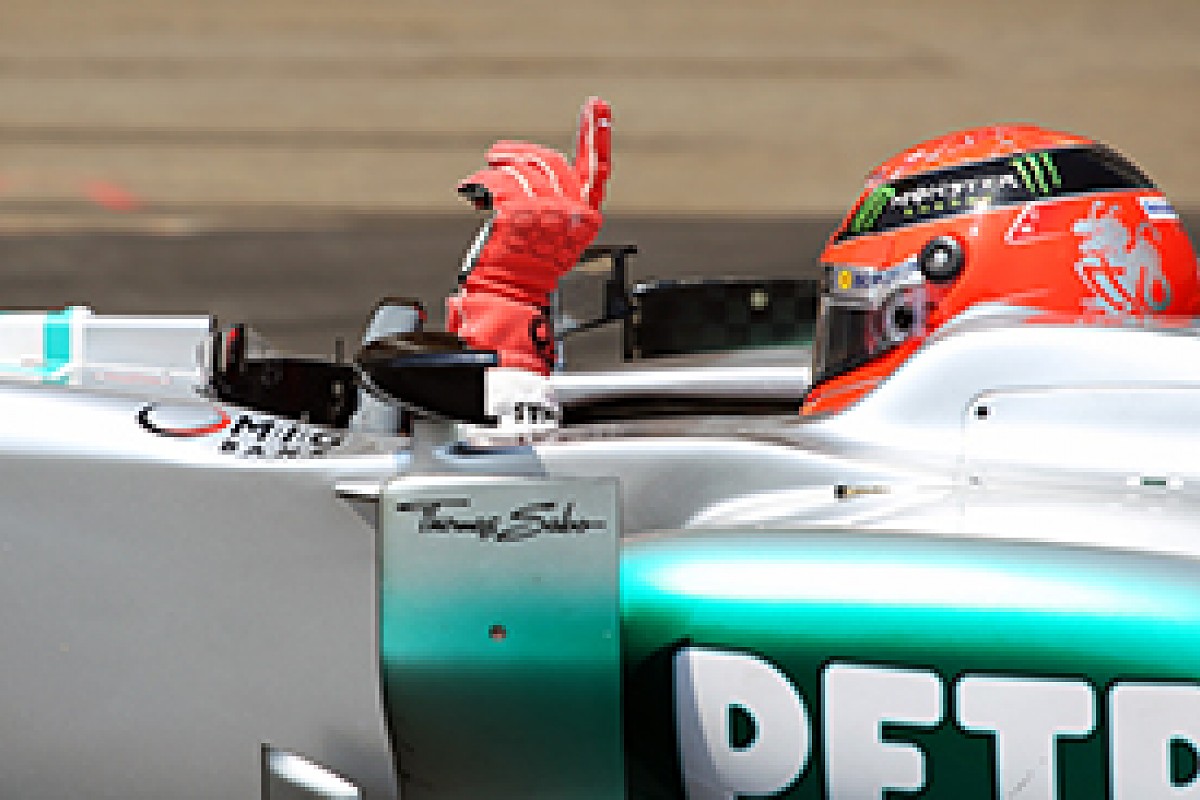 Schumacher shone at times before calling time on his career © XPB
After the tunnels were blanked off, he promptly won from pole in Bahrain. But it was to be slim pickings for him after that for quite some time.
Vettel's brief return to form wasn't the main talking point of Bahrain: it was what F1 was doing in a country in the midst of internal turmoil, with demonstrations against the very people who were hosting the race.
Little had changed since a year earlier when the race had been pulled: people were still being oppressed, punished simply for protesting. F1 insisted it didn't get involved in politics, but as former FIA presidential candidate Ari Vatanen commented: "Human rights cannot be just ignored as an inconvenience to a sporting event. Saying you are not political is just an excuse to do nothing.
"By definition if you hold a sporting event in a politically sensitive place you are involved in politics."
By not putting out the message that it would love to return to the country when the government and its people were at peace, or that turning up at this time of tension was not serving either F1 or Bahrain well, F1 made itself look crass, greedy, uncaring and even complicit in oppression.
Saying nothing had the exact effect of making F1 a political football. The sport does not exist in a bubble and ignores events in the outside world at its peril. But Bahrain pays a reported $50 million for everyone to turn up - and everyone turned up.
Such short-termism is only to be expected of a business being run on behalf of a profit-maximising private-equity company, CVC. That it takes only slightly less than half the profit straight out of the sport is a deeply unsatisfactory arrangement - and the whys and hows of that go back over a decade to when the FIA, under Max Mosley, leased the 100-year commercial rights of the sport out for a ludicrously low sum for Bernie Ecclestone to do what he wished with.
Metaphorical shit and blood continues to ooze from under the expensive carpet as a consequence of that. In June, German banker Gerhard Gribkowsky was jailed for taking bribes from Ecclestone, back when CVC was trying to buy the sport from the banks who'd ended up owning it.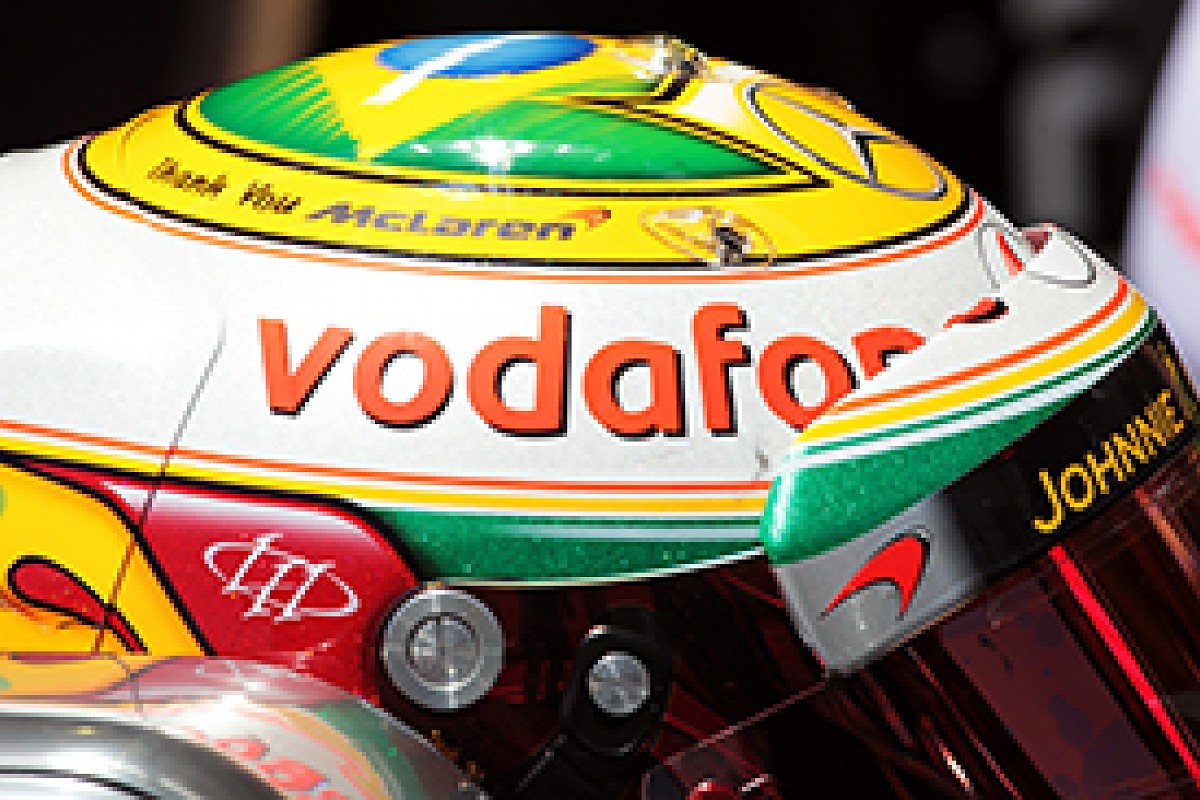 Hamilton ended his relationship with McLaren to go to Mercedes © XPB
The details uncovered in that case have triggered a lawsuit from American financial institution Bluewater Communications, which is claiming $650 million in damages for the winning bid having been awarded to CVC rather than to the highest bidder.
Meanwhile, with billions being fought over and millions being spent by the top teams, one of the small teams - HRT - looks in the process of going out of business. This was one of three attracted in under the premise of a £40m budget cap - a Mosley initiative but one that never came to be as he stood down from his presidency in 2009.
Cost control continues to be an incendiary subject among the teams. Red Bull Racing had turned over £176m in 2011 and rival teams were claiming this was beyond the spend limit everyone had loosely agreed to some time earlier. Team boss Horner countered that he doubted his squad was even the biggest spender once engines and driver salaries were factored in, and that it was because of this he was refusing to be party to a cost cap he felt would unfairly punish him.
Other teams viewed that stance with suspicion, as they did his close working relationship with Ecclestone. The combined outcome of those various pulls was the teams being no longer in the loose unity they'd presented since 2009 and reverting to being just as vulnerable as ever to being used as pawns in the power play between the governing body and Ecclestone.
Meanwhile, outside the top five teams there are seven in various states of financial woe, trying to sustain scales of spend and resource determined during the boom years, but now within a seriously depressed world economy. Not the greatest time to be trying to introduce an expensive new engine technology, but the FIA pressed on with its turbo V6 formula for 2014.
Mercedes, Ferrari and Renault between them have spent an estimated half a billion dollars on development of these engines already, and it's going to be quite a challenge making them affordable enough to keep the small and medium-sized teams viable. This would all be far less problematic, of course, if around 40 per cent of the money wasn't disappearing out of the sport.
Meantime, the engineers were spending all that money to good effect and, once they'd understood the combination of suspension geometry, dynamic weight distribution, castors and cambers necessary to keep these tyres alive, it was back to full-on aero simulation.
McLaren's big upgrade appeared at Hockenheim in July, the wet qualifying there punishing the car's traits, but essentially it regained from that time until Monza in September its season-opening status of F1's fastest car.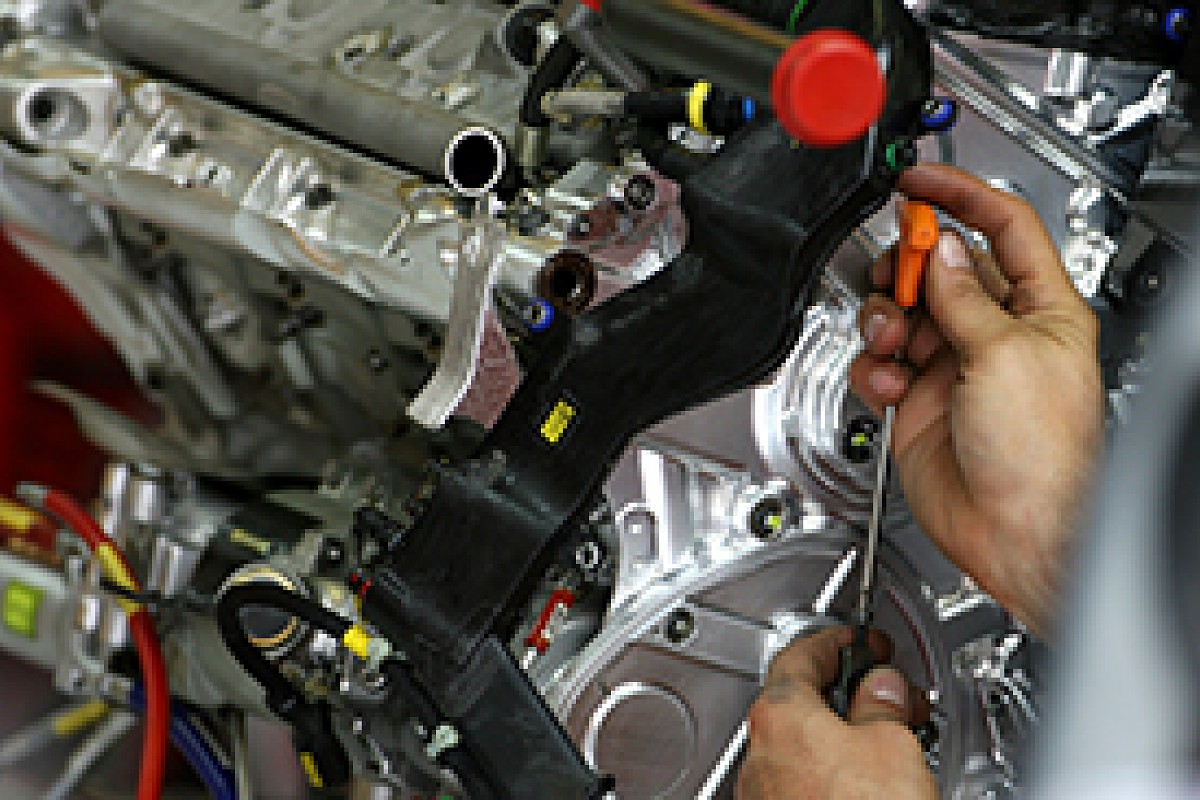 2014 will mean a big change in engine regulations © XPB
Jenson Button book-ended the season with two great wins and scored another in between at Spa, the weekend when Hamilton tweeted details of his set-up to the world, somewhat to the irritation of his team.
But Lewis served them brilliantly well behind the wheel and his was a much more consistently dazzling display than we'd seen from him in 2011.
Nevertheless, with the relationship between him and McLaren forever locked between rebellious child and firm-handed parent, he felt it time to move on and the Mercedes deal was inked a couple of days after he was forced to retire from a commanding lead in Singapore with gearbox trouble. Were it not for that, and similar reliability and pitstop problems, he could comfortably have gained a second world title this year.
When Red Bull added an innocuous double-DRS system to its car from Singapore on, the effect was way greater than could be accounted for by that. This was when those bodywork tunnel inlets - reintroduced in much-enhanced form in Valencia in June - came into their own.
Whenever the diffuser ran so low that the flow from the underbody began to stall, it simply sucked harder on those tunnel ducts. With a ride height that could be kept more consistent without stall, it was feasible to run a lot of rear wing. Double DRS could then get rid of the downsides of that, so allowing yet more wing.
It was a beautiful virtuous circle and was combined with tweaks in the rear suspension that allowed a roll oversteer into the corner that could then be countered by Vettel nailing the throttle hard at high revs - as he did with the blown exhausts of 2011. Suddenly Seb had car in which he could 'perform his tricks', as he put it.
It was enough to overhaul Alonso's points lead, though the outcome fittingly went all the way to the finale in Brazil. It did so by way of Austin, Texas for the penultimate round, and in that venue was everything that F1 should be aspiring to: a race conceived around a commercial model of bringing lots of people to the track to see some great racing on a spectacular course, with lots of marketing and hard selling of the event - and no hideous white-elephant overscaled hubristic paddock-and-buildings complex.
F1 was back in America for all the right reasons and it was a resounding success. Just a pity that the organisers were instructed to neuter the Stars and Stripes run-off track paintings: that little instruction symbolised much of what is still wrong about F1 and how out of step it is in assessing its own importance.
But the old ways cannot last forever, and thankfully there's much that remains majestic about this sport that can be cultivated and amplified in future. And watching Alonso make that fabulous first lap in Valencia from 11th on the grid, then seeing and hearing the crowd respond with every new place he made up on the way to a stunning victory, was a reminder that for 90 minutes or so this really was a sport.