Nestled unobtrusively in last week's FIA World Motor Sport Council press release was a rule tweak that few reported on. Those who did, understandably, mentioned it only in passing. Yet it tackles a problem in contemporary Formula 1 that's starting to have some serious consequences.
It's something that's very easy to make light of. But in a sport rightly obsessed with safety, this problem is having a tangible negative effect on those working for teams - to the point where F1 is stretched to breaking point.
The change in question pertains to the curfew regulations. It reads: "The team personnel curfew will be extended from six to eight hours on Thursday night and only two exceptions will be allowed during a season [formerly four]."
It's a relatively innocuous change to the curfew regulations, which restrict the number of hours that mechanics can work on the cars and, save for exceptional circumstances, rules out the all-nighters that were once commonplace. But it at least appears to acknowledge the problem of team personnel, particularly those in the garages, being overworked.
You might think that those working for F1 teams have never had it so good. Curfews, a testing ban, the August break... easy right? After all, it's nothing compared with the 'old days' when mechanics used to go six weeks without sleep and drive from race to race for almost no pay?
Austin was the fifth flyaway in six weeks for the F1 teams © XPB
Not a bit of it - and in this case simply claiming that things were harder back in the day is far from constructive. The argument from antiquity is not a valid one and just because those working for teams in the past got a rough deal doesn't make it right today.
The 20-race 2012 season was the most gruelling in the history of the world championship and, with a dozen of those races long-haul flyaways, there was a huge amount of time spent on planes. And don't make the mistake of thinking that everyone was travelling first or business class.
In particular, the end of the season was a problem. The final six races in Japan, Korea, India, Abu Dhabi, the United States and Brazil were staged over just eight weekends. By the time we got to Brazil, it was easier to count those who hadn't picked up some kind of illness than those who had.
Teams don't give out data about this kind of thing, but anecdotally there was plenty of evidence indicating that this is at least a problem worthy of some serious investigation. Internally, teams generally take the health of their personnel seriously, but such a demanding schedule inevitably takes its toll.
It's easy to imagine that after a long weekend's work, the guys in the garage get some down time. Not so. Particularly with far-flung double-headers, there's a need to tear down the garage and get it packed up for shipment double-quick. And with restrictions on the number of operational personnel allowed, it's just another job that has to be done. By the time you've done that and flown 12 hours to the next venue, it's time to set up and get prepared. It's a relentless schedule and requires far more than just the three days of work that you see on the television.
The teams, to their credit, take this problem seriously. Many monitor the health of their people very closely and those who completed end-of-season health checks found that the ravages of the end of the season in particular had taken their toll. Fitness was down, illness was up and everyone was badly in need of a holiday. Even those who have worked in grand prix racing for several decades and might be considered 'old school' noticed the effect of the calendar.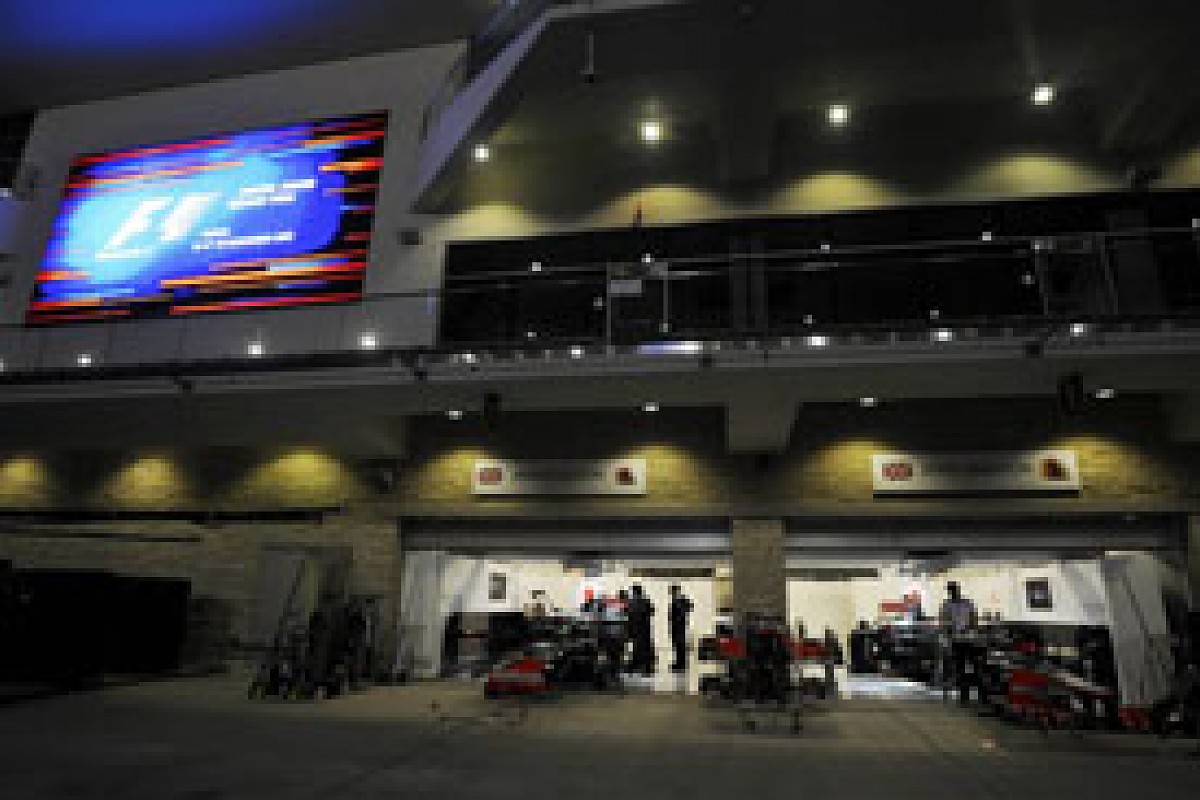 Unpacking, assembling and then re-packing freight is a hidden, relentless schedule © XPB
And it's not just the mechanics and engineers who were struggling. Many senior team personnel would return to base between the double-header flyaway races, often spending all of a day-and-a-half there before turning around to fly back. Granted, many of those have the luxury of not having to fly in the cheap seats and being very well remunerated for their efforts, but the human body is largely indifferent to pay packets when it comes to fatigue and there was plenty of suffering there, too.
It's easy to lack of sympathy for these people lucky enough to travel around and work in the greatest sport in the world. But remember that the majority of them are just normal people on normal pay who have to show extraordinary dedication to their jobs. As the fate of HRT has shown, some don't even have job security.
And when medical personnel and physios are talking about having to deal with a record number of ailments, it's a problem to be taken very seriously, especially with the season stretching until the end of November and pre-season testing kicking off on February 5 - with plenty of work to be done in between those dates. For some, even a week's holiday is a stretch.
At the root of the problem is F1's business model. Right now, there is a very serious effort being made to find a 20th race to replace the postponed New Jersey Grand Prix. Why? Not because F1 wants to ensure that the fans get 20 shows a year rather than 19, but purely because the sport's income is tied up largely in race-hosting fees.
Next year's calendar has a similar conclusion, with the final six races spread over just eight weeks. So this is a problem that isn't going to go away. And the FIA, the teams and FOM have a responsibility not to take advantage indefinitely of the dedication of the rank and file and compromise the health of those working in F1.
It's rightly no longer considered acceptable to jeopardise the health of those in the cockpit. The same must apply to those in the garages.