One lap into the Brazilian Grand Prix all seemed lost for Sebastian Vettel. Not only was he dead last, his car had received a hefty thump, and was carrying some damage. Meanwhile Fernando Alonso had jumped up to third and was thus already primed to take the world championship.
And yet some 70 laps down the road Vettel was in sixth place, and had secured his third title. So how did he do it?
As always, it was a combination of things. In a normal dry race it would have been highly unlikely that he could have recovered so well from such a situation, even with the obvious pace of the Red Bull.
But the wet conditions opened up a window of opportunity, and helped by others making mistakes, Vettel took full advantage. He drove a near faultless race, and despite the damage, a radio failure and some strategic missteps he drove hard and fast all day, and in the end, he got the job done.
Vettel's troubles began at the start, when after an initial good getaway he found himself swamped at Turn 1 and squeezed by his own team-mate. Anxious not to lose his front wing, and playing it cautious in the greasy conditions, he lost more ground. That put him in the position where he was hit by Bruno Senna in a typical piece of fraught midfield action.
"I thought it was over," says Christian Horner. "To be turned round at Turn 4 and be at the back of the field... Thankfully everyone else missed him, but there was quite a lot of damage to the car."
Vettel had to charge back through the tail-enders © LAT
Vettel crossed the line at the end of the first lap in 22nd and last place - Senna and Sergio Perez were out - but he was only 13.3 seconds off leader Lewis Hamilton. On the second lap he passed Narain Karthikeyan, and gained another spot when Pastor Maldonado spun off, putting him 20th.
Suitably fired up, he also set a faster lap than anyone else - 0.5s up on Hamilton - and was going 2s quicker than many of those immediately ahead. If he could find a way past it wasn't going to take him long to progress up the order.
Meanwhile RBR hurriedly began to assess the extent of the damage, checking the data and also studying a picture of the car that was printed out and delivered to Adrian Newey.
"We didn't need the photograph to see the bodywork damage, we knew about that," says Newey. "We monitor the loads through the push rods, as I'm sure all teams do, so we could see we'd lost downforce, particularly at the rear.
"What it did reveal was the exhaust pipe damage. That was a huge concern, because if the exhaust pipe breaks, which it's highly likely to with that sort of damage, then it will probably catch the bodywork on fire. Then you're in all sorts of trouble and you're not going to finish the race.
"All we could do was turn down the engine mapping to minimise the exhaust temperatures. We of course lost a bit of performance in the process. He'd also lost total downforce and rear downforce. The worry is that the bodywork will continue to degrade, which obviously it did, as more bits fell off two-thirds through the race."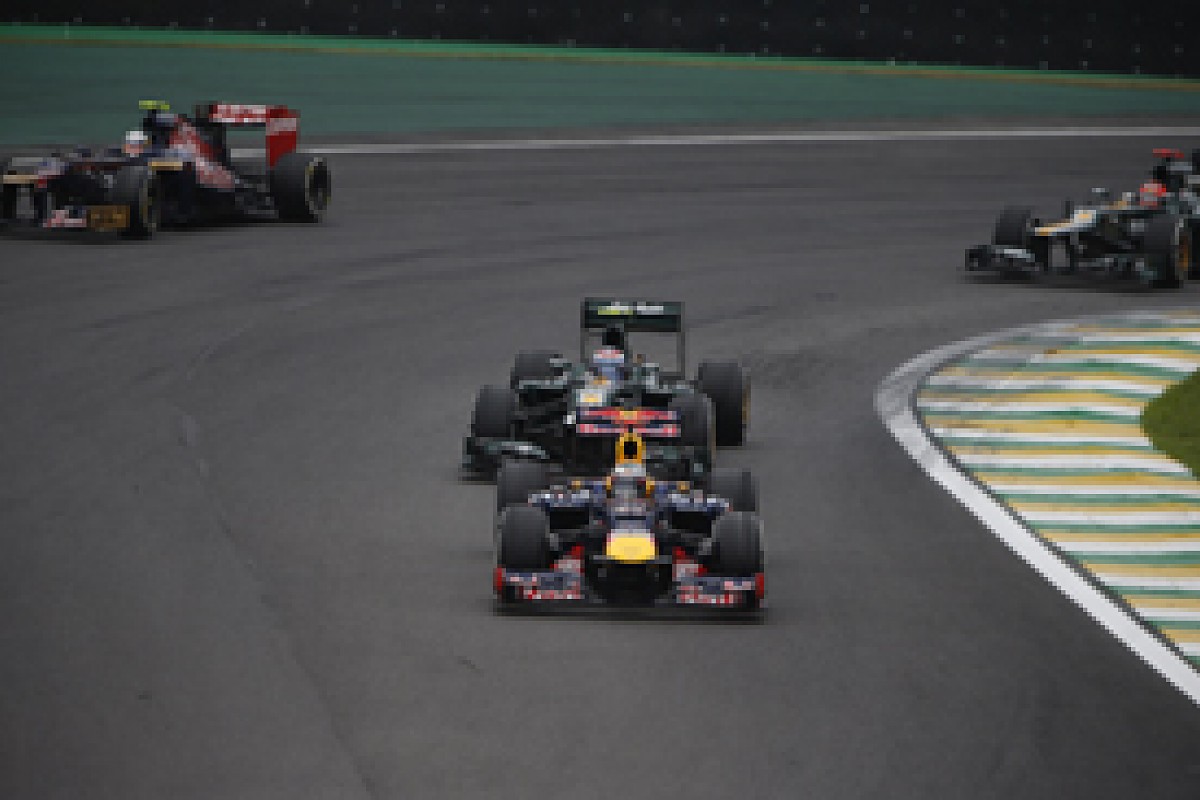 Red Bull kept a wary eye on Red Bull's damage © XPB
Vettel knew little of the stress on the pitwall: "The luxury a driver has is he can concentrate on his driving, and let us worry about the rest..."
He duly took Charles Pic and Pedro de la Rosa on lap three, Timo Glock and Jean-Eric Vergne on lap four, and Heikki Kovalainen on lap five. Kimi Raikkonen and Michael Schumacher also pitted on that lap, so Seb was already up to 13th.
Then on lap six he took Vitaly Petrov and passed the crashed Romain Grosjean to go 11th. On the next one he moved ahead of a spinning Mark Webber, and also took Daniel Ricciardo and Nico Rosberg.
To the disbelief of the Ferrari pitwall, Vettel thus crossed the line at the end of the seventh lap in seventh place, and 12.4s off the leader.
He was flattered by the fact that three quick cars had spun or crashed, and two had pitted. Nevertheless it was an impressive recovery, and despite the effort spent in passing backmarkers he had gained a second on leader Hamilton, who had a clear track ahead. Now Seb was back on pole for the title...
He moved up another spot when he took Paul di Resta on lap eight, and then with the rain beginning to intensify, he headed for the pits on lap 10, following Hamilton and - crucially - Alonso in. Covering what his rival was doing was the logical decision, and going to inters was also a safe choice given the slippery track, but in retrospect Vettel would have done better had he stayed out.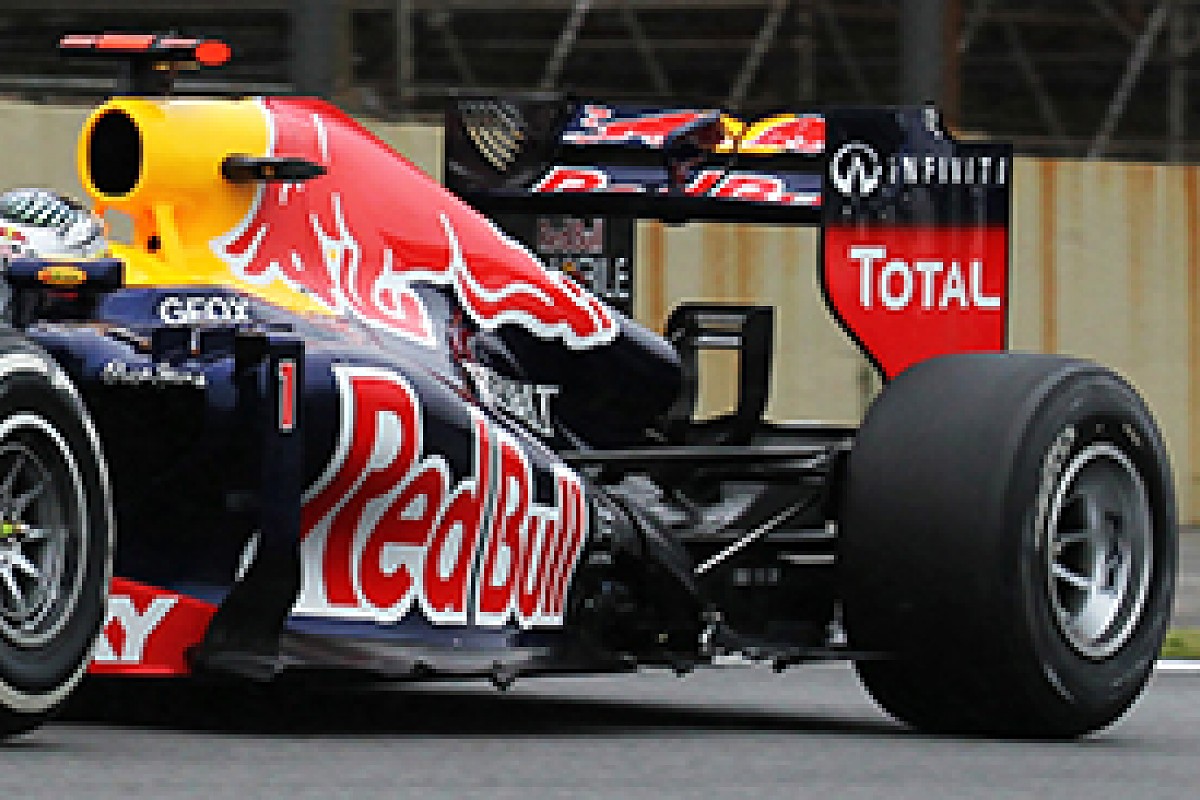 Button and Hulkenberg were battling it out on slicks up front © XPB
Some drivers found that they couldn't cope with the conditions on slicks, but clearly Jenson Button and Nico Hulkenberg were happy, having got their tyres into the working zone. Given his speed before the stops, Vettel was surely as comfortable as they were, and could have dealt with it.
"His pace in the damp was unbelievable," says Horner. "He started fighting his way back through the field, he got himself back into about sixth and seventh, and then just kept pushing and getting himself back in there. Then obviously the rain came so we went on to inters."
Had he stayed out he would have been third and well clear of any threat from behind, but instead he initially dropped way back to 17th.
Meanwhile the team had taken the chance to adjust the front wing in order to balance out the loss of rear downforce.
Now he had to start passing again, getting by Webber and Raikkonen on lap 12, and Rosberg and de La Rosa on lap 13. Next time around Glock and Petrov pitted, and he slipped past Kovalainen to get into eighth, and solidly back in the points, and then on lap 15 Massa and Vergne came in and Seb jumped up to sixth. He then took Kamui Kobayashi to go fifth - putting himself behind Alonso.
So in the course of 16 laps Seb had gone 22nd to sixth to 17th to fifth, and there was plenty more to come...
By now the rain had eased and Button and Hulkenberg had shown that staying out was the right call, if you had your tyres in the zone. Now a stampede back to the pits for dries began. Alonso came in on lap 18, but Vettel motored past, coming in for a set of primes a lap later.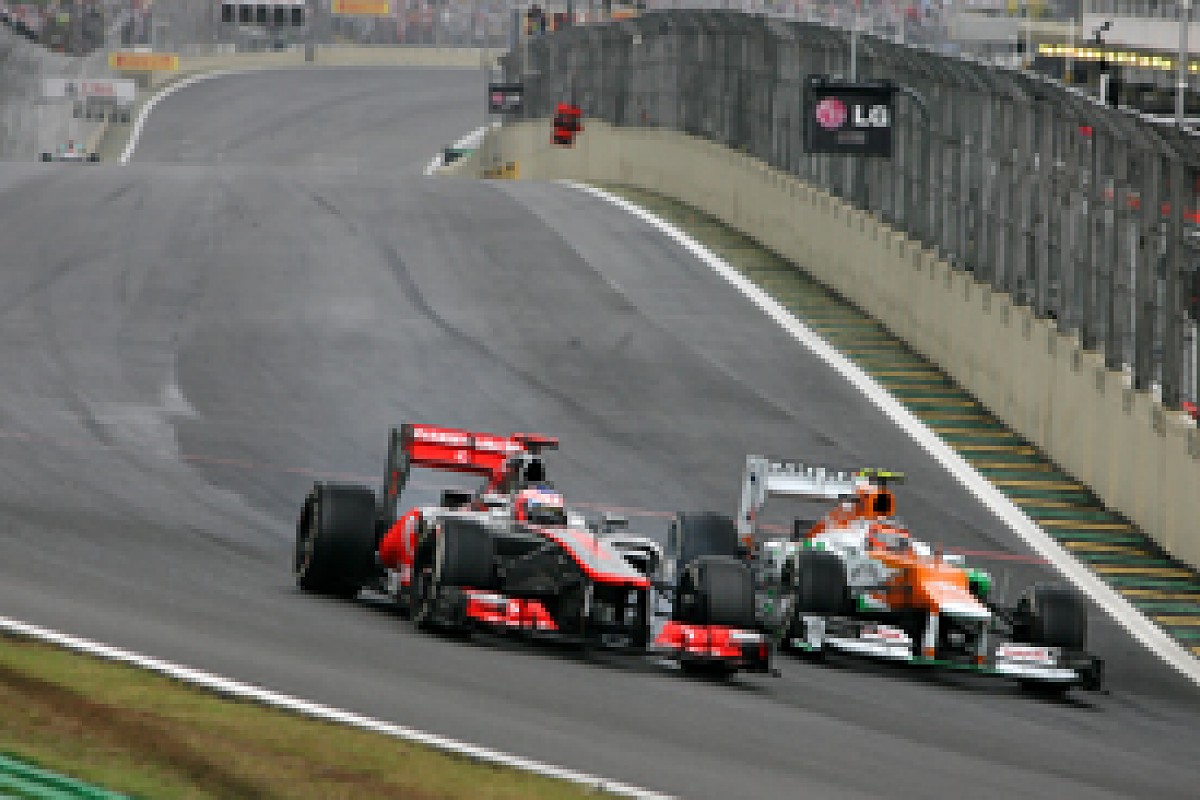 No matter what Alonso did, Vettel kept getting himself back in the right places © LAT
He emerged still in fifth, and spent the next few laps shadowing Fernando, knowing that as things stood he had done more than enough to secure the title. Then the safety car helped both protagonists by closing the huge gap to the two leaders and negating the effects of the double pitstops.
At the restart on lap 30 a determined Kobayashi demoted Vettel a place, and then on lap 34 he lost a spot to Felipe Massa, who was on a charge. Seventh, with Alonso only fourth, was still good enough - but losing positions was not an ideal scenario, even if he had Webber riding shotgun.
Meanwhile it was around this time that Vettel lost radio communication with the pits, or to be more specific while he could hear them, they could not hear him.
Soon everyone was getting into degradation issues, but Vettel was struggling more than most, as the damage had more of an impact than in the earlier damp conditions.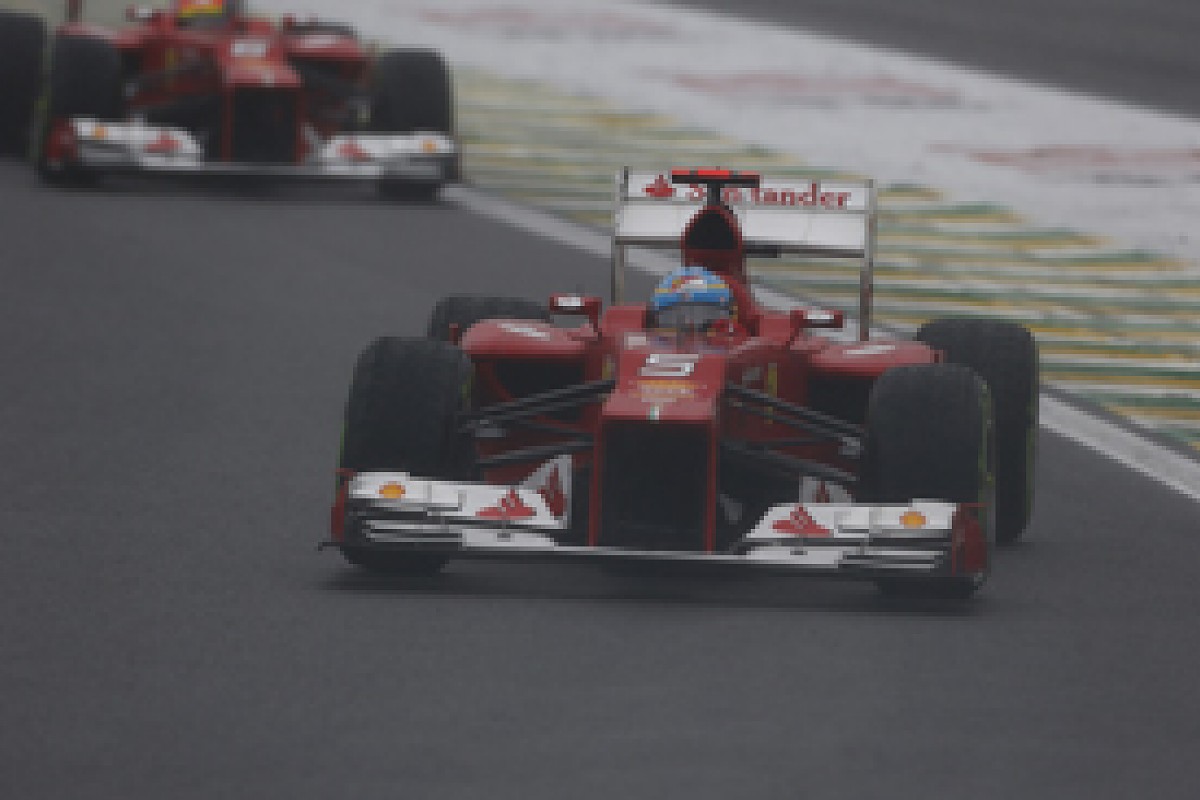 The wounds to Vettel's car were more costly in the dry © LAT
"As the circuit dried out it became more obvious that with the problems that he had he was struggling," says Horner. "It was affecting the balance of the car. We needed to change tyres because basically there was no way that he would have got to the end on that set, so we pitted."
"To adjust the balance we adjusted the front wing a little bit in the first pitstop having seen the damage to the rear," says Newey. "The bottom line is at that point the car has less performance, and Sebastian did a great job of carrying it with that lack of performance.
"The unfortunate side of that is that it's harder on his tyres, and that bit us in a very unlucky manner in as much as we were the first of the frontrunners to have to stop with worn out tyres."
Rather than wait and react to what Alonso or anyone else was doing, RBR decided to bring Vettel in on lap 52, giving him a fresh set of option tyres for the 21-lap run to the flag. He lost only three places with the stop, dropping to 10th. But everyone else would probably have to come in, and he was sure to be propelled back up the order with the help of the new tyres.
It seemed like a good idea at the time, but it could have been disastrous. No sooner had Vettel left the pits than the rain returned, with an intensity that meant he had no choice but to come in once again on lap 54, just two laps after the stop.
This was a call from the cockpit, and the team didn't hear it, which explains why the inters were not ready. In the circumstances the crew did well to get him out with an elapsed time just 7.7s slower than the previous stop...
"The radio had broken," says Newey. "Sebastian could hear us, but we couldn't hear him. So he arrived unannounced and unexpected in the pits. The guys did an amazing job to react to that. As soon as we saw him peeling into the pitlane we were obviously on the radio to the garage, but inevitably it was a slow stop."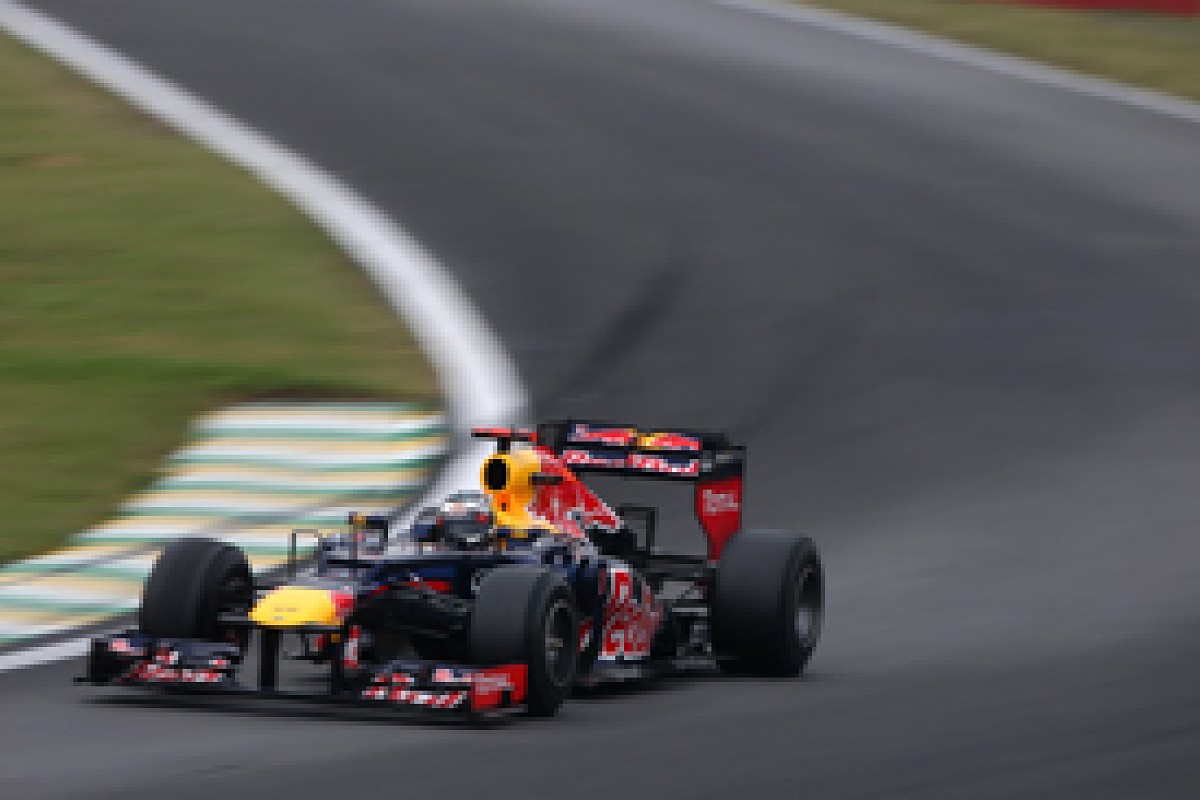 Hamilton's exit elevated both Alonso and Vettel © LAT
However it didn't cost him a position, and in fact he gained one from Hamilton's simultaneous retirement, resuming in 10th. He then passed Kobayashi on lap 56, gained another spot when Vergne pitted on lap 57, and another when di Resta came in on lap 57.
So despite the pit glitch with 13 laps to go he was seventh, and had his hands on the title once again. Now it was a question of getting safely to the flag, and he received a bonus when on lap 64 he moved ahead of his old pal Michael Schumacher to claim sixth.
At the point when the safety car came out and neutralised the track with a couple of laps to go he was a hefty 40s off leader Button, but all that mattered was the position. When he crossed the line sixth in the queue the guys on the pitwall could finally relax.
"Only when the flag came down!," says Newey. "The car was carrying a lot of damage, it could have broken at any moment. And then of course in those conditions it's so easy for something to happen, for the driver to be caught out."
So how did the stress level compare with past experiences?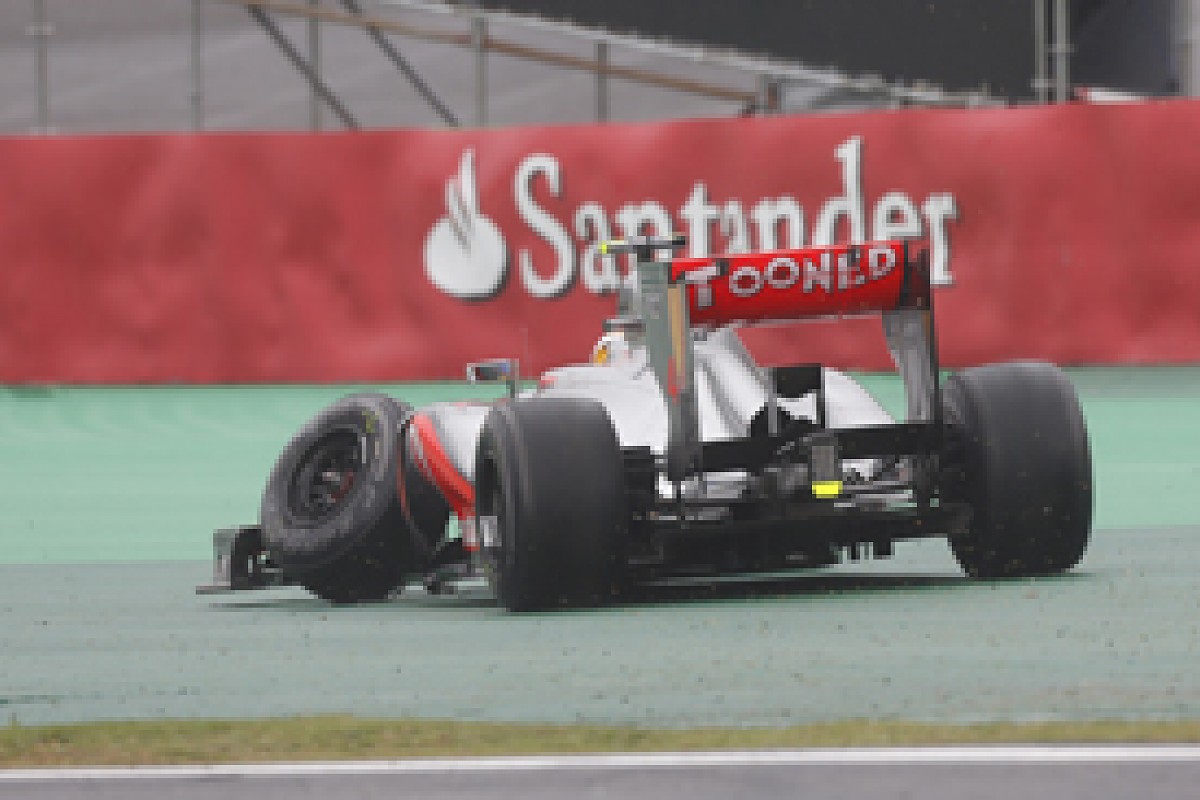 Newey rated Brazil 2012 alongside his two McLaren title deciders with Mika Hakkinen for tension © LAT
"It was certainly right up there," says Adrian. "Along with Abu Dhabi in 2010 and possibly Suzuka in 1998 and '99, one of the very tight ones between Schumacher and Eddie Irvine."
"I can't think of a more stressful race that that race," says Horner. "It had everything going on in it.
"We were restrained last week because we felt the job was only half done. It's been a tough weekend but everybody's kept their focus, held their nerve. Then what we were faced with today could not have been more stressful.
"I'm sure several of us hit V-max on the pitwall today! It's not just about today, it's about the season as a whole, the 20 races, the way this championship has ebbed and flowed. We've fought our way back into it, and Sebastian in particular has never given up.
"He really wanted this championship, he's driven with great determination. It doesn't ever get any easier.
"I have to congratulate Fernando Alonso, he's been a formidable opponent. He's pushed us all the way, and at one stage we looked like we were out of the championship.
"But we fought back and fought back delivered what we need to in the end here in what couldn't have been a more mixed and stressful race.