Sebastian Vettel has taken the Formula 1 crown for the third year in a row, an accolade previously only achieved by Juan Manuel Fangio (1954-1957) and Michael Schumacher (2000-2004).
He also becomes the youngest ever triple world champion, beating Ayrton Senna by some distance. Senna was 31 years, seven months and 13 days old when he took his third crown; Vettel was just 25 years, four months and 22 days old.
Remarkably, Vettel is the first Formula 1 world champion whose title success doesn't count at least one win in the European races: he won in Bahrain, and then, after the European rounds were over, in Singapore, Japan, Korea and India.
If you look at the facts, this title is very similar to his 2010 one. He clinched the title against the same rival in the final race, he has the same number of race wins as two years ago and his title-winning margin is only one point lower than in 2010: three points to four.
Several other factors made Vettel favourite for the 2012 crown: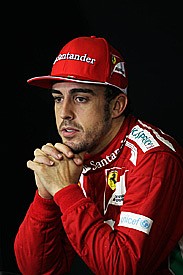 Alonso hailed 2012 as his best season © XPB
• He scored five wins, though this is the smallest amount for a world champion since 1990 - Alain Prost in 1989 scored just four.
• Red Bull recorded the highest number of poles: eight, the same as McLaren. Since 1996, the team with the most poles has always won the drivers' crown.
• This year Vettel finished on the podium 10 times. Out of that 10, though, he only started outside the top three on the grid four times.
For Alonso, the numbers just weren't there
Fernando Alonso hailed 2012 as his best season ever. Some of the statistics confirm his thoughts in terms of his achievements, particularly since it's accepted that the Ferrari was far from the best car in the field.
• Alonso won only three races this year. The last world champion with only three wins was Nelson Piquet in 1987, and that was in a 16-race championship.
• Alonso was on pole just twice (both wet sessions): the last world champion with only two season poles was Prost in 1989.
• Ferrari's pole drought reached 10 straight races in Brazil. The last team with such a long pole-less streak that did go on to win the title was Brabham in 1983. That year Brabham didn't get a pole in the first 11 races, but Nelson Piquet was able to claim the crown.
• The fact that Alonso scored 10 podiums without starting from the top-three grid spots underlines how slow his car was in qualifying. This is a new season record, beating Prost, who scored nine podiums starting from fourth or lower in 1986.
• Ferrari didn't record a single fastest lap all year: the last world champion whose car didn't record fastest laps was Williams's Keke Rosberg in 1982. Incidentally, it's the first time since 1994 that Ferrari has finished a season without a single fastest race lap.
• For the first time since the 2010 Korean Grand Prix, we saw two Ferrari drivers together on the podium. Red Bull put both cars in the top three in 2012 three times, nine times in 2011.
Race notes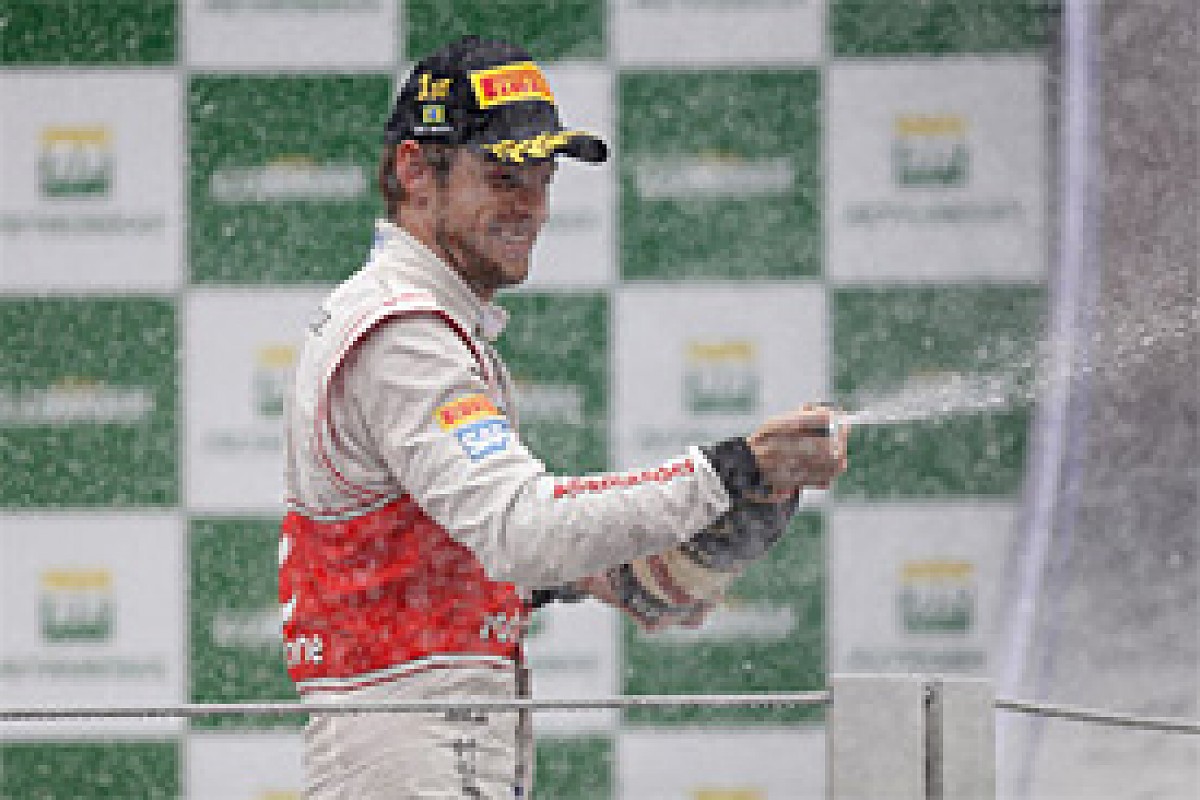 Button scored his 15th career win © LAT
• Jenson Button won his 15th race, his first in Brazil, making it the 12th different track he has won at. It's the first win for McLaren here since 2005 (Juan Pablo Montoya), so now McLaren equals Ferrari's record for the highest number of wins at Interlagos, with eight.
• This year's Brazilian Grand Prix was led only by drivers who have never led it before - Button and Hamilton - and by one other driver who had never led a lap before anywhere, Nico Hulkenberg. Nico was the 13th different race leader this year, the same number as in 2009.
• Hamilton's 'win curse' struck again: every one of his last five wins (Abu Dhabi 2011, Canada, Hungary, Italy, United States 2012) was followed by a retirement in the next race, three times for race accidents and twice for gearbox failures.
• This was Fernando Alonso's 86th podium. Another 20 and he'll equal Alain Prost's second-placed record, on 106. Schumacher leads on 155.
• In his 120th race for Ferrari, Felipe Massa posted his 100th result in the points. He equalled his post-race interviewer Piquet's record in eighth spot in the historical rankings.
• Mark Webber is becoming more and more the 'wooden medalist' of Formula 1. This year he equalled his own record of fourth places achieved in a season. He is still way off in the all-time list of fourth places, though. He has 15 to Gerhard Berger's 26.
• Nico Hulkenberg recorded the best result for Force India at this track with fifth place. Slightly disappointing, though, considering he led the most race laps, 30 to Button's 28 and Hamilton's 13.
• Michael Schumacher put an end to Mercedes' longest point-less streak of five races with a seventh-place finish.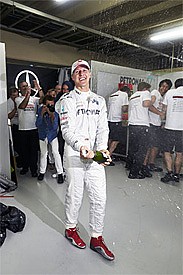 Schumacher ended Mercedes' point-less streak in his final race © LAT
• Jean-Eric Vergne's eighth place was only the third time a Toro Rosso scored points here after a fourth by Vettel in 2008 and a seventh by Sebastien Buemi in 2009. The Frenchman equalled his best race result, scored previously in Malaysia, Belgium and Korea.
• Kimi Raikkonen's perfect season collapsed at the last race. He'd managed to complete all the scheduled laps in the entire season, but in Brazil he finished one lap down. He did, however, set the new season record for kilometres run, 6081, and races completed, 20. The last driver before him to complete every race of the year was Nick Heidfeld in 2008.
• Just two laps before the end, due to Paul di Resta's accident, Vitaly Petrov was able to reach 11th place. This is not only the best result for Caterham, but the best result for one of the three newest outfits. Up to now the best result was a 12th, scored both by Caterham and Marussia.
• Charles Pic's best career result, 12th, didn't stop Caterham taking 10th place in the constructors' championship, because of Petrov's result. Pic remarkably finished his maiden Formula 1 season without a single retirement caused by an accident.
• Nico Rosberg recorded his longest point-less streak since 2008: six straight races. That year, he didn't score points from Monaco through to Hungary.
• The Brazilian Grand Prix is not a lucky race for Williams: both cars were out by the end of the first lap. It's only the third time in the team's history that this has happened: the last time was at this track in 2006 with Nico Rosberg and Mark Webber, and before that the 2005 US Grand Prix with Heidfeld and Webber. In the 1975 US Grand Prix Lella Lombardi and Jacques Laffite didn't even make the start.
• Sergio Perez leaves Sauber without having scored in the last six races. Since his last podium at Monza, he has either crashed in practice or in every race.
Qualifying notes
• Lewis Hamilton scored his 26th pole, equalling the number set by Mika Hakkinen, who also set them all with McLaren. The pair are accountable for 52 of McLaren's 155 poles: a third of the total. Hamilton took McLaren's first Interlagos pole for 12 years, since Hakkinen in 2000.
• Jenson Button was second on the grid for the fourth time this year, every time alongside Hamilton. Strangely, Hamilton was second on the grid each time Vettel had pole.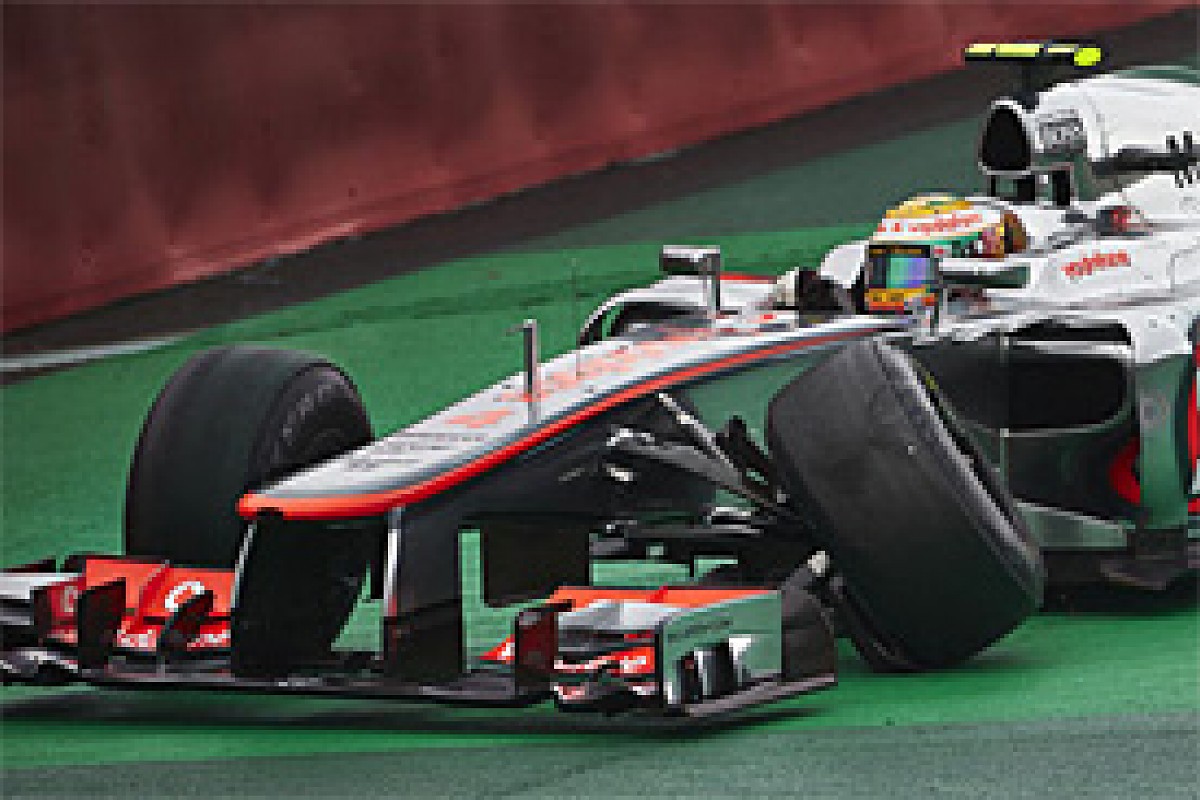 Hamilton ended his McLaren spell with a DNF © LAT
• This was the 62nd time in history that McLaren dominated the front row. It previously shared the honours with Williams on 61.
• Neither Red Bull made the front row for the first time in five races. In those, they locked out the front three times.
• Both Force Indias started in the top 10 for the first time since Germany, when the session was equally wet.
• In his farewell grand prix, Michael Schumacher failed to make the top 10 on the grid, the first time that happened at Interlagos in his 18 Brazilian Grands Prix;
• Pastor Maldonado lost a total of 48 grid spots through penalties in 2012.
• Romain Grosjean failed to make it past Q1 for the first time this year.