PRACTICE
Practice one - Friday am
Hamilton just pipped Vettel in FP1 © LAT
The paddock talk was all about the potential for a saturated Sunday, but the Friday weather was sunny and extremely hot.
With those conditions seemingly unlikely to be replicated at any point later in the weekend, teams knew that knowledge gained on Friday might never be required. But they did at least have some 2013 tyres to evaluate from Pirelli.
It was on a set of those that Lewis Hamilton set his benchmark 1m14.131s lap. Sebastian Vettel got within 0.009 seconds of that using 2012 tyres, and Mark Webber and Jenson Button completed a top four covered by just 0.086s.
Title chaser Fernando Alonso was only fifth, but still within 0.2s of the pace. His Ferrari team-mate Felipe Massa was one place back despite a late spin.
Full results from practice one
Practice two - Friday pm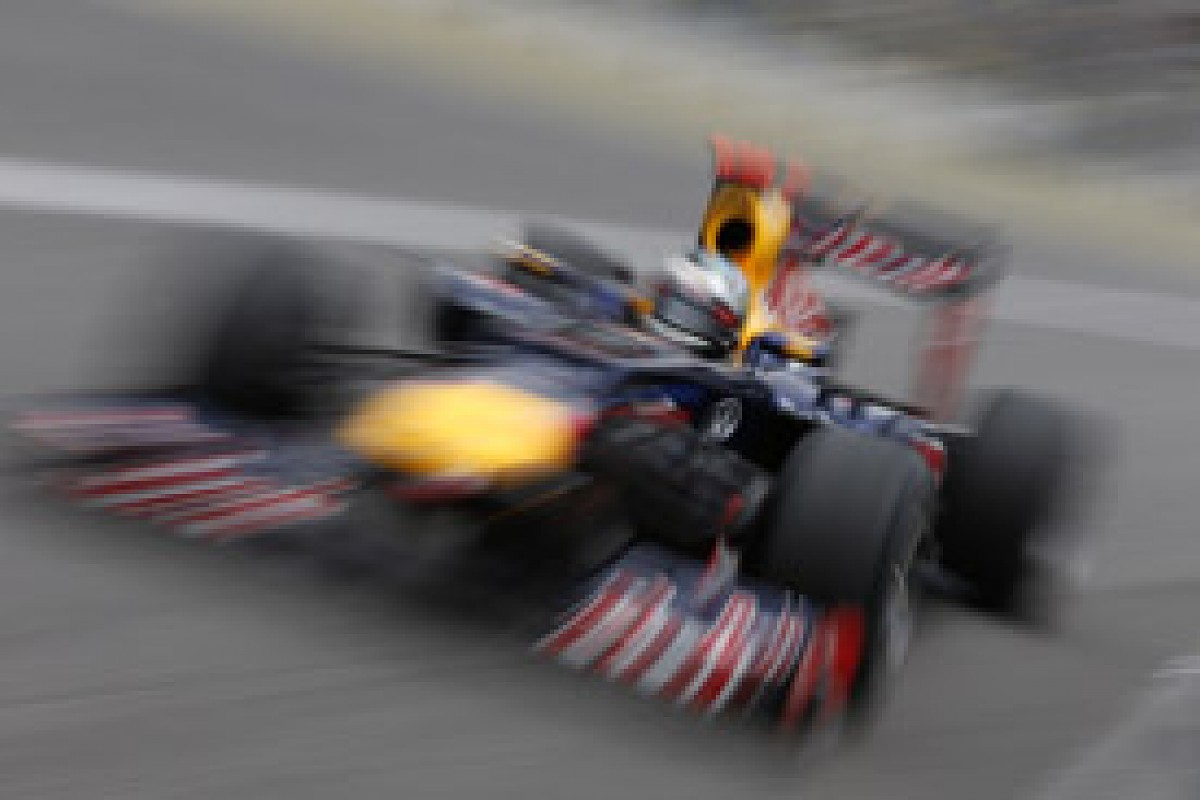 Vettel was further away in second practice © LAT
The top three was identical in the afternoon, Hamilton again heading the two Red Bulls. But it was a much more comfortable session for the McLaren driver, whose 1m14.026s on the softer tyres put him half a second clear for a spell.
No one could get closer than the 1m14.300s that Vettel managed as he claimed second.
The German had spent half an hour on top earlier on when everyone was on hard tyres, but the best hard tyre time of that part of the session ultimately came from Vettel's title rival Alonso.
The Ferrari man ended up fifth by the finish, one place behind team-mate Massa this time. On long-run pace, Massa appeared to be the man to beat.
Mercedes was encouraged to see Michael Schumacher and Nico Rosberg as high as sixth and seventh, ahead of Button, who was experimenting with a low-downforce set-up. It was "interesting", he felt, but not a good bet for the race.
Full results from practice two
Practice three - Saturday am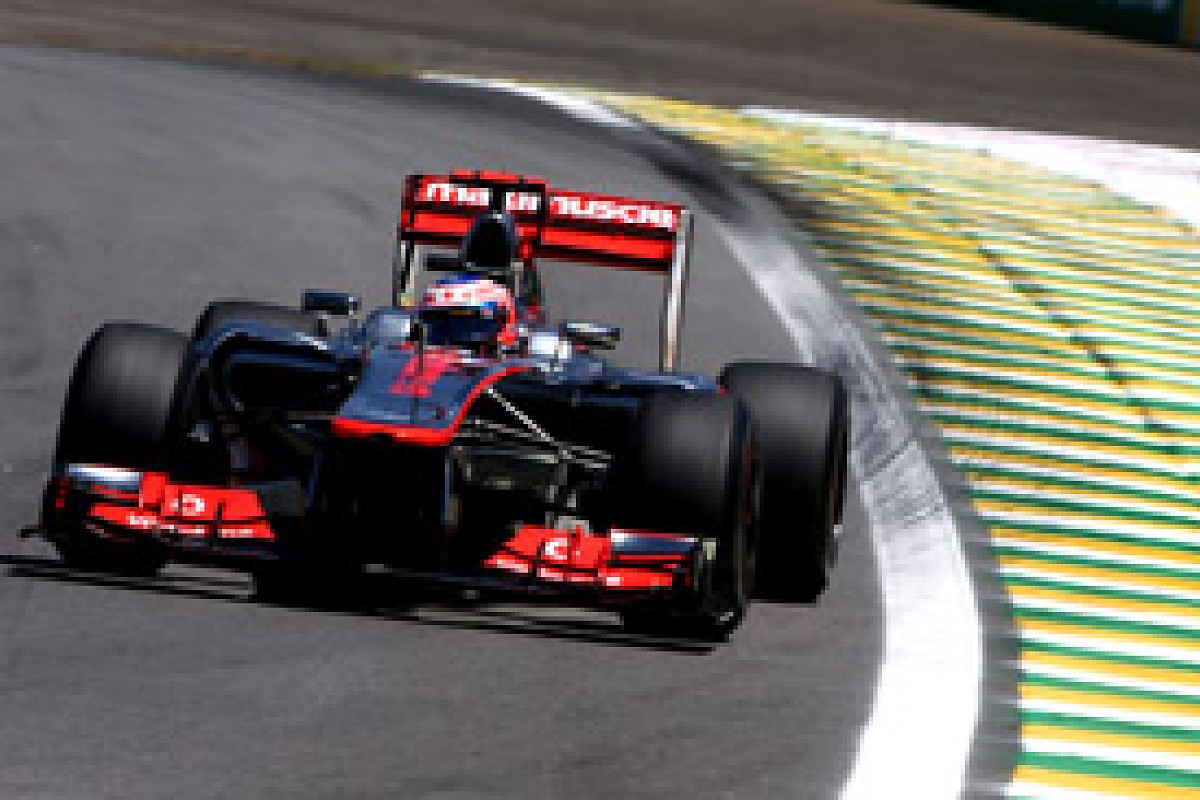 Button jumped to the top in FP3 © LAT
Hamilton had been the man to beat on Friday, but in final practice the edge was held by his McLaren team-mate Button, who was quickest whatever tyres were in use. He even set two times quick enough to hold the top spot in the end.
Vettel grabbed second, just 0.057s off Button, with a last-gasp lap. Alonso was back in eighth.
Webber, Hamilton and Romain Grosjean completed the top five. Grosjean's pace was encouraging for Lotus as his team-mate Kimi Raikkonen parked with an engine failure before managing a flying lap. The Finn had lost much of Friday morning to engine trouble as well.
Force India flew - Paul di Resta and Nico Hulkenberg both having spells in first place and still holding sixth and seventh at the end.
Raikkonen's smoky early exit aside, the main drama came from Bruno Senna running wide out of Juncao and spending a long while on the grass before eventually slewing back across the track. Michael Schumacher successfully dodged around the Williams as it speared towards him.
Full results from practice three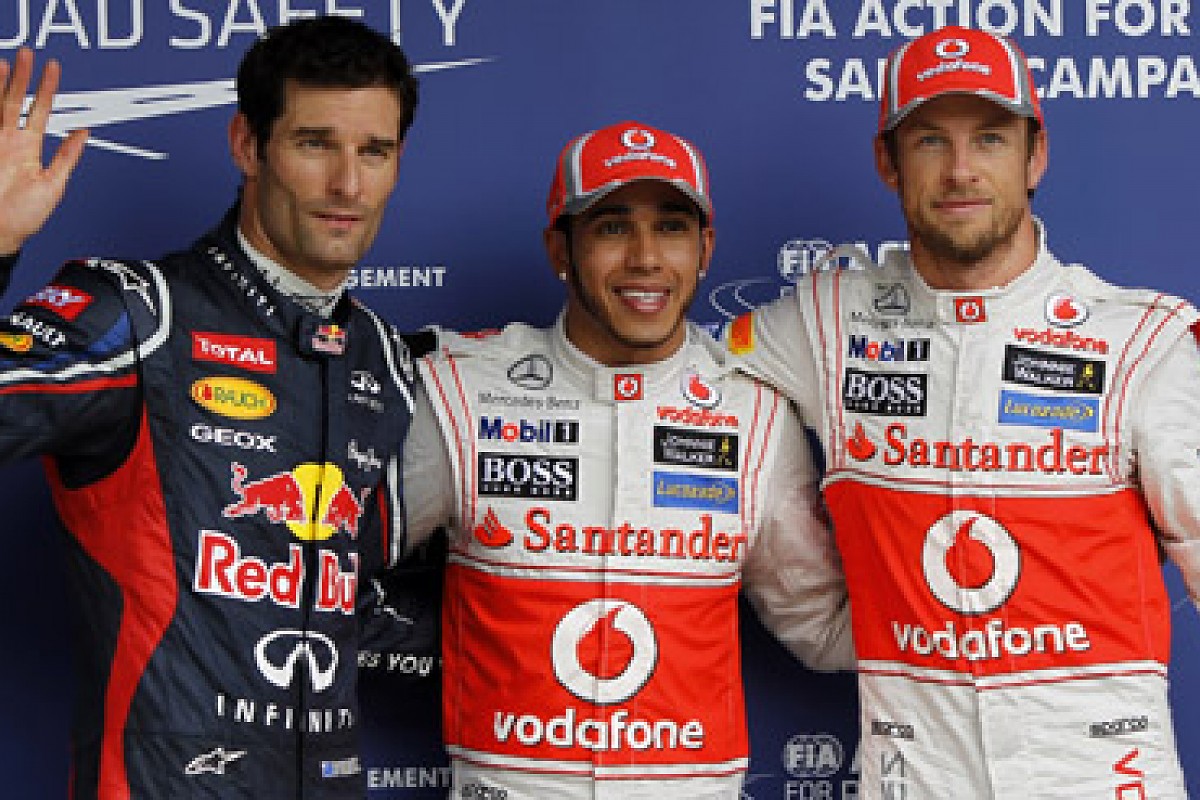 QUALIFYING
1. Lewis Hamilton
"I feel fantastic. I feel absolutely fantastic. Jenson did a very good lap and my lap was pretty good. I think the last corner could have been better, but otherwise, the rest of the lap was pretty sweet. I think the first sector is where I need to pick it up a little bit, but to be on the front row in both McLarens is a great way to start the last weekend of my journey with McLaren."
2. Jenson Button
"It was a good lap and Lewis was half a tenth quicker so fair play to him. Trouble is when you are on front row you hope for a dry race and a nice calm race so you can get some good points. But it's going to rain. And it's going to be a tricky one. I think we're looking forward to it. There are two more people who are under more pressure than us two."
3. Mark Webber
"I think we focus on ourselves tomorrow, do the cleanest race I can. We know there may be some tricky weather tomorrow. It's a long grand prix and I'll be focused 100 per cent on my efforts in my cockpit."
4. Sebastian Vettel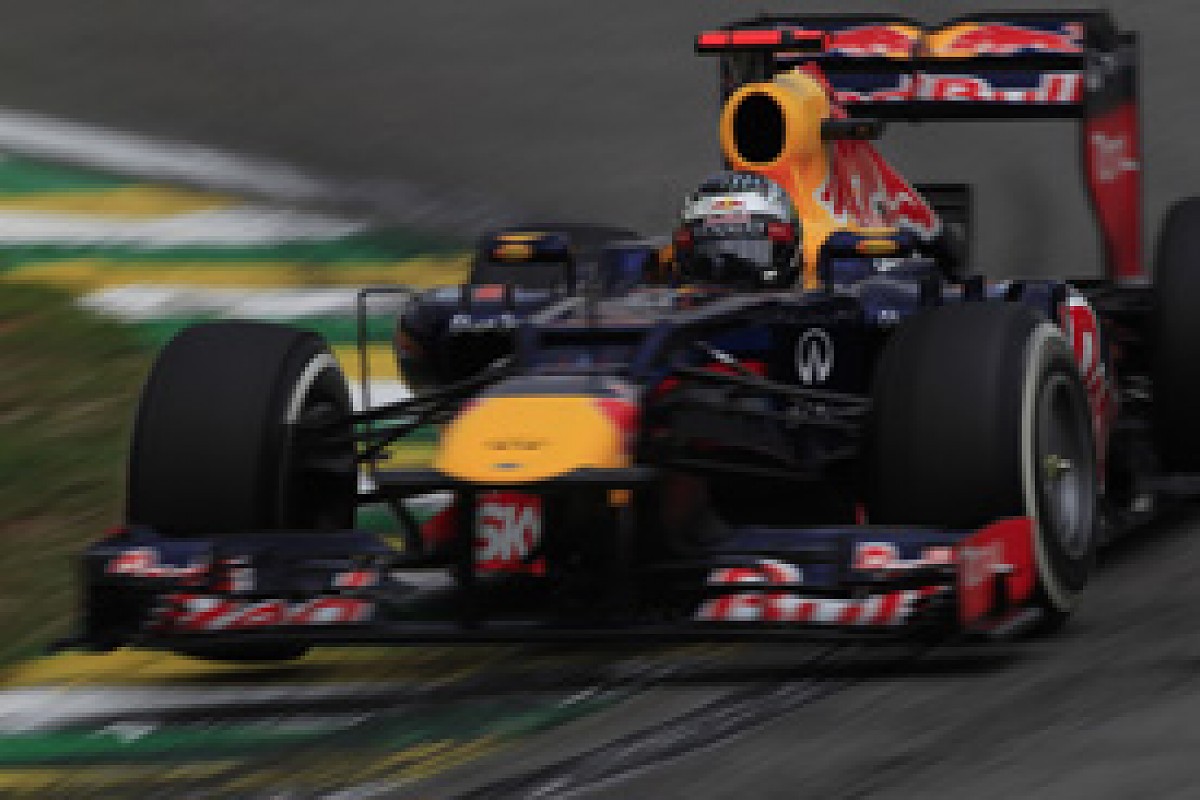 Vettel said he didn't extract the best from his car © LAT
"I've just come out of qualifying knowing I could have done a little bit better. I'm keen to go back now and look at the data and see where I wasn't quick enough. Q3 was not 100 per cent perfect. The first run in Q3 was not good for me as I did a mistake going into Turn 4. The second run I was pretty happy with it but it wasn't quick enough."
5. Felipe Massa
"It was a great lap, a great performance. I think it was a perfect qualifying today. I think I'm driving in the direction I want and I think when you are like that you can be very competitive. Looking at the pace of the Red Bulls and McLarens, I don't think anything better was possible today."
6. Nico Hulkenberg
"The track dried up quite quickly and the car felt good - we definitely improved it more between practice and qualifying. So seventh place is not too bad and is probably about what we were expecting. For tomorrow we are in good shape: I've got quite a neutral set-up so we can cope with whatever weather we get."
7. Fernando Alonso
"It's not a surprise because we started seventh in Abu Dhabi, ninth in the USA, and eighth here. So it's more or less as expected. We'll try to repeat our performance on Sunday and reach the podium like Abu Dhabi and Austin. We need some strange circumstances, we need a chaotic race in a way, rain or something, let's hope we see something like that."
8. Kimi Raikkonen
"We didn't get a single lap this morning and yesterday we didn't really get anything done, so the car was pretty bad. "We just had to change it a lot since yesterday and it was purely guessing for qualifying because we hadn't done many laps. In that way, it was fine, but with some running this morning we could have done some proper set-up work."
9. Nico Rosberg
"To progress into Q3 and the top 10 in qualifying today was a reasonable achievement for us. Our car set-up was a little compromised due to the race conditions expected tomorrow so we should be in better shape then."
10. Paul di Resta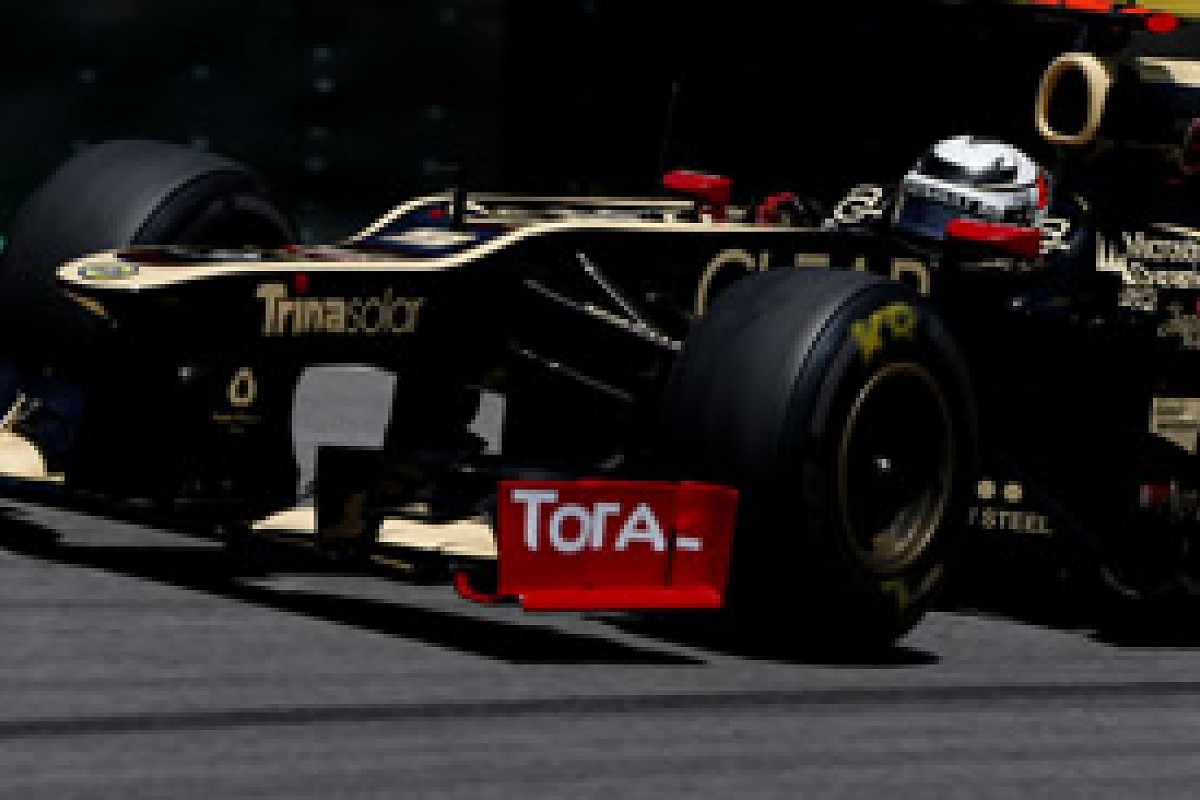 Raikkonen's pace was hindered by his engine problems © LAT
"I'm a little disappointed after yesterday and this morning. We have been strong all weekend and running in the top 10. It was achievable there in Q2, but unfortunately [Kamui] Kobayashi in front of me went wide into Turn 1 and came bouncing back on the track down to Turn 3 and I didn't know where to put myself, so you're a bit cautious through Turns 2 and 3."
11. Bruno Senna
"In Q1 the car was competitive and we had really good temperature on the tyres. In Q2, when the sun came out, we were a little aggressive with the set-up of the car and I think we put a little too much temperature on the tyres and paid for that. I was three tenths slower than I was in the morning and that was with more fuel, so it was totally possible to be in Q3."
12. Sergio Perez
"We've been struggling for pace, but I'm optimistic for tomorrow and if it rains we can be quite competitive. Tomorrow, we have nothing to lose and everything to win from Mercedes, so we're going for it and we'll try to score points in a big way."
13. Michael Schumacher
"Yesterday was pretty reasonable. Today we didn't look that strong. I was focusing a little bit more towards tomorrow. On top of this, I didn't get the tyres spot on. So we ended up where we did. But I don't think we had great potential for qualifying."
14. Kamui Kobayashi
"My fastest lap wasn't a perfect one because the warm up of the tyres wasn't perfect. I lost a bit of the tyres' potential there. I think in damp conditions we would have had a chance to make Q3, but not on a dry track."
15. Daniel Ricciardo
"Today, we ran at more or less the same pace we had since the start of Friday. Given the forecast, I've opted for a set-up that will favour those conditions tomorrow. This afternoon was mostly a battle with my team-mate and I don't think I could have got any further up the order."
16. Pastor Maldonado (10-place penalty after third reprimand of season for missing weighbridge call)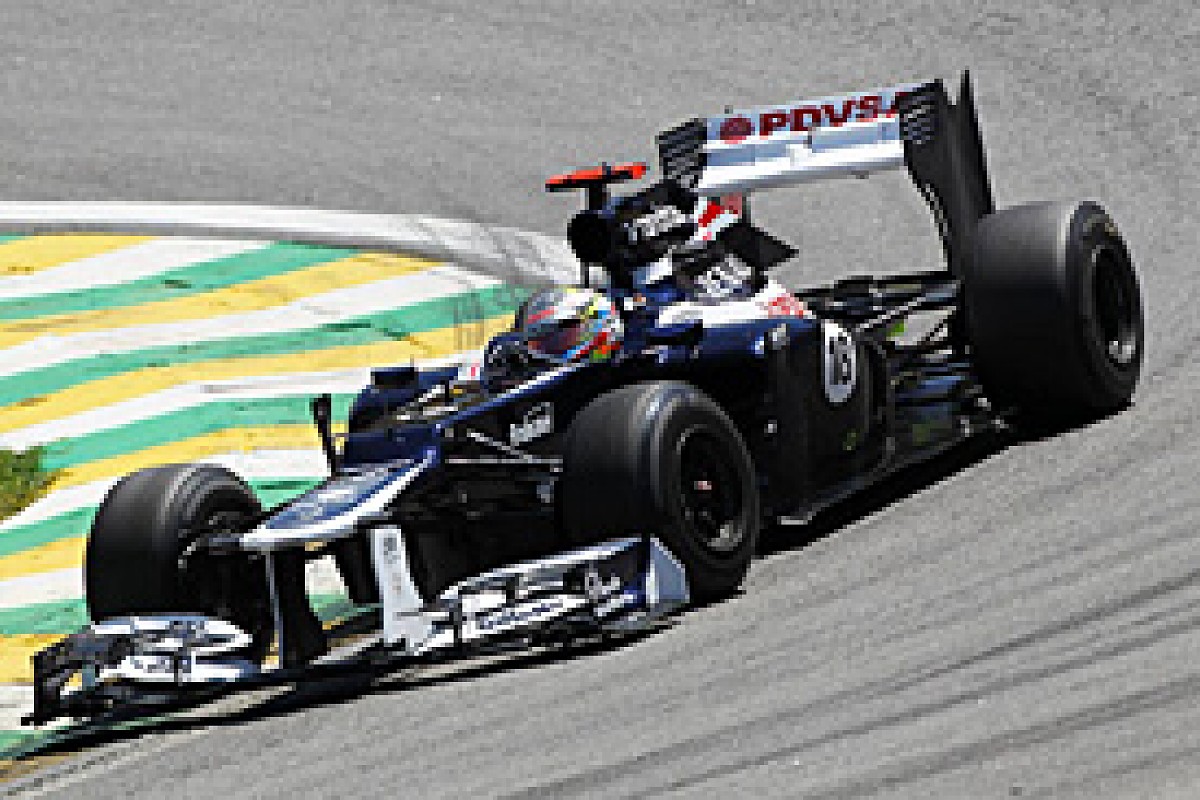 Maldonado was penalised for missing the weighbridge © XPB
"The light came on quite late. It was the first time that we run the 100km/h in the pitlane and when you are at 100km/h and the light is just 20 metres ahead of you, it's too late. Maybe the light was completely red when I crossed it but at the same time, the entry of the pitlane is very narrow, you are very low in the car and there is a hill. When the hill finishes, there is the light, so it is a difficult situation."
17. Jean-Eric Vergne
"It wasn't too bad, given that I had struggled to find the best set-up since yesterday. In qualifying, the car was the best it has been all weekend. Maybe I could have been a tiny bit faster, even if I did not make any mistakes, but probably not enough to improve my position."
18. Romain Grosjean - hampered by collision with de la Rosa
"I was behind Pedro for the whole lap. I was going to overtake him in a straight line and I don't think he saw me and pushed me into the barriers. I braked as much as I could, but we had contact."
19. Vitaly Petrov
"I'm very pleased with the result today. It wasn't quite enough to get into Q2 but in the conditions today I think we can be happy with where we ended up. On the first couple of laps Turn 4 was completely wet so I had to make sure we could maintain tyre temperatures and keep pushing throughout the whole lap until the dry line appeared and in the end it paid off."
20. Heikki Kovalainen
"It could be my last ever qualifying in F1. It seems quite difficult at the moment. All I can say is that I will finish the job tomorrow and I will give 100 per cent."
21. Timo Glock
"There was only so much we could do versus the cars we are fighting with as their KERS advantage up the hill was obvious, so with that in mind we have to be pleased with how well we performed relative to them. Unfortunately we ran out of time to complete one more lap, which I'm sure would have seen us keep improving."
22. Charles Pic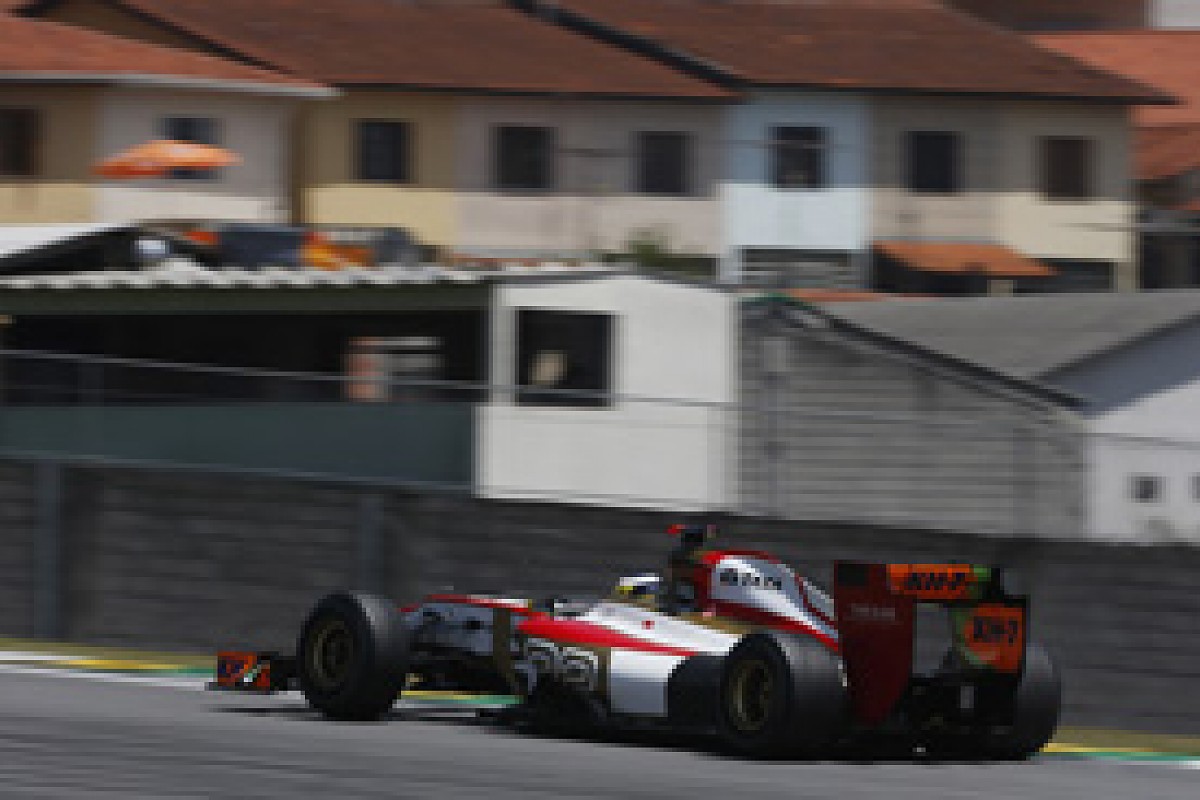 De la Rosa's car was damaged after his clash with Grosjean © LAT
"This is another new track for me and I was happy with our pace in FP3 this morning. Unfortunately the track conditions changed a lot for qualifying and the circuit was quite wet in some corners and completely dry in others. This experience was useful and I have learned a lot from it, which will help for the future."
23. Narain Karthikeyan
"Even though the track was still damp, we finally decided to go out on the slicks and, although it was difficult at the beginning, it was the right thing to do. We struggled to generate enough tyre temperature but I am quite satisfied of how it went overall."
24. Pedro de la Rosa - hampered by collision with Grosjean
"After the incident qualifying was over for me, the car was completely bent. It's just one of those things you don't understand. He could have overtaken me under braking for the first corner. There was no room there. He bent my car, he punctured my tyre and it also affected the DRS."
Starting grid

Pos Driver                Team
 1. Lewis Hamilton        McLaren-Mercedes
 2. Jenson Button         McLaren-Mercedes
 3. Mark Webber           Red Bull-Renault
 4. Sebastian Vettel      Red Bull-Renault
 5. Felipe Massa          Ferrari
 6. Nico Hulkenberg       Force India-Mercedes
 7. Fernando Alonso       Ferrari
 8. Kimi Raikkonen        Lotus-Renault
 9. Nico Rosberg          Mercedes
10. Paul di Resta         Force India-Mercedes
11. Bruno Senna           Williams-Renault
12. Sergio Perez          Sauber-Ferrari
13. Michael Schumacher    Mercedes
14. Kamui Kobayashi       Sauber-Ferrari
15. Daniel Ricciardo      Toro Rosso-Ferrari
16. Pastor Maldonado      Williams-Renault
17. Jean-Eric Vergne      Toro Rosso-Ferrari
18. Romain Grosjean       Lotus-Renault
19. Vitaly Petrov         Caterham-Renault
20. Heikki Kovalainen     Caterham-Renault
21. Timo Glock            Marussia-Cosworth
22. Charles Pic           Marussia-Cosworth
23. Narain Karthikeyan    HRT-Cosworth
24. Pedro de la Rosa      HRT-Cosworth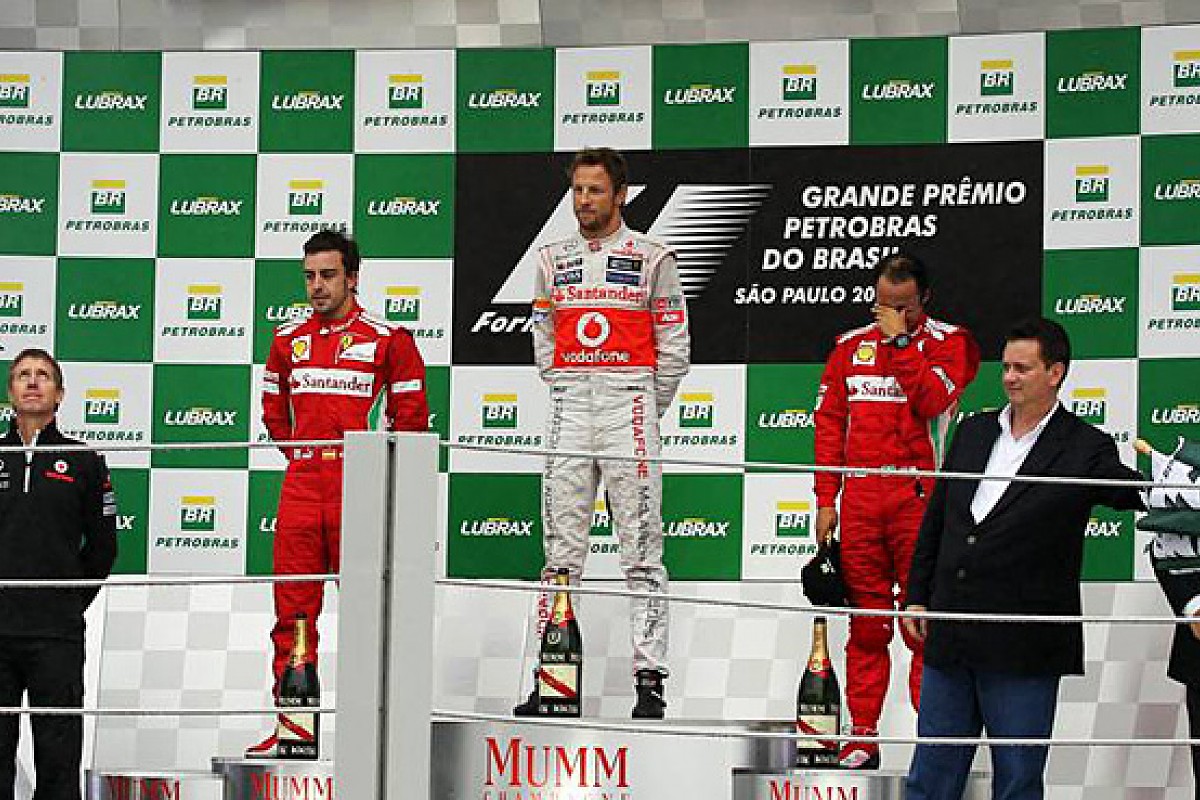 RACE
Sometimes world championships are easily clinched.
That was Sebastian Vettel's experience so far. The underdog in the standings, but the man with the quickest car on a day when his rivals got it all wrong in 2010. A class apart all year in 2011.
But sometimes you have to scrap ferociously to claim the title in an race of extraordinary tumult, cling on desperately to the minimum points you need as all hell breaks loose and weather and rivals seem to be doing all they can to spoil your year at the eleventh hour.
That's what Michael Schumacher experienced at Suzuka in 2003. Lewis Hamilton had a taste of it in Brazil in 2008.
Now it was Vettel's turn to prove that he could win a title with an elbows-out charge from the back as well as imperiously from the front.
On paper, it needn't have been that way. After a week of constant chatter about guaranteed race day downpours, many weather forecasts switched to "zero per cent chance of rain" by Sunday morning.
And in a dry race, it looked easy. Vettel's qualifying had been, by his illustrious Saturday standards, ropey. Yet that still put him fourth, three places clear of rival Fernando Alonso, who needed to magic up a 14-point swing in a car not only slower than a Red Bull, but hard-pressed to match McLaren too, or even Force India and Lotus.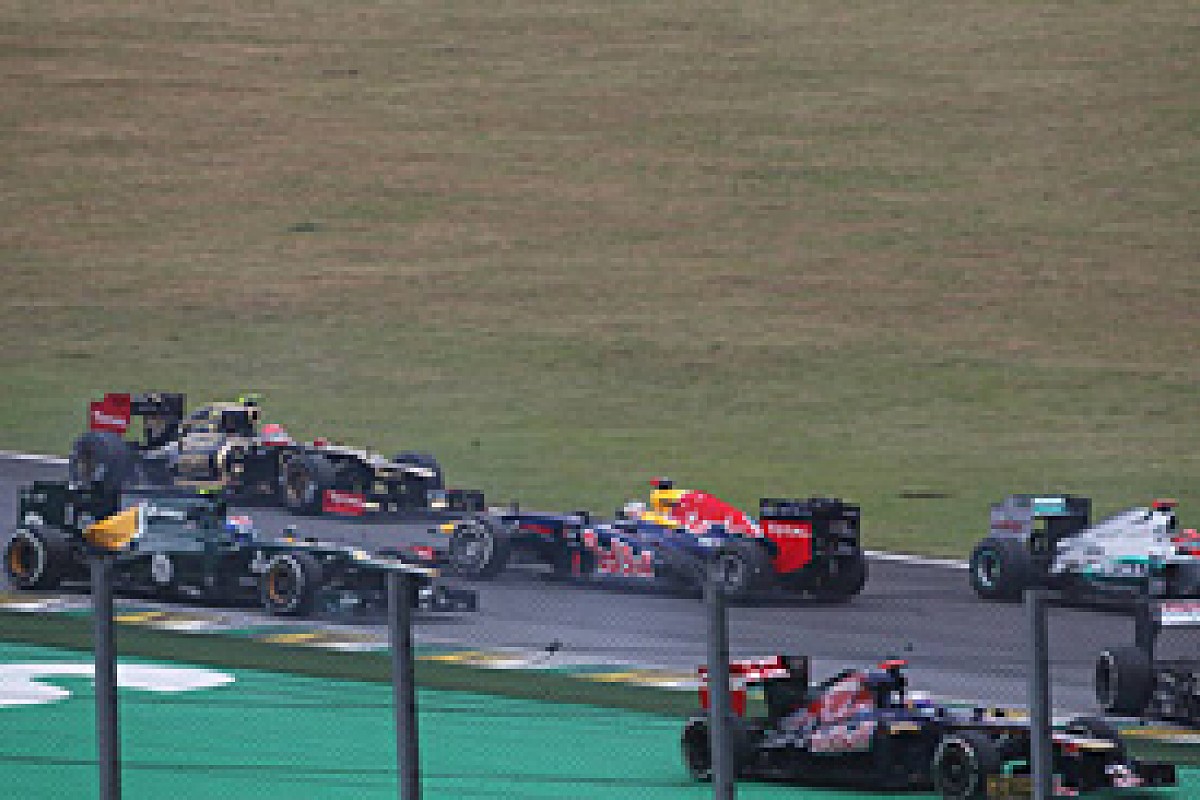 Vettel facing the wrong way on lap one © XPB
Then it started drizzling on the grid. Not enough to need wet tyres, just enough to make things annoyingly unpredictable.
Jenson Button had referred to Alonso's position being the more exciting one, and Vettel's the one laden with pressure.
That showed in their approaches to the treacherous start. Vettel got away quite slowly and was tentative on the brakes into the Senna S, while Alonso sailed down the outside like a man for whom anything less than boldness was pointless. The Ferrari exited the corner in fifth, the Red Bull was swamped and back in seventh.
Much worse was to come. Vettel took a wide line into the Descida do Lago and made firm contact with Bruno Senna's Williams at the apex as the Brazilian went down the inside of Paul di Resta.
Senna, who was convinced Vettel had no idea he was there, bounced off the Red Bull in what looked like a race-ending manner, then was collected by Sergio Perez, completing the messy end to his Sauber stint.
In reliability terms, Red Bull has often been regarded as the most fragile of the top teams (an 'honour' McLaren has threatened this year, admittedly). But Adrian Newey's car can certainly resist a clout, as despite having a Williams savage its sidepod, floor and suspension, Vettel's car was fit to continue. After one careful lap of checking, he was setting fastest race laps and surging past rivals as if they were in GP2 cars. Incredibly, by lap eight Vettel was seventh.
Alonso was fourth at that stage. He had been as high as third, pulling off another heroic move as he dived down the inside of the battling Felipe Massa and Mark Webber at the Senna S on lap two to take two places in a single pass.
But skittering off at the same corner soon after lost him a position to the flying Nico Hulkenberg, who was about to play a starring role in the race.
So far all this had been achieved on slick tyres, but as the rain increased intermediates became increasingly tempting.
Many went for that option between laps eight and 10, including Alonso and Vettel. That dropped them to 12th and 17th respectively, but as many who had stayed out on slicks had second thoughts, they were able to hack back into top-five positions pretty swiftly.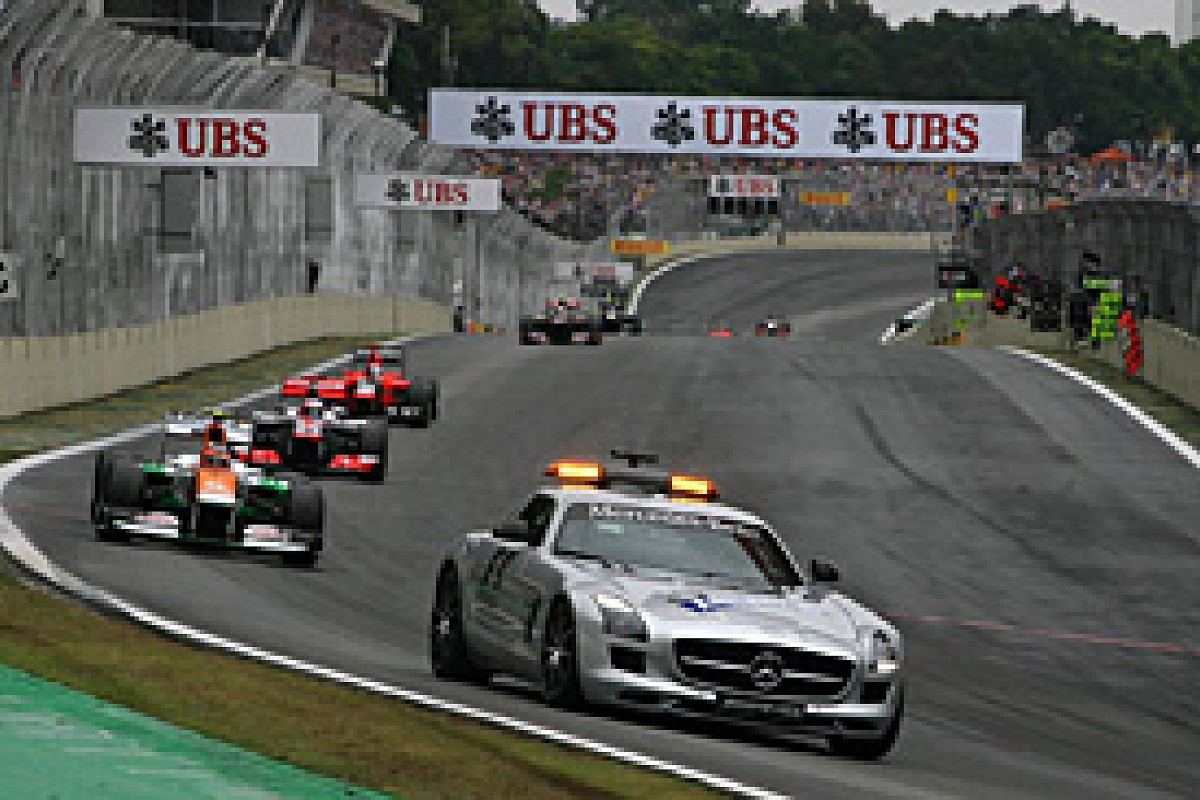 The safety car erased Hulkenberg's lead © XPB
It soon dried up, prompting a mass switch back to slicks, but no dramas for the title-chasing duo, who remained fourth and fifth.
And when the safety car came out from lap 23 to 29 to deal with assorted debris, Vettel was on Alonso's tail for the restart.
Instead of pouncing and putting the battle beyond doubt, though, Vettel was the man under pressure, as a slow restart meant he was swamped by Webber and Kamui Kobayashi. Eager not to take his team-mate out, Webber threw his car over the Senna S run-off, but Kobayashi wasn't going to be that generous and stayed ahead of Vettel.
He briefly got ahead of Alonso too, only to be swiftly re-passed. Massa, showing great form at this stage, also overtook both Vettel and Kobayashi.
So heading into the final part of the race, Alonso was fourth and Vettel seventh - enough to make the German champion.
A very unlikely car held the lead: the Force India of Hulkenberg.
Only the German, the fastest of all the leaders in the tricky opening stages, and Button had stayed out on slicks in the initial shower. Button had enjoyed a spirited early battle with team-mate Hamilton, the two McLarens swapping the lead on a couple of occasions, but when the Mercedes-bound man pitted for intermediates, it became a Button versus Hulkenberg head to head.
As everyone else vacillated over tyres, the pair found themselves 45s clear of the pack. And by lap 18 it was the Force India in front, as Hulkenberg pulled off a neat move down the outside into the Senna S after many laps of pressurising Button.
Hulkenberg started to edge away thereafter, until the safety car brought everyone back together.
Any thoughts that the McLarens might ambush Hulkenberg at the restart were swiftly dismissed when the Force India breezed away and left the chasing Britons to fight each other, with Hamilton eventually prevailing.
Hulkenberg's lead lasted until lap 48, when he slid into a half-spin at the Baco do Paco and Hamilton swept past before he could recover.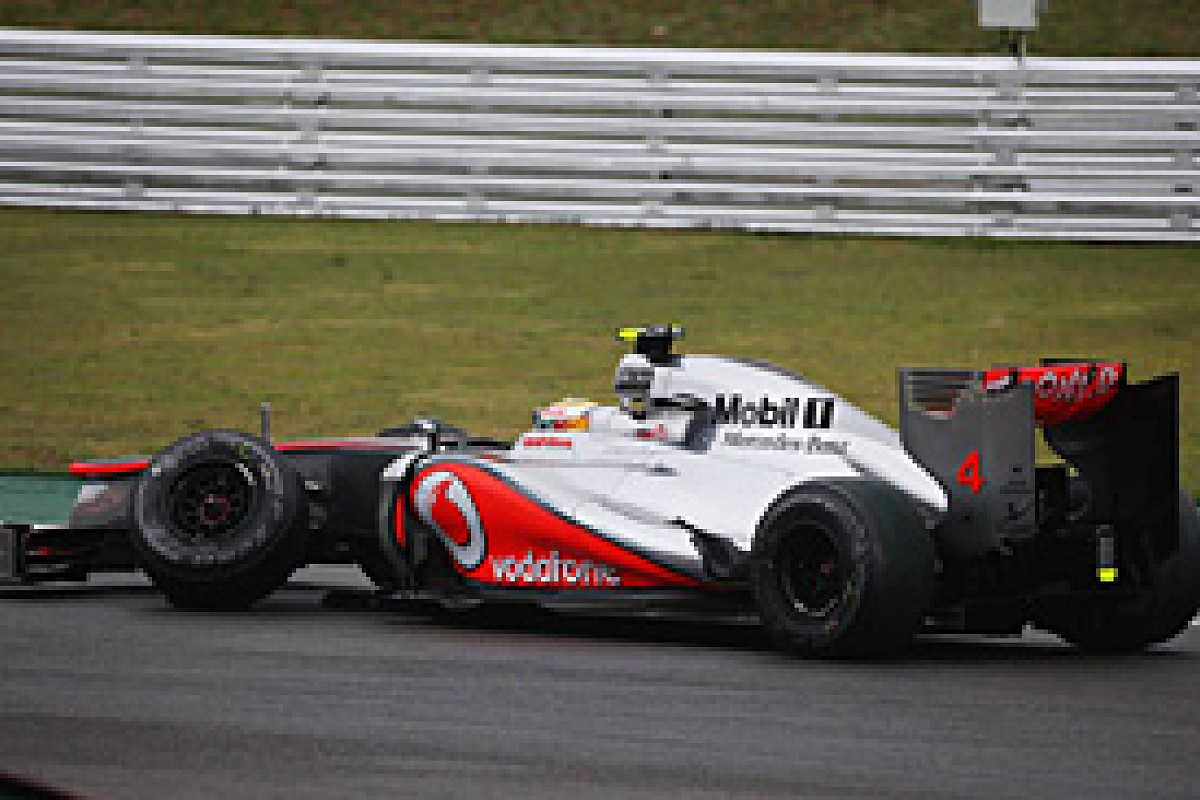 Hamilton's final race with McLaren ended poorly © XPB
But he quickly counter-attacked, and as they headed into a mass of traffic six laps later, Hulkenberg slipped back down the inside of Hamilton to retake first place.
This time, however, his time in the lead was mere milliseconds long, as the Force India slid into a spin as it completed the move and smacked into the McLaren. Hamilton was sidelined with broken suspension, his long McLaren career ending with disappointment. The Force India proved as tough as Vettel's Red Bull, bouncing into the air, landing heavily, but continuing in second - until a drive-through penalty for causing the shunt dropped him to fifth.
In fairness to Hulkenberg, the increasingly slippery track had been a big factor in his mistake. And as the rain became ever more intense, more pitstops for intermediates were on the cards.
Vettel did not time his well, and the stop was also a painfully slow one as with a broken radio he could not inform Red Bull of his intentions. Suddenly he was back to 10th, with Alonso set to pick up second once Hulkenberg was penalised.
More pitstops ahead and a few passing moves quickly let Vettel off the hook, getting him into the sixth place that would be sufficient as long as Alonso didn't catch the now dominant Button.
Between them sat the second Ferrari of Massa, the second Red Bull of Webber, and the reflective Hulkenberg.
It had been an eventful afternoon for both Massa and Webber. The former badly mistimed his early tyre changes, but was spot on when changing back to intermediates, and flew spectacularly through the field in the meantime - which meant he was on course for second before letting Alonso pass him.
Webber had clashed with Kobayashi early on, had a few other excursions, survived it all, and found himself in fourth - gaining on the Ferraris but also under a little pressure from Hulkenberg.
Poignantly, Vettel's last pace of the race had been on friend and forerunner Schumacher, who had somehow made it to seventh despite an early puncture. The same problem hit Mercedes team-mate Nico Rosberg, leaving him 15th at the flag.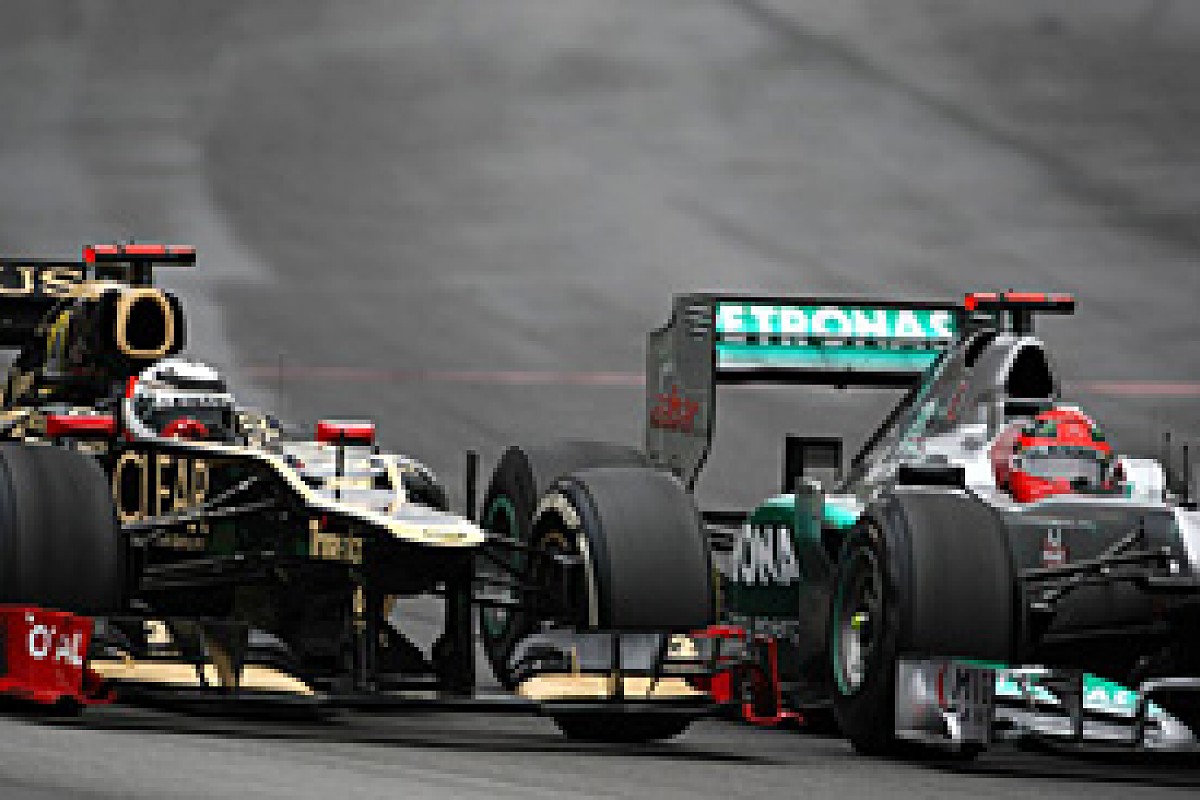 Schumacher fights it out with Raikkonen © XPB
Schumacher's race included some superb wheel to wheel dicing with Kimi Raikkonen and a late collision with Kobayashi. The latter spun back to ninth, while Raikkonen provided yet more comedy when on one of several excursions he took to an access road at Juncao only to find it blocked by a closed gate.
He said the obstacle hadn't been there when he went off at the same spot in 2001... He finished 10th.
Jean-Eric Vergne was ahead of them, fighting back from a collision with Glock.
That incident was a major blow for Marussia on a day of drama in the battle for 10th in the constructors' championship.
The early chaos, litany of pitstops and some sublime driving on slicks from the underdogs meant Marussia, Caterham and HRT all appeared in the top 10 for a while, with Kovalainen and Glock getting up to sixth and seventh at one stage.
The Vergne collision ruined Glock's race, while a slow pitstop and later tyre strategy miscue spoiled Kovalainen's day.
That meant it came down to their team-mates. Charles Pic was running in the magic 12th place into the final laps, but Vitaly Petrov was hunting him down, ironically in the Caterham Pic is set to occupy next year. Marussia was left devastated as the Russian charged past in the closing laps.
Its one remaining hope was that Daniel Ricciardo might save the day by passing them both and pushing Petrov back to 13th. The Toro Rosso driver had been a points contender before getting a few tyre guesses wrong, but now his wets were beginning to work and he was taking many seconds per lap off the Caterham and Marussia ahead.
It wasn't to be for Marussia though, as on the penultimate lap, a wild afternoon for Paul di Resta ended with a heavy crash on the kink on the pits straight. That not only meant a safety car finish, ending Ricciardo's charge, but also elevated Petrov to 11th for Caterham. Tenth place belonged to the green team again.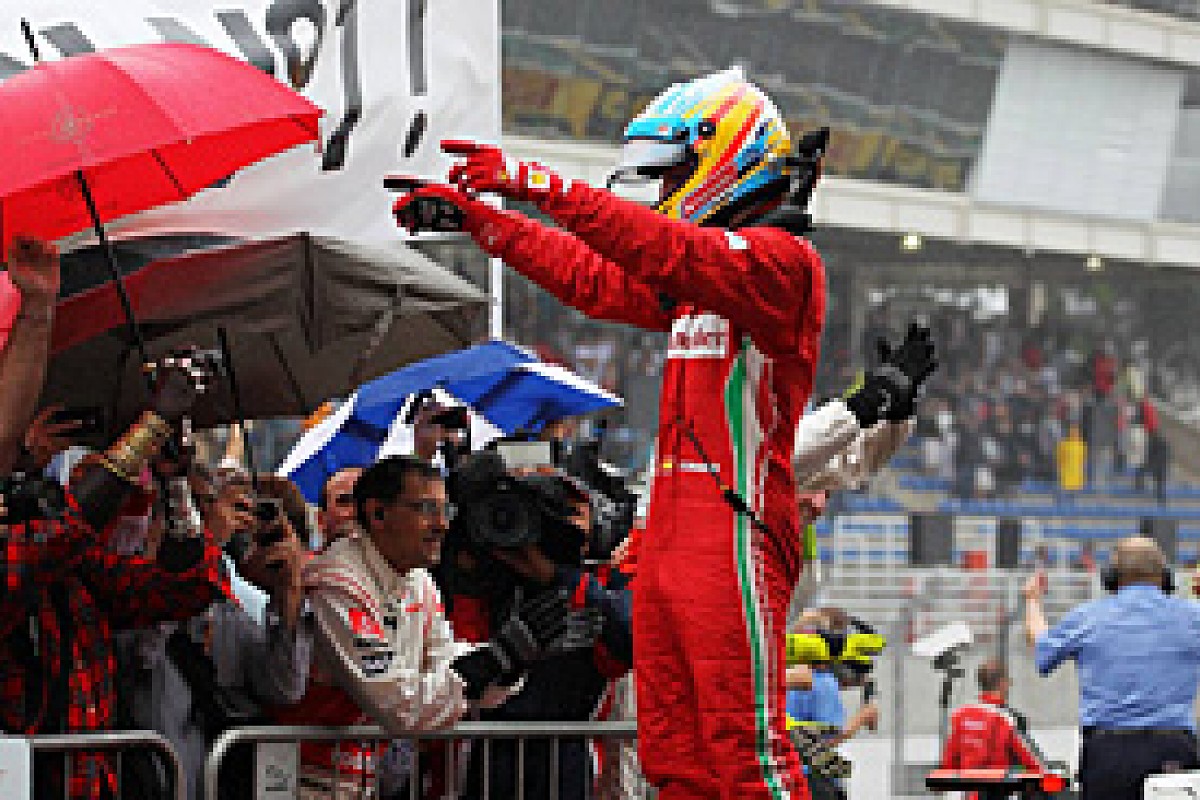 Second was not enough for Alonso © XPB
After a race and a season such as this, a safety car final lap hardly counted as a disappointment, for the battle was already settled.
Button was a very deserving winner of the sort of race where he so often excels. Vettel and the Red Bull team were as relieved as they were delighted.
Alonso waved to the crowd to celebrate his second place, then paused in parc ferme and stared at the scene of jubilation around Vettel.
And at that moment, for all his defiant proclamations about how thrilled he was just to keep the title fight alive given Ferrari's huge disadvantages, he looked distraught to have lost.
Just three points split two of F1's greatest ever drivers at the end of this extraordinary year. Vettel had proved in Abu Dhabi and Brazil that he wasn't just a one-trick wonder who only knew how to shine from the front.
He had certainly driven a world champion's campaign. But this year, the man in second in the final standings had delivered not only the best season of his already outstanding career, but one of the greatest season-long performances in F1 and Ferrari history. And hopefully that will never be forgotten.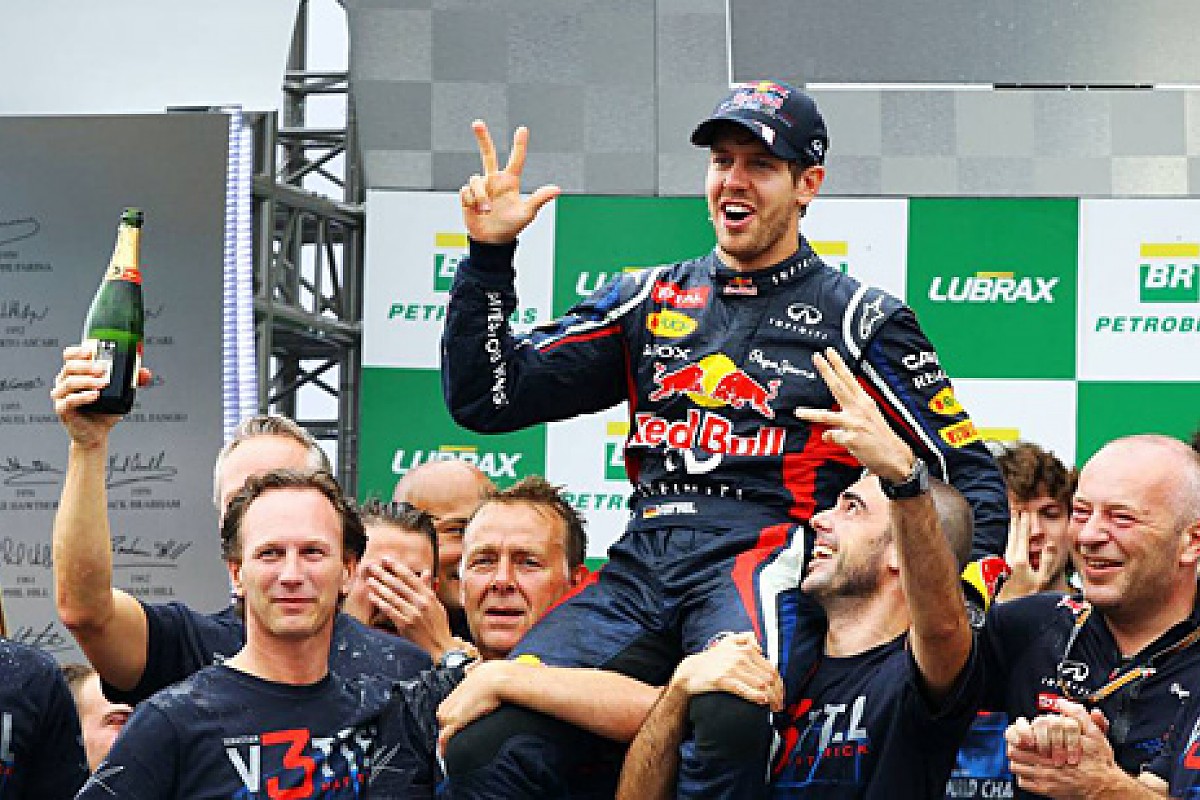 Lap-by-lap as it happened on AUTOSPORT Live
Race results:

Pos  Driver        Team                       Time
 1.  Button        McLaren-Mercedes           1h45:22.656
 2.  Alonso        Ferrari                    +     2.754
 3.  Massa         Ferrari                    +     3.615
 4.  Webber        Red Bull-Renault           +     4.936
 5.  Hulkenberg    Force India-Mercedes       +     5.708
 6.  Vettel        Red Bull-Renault           +     9.453
 7.  Schumacher    Mercedes                   +    11.907
 8.  Vergne        Toro Rosso-Ferrari         +    28.653
 9.  Kobayashi     Sauber-Ferrari             +    31.250
10.  Raikkonen     Lotus-Renault              +     1 lap
11.  Petrov        Caterham-Renault           +     1 lap
12.  Pic           Marussia-Cosworth          +     1 lap
13.  Ricciardo     Toro Rosso-Ferrari         +     1 lap
14.  Kovalainen    Caterham-Renault           +     1 lap
15.  Rosberg       Mercedes                   +     1 lap
16.  Glock         Marussia-Cosworth          +    2 laps
17.  De la Rosa    HRT-Cosworth               +    2 laps
18.  Karthikeyan   HRT-Cosworth               +    2 laps
19.  Di Resta      Force India-Mercedes       +    3 laps

Retirements:

Driver        Team                       On lap
Hamilton      McLaren-Mercedes             55
Grosjean      Lotus-Renault                6
Maldonado     Williams-Renault             2
Senna         Williams-Renault             1
Perez         Sauber-Ferrari               1


World Championship standings, round 20:                

Drivers:                    Constructors:             
 1.  Vettel       281        1.  Red Bull-Renault          460
 2.  Alonso       278        2.  Ferrari                   400
 3.  Raikkonen    207        3.  McLaren-Mercedes          378
 4.  Hamilton     190        4.  Lotus-Renault             303
 5.  Button       188        5.  Mercedes                  142
 6.  Webber       179        6.  Sauber-Ferrari            126
 7.  Massa        122        7.  Force India-Mercedes      109
 8.  Grosjean      96        8.  Williams-Renault           76
 9.  Rosberg       93        9.  Toro Rosso-Ferrari         26
10.  Perez         66       
11.  Hulkenberg    63       
12.  Kobayashi     60       
13.  Schumacher    49       
14.  Di Resta      46       
15.  Maldonado     45       
16.  Senna         31       
17.  Vergne        16       
18.  Ricciardo     10       
       
All timing unofficial

TEAM BY TEAM
Red Bull
Vettel became world champion for the third time in rather more dramatic style than his first crowns were clinched. A lacklustre fourth on the grid, he then made a bad start, collided with Senna on lap one, fought back, struggled with a damaged car mid-race in the dry, had a very slow final pitstop, and somehow made it to sixth place - which was enough.
Webber outperformed his team-mate for some of the weekend. He qualified third, had a few excursions including a tangle with Kobayashi and a near-miss with Vettel, and emerged in fourth by the finish.
McLaren
For the second weekend in succession, McLaren was the pacesetter, sweeping the front row with Hamilton and Button. The latter seemed particularly keen on an intra-team victory shoot-out in Hamilton's team swansong, and that's what the early laps in the damp delivered - in pretty spectacular style.
Button won that initial battle, and then stayed out on slicks when Hamilton joined the rush for intermediates. But so did Hulkenberg, who hunted down and passed Button.
Following the safety car, Button was passed by Hamilton as well. But when Hamilton and Hulkenberg collided, the lead was Button's once again and he dominated to the flag.
Ferrari
Yet another astounding performance from Alonso, but it wasn't quite enough.
Despite a promising Friday, Ferrari's dry-weather pace was missing again on Saturday, where Alonso was only eighth in qualifying (later gaining a place from Maldonado's penalty) - although Massa beat him and took fifth.
Alonso surged forward from the outset, immediately jumping to fifth and then slicing past Massa and Webber in one bold move. He was later passed by Hulkenberg, and had some headaches with Kobayashi too, before settling into fourth place. Hamilton and Hulkenberg's collision elevated Alonso to second, but the title was Vettel's.
Massa lost out by mistiming his early changes to intermediates and back to slicks, but drove superbly to recover to fifth and then had a spell in second following the final pitstops before handing the place to Alonso and getting another home podium in third.
Mercedes
Mercedes ditched its Coanda exhaust and went back to basics, a plan that seemed to be working on Friday. It was less successful on Saturday, when Rosberg and Schumacher were 10th and 14th before benefiting from Maldonado's penalty.
Both were in the thick of the lower top 10 action at times in the race, and both also had punctures. Schumacher still ended up seventh, finally returning to the points as he waved goodbye to the sport (again). Rosberg had to settle for 15th.
Lotus
The Abu Dhabi winner was only a sideshow this time, although Raikkonen entertained as ever. Engine problems in two of the three practice sessions severely limited his pre-qualifying mileage, and on a guesswork set-up he could only qualify ninth before Maldonado's penalty.
Raikkonen's race was spent bouncing over escape roads and going aggressively wheel to wheel with people, and at one stage getting thoroughly lost when he found that the Juncao access road was blocked by a closed gate, prompting a neat three-point turn then a less neat rallycross-style route back towards the circuit. He finished 10th.
Grosjean had a dreadful weekend. Quick in practice, he collided with de la Rosa in Q1 and was left 18th on the grid. He then spun into the wall at Mergulho early in the race.
Force India
This could very easily have been Force India's maiden win, at the track where its Jordan forerunner took its last.
Hulkenberg was the star. He was sixth on the grid after Maldonado was penalised, and displayed spectacular pace in the damp, battling up to third before getting second as he stayed on slicks when others chose intermediates.
That wasn't Hulkenberg's limit though, as he overtook Button to claim a race lead he would hold for over half the distance, until a small error let Hamilton through.
He was soon trying to retake the lead, only to spin into Hamilton. With the McLaren eliminated, Hulkenberg was given a drive-through penalty and fell to fifth.
Di Resta's afternoon featured a few incidents, but he was on course for points until crashing heavily in the final laps.
Sauber
Both Sauber drivers complained of a lack of grip during the early part of the weekend when track conditions were at their warmest. As the weather turned cooler, and qualifying got underway, their pace marginally improved, with Perez and Kobayashi lining up in 12th and 14th position once Maldonado's demotion had taken place.
McLaren-bound Perez was caught in the opening lap melee and retired on the spot, but Kobayashi went on to enjoy a decent race, even managing to temporarily demote title-challenger Alonso for fourth after the safety car restart on lap 29.
During the latter stages he began to experience tyre graining and, under threat from Vettel for ninth position on lap 58, made a mistake in Turn 4 to let the German through - a feat he also repeated on lap 70 when Vergne maneuvered past the Japanese driver.
Kobayashi then tried an over-ambitious move on Schumacher at the end, but tapped the Mercedes driver and went into a spin. He eventually crossed the line in ninth place which, coupled with Perez's retirement, meant Sauber missed out on fifth in the constructors' table to Mercedes.
Toro Rosso
Ricciardo didn't appear too happy to have qualified in 16th position, reckoning the team had failed to make any improvements since Friday's practice sessions, while Vergne scraped through to Q2 thanks to Grosjean's encounter with an HRT.
The Frenchman finished a respectable eighth - his first points since Korea - having shown good pace while running on slicks in what were at times tricky conditions.
His Aussie team-mate came 13th, although it was a case of what might have been, for it seemed like he was destined for a decent result until he pitted for dry tyres before it began to rain, resulting in a further costly pitstop and losing places in the process.
Williams
Maldonado made it into Q3 and took sixth position, only to be handed a 10-place grid penalty for notching up his third reprimand of the season after missing the weighbridge in the second part of qualifying.
The Venezuelan, who started from 16th, had an even more torrid time in the race, retiring shortly after the opening lap after becoming involved in a skirmish that began when team-mate Senna tapped Vettel into a spin.
Senna had made a decent getaway from 11th and was fighting with di Resta into Turn 4, before Vettel - who was running in seventh - cut across and collected the Brazilian's Williams, causing significant damage and pulling the curtains down on his home race.
Caterham
There was delight at Caterham as Petrov crossed the finishing line in 11th place, and with it snatched 10th in the constructors' championship ahead of its best-of-the-rest rival Marussia.
The Russian driver beat team-mate Kovalainen to 19th in qualifying and, after the first lap melee coupled with others struggling in greasy conditions, ran as high as seventh during the initial stages of the race.
He was then embroiled in a battle with the Marussia of Charles Pic and eventually emerged triumphant on lap 66, before heading off into the distance and clinching the lucrative constructors' spot in the process.
Kovalainen flew on slicks in the damp and was even as high as sixth for a spell, but he was later delayed in the pits and came home in 14th place.
HRT
With rumours of its imminent demise gathering pace, HRT began the weekend with very little practice running due to a lack of spare parts.
For only the second time this season Karthikeyan outqualified team-mate de la Rosa (23rd and 24th respectively), the latter making contact with the Lotus of Grosjean and not having enough time in Q1 to go out and set a more competitive lap.
The pair experienced a largely uneventful race, the highlight being de la Rosa briefly running in 12th position as those around him struggled with the tricky conditions early in the proceedings and pitted for the appropriate tyres.
In the end, the Spaniard crossed the line 17th with Karthikeyan bringing up the rear in 18th.
Marussia
As is fairly customary, the two Marussia drivers lined up in 21st and 22nd position on the grid, with Glock beating team-mate Pic by 0.422s.
The main aim of the race was to ensure they finished ahead of Caterham in the constructors' table and reaped the monetary benefits from doing so, and it was all going to plan... until Petrov passed Pic on lap 66.
The Frenchman, who is off to Caterham for 2013, eventually finished a career-best 12th, while Glock could only manage 16th after being rear-ended by Vergne earlier in the proceedings.