That last weekend's US Grand Prix, the first Formula 1 race in the Land of the Automobile since 2007, turned out a roaring success is no real surprise. The country has been crying out for some F1 action for five years, with the massive annual American contingent at the Canadian GP - the only other such round on the continent - attesting to the popularity of the category.
Given the universal praise Austin's event received from the paddock, it is indeed strange to relate that exactly a year ago, as the circus was breaking camp after the season finale in Brazil, F1 tsar Bernie Ecclestone told this column that he doubted the event would happen at all, that he was ready to drop it from the 2012 calendar after its promoters had failed to meet financial deadlines in the face of (ongoing) legal wrangles and construction stoppages.
Yes, after last-minute shuttle diplomacy (for which read 'increased electronic fund transfers') and a massive construction effort, the race was reinstated and the circuit readied to world-class standard.
True, pit garages are on the small side and the track surface greasier than many a wet race, but all in all it was a mighty fine effort by a group of promoters with no history in the business of motor racing, and F1 is looking forward to a long and successful future with the Circuit of the Americas and the city of Austin.
True, there were gaps in the stands on race day; true, Austin had a pile of unsold hotel rooms due to profiteering by local hoteliers, who lost out massively to the more reasonable charges in the likes of San Marcos (20 miles away) and New Braunfels (50), while many fans travelled up to three hours each way to escape the scourge of race promoters across the planet.
True, the attendance numbers were massaged by an estimated 10 per cent over the actual 100,000 race-day crowd; and true, the race clashed with NASCAR's season finale. Yet the bottom line is COTA managed to pull Silverstone rather than Shanghai crowds.
Austin proved to be a success for the fans © XPB
Even more impressive was the crowd split. COTA founding partner Bobby Epstein estimated an Austin/Texas/US/non-US split of 15/45/25/15, which compares extremely well with other venues, some of which report total out-of-region attendances of as low as 20 per cent.
Indeed, businesses in San Antonio (close to the US border) and San Marcos reported substantially increased Mexican traffic during race weekend.
Equally, the pre-race FOTA and Motorsport Business Forums were as well, if not better, attended than their European counterparts, while Austin (apart from the hoteliers) really went out of its way to welcome F1.
Already, though, there is talk of the so-called sophomore-year blues, that strange dip in popularity that invariably blights the second edition of a race. There is little doubt that the (now-postponed, possibly even aborted) New Jersey round would have seriously impacted on the race's popularity.
Given F1's astronomical ticket prices, many folk can afford but one race a year (and an even greater number, none) and would likely elect to visit the alternate venue at least once.
Gunther Steiner, the Italian engineer who worked in senior technical positions within F1 (Jaguar/Red Bull), WRC (Ford), DTM (Opel) and NASCAR (Red Bull Toyota) before opening his own composite business in Charlotte, North Carolina, from where he supplies all the above categories with bespoke parts, is well-placed to comment.
"I'm surprised how good the facilities are, how good the job they did, how good a job they are doing now. I was surprised about having this many people here on Friday [66,000 reported attendance], but I'm not surprised at the people showing up," he told this column in Austin. "The difficult bit will be to keep it up for the next two or three years."
Then the prospect of two Mexicans in F1 - one in a McLaren, the other driving for Sauber - suggests a grand prix in Central America can't be far off, with some sources being adamant that Ecclestone is moving heaven and earth to stage a race in Mexico City next year as a replacement for New Jersey and/or Germany's round if Nurburgring/Hockenheim fail to get their combined act together.
Given the enormous Hispanic contingent present at COTA, that can only impact on numbers.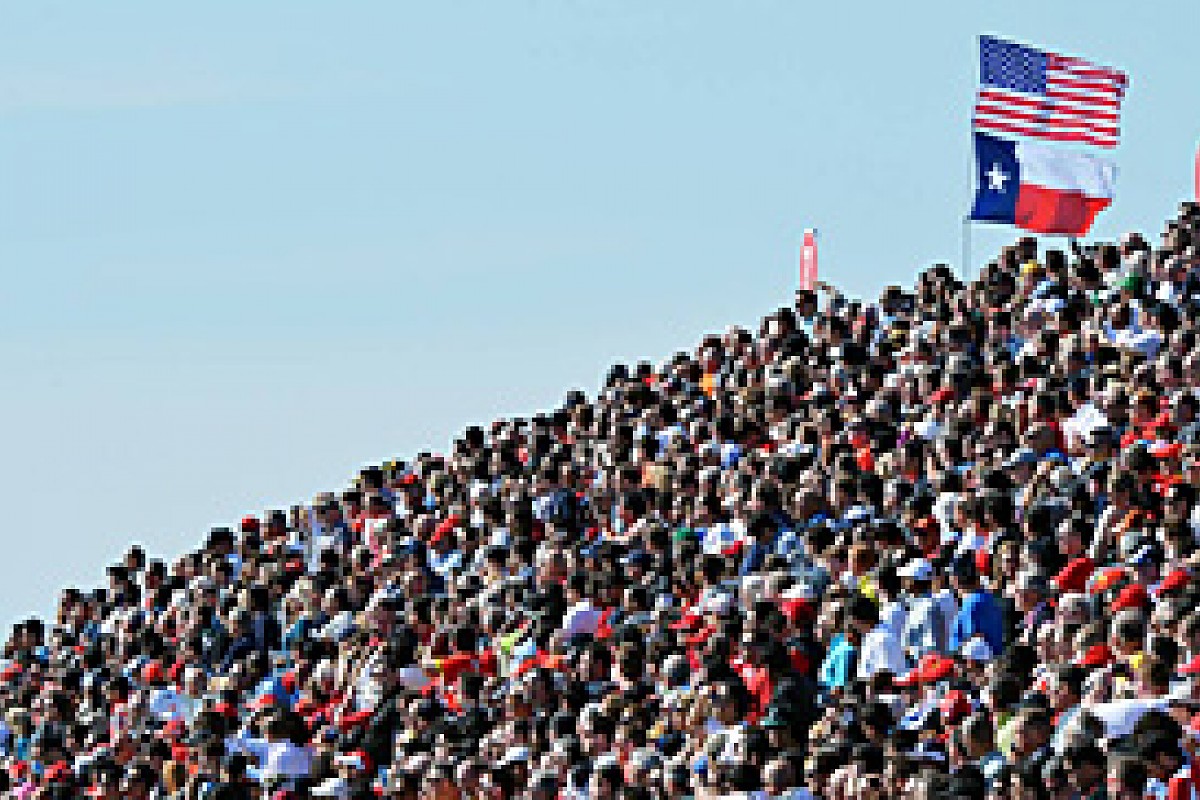 Bernie Ecclestone © XPB
In time-honoured 'slaughter-the-golden-goose' fashion, Ecclestone immediately after the race stated he felt the US could sustain three grands prix - one each on the East and West coasts, and Austin in the Mid-West.
Add in Canada's round, which would remain attractive to northern US fans, and a possible race in Mexico, and the continent has five rounds where a year ago it had but one! Ample reason for jitters in Austin?
Although Steiner believes the US could sustain up to three grands prix - plus rounds north/south of its borders - due to the overall affluence of the country and a loyal and knowledgeable fanbase, the secret surely lies in the timing.
Austin, after taking a $250 million risk on a sport that left the continent with its tail wings between its rear diffusers after the debacle that was Indianapolis 2005, is certainly owed a consolidation period of at least three years. But in the world of venture capitalism, and when F1's commercial rights are owned by venture house CVC Capital Partners, the word 'owe' is unidirectional.
To consolidate, Austin needs to concentrate on 'European' motorsport and not stray into NASCAR or IndyCar territory. Steiner sees an opportunity for F1 to capitalise on NASCAR's very real drop in popularity by appealing to the offspring of NASCAR's (ageing) fan population.
"I think like everything in life, what your father does is not cool anymore. Maybe now the next generation will like it again, but for me a good comparison is [ball sports]... this is an opportunity for Formula 1 or other kinds of racing to get these people into another sport, because it needs to... these people are around."
He views NASCAR as a national series, one in which the 'show' is paramount, and also believes it has reached overload stage with its 36-38 races a year.
"They try to keep them [interested] with the Chase and all that stuff they put in place. I think they [audience ratings] fall off, if they're honest. But they need the races to make the money, I think, with TV contracts and all that stuff."
Thus Epstein and his partners have no reason to be tempted by North American motorsport offerings, which will surely come knocking soon. In COTA they have a 24/7/365 facility designed as a full-scale entertainment and conference facility, not solely as a race circuit, and as such could be used all year round.
Every building has been designed for multi-purpose use, with, for example, the media centre doubling as a 2000-seat conference/wedding facility, while hospitality units provide perfect meeting/banquet rooms.
Regular music festivals are planned, and the circuit itself can be split into two separate layouts, so track days and advanced driver training courses can run simultaneously.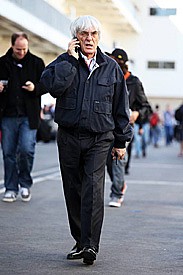 Bobby Epstein © XPB
How many different activities could COTA host simultaneously? "Twenty, 30 or even more, depending," Epstein said in an exclusive interview.
"For example, we will be hosting 20 Christmas parties for Austin companies on a single day in December - that includes supplying everything from food and beverages to entertainment..."
COTA is targeting Australian V8 Supercars, rounds of the FIA's new World Endurance Championship, plus MotoGP and Superbikes, so is planning a good spread of non-US categories - vital if it's to retain its unique feel and flavour - which will help it see off competition from, say, New Jersey or the West Coast, as both venues are likely to be street circuits unsuited to the WEC or two-wheelers.
However, before COTA gets the total jitters about any possible competition from within/out the USA, it would do well to study other comments made recently by Ecclestone, who has of late suggested more new races than the year has open weeks.
This year alone, races have been mooted in Thailand, London, the US (two), Qatar, a second race in India, plus returns to France, Turkey, South Africa Argentina and Mexico - and a raft of others in even more exotic venues.
There has been a discernable pattern: whenever he has faced complications over his financial affairs, these have invariably been accompanied by suggestions of a race in the region. For example, no sooner had the question of an investigation of his tax affairs in Britain been raised, than he suggested a race on the streets of London, one he may even, he intimated, pay for.
When things hotted up in Germany in July he was immediately linked with the buyout of the beleaguered Nurburgring, while Magny-Cours was thrown into the French melting pot - rather than a race at Paul Ricard, owned by his family trust - when questions were raised about the transparency of said trust. In short, Ecclestone is a master of obfuscation.
Thus it may not be a coincidence that he spoke of three US races on Sky TV on the very day a summons was issued - against him and six others, including CVC Partners, the jailed German banker Gerhard Gribkowsky and his former employer Bayern Landesbank, and various F1-related companies - by a New York court.
After all, what better way of deflecting attention of the pending $650m lawsuit brought by an aggrieved potential investor than by talking of not one, or two, but three US GPs in the very near future?
Although the grounds for the suit seem dubious at first reading, their significance should not be underestimated, for the parties will be required to make full disclosures under oath as part of any defence.
These could in turn impact on the various legal battles the parties currently face: the state prosecutor in Munich recently confirmed to this column that criminal investigations into Ecclestone's conduct in the $44m Gribkowsky case are ongoing, the tax investigation in the UK is believed to be underway, BayernLB has stated it wishes to recover around $60m paid to Ecclestone in commission after questions surfaced during said bribery case, and a German company going under the name of Constantin Media is attempting to recover $100m in payments it alleges it missed out on during a sale of F1's commercial rights.
Total: $850m, plus the tax investigation, which involves billions in trust monies.
Seems COTA can relax for a while as it consolidates its affairs ahead of next year's race, for which the objective has to be to at least match this year's bona fide crowd numbers and keep its hotels in check...