Twenty-four drivers should start the Brazilian Grand Prix, but to the watching world there may as well only be two of them on the grid. This weekend is all about Sebastian Vettel versus Fernando Alonso.
Inevitably, they were summoned to the traditional Thursday press conference. Accordingly, there were very few questions from the floor not directed to the pair. And those that were aimed at Michael Schumacher, Felipe Massa and Lewis Hamilton were very often relating to the imminent world title showdown.
As for poor Bruno Senna, he fielded a grand total of two questions from the master of ceremonies, Bob Constanduros, but spent the bulk of the 30-minute press conference with nothing more to do than take the odd photograph on his phone.
In many ways, the Williams driver was the one asymmetrical part of proceedings. Massa, Hamilton and Schumacher have all played leading roles in Interlagos shoot-outs in the past, including arguably the most dramatic climax to any season back in 2008.
Vettel and Alonso sat in the front row, flanking Schumacher. While Vettel was as relaxed as he always is, grinning and joking with Schumacher in much the manner you might expect from a man who has a 13-point lead over his rival, and a car advantage.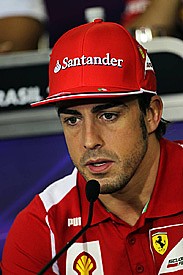 Fernando Alonso during Thursday's press conference © XPB
Alonso spent most of the conference staring intently ahead, his intensity only momentarily broken by a smile in response to some private quip from Schumacher.
It was no boxing-style pantomime of a press conference, but it definitely told us something about the relative states of mind of the two main protagonists. There is, however, one thing that may give Vettel cause for concern, specifically rain.
It's not that he's any less of a driver in the rain, that famous pole position and victory for Scuderia Toro Rosso at Monza in 2008 is evidence of that, but Alonso has seized on inclement weather brilliantly this year. Arguably, he would not have won in Malaysia or Germany without the assistance of rain, and he might not have finished second at Silverstone without it.
"Weather-wise, it's Sao Paulo," said Alonso. "It's the same as if you go to Spa, things can happen quickly and the weather can change a lot here.
"I spoke to some locals and I think there was big rain two days ago, which wasn't expected. Probably for Saturday and Sunday there's some rain on the way. But then again, you don't know how much and when."
It's a fair summary and Alonso's explanation of the situation tells you everything you need to know about his expectations. In a normal race, he's unlikely to pull off a 13-point turnaround and all he can do is focus on getting onto the podium and hoping for a disaster for Vettel.
"We need to try to do a normal weekend, try to score as many points as we can," he said. "Obviously it will be good to be in the podium and score a minimum 15 points and then when we cross the line, we see where Sebastian is.
"The first priority for us is to be on the podium. It is not in our hands. We have not much to lose. We have only the possibility to win something."
That nothing-to-lose mindset is arguably the strongest weapon in Alonso's armoury. He'll certainly be able to take that approach, although whether the under-pressure team will be able to is another story.
But they have both been here before. Alonso has lost more world championship showdowns (two) than he has won (one), while Vettel's 100 per cent record came after a 2010 Abu Dhabi Grand Prix that he started 15 points behind the Spaniard.
Then again, Interlagos really is one of those circuits where things just happen. Straightforward Brazilian Grands Prix are few and far between...