Everything finally came together at Austin for Lewis Hamilton and McLaren after a frustrating last third of the season.
His victory at Monza seemed like a long time ago, since when he'd twice dropped out of the lead with mechanical problems, and been hampered by dramas elsewhere.
Hamilton drove a fantastic race at the new home of the United States Grand Prix, winning the hard way by passing not just one but both Red Bulls. And to do it at such a high-profile event made the victory all the sweeter for both the team and their soon-to-be-departed driver.
In qualifying Hamilton almost carried on where he left off in Abu Dhabi, missing pole by only a tenth.
It was a tricky session for everyone, with drivers running round for lap after lap as they tried to find grip. It was not unlike the experience of a drying track after the rain has stopped.
McLaren sporting director Sam Michael admits there wasn't a lot of science involved. "There was nothing else to do to be honest - we just went out there and kept driving.
"There wasn't a lot of intelligence that went into it once we realised we just needed to do one run in Q1, Q2 and Q3. That's why we ended up with so many tyres left.
Sam Michael knew persistence would be the key to qualifying © XPB
"The track has a lot of oils and contaminants in it; it's not clean yet. But I don't think it will be like that next year."
It was certainly a mega effort from Hamilton. "I [was] way on the limit everywhere - a couple of oversteer moments. I think I lost about a tenth at the last corner. The thing is I gained it on the way in and lost it on the exit."
The surface gave the team another headache. In FP3 Lewis did a practice start from the second grid slot - the one he would claim around three hours later - and the grip proved shockingly bad. Later that afternoon he expressed his concerns about it.
"It was really poor," he says. "I barely went anywhere when I let the clutch out. That's why I've been saying they need to clean the inside because it's just as slippery as when we started driving yesterday.
"While the rest of the track is bedding in and getting much, much better, that part is untouched. It's going to be very much the same as the pitlane, for example; it's got no grip at all."
"We were trying not to make a big issue about it with our drivers," says team principal Martin Whitmarsh. "But we had a practice start on both sides, and we knew there was about 10 per cent less grip on the side that both our cars were on.
"Inevitably that's an issue that you've just got to deal with. Even with two penalties it didn't affect either of our cars' position on the grid! That was frustrating."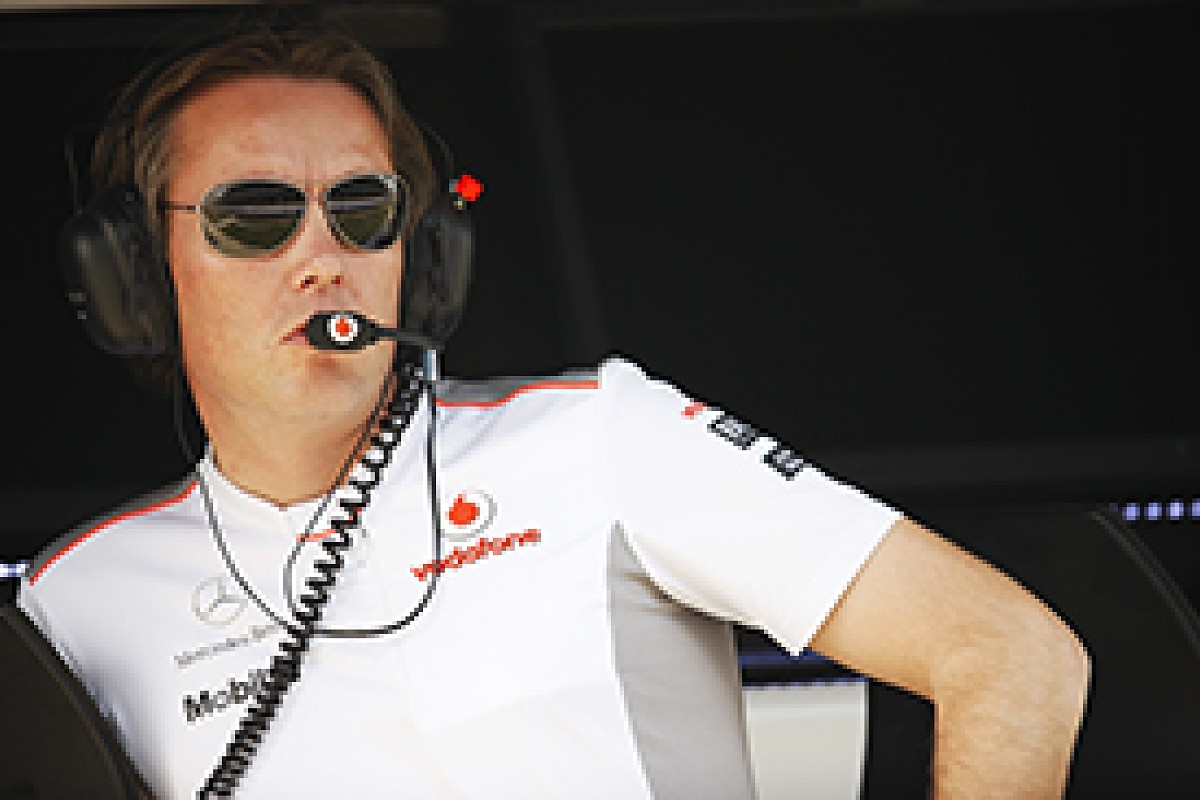 The brand new track lacked grip all weekend © LAT
In the end, the left-hand side wasn't as bad as anticipated, and Hamilton limited the damage by getting to the first corner in third place.
"It was kind of better than I expected, actually," says technical director Paddy Lowe.
"It was really tricky off the line, so we lost a position to Mark [Webber]," says Michael. "We knew that was going to happen, and it could have been even worse.
"Our biggest concern wasn't Webber - we knew we were going to lose to him. We were actually concerned that we were going to lose to [Michael] Schumacher; it was that bad we predicted a two-position loss off the grid."
Hamilton wasn't planning to settle into a comfortable third, and he spent the first few laps sizing up a move on Webber, while Sebastian Vettel edged away out front.
He made his crucial pass on the fourth lap, and at the end of it he was 2.6 seconds behind Vettel, a margin which grew by a tenth on the following lap.
At that point it seemed Vettel had it all under control and would continue to ease away - but that didn't happen. Instead Lewis steadily brought the gap down, and crossing the line on lap 15 the margin was 0.956s, which meant he was within DRS reach.
But just as he had that opportunity within his grasp he began to lose a little performance, and the gap edged out to 1.0, 1.4, 2.5, 3.2s over successive laps.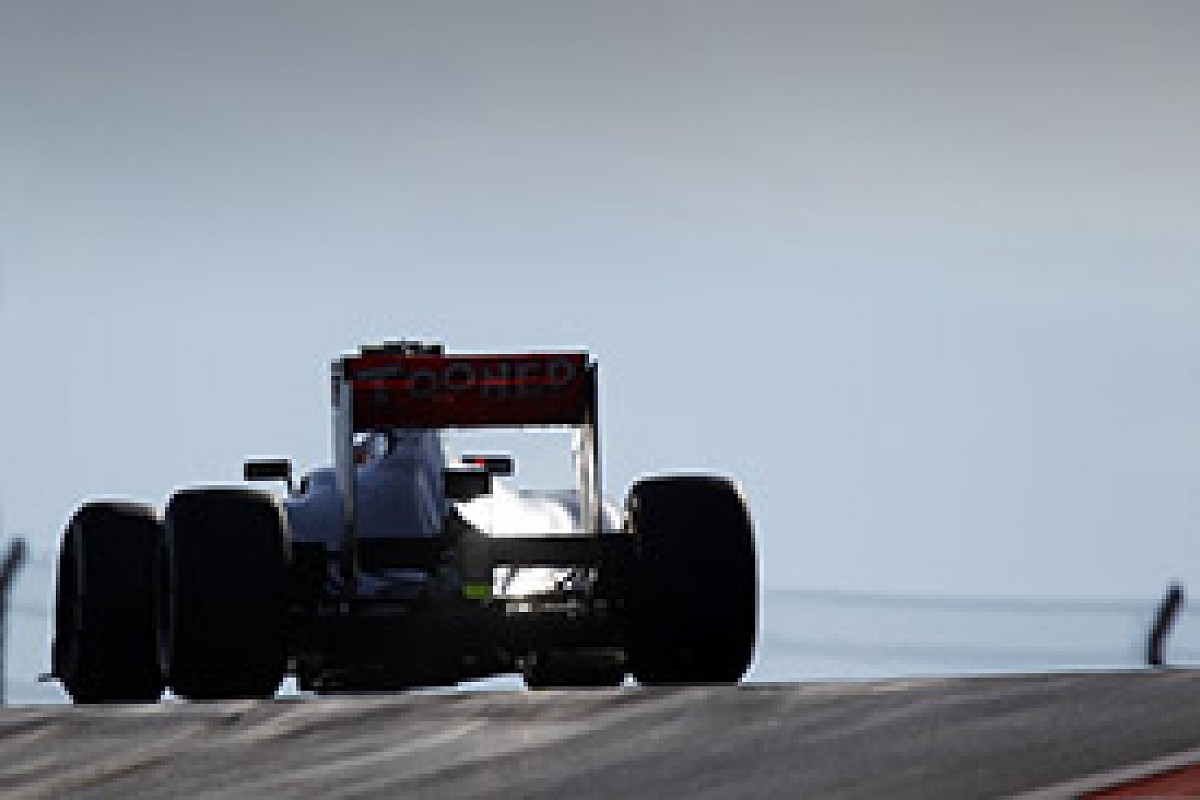 Hamilton feared huge lap-one losses but managed to hold third © LAT
With his tyres now past their best - Hamilton having extracted everything from them that he could - the team brought him in on lap 20. It was far from ideal timing in strategic terms, and indeed he emerged just behind Kimi Raikkonen.
"The tyres lasted really well, but he started to lose pace," says Lowe. "We thought we'd call it at that point, slightly earlier than we intended."
Lewis dealt with Kimi on lap 24, losing around half a second on that lap, and at the end of it the Lotus went into the pits anyway.
Hamilton now had a clear run at Vettel, who was 2.3s ahead. Despite having had to pass the Lotus, Lewis had gained over the pitstop sequence and the few laps that followed it.
"We had a fantastic pitstop - a 2.9s pitstop," says Michael. "He just set about after Sebastian, and raced him really well all day.
"We thought that others would struggle with warm-up more than us, and they did. That's not what got Lewis the lead, but it definitely helped us close him down."
Lewis did indeed edge closer to Vettel, although he lost a second when they lapped Charles Pic on lap 28. In fact Vettel appeared to get a little extra motivation from that, banging in some fast laps and keeping the gap constant.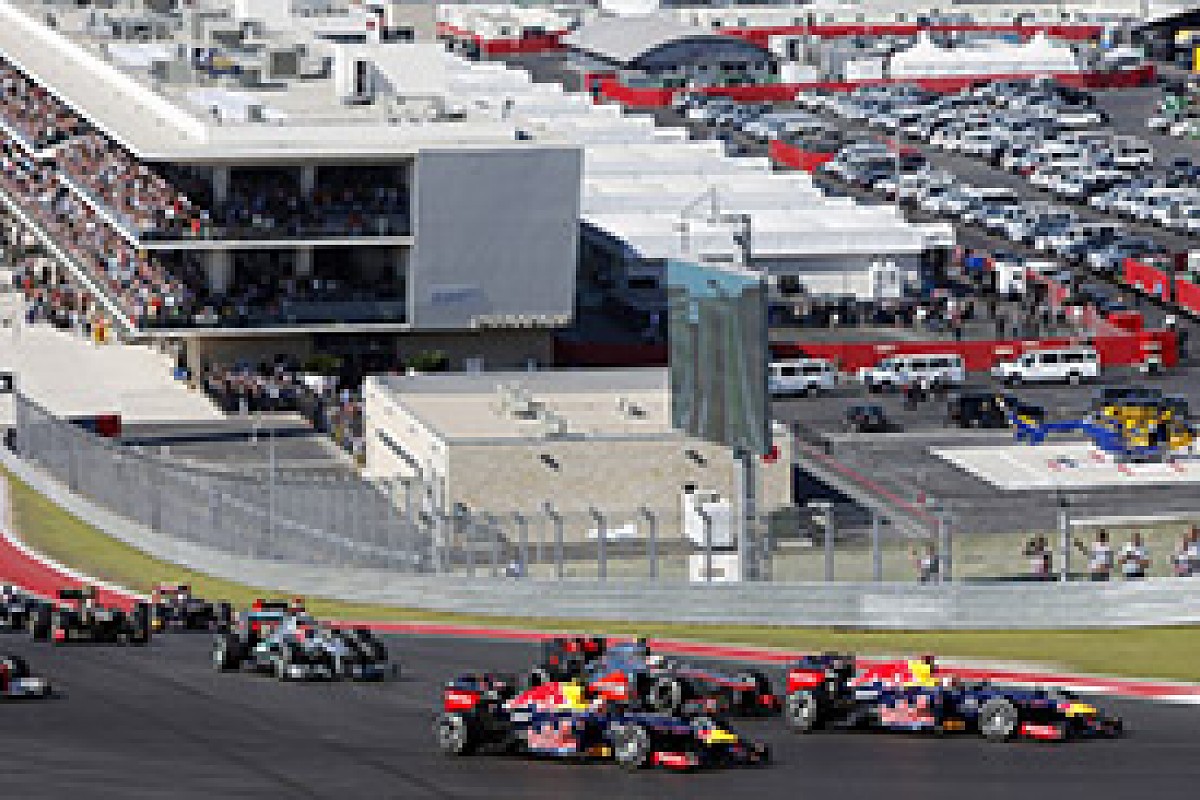 Raikkonen did not slow Hamilton for long © LAT
But Hamilton was relentless and began to close in again. He gained a bit in traffic on laps 33-34, and suddenly the gap was just 0.6s.
The next few laps were awesome as we saw two truly great drivers on the limit, the margin between them changing by a tenth here and there as Vettel fought to stay out of the DRS danger zone.
Then on lap 42 he was caught behind Narain Karthikeyan - who had nowhere to go - in the fast section at the start of the lap. Hamilton dragged up behind and, with a DRS boost, shot past the frustrated German.
"There was no particular tactic," says Lowe. "It was just a bit difficult to follow, as you saw, and you really needed to be very close into Turn 11, and fortunately a bit of traffic helped him out. But his underlying pace was better than Vettel's all day."
"It was nothing strange," says Whitmarsh. "I think two or three times during a race you can lose half a second or a second because of a backmarker. Through the fast section if you caught someone you were going to lose time; that's just how it is."
Vettel didn't drop back very far, but nor did he ever look like he was going to make a big effort to regain the lead.
Clearly Vettel had a lot more to lose in any confrontation, but Whitmarsh plays that down. "I think Lewis was always going to overtake him - he was quicker and he was determined to overtake. I don't think that influenced it.
"But I think Seb recognised that he's got two races; he's in a reasonably strong position."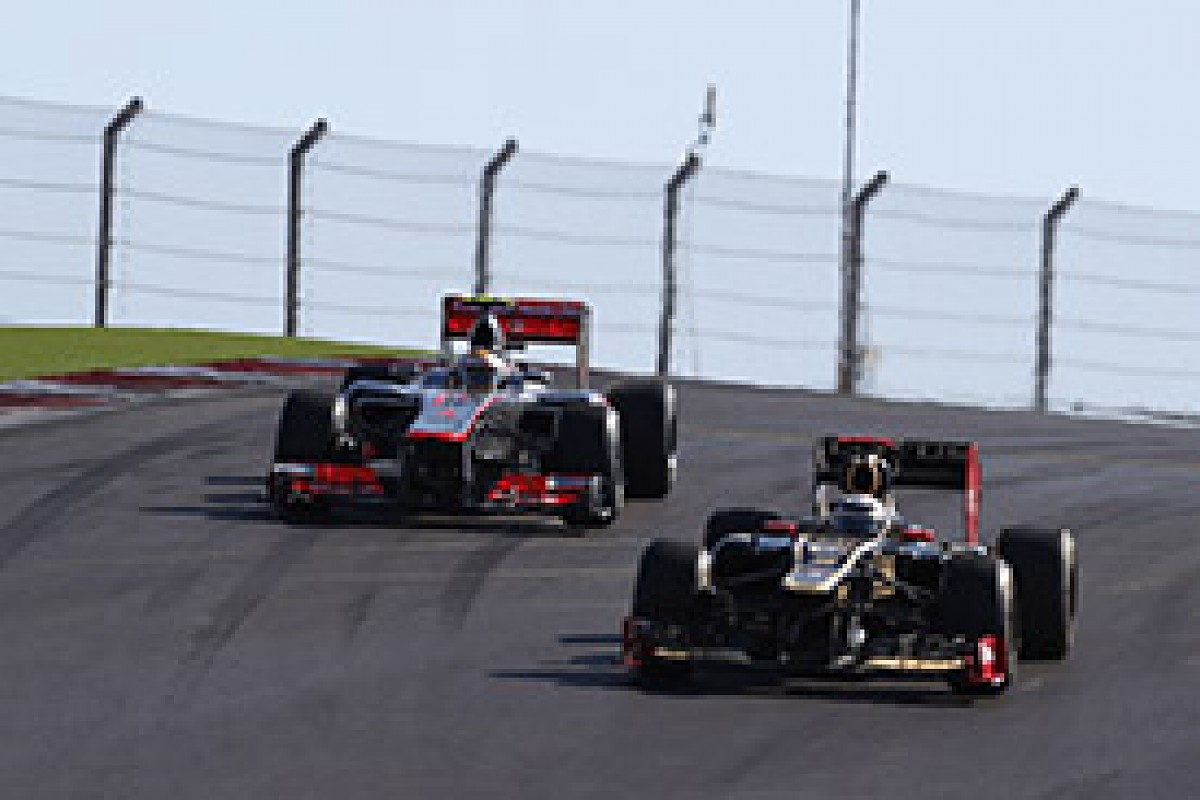 Vettel tried to break away but Hamilton could not be shaken off © LAT
Hamilton, meanwhile, wasn't quite yet home free, and the team was doing its sums on the pitwall.
"He made the move at the right time," says Michael. "We were a bit close on fuel, towards the end of the race, but it was OK. We were getting him to change maps, but it wasn't making a huge difference.
"We couldn't back off so our choice was we're just going to have to go for it - Vettel was all over us."
"We'd used up most of the brakes, we'd used up most of the tyres, we'd used up most of the fuel," adds Whitmarsh. "So you assume all the data you're getting back, and all the modelling you've done, is correct..."
With a lap to go the gap had stretched to 1.8s, and Hamilton appeared to have done the job, but in signature style Vettel banged in the fastest lap right at the end to close the gap to just 0.6s.
It says a lot about the pace at the front that Fernando Alonso was some 38s down the road, and even allowing for the fact that he had little to gain by pushing on, that's a big margin.
"It was a deserved victory," says Lowe. "It was just mega. That's the Lewis we love."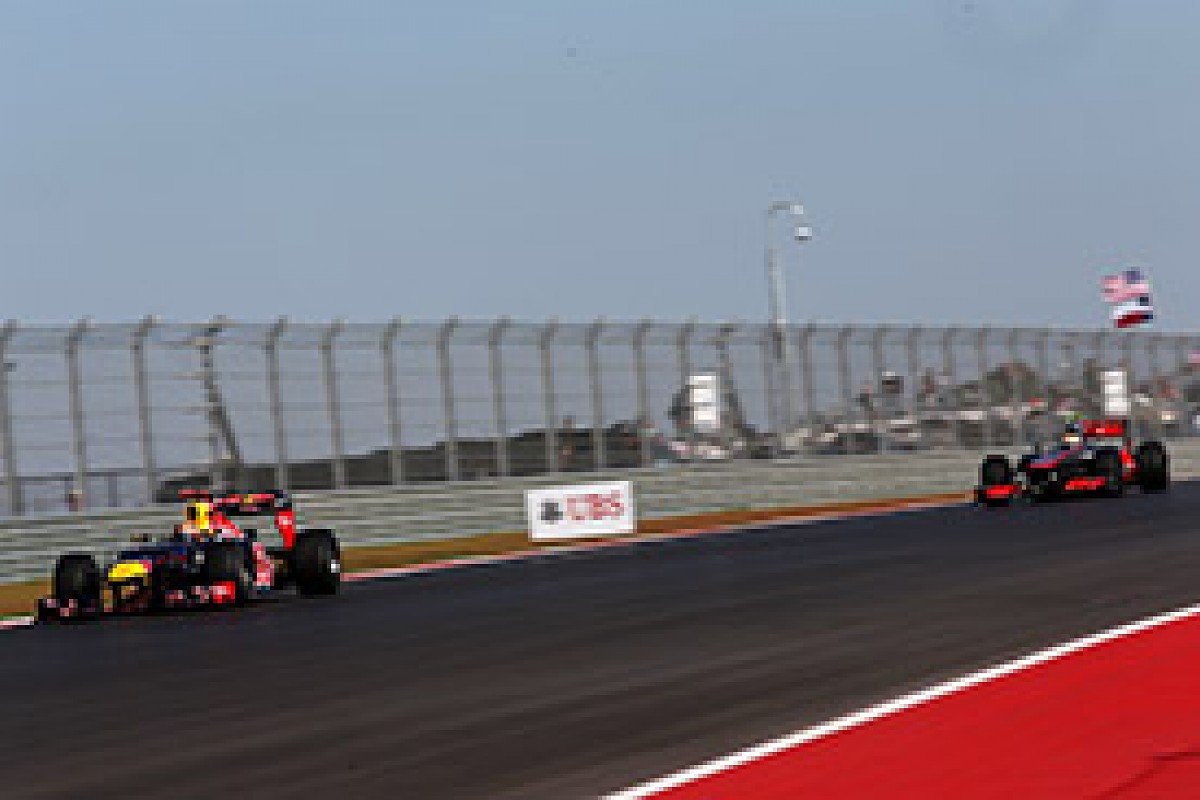 A late push from Vettel kept Hamilton on his toes © LAT
"I think he did a brilliant job - both our drivers did," Whitmarsh insists. "But you've got to say the day belongs to Lewis. He didn't give up and he fought hard. To go out there and chase down Sebastian and overtake him was no mean feat.
"Sebastian's a quick driver, but you can put him under pressure and you can race him. He was patient and got by brilliantly. He had to overtake Mark along the way as well. So overtaking both Red Bulls today was a nice feeling...
"On Friday we had very, very good race pace, but you never know. You think maybe the track was green and it suited us, but we were quickest in the long runs. We knew we had quite a lot of fuel on board, so we were reasonably optimistic. But until it actually happens..."
Once again we saw Hamilton bounce back from disappointment in his usual irrepressible style.
"That's what you've got to do," says Whitmarsh. "The team's had a lot of disappointment - we've underperformed for three or four races now, and that gets on your nerves.
"To go out and win like that... we all needed it very, very badly."