Lap 19 and in the McLaren pits things were getting pretty tense. Lewis Hamilton was losing pace. In the last four laps, his deficit to leader Sebastian Vettel had grown from one second to 3.2s. The rear options were on their way out. They'd done six laps in Q3 the day before, so long did they take to come in, but so had Vettel's - which were holding up fine.
But Seb had run out front from the start, whereas Lewis had spent over three laps racing and passing Mark Webber and then closing down the gap to the lead. It was logical that they'd surrendered earlier - but this was strategically awkward timing. They'd believed they could get that first set to lap 24-25 for a one-stop, giving the primes a final stint of 30-odd laps.
Although there was minimal performance degradation, so conservative were the compounds, there was a concern about wear of the inner shoulders of the fronts. Stopping too early would risk running into that critical wear zone late in the race.
On Friday the McLaren fronts were finished after 20 laps. Some other cars hadn't been able to get them beyond 15 laps. Sure, the rubbering in and cleaning up of the track surface would probably defer the problem to longer than that - but how much longer? Lewis's times had started dropping off on lap 16. Asking the final set of tyres to do 40 laps was just too risky. McLaren had to keep him going a few laps longer.
On lap 16 he had been 0.5s off his earlier pace when he'd been shadowing Vettel, screaming through those long switchbacks of the first sector, earlier into the turns than the Red Bull, keeping up the momentum for longer, but still being able to then change direction further. He definitely had more grip through there, but he'd only just got within DRS sniffing distance when the tyres began giving out.
Hamilton chased Vettel for most of the race © LAT
Lap 17 was 0.7s off his peak pace, then 1.3s, then 1.5s and by then he was raggedly hanging it out over the extremes of the exit kerbs and Vettel was pulling neatly away. 'Box this lap Lewis.' That was lap 20.
Seb noticed the silver blur in the mirrors had faded away. All was going well in his championship quest. All he could do was control his own destiny and he was doing so flawlessly. He'd got away well, clear of the squabbling Webber and Hamilton behind. But his preference for sealing the title here and keeping his fate from depending upon the randomness of Interlagos had taken a blow when Fernando Alonso had surged into fourth position.
Ferrari had played a blinder in breaking the seal of Felipe Massa's gearbox, thereby incurring an automatic five-place penalty, taking Alonso from the dirty, slippery eighth-place grid slot to the much grippier, rubbered-in seventh.
Massa's practice start on Saturday morning from the left-hand side had given worse acceleration than a typical wet start, such were the impurities and gunk that come from newly laid asphalt until it's weathered-in a little. It was a tactical move and Felipe - who had been quicker than Alonso through qualifying and seemed to have found a better way of bringing the tyres in - was gracious in accepting it. Alonso told him he was a rare team-mate.
Was Stefano Domenicali not concerned that Red Bull might counter and do the same with Webber, putting Alonso back on the dirty side? "Yes," he answered. Had Christian Horner considered it? "Yes. But then others might have done the same and before you know it Alonso would have been starting from the front row!"
Out-accelerating Nico Hulkenberg's Force India immediately, Alonso was initially alongside Michael Schumacher's Mercedes, but with Michael then preoccupied with trying to squeeze Kimi Raikkonen's Lotus to the inside, so the Ferrari got a clean run right around the outside, a quick twitch of oversteer halfway round, and up to fourth, the minimum position he needed to take the title to Brazil.
Hulkenberg and Raikkonen went side-by-side through the fast downhill sweep of Turn 2, they rubbed wheels, Kimi sliding onto the run-off and rejoining behind the Force India, Romain Grosjean's sister Lotus just behind.
From 11th Massa had scythed up to eighth by Turn 1, but slid onto the same run-off as Raikkonen and lost a couple of places. Jenson Button, one of only two to start on the primes, had made a terrible start in the McLaren from 12th and been boxed in further. He completed the opening lap 15th, behind the similarly prime-tyred Mercedes of Nico Rosberg and Daniel Ricciardo's Toro Rosso. How he must have been cursing that throttle problem in qualifying.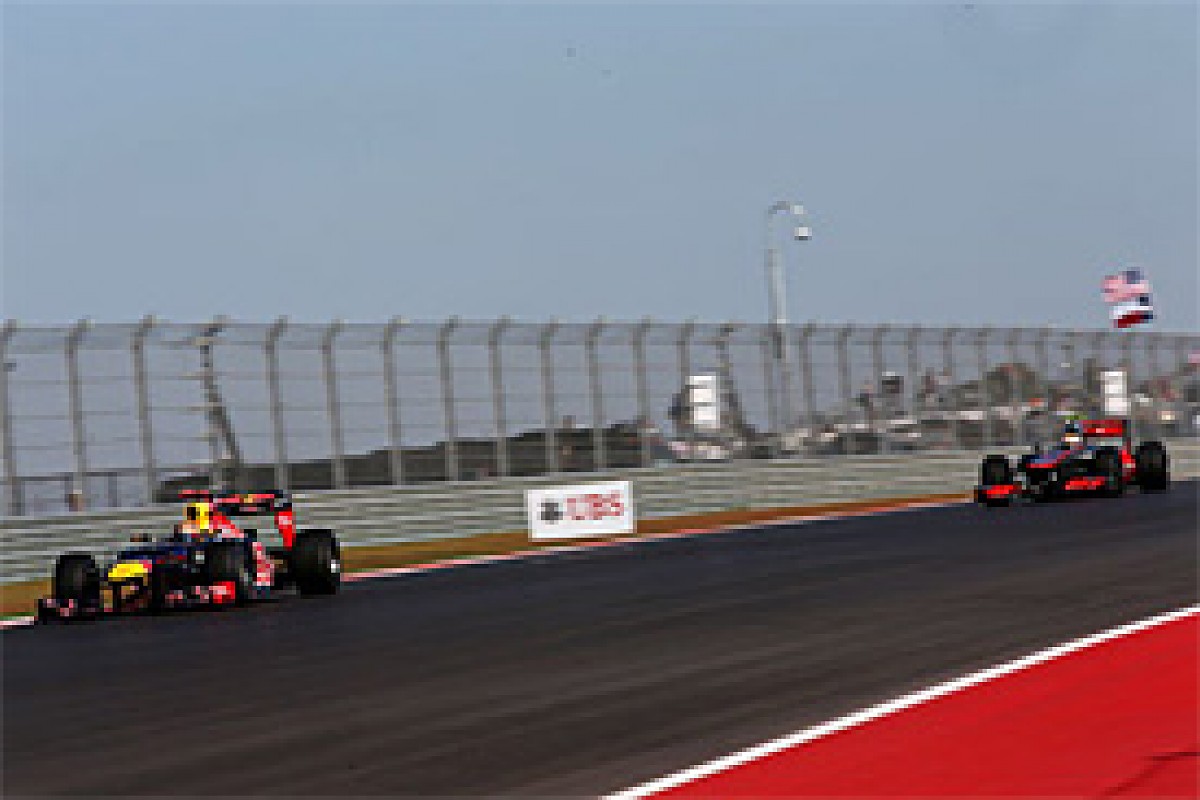 Alonso was up to fourth by the first corner © XPB
It was a stirring sight: the jostling pack beneath the blue Texan sky, blobs of colour, sunlight glinting off bodywork and visors, off the stars and stripes atop Hamilton's helmet, glare and glint as the gladiators put on a show for the packed grandstands.
Through the snaking sector one, up the hill to the summit of Turn 9, cars highlighted against sky, 200mph down the back straight where the DRS zone would be, around the punishing never-ending right-hander of 17-18, the tricky left of 19 and onto the pit straight, a snarling, jostling pack. Formula 1 was back in the land it should never have left.
Vettel, Webber and Hamilton were quickly putting distance on Alonso as the Ferrari's reluctance to switch on its tyres again became very apparent. He was 2.6s off Vettel's pace on the second lap, but protected from behind during this vulnerable period by the obstacle that was Schumacher's horribly gripless Mercedes and the dicing that created.
Hulkenberg had got past the Mercedes up the inside into Turn 1, Raikkonen followed up with a slicing move down the hairpin of 11 on the third lap, but as he slid wide on the exit, Schumacher retaliated and their squabbling allowed Grosjean to nail them both at the end of the following DRS straight.
Hamilton, meanwhile, had just tried an optimistic move on Webber at the same place, briefly getting past but running wide. But this was where the Red Bulls were vulnerable, because of their usual lack of end-of-straight speed.
Vettel flashed past the trap there at a best of 192mph, Hamilton at 195mph, Massa at 199mph. At the same place on the next lap Hamilton made the move stick and Vettel was still only 1.6s up the road.
Into the sixth lap Grosjean briefly took fifth from Hulkenberg at Turn 1 but slid wide. At the end of the lap Romain spun on the downshift into 19, the Lotus looping around and heading backwards, rear wheels just nudging the gravel trap as he stopped.
He lost four places immediately and a couple more later as his now badly flat-spotted tyres slowed him. He would be in at the end of the ninth lap for a set of new primes.
Button was making great progress, scything past the slower cars around him like a shark through minnows. Schumacher was going in the other direction, the Mercedes already wildly overheating its rear tyres. "There must have been some sort of damage for that first set of tyres to have performed so badly," said Michael later.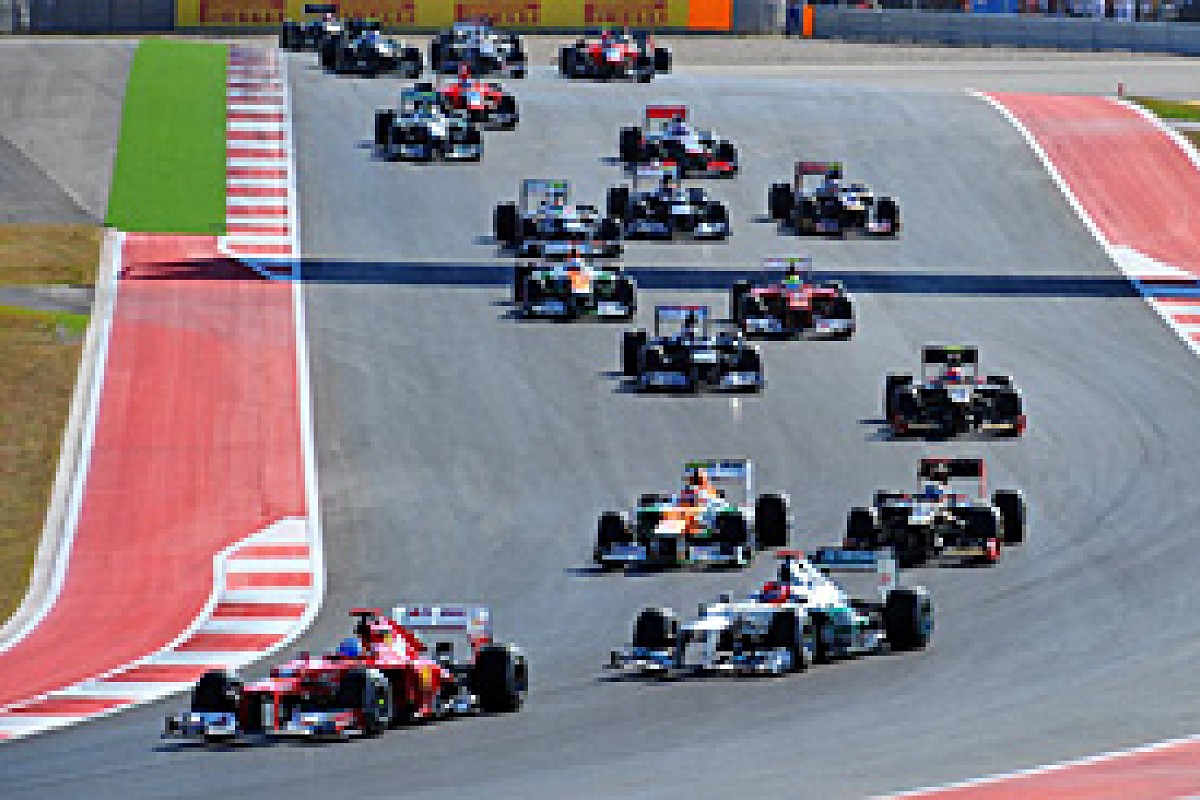 Button made good progress from 12th © XPB
They met on lap 10, Jenson moving to the Merc's inside as they surged up the steep hill to Turn 1. Michael in his penultimate grand prix played hard, shoving Jenson over to the left, well over the pit exit line, then another shove just for good measure. Button was through though - even as Michael finished off with some wheel rubbing through the turn.
This was for 11th position and as Schumacher continued to drop like a stone - being forced onto an unscheduled two-stop and finishing a lowly 16th from fifth on the grid - Button would continue his surge forwards, the two Williams cars his next victims.
"I passed Maldonado four times and he passed me three." JB's pre-race pessimism about lack of overtaking opportunities had proven wide of the mark.
Speaking of passing, Raikkonen repeated his first-lap Turn 2 attempt on Hulkenberg, around the outside again in sixth gear, the Lotus teetering on the very edges of adhesion - but this time he made it through, now fifth.
Hulkenberg now had the irrepressible Massa on his tail, with the Ferrari going by for sixth in the DRS zone the following lap. Hulkenberg's tyres were past their best and he'd be in earlier than planned for a new set.
At around this time Webber, who'd dropped to around 5s behind Hamilton, began to experience some worrying symptoms in his car. First the e-shift began playing up, then the KERS shut down. It had all the hallmarks of an alternator failure - which is exactly what it was. Mark pulled over on the 17th lap with a dead engine.
The team had been running 2011-spec alternators, in preference to the uprated versions of the 2012 units, which have been giving trouble-free service at Lotus and Caterham. Red Bull will switch to this for Brazil, but in the meantime there was the obvious worry about the alternator in Vettel's car. A retirement here and a second place for Alonso would have put Fernando comfortably ahead going into Brazil.
Shortly after, Hamilton began to fall back from Vettel, triggering McLaren's strategic dilemma. Lewis arrived at the McLaren pits, stopped on his marks, the articulated front jack swung into action, a twist of front wing was added as the fresh primes were fitted and he was underway again in less than 2.4s.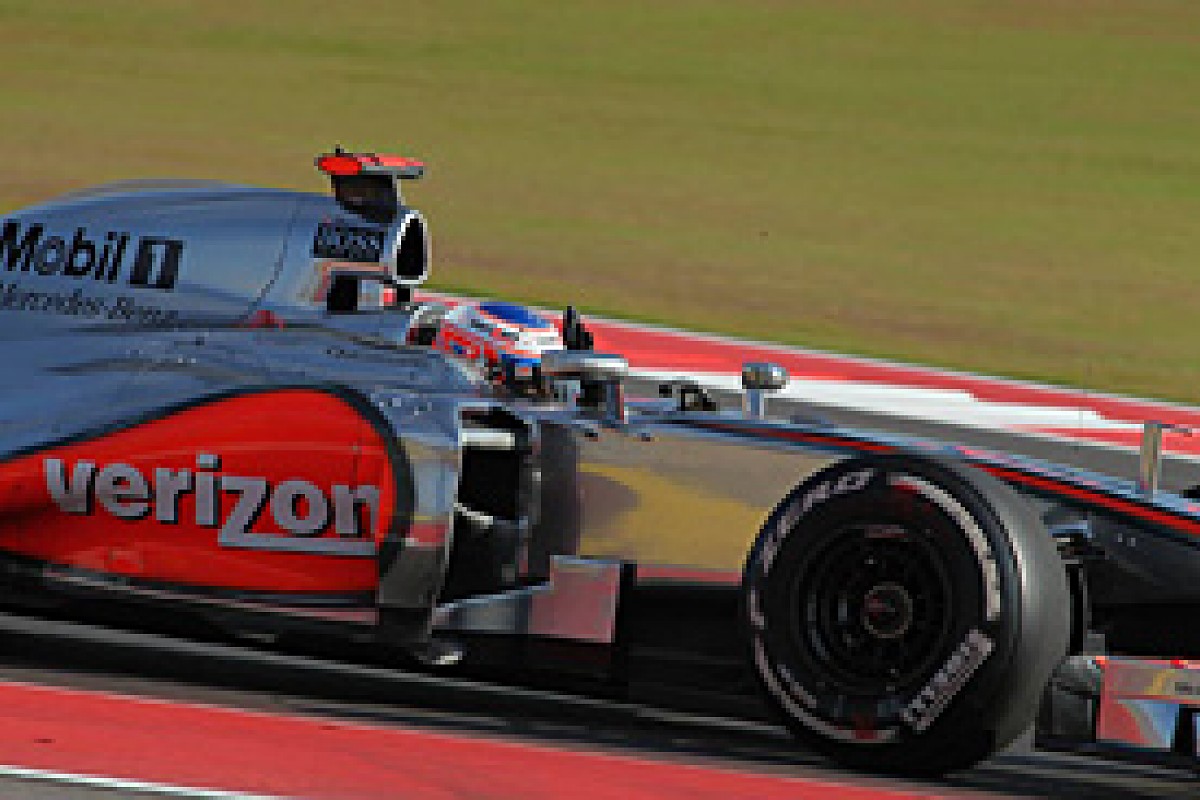 Webber's day came to an end after an alternator failure © LAT
Fourteen seconds later third-place Alonso arrived in the Ferrari pits. This stop went less well, a sticking right-rear leaving him stationary for 6.3s. He rejoined just ahead of the yet-to-stop Button, who was still going quickly on his well-used primes.
Vettel's pace had begun to fall off just as Hamilton was pitting - and he was in on the next lap and underway again in 2.7s. The timing of Vettel's stop was a relief to McLaren. At least they were each in the same boat, and no-one else looked to be in reach - for now.
There was a slight complication in that the yet-to-stop Raikkonen now lay between Vettel and Hamilton. Would he delay the McLaren and amplify Vettel's advantage?
Both the Red Bull and the McLaren had been able to switch on the tyres pretty much immediately and Seb was lapping around 0.5s quicker than Raikkonen, delaying Hamilton until the 24th lap, when he was able to put a clean DRS move onto the Lotus into Turn 12.
The gap to Vettel was now 2.4s. Raikkonen came in at the end of the lap and he'd gone well enough during the intervening time to have been on course to have leapfrogged Alonso for third - helped by how long it had again taken the Ferrari to switch on the rubber.
But the right-rear gunman wasn't quite able to hit the nut square-on as he went to torque-up the new wheel. Kimi complicated things by getting on the throttle in anticipation, but with the wheels still in the air, now spinning uselessly. It left the Lotus stationary for 6.4s. Alonso was off the hook.
Massa was in a temporary fourth place and still going quicker than the cold-tyred Alonso behind him. Which created an obvious awkwardness at Ferrari - especially when Button had delayed Alonso further by passing him at the end of the DRS zone. This put Massa now 17s ahead of his team-mate - which was only slightly less than needed for a pitstop.
Finally, on the fifth lap of asking, Alonso's tyres came in on the 25th lap and he was able to step up his pace to pull himself out of his team-mate's undercut range. The plan was for Massa to stay out for three or more laps, but at this moment he saw a puncture alarm light up.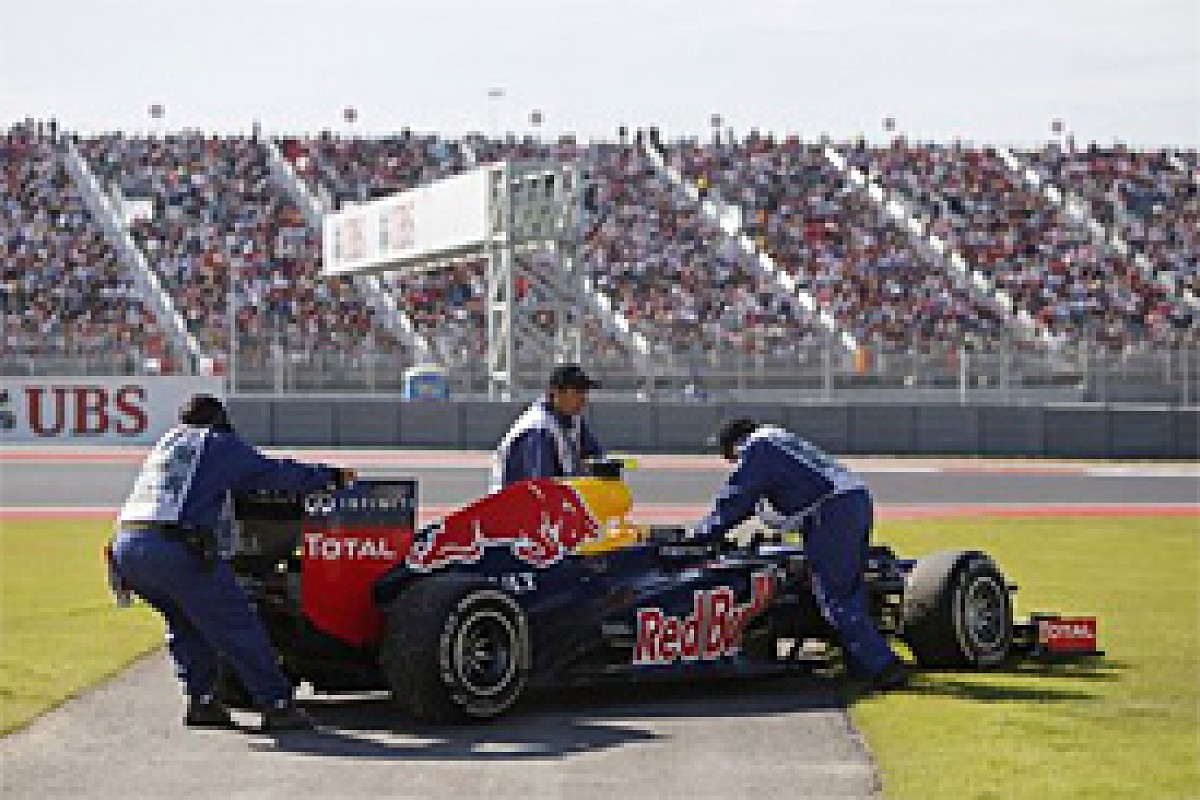 Massa enjoyed one of his strongest races of the season © XPB
He headed pitward on lap 26 and was quickly underway again. It turned out not to have been a puncture, but a dislodged sensor. Now it was Massa's turn to suffer with the Ferrari's slow tyre heat build-up and he was zapped by Raikkonen into Turn 1 two laps into his stint.
Button made his original primes last until the 35th lap, still running quickly in a temporary third. After stopping he rejoined seventh, just behind Grosjean who'd made up good ground after his premature stop. Hulkenberg had faded when he switched to the option tyre and lagged behind Button and would soon be defending hard from the Williams pair.
Cloud now moved in on that big Texan sky - and suddenly the Lotuses were struggling. That's how sensitive a pivot the tyre performance swung on this weekend. Raikkonen dropped back from Alonso and fell into the clutches of Massa, while Grosjean was soon devoured by Button in a neat move at Turn 15 on lap 37.
Two laps later Massa made a great move on Raikkonen side-by-side through Turn 1 and 2, sealing it around the outside of the fast downhill bend.
There was close action everywhere and the animated crowd were spoilt for choice of where to look. Up front Hamilton had come back at Vettel to get himself to where he'd been earlier in the first stint: about 1s behind.
The Red Bull was a little quicker through sectors two and three and Lewis would make it up again in the snaking Turns 3 to 7. But critically the Red Bull was quicker out of Turn 9 and had great traction onto the back straight, preventing Hamilton from making a pass even when he got within 1s at the DRS detection point. It looked like stalemate.
That snaking section of track was to be Lewis's friend in more ways than one, though. On lap 42 they came upon Narain Karthikeyan's HRT just as they entered that section. So interlinked are these fast turns there's nowhere to get out of the way. Charlie Whiting had told drivers earlier that they would not be penalised for ignoring blue flags between Turns 3 and 7 - meaning this was disastrous timing for Vettel, allowing Hamilton to finally close right onto the tail of the Red Bull.
Karthikeyan duly got out of the way on the exit of 7 as Vettel/Hamilton buzzed by him in almost a single blur. Up the hill to 9, down the kinking straight past the DRS detection point, around the hairpin of 11 and up towards the DRS activation zone they ran, Vettel knowing he was defenceless, pressing his KERS and going to block the inside.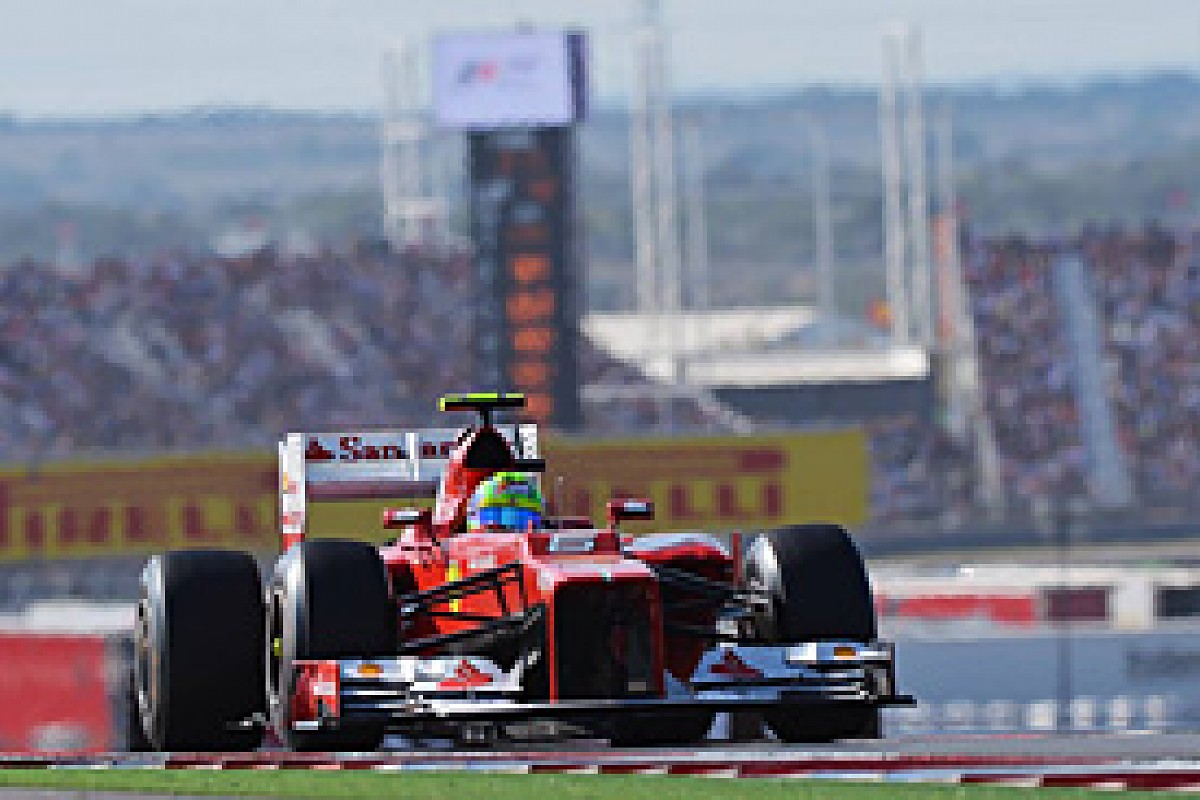 Vettel stayed in touch with Hamilton, but to no avail © LAT
But with his DRS flap open Hamilton was massively quicker and simply darted to the outside and past, even before the braking zone for 12. Hamilton was in the lead. He'd fought relentlessly all day, never allowing Vettel off the hook, kept him under pressure - and it was this that allowed him to be close enough to take advantage when an opportunity happened along.
"He had one chance of passing me and he took it," said Seb afterwards, keen to point out that his radio rant at this point had not been at Hamilton but Karthikeyan, though it's difficult to see what else Narain could have done.
Hamilton wasn't sure if the tyres were going to last and took care to eke out their life. Vettel kept the pressure on, but Lewis was able always to stay out of DRS range.
The other McLaren was flying too, Button now in full attack mode on Raikkonen's fifth place. He tried around the outside of Turn 1 on the 45th lap, but was held out wide. The McLaren though had way more grip at this stage on its recent option tyres and later in the lap Button went for the outside of Turn 12 at the end of the DRS zone.
Kimi hung on and they went through there side-by-side, with wheels almost touching on the exit, but Kimi was impeccably clean, refusing to hang the McLaren out to dry - and Jenson was through.
Fifth was a good result from 12th, but without the team finger trouble of the day before, he could surely have been on the podium. As it was, he'd set his KERS up with not enough harvesting power. "To maximise the harvest I was getting rear-locking under braking - it was just set up wrong. But otherwise the car was great."
That was a sentiment with which Hamilton, in his penultimate race for the team that's been his home for 14 years, could only agree. It had been a quite brilliant personal performance from a man that's relaxed into driving at the very top of his form of late.
"For my whole in-lap I was screaming. Not cool at all. Fantastic. I was thinking the last three laps I was getting quite emotional, and it's special to finish on a high. To beat the Red Bull is quite special. I think I just wanted it more than Seb today.
"It's a shame about what's happened in other races, otherwise we could be here fighting for the championship."
Instead, that man is Alonso. Great on the opening corner, it had thereafter been quite a lonely day. "Losing just three points [to Vettel] maybe was in no-one's thoughts yesterday night or Friday night after seeing the practice," he said. "This is like a victory for us."
But it was McLaren celebrating hard and loud as the Ferrari boys began packing up for that Interlagos finale.