There's a feeling of deja vu about Sebastian Vettel winning his third Formula 1 world championship. But it would be a mistake to conclude that just because the vibe is so similar to last year, thanks to his mighty late-season run, his journey to the title was identical. Vettel has faced, and triumphed over, some very different challenges over the course of the season.
From Singapore onwards, the Red Bull RB8 has been the car of choice. It's this part of the season that has given the false impression, as Vettel has shown that uncanny knack to control a race from the front to perfection. That was Vettel in true 2011 trim. But even during that run, there have been some trials and tribulations.
Abu Dhabi was a good example of Vettel's tenacity. The bare fact of finishing third from the pitlane suggests a drive of rare brilliance. It wasn't quite that, but despite a couple of wild moments, one with a DRS board and one with Bruno Senna, and a good dash of luck, he also wasted no time in making up places when he had to.
Many drivers would have let their head drop in that situation but Vettel blindsided the team with his optimism, leaving none in any doubt about his determination. The mark of a champion.
But there were 13 races before Singapore during which we saw Vettel in unfamiliar territory. He was only an occasionally visitor to the podium during this spell.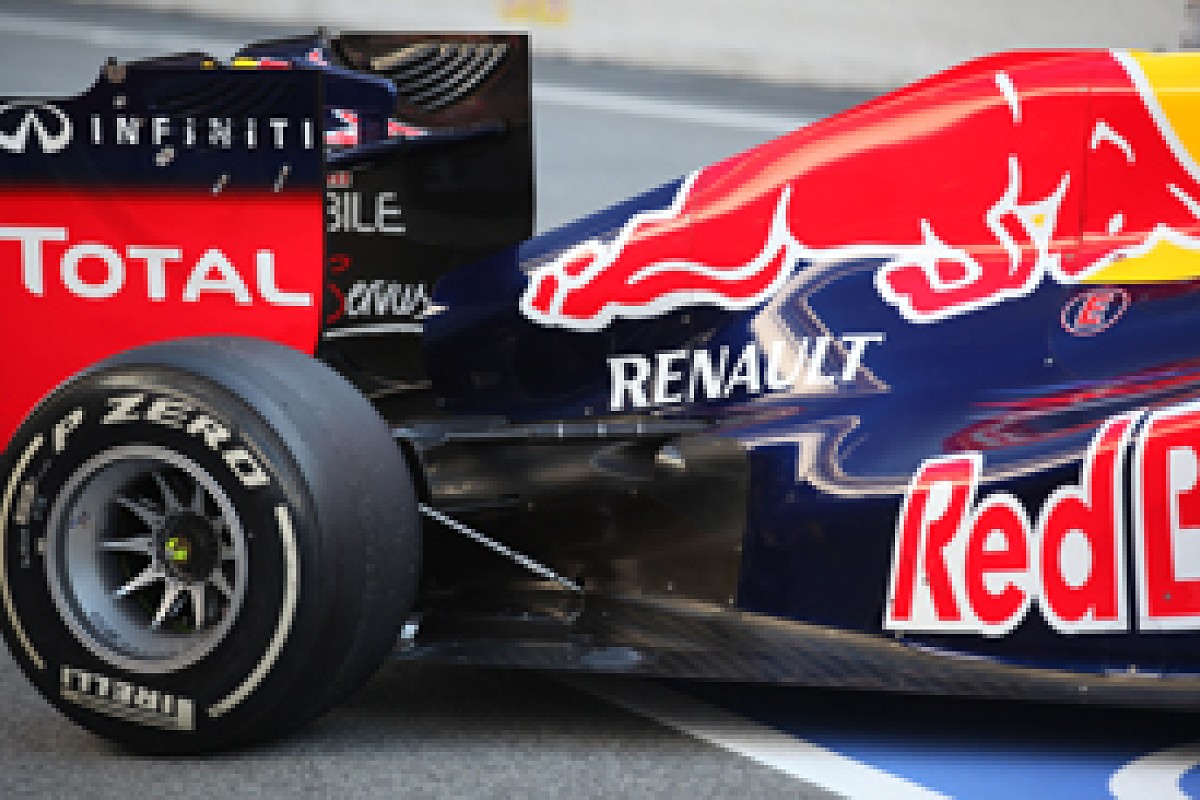 Red Bull's 2012 exhaust concept unsettled Vettel initially © XPB
At the root of his problems at the start of the year was Red Bull's major exhaust upgrade, introduced during the last winter test at Barcelona.
Red Bull had previously run with exhaust exits set about as far rearward as the rules allowed, but the new package moved them significantly further forward a la McLaren. Vettel struggled to get the car to his liking and, in China, even reverted to the old specification, so convinced was he of its superiority. That Adrian Newey spent that weekend focusing on Mark Webber's newer-spec car told you everything you needed to know about how sensible that decision was.
Red Bull's early-season race pace was strong, but in order to achieve this without killing the rear tyres, the car had to be set up to understeer in qualifying. This didn't sit well with Vettel's preferred driving style of rotating the rear of the car aggressively at turn-in. The rear simply wasn't consistent enough in qualifying trim to do that early on in the year.
Despite finishing second in Australia after jumping Lewis Hamilton thanks to a well-timed safety car and being on his way to fourth in Malaysia before dropping to 11th after a clash with Narain Karthikeyan, Vettel wasn't happy.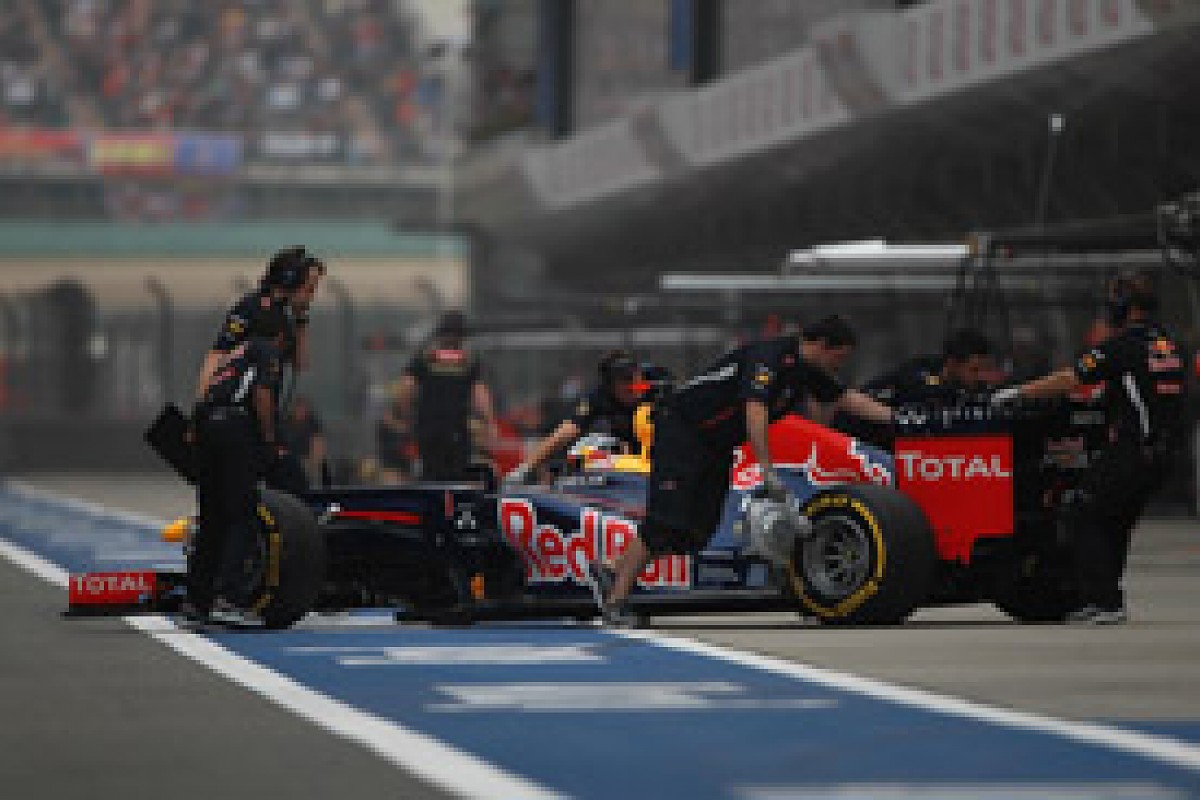 Vettel's poor qualifying performance at Shanghai prompted a rethink © LAT
In China, he failed to make Q3 for the first time since the end of 2009. He salvaged sixth but finally accepted the need to make the best of what he had. Come the next race in Bahrain, he took pole and controlled the race from the front despite the prodigious pace of Kimi Raikkonen. While part of that success was down to getting the tyres to work, Vettel had accepted that he had to get used to the car and knuckled down.
That was something of a false dawn. For the next few races, team-mate Webber often got more out of the car, winning the Monaco and British Grands Prix. Vettel still had his moments, pole position in Canada, for example. He was also a dead cert to win the European Grand Prix until he suffered an alternator failure.
But at no point did he build up the kind of momentum that looked like taking him to the world championship. Then again, no one really did until Alonso started stretching his legs at the head of the championship in the middle of the year.
There were times when Vettel appeared to let frustration get the better of him. At Hockenhim, he finished second on the road but was busted down to fifth for overtaking Jenson Button by running off the track at the exit of the hairpin. It was staggeringly optimistic to imagine that he would get away with this and it wasn't the only time that Vettel overdid it this season.
The other was Monza, where he failed to take into account new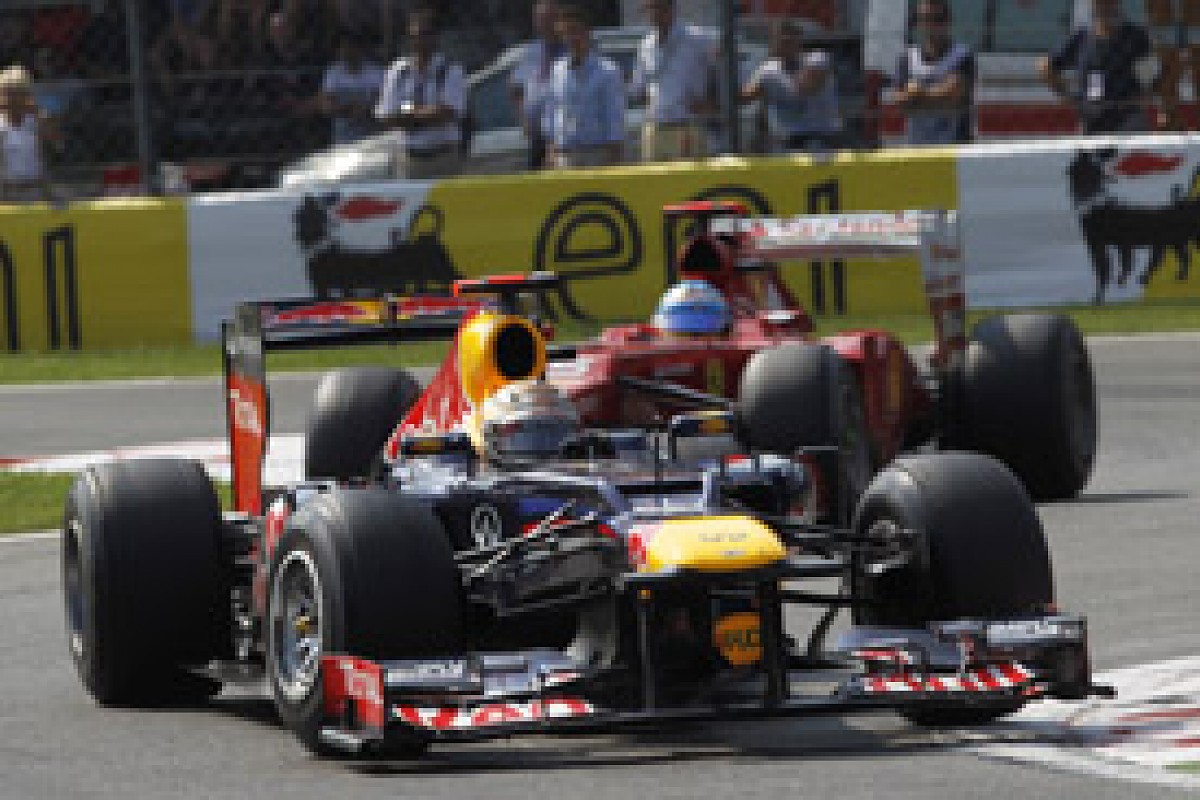 Vettel misjudged his Monza battle with Alonso © LAT
regulations dictating on-track conduct and forced Alonso off the track. It had echoes of the pair's dice at Monza last year and Vettel felt hard done by, but if there's a conclusion to draw from the two incidents it's that Alonso is a master of pushing things right to the limit without overstepping the mark.
After Monza, Vettel was fourth in the world championship, 39 points behind Alonso with both Kimi Raikkonen and Lewis Hamilton between him and the leader.
But anyone counting him out was premature. After all, give him back the points for the retirements in Valencia and at Monza and he would have another 33 points.
For all of the minor criticisms, Vettel had still driven very well. With Red Bull continuing to make progress with the car despite the setback of the clarification of the engine mapping rules that followed Hockenheim, there was always the feeling that the team would get it right before too long even though McLaren was, by then, the team of the moment.
Then, everything came together. Vettel was happier with the car, the new double DRS was used in anger for the first time in Singapore and Red Bull soon had that familiar edge in qualifying. Luck was on Vettel's side there, where he won after Hamilton suffered a gearbox problem. But there was no fortune in the wins that followed in Japan, Korea and India, with the race at Suzuka key to his title hopes as Alonso crashed out after hitting Raikkonen at the first corner.
For while you can make a convincing argument that Vettel struggled to get as much out of a car that wasn't the best as Alonso did, once Red Bull got its act together, he was still mighty. And while there were times in the first half of the season when Webber did have the edge, that is only to be expected for the Australian is a formidable, if inconsistent, competitor.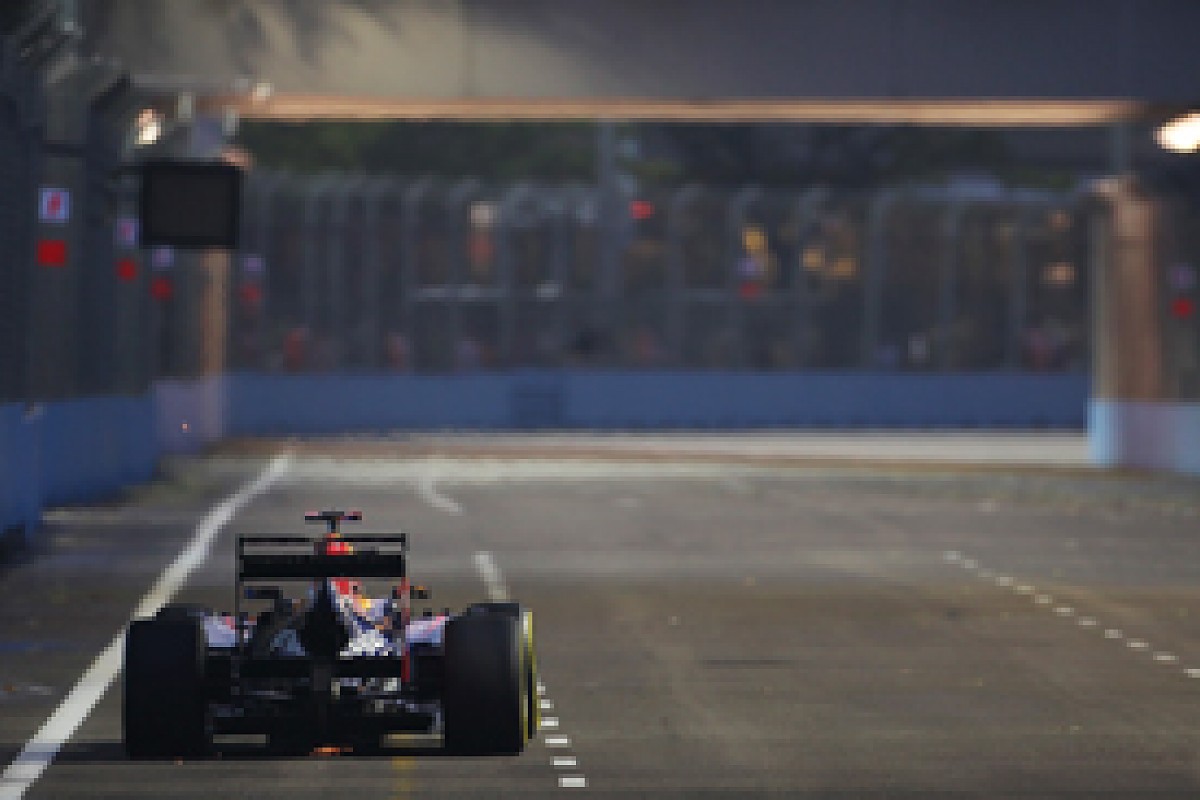 Singapore marked the start of Vettel's unstoppable charge to the title © XPB
But once Vettel was into his stride, he was unstoppable. Alonso deservedly has the adjective relentless attached to his name, but you could equally attach it to his nemesis. Vettel in a car that is working to his liking is mighty. There are those who try to give all the credit for his success to Adrian Newey. This is grossly unfair as, after all, Webber has proved unable to touch Vettel in the closing stages when the German has been at his best despite doing a good job himself.
Vettel knows what he wants and, in harness with Newey, knows how to get it. And once he has his ducks in a row, he takes a vice-like grip of his own destiny and never relinquishes control. For proof of what he brings, just take a close look at the points gap between him and his very accomplished team-mate.
At 25, he's a three-time world champion. To those taking an objective view, he joined the greats with his crushing 2011 title. This third crown is yet more evidence that this is a true great in the making. Yes, he had a better car than title rival Alonso, but he can't be blamed for that and deserves credit for the role he has played in its creation.
If you think it's boring to see Vettel making it three in a row, it's worth taking a moment to appreciate true genius at work. After all, the fans of 50 years hence will envy those of us who are witnessing one of the true greats on what might still only be the ascent to his peak.
It's been a privilege to have reported on all three of those championships.