Even the most optimistic Red Bull team member couldn't have anticipated that Sebastian Vettel could convert his pitlane start in Abu Dhabi into third place.
Fast driving, decisive passing, sheer determination - and a little luck - saw Vettel prove once again why he is a double world champion. Such qualities don't seem so obvious in the races he leads from flag to flag, when he makes it all look so easy.

"I really thought that if we could sneak into the top 10 - because it's not easy to overtake round here - then maybe we could get an eighth or a ninth," said team boss Christian Horner.
He was right to be cautious, because in a straightforward race with no safety cars or retirements ahead, Vettel would have found the going tough once he hit the midfield pack of Saubers and Force Indias. With no strategic help - other than a late single stop thanks to starting on mediums, and softs for a sprint at the end - just reaching the top 10 would have been an achievement. But in the end it all worked out for him.
The team gave him a hand by rebuilding the car on Sunday. A longer top gear and new wing and suspension settings gave him a car optimised for DRS passing, as opposed to pure laptime, which is what he normally requires when starting at the front.
"The team handled the problem we had in qualifying very well," said technical chief Adrian Newey. "And Sebastian did a brilliant job of not being down in the mouth. Everybody knuckled down, determined to do their best and rescue as much as we could out of it. We were all here late last night deciding what we could do, having elected to pull the car out of parc ferme.
"That left us free on gear choice, set-up and wing level, so we re-optimised the car for overtaking, even though we felt we were giving away the last tenth on ultimate race pace. That was the trade we made."
Red Bull mechanics await the verdict from the FIA © XPB
Horner confirms that, despite his obvious frustration, Vettel was up for a challenge.
"Sebastian is - mentally - incredibly strong," he said. "The rest of us were ready to slit our wrists and he was the one guy who was 'it's not an issue, we can still do this.'"
The bad news for Vettel was that Abu Dhabi, with its snaking pit-exit tunnel, is among the worst places to make a pitlane start. At somewhere like Monte Carlo you can pretty much be on the tailenders as the field backs up at Ste Devote; at Yas Marina he was always going to be way behind the pack when he emerged from the tunnel and onto the track.
On the plus side, some bad luck for others gave him an early helping hand. Pedro de la Rosa was pushed off the grid to make a pitlane start of his own. Then, as Vettel finally drove out, he passed the retired Force India of Nico Hulkenberg. As he raced to catch the pack he passed the crippled cars of Paul di Resta and Romain Grosjean, both men crawling back to the pits with punctures.
He thus crossed the line at the end of the first lap in 20th place, 15.1s down on leader Hamilton, picking up another place as Nico Rosberg was in the pits getting a new nose. So he had instantly gained five spots from the problems of others, and the good news was that all bar de la Rosa were guys who were likely to have proven very hard to pass as he got to the fringes of the points. Luck appeared to be on his side, and it was looking good.
On the second lap he set his sights on Bruno Senna, badly delayed by the first-corner crash. But in his eagerness to get past he brushed his front wing on the back of the Williams, damaging the right-front endplate. He still managed to get Narain Karthikeyan soon after the incident to claim 18th.
The Red Bull mechanics responded to news of the wing damage by dashing into the pitlane, but Vettel carried on past, and they were stood down.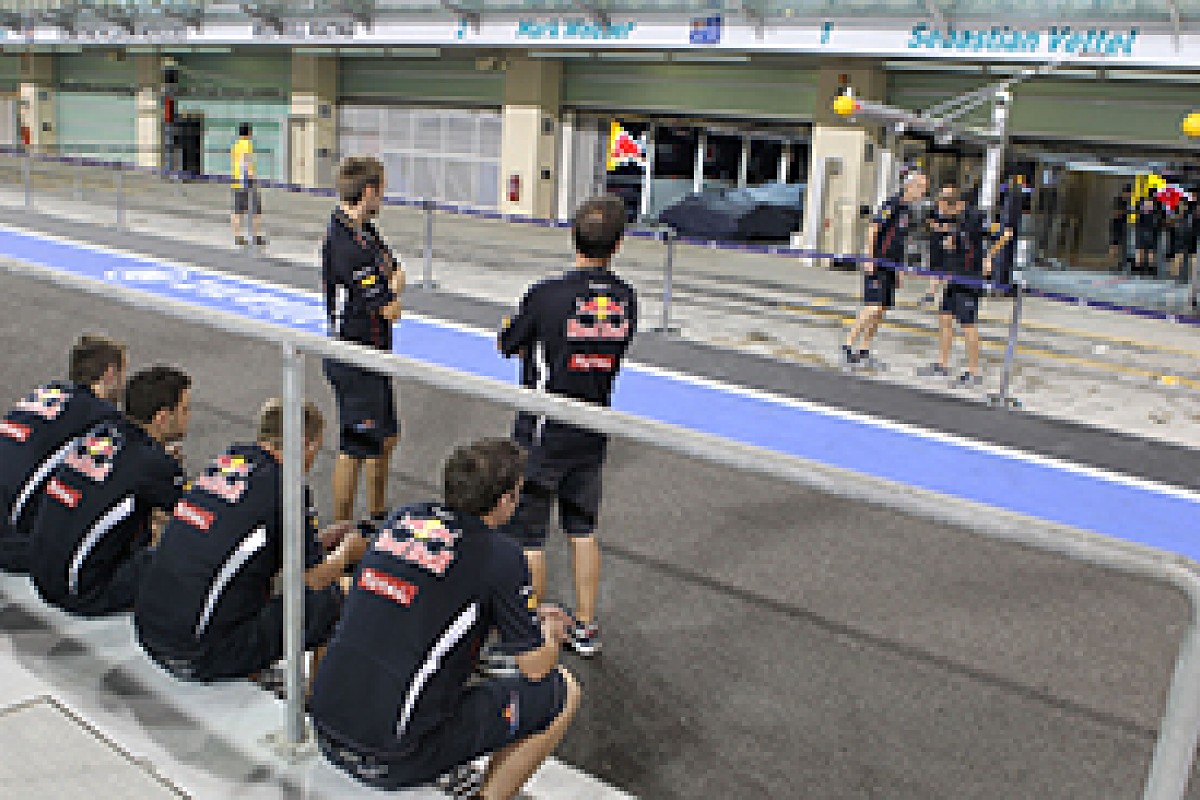 The opening lap crash in Abu Dhabi aided Vettel's quest © LAT
In the garage the engineers hurriedly scrutinised the aero data for information on the impact of the damage. Meanwhile Seb carried on, making his way safely past Senna and Charles Pic on the third lap to claim 16th. The fourth lap was also productive as he dealt with Vitaly Petrov and Timo Glock in one move to jump into 14th.
Now he had some work to do, because next man Heikki Kovalainen was the best part of 4s ahead. With clear air he could go flat-out, although on his harder tyres he was still significantly slower than the leaders, and continued to lose ground to them.
It took him three laps to get onto the tail of the Caterham, and on lap seven he moved into 13th place. His next targets were the Toro Rosso twins, so at least he could be reasonably confident that they would not give him any trouble. It became moot in the case of Jean-Eric Vergne - when the safety car emerged after the Rosberg/Karthikeyan clash, the Frenchman pitted.
Vettel was in 12th and some 24s behind leader Hamilton at the start of the safety-car period and, as the queue formed up, that shrank to just 10s, so it was a huge present for him. Meanwhile, the break gave the team a chance to catch its breath, and Newey took the opportunity to study a spare front wing and make some quick mental calculations about what the endplate damage could mean.
"After the brush with Senna we could see on the data that we'd lost a bit of downforce," said Newey. "But it looked manageable. So then it was a matter of making a call on structurally would it survive or degrade through the race. Then, just as I was looking, he obviously managed to do the other side behind the safety car! At that point he had to come in."
As everyone kept their tyres and brakes warm, Vettel was wrongfooted behind Daniel Ricciardo and, in swerving off the road, he managed to collect a DRS marker sign - a few yards earlier or later and he wouldn't have had a problem. The extra front-wing damage was too big to ignore and, after a further lap behind the safety car while the team double-checked that there was no alternative, he was told to come in. It was a major blow.
"After the initial damage to the front wing, it looked as though it hopefully would be structurally stable for the rest of the race," said Newey. "Therefore we wouldn't have changed that nose in a pitstop, because you lose about five seconds with a nose change. Obviously when he suffered more damage in the first safety car then we had to change it."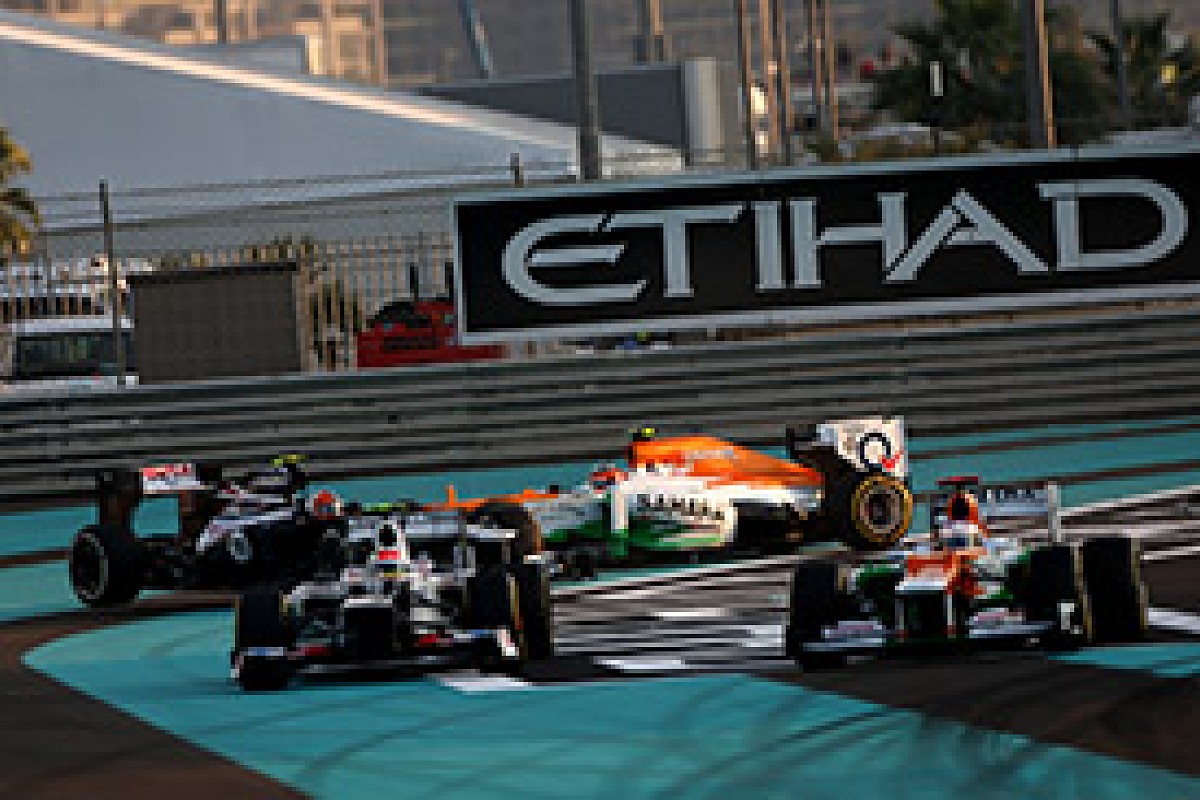 Vettel gave Red Bull's pitwall staff plenty to fret about © LAT
In the stop he took on the new nose and a set of used option tyres, and rejoined the queue in 21st place. This was a reset of major proportions and, much like Jenson Button in the wet in Canada last year, he appeared to be facing disaster.
Indeed he was as badly off as he was at the end of lap one - instead of being 19th and 15.1s down on the leader, as he was then, he was now 21st and 12.8s behind.
But he was now on soft tyres, while nearly everyone ahead was still on the rubber on which they'd started. Aside from Vergne the exceptions were the two drivers immediately ahead of him - di Resta and Grosjean. They had also pitted at the start of the safety car and were now on new primes and used options respectively, thus both could potentially give Seb a hard time.
It was crucial for Vettel to deal with them as soon as he could. His first lap under green was impressive as he passed both di Resta and de la Rosa to move up to 19th. He also got Grosjean in an opportunist move on the inside of the Lotus driver - only to be told to give the place back as he'd gone off track.
"It was a team instruction," said Horner. "And we confirmed it with Charlie [Whiting] as well. We're paranoid about those things now..."
He soon got past Grosjean in a legitimate move, and also took Pic to slot into 17th.
It took him a couple of laps to reel in Petrov, and on lap 18 he passed both the Russian and Glock to take 15th. He then caught Vergne and, not surprisingly, the Frenchman was an easy pass. On the same lap he also took Kovalainen and gained another crucial position when Lewis Hamilton retired.
So on lap 20, just six laps after the safety-car period ended, Vettel was already up from 21st to 12th and within a sniff of the points, although he was by now 21s behind new leader Kimi Raikkonen.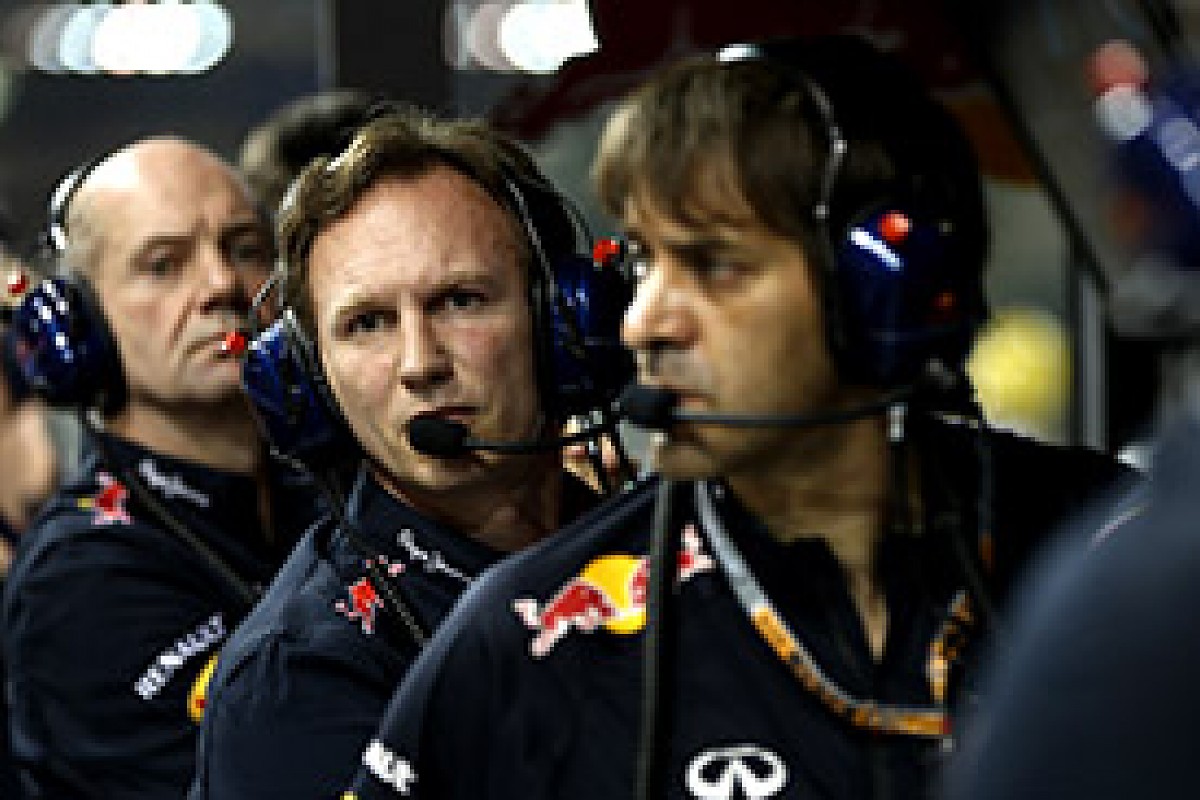 In the end, having damaged both sides of his front wing, Vettel was forced to pit for a new one © LAT
The big question everyone was asking now, of course, was could he get to the end on the soft tyres? They'd been used in qualifying and were now being asked to do 42 race laps, of which just the first had been run behind the safety car. It was a tall order, but if he could do it he would make rapid progress up the leaderboard as every single car ahead had yet to stop.
Vettel, meanwhile, continued to gain places on the track. On lap 21 he passed Senna for 11th, and two laps after that made an easy move past friendly Ricciardo to get into 10th and thus the points. Despite the wing dramas he'd already achieved Horner's target, and we still had 32 laps to go. Having said that, there were some hardcore drivers up ahead...
Now the pitstop sequence began. Kamui Kobayashi and Felipe Massa came in, while on track Vettel passed his old pal Michael Schumacher before the Mercedes pitted, putting him in seventh on lap 26.
Over the next few laps Fernando Alonso, Jenson Button, Pastor Maldonado, Sergio Perez and Mark Webber (who was told by engineer Ciaron Pilbeam, 'If Seb gets a run, don't fight him') all made their single stops, so by lap 31 Vettel was propelled into second, with only Raikkonen ahead. Kimi then pitted and emerged just ahead of the Red Bull.
So in the 17 laps after the safety car he had jumped from 21st to second and almost onto the tail of the leader. It seemed certain that he would need his own second stop. But what if there was a lengthy safety car that gave him the breathing space to get home on that set?
"We talked about it of course, as you can imagine, but he probably wouldn't have made it," said Newey. "It would have been tantalisingly close but, as we often see, if you hope for it and then it doesn't happen then it can be fairly catastrophic at that [late] point."
On new medium tyres Raikkonen began to pull away, but Vettel was holding his own against those behind. Red Bull faced the prospect of gambling on staying out on those tyres, or in effect cashing in Seb's chips, and dropping a couple of spots to a still very worthwhile fourth. It was important to take the decision sooner rather than later - leave the second stop too long, and much of the good work might be undone.
The key was Grosjean, who was running in a distant fifth place. As soon as the window opened that allowed Seb to pit and emerge in front of the Lotus, RBR called him in. So on lap 37 he dashed in, emerging a safe fourth after Alonso and Button went past.
"We looked at the wear from Mark's tyres once they came off [after 30 laps]," said Newey. "We didn't think we were going to make it, unless there was another safety car, but we couldn't take that gamble. So as soon as we were clear of Grosjean we elected to pit."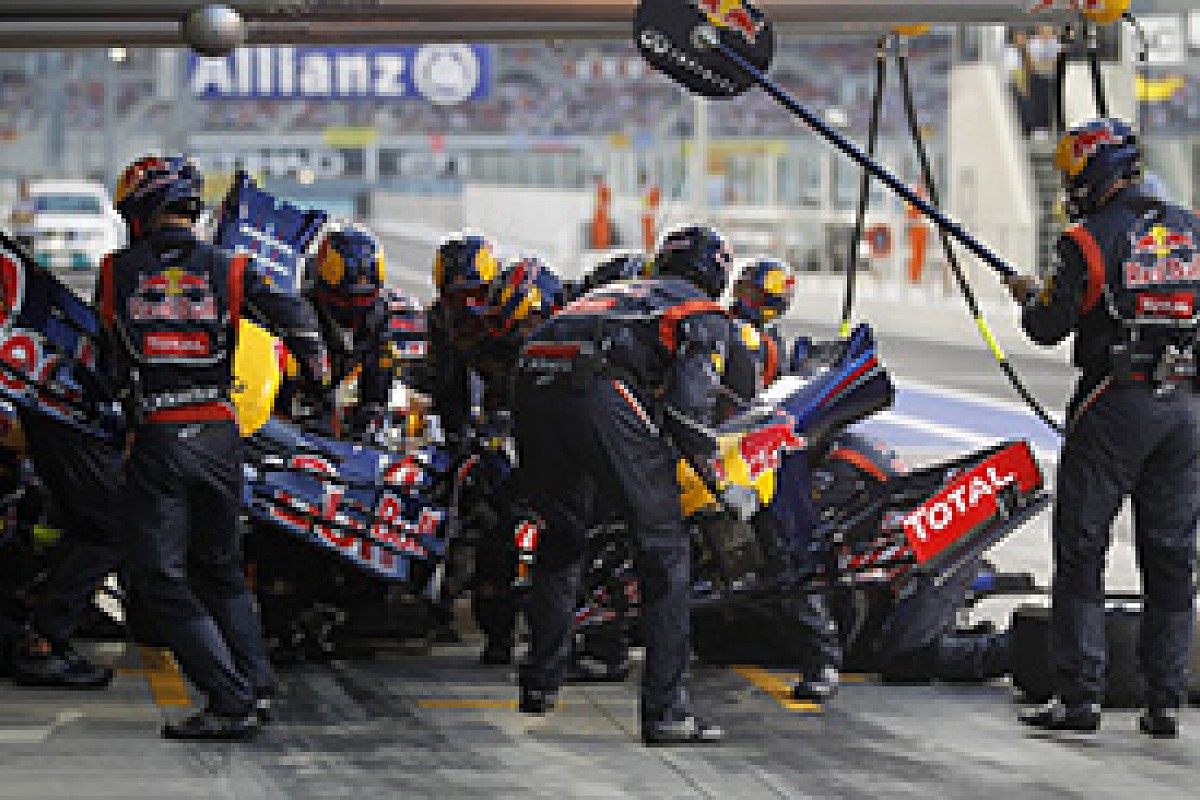 Button made passing very difficult, so Vettel's third was well earned © LAT
Vettel now had ex-qualifying option tyres while those ahead were on mediums that were new at their early stops. But the gap to Button in third was 14s and, with 17 laps to go, closing it down would be nigh-on impossible, even with a tyre advantage.
But then fortune played into Seb's hands as the safety car emerged after the Grosjean/Webber/Perez incident. Instantly that 14s margin to Jenson was eradicated.
"We felt he'd have the pace to catch Jenson and Fernando," said Horner. "Then the pace car came out and it bunched the field up."
After four slow laps, the race restarted on lap 43 with Vettel right on the tail of the McLaren. Button's mediums had run 14 laps and Seb's softs six, including the safety-car laps. Vettel clearly had the upper hand.
Button deserves praise for holding off the world champion for nearly nine racing laps before Vettel finally made it past with one of the boldest moves we've seen him make, but one which could have gone wrong.
"For quite a few laps I was judging the KERS and trying my hardest when he had the DRS open to keep him behind," said Button. "He did a good move round the outside. I could have run wide, and we would have touched, but it's not right really. It was very brave of him. It was a very unusual move; I didn't expect that."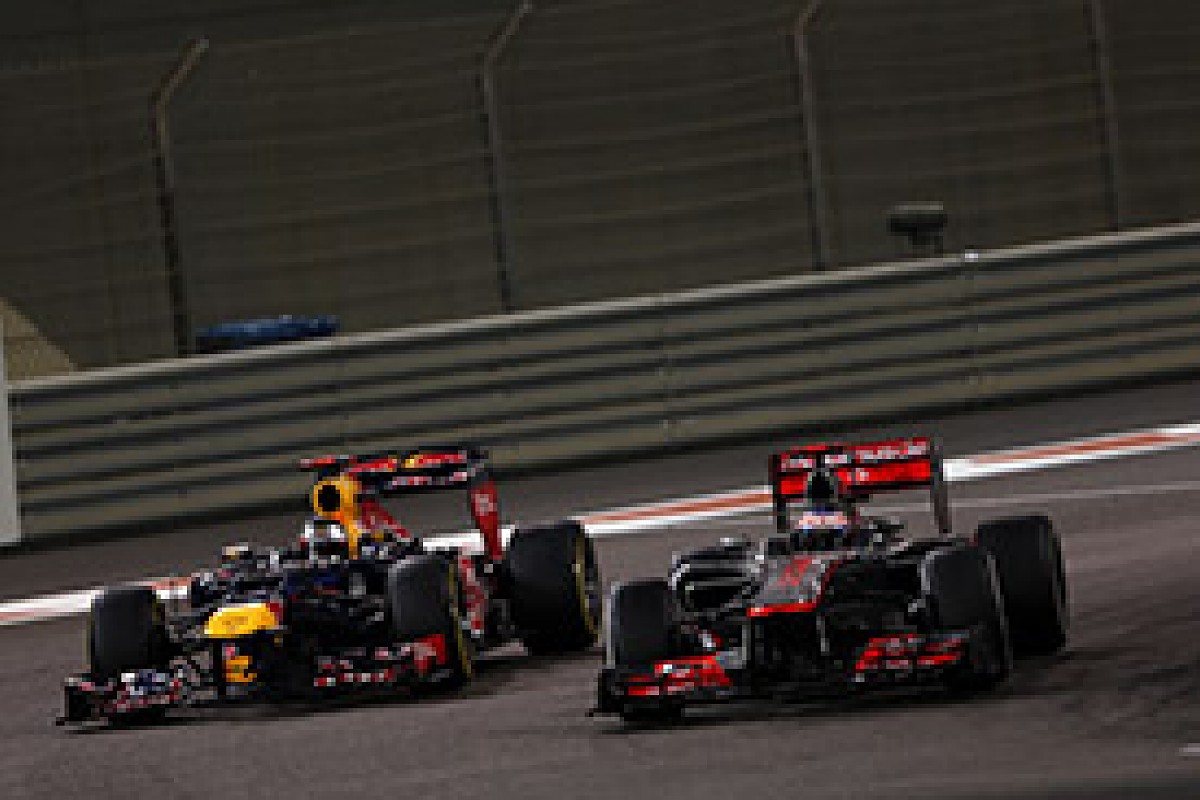 Kimi Raikkonen was simply too hard to catch all day long © LAT
"Despite being quicker than Jenson it took a while to find a way past him in a fantastic move," said Horner. "And all credit to Jenson as well for giving enough space. We saw a lot of cars and drivers crash down there this evening, and Sebastian made it stick."
The pass on Jenson moved him to third and earned three more priceless points. But that really was his limit - even if he had got past JB straight away, Vettel could not have caught Alonso, although Horner admits that the team did harbour hopes of getting even more than it did.
"Your mind does start to wander a little bit!" added Horner. "It's not easy to overtake round here and Jenson placed the car so well. Fernando was into his stride and was too far gone. Sebastian set the fastest lap on the last but one lap, so he was pushing all the way."
A remarkable performance then, but one in which luck also played a major part. Some things may have worked against him, but overall the pieces fell into place, and it's intriguing that the only top-10 qualifiers he physically passed on track were Grosjean and Button, although he was set to slip by Webber when the sister Red Bull pitted. Had it been a dull, processional race with 24 cars at the flag, he would not have got close to third place.
"I think more than anything, Seb's speed was the key factor," said Newey. "The safety car worked against us in as much as he lost his nose in the first one, but the second helped us massively.
"It shows his positive attitude to these things. Basically it was a problem that was no fault of his own that meant we elected to start from the pitlane, and he took that on the chin and just got it on with it.
"We'd done our simulations and were hoping for minor placings - somewhere between eighth and maybe fifth was the expectation, and certainly not a podium."
"I think you've seen the real potential of the driver and car," said Horner. "He's had to go out and deliver it - one of the best drives of his career. To go from the pitlane to the podium is phenomenal."