It was about an hour before the race when Red Bull team principal Christian Horner took a deep breath and knocked on Sebastian Vettel's door to wish him good luck.
"He was sitting in there playing a drum kit," marvelled Horner later, "his trainer sitting there with him, and he just said, 'I'll see you on the podium.'"
A little while later, Vettel got in the car and headed down to the bottom of the pitlane, from where he'd be starting the race. The Red Bull team boss smiled and admired his charge's spirit - but in his mind he was thinking a couple of points would be as much as could be hoped for from there.
With 10 laps to go, Seb sat fourth in the safety car queue, his 24-second deficit to the leaders wiped out - and on faster option tyres that had eight to nine laps' fewer use than the primes on the guys ahead. The Red Bull had good top speed thanks to the wing and ratio changes the team had been able to make through having opted to take the car out of parc ferme.
For the first time, Horner allowed himself to dream. The safety-car periods had been the team's friends on this day, giving back much of what had been taken away by the lack of fuel the day before.
At the head of that queue, black and gold glinting beneath the floodlights, weaved the tyre-warming Kimi Raikkonen, in a very comfortable place, one that he hasn't been in for a while, but which felt immediately very familiar - as soon as that McLaren ahead of him had pulled off 20-odd laps earlier. He wasn't going to lose this race from here, not now.
Vettel prepares for a pitlane start © XPB
Fernando Alonso, second in that queue, could hardly have wished for more. The Ferrari wasn't great around here, not even in the race. It was OK and he'd raced it hard and aggressively - opportunistically past Jenson Button on the opening lap and building from there. But here was a bigger opportunity: one of stealing it, no question.
It would mean getting the jump on Kimi. He knows from years that stretch right back to their respective childhoods in karting that this would be no simple matter, but the Ferrari was a lot faster than the Lotus at the end of that back straight up to Turn 8. It just might be possible.
Button? A pretty standard Abu Dhabi weekend for him so far. Poor qualifying, strong race, a sequence of fastest race laps just before this safety car as he closed back down on Alonso, a dayglo vision in the desert night. And behind him, Vettel.
The next 10 laps were about to provide yet more narrative. But there'd been so much of it leading to this point it was easy to lose track; a wham-bang race of incident unlike any seen at this venue before.
Off the line Lewis Hamilton's clutch was fine; there was no Indian Grand Prix-style underdelivery of torque and the McLaren was cleanly away, the biggest question mark of his race now answered in a positive way, clear dusk between him and his pursuers.
Mark Webber, on the other hand, had bogged down terribly and was jumped immediately by Pastor Maldonado's Williams to his outside and Raikkonen down the inside.
Raikkonen exited that opening-radius first turn heading the pursuit of Hamilton, up through the blind apex uphill left of Turn 2, sixth gear and still accelerating through the thrilling downhill S of Turns 3 and 4. Webber got his elbows aggressively out through Turn 1 to keep from being mugged by Button. The lost momentum cost Jenson, allowing Alonso to pounce, not hesitating for even one millisecond - and he wasn't finished yet.
Webber got a clumsy exit over the kerbs of Turn 9 and Alonso was onto him like a heat-seeking missile. When these two go wheel to wheel there's inevitably an added fizz, and this was no exception as Webber feigned to intimidate Alonso toward the wall on the right down the long curving run up to the next tight chicane of Turns 11-12-13.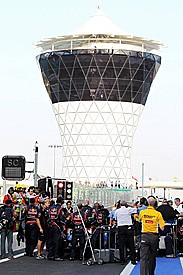 Alonso flew from sixth at the start © XPB
Fernando kept coming, wheels close to touching in seventh gear, and eased his way past. By the time he'd completed the move it was very late to begin braking. Smoke poured briefly from the inner front as he sought to avoid hitting the back of Maldonado. It was a stunning move.
The midfield had failed to squeeze cleanly into the first turn and, in the multi-car melee, Nico Hulkenberg's Force India failed to survive. The sister car of Paul di Resta was heading pitwards for repairs and Bruno Senna's Williams was carrying damage.
Later in the lap, Nico Rosberg's front wing would puncture Romain Grosjean's front tyre - and they'd both be in too. Vettel benefited from these delays, and was lining up Senna by the end of the lap - though he would slightly damage his front wing in his optimistic move. From 24th to 17th already, even so he was already 15s off the lead, a gap that would build up to 24s over the next few laps as he made his way through the lower half of the grid.
As the pack wound its way through the tight twists of the final sector, Hamilton was visibly quicker than the following Raikkonen. But the McLaren's brakes and tyres were still a little cool on the second lap as Hamilton braked for Turn 8, the tight left at the end of the back straight.
A front wheel locked, he ran wide onto the painted Tarmac run-off, then quickly pulled himself back on track ahead of the clunky right-handed part of that chicane - just in time to prevent Raikkonen from pouncing. But it gave Kimi a better exit out of there and Lewis had to get super-defensive to keep him behind, dust thrown up from the diffuser as he hugged the inside kink to prevent Raikkonen seeing a gap.
That was to be the only wheel Hamilton had put even mildly wrong throughout the weekend and he quickly pulled away all over again. Even the enabling of DRS - two zones up to Turns 8 and 11 - on lap three didn't allow Raikkonen to get close.
That gap would build to almost 4s by the end of the eighth lap, a margin that was about to be wiped by the safety car. Narain Karthikeyan was approaching the flat-out right-hander of Turn 15 alongside the marina, when with a sinking feeling of dread he felt his steering go suddenly very stiff - hydraulics failure.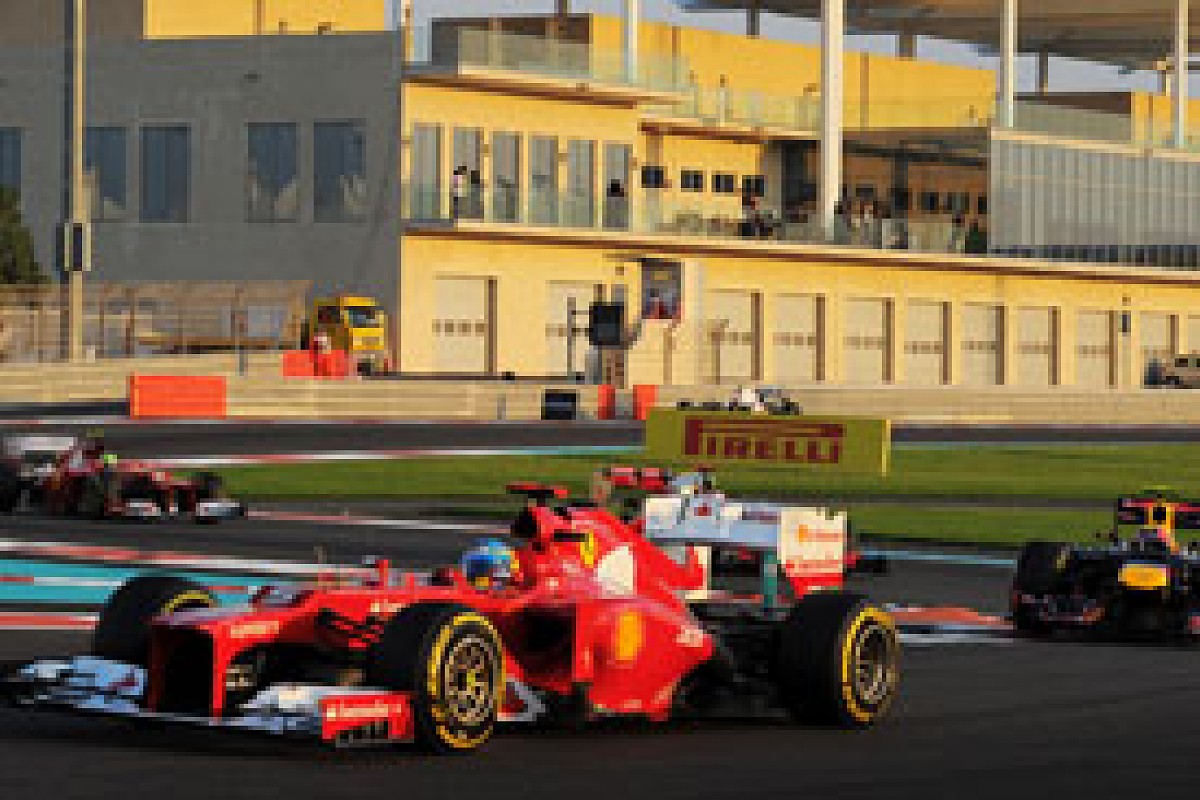 Rosberg and Karthikeyan's crash triggered the first SC period © XPB
He lifted off as he headed inevitably off towards the run-off, but bearing down fast was the unsighted Mercedes of Rosberg, recovering from his earlier stop. He hit the HRT at full force and flew scarily over the top of its cockpit before hitting the Tecpro barriers hard. It was with great relief we saw them both climb unharmed from their cars. But with debris scattered across the track, the safety car was sent out.
This was potentially great news for Vettel, who'd climbed to 12th and with a likely-compliant Toro Rosso ahead of him. That 25s deficit had been wiped. But in the brake/accelerate sequence in the queue Daniel Ricciardo was braking just as Vettel was accelerating, and Seb had to veer sharp right off the track in avoidance - collecting a DRS marker board. Now he'd really damaged his wing.
Forced to pit for a new nose, Vettel was also switched to a set of the soft-compound options, having been one of just three to begin on the medium-compound primes. He rejoined right back at the tail of the field. But because it was bunched, that wasn't too costly. He'd soon be scything back through the lower half of the pack, his longer gearing and lower wing helping the RB8 to an unfamiliar fourth fastest through the speed trap.
Now out of sequence on his tyre strategy, he was on softs that averaged about 0.6s faster than the hards, but which would be unlikely to complete the remaining 42 laps. With the rest of the field one-stopping - the circuit proving like India's Buddh track in how easy a time it gave the tyres and therefore making a one-stop much the favoured strategy - it wasn't ideal.
Racing got underway again at the beginning of the 15th lap. Alonso, in trying to get a better run onto the pit straight than Maldonado ahead of him, almost dropped the Ferrari through the final corner and had to indulge in a bit of weaving to keep Webber from taking advantage. Upon the restart, Maldonado found his KERS had died during the safety-car lappery and a bit of a queue would soon form behind the Williams as Hamilton and Raikkonen pulled quickly away.
Lewis took only four laps to build the gap over Kimi back to what it had been before the safety car. But then he failed to come round again. Electrical failure took out the fuel pump and the engine died a few seconds later. No warning.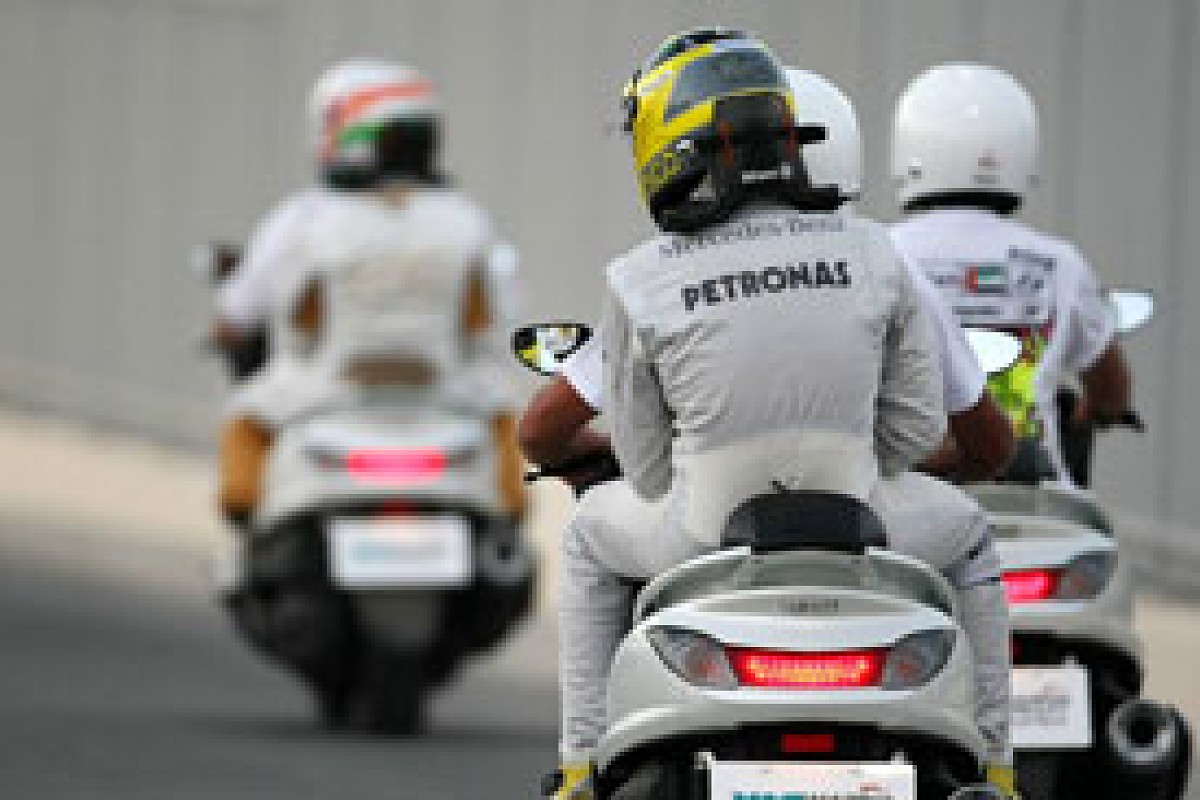 Hamilton lost what looked like a sure victory © LAT
Just as in Singapore, he'd lost a race he was dominating. McLaren has now suffered six significant failures spread across five of the past six races. Hamilton walked forlornly back under the glare of the night-time lights.
And so it was that Kimi Raikkonen was leading a grand prix, just like the old days. "Just leave me alone," he insisted over the radio as the team tried to inform him of the gap. So it was also that Vettel's deficit to the lead was reduced from 25s to 21s, Seb now up to 12th.
His knife-through-butter progress was allowing that gap to remain relatively stable - which made his position very interesting, given that those ahead of him would all soon have to make their pitstops, taking up around 20s of elapsed time. It was a brilliant performance.
Alonso finally found a way around the KERS-less Maldonado on lap 21, zapping him in the DRS zone up to Turn 8 to go second, with Webber next in line to have a look at the Williams's defences. Mark's Red Bull, unlike Vettel's, still had its qualifying ratios and wings and was 10km/h slower through the trap.
It made it a very difficult car to race in the pack, but even so his attempt at passing Maldonado at the end of the second DRS zone was clumsy. From the outside he simply turned into Turn 11 ahead, leaving Maldonado no option but to punt the Red Bull, which duly spun. Button, Felipe Massa and Sergio Perez all flashed by before Mark could rejoin.
Next lap, Button made a great move down the inside of Maldonado for third into Turn 8, though he was already 5s behind Alonso. A few moments later, Webber tried to take advantage of Massa's loss of momentum after the Brazilian had been passed into Turns 8-9 by Perez.
The Red Bull tracked the Ferrari down in the second DRS zone and then tried for the outside of Massa into Turn 11, Felipe nudging wheels to hold it out wide, forcing Mark to take to the run-off. Over-anxious not to let Webber rejoin ahead of him, Massa accelerated too hard, too early out of T12 and the Ferrari looped around in a cloud of tyre smoke. He would pit soon afterwards, his tyres finished.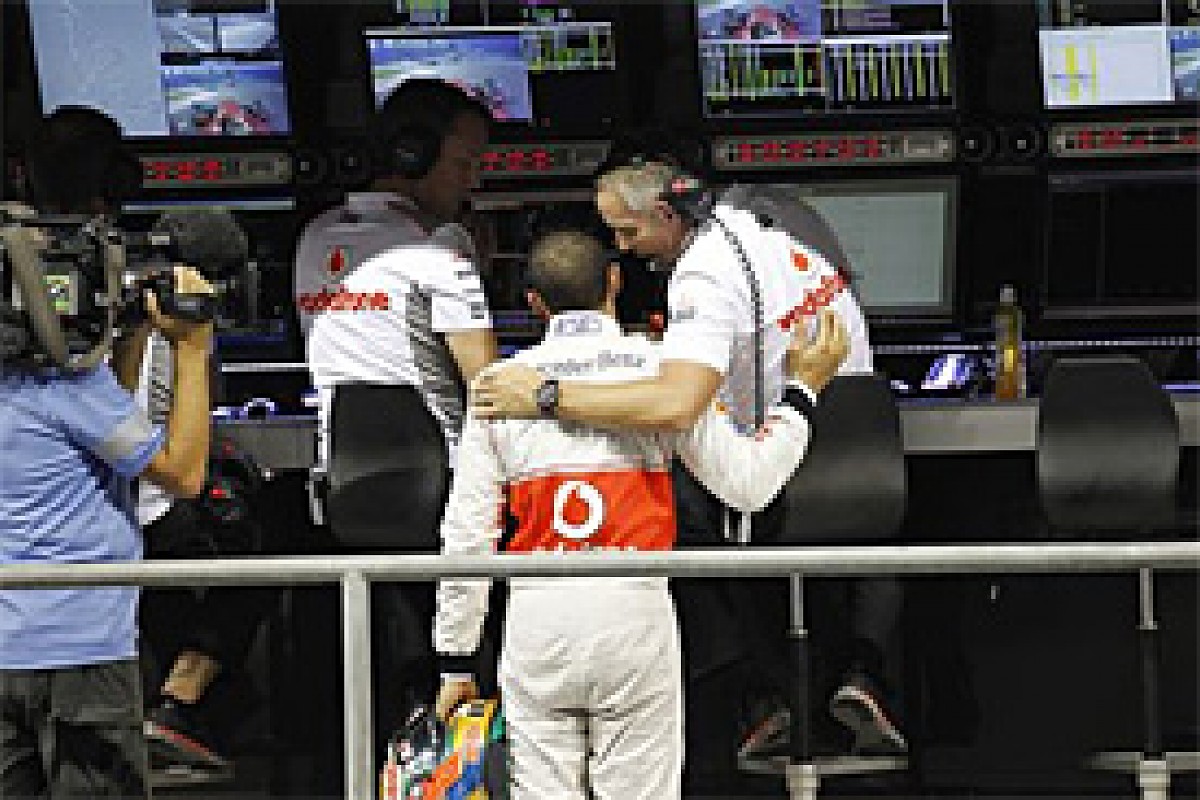 Massa spun during his fight with Webber © LAT
The leading stops were kicked off by Alonso on lap 28, from almost 8s behind Raikkonen - not enough to allow him to rejoin ahead of Vettel. The Ferrari was stopped for just 2.7s as a set of prime tyres was fitted. Button and Maldonado were in the next lap and they - like Alonso - were leapfrogged by the flying Vettel. Seb was now up with Webber, and Mark was being instructed not to fight if his team-mate went for a pass. His rear tyres were now well past their best anyway and he was brought in on lap 30.
Although he was able to leapfrog Maldonado. Webber was still behind Perez and all three were now stuck at the pace of the old-tyred, out-of-sequence bunch in fourth to seventh, comprising Senna's Williams, the Toro Rosso of Jean-Eric Vergne, Grosjean's Lotus and di Resta, the Force India man making a great recovery from his first-lap stop.
With Perez, Webber and Maldonado trapped, so it played even further into Vettel's hands, now up to second thanks to that much earlier stop and subsequent pace.
Raikkonen finally pitted on the 31st lap.
"We could have gone longer than that with Kimi," explained the team's Alan Permane, "but the concern was Vettel. He was lapping quickly on those options and, although we didn't think he'd be able to get to the end on them, we didn't want to risk getting behind him just in case he could. So we pitted Kimi while we still had enough of a margin to get out still ahead."
The Lotus exited still in the lead, albeit only by around 1.5s. Kimi then began to pull away on his fresh tyres. Alonso lay 6s behind the Red Bull, with Button's McLaren - happier on the prime tyres - beginning to cut into the Ferrari's advantage.
At this point Red Bull was contemplating trying to get Vettel through to the end on his existing tyres.
"We asked him and he was challenging us about it," said Horner. "He thought we needed to stop again." They monitored his times and, once Alonso and Button began gaining by around 0.5s per lap, it became clear Seb was right. They left him out long enough to ensure he came out ahead of that old-tyred pack, bringing him in for fresh options on lap 37, with 18 still to go. He rejoined a distant fourth.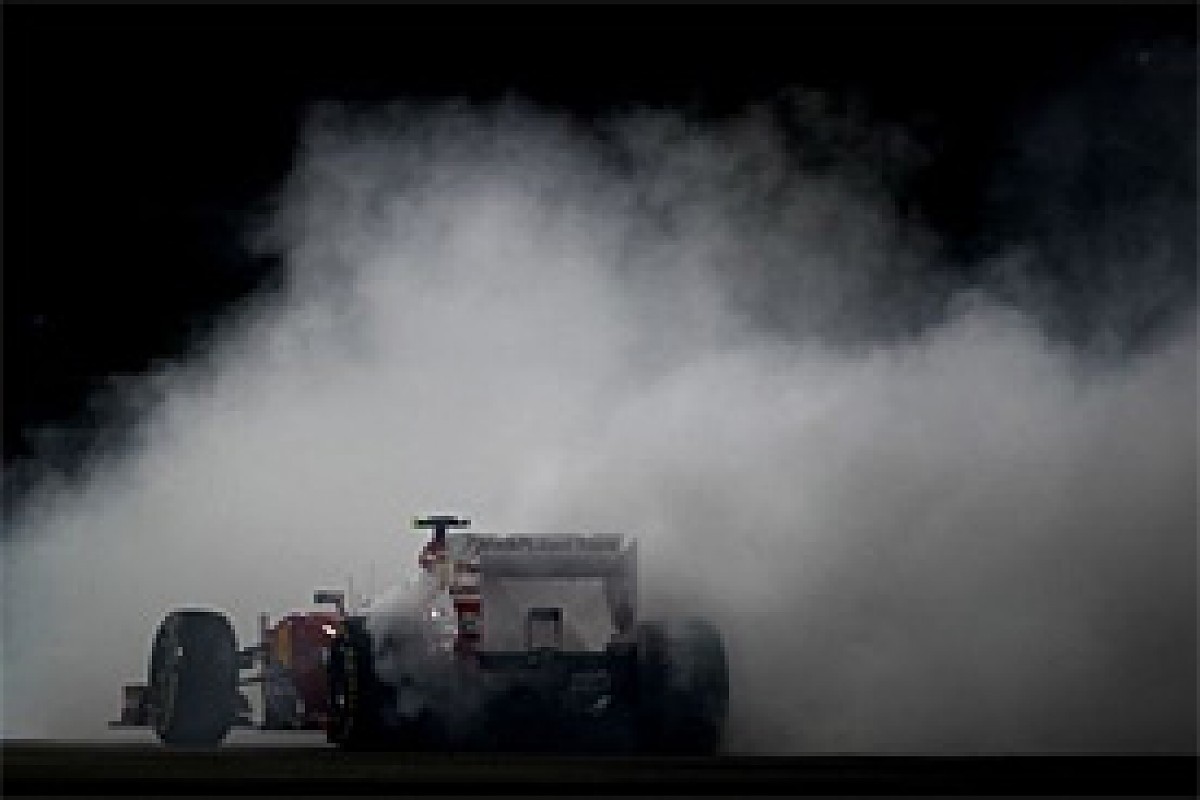 The second safety car period set the race up for a thrilling finish © LAT
Frustration was building behind that pack. On the 38th lap di Resta went for a DRS pass on Grosjean at Turn 11, and in the subsequent squabble the closely-following Perez looked to take advantage, trying to pass them both. As they all squeezed each other out through the complex of slow corners, with di Resta ahead, Perez spun into Turn 14 and was collected by Grosjean, who in turn was hit hard by Webber.
The Lotus and Red Bull were out on the spot, the Sauber was in for repairs and would subsequently be in again for Perez to take a stop-go penalty. Out came the safety car; up went Red Bull's hopes for Vettel. The 24s gap to Raikkonen was now wiped away.
"He's got to be the luckiest person in F1," said a watching Hamilton and, while it's true that those safety cars had fallen well for Vettel, he'd made brilliant use of that luck. The old-tyred cars took the opportunity to stop. So behind the leading quartet of Raikkonen, Alonso, Button and Vettel it was Maldonado fifth, from Kamui Kobayashi's Sauber, Michael Schumacher's Mercedes, Massa and Senna. Schuey picked up a puncture over the debris, forcing a stop that dropped him out of the points.
"Yes, yes, yes, yes" said Raikkonen dismissively as the team reminded him to keep the tyres and brakes warm. "I know what I'm doing." He proved it as the safety car came in and he sprinted clear with the race's fastest lap so far. Alonso was left gasping, but Button's challenge to the Ferrari had now faded.
The worn primes were reluctant to come back up to full temperature, having lost much of their bulk, and Jenson was now fully occupied with trying to keep Vettel behind. He tried around the outside of Turn 8 even before DRS had been re-enabled. Button was being very tactical in his use of KERS, continually thwarting the much faster car behind. Vettel continued to try into Turn 8, sometimes inside, sometimes outside and still Button would place his car perfectly.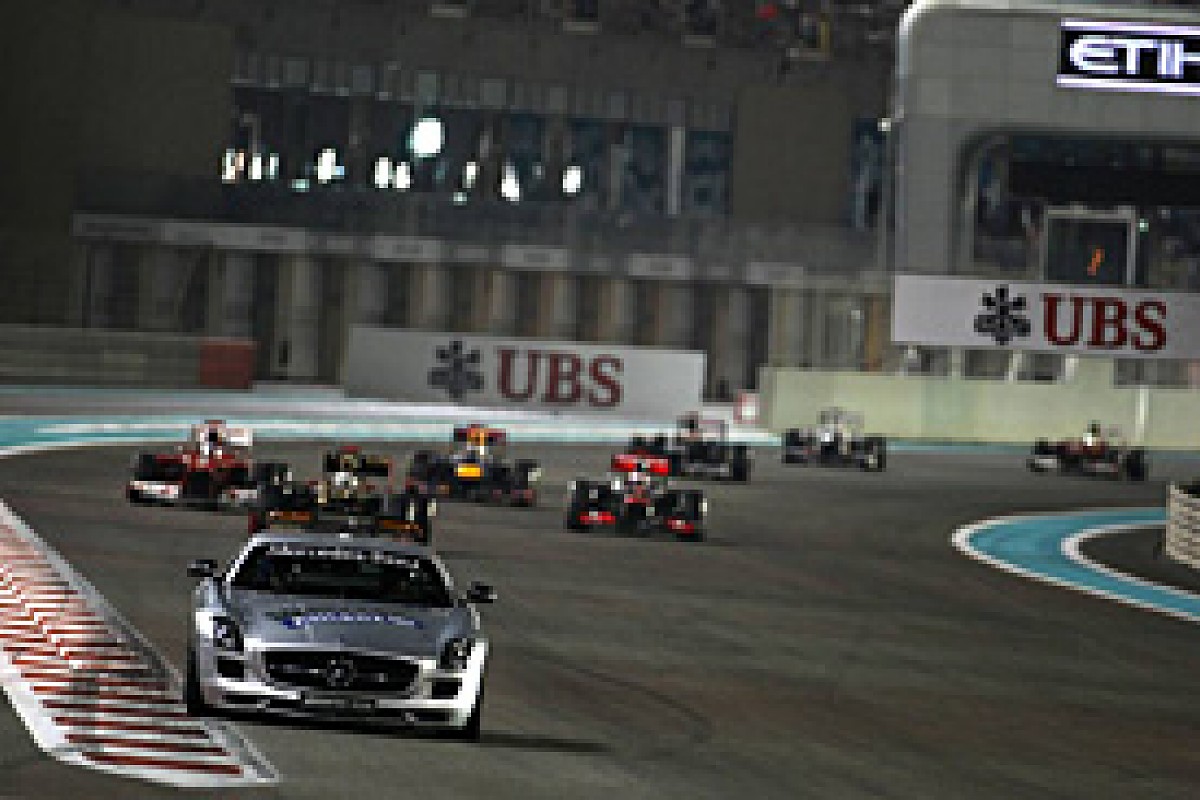 Vettel passed Button with a 'risky'move © XPB
Alonso, meanwhile, began setting fastest laps to cut into what Raikkonen had built into a 3s gap. But Kimi had it under control, never allowing the Ferrari to get within DRS reach. Button's defences were finally breached by an audacious Vettel move - around the outside of Turn 11 with three laps to go.
"I thought that was a pretty risky move for someone in his position," said Button in reference to Seb's title quest. But on this day Vettel had thrown caution to the wind and his third place leaves him 10 points clear, down from 13. Not a bad result from a pitlane start...
"I'd loved to have got past Jenson sooner and then past Fernando as well," he said. "We got hit hard yesterday and we had to fight. I'm looking forward to the next two races."
Meanwhile, what were Kimi's emotions on winning for the first time since 2009? "Not much really."