The back doors slam shut, insulating four weary occupants from the sound and fury of a mid-afternoon Venezuelan electrical storm.
We exhale in unison, slumping back on the rear bench of the Ford Explorer SUV that will transport us from the Los Proceres military showground in the capital city of Caracas, where Pastor Maldonado had earlier received a 'hero's homecoming' state welcome, in recognition of becoming his country's first grand prix winner in Barcelona back in May.
"That was intense!" someone says, and they're not wrong. For the past four hours we've been swept along in the swirl of Latin passion - as real as it was cliched - that accompanied Pastor's street demonstration in a Williams FW33 show car. No one present had ever experienced anything quite like it.
The final scenes could scarcely have been better scripted. After Maldonado's earlier, abortive demonstration (yep, he stacked it on a kerb during lap two... more on that shortly) things might have got ugly among the restless, impatient, expectant crowd of 20,000 or more.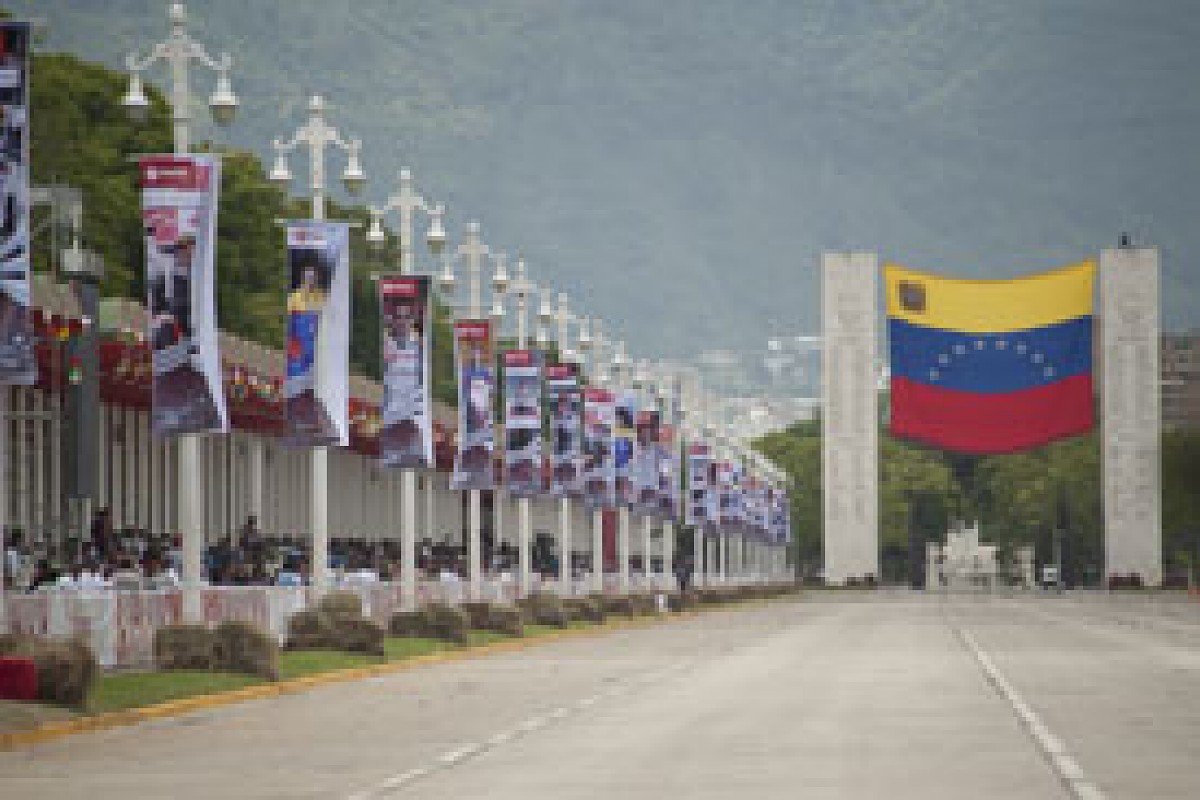 Fans lined the streets for Maldonado's home run... © Williams F1
It fell to a less-feted Venezuelan racer, Caterham GP2 pilot Rodolfo Gonzalez, to save the day with some demo laps of his own. Less spectacular, sure, than the full-blown 150mph noise of Pastor's flat-chat F1 car, but loud enough, and sufficient to entertain. For the time being.
Then the rains came. Low, hard, heavy rains from black clouds that switched day to night and were armed with thunderbolts hurled down by angry Venezuelan racing gods, venting their fury at the spoiling of their afternoon's F1 fun.
Huddled inside the tent-cum-garage that housed a bent FW33, around 20 Williams mechanics, the boss (Sir FW), marketing and communications director Claire Williams, executive director Toto Wolff and a hundred or so others seeking shelter watched as the hardcore crowd remnants worked out what to do next, since it was obvious only a powerboat could navigate a streaming surface that only 20 minutes before had been hot, hard concrete.
Quickly they convened on the suddenly flimsy-looking crowd barriers that separated our tiny bubble of F1 from the masses. Backed as they were by stout members of the Venezuelan military, the barriers could be relied on to hold, but it was obvious that this excited throng of Latin petrolheads weren't going anywhere until they'd got, well... something.
The Williams show-car team had a similar experience 18 months ago, during their first Caracas street demo when Pastor was still an F1 virgin, yet to start a race. As per the schedule, Maldonado pulled up in front of President Hugo Chavez's pulpit and hopped out of the car to be blessed by this most self-mythologising of South American leaders.
Thing is, in sweltering midday temperatures, the stationary vehicle immediately began to overheat, which, in turn, triggered its engine shutdown software.
Mervyn Masterman, support team chief mechanic, was there and he recalls with a grimace the experience of having to defend a stricken demo car from advancing, trophy-hunting Venezuelan hordes: "It was a few hundred metres away and only one of our guys was there," he says.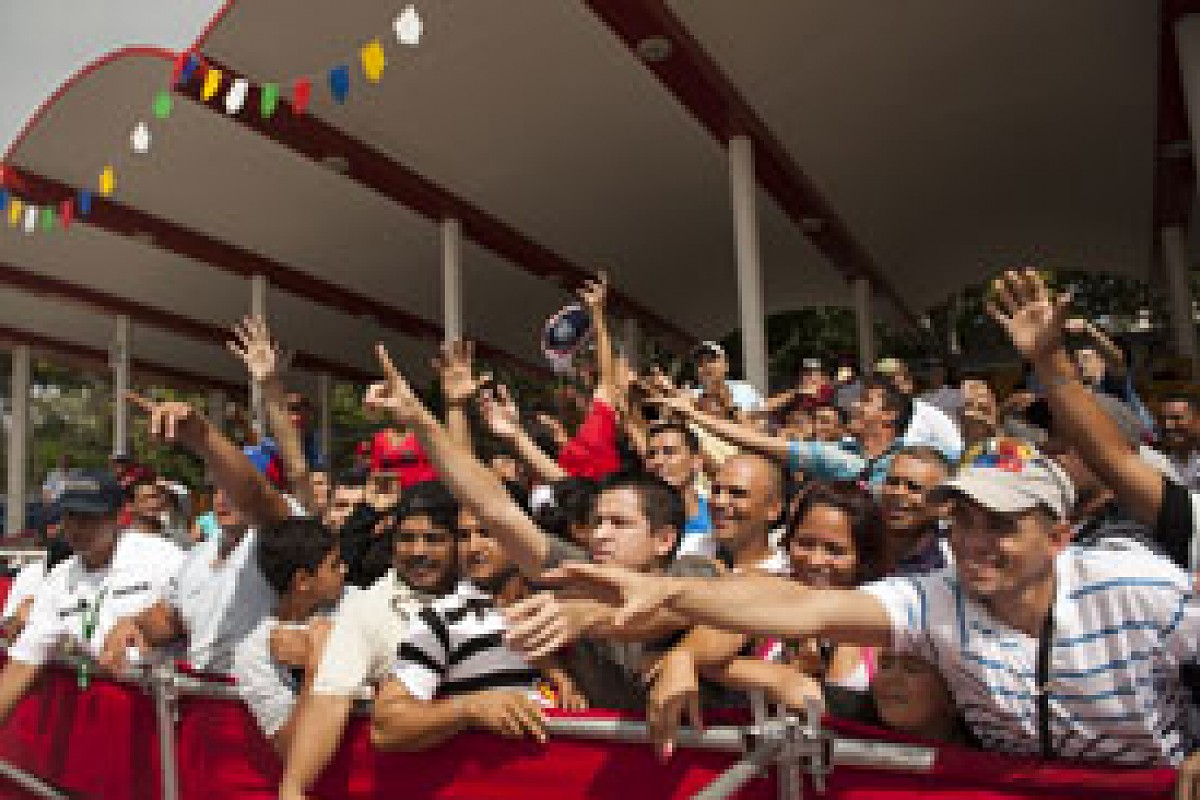 ...with excitement bubbling through the crowd © Williams F1
"The crowd had mounted the barriers and was heading for the car. We could see what was going to happen, so we pegged it down and formed a ring around it, but in that situation you can't retaliate and we were basically being mobbed.
"We lost an antenna and part of the front wing before the army realised there was a bunch of English guys somewhere in there and sent their guys in. They were pretty brutal, shunting people out of the way, but who knows what would have been left of the car if we hadn't been there."
Since then, of course, Maldonado has become a national hero, elevated to household-name status thanks to that magical Circuit de Catalunya victory and with the power to confer state holidays in recognition of his feats of greatness. Think Button-meets-Best-meets-Beckham and you'd be halfway to gauging Pastor's homeland status.
So his fans are rather keen to get a piece of him and, to judge by the ever-intensifying shouts of "PAS-TOR, PAS-TOR, PAS-TOR" crashing across the barriers, even as the downpour intensifies, it's obvious Williams is going to have to offer something up PDQ.
To the team's eternal credit, and forewarned by the previous year's experience, they've brought almost 3000 T-shirts and caps to hurl into the crowd by way of appeasement.
Williams' head of marketing Matt Jones, an ex-army man, leads the charge, striding into the deluge holding a large box, stuffed with team merchandise. Oblivious to the soaking he's getting, he delves deep into the box and flings out armfuls of gear.
He's swiftly joined by other team members, including comms crew Sophie Eden and Isobel Postins, all of whom get a bone-deep drenching for their efforts.
Pleasingly, Pastor's right in among them, whipping the crowd into a further frenzy with his mere presence and going some way to make up for the earlier gaffe that had left this multitude gagging for more.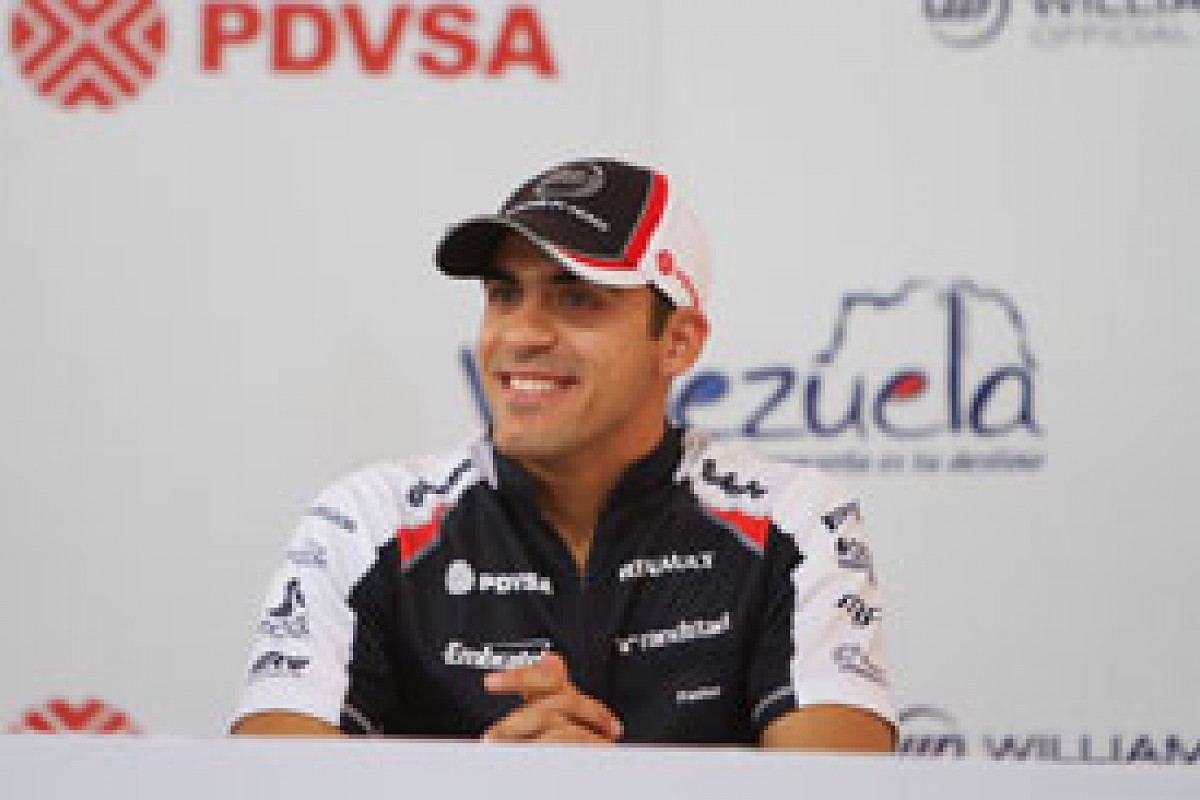 After an unscheduled exit, Maldonado handed out merchandise © Williams F1
It's a remarkable scene, reminiscent of the post-race swarm of humanity witnessed every year at Monza, post-Italian GP, or that crazy Silverstone afternoon in '92 when champion-elect Nigel Mansell did it for queen and country to etch F1 into the popular consciousness in a manner never seen before or since, in the UK at least.
Goodness knows what would happen were a grand prix ever to be staged in Venezuela.
"The enthusiasm's palpable isn't it?" Sir Frank offers in a trademark quiet aside. "It may all seem a bit crazy and wacky, but the passion drives the leadership to do more."
Without quite spelling it out, FW has just hinted at the very real importance of this event to Williams F1. Teams have become adept in recent years at 'putting on a show' for the crowds, taking the sport to ever more exotic locations such as the Dominican Republic or the Himalayas (thank you Red Bull).
But while those gigs are all about using F1 as a marketing tool - selling the sponsor's product in the crudest sense - this Caracas production is about cementing Williams' ties, through Maldonado, to Venezuela's state oil concern PDVSA (pronounced 'pay-de-vayser').
Maldonado, now 27, has been PDVSA-backed since his teens, and with him comes an estimated 30 million petro-pounds. Along with other home athletes, he has benefitted from state funding intended to raise the country's international profile through success in sport.
This scheme has not been without criticism at home. Venezuela's an aggressively socialist state, in the midst of a long-term social experiment aimed (in simple terms) at boosting the country's welfare through centrally controlled reinvestment of its oil bounty. 'Why fund an F1 team when you could build a hospital?' argue Chavez's detractors.
Maldonado's grand prix win de-puffed their sails, however. 'Why would the state disempower a young charger whose bold deeds abroad honour his country?' came Chavez's rebuttal.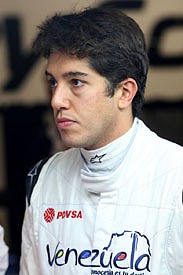 Rodolfo Gonzalez joined the parade © XPB
Sport and politics have rarely been more blatantly or deliberately juxtaposed than during this particular 'meet and greet', for which Maldonado is joined by several other Venezuelan sport stars, among them Olympic gold medallist fencer Ruben Limardo and fellow racers Ernesto Viso and Jonny Cecotto Jr, as well as the aforementioned Rodolfo Gonzalez.
They board an open-top troop carrier and are paraded before the crowds, as giant screens all along the route broadcast footage of state housing projects and motorway construction.
"The opposition must be hating this," Sir Frank twinkles quietly, putting aside what you might guess are political differences with Chavez's leftist leanings for the greater good of his team.
Because the trick, of course, is for Williams to ensure that PDVSA's team of choice (for as long as it is in the business of choosing F1 teams to back) remains the proudly British blue-and-white one.
Which perhaps explains the presence of so many A-list team personnel at an event that - put bluntly - is nothing more than a crowd-pleaser. Caracas is an awfully long way to fly for a jolly, after all (4650 miles, if you must).
All went swimmingly for most of the weekend, starting on the Friday morning before Sunday's street run with a high-profile press conference attended by up to 100 representatives of the local media.
There, Maldonado, flanked by Wolff, Sir Frank and Claire Williams, fielded maybe 90 minutes of questions - mostly insightful and all loyally supportive of 'their' driver.
One interrogator, a noted local TV sports anchor, even drew a round of applause from his assembled media colleagues when he prefaced his enquiry with a speech praising Pastor, explaining the esteem Maldonado brings Venezuela and decrying those who dare criticise his red mist in battle for failing to recognise the spirit of a true fighter.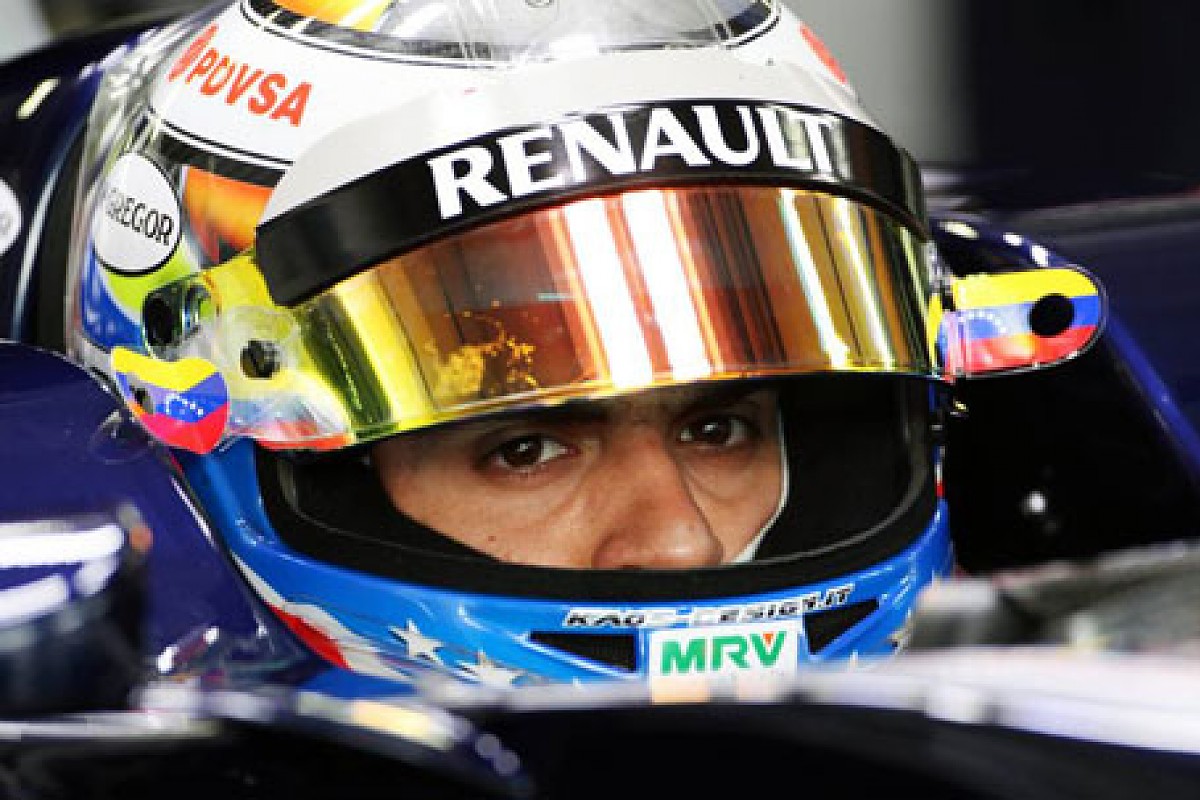 Such journalistic practice, it can confidently be asserted, is not the norm at F1 press conferences.
Later that same day, in a private function, Sir Frank and daughter Claire have a private audience with Chavez, who's accompanied by a tranche of military top brass.
Sources confirm it is a predictably surreal experience, during which Sir Frank is blessed as a hero of Venezuela and repeatedly kissed on top of the head by the Venezuelan leader.
All a little unfortunate, then, when on Sunday Pastor drops the back end of his Williams on a wide 90-degree right-hander at the end of a kilometre-long straight, looping it round and smacking it into and over a six-inch high kerb.
The car doesn't stall and, for a moment, it looks as if Pastor may be able to boot it round and continue. But no; damage to the left-rear suspension is terminal and a truck is despatched to bring back the chassis.
On a day of such high excitement, one laced with expectation and fervour, the deflation that follows Maldo's prang is Hindenburg-esque. For a while in the Williams camp, there's plain disbelief: 'Where's Pastor?'; then 'Where is Pastor?'; then 'Oh bloody hell, what's he done?'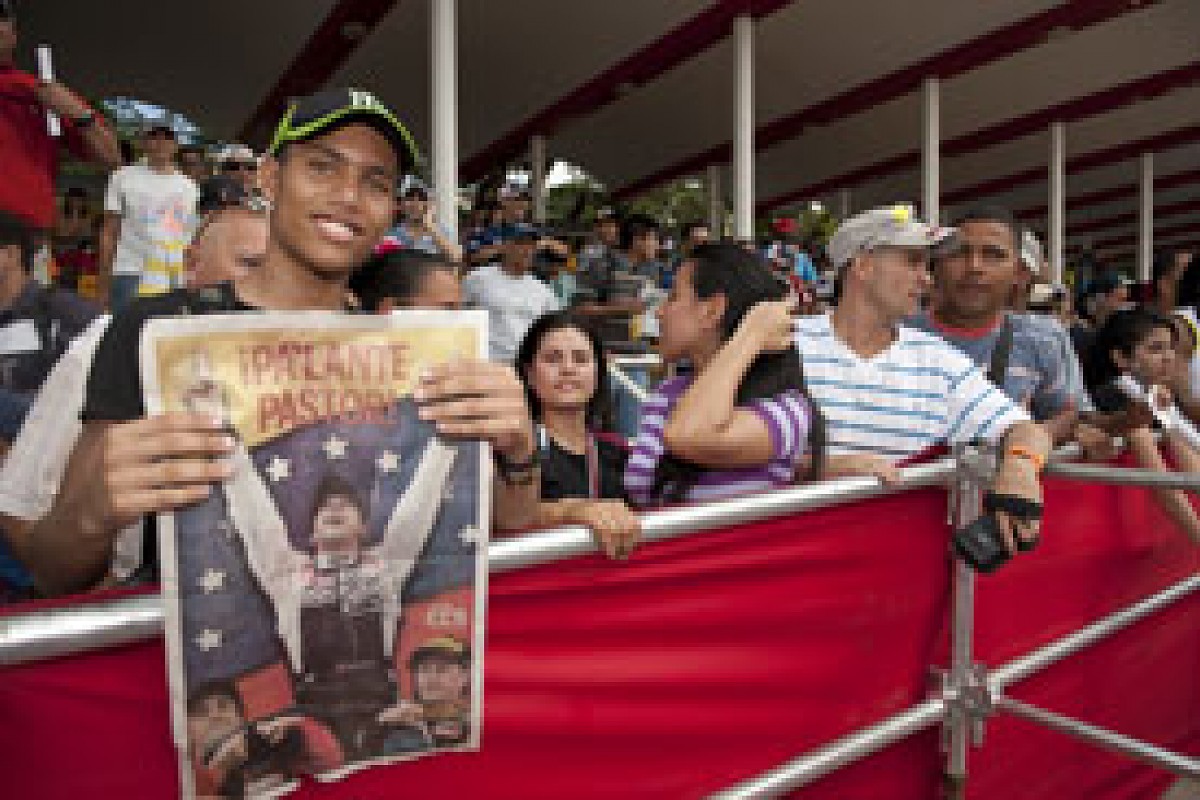 Most of the fans left satisfied despite Maldonado's crash © Williams F1
Uncharitable thoughts are thought, but opinions are kept private. One face, however, truly sums up the moment - that of Frank Williams, whose change of mood from sunshine to thunder serves as an apt prelude to what will soon follow from the heavens.
Pastor, safe home after a ride on the back of a military motorbike, mans up and takes the rap. He and Sir Frank are left alone during this tense boss/underling moment but, looking on, it's hard not to feel a little sorry for a guy who races under the burden of a nation's expectation, in addition to that of a proud race team.
The parade has been rained on - very soon quite literally, to monstrous degree - but thanks to the efforts of Gonzalez [note to Pastor: it's not essential to crash, every time you drive] the day has contained enough racing fever to leave most of the crowd satisfied.
Most. The remaining hardcore are those unsated hundreds left attempting to storm the barricades in pursuit of their man.
In the midst of it all, Maldonado is probably the coolest cat in Caracas. Unfazed by his shunt, unperturbed by the adulation, he simply smiles that metallic smile, waves and hurls out merchandise till there's nothing left to hurl.
"Remarkable?" we suggest.
"No," says Pastor. "In Venezuela, is normal."