Daniel Ricciardo emerges from the pits after his final pitstop in the Japanese Grand Prix on fresh, hard Pirellis in 11th place. Having earlier battled valiantly with Red Bull stablemate Mark Webber, who was charging through the field, the Australian is in the hunt for a rare point.
Two laps later, Mercedes driver Michael Schumacher takes to the pits for his last stop. Ricciardo now holds the all-important 10th place. At the end of Schumacher's out-lap, he is 9.305 seconds behind the Toro Rosso. Having started on the hard tyres, he is on fresh softs and begins slashing into Ricciardo's lead. Over the following laps, the gap closes dramatically:
Lap 38 - 8.209s
Lap 39 - 7.533s
Lap 40 - 6.389s
Lap 41 - 4.763s
Lap 42 - 3.927s
Lap 43 - 2.991s
Lap 44 - 1.812s
Lap 45 - 1.279s
Lap 46 - 0.471s
As Schumacher capitalises on his tyre and car advantage to slash the deficit, it's inconceivable that Ricciardo will hold on. He's in the slower car, on the slower-compound Pirellis. It's now a matter of waiting for the inevitable, for that advantage will hold true to the end of the race even though Schumacher's tyre advantage will ease as the rubber degrades.
At the start of lap 47, Schumacher chases Ricciardo over the line with the DRS open. Ricciardo is done for. Yet when the chequered flag flies on lap 53, it's the 23-year-old from Perth who flashes across the line ahead of the Mercedes. Impressive.
Ricciardo under pressure from Schumacher © LAT
Granted, circumstances were on Ricciardo's side in the race, with Caterham driver Heikki Kovalainen backing up his midfield rivals early on. But as the Japanese Grand Prix came to its conclusion, it was Ricciardo who turned a near-certain 11th place into a 10th. That is the kind of performance that will have impressed Red Bull.
The stand-out moment came when Schumacher tried to pull off the same pass into Turn 2 that he had on Force India driver Paul di Resta earlier in the race. It's a simple trick: deploy the DRS and maybe a bit of KERS, close up and look like you're going to make a move through Turn 1. Then, ease back a little, watch the car ahead's momentum send them to the standard wide entry into the slower second corner, powerless to defend against a move under braking.
But Ricciardo was wise to it, slowing up just enough in Turn 1 to ensure that he didn't leave the door wide open at Turn 2 and, crucially, parking his car across Schumacher's bows in a way that robbed the veteran the advantage of momentum.
Schumacher might not be the greatest wheel-to-wheel racer on the grid, but considering that Ricciardo was a two-year-old when the seven-time world champion first raced an F1 car at Suzuka, it was an eye-catchingly composed piece of driving. And it typified the way he executed those final laps to perfection, largely unseen in the television coverage while the world watched Jenson Button's fruitless chase of Kamui Kobayashi.
"It's always a bit more difficult when you're the slowest car in the battle," said Ricciardo shortly after he got out of the car. "It's when you need to be smart and change the KERS strategy. The KERS power was giving me a bit of trouble so I had to change the maps, which made it a bit more difficult. But as long as I had the power in the DRS zone, I was happy. He had pretty good top speed, but I just had to use everything I could.
"It's definitely up there [with my best races of the season]. I'm very pleased with the way I drove under pressure. It's not every day that you have a seven-times word champion on your tail!"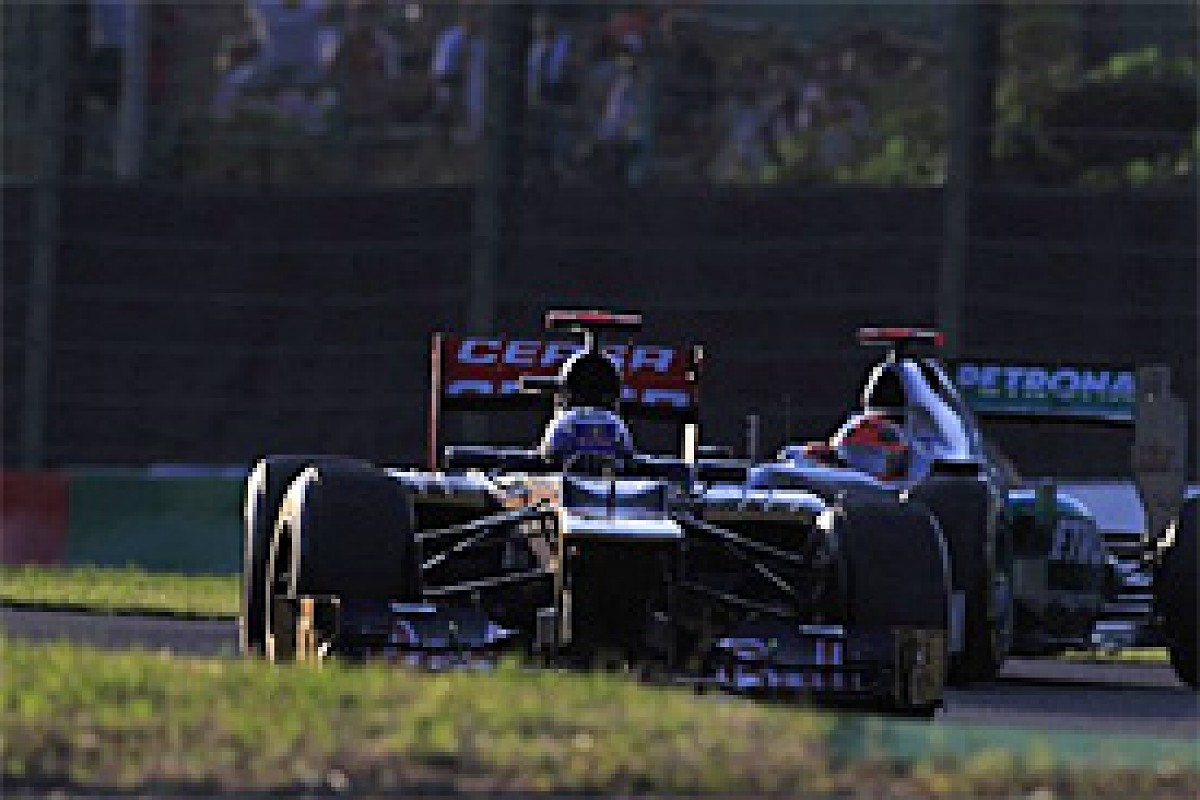 Ricciardo made his GP debut with HRT © LAT
It's not an isolated impressive performance from Ricciardo. After a promising half-season with HRT last year, he was a little shaky at times early in 2012. A good example was in Bahrain, when he qualified superbly in sixth place, but a slow getaway threw him completely and he spent the whole first lap going backwards. He ended it down in 16th, finishing just one place higher.
After the race, he was kicking himself. He's mentioned that day a few times since, so the extent of his first-lap failure hadn't escaped him. It certainly seems he's learned from it, for perhaps the Ricciardo of six months ago would have wilted under the pressure of Schumacher's charge at Suzuka.
Qualifying has been something of a speciality for Ricciardo. He has thrashed Vergne 12-3 on Saturdays this season and the Frenchman's continuing tendency to over-drive on Saturday afternoons suggests he's having to dig deep to match Ricciardo's speed.
Then again, it might just be that Ricciardo's more relaxed mindset is better suited to a campaign in which the car is a major limiting factor compared to the more intense approach of Vergne.
Just because Ricciardo has been the dominant force in qualifying doesn't mean he has put Vergne decisively in his place. The Frenchman is also a driver of very real potential and despite lacking the half-season of F1 action Ricciardo was granted last year, he was the more convincing racer early in the year, beating him four times in the first five races. But even then, when it came to the final-lap drama at Melbourne, it was the Australian who dived past his team-mate to nab the final point.
From Canada onwards, Ricciardo has only been beaten by Vergne once in races they have both finished, taking the tally to 6-5 in his favour. But Vergne can legitimately claim to have suffered more through misfortune than Ricciardo. It certainly won't have escaped his notice that while Schumacher's Mercedes turned into an unguided missile and wiped him out in Singapore two weeks earlier, it seemed able to follow the other Toro Rosso harmlessly in Suzuka.
But overall, it is Ricciardo who has more consistently been able to string together convincing race weekends even though he trails his team-mate by one point in the drivers' championship.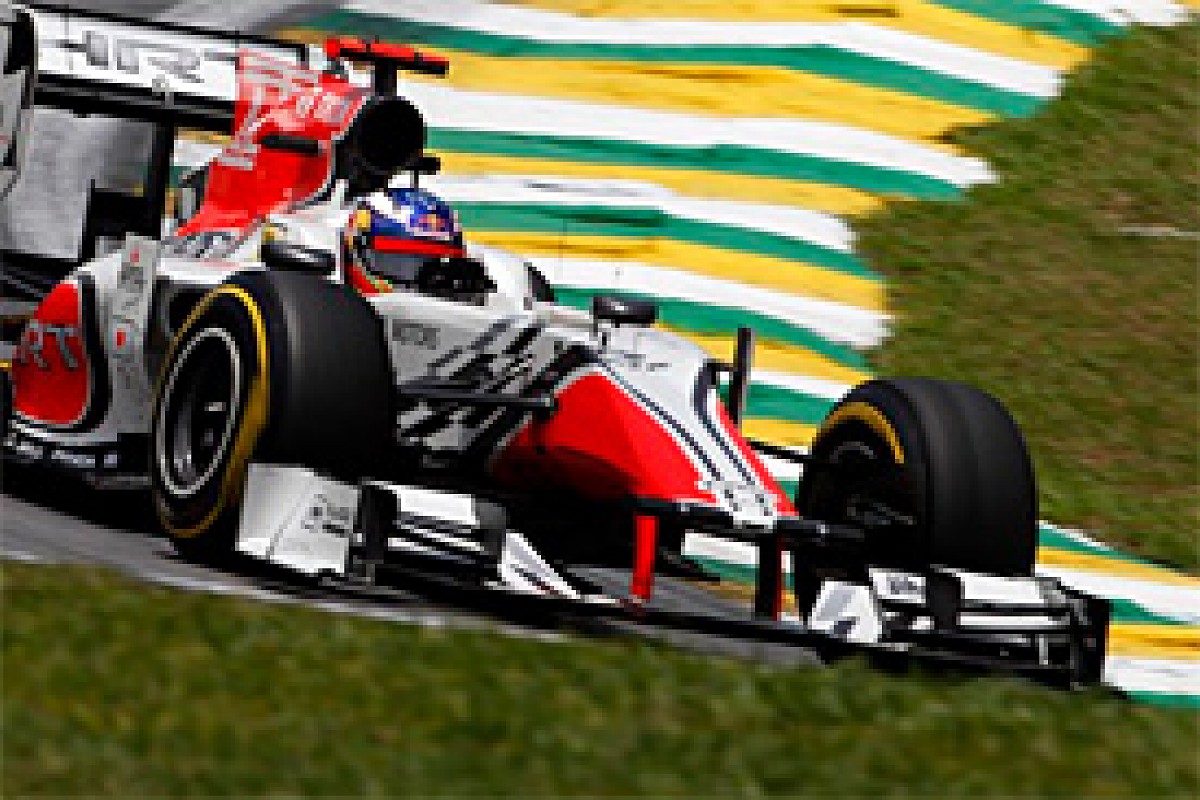 Ricciardo has been more consisten than Vergne this year © LAT
Red Bull made it emphatically clear when it announced Sebastien Buemi and Jaime Alguersuari culling at the end of 2011 that Scuderia Toro Rosso is it's proving ground for a-team action.
The message was clear: doing the kind of job expected of the drivers in the ninth-best team in F1 wasn't enough. Ricciardo and Vergne's task to prove they have the potential to stand shoulder-to-shoulder with Sebastian Vettel simply to justify their positions.
Neither driver is ready for serious consideration for promotion, yet. But on the evidence of 2012 to date, you'd have to say that Ricciardo has overshadowed Vergne in a way that neither Buemi or Alguersuari were able to do to each other over the previous two-and-a-half seasons.
This will have come as something of a surprise to some inside Red Bull, who reckoned the Aussie's laid-back demeanour meant that, when it came to the crunch, he would lack the real competitive bite that Vergne appeared to have.
The bottom line is that both are still a work in progress. Before the mid-season break, you'd probably have concluded that it was either too early to make a judgement or the replacement of two good, but not great, drivers had led to a pair of equal, but not improved, standing getting their chance.
But since the break, Ricciardo appears to have found that little bit extra to establish himself as the more convincing driver.
He still needs to do a lot more to prove that he will be a serious contender for 2014 Red Bull seat and some allowances must be made for Vergne lagging half-a-season behind in terms of experience. Perhaps come next season, when they are on more equal footing in terms of experience and should both be kept on for a second year, things will be different.
But on the evidence of the past couple of months, Ricciardo is the one to keep a close eye on. You can be sure that Red Bull will be.