The man himself called his Japanese Grand Prix an "unbelievable" race. Certainly Sebastian Vettel's achievement of taking pole, leading all the way and setting fastest lap was impressive. Even during last year's dominance that was hard to achieve, especially given the fact that fastest laps are so often stolen off race winners by someone making a late switch to fresh tyres.
Since the summer break, Vettel's results have been second, retired, first and first. He's obviously got some momentum going, having closed to within four points of Fernando Alonso.
The question now is whether there's a clear trend that will see him crowned champion for a third time come the Brazilian GP, or whether the team has just been fortunate to string together some strong performances in a year when it's impossible to predict who will set the pace from one race to the next.
We shouldn't forget that at Spa Vettel had a bad qualifying session and a shocking start. Only the high attrition rate among the frontrunners worked in his favour on his drive to second place.
When he stopped at Monza he was far from the lead, and in Singapore he inherited the win when Lewis Hamilton retired. Japan was the first time in a while that the RB8 has been emphatically ahead of the pack.
What was really significant about Suzuka was the speed that the Red Bulls showed throughout the weekend, and crucially carried into Q3.
The fact that they shared the front row was a good indication that the team had found something to address what has been its fundamental weakness all year. And as we've seen so many times over the past couple of seasons, for all the randomness that tyres, DRS and so on can provide, there's no substitute for starting at the front and controlling the race.
"We seemed to be competitive all weekend," says Red Bull tech boss Adrian Newey. "The way Formula 1 is at the moment it's impossible to forecast coming into a weekend how it's going to be.
"We're always a bit nervous. But the car seemed to be reasonable from P2 onwards. We were just trying to play our own game and get the car as good as we could."
Given that Vettel had been on pole at Suzuka for the past three years, you might have expected the team to anticipate that it would be fast, but Newey had urged caution. "We'd hoped so," he says. "Historically Suzuka has been quite kind to us. But with a car that was, on average, the quickest everywhere last year, we didn't manage to win the race. So there are no guarantees."
Much was made over the weekend of Red Bull's new double DRS system. However, it's been on the cars since Monza, but had gone unreported by the media.
Inevitably, the team plays down its significance, but it wouldn't be on the car if it didn't provide some benefit - although only in qualifying, when it can be used all round the lap. The key to any such system is that it allows you to run a little more downforce and not pay such a heavy price for it on the straights when the car is in DRS mode.
For Vettel the race could hardly have gone any smoother. The chaos at the start rid him of a couple of potential challengers in the guise of his team-mate Mark Webber and Fernando Alonso.
Felipe Massa's race-day pace also indicates the potential of the Ferrari F2012, although to give Massa credit he was faster than Alonso for most of the weekend, except when it mattered at the end of Q2.
Vettel had Kamui Kobayashi behind him for the first third of the race, and Massa for the remaining two-thirds. He left himself plenty in hand in case of any pitstop or other dramas, and made his second and final stop after everyone else had done theirs.
"Sebastian had everything in control at the front of the field," says team boss Christian Horner. "It was a textbook drive from Seb. He pulled out the gap where he needed to, looked after his tyres and managed the race extremely well."
Vettel teased his race engineer by going for fastest lap at the end, but it's hard to know how much he would have had in hand had anyone been pushing him hard.
"I don't know, you'd have to ask him that!" jokes Newey. "I think there was probably a little bit in hand. Whether that was a tenth or a bigger number is hard to judge. The race itself was obviously very straightforward for Seb."
It was rather less so for Webber, and the Aussie was understandably somewhat peeved with Romain Grosjean after the race, as indeed were the Red Bull management.
Webber underlined the pace of the Red Bull package with an impressive drive back through the field after being tipped off at the start by Grosjean. Because the resultant safety car period was so short Webber was not able to catch the back of the pack for the restart, and was 12s off the next-to-last car when the race went green again.
Having put a set of new hard tyres on, Webber took them to half distance - on their very limit - and then used a second new set for the run to the flag. The outcome was a respectable eighth place. He wasn't helped by the sidepod damage inflicted by Grosjean, which must have compromised the car's aero efficiency.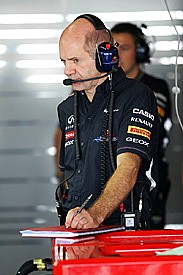 Webber's drive was impressive too © XPB
"It was a real disappointment for Mark being taken off like that," says Newey. "It was totally unnecessary. For Mark it was about trying to recover, and he one-stopped it. It was not easy, but he did a very good job of managing the tyres in that respect. He was careful not to abuse them too much, and managed to make it work."
"The car has been very competitive here all weekend, and it was fantastic to get the win with Seb," says Horner. "But it was equally frustrating to have Mark eliminated at the second corner. It looked like Grosjean completely misjudged where Mark was - he was more focused on Sergio Perez. It was a great shame to effectively have Mark eliminated at that stage.
"Thereafter, his recovery - effectively on a one-stop - was very, very strong. He restarted the race 15 off the back of the field and was closing rapidly on the fight for fifth and sixth by the end of the race."
So what clicked for RBR at Suzuka? The double DRS obviously played a role, however small, in getting the blue cars to the front of the grid. That aside, it was just a question of the team getting the tyres and everything else just right at a track that it has always had a good handle on in the past.
"Double DRS is talked about a lot, but it's a feature that in practice only makes any difference if it's operated in qualifying," says Newey. "If you have a race like Seb did today, then you wouldn't have used it apart from lapping people. It's a small thing. I think with these cars it's about getting the tyres to work properly - that's the critical thing."
"As with all these things, there's never a silver bullet," Horner explains. "And I think it would be very difficult to say that the car's performance here was purely down to a rear wing. I think that we've made progress in all areas, and we're chipping away at the details.
"We had the fastest pitstop today with Sebastian. It would be wrong to say that our upturn in performance is purely down to finding a few kilometres an hour on the straight."
Clearly RBR did get things spot-on with the tyres, as Horner confirms.
"It's our job to do the best job we can across all of the compounds," he says. "The hard tyre from Singapore was the soft tyre here. We didn't feel so confident in Singapore, but felt very confident on it here, so I think it's a matter of needing to be versatile, irrespective of which tyres are selected."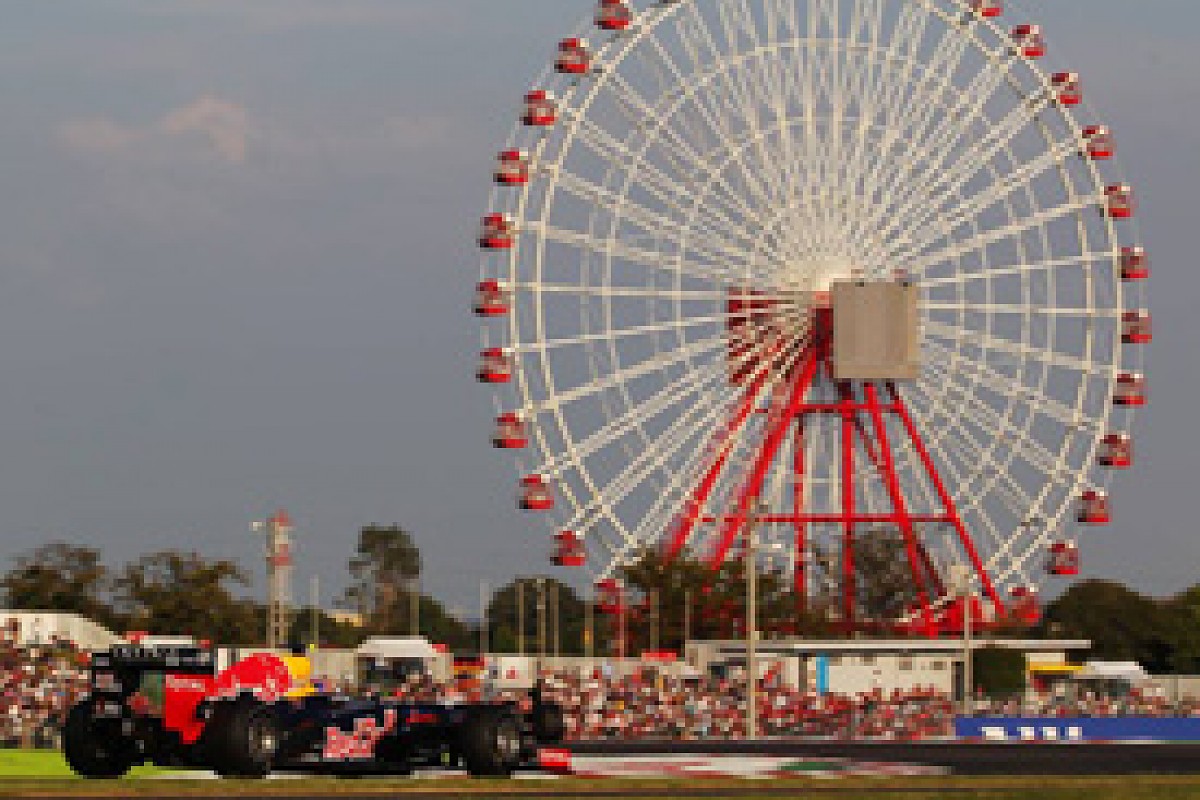 Red Bull downplayed the gains of its double-DRS © XPB
So will the Suzuka performance be backed up at other circuits? Even Newey can't say with any certainty.
"The difficulty is to know whether it was due to the conditions of the circuit today, or whether the car is going to be consistent at other races," he says. "That's what we've seen all year. In Valencia, for instance, we were very strong, but then the last two races prior to Singapore we had a bit of a slump. We'll just have to wait and see what happens in the remaining five.
"We take one race at a time. We felt good after Valencia, went on to win Silverstone, but after that went backwards I'm afraid. As we often see, a team can achieve a little bit of momentum, and then it gets broken again. Unfortunately, there's no guarantee for the future."
"The car has worked very well here in all conditions," said Horner. "Low fuel, high fuel and on long runs on the two compounds of tyre that we've been presented with this weekend. The nature of the circuit suits the car, but we've seen how performance moves around.
"So there's absolutely no predictions that we can take out of this event, other than we need to keep pushing and we need to keep trying to get performance to the car. The championship now is effectively a battle of five races between Fernando and Sebastian. You can't rule out the others, but whoever does the best job over the next five races will ultimately prevail."
And what that really means is that the title will go to the team that wins the development race as we head into the last quarter of the season - a time when teams not fighting for a championship turn their entire research and development focus over to next year's car. Those at the front face a difficult juggling act.
It's a situation that Newey knows well. "We've got the usual problem that the three teams - or four teams if you include Lotus - have," he says. "You're fighting for the championship, and trying to develop a car for next year. It's a very busy period for everybody at Red Bull. We can't just concentrate on this year's car, which we'd like to, because we want to try to build a competitive car for next year.
"There will be a few bits and pieces coming. There are five races left now - not so many - and for India in particular it's difficult to get new parts into the country. So what we have in Korea for all the teams is going to be, by and large, what we have in India because of the import problems. And there are only three races left after that."
Horner is certainly not taking anything for granted.
"It's difficult to gauge," he says of the likely twists and turns in form. "Abu Dhabi could be tricky for us, but we've been strong there previously. The problem is that if you look at last year, we were good everywhere!
"We've seen that McLaren have had a really strong streak of performance, so we mustn't underestimate them, and we certainly don't. Ferrari has got big upgrades coming over the next couple of races, too. We can only control what we're doing and try to get as much performance out of our package as we possibly can. We can't control what others do."