On the day that Michael Schumacher's Formula 1 comeback with Mercedes was announced - 23 December 2009 - he spoke of his desire to fight for the world championship.
"I have won the title seven times and the team won both titles last year, so what do you expect," said Schumacher of his aspirations to fight for the title with, don't forget, what was then the world champion team.
"Now Mercedes are team owners, you cannot expect anything else other than the world title. That is what we aim for."
Almost three years later, he has announced that his second career has only six races left to run. And far from challenging for the title, he has just one podium finish to his name.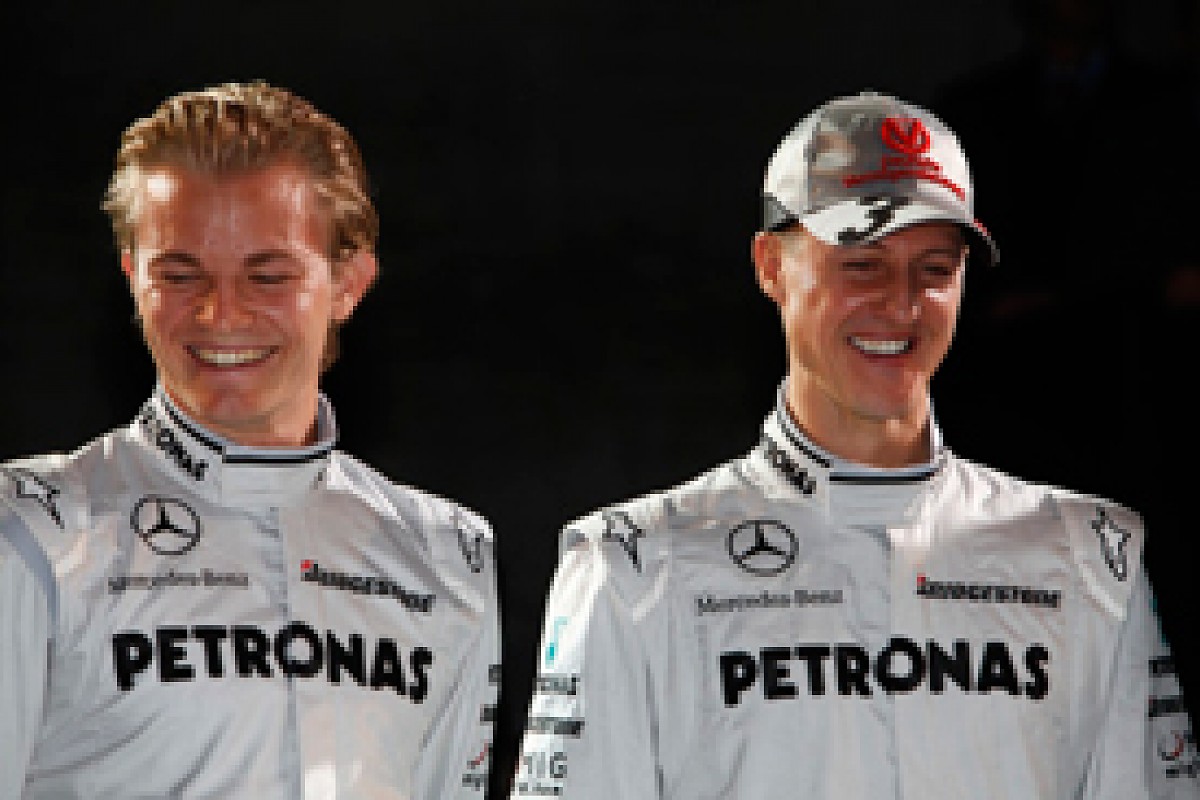 The start of Schu 2.0: It was all smiles at the launch of the new Silver Arrows team in 2010 © LAT
So it's an open-and-shut case. By his own standards, his comeback is a failure. A case of an old (in sporting term's) man's failure to realise that his time is past and a futile attempt to recapture past glories. But it isn't.
While many have revelled in the once all-conquering Schumacher's more embarrassing moments, such as rear-ending Jean-Eric Vergne in Singapore two weeks ago, it's not quite that simple.
Forget about Schumacher's PR-friendly comments on his return. Amid the white noise of platitudes and soundbites, what could realistically have been expected and how far did Schumacher achieve them?
First and foremost, it's unfair to use the quote about wanting to fight for the title against him. Mercedes hasn't had the machinery to do that.
So rather than using that as a stick to beat him, the real barometer is his performance relative to team-mate Nico Rosberg. Over the past three seasons, Rosberg has been the top points-scorer and the better qualifier, although taking 2012 alone it's Schumacher who has, on balance, been slightly stronger on Saturday afternoons. So we can conclude that, even if Mercedes did have the best car, it would be Rosberg leading the line. Perhaps that's the case, but was Schumacher's real mistake not in thinking he still had a title in him in the first place?
When he made his 'debut' in the 2010 Bahrain Grand Prix, he was already a 40-year-old. What's more, he was a 40-year-old who had been out of F1 racing for three years and who had suffered a very serious motorcycle accident that might have killed one with a weaker neck just over a year before.
He faced a sport that had been transformed, with no chance to accelerate his progress by the prodigious testing that would allow him to catch-up.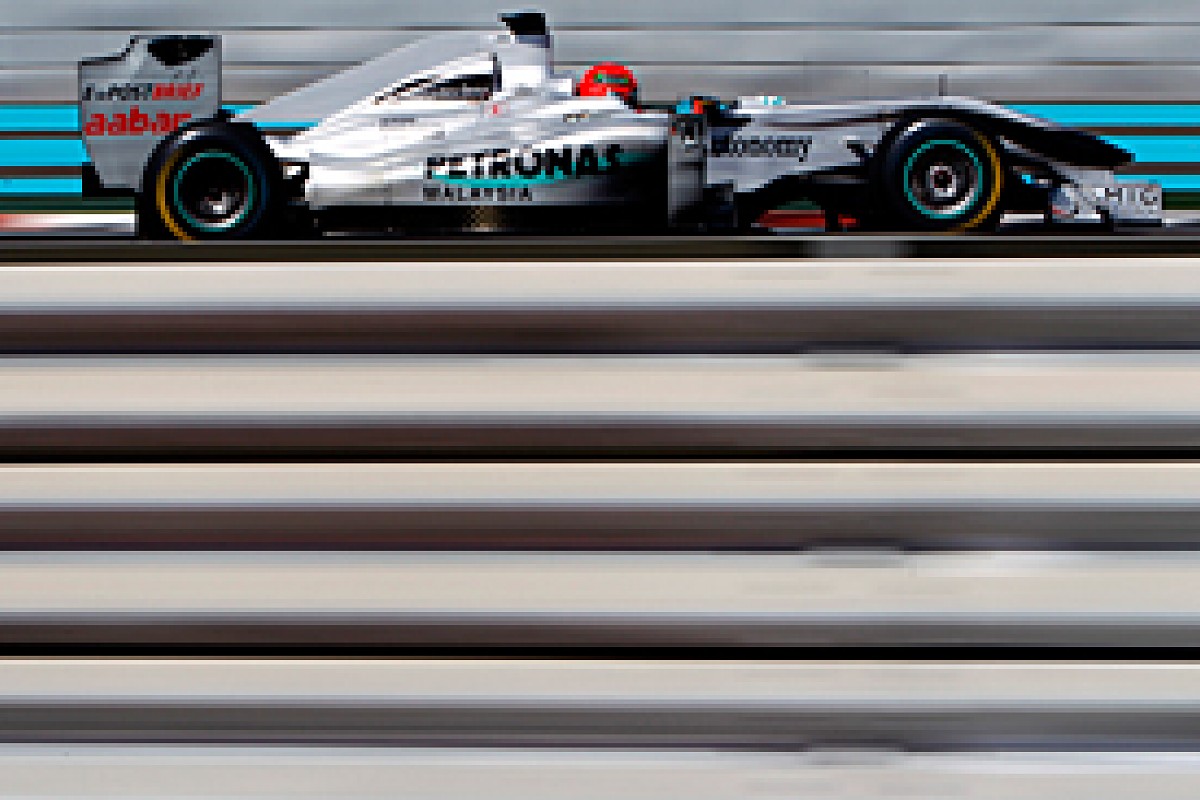 Neither the car, nor the man, were as consistently quick as expected in 2010 though both improved © LAT
There is a lot to be said for this, as shown by the fact that during the past three years, Schumacher has gradually crept up on Rosberg to the point where both are operating at a similar level in 2012, even though the points don't show it.
If those sound like excuses, they aren't. They are the correct terms of reference for evaluating his return.
Should we ever have expected him to lead the line for Mercedes at that age and having sat on the sidelines for so long? No matter how remarkable his previous achievements, should the ceiling of his ambition have been to be exactly what he has proved to be - a decent, middle-ranking a grand prix driver?
Arguably, Schumacher's real shortcoming was not to realise just how tough it would be. In an interview with AUTOSPORT that appeared in our 2011 season review issue, he admitted as much.
"A lot of people asked me if I would do the same [come back to F1] knowing what I know now and I have to say yes," said Schumacher. "I didn't expect the difficulties and would have expected a little more success. But the most important thing is how it ends. If you have to work hard to have a successful ending, I don't mind."
Schumacher was clearly referring to a much happier ending than today's, when in the wake of Lewis Hamilton signing for Mercedes he was forced to accept that "it's time to say goodbye."
But let's just look at what he has achieved.
On the plus side, he has been a consistent points scorer. His 52 races with Mercedes to date have yielded 30 points finishes - one podium, four fourth places and a trio of fifth places the highlight.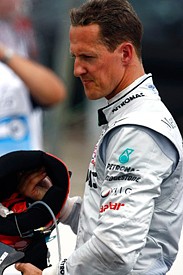 Schumacher has found the winning smile hard to come by, though has derived pleasure from other aspects of the sport © LAT
Despite what the record books might tell you, he did take pole position at Monaco this year and it was only when the five-place grid penalty, given to him for rear-ending Bruno Senna in Spain one race earlier, was applied, that he was relegated to sixth. Anybody who claims that taking pole position at Monaco is the achievement of a failure as a driver is, frankly, an idiot.
Ranged against that there is the fact that Rosberg has, judged over three seasons, comfortably beaten him. It's the first time that any team-mate has had the better of Schumacher during his F1 career. Then there are the blunders, with Nick Heidfeld, Vitaly Petrov, Senna, Vergne and Sergio Perez among his victims on-track, not to mention Rubens Barrrichello, who was apoplectic when he found himself being shoved towards the pit-wall by his old Ferrari team-mate in Hungary two years ago.
The idea that this is because of a lack of reflexes or poor eyesight in his hold age is nonsense, this was Schumacher failing to anticipate situations ahead of him and showing a lack of savvy in battle and it is only right that he be slated for it.
That all adds up to a mixed bag as a grand prix driver. And that's exactly what you tend to find in the middle ranks of the field. Here, among the promising up-and-comers, reside the nearly-men. Drivers of huge ability, but not necessarily those who tick all of the boxes needed to be a champion.
Schumacher was the gold standard back in the day, but now he's just another of those flawed men who flit between good days, bad days and indifferent days. He's a good grand prix driver, but not a great one.
That's why he has chosen the right time to walk away.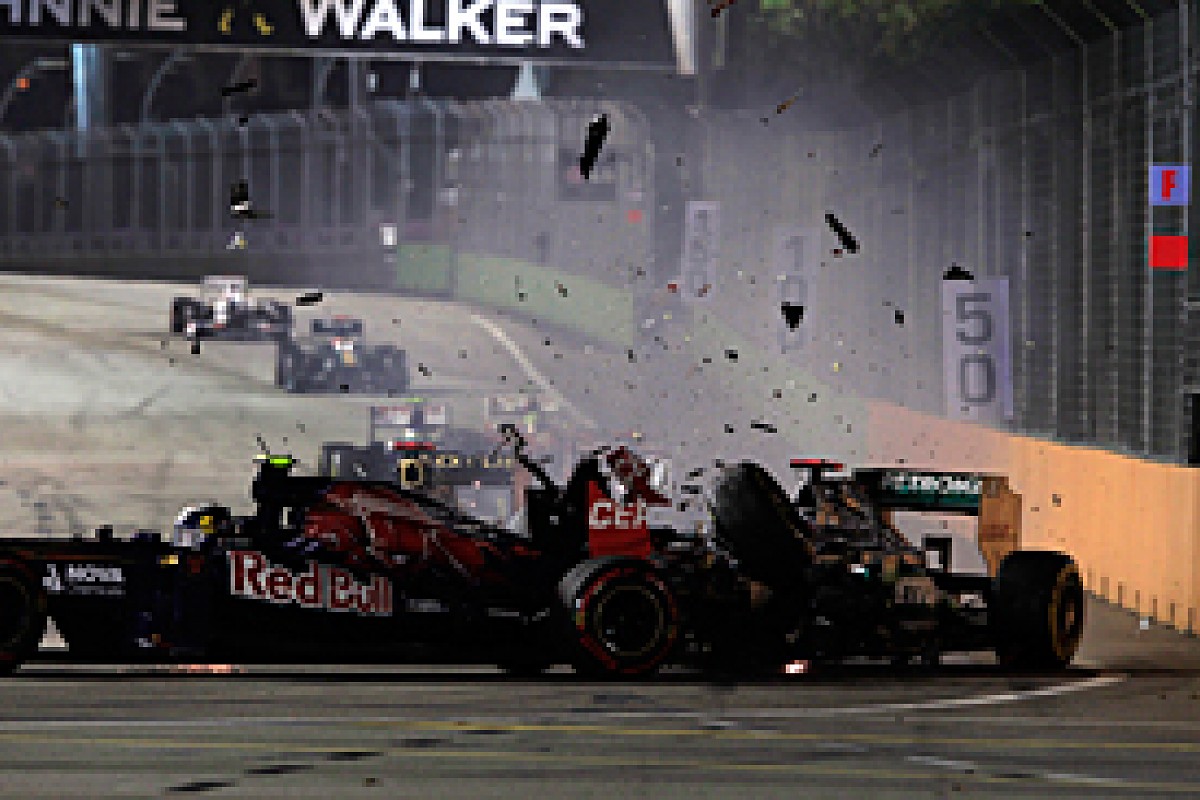 Errors like the one in Singapore, when Schumacher crashed in to Jean-Eric Vergne, were perhaps a sign © LAT
Had Hamilton not signed, chances are he would have gone on for another season or two. He would have continued to do the same decent job and maybe he'd even have claimed the upper hand over Rosberg, had his trajectory continued along its current path. If the Mercedes is as good in 2014, when the new engines come in, as Hamilton expects it to be, then winning a race was eminently possible. But no way is he championship class anymore and days like Monaco this year could only ever have been occasional.
But while Schumacher was keen to carry on, it wasn't at the expense of his dignity. Scrambling around to piece together a commercially-driven deal to drive for, say, Williams or Sauber would have smacked of desperation.
There will be those who use this three-year second career as evidence that Schumacher led a charmed life first time round and never let him forget it. Certainly, he needed a fair wind on his side to win seven world championships, but so would any driver no matter how great. And there were unquestionably black marks on his record.
But far from tainting his legacy, he's shown us another side to his character. He came back for one reason - to race. And all the indications are that he has loved it.
When he could have sat back and rested on his laurels, he risked his neck, literally, to take on the top guys who age meant he couldn't realistically beat. And he did pretty well. If that's any kind of failure, it's one of misplaced expectation rather than achievement.
Schumacher 2.0 is not as good as his predecessor. He didn't win the championship and, save for a miracle in the final six races, he won't win a race. But he has competed and done so credibly when he probably shouldn't have been able to.
The great driver of the past might be gone, but a decent and determined one remains, even at an age where most have long since packed their helmet away for good. He can still do it, just not anywhere near as well as he used to.
For that, he deserves a huge amount of respect. Perhaps even more than he gained for all of those great victories and championships first time around.