Nico Rosberg has become the invisible man of Formula 1. So much so that, when Lewis Hamilton's move to Mercedes was confirmed last Friday, how the new team-mates will stack up against each other was way down the list of conversation topics.
Instead, the focus was on whether Hamilton had just thrown away his grand prix career with a move to an underachieving team and the fate of Michael Schumacher.
Considering that five months ago, Rosberg claimed an accomplished maiden grand prix victory in China to kick off a superb run that made him the equal-highest point-scorer over a six-race period, this is unusual.
Doubly so when you take into account that by every available metric, he has been the lead Mercedes driver across the three campaigns that he and Schumacher have spent together. Usually, in this sort of situation, you'd expect talk about how the newcomer, no matter how highly-rated and established, will stack up against the incumbent team leader.
It's inevitable Hamilton's decision and Schumacher's fate would be massive talking points, but the extent to which they've overshadowed Rosberg's position says a lot about the way that the 27-year-old is perceived. For the majority, it appears to be a given that Rosberg will become the junior partner to his old friend and team-mate. The question is whether that's a fair conclusion?
Rosberg has struggled with two curses during his grand prix career. That of beating team-mates who are not of the top rank and of being tainted by spending his entire grand prix career with outfits that are generally underachieving relative to their reputations.
Since showing very well against Mark Webber during his first season at Williams - a decent benchmark, albeit one who was not then a proven race-winner- Rosberg spent a season alongside Alex Wurz. The Austrian is an excellent driver and probably had the ability to achieve more in grand prix racing, but at Williams never showed the kind of stellar one-lap speed that made Rosberg beating him particularly eye-catching.
Rosberg and Hamilton have been friends so far © XPB
Then there were two seasons alongside Kazuki Nakajima. The Japanese driver was the team's ticket to not paying for its engines and he was resoundingly thumped by Rosberg over two years. Frustratingly, after what was actually a respectable first year, Nakajima completely went off the rails in 2009 and Rosberg gained nothing by beating him.
Then came Schumacher. Rosberg is the only driver to have beaten Schumacher in equal machinery over a season and is on the brink of doing so for a third time. But this is Schumacher in his fifth decade and nobody can be sure just how good he still is, so as a benchmark, he's not a known quantity. Since 2007, Rosberg has beaten them all but it has not proven anything beyond the fact that he's a pretty good grand prix driver.
For Rosberg, there's also the slightly worrying trend over his three years with Schumacher. During the first year, he was dominant, by the second half of 2011, Schumacher often had the edge in races and arguably the senior German has done at least as good a job this year, save perhaps for those high-profile on-track incidents.
Now we come to the way that a team's underachievement rubs off on a driver. Rosberg was at Williams for four of its win-less seasons. It was a period of high hopes but very patchy results. During that time, the team was, rightly or wrongly, not entirely confident in his ability to perform under pressure.
For example, a plan to put him on a light fuel-load and gun for pole at the Hungaroring in 2009 (Fernando Alonso pulled this off for Renault) was abandoned after Rosberg put in an unconvincing Q2 lap. Then there was Singapore, where Rosberg was pressuring Hamilton for victory but blundered over the white line exiting the pits and was hit with a penalty.
Unfortunately for Rosberg, he had the chance to shoot down any question marks about how he stands up when the heat was on in China. But McLaren's botched pitstop when Jenson Button was set to attack in the final stint stymied that when there was every chance Rosberg would have continued to control the race as Button closed.
At Mercedes, he has generally been supremely dependable rather than stellar. He's a worthy grand prix winner, no question, but he has gained a similar air to Nick Heidfeld - that of a good strong driver at the top of the second rank, good enough to win races but not championships. This is far from damning with faint praise, because it still makes him a very effective driver at the top level.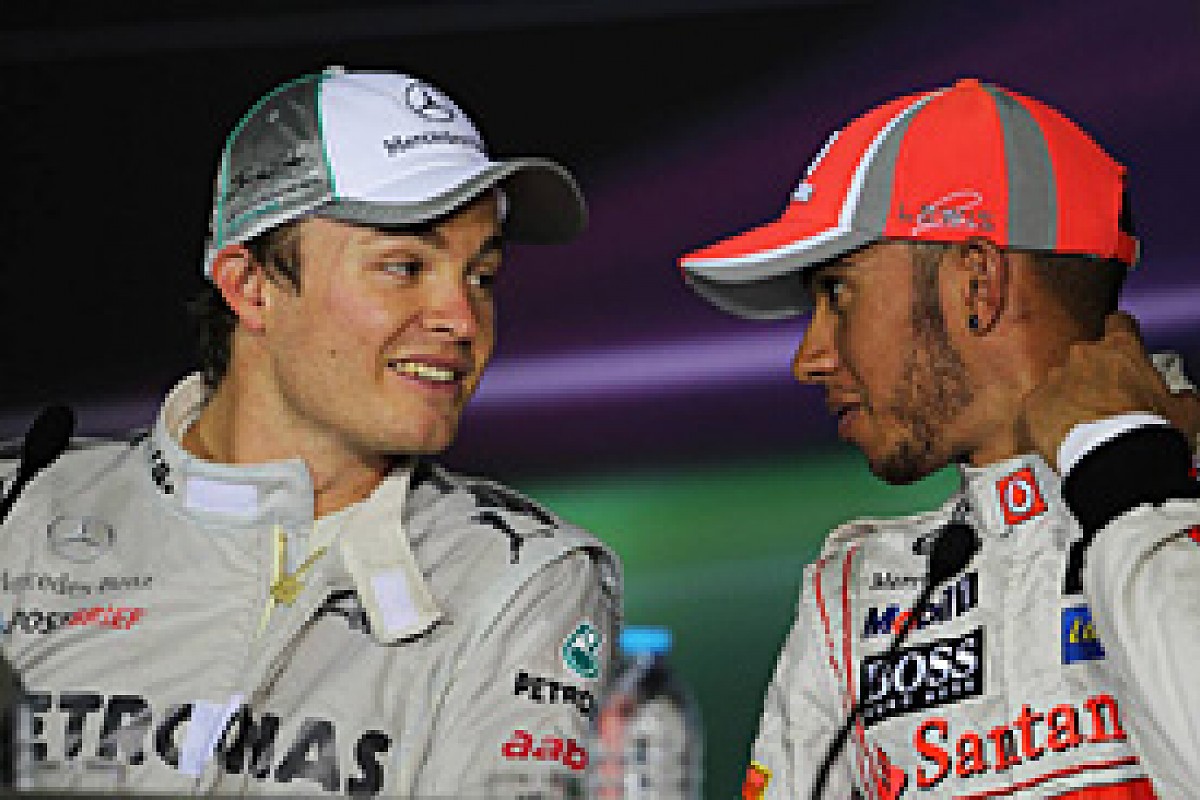 Rosberg has been Mercedes's main man while partnering Schumacher © LAT
During his time at Mercedes, Rosberg has had one win, four further podium finishes and 33 times scored points for positions from fifth downwards. Probably about par for the machinery, but no more spectacular.
Then, there's the reputation he had among rival drivers for being a soft touch in battle, something he moved to correct with his robust defence in Bahrain against Hamilton and Fernando Alonso.
He claims he wasn't laying down a marker, but whether he meant to or not, he certainly did so.
Rosberg is an intelligent guy and the caricature people have of him belies the fact that he's an extremely serious grand prix driver. For the crime of having long, blonde hair he has been labelled by some as being more interested in strutting around the paddock than driving. This is grossly unfair. And Rosberg is sharp enough to be aware of that perception.
Perhaps this is why he has been so positive about Hamilton's arrival. Here, finally, is a chance to pit himself against a proven world champion who is still in his prime. And he has home advantage too. While the evidence that he's a good rather than a great grand prix driver is piling up, the jury will remain out until the decisive evidence comes through next season.
Were this a civil case, you'd say that on the balance of probabilities Rosberg falls short of the Fernando Alonso, Sebastian Vettel or Hamilton class, but in a court of law, there's still a tiny bit of room for reasonable doubt.
Again, Rosberg knows this. And you can guarantee that he will back himself to show Hamilton up.
Unquestionably, the hand he has been dealt is a strong one. It is now down to him to play those cards on track like a future champion rather than 'only' a race-winner. The jury is close to returning a verdict on Rosberg, but will hold fire until next season to see how he stacks up against a proven yardstick.
It's going to be a fascinating sub-plot, even though the smart money has to be on the newcomer.