As outlined here, September looms large in Formula 1's future, more specifically 2013/4, for the former year marks the first season not run under the current Concorde Agreement - a replacement for which has yet to be agreed - while the latter sees swingeing changes to the sport's technical regulations in the form of eco-friendly mechanicals.
A fortnight ago this column alluded to three meetings on September Fridays, the first, with FIA president Jean Todt, commercial rights holder CEO Bernie Ecclestone and Ferrari president Luca di Montezemolo, being held over the Monza weekend in Maranello, and the second scheduled for Paris on the following Friday. In the event, the last-named was pulled forward and held at Monza during the race weekend.
The last of the trio has yet to be convened, but is very much on the cards for Friday in Paris, being the third World Motorsport Council of the year - and a vital one, too, for there is currently much discontent in F1, particularly with respect to future governance of the sport, its regulatory processes and administration.
Thus, only those with smudgy glasses and caps pulled over woolly ears could fail to notice the to-ing and fro-ing in Singapore at all times of the night, with most team bosses not even bothering to hide their tracks as they huddled in groups of twos and threes whispering sweet everythings into each other's ears.
Latish Sunday there was a particularly amusing moment: in his haste to consult with Force India's Robert Fernley, FOTA chairman (and) McLaren team principal Martin Whitmarsh ended up in Sauber's hospitality unit next door, drawing guffaws of laughter when he asked for 'Bob'!
Team principals during the FIA press conference © LAT
The discussions centred mainly upon a communication from Todt to World Motor Sport Council members, which, among other items, provided confirmation of what was previously speculated upon in these pages, namely drastically increased entry (and driver Super Licence) fees for coming seasons, Resource Restriction Agreement progress, plus changes to the sport's 2013 sporting and technical regulations.
Needless, all points made the vast majority of team bosses extremely unhappy for reasons that will soon become apparent.
However, at the very heart of the discontent lies the composition of the proposed Formula 1 Commission. The current body, charged with resolving all matters - with a few exceptions - concerning the FIA F1 Championship, comprises 26 members: FIA president, CRH, 12 team principals, three each race promoters from in/outside Europe (appointed by the CRH), one each race promoters from in/outside Europe (selected by the teams), one each tyre/engine suppliers and two sponsor representatives.
The teams can generally draw on the support of approximately 18 votes (out of 26) providing the 70 per cent required for sensible motions to be carried. The teams fought long and hard for this structure - it being one of the flashpoints for the notorious 2009 breakaway threat - and, while at times unwieldy, its structure is justified by the 'show' F1 presently stages.
The Commission has two sub-committees, the Technical and Sporting Working Groups, which frame regulations via a 70 per cent majority - and it is salient to note that the FIA delegate, who chairs both groups, does not hold a vote - and pass them to the Commission. Once passed at that level as outlined above, the WMSC ratifies decisions, but may not amend - hence relative stability on the rules front since 2010.
However, as alluded to herein ad infinitum, the FIA needs cash - fast - for the legally-binding 113-year deal struck between the FIA under former president Max Mosley and Ecclestone, his chum of 30 years, has left the FIA financially embarrassed, for world motoring's governing body is reduced to administering 'its' world championship on behalf of CRH CVC Capital Partners, while the proceeds sit ring-fenced in the FIA Institute.
The current tripartite Concorde Agreement has as signatories the FIA, CRH and the teams collective - but, as no replacement exists, Ecclestone as CRH acted unilaterally, cutting commercial deals with nine of 12 teams, and is allegedly in 'mature' negotiations with a 10th (Mercedes, whose F1 future is the topic of a Daimler board meeting as this is written). In the cold, but still hopeful, crumbs from Bernard's table, are Marussia and HRT.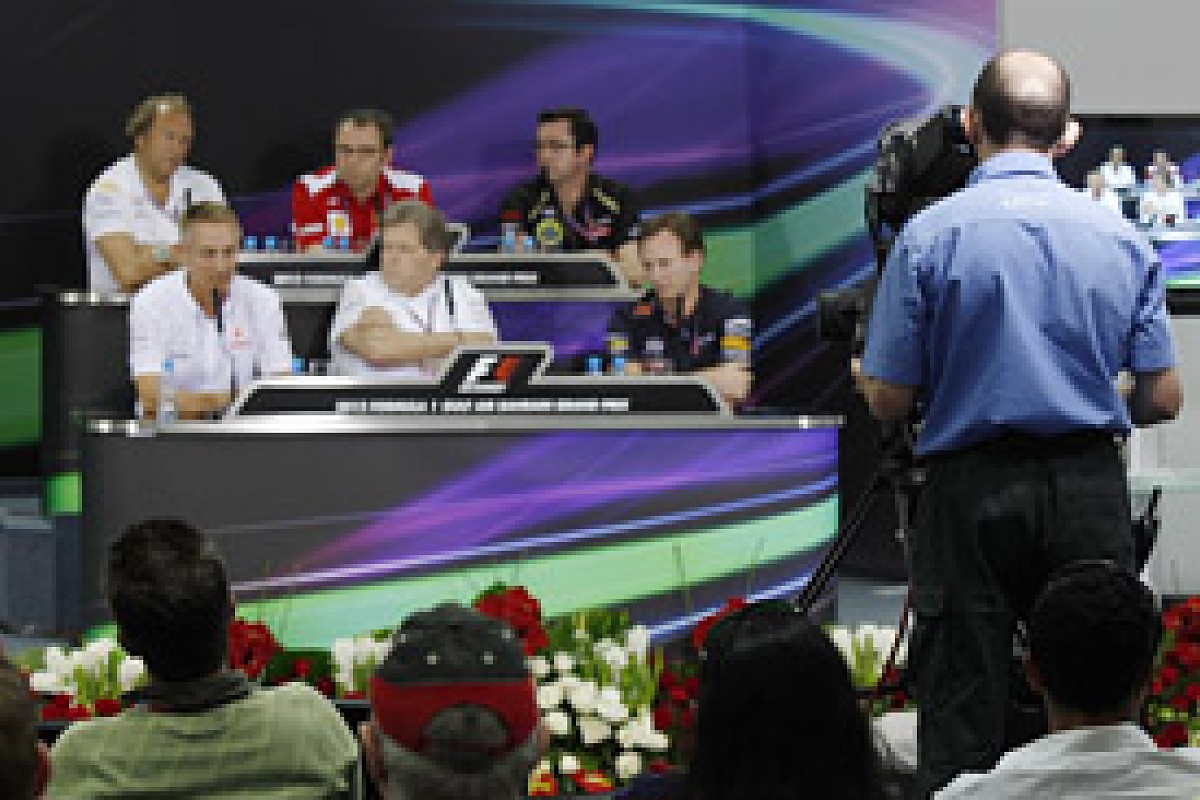 Max Mosley © LAT
However, as part of the FIA's demands to continue administering 'its' championship - and counter-sign any replacement Concorde, designed to run for eight years where the current one enjoyed a (successful) shelf-life of three - Todt has demanded that the CRH contribute to the FIA's annual running costs, with €40 million (£32m) being mentioned. However, the CRH is prepared to stump up just two-thirds, and thus a 'tax' on teams and drivers has been devised - effectively an increase in entry/licence fees.
Where the current entry fee runs out at €309,000 (plus charges for ancillary services such as weather forecasting and timing) - in itself massively increased in 2009 when Mosley realised the cupboard was becoming increasingly barer - Todt's communication, a copy of which was shown to this column, refers to a basic charge of €500,000 (£375,000), plus €5,000 per championship, with the constructors' champion paying a premium of €1,000 per point. Superlicence fees will charged at €10,000 (£7500) plus €1,000/point with a threshold of €10,000 - thus the first 10 points scored are 'free'.
Allegedly this entry/licence fee increase was 'agreed' with the CRH - which of course he would, for it reduces the sum demanded by the FIA by a cool €15m. On the other side, a team boss asked: "How can we be expected to accept this doubling - minimum - of entry fee when we don't even have a 2013 calendar or know what regulations we'll be racing to?"
Teams are particularly upset by comments made by Todt at Monza, namely that he intends reducing costs in F1 by 30 per cent over the next three years. They point out that not only do entry fees increase substantially, but KERS was reintroduced under his watch to appease 'greens' at a cost of €10m each to them, and the 2014 engines, upon which he insisted, are likely to costs teams an additional £10m per annum. "Some way of saving 30 per cent..." muttered a team principal in Singapore.
But, if entry/licence fees are cause for concern, these fade into insignificance in comparison with the rage expressed over a restructuring of the Formula 1 Commission - down to 18 members, with the FIA and CRH on six votes each. The teams would have five voices, made up of five permanent seats for Ferrari, Red Bull, McLaren, Mercedes and Williams, plus a floater 'invited' to join at the whim of the CRH. Lotus, Force India and Sauber are thought to be in the running here - but no guarantees.
Thus the regular team vote would be just five plus one, giving them a 28 per cent (plus floating five per cent) say in a sport in which they hold by far the largest dedicated financial stake - a far cry from the 70 per cent they negotiated in 2009 - while others are excluded from the decision-taking process entirely. In addition, the SWG and TWG would be defunct under the new structure, with the new-style Commission drawing only on expertise of personnel within the 'Super Six', with the rest having zero input.
Although not raised in Todt's latest communication, but increasingly whispered in the paddock, are suggestions that, as part of its deal with the FIA, the CRH has demanded control of media accreditation - to date an FIA responsibility performed in conjunction with a Media Council.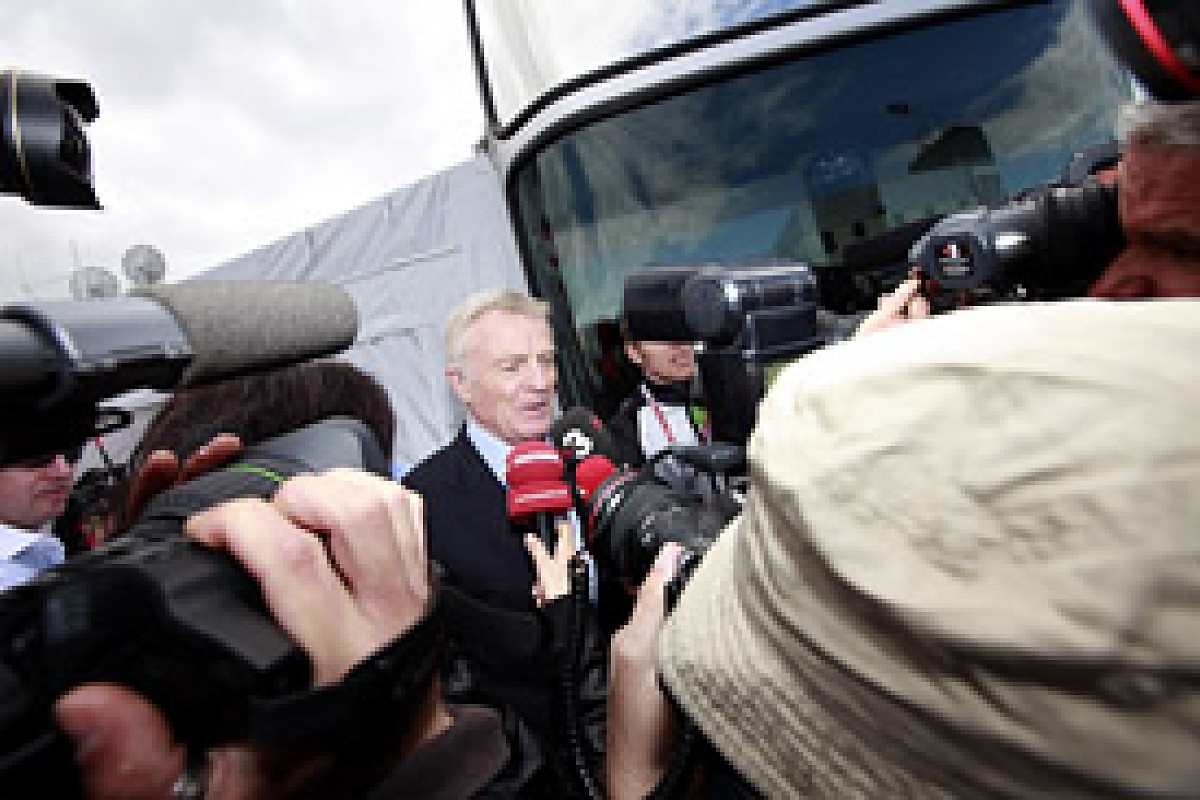 Martin Whitmarsh and Stefano Domenicali, Singapore Grand Prix © LAT
If true, how much longer before the CRH charges astronomical fees for accreditation - as is the case with electronic media rights - or, indeed, coerces the mainstream media. Thus the CRH, to wit majority-owned by a third-party investor, could therefore control not only the sport's commercial rights, but be in a position to directly influence Formula 1's Commission, its advisory technical and sporting committees, and, alarmingly, the media - which to date provided the necessary checks and balances for this most complex of sports.
Understandably, certain team bosses were fit to be tied on Sunday, threatening complaints to the EU Commission on the basis of unfair business practice. "Do WMSC members actually understand what is being given away for a bag of second-hand silver shekels?" asked one team boss in Singapore, while another threatened to involve the FIA Senate, which, according to FIA statutes, 'has powers of proposal and advice to the FIA President when he so desires or on its own initiative'. Ironically, Mosley, who has a fractious relationship with Todt, sits on the Senate as member-by-right...
Here it is important to note that Vijay Mallya, 42.5 per cent owner of Force India, sits on the WMSC as chairman of India's Motorsport Federation, while Abdulla bin Isa Khalifa of the Bahraini royal family - holder of substantial interests in McLaren's operations - has a seat as president of the international karting commission. Mexico's Carlos Slim Jr, son of the world's richest man, patron of Scuderia Mexico which produced such as Sergio Perez and sponsor of Sauber via the family's vast conglomerate, is a Senate member.
The majority of team bosses are upset about the FIA's alleged steamrolling of process with respect to the 2013 sporting regulations. During an all-day meeting with Todt in Valencia it was agreed (by more than a 70 per cent majority) that for 2013 teams would restrict their aerodynamic activities to any combination of windtunnel time and CFD teraflops provided the total did not exceed 40 hours or 40 teraflops (each teraflop equates to a trillion floating-point calculations per second).
Apparently one team - Ferrari, which prepared and submitted an alternative proposal to the FIA in the belief that 40/40 did not offer significant savings - objected, and the clause has not been incorporated in 2013's Sporting Regulations despite proper procedure (70 per cent in favour) being followed. The same applies to an extension of the curfew (allegedly objected to by Ferrari/Toro Rosso), a change to the 2013 qualifying procedure (Red Bull) plus further, minor amendments. However, says one team boss, at stake is principle, not detail.
In Singapore, seven of the 12 teams composed a (mildly-toned, given the gravity of their situation) letter, which was forwarded to Todt on Tuesday afternoon. The missive, the contents of which were shown to this column, outlines teams' concerns under three headings (Governance of Formula One, Commercial Arrangements and FIA RRA), and closes: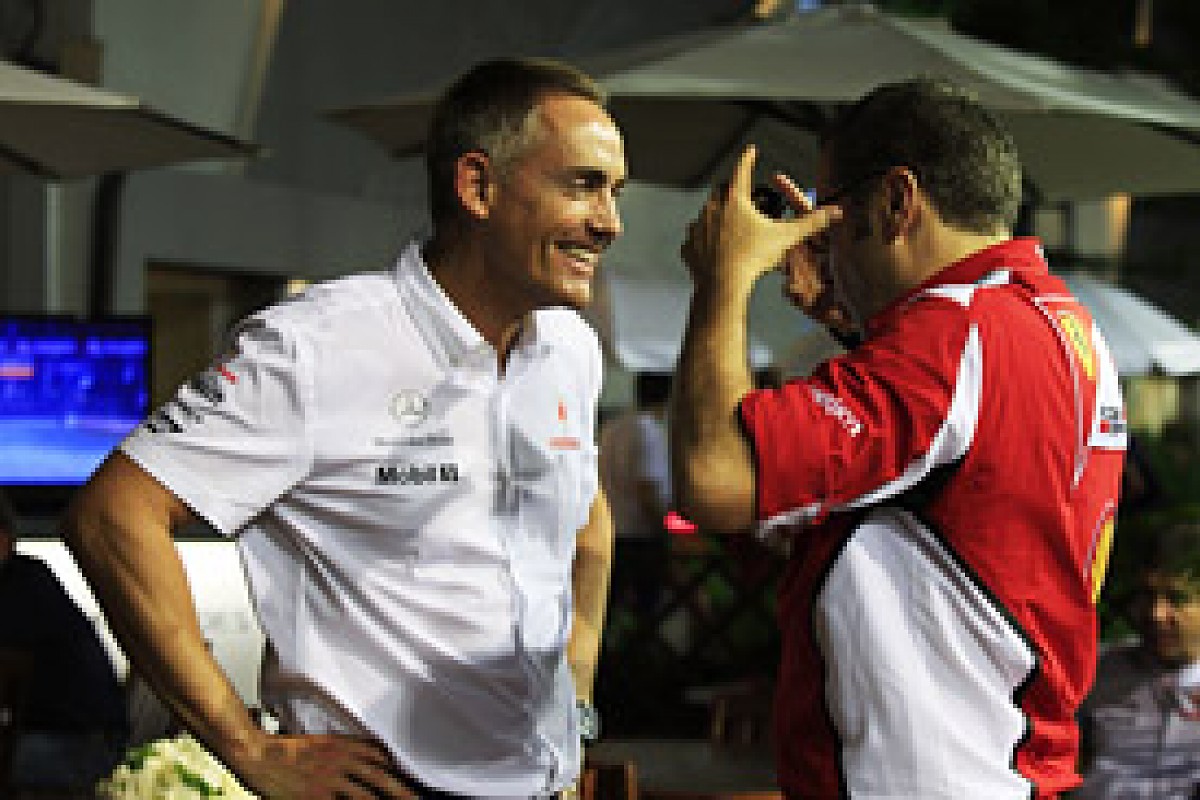 Media could be charged a fee for accreditation © LAT
The [signatory] Teams wish to express their full support for a tripartite Concorde Agreement between the FIA, the Commercial Rights Holder and all entrants. We believe this will provide the most stable framework for the governance of Formula One and understand that this concept is being discussed by the FIA and the Commercial Rights Holder. The Teams respectfully request that they are consulted on the form and nature of this document in early drafting.
The signatory teams, who signed in their own capacities rather than members of FOTA (where applicable), are, according to impeccable sources: McLaren, Mercedes (both Super Six members, note), Force India, Sauber, Caterham, Marussia and HRT. Ferrari, Lotus and Williams abstained, while Red Bull and Toro Rosso were not invited. Why no unanimity?
Ferrari advised this column that "as Ferrari is no longer part of any teams' association, if we have something to communicate in written form to the FIA and/or FOM we send them straight our ideas", while there is no surprise in Williams's abstention: Sir Frank's operation has long ploughed a lone furrow.
As for Lotus, a source advised that the team thought "long and hard about signing", but elected to await the outcome of Friday's meeting. Said source also stressed the letter was not a FOTA letter, with signature up to individual teams, and hence the fact that non-members Sauber - regularly aligned with Ferrari - and HRT appended their signatures.
Another source advised that Red Bull and Toro Rosso had specifically not been invited to sign: "Whenever we ask them [to be party] they refuse, and then somehow the info ends up with Bernie... ask yourself why [Christian] Horner was the only team boss at Bernie's wedding..."
In his communication to WMSC members, Todt requested that they (fax) vote on various proposals by 18:00 Geneva time, Monday, September 24 - although quite why a vote is required is beyond those in the loop, as voting is in any event scheduled for Friday. Fax votes were introduced by Mosley to cater for important items between WMSC meets, but with one scheduled for five days later, there surely exists no pressing need.
What does exist, though, is a pressing need for F1 to sort itself out, PDQ at that. A fortnight ago this column wrote:
Formula 1 has but three chances of pulling itself out of this self-inflicted quagmire: three Fridays in September, starting this week.
Tomorrow marks the final Friday...