Fernando Alonso goes into the last six races of the 2012 Formula 1 World Championship with a 29-point lead over Sebastian Vettel.
Unremarkable though that may seem in itself, the Spaniard's ability to bring home results from comparatively uncompetitive scenarios has been one of the mainstays of his campaign, and he pulled another trick out of the bag in Singapore on Sunday.
His third place marked the 81st podium of his career, but it could be attributed as much to the unreliability that befell Lewis Hamilton and Pastor Maldonado, just as at Monza Alonso inherited third when Jenson Button encountered a fuel-feed problem.
Alonso has repeatedly said that Ferrari must improve in terms of pace if it wants to win the championship and the numbers back his claim; since last winning at Hockenheim, he's not spent a single lap in the lead since.
And, but for the pitstop shuffles, he hasn't been able to race in front of the McLarens. During this time frame, the only championship contender he's run ahead of was Sunday's winner, Sebastian Vettel, and then only at Monza, when he passed the German on the 29th lap. But no one seems to be able to bring his brand of consistency to their own campaign.
Below is a table summarising Alonso's performances versus his best-placed rival on the eve of a race.
You can see clearly how the Spaniard has built (and maintained) his lead in the championship through incredible consistency, scoring better results compared to his nearest opponent an amazing nine times out of 13.
ALONSO'S CONSISTENCY TABLE
Race
Result
Best rival pre-race
Best rival result
Points advantage post-race
Australia
5th
-
-
-15
Malaysia
1st
Button
Crash (14th)
5
China
9th
Hamilton
3rd
-8
Bahrain
7th
Hamilton
8th (pitstop issues)
-10
Spain
2nd
Vettel
6th
0
Monaco
3rd
Vettel
4th
3
Canada
5th
Vettel
4th
-2
Europe
1st
Hamilton
Crash
20
Britain
2nd
Webber
1st
13
Germany
1st
Webber
8th
34
Hungary
5th
Webber
8th
40
Belgium
Crash
Webber
6th
24
Italy
3rd
Vettel
Alternator failure
37
Singapore
3rd
Hamilton
Gearbox failure
29
Winner's jinx continues
Lewis Hamilton became the latest victim of F1's unluckiest, and perhaps oddest, sequence in 2012 - the winner's jinx. So far no one has been able to record back-to-back victories this season and on six occasions a driver has actually retired from the event immediately following a race win.
This unlucky pattern has been even worse for Hamilton who, after his last four wins, has always retired - a gearbox failure in Brazil after his win in Abu Dhabi last year, an accident in Valencia after Canada, another one at Spa after Hungary and now another gearbox failure after the win at Monza.
WINNER'S ROTATION TABLE UPDATED
Race
Winner
Following race
Australia
Jenson Button
14th, crashes with Karthikeyan
Malaysia
Fernando Alonso
9th, off track racing with Maldonado
China
Nico Rosberg
5th
Bahrain
Sebastian Vettel
6th
Spain
Pastor Maldonado
Crash
Monaco
Mark Webber
7th
Canada
Lewis Hamilton
Crash
Europe
Fernando Alonso
2nd
Great Britain
Mark Webber
8th
Germany
Fernando Alonso
5th
Hungary
Lewis Hamilton
Crash at the start
Belgium
Jenson Button
Fuel feed problem while second
Italy
Lewis Hamilton
Gearbox failure while leading
Race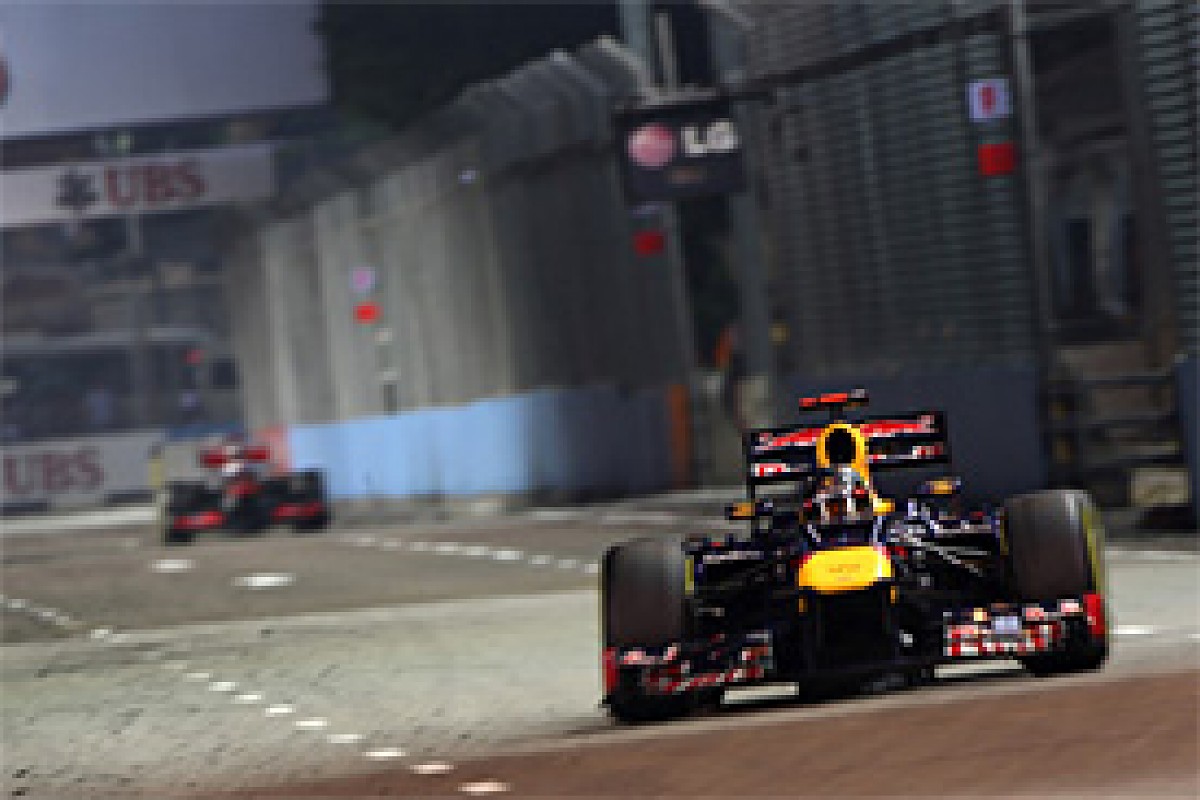 Vettel ended a nine-race victory drought © LAT
• Vettel put an end to a nine-race victory drought (since Bahrain, back in April). That's his longest since his maiden win at Monza in 2008. The German's 23rd win means he joins Nelson Piquet at 10th on the all-time list.
• This is only the second time that Sebastian has won from anywhere other than the front row. The other occasion was the 2010 Malaysian Grand Prix, when he also started third on the grid.
• Jenson Button's second postion marked his 48th occasion on the podium, joining his McLaren team-mate Hamilton and Gerhard Berger at 12th on the all-time rostrum list.
• Paul di Resta recorded the best set of results of his grand prix career so far, with fourth in the race and sixth on the grid. The Briton recorded his previous best result at the same track last year (sixth) and repeated it in Bahrain this season.
• Nico Hulkenberg posted his first fastest race lap in F1. It's the second one for Force India after the 2009 Italian Grand Prix (Adrian Sutil). This year 10 drivers from seven different teams have posted fastest laps so far, though none of them by a Ferrari driver, and that's a record equalled only in 2009, 1982, 1981, 1976, 1975 and 1954.
• Daniel Ricciardo again equalled his best career result, with ninth. He obtained the same result in Belgium and Australia. It's only the second time that a Toro Rosso has scored points in Singapore, following Vettel's fifth place in 2008.
• Mark Webber missed out on a top-four finish on a street circuit for the first time since his retirement from the 2010 Monaco Grand Prix. The Australian missed out on points in back-to-back races for the first time in three years; since the 2009 Japanese GP he's not gone more than one race without points until last weekend.
• Timo Glock's 12th position was the best result for Marussia since its inception (then known as Virgin) in 2010. The team's previous best was 14th, recorded six times.
• Michael Schumacher has always qualified in the top 10 in Singapore, but has crashed with other cars on each occasion.
Qualifying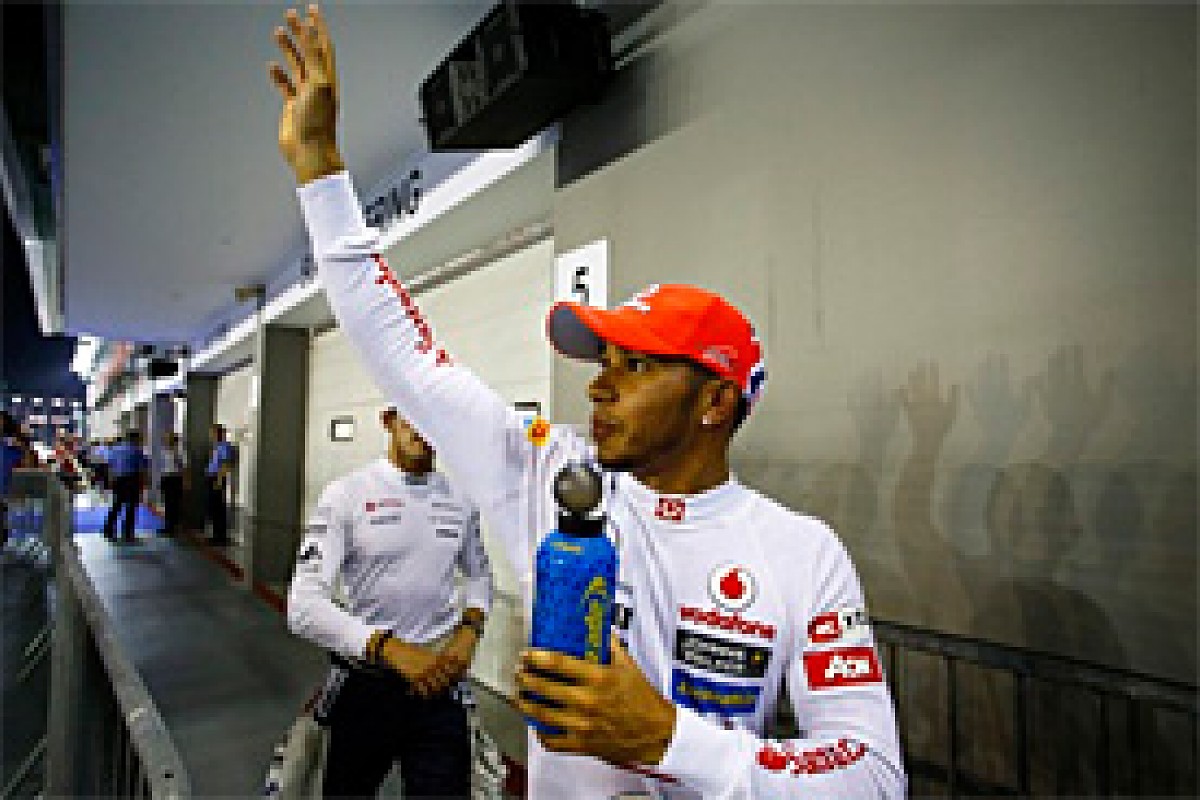 Hamilton proved untouchable in qualifying © LAT
• Hamilton's 24th pole position means he reaches 10th in the all-time list, alongside Nelson Piquet. This was McLaren's 153rd, 40 years after the team's maiden pole, posted by Peter Revson in the 1972 Canadian Grand Prix at Mosport.
• Singapore marked the fourth consecutive pole for McLaren. It hasn't managed such a long streak since 1999, when Mika Hakkinen nailed six in a row from Great Britain to Italy.
• Red Bull, on the other hand, recorded its first string of four races without a pole position since the team's maiden pole, back in China 2009.
• The last four pole positions have been recorded by British drivers. This hasn't happened since 1995, when Damon Hill notched up four in a row from France to Hungary then, later that year, David Coulthard put another string of four together from the Italian to the Pacific Grands Prix. Both were driving for Williams.
• This was the 210th pole for Great Britain, which leads the nation standings ahead of Brazil, which has 125.
• Sebastian Vettel was third on the grid, thus missing the front row for the fourth straight race. He hasn't recorded such a long drought since Singapore 2008-Malaysia 2009, when it was a string of six.