"It's like the difference between watching an HD TV and a normal one."
That was Rubens Barrichello's description of driving under the lights in Singapore. While the veteran is no longer in F1, the Singapore Grand Prix continues to go from strength to strength. Despite Abu Dhabi's attempt to get in on the act with its day/twilight/night grand prix, Singapore has the only full night race on the F1 calendar.
It means that everyone in the F1 paddock operates in a strange netherworld, completely out of sync with local time. Usually, the only ones on a race weekend getting up at midday are the more committed party-goers among sponsors and hangers-on, but in Singapore, it's normal.
Some drivers complain of it being difficult to adapt to. But not so Force India driver Paul di Resta.
"It's not something I find difficult," explains the Scot. "The important thing is that you choose the right flight to arrive in Singapore at the right time of day that gets you in between two and five in the afternoon. Night becomes your day and that's the norm.
"I always go to bed at six in the morning and wake up at two in Singapore, but it might be different for other people. The difficult thing is finding something to do between midnight and six and getting appropriate food at that time. It's quite a challenge.
Di Resta took a career best sixth-place finish sixth in last year's race © LAT
"Obviously, the other big thing is to make sure that the cleaners aren't knocking on your door at nine o'clock wanting to get into your room because you need to be asleep for another five hours! That's the only risk, but the hotels there are very good at allocating an F1 floor."
This raises question marks about how easy it is for drivers to be at their peak physically at unusual hours. For some, no matter how hard you try to convince yourself that it's time for bed as the sun comes up, it's not easy to adjust your bodyclock to be at odds with what you are seeing.
But in di Resta's opinion, Singapore is actually less of a challenge than some of the other flyaway's where you might have to deal with a significant time zone change.
"Because you keep yourself on European time, for a flyaway race you are probably in the best condition you're going to be in," explains the Scot. "The only really different thing is that you use a clear visor and the tinted one goes in the bin!
"Other than that, everyone just does what they need to do. Regardless of the time, you have the adrenalin for the race. It doesn't matter how down or how tired you are."
Which brings us to the serious business - on track in Barrichello's low-definition world. Di Resta believes that the superb lighting, provided by Italian company Valerio Maioli S.p.a, combined with the acclimatisation session on Friday "morning", which starts in daylight and ends under the lights, makes it easy.
"They make such a good job of the lighting," he says. "It's almost that they light it better than it would be during the day with cloud cover. It's just something that you get used to. You do FP1 with the changeover and then you don't really notice it.
"Then all weekend, you are faced with it."
While di Resta appears well-suited to the demands of Singapore, others will struggle to sleep during the day and be at their peak at off-peak hours. At the elite level of sporting competition, that can make all the difference.
So if you spot a driver a little off his game and underperforming this weekend, perhaps it will be down more to the unique timing in Singapore than anything they do in the cockpit.
Strategy
The super soft and soft tyre compound double act returns for the low-speed streets of Singapore, meaning a likely end to the recent prevalence of one-stoppers. While the tyres will never be under huge lateral load, the sheer number of turns and twists will put a premium on traction. Looking after the rear tyres is therefore going to be the chief concern, especially in trying to minimise the number of stops required.
As we saw last year passing will not be a given, which not only places extra emphasis on qualifying but also means strategy will be key in order to avoid getting stuck in traffic as the pit stops cycle through.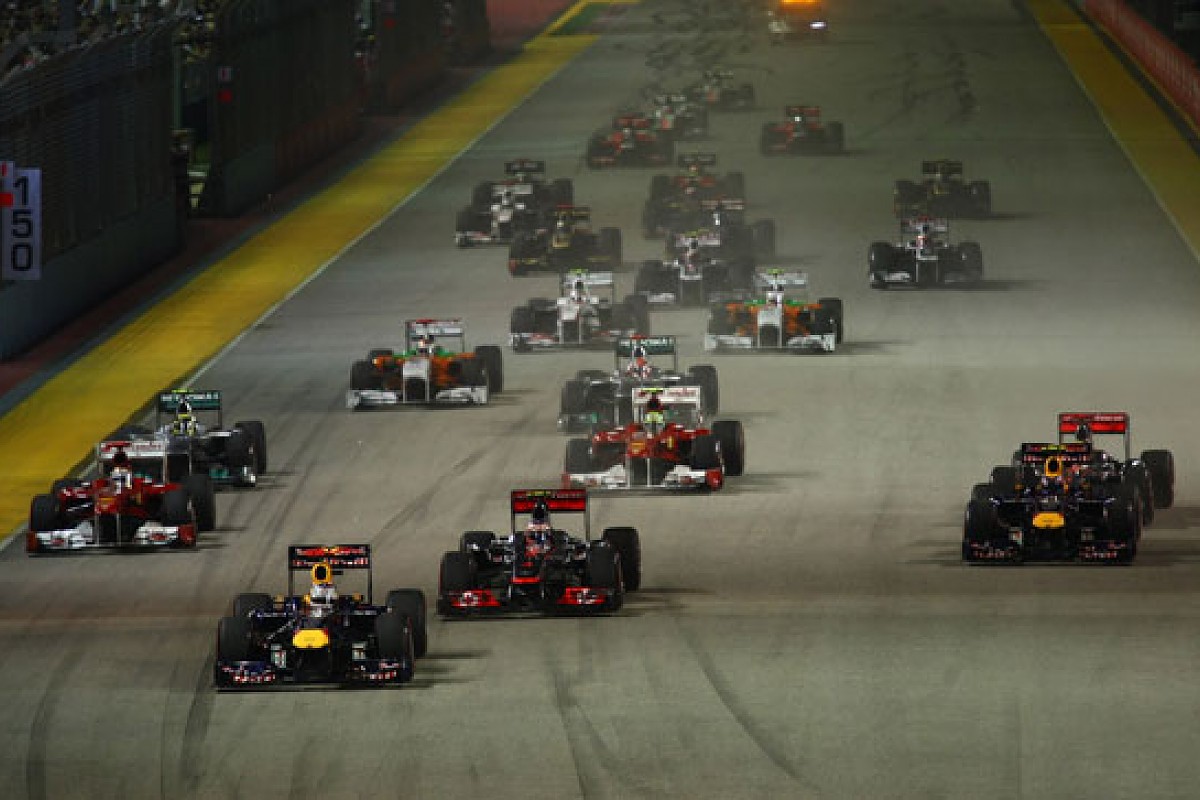 Weather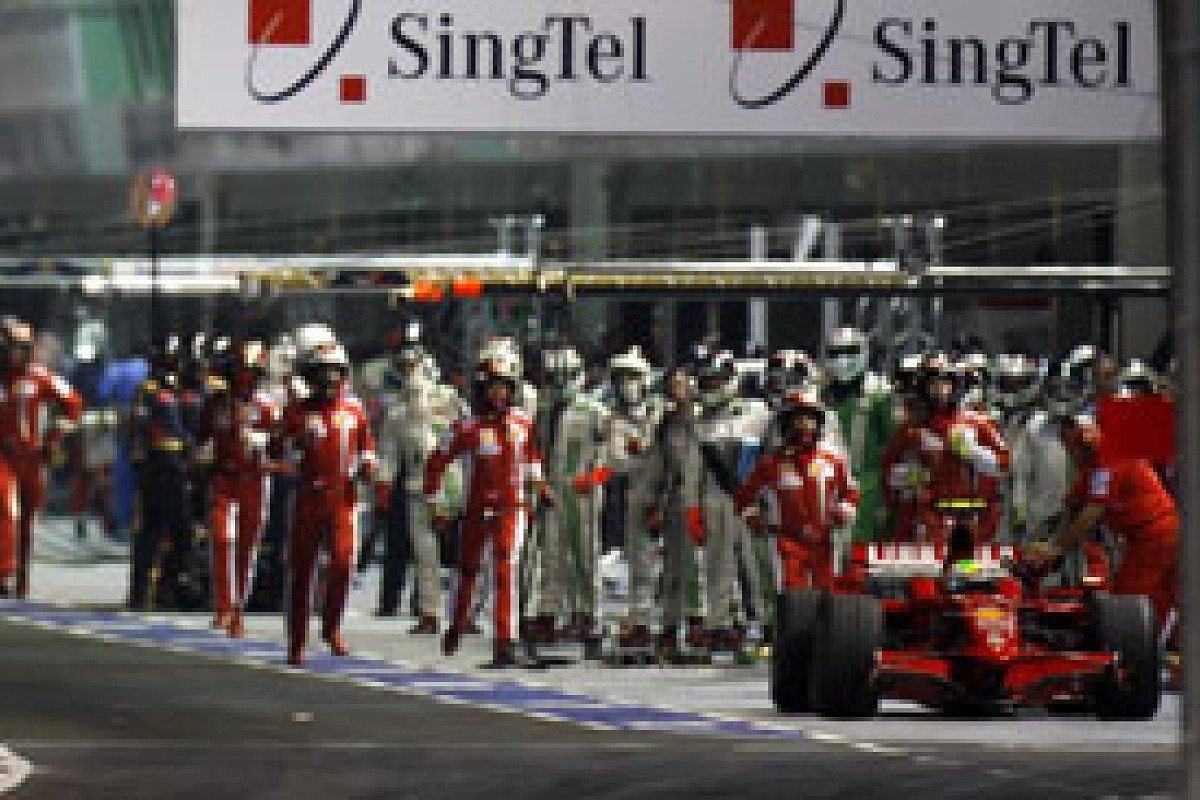 Key Singapore Stats
• Sebastian Vettel has always qualified inside the top six and finished inside the top five at Singapore, even including his first year with Toro Rosso back in 2008. In the last three years he always started from the front row, and after finishing second to Fernando Alonso in 2010 he dominated last year's race from pole.;
• Lewis Hamilton won from pole in 2009, but in the last two years he has encountered problems: he was hit by Webber while fighting for third in 2010, while last year he rammed Massa, damaged his front wing and was given a drive-through peanlty - although he was nevertheless able to finish fifth. Lewis hasn't taken a street circuit podium since Valencia in 2010, when he finished second.
• Fernando Alonso always finished inside the top four at Singapore, scoring three podiums in the process. He won in the controversial 2008 race and again in 2010 (when he dominated by claiming pole, victory and the fastest lap, while also leading for the entire race). He also finished third in 2009.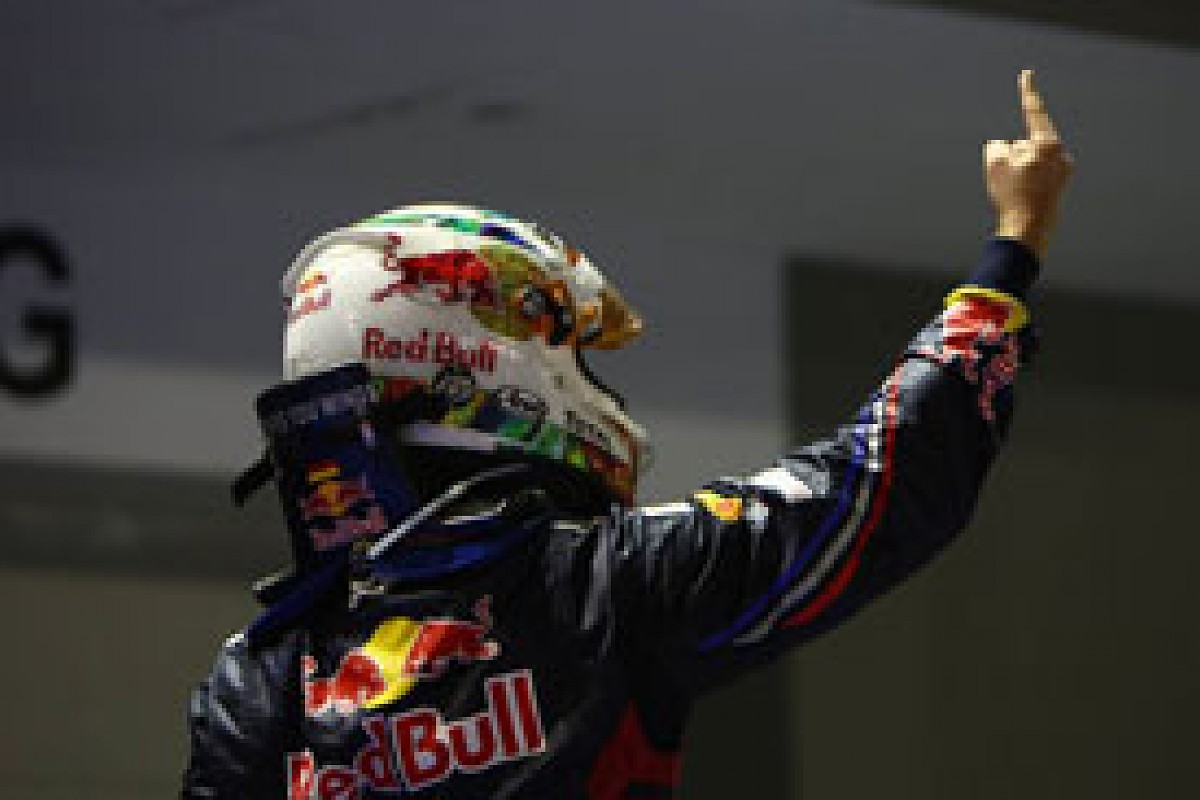 Massa suffered pitlane drama during the first Singapore Grand Prix in 2008 © LAT
• Felipe Massa has had his fair share of bad luck in Singapore, having scored only six points. In 2008 he was leading but, when the Safety Car came out, he pitted and ripped off the refuelling hose. In 2010 he had to start last due to an electronical glitch in Q1, while last year he suffered from a puncture after being hit by Hamilton.
• Michael Schumacher has never scored points at Singapore. Curiously, he hit at least one Sauber in each of the last two races here.
• Kimi Raikkonen also failed to score in either of his two Singapore Grand Prix bows for Ferrari. He crashed out in the final stages of 2008 while running fifth, while in 2009 he wasn't able to finish higher than 12th.
• Nico Hulkenberg finished 10th in 2010 despite being hit by a 20 second penalty when Force India, his current team, lodged a protest for an illegal overtake on Liuzzi.
• Red Bull has the record for podium places in Singapore, having claimed four (McLaren is second with three). The current constructors champions won from pole last year thanks to Sebastian Vettel.
• Sauber has scored only one point since splitting with BMW: a 10th by Sergio Perez last year.
• The only time Toro Rosso has qualified inside the top 10, or scored points, was back in 2008 when Vettel started sixth and finished fifth.
Famous (Four) Singapore Grands Prix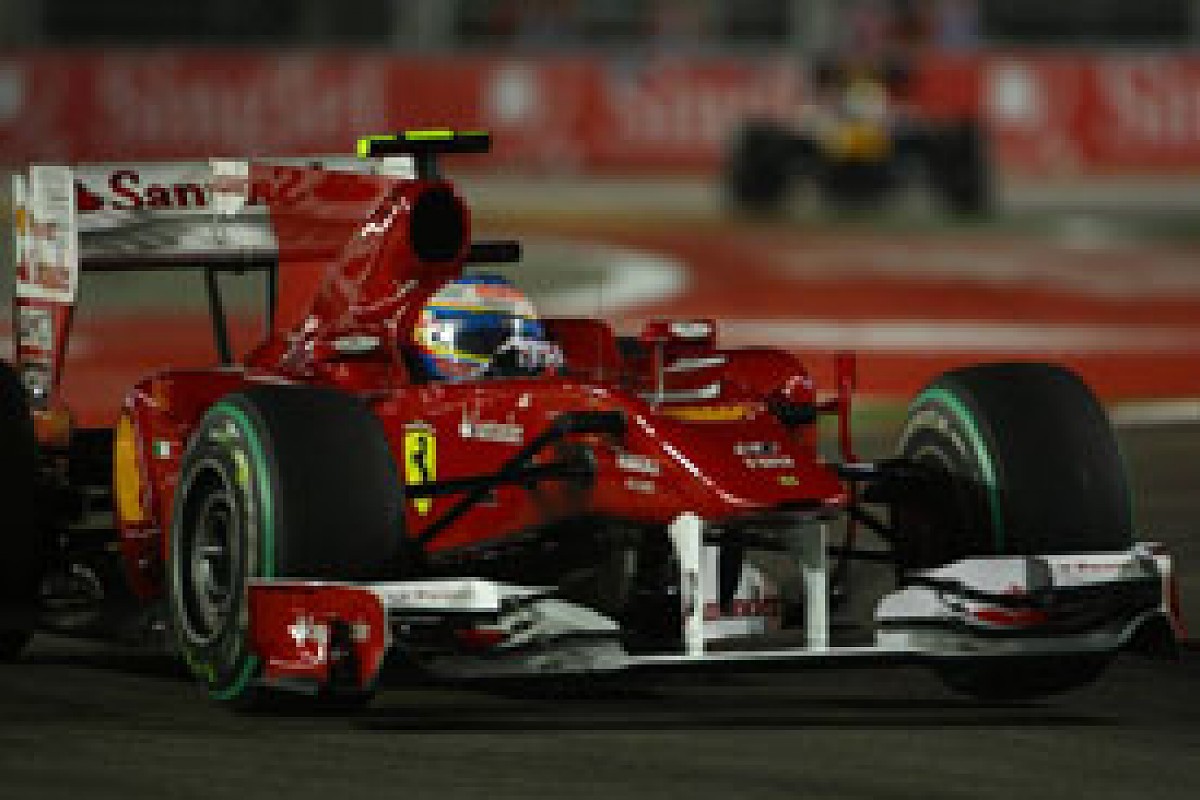 2011
With only four grands prix having been held on the Singapore streets, we've chosen to run through the past four editions in the build up to this year's edition.
Our sequence kicks off, funnily enough, in 2011 and with a race which came in the midst of Sebastian Vettel's seemingly inexorable domination. The German had already claimed 10 poles (three in a row) and eight wins (two in a row) heading into Singapore. Upon leaving, the tallies stood at 11 and nine. What's more, with five races to run he was on the brink of a second straight world championship crown.
If victory sounds like a formality, it is because it largely was. Vettel dominated large swathes of the race - one second per lap faster than his pursuers in the early stages, he withstood a mid-race safety car and even a late charge from Jenson Button to seal victory. Having fended off Lewis Hamilton's attentions away from the line, Mark Webber followed Button home in third. Had he denied the Briton, Vettel would have won the title - as it was, the German didn't have to wait long.
Elsewhere, Michael Schumacher's Mercedes met with a Sauber for the second straight year. The seven-time champion clipped Sergio Perez and was launched into a violent accident from which he emerged unscathed. Perez went on to finish 10th.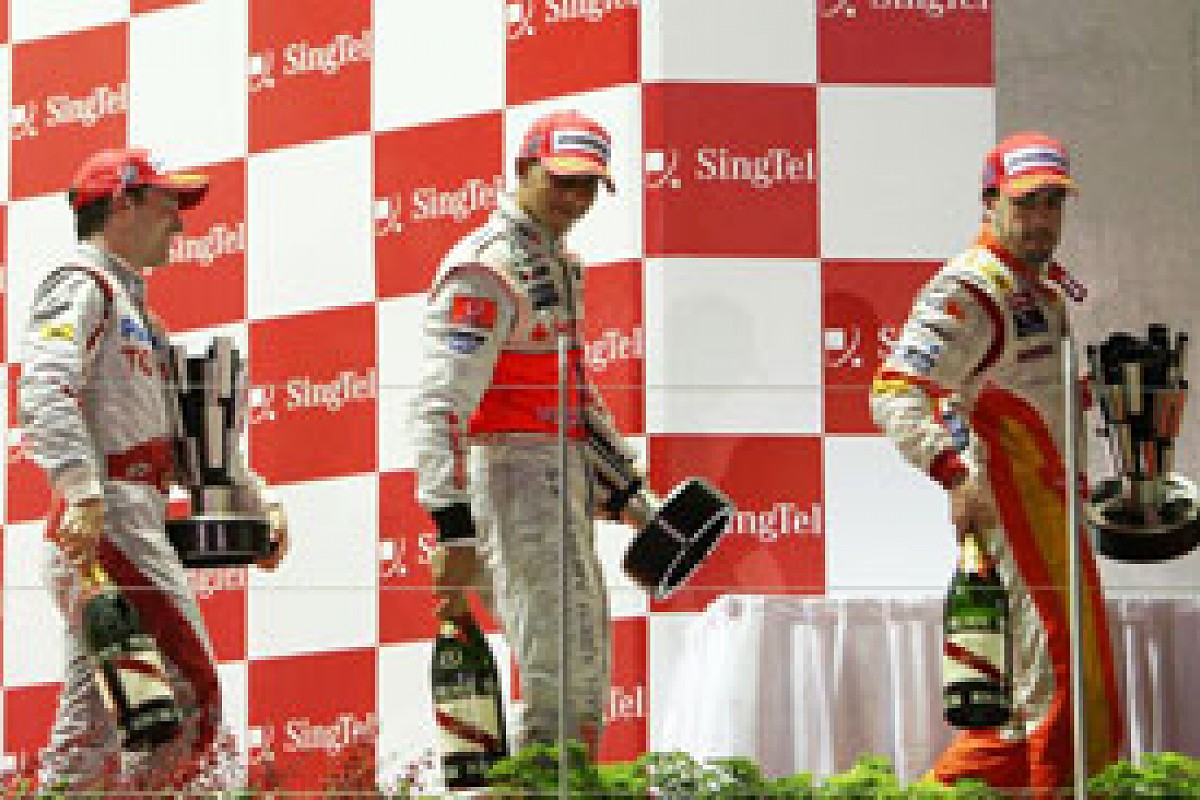 2010
Vettel was in the mix again in 2010, but this time missed out by just 0.293s as Fernando Alonso scored a vital win to ignite his championship challenge.
The Ferrari man had trailed Mark Webber by 21 points heading into Singapore - Vettel was three points further back - but by the end of the grand prix had closed to 11. Two grands prix later, after Korea, he would be ahead and seemingly on course for a third title - only for Vettel of course to pip him in the final race.
Alonso's 2010 victory was based around securing only his second pole position for Ferrari, giving him crucial track position. Though Vettel was never far behind, the Spaniard never came under serious pressure and was able to control the race from the front. Mark Webber limited the damage by finishing third, a result which owed much to a tyre gamble when the safety car emerged to deal with Tonio Liuzzi's stricken Force India. Lewis Hamilton meanwhile failed to finish for the second race in a row, leaving him 20 points adrift in the title race.
2009
In contrast to his 2010 fortunes, Lewis Hamilton claimed a relatively serene victory on the Singapore streets in 2009 - at least after pitlane woes scuppered Nico Rosberg and Sebastian Vettel's chances of winning.
Once again pole position proved crucial, with Hamilton establishing an early lead from Rosberg and Vettel. Though Hamilton was able to go deeper into each stint, Rosberg remained a victory threat - never allowing Hamilton's lead to slip beyond three seconds - until he ran wide on the pit exit following his first stop. His traversing of the blend line was momentary, but it was enough to incur a penalty which ultimately dropped him to 11th,
In his absence Vettel took up the chase, pitting at the exact same time as Hamilton for the second round. That was to be the closest he would come to victory however, a pitlane speeding penalty also dropping him from contention.
Hamilton therefore was able to cruise to victory, with Timo Glock (Toyota) and Fernando Alonso (Renault) completing the podium. Championship leader Jenson Button meanwhile extended his points advantage, recovering from 11th on the grid to finish fifth, one spot ahead of main rival and team-mate Rubens Barrichello.
2008
The first edition of the Singapore Grand Prix was also the only one to date where pole position hasn't produced the eventual winner. It will however go down in history for altogether different reasons, as the race in which Nelson Piquet Jr - under instruction - deliberately crashed, helping team-mate Fernando Alonso win.
The Spaniard was certainly a surprise winner, having qualified just 15th. He pitted just before Piquet's crash however, an incident which turned the race on its head and would have similar ramifications for the F1 community in due course.
The early sparring between title rivals Lewis Hamilton and Felipe Massa was rendered irrelevant when, on lap 14, Piquet speared into the wall and prompted the safety car to emerge. Alonso, on an aggressive strategy, had already pitted and suddenly found himself in a lead which he would ultimately preserve to the finish. Despite losing out in the ensuring scramble to pit, Nico Rosberg finished a remarkable second, while Hamilton extended his points lead by finishing third; Massa having fallen out of the top 10 after a dramatic pitlane incident.
A dramatic race would gain greater, and more sinister, significance however when Piquet left Renault the following season and revealed he had been instructed to crash. Renault was later handed a two-year suspended disqualification from F1 by the FIA; boss Flavio Briatore banned indefinitely; and executive engineering director Pat Symonds banned for five years.
From the forum
[Everyone underestimating Red Bull] stuck out to me as well. Perhaps the lower expectations are because the last two races were Spa and Monza. Vettel is actually my favourite for the win in Singapore.
It's not even worth saying this weekend is crucial for the world championship because every race is crucial now (just as they were at the start of the season, but we didn't know it at the time!)
Juggles
Mercedes had some interesting upgrades at the young driver test last week. Hopefully they can take a step forward in race pace and no longer fall back by the time the flag drops.
RedBaron
The point is that on the supersofts and softs the McLaren tends to be more tyre limited than either the lotus or the Red Bull, who both have excellent traction in slow corners.
In Hungary the Lotus was clearly able to get more out of the tyres and had Kimi qualified higher or not lost track position to Alonso at the start he would have had a great chance at winning the race.
I also don't think the last three races are really indicative, Red Bull had a good spree from Bahrain to Silverstone where they qualified on pole 4 times out of 6, won 3 races (should have won 4 but for Valencia) messed up tyre strategy at Canada and would have had a better result in Barcelona had they qualified better (Webber believes he could have got on the front row). I think the same is happening for McLaren...
I really do think that the competitive order tends to change from track to track and is somewhat dependant on the tyres used. I also expect that while McLaren will be up there somewhere I don't expect them to be the fastest at every track coming up.
Kvothe
*Key stats supplied by FORIX collaborator Michele Merlino.