Evaluating the merit of drivers in Formula 1 is profoundly difficult, particularly when you venture outside of the top teams, such is the dependence on machinery. It's often said that the only way to do so fairly is by comparing team-mates. While that might tell you a lot about where they stand in relation to each other, what if you have a pair of evenly-matched drivers? Usually, it's assumed that if neither stands out, then both are unremarkable. In many situations, that's a fair conclusion, but it's far from a universal truth.
This is the situation that Force India drivers Nico Hulkenberg and Paul di Resta find themselves in.
Most performance indicators this year are inconclusive. In qualifying, it's 7-6 in favour of di Resta, although if you disregard the Italian Grand Prix, where Hulkenberg's Force India ground to a halt before he could attempt a flying lap in Q1, it's dead level.
In points terms, di Resta shades it 32 points to 31 and has seven points finishes to Hulkenberg's six. Their best qualifying performances are similar, with di Resta setting fourth fastest time at Monza on Sunday and Hulkenberg fifth fastest in the wet at Hockenheim.
As for results, Hulkenberg's fourth place at Spa eclipses di Resta's best of sixth, although there you could argue that had the Scot not started the race without KERS, he might well have been ahead of his team-mate.
Frankly, in a sample set of 13 races, those figures represent nothing more than swings and roundabouts with little statistical significance. The only conclusion that you can draw is that the pair are pretty evenly-matched. Probably the only performance indicator where one stands out from the other is in wet qualifying, with Hulkenberg having the better of di Resta at Silverstone and Hockenheim.
Hulkenberg has always been outstanding in the wet, with his jaw-dropping domination of a rain-hit A1GP race in Malaysia six years ago really bringing him to international attention, while damp qualifying tends to expose the Jenson Button-style difficulty in maintaining tyre temperature that occasionally afflicts di Resta.
Nico Hulkenberg, Paul di Resta © XPB
So, we can safely conclude that Hulkenberg and di Resta are relatively evenly-matched.
But how do the top teams work out how they stack up compared to the rest? In the past, were McLaren to have a vacancy with a couple of promising mid-grid drivers on the list, they could test both. But in this era of zero testing, that's impossible.
In McLaren's case, there is the advantage of the technical partnership between the pair meaning that both have done work in the simulator at Woking, but that doesn't help anyone else draw clear conclusions.
So what other factors can we take into account? Well, we're on safe ground if we consider the Force India to be a pretty mediocre car by 2012 standards.
While it's not slow, the fact that the team is currently only seventh in the constructors' championship and only the profligacy of the Williams drivers saves it from being eighth, tells a story. Consistently, one or both of the Force India drivers has extracted the maximum from the machinery over a race distance to score good points.
In an ultra-competitive season, the scrap for the minor points places is intense and the difference between a driver doing an outstanding job and merely a good one can add up to a good number of places. For proof of that, just look at Spa, where Hulkenberg was consistently fast on his way to fourth and di Resta hauled his KERS-less machine to a point, something that surprised a team that had resigned itself to him finishing deep in the midfield.
This is why so many of the top teams have taken a close look at both drivers. Even during their junior careers, the pair were attracting attention, and with good reason. Too many people take into account only results when assessing drivers on the road to F1, but while both Hulkenberg (German Formula BMW, A1GP, F3 Euro Series and GP2 champion) and di Resta (F3 Euro Series - beating Sebastian Vettel - and DTM champion) both had eye-catching CVs, it was backed up by them seriously impressing the people that they worked with.
Don't underestimate the value of that, for the engineers and team bosses who work with many successful drivers at that level can very often pick out the differences between the merely good and the potentially great.
Hulkenberg celebrated his GP2 title in 2009 © LAT
Having covered both of their careers in the junior categories, the characteristics that mark them out as possible top grand prix drivers have always been there. In the case of di Resta, I first encountered him in Formula Renault UK. He finished third in the 2004 championship, but it was in the McLaren AUTOSPORT BRDC Award evaluation tests, driving F3, DTM and BTCC machinery, that his excellence really became clear.
Adaptable, seriously fast in an unobtrusive way, consistent and intelligent in his approach, these characteristics allowed him to excel at every level, including F1.
Of all the up-and-coming drivers, he is the one that has the mindset to replicate Alonso's single-minded relentlessness. Unfortunately, too many people are willing only to judge him by the fact that out of the car, he is relatively dour and very 'on message', assuming that if he's flat out of the cockpit, he's the same in it.
Hulkenberg is a more easy-going character out of the car, but also had rave reviews on his way up the ranks from those that worked with him. Unfortunately, as is often the case, many judged him too early in his first season with Williams in 2010.
After struggling in the early races in a tricky-to-drive car, he improved rapidly and in the second half of the season often showed very well relative to veteran team-mate Rubens Barrichello. His stunning pole in Brazil, too, is often undervalued.
This was no lucky last-over-the-line special as he set two laps good enough for pole position in very difficult conditions. He's picked up where he left off this year after spending 2011 on the sidelines.
The only real weakness in the case that each can make for a promotion to a top team is that they haven't asserted themselves over their team-mates. But as we've discovered, when you've got two of the best prospects to have come into F1 in recent years pitched together, that's an unrealistic expectation.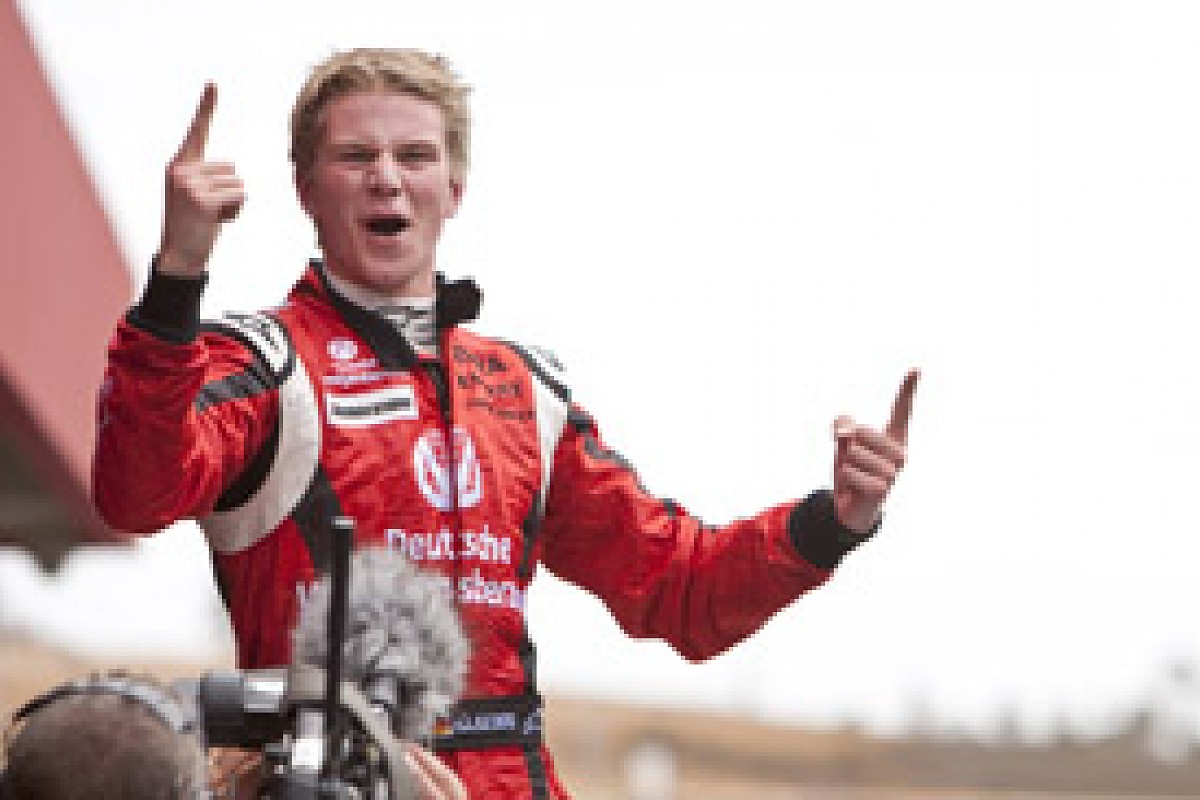 Di Resta first tested for Force India in 2009 © XPB
Both deserve promotion. Both are excellent drivers. We will only know for sure just how good when they finally have cars worthy of their ability under them. Both will win races, no question, and the pair could well turn out to be world championship calibre.
It's time for someone to give them their chance. F1 teams are notoriously conservative in their driver selections, but if you want the up and comers to prove themselves in a top car, you've got to give them a top car to do it.
Neither Hulkenberg nor di Resta would be gamble. As to which is better, it's impossible to say. But both will deliver big-time in the right car.