If Friday practice is a realistic guide, Monza qualifying is set to be an incredibly closely-fought contest between McLaren and Ferrari, with Mercedes and Lotus also in contention, especially over a race stint.
Red Bull's race pace too looks fully competitive but Sebastian Vettel admits the apparent lack of qualifying speed, evident also at Spa last week, is mystifying.
McLaren arrived at Monza with a new, low-downforce front wing unrelated to that used by Jenson Button at Spa and a derivative of his Spa rear wing. This was used by both Button and Lewis Hamilton throughout and both drivers were happy with the car's balance and competitiveness.
Ferrari arrived with what was essentially their Spa wing package. Mercedes ditched its Spa experiment with the Lotus-style rear wing device and instead ran a very flat rear wing in conjunction with a re-introduction of the front winglets and add-ons deleted for the previous two races.
Red Bull ran with a standard low-downforce package © XPB
Lotus and Red Bull each ran with standard low-downforce packages.
The thin-gauge Pirellis introduced for Spa and Monza seemed to be very robust - and also allowed pretty much everyone to be able to switch them on immediately. The strong forecast is for a one-stop race.
Thinner gauge rubber would be expected to be easier both to get up to temperature and then not to overheat and it's interesting that Button's re-invigorated form should have co-incided with the introduction of this rubber. It may also be that this has taken a key Red Bull advantage away for these two races. More evidence for these theories may come in the next races as we revert back to the standard gauge.
"The Red Bull had the best balance of tyre use front to rear of anyone at Spa," said Pirelli's Paul Hembery, "and I'd be amazed if it wasn't right in the thick of things here."
Yet there was no evidence from the Friday running that it had competitive qualifying pace, Mark Webber's best being 0.9s off the ultimate, Vettel's 1.1s. Muddying the waters is the fact that Red Bull frequently runs different fuel levels to most other teams in these sessions.
In ultimate one-lap pace Hamilton shaded Button to head the afternoon times, but with Fernando Alonso's Ferrari in the same tenth as Button, marginally faster than the other Ferrari of Felipe Massa.
After completing his qualifying simulation Alonso didn't complete his long runs in the afternoon session after suffering a gearbox failure.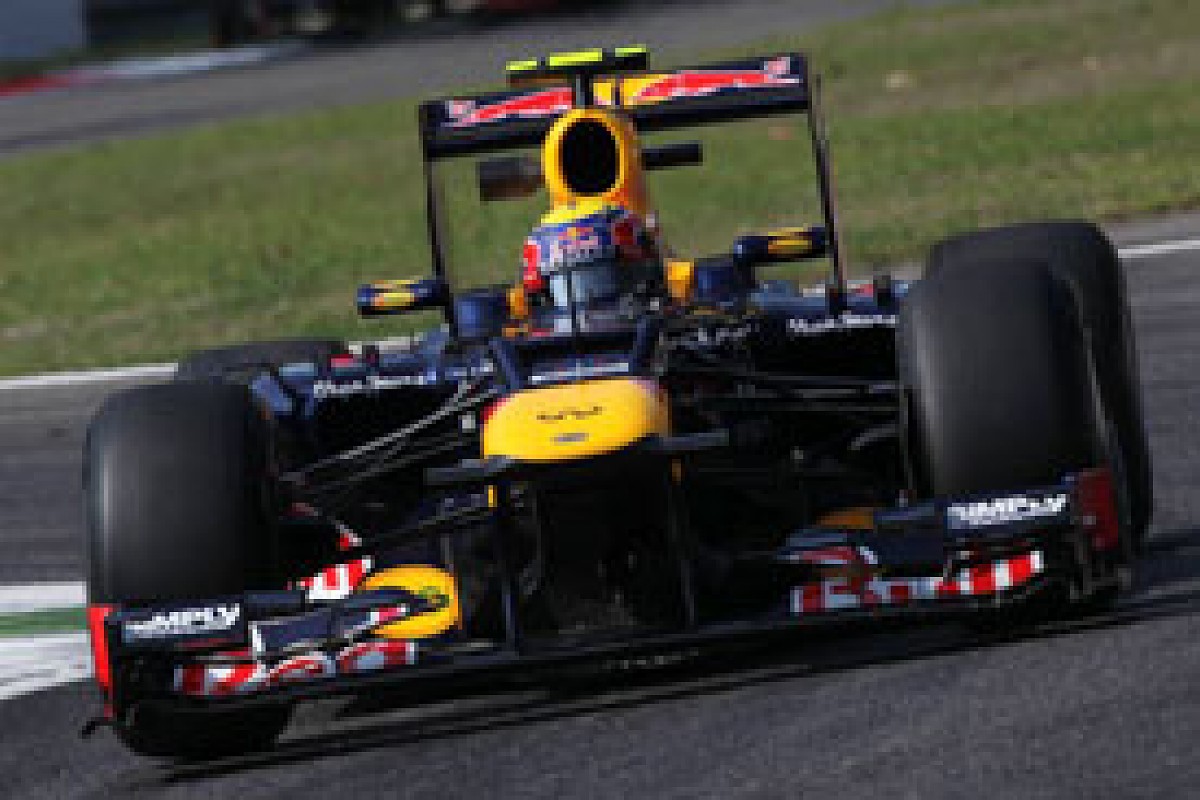 Alonso's day came to a premature end, but there were positive signs for Ferrari © XPB
This came after his morning session was curtailed by an engine failure. Neither will trigger penalties for darling of the crowd Alonso, who looks in very good shape given that Massa's long runs looked very competitive.
The actual averages of the runs favour the Mercedes, with Nico Rosberg on 1m29.9s and Michael Schumacher 1m30.1s. But that advantage looks suspiciously good, in that the McLarens, Ferraris, Red Bulls and Kimi Raikkonen's Lotus all averaged between 1m30.4s and 1m30.5s.
It would appear that unless Mercedes has found a big advantage from its new low-downforce package, it was running its cars lighter than the others for the long runs. But it appears competitive - both over one lap (Rosberg was only a couple of tenths away from Hamilton) and in race consistency.
The Monza track doesn't feature the sort of long-duration fast corners that the Merc hates. Short, sharp direction changes it does well - as was shown at Monaco, where it was arguably the fastest car.
The pattern of Raikkonen's runs suggest a standard Lotus performance - i.e. not challenging for pole but possibly the quickest of all over a race stint.
Mix all that up and we've got a potentially fantastically closely matched performance between all of the championship contenders, with Massa and the Mercedes pair thrown into the mix for good measure.