Romain Grosjean is too good to give up on. The 26-year-old has been given some serious stick over the past few days after triggering the first corner crash at Spa-Francorchamps.
Glance at Twitter and there are scores of fans queuing up to call the Frenchman an irredeemable idiot, characterising him as barely capable of reverse-parking a Lotus Elise in a supermarket car park without getting into a fender-bender.

That condemnation is as unwarranted as his one-race ban was well-deserved.
Grosjean is a serious prospect with every chance of recovering from this ban to win grands prix, but he does have to put some serious work into ensure that he doesn't remain an incident-magnet.

By his own admission, Grosjean has been involved in too many scrapes this season. The question is, why?
Well, either he's a barely specially-aware idiot savant who has somehow turned in some stunning qualifying race performance despite zero limited mental capacity, or there's a more complex problem that he has to tackle. If it's the former, team principal/driver manager Eric Boullier would not have pushed so hard to get him into the second Lotus alongside Kimi Raikkonen in the first place.

So what is the problem? Well, Grosjean has always had the capacity to let his own intensity become counter-productive. Behind the ever-present grin that he's brought into F1 this year is a driver who is driven to succeed. He's in a hurry to do so as well, and that intensity has perhaps played its part in the incidents that he has become embroiled in.

After asserting himself over world champion team-mate Kimi Raikkonen in qualifying in the first part of the season, things have been a bit tougher recently.
Grosjean outqualified Raikkonen in Hungary © LAT
In Germany, everything clicked for Kimi and for the first time the Finn felt truly at one with the car. There, Grosjean floundered badly. Then came Hungary, where Grosjean outqualified Kimi but was outraced. At Spa, he was more than three-tenths down in qualifying and come the start of the race, he was on a mission. Feeling under pressure, the only way to release it was to get into the mix for the podium.
In Grosjean's mind, that seemed to mean doing it all on the first lap rather than relying on his fundamental speed and letting the race come to him.

There's no doubt that Grosjean's claim that he didn't realise that Hamilton was still alongside him when he moved over on him and triggered the crash is an honest one. He wasn't squeezing the McLaren, he was only interested in trying to pick up another place or two at the hairpin and casually believed that he had cleared Hamilton's machine.
Don't think either that this is a staunch defence of the Lotus driver, for if anything a misguided and deliberate squeeze is less worrying than blundering into a car that he hasn't realised is there. But it does add up. Grosjean was focused on going forward, getting himself up to where he believed he should be. And that kind of impatience has been at the root of some of his other incidents this year as well.

There is history here.
Even before he was pitched into F1 at Renault in 2009, Grosjean's GP2 campaign was going off the rails. He had notions of winning the championship and as it became increasingly clear that wasn't going to happen, his performances became ragged. His early promotion to F1 did nothing to shake that sense of entitlement, which played its part in him making himself pretty unpopular with the team, as did failing to learn from the mistakes that he made.

Grosjean has matured hugely since then. What he now needs to do is what he did in GP2 in 2011. Then, there were a few wild moments early on, but the turning point appeared to be at Valencia, where he sparked fury in the paddock by triggering a first-lap crash in the sprint race.
While he insists that there was no sea change in his approach, from then on he always played the percentages in battle. That led to him doing exactly what he needed to do to justify Boullier bringing him back into the F1 fold - not just win the championship, but do so in dominant fashion.

Now, Grosjean needs to do a similar thing on the big stage. What makes him such an exciting prospect is that he has that rare turn of speed necessary to be a top gun.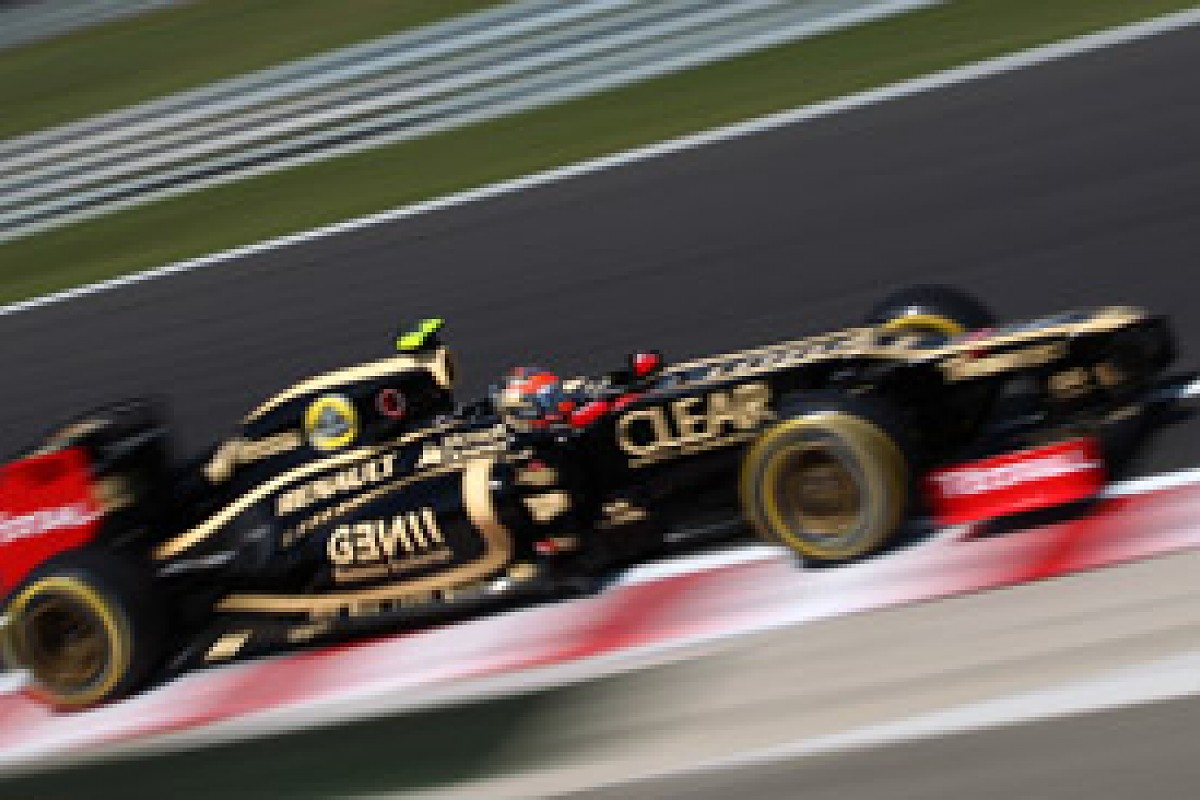 2011 Valencia GP2; Grosjean triggered a crash on the opening lap of the race © LAT
He doesn't need to prove his speed, nor does he need to prove that he can deliver over a race distance as he has generally impressed when things haven't gone wrong early on. He's a seriously quick driver in a seriously quick car. Don't force the issue, Romain, and the results will come.

That is the message that Grosjean must take from this one-race ban. Don't worry about the end objective, winning, finishing second, whatever. You have shown that you have the ability to do that. But what you need to do is see the bigger picture. Even with a disappointing qualifying, you're quick enough for the result to come without having to do it all at the first corner or become desperate enough to be oblivious to a shiny silver McLaren at a crucial moment.

It's not as easy as it sounds. At the top level, the difference in raw ability between a superstar and the very good is tiny. What really marks out the greats is their ability to clear such mental hurdles.
Grosjean is going to have a lot to think about at Monza as he watches Jerome d'Ambrosio driving his car, certainly enough to throw the need to get on top of his mental frailties into stark relief. And Boullier, who has done a very good job this year to create the right environment for both Raikkonen and Grosjean to thrive at Lotus, will make sure that he does.

In a few years time, Grosjean might just look back on the ban as the best thing that could have happened once he has a good few wins under his belt. The key is whether or not he accepts the need to change. If he does, he's got everything he needs to go all the way in F1.
After all, a certain Mika Hakkinen didn't do badly after he was hit with a one-race ban in 1994.