Red Bull Racing technical chief Adrian Newey isn't renowned as the most demonstrative bloke in the Formula 1 paddock.
So it was nice to see a hint of tears of joy after Sebastian Vettel won the 2011 Belgian Grand Prix, coming as it did after tyre blistering in qualifying and off-track controversy surrounding the team's camber settings.
Back at Spa in 2012, Vettel finished second, and again there was ecstasy for Newey, who was beaming as if the blue car had crossed the line first.
For Red Bull, second place behind a man who is not a direct threat in the championship was a huge cause for celebration. After all, Vettel had to overcome a poor qualifying session, a terrible start and further concerns about tyres to bag 18 points on a day when main title rivals Fernando Alonso and Lewis Hamilton didn't make it past the first corner.
"It's a funny one, isn't it?" smiled Newey. "If he'd qualified a bit further up he might have been taken out. Yesterday's qualifying was obviously very disappointing, so it was a relief to have a decent race."
There were glum faces indeed when Vettel was left stranded in Q2 in 11th place, especially as everyone knew that team-mate Mark Webber, who had made it to Q3, would be getting a five-place grid penalty. That at least moved Seb into 10th.
"I think these tyres are very, very sensitive to different conditions and different set-up," team boss Christian Horner noted after the race. "And, if you're in the window with them, you can deliver phenomenal lap times.
Hamilton's struggles relative to Button demonstrated just how sensitive set-up was at Spa © LAT
"If you aren't, then you can be some way off. But I think even within teams at the moment there's big differences between drivers. Usually the two McLaren drivers aren't separated by as much as they were yesterday.
"Yesterday the tyres seemed, for us, to be quite sensitive, and we found ourselves just outside that window in the qualifying sessions."
"I think it's the usual thing - the grid's so close that you only have to have a very small problem or lack of performance and suddenly you're out," said Newey. "Fernando didn't make Q3 in Valencia and went on to win the race after Seb broke down, so it doesn't take much."
The only good news was that, by not making Q3, Vettel had a set of new option tyres on which to start. While there was no repeat of last year's blistering saga - thanks to changes from Pirelli - Red Bull was one of several teams with specific wear concerns heading into the race, along with Lotus and Sauber.
In essence all three were running higher downforce. The perceived wisdom is that such a set-up protects the tyres as the car slides around less, but this time the lack of information from dry running meant this was a cloudy issue. Higher pressures were recommended for the race.
"Last year we had blistering and construction concerns; this year it was just straightforward wear," Newey conceded.
Given that situation, Red Bull did not head into Sunday intending to run a one-stop strategy (unlike McLaren). The fact that Vettel was able to make it work was a pleasant surprise.
But he gave himself a lot of work to do with a bad start. Replays showed car after car rushing past on the way to La Source and, while he also lost a bit of momentum avoiding the crash ahead, it was that bad initial getaway that cost him most places.
Emerging from the first corner, Vettel was even behind Heikki Kovalainen's Caterham, down in 12th. Had everyone made it around the first corner intact, he would have faced a rather more difficult task to get to the podium.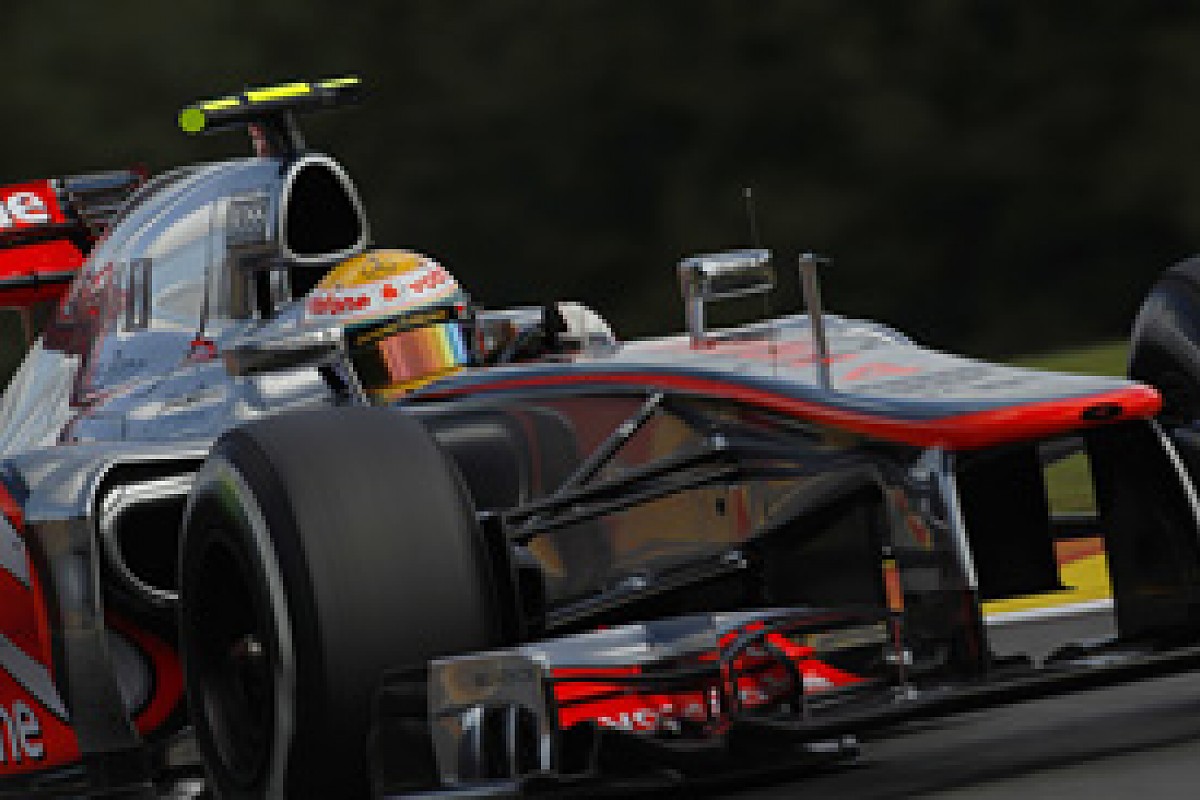 Approaching La Source slightly down the order, both Red Bulls avoided the calamity of the opening lap © LAT
The loss of so many frontrunners was the only real luck he had. After that, Vettel had to get the job done by himself. He got his head down and began passing cars. Some were obviously easier to pick off than others, but it took a pretty good move to get Webber in an identical RB8.
"His passing was strong, aggressive but fair," said Horner. "I think our two guys raced together very well."
Seb did most of his passing into the Bus Stop chicane, as he struggled to gain much from DRS on the straight after Eau Rouge. At times he had to take a few risks, and rely on others giving him space.
And yet despite this charge, he managed to keep his option tyres in pretty good shape, and the possibility of a one-stop began to emerge. The fact that Vettel himself had expected to come in sooner rather than later was demonstrated by his request for his engineer to find him a gap in traffic for an early stop.
"We were looking at potentially stopping Seb at one point when Michael Schumacher started backing everybody up," said Horner. "That would have given us effectively a free stop, and then in the event of a safety car you're in great shape with the tyres.
"The pit wall did a very strong job today, because it wasn't clear going into the race what the strategy was. It was likely to be a two-stop, but I think part of our strength is to be flexible and not panic. If Sebastian had pitted at the same time as those other guys, he'd have come out behind all of them."
After Webber came in on lap 11 the team was able to examine his tyres, and that data - presumably positive - was fed back to the pit wall. In effect Mark acted as a guinea pig for his team-mate.
"We didn't know whether a one-stop was possible going into the race or not," said Newey. "So we kind of kept going round until it looked feasible, and stayed out. We were playing our own game really; it was just how our tyres seemed to be lasting."
"We felt it was going to be a classic two-stop race," said Horner. "But then as things panned out, with Sebastian starting on new tyres as well so he effectively got three laps fewer than the cars around him, suddenly the window started to open up.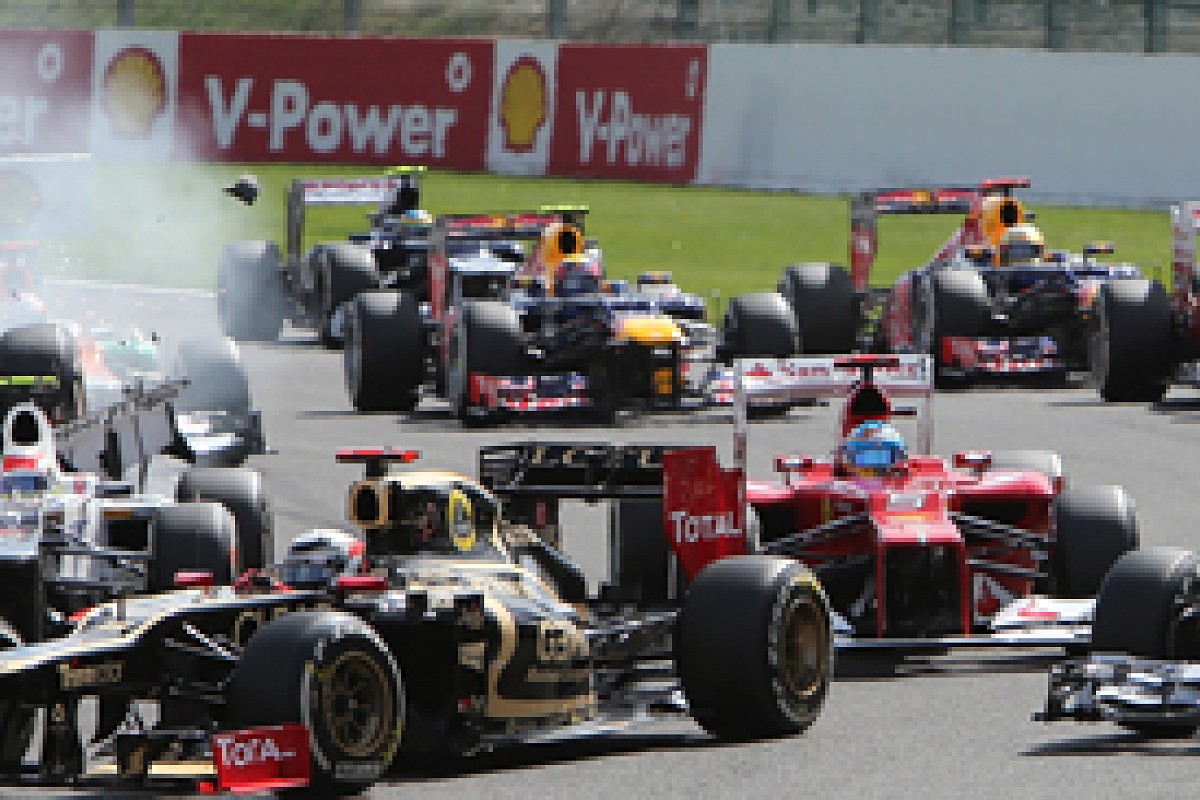 Red Bull took a flexible approach to race strategy... © LAT
"When we got to lap 18-19 it looked like a one-stop could be a possibility here. Then we decided that we'd got nothing to lose and to go for it. He was able to manage the tyres very well to execute it. The pace was very good."
"We didn't expect the tyres to last that well," said Vettel himself. "I think there was some talk before the race, there were some concerns the tyres wouldn't last that long.
"Probably most people were thinking of two and three stops and one stop seemed out of reach. Same for us, but after a couple of laps it was clear that the tyres were lasting pretty well and the pace wasn't bad - that was the most important thing for us."
With his main rivals committed to stopping twice, Vettel worked his way into what would clearly be second place, if he could make it on one stop. Button came in on lap 20 and Seb followed on lap 21.
Both men emerged on new hard tyres, with 24 and 23 laps respectively to run to the flag. Given how far he'd got on the option tyre, with a heavier car and a lot of racing to do, the second half of the race was a breeze for Vettel. He was 19s behind Jenson at the start of it, and by lap 30 the gap came down to 14s.
"We took the decision that at 14s it was going to be too difficult to attempt to close Jenson down," said Newey. "So let's settle for where we are, and try to get it to the end."
And that's where the gap pretty much stayed. With no threat from Kimi Raikkonen behind him, Vettel was able to pace himself to the flag and conserve his tyres in much the same style as so many of his wins.
There were still some concerns on the pit wall, and the Mercedes drivers were forced to abandon their attempts to make it on one stop, but Vettel made it look easy.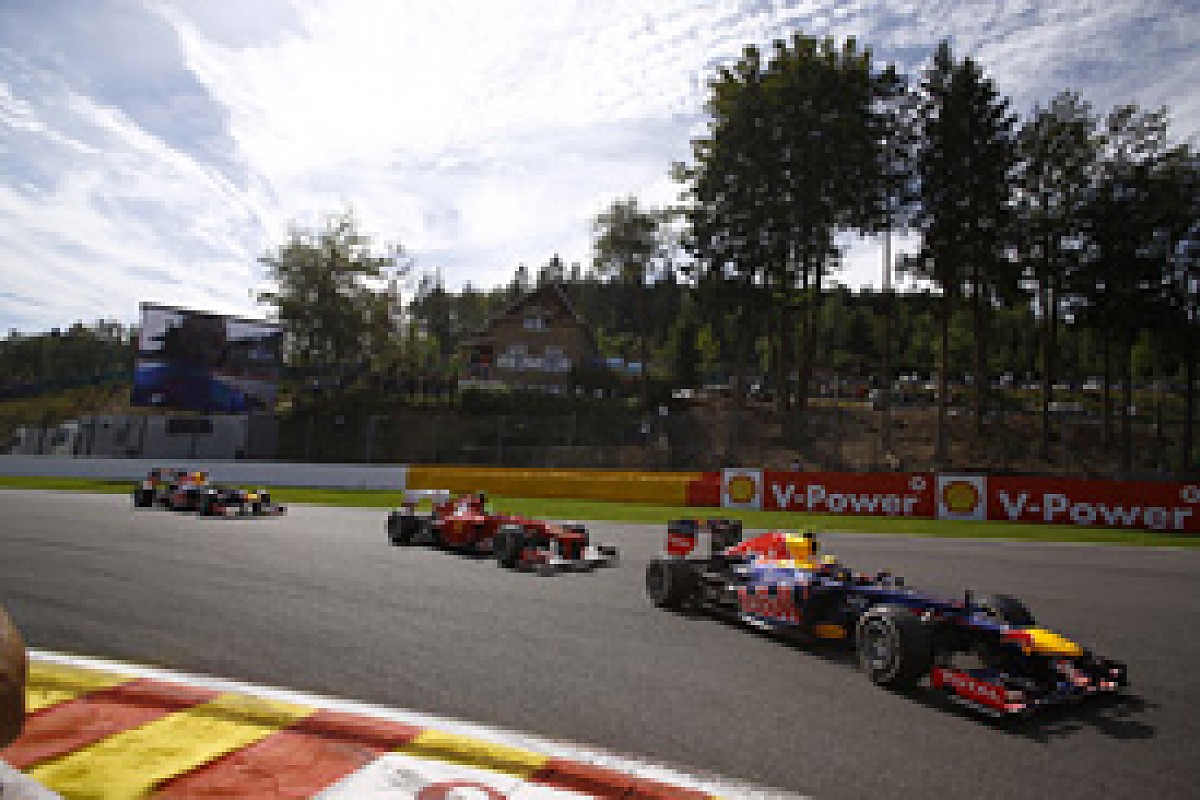 ...and with Vettel able to run deep, opted for just the one stop © LAT
"We were worried," said Newey. "The trouble is if you hit the cliff with the tyres, as we've seen so many times, it can come quite suddenly. And the lap-time deficit at that point is huge. So yes, we were worried, but we got away with it.
"It was a trying qualifying session, so to recover through to second was a great result."
Meanwhile, it was another frustrating race for Webber, who followed up his eighth places in the previous two grands prix with a modest sixth. He started with older tyres than Vettel, but nevertheless being passed by his team-mate - and losing out to others who, like Webber, stopped twice - ensured that it was not a great day for the Aussie.
"He just didn't manage to overtake as easily or as well as Seb did," said Newey. "And he spent most of his race in traffic."
"We wanted to get more out of it with Mark," admitted Horner. "We went aggressive with the first stop, and after that he was going well. Then at the second stop unfortunately Hulkenberg pitted on the same lap as us, and they got caught behind Schumacher, who was already starting to get into trouble. Probably our top speed wasn't quick enough today, and that hurt when Mark was in the DRS zone. He wasn't able to make use of it to pass at the end of the straight.
"It's the way we set the car up for this race - after no dry running on Friday you have to make your choices. With hindsight we'd have set the car up to be slightly quicker at the end of the straight."
Nevertheless sixth place was better than nothing, and in the grand scheme of things Red Bull actually gained a point over McLaren in the constructors' championship.
Vettel's second place was a superb case of damage-limitation by team and driver, one that could prove extremely valuable by the time we get to the finale in Brazil.
"Without a lot of mileage on Friday, we felt pretty competitive in FP3," said Horner. "We underperformed in qualifying, but our pace in the race was very strong.
"I've said on numerous occasions that things over the course of a championship tend to even themselves up. Fernando's had a phenomenal run of 23 points-scoring races, and at some point that comes to an end. It was unfortunate for him today.
"It looked really nasty when the Lotus went really close to his head, but all the drivers escaped uninjured - that was the most important thing. After that became clear, the most important thing for us became to capitalise on two championship rivals not scoring."