Martin Brundle is well up for this. We've been texting backwards and forwards for much of the Belgian Grand Prix weekend about when to go trackside but neither of us has much fancied getting soaked. Now it's Saturday morning and the sun is shining. So there's still an hour left of free practice to get a Spa fix.
The first 180 minutes of running has revealed little as a guide, so anticipation of the latest edition of Formula 1 2012's typically unpredictable formbook pricks the atmosphere.
"This will be a cracking session," says Brundle. "It's always one of the most fascinating parts of the weekend."
He's walking fast as we march down the steep incline from the GP3 paddock towards Eau Rouge.
The plan is actually to skip Eau Rouge (yes you read that right), because Martin's keen to show me other parts of the track. And at Spa everywhere takes time to get to on foot. But we walk past it on our way out into the Ardennes forest anyway, and the first F1 cars burble up the steep pit exit that runs parallel to F1's most famous sequence of corners.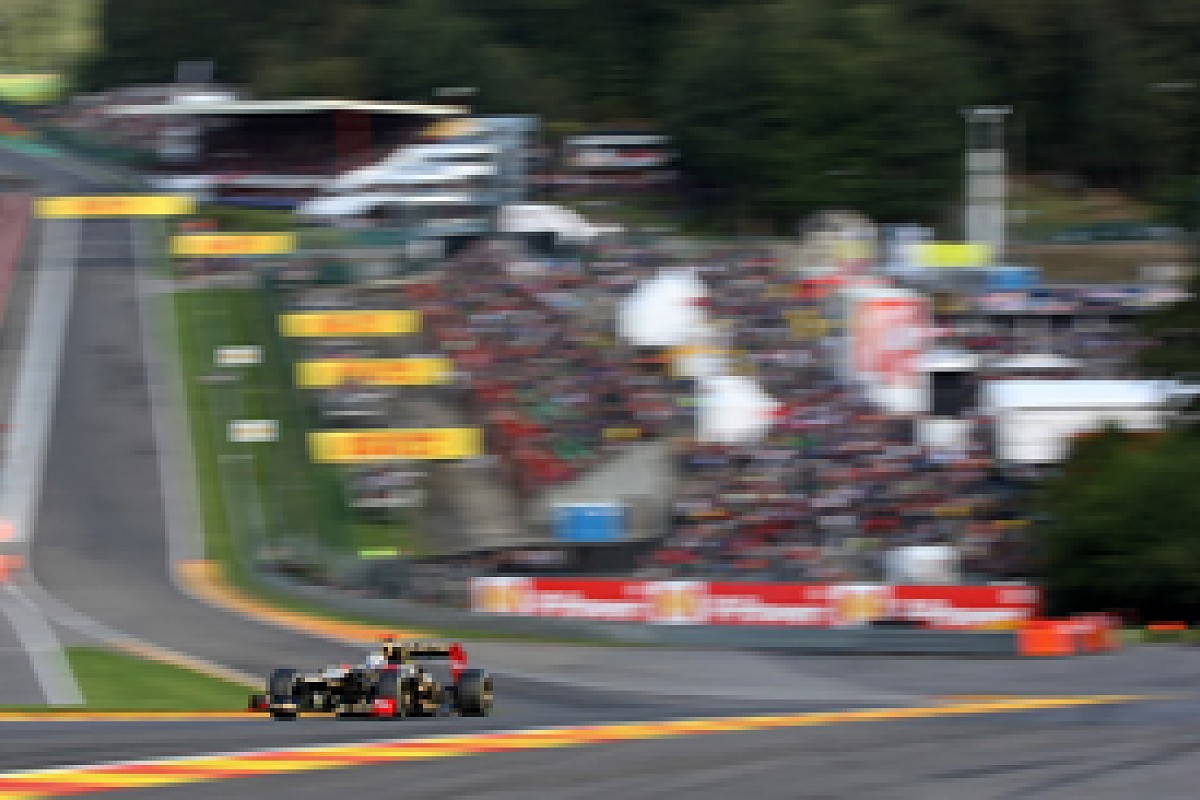 Eau Rouge: Still dramatic but no longer crucial © XPB
"Eau Rouge. I just love it," grins Brundle. "You can't really learn anything watching there. It's just for your own self gratification.
"I was reading up on the old circuit before I came out, and I saw a quote from Chris Amon I think, who said: 'What we like are corners that are full throttle only once or twice a weekend.' That's how Eau Rouge used to be for us.
"I remember me and [Stefan] Bellof going through there in 1984 in those Cosworth-powered Tyrrells, and all the journalists were running around saying 'Brundle and Bellof are flat through Eau Rouge!' Well we had a hundred horsepower less than all the turbos and we should have been flat through Eau Rouge."
We walk along the access road through the dense layer of ancient pine that links Eau Rouge to Pouhon - our first stopping point. The resonant wail of 2.4-litre V8 cascading through the woodland that delineates our trek.
"I love that sound in the trees," says Martin. "It makes you tingle. It reminds me a little of testing at Monza. If the guys were working on my car for a while, I'd take a ride out to the Lesmos and just get lost in the sound. One day, when they finally introduce electric cars we won't have that anymore."
We arrive at Pouhon. He points to the entry of the first descending left-hander, taken by most accelerating through fifth. It features a deceptively small range of turn-in options and your line must be laser-sharp if you want to stay on the power through the exit.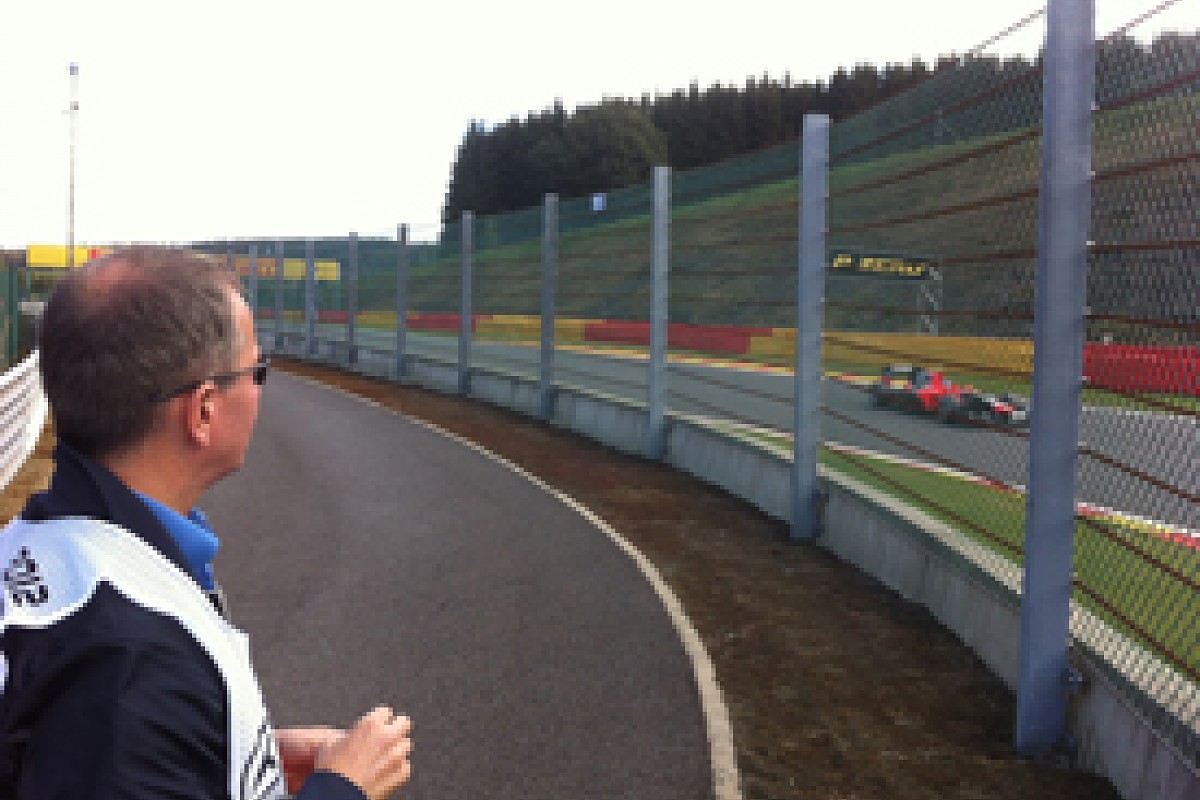 Brundle's expert eye is well tuned to the nuances of cars' behaviour © autosport.com
Focusing on that turn-in point as first Nico Hulkenberg's Force India and then Mark Webber's Red Bull come through, I ask Martin whether even this early in the session drivers know they can push through here.
"You have the belief there," he says as he points to that turn-in area. Then he points to just before the first apex. "But that's where you're doing the judging. You judge here whether you are on the right part of the track to push on the throttle hard again.
"There is a reference point, for a nano-second, where you just feel the lateral g, and you feel the position you are on the track and then you just instinctively go for it. Or you don't.
"It doesn't half look fast when you turn in there from inside the cockpit. That's why you have to be accurate to within a few centimetres. Having the paddleshift has transformed that, because you are not one-handed, trying to make certain you get that shift in before you turn."
Kamui Kobayashi comes in to view, but he's running wide already and the Sauber's Ferrari throttle note is broken, in a contorted staccato. He continues to slide far from the line, and then he's over the strip of Astroturf separating the track from the deep bay of high-grip asphalt run-off - which of course is where the Japanese ends up. "Ooh," winces Brundle.
"You see can why you have to make that decision so early into here. He kept his foot in and he wasn't in the right place."
Then we are off trekking again, past the second part of the long sweeper that Brundle dismisses as easy flat. "Anyone can drive that bit now." The high grip asphalt has been extended along here too.
He points out to the beginning of Fagnes in the distance, a right-hander on an uphill approach followed by a sharp tightening left switchback.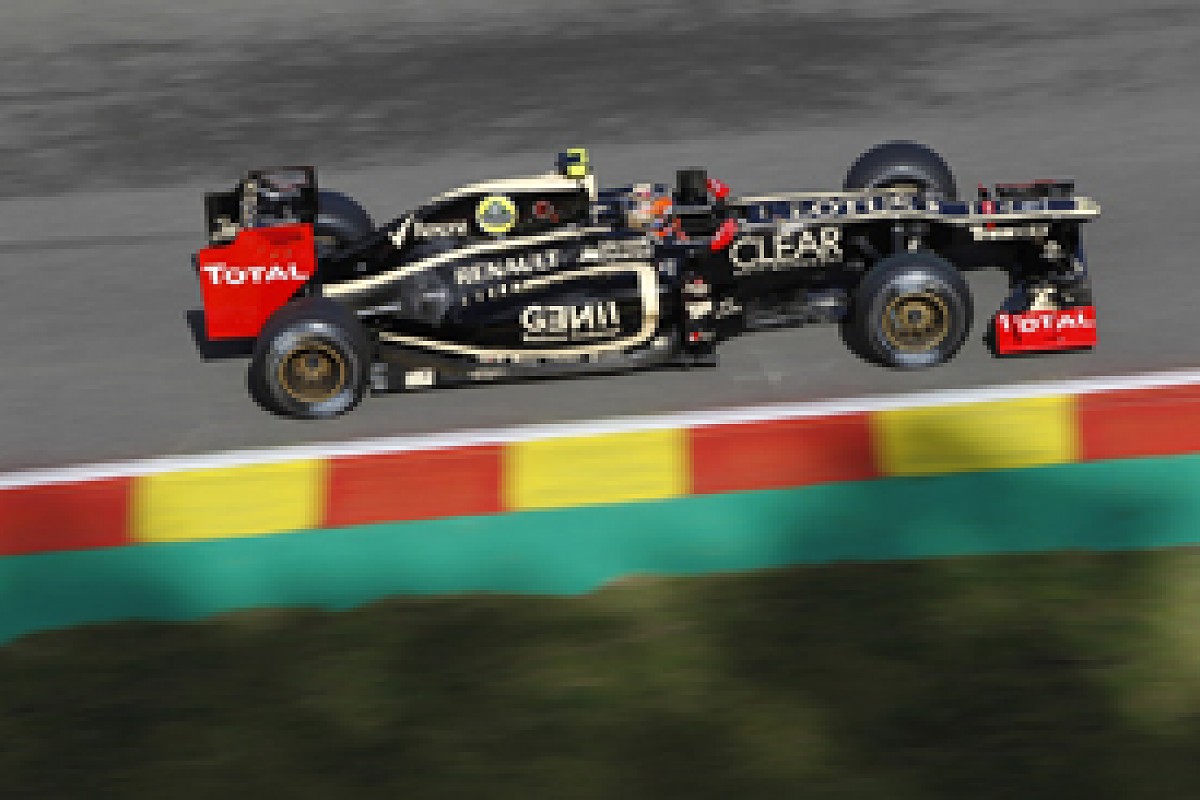 Grosjean looked in good shape © LAT
We reach the 150m board and Brundle stops in his tracks. As Romain Grosjean charges up to the braking zone, Brundle shouts over: "He's popping seventh gear just before the 100m board! He's actually shifting up!"
We stay here for a while and measure this mentally. "You don't want to touch the limiter though I suppose, because you'll lose so much speed," he muses as Heikki Kovalainen forges past. "Even the Caterham is shifting up at 120m. That has got to be seventh gear."
The braking point is later than in other places on the track because of the incline, which plays a large factor in the inertia of the slowing force, Brundle explains. We decide it's at 60m. "And that will be with quite a lot of fuel on board. That's bloody close to the corner. Even the HRT is hitting it late. There is no braking 'zone' so how are you going to overtake anything there?
"It's also a product of left-foot braking. Now you don't get that period of time when you go off the throttle and onto the brakes. There is no transition phase."
As if to illustrate the point, Pedro de la Rosa arrives on the scene and trails tyre smoke from his front right. Brundle observes: "As soon as he put some right steering in he unloaded the inside front. You put roll in the chassis and you start to load the outside and unload the inside. Basically he needs to get his braking done in a shorter time but he hasn't got the downforce."
We walk around the chicane and Brundle indicates the tight inside line on the right and how it opens up the cambered left "by maybe 10 to 15 degrees".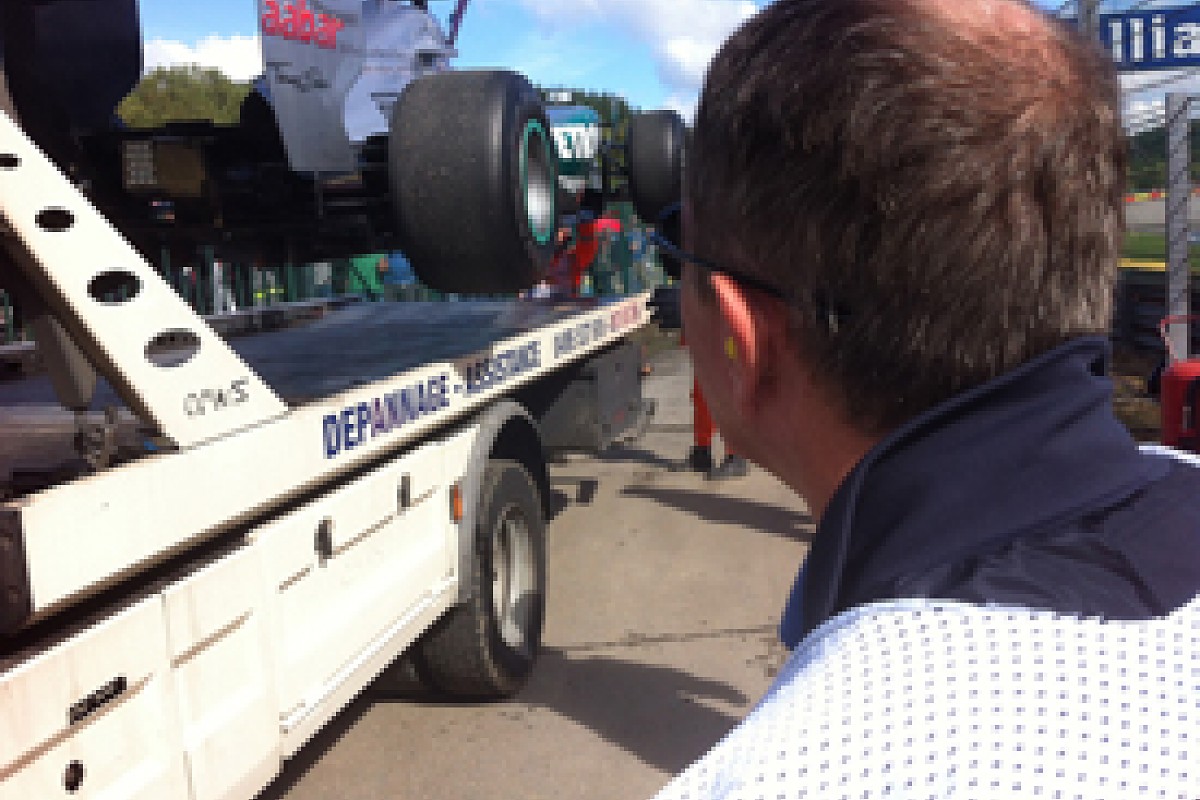 Rosberg didn't get much running done © autosport.com
It's around here that we come upon Nico Rosberg's stricken Mercedes. Martin takes a good look underneath as the W03 is craned up onto a flatbed. Later we find out it needs a gearbox change.
Kobayashi's Sauber comes out of Fagnes and slides on the exit: "There you are asking a hell of a lot of the car. You want it to turn, but you want to get on the power so you get some weight transfer to the back and you are demanding on the front tyre and it just nips on the exit. It really challenges the car.
"But isn't it nice to see the cars working?" asks Martin. I wonder whether that's because of the rain on Friday. "No they would still be moving around. You would always be working here because it is a total driver decision when to pick the power up. It's not smothered by downforce or power.
"You probably see them move here more than you will anywhere else except maybe Les Combes."
He points toward the entry of the Stavelot fourth gear right-hander as we head towards it, and now finally we're approaching the section Martin wants me to witness up close: "You see how downhill it is. The reason you brake so late into the right of Fagnes is because it is uphill but Stavelot is difficult because it is downhill, off-camber and tightens through the exit. It's so tempting to go in too fast. I must have done it a thousand times."
Martin looks to the inside of the track on the straight between Fagnes and Stavelot, and recalls perhaps his best chance for a grand prix victory slipping away. He can't quite a fake a smile still.
"That's where I passed [Michael] Schumacher for third in '92. I was coming in the pits and I was fourth and we could see the two Williams up the road, with me and Schuey third and fourth.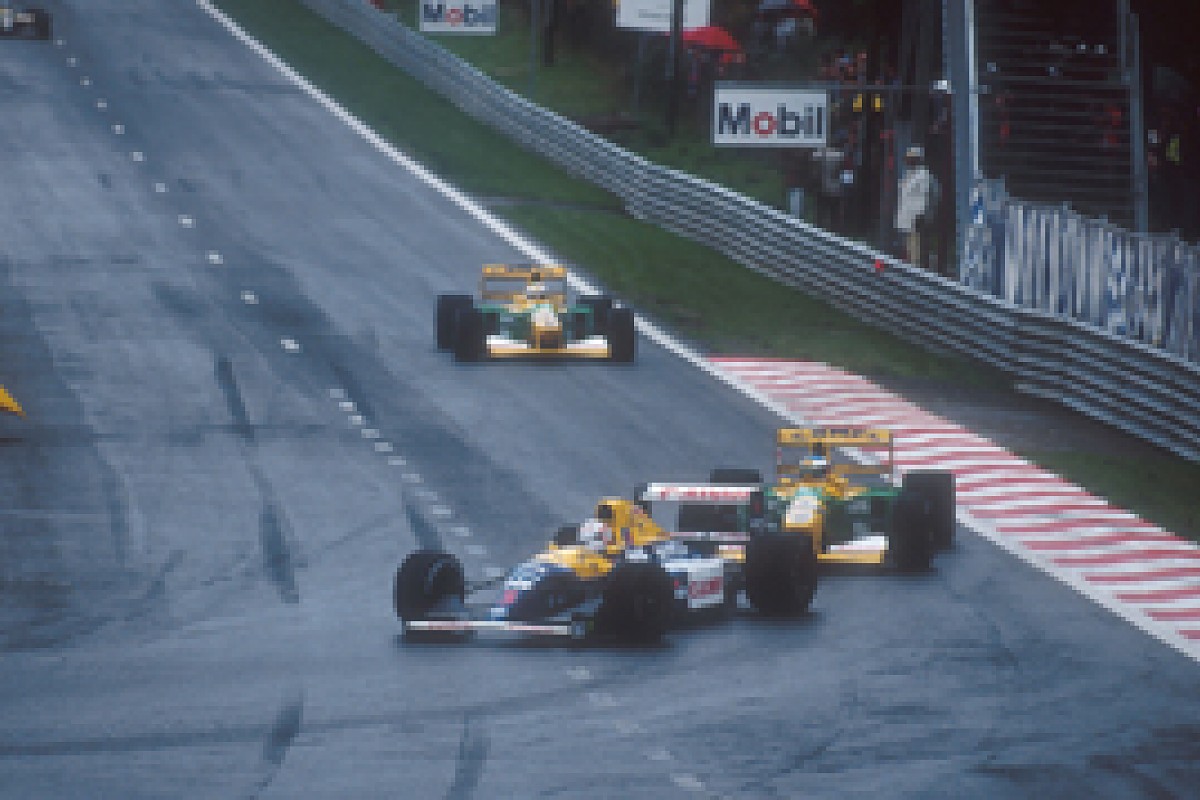 Spa 1992 was one of Brundle's best chances of a grand prix win © LAT
"I felt grip at Les Combes and I felt some more grip here and he went off. So now I'm P3 and the Williams is still there and we're catching them. I'm thinking 'leave it one more lap'.
"Then Michael saw my rear tyres. I was sure he had broken his front wing, because that thing used to hang so low on that car. Then he went in and got the tyres and I thought fuck. It was a smart move by him. He didn't pull any strokes, it's just that as we slowed down for the Bus Stop, he could see my rear tyres worn.
"Because through Blanchimont it was still damp, and I was in P3 and thinking that Michael had broken his front wing, and with the Williams just up the road, I just made that split second decision to do one more lap and try and again."
That would have been his race win. "That and Canada when the diff broke."
Does it still bug him now?
"Nah. You can't change that now can you? I had two chances to win grands prix and it was those two. What it tells you is that I should have got myself more often in a race-winning position."
To get to the inside of Stavelot, you have to walk through a gap in the barriers. The perimeter road ends, with the imaginary sense of safety it provides, and suddenly we are simply the other side of a barrier. I feel instantly exposed.
"This is a little bit like at Suzuka when you feel like you are on the racetrack!" says Brundle. "This is a tough corner. When you hit the throttle there, you know you are not going to lift again until you're braking for Bus Stop. That must be one and a half, two miles."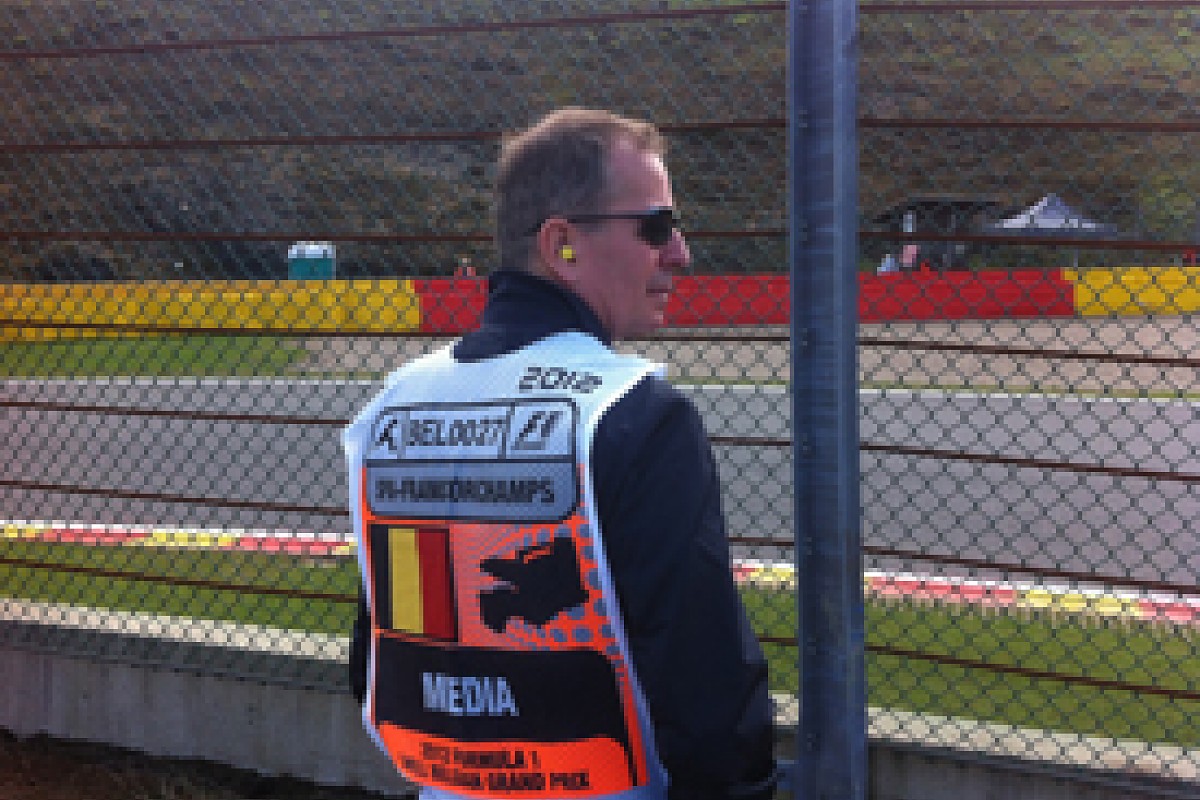 With the right pass, you can get very close to the action at Spa © autosport.com
The view is spectacular. The cars thunder into the right-hander braking down impossibly late and dipping below our view as they reach the lowest point on this part of the circuit.
"I still think this and Les Combes are the two biggest tests on the track to see how they are using the cars.
"Paul Frere [the right-hand corner immediately after Stavelot that leads on to the blast back towards the pits] is flat now. It used to be one of those corners that was flat once or twice a weekend, there was a nasty bump on the way in. It's more of a test in the wet, I don't know if they are flat then."
Now Grosjean sweeps by, his motion emphatic, urgent but smooth. What does Brundle think of him? "I'm really impressed. Those first lap incidents you can dial out, but what you can't dial in is speed."
He observes that Michael Schumacher is on it as the Mercedes charges into the corner, Schumacher's hands and wheel firmly in one position until just after the apex, and then dancing as the rear of the car unloads.
Fernando Alonso and Kimi Raikkonen are through next, both using a more traditional arc, but Brundle is impressed with the Lotus. "The Ferrari has had understeer all year, if you look, every time you go onboard with Alonso... But the Lotus was on the throttle here!" and he points to an area around the apex.
Raikkonen goes P4 with that lap.
"The Lotus is on the throttle ten metres earlier than the Ferrari here. I mean full throttle."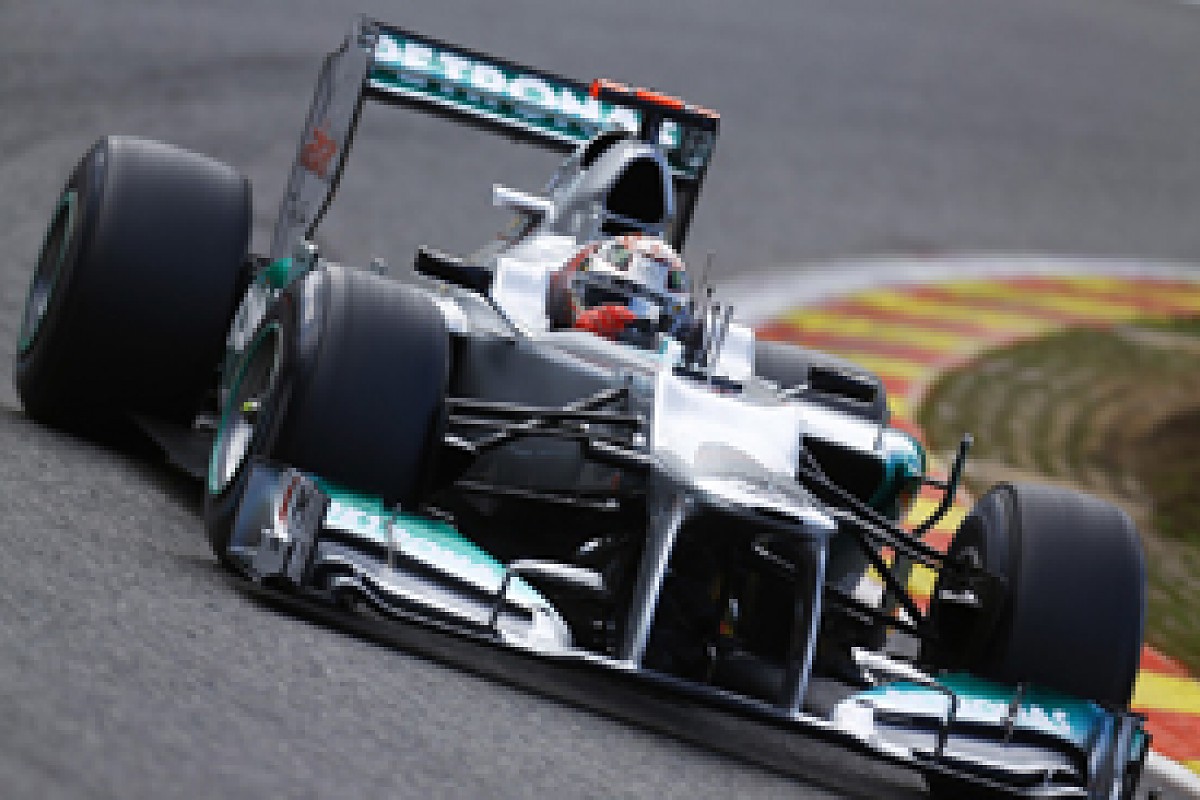 Schumacher was pushing hard on a tough day for Mercedes © LAT
Schumacher comes through again. "Michael hits the limiter between gears. He does that quite a lot. Maybe he is doing it on purpose."
Then Kimi is in view again, jumping on the throttle too early and getting a full load of opposite lock on the exit. "Kimi's chasing it through here isn't he? It's bloody great to watch."
With the session winding to a climax, we decide not to bother finishing at Eau Rouge and stick with Stavelot, where we can really see what's going on.
Sergio Perez's Sauber is the first frontrunner through on mediums in qualifying trim: "That will help the old mechanical grip," says Brundle. The Mexican is fully committed, head down with the slightest of wiggles on the exit. "That was impressive."
Kobyashi was less so but the Saubers go first and second on the times, later to be beaten by Alonso and Raikkonen.
Alonso's best effort features a lairy moment where we are standing and Brundle laughs: "Look at that! I think the Ferrari is carrying a lot less wing. They are both quick, but it isn't through here is it?"
The hour is up and silence falls on the circuit. It's Raikkonen and Perez that stand out for Martin in the sections we've watch from. "Those two were operating in their own class in my opinion."
There is little sign of the speed though that Jenson Button and McLaren would display later in the afternoon.