Red Bull chief technical officer Adrian Newey doubts any one team can emerge as a dominant force after the August F1 break.
The 2012 season is one of the most open in recent years, with five different teams winning races so far. Newey sees no reason for the pattern to change when racing gets underway again in Belgium at the start of September, even though the competitive order has become clearer in recent races.
"It seems very unlikely [that a team will start to dominate]," Newey told AUTOSPORT. "There's always the chance that somebody will get it absolutely right, whether it's by introducing a new idea that the rest of us haven't thought of or just by doing a very good job of evolving their package. But while the pattern has started to establish itself more than it did early in the season, it is still variable."
At various stages in the season, McLaren and Red Bull have been touted as having made a decisive breakthrough. But generally their advantages haven't been sustained, meaning that no team has yet been able to string together two consecutive wins.
Newey believes that this is inevitable given the ever-more restrictive regulations in F1 and the fact that the current rules set, introduced at the start of 2009, is
so mature. This means that the differences between cars are now tiny and gains made by the teams are becoming ever smaller.
Since the new rules came in, loopholes allowing design concepts such as the f-duct, the double diffuser and harnessing exhaust gases to generate downforce have been closed down. Most recently, Red Bull itself was the subject of such a move, with the FIA moving to prevent the use of engine maps designed to boost the amount of downforce produced by the residual exhaust effect that it thought it had prevented. This was in the wake of German Grand Prix stewards ruling that what Red Bull and Renault were doing as legal.
Newey believes that this tendency to close loopholes quickly has reduced the development avenues open to teams.
"Two tenths of a second two years ago might not have caused a grid position change but now it can be worth quite a few," he said. "The field has tightened up a lot, which means that the small changes in performance can make a big difference.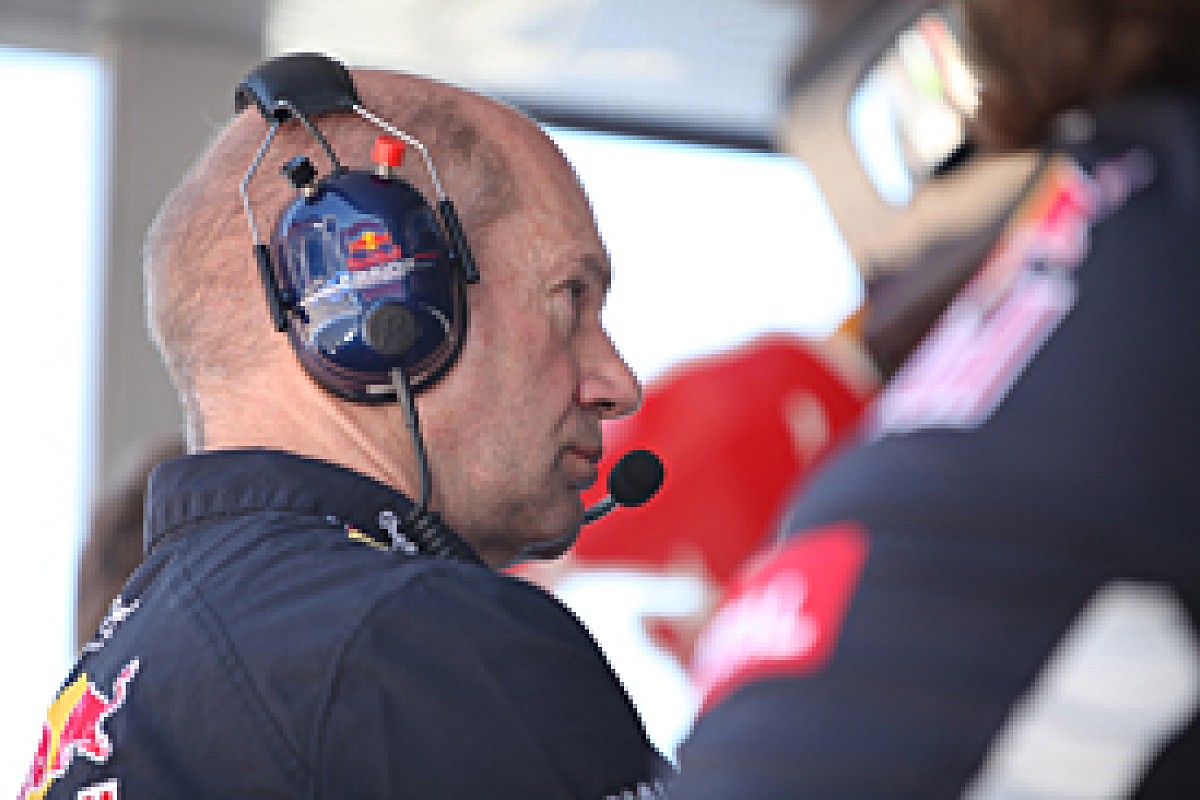 Red Bull tech wizard Adrian Newey © LAT
"That is a product of two things: first of all, year-on-year the regulations tend to become more restrictive so when people have managed to explore loopholes in the original 2009 set of rules, those have been closed. Secondly, everybody has had longer and longer to converge.
"If you look at 2009, there was quite a big difference in the shapes of the cars. If you look now, particularly if you look beyond relatively cosmetic changes like nose shapes and look at the bits that are more performance sensitive, people are converging."
Newey has long been a critic of such restrictive regulations and believes that things will become even worse in 2014 in terms of chassis rules. Since the F1 regulations were first conceived in 1948, the trend has been for them to become ever-more prescriptive, with the current technical-regulations document running to over 30,000 words.
This has played a big part in F1's increasing competitiveness in recent years, with gaps of tenths of a second often covering the top 10. But Newey fears that it has struck at the heart of what made grand prix racing great.
"It is frustrating," he said. "Formula 1 should be a combination of both a drivers' championship and a constructors' championship. That means that on the constructors' side the regulations must be open enough so that the teams can derive benefits from novel ideas or directions.
"If the regulations carry on becoming more and more restrictive, we will end up with GP1."
AUTOSPORT SAYS... F1 Editor Edd Straw's view
Adrian Newey has a point. It is frustrating that Formula 1's regulations are so tight as to stifle the kind of spectacular innovation that makes even the least technically-minded enthusiast excited. But on the flip side of the coin, it's good news that grand prix racing is more competitive than ever and remains (just about) affordable. The question is whether there is a third way.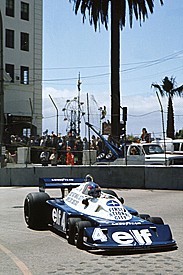 Innovations like six-wheeled Tyrrells are a thing of the past © LAT
Many people will offer easy-answer solutions to that question. But as the F1 teams showed by rapidly clawing back much of the downforce slashed from the cars ahead of the 2009 season, it's difficult to stifle progress. The real question that F1 must answer, and has probably missed a chance to do with the 2014 rules, is exactly what it wants to be.
To free things up without dramatically spreading the field and turning it into an arms race, it would surely have to be within the context of strict cost-cuts or even a budget cap (and it's a moot point whether the latter could work). But the question at the fundamental level is this: just what should F1 be? A level playing field that doesn't load the deck in favour of the best teams, or a pure meritocracy that rewards dramatic innovation? It's a tricky balance.
Allow spending to rise with freer rules and you have a recipe for oblivion. It's going to take some imaginative thinking to get around that to hark back to the days when fan cars, six-wheelers and aerofoils shocked the world.