Scuderia Toro Rosso has effectively written off the 2012 season after a disappointing start that led to technical director Giorgio Ascanelli being sidelined last month.
AUTOSPORT understands that the team is now fully focused on its 2013 car because it has fallen 40 points behind Force India, its nearest rival in the constructors' championship.
Team principal Franz Tost is known to be evaluating new senior personnel, not only to replace Ascanelli, with ex-Sauber technical director James Key a likely recruit, but also to bolster the aerodynamic department.
Tost has refused to comment on Ascanelli being effectively placed on gardening leave, but sources indicate that the team was disappointed by the relative lack of progress on car development.
Ascanelli has regularly talked down expectations of Toro Rosso, last year telling AUTOSPORT that "when a man with a rifle meets a man with a pistol, the man with the pistol is a dead man" as an illustration of its place in the F1 arms race. But team owner Dietrich Mateschitz is known to be dissatisfied with progress, particularly after investing in work to expand the team's facilities.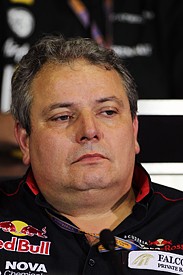 Ascanelli left after the British Grand Prix © XPB
The aerodynamic department has been targeted as an area that must be strengthened. Ascanelli himself cited a lack of design ideas as one of the reasons that STR was unable to get the most out of what resources it did have. This process inevitably means that 2012 is a write-off. In May, Tost told AUTOSPORT that the upgrade of its Faenza factory would be completed in time to influence its 2013 car, and the recent tech shake-up appears to be motivated by a desire to capitalise on that.
Nicolo Petrucci remains at the team as head of aero, but further recruitment is expected to boost their efforts and add new ideas to the design process.
"There is a chance that there is going to be a bit of a change and obviously Giorgio's role is a big one," driver Daniel Ricciardo told AUTOSPORT in Hungary.
"I haven't been told anything 100 per cent but if there is going to be a change, there are going to be some boots to fill."
Ascanelli's departure, which happened in the aftermath of a turbulent British Grand Prix weekend, is a risky move. The Italian is extremely effective at getting the best out of both a team and its machinery, making him the ideal technical director during the era when Toro Rosso ran Red Bull machinery. But as he is neither an aerodynamic specialist nor the Adrian Newey-type figure that some teams crave.
Recruiting Key appears to be something of a like-for-like replacement, although it is a logical move. Key is rightly very well regarded and played a decisive role in Sauber's improved performance over the past three seasons, though he also comes from an engineering rather than an aero background. But what he does have is a proven track record of getting the best out of the Sauber aero department while technical director.
If the aero team at STR is strengthened, it could create the foundations needed for the team to regain some of the momentum it had last year. Key may not be able to start until September, though, by which time work on the 2013 car ought to be well advanced.
As it is, the ex-Minardi team must now complete the season with a car that has generally been at the back of the midfield.
"Realistically, probably yes," said Ricciardo of whether the team is now relying on attrition to score points. "This is probably where we are for now."