Has any driver in Formula 1 history gone from zero to hero to zero as quickly as Pastor Maldonado? Since that incredible Spanish Grand Prix victory on May 13, he hasn't scored a point in six races and has built up an alarming rap sheet. After a clash with Sergio Perez in last month's British Grand Prix, which led to Maldonado being fined, the Mexican used phrases such as "idiot", "no respect" and "dangerous" to describe the Venezuelan.
Perez isn't the only one to use such terminology, and even Maldonado's day of days has been written off in some quarters as some outrageous piece of good fortune. But to do that is to miss the point. Maldonado's drive in Spain was exquisite, showing off the streak of brilliance in his driving.
Unfortunately for those who would side with Perez, to brand Maldonado merely as an idiot would be to grossly oversimplify things. You don't drive like he did in Barcelona without having some very serious ability. Sadly, the Saturday morning clash with the Sauber driver in Monaco that led to the Williams man being given a grid penalty, and which can only be interpreted as a particularly crass mistake or a manic moment of red mist, meant that the best and worst of Maldonado shone through in the space of a few days.
But while he is not the most popular driver among his rivals on the grid, his off-track persona is far from the wild and aggressive character that you might expect. Even when being grilled yet again about another clash, he is softly-spoken, patient and refuses to go on the attack.
"It's difficult to say much about my reputation, but I don't care about what people are saying," says Maldonado. "I care only about me and my team and I have only one mission here, which is to put Williams at the top.
"I have been involved in some accidents in the past couple of races and we need to learn from the mistakes - it's clear that I need to stay away from that. I'm having a difficult moment that everyone has in their career."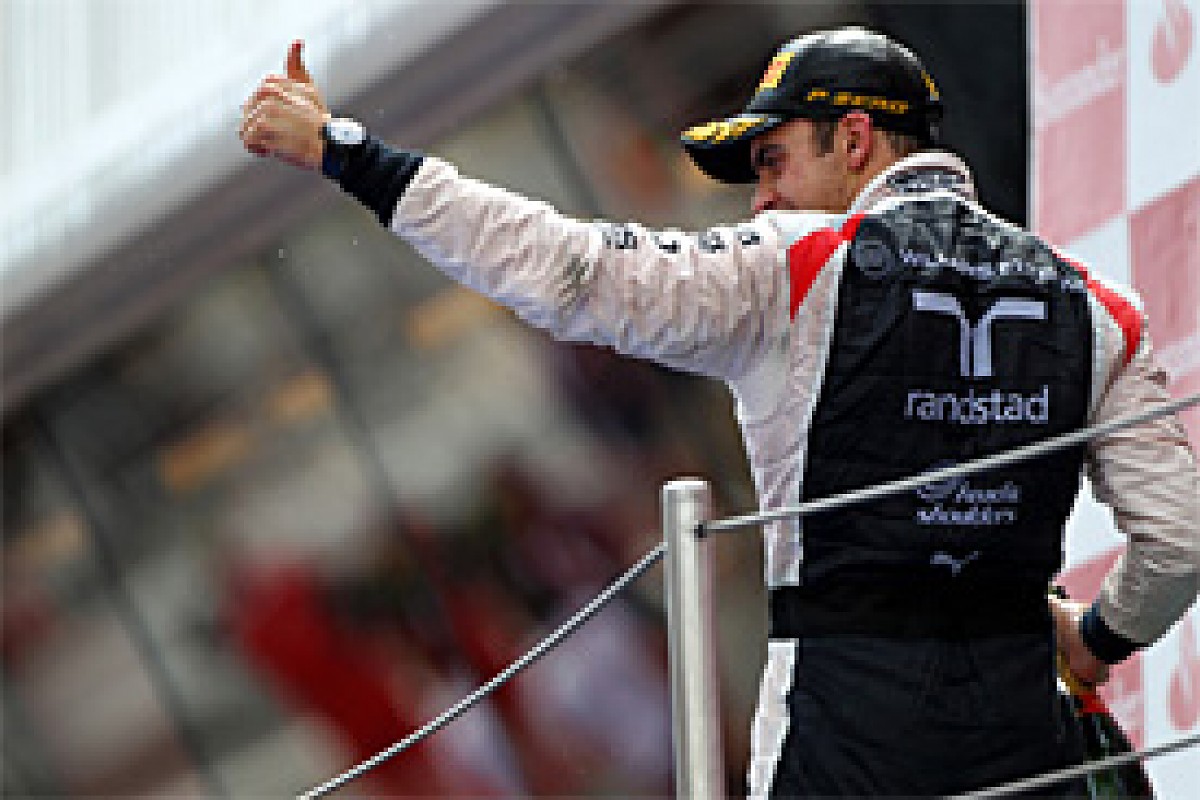 On top of the world in Barcelona © LAT
The line about learning from mistakes is one that he has produced several times in recent races, but it's difficult to escape the conclusion that he would benefit from leaving a little margin when in the thick of battle. After being punished by the stewards for hitting Lewis Hamilton in Valencia and then Perez at Silverstone, it was no surprise to see Maldonado given a drive-through penalty for forcing Paul di Resta off the track in Hungary, a move that, chances are, most without his prior record would have got away with. Certainly, he was baffled by the decision and feels that he is now a marked man in the stewards' office to the point where he can't get away with legitimate racing accidents.
"It feels like these penalties are only coming to me," he says. "We need to try to keep away from other drivers. I think I need to race alone! That would be better."
While you wouldn't blame the team for being frustrated by Maldonado, the general feeling is that Williams has on its hands a seriously fast racing driver. Overall, he has been one of the outstanding performers of the season on a Saturday afternoon, with an uncanny knack for pulling a stunningly fast lap out of the car even after a quiet run throughout practice.
Chief operations engineer Mark Gillan, the man who ultimately needs to help his driver get onto the straight and narrow, prefers to highlight Maldonado's pace.
"I really like Pastor as a driver," says Gillan. "He's quick, he's got raw talent and a fantastic ability to manage the car and do things that show a very high level of skill. He's also very mentally robust. If he makes a mistake, he will reset himself very quickly so it doesn't trouble him.
"When we look back at what has happened this season, he has had quite a lot of very unfortunate incidents. Germany was a case in point as he ran over some debris and damaged the car [while on course for a solid points finish]. And you've got to remember that he's still relatively inexperienced. If I look at where he was when I joined in September last year to where he is now, it's night and day."
The point about the way that 27-year-old Maldonado is able to manage the car, specifically the tyres, is a fascinating one. In a season when even noted 'technical' drivers such as Jenson Button have struggled to get on top of the Pirellis, Maldonado hasn't. That isn't down to luck.
Xevi Pujolar, Maldonado's race engineer for the past season and a half, has a high regard for the way that his charge works through a race weekend. He believes that the mishaps are simply a consequence of a potential champion's will to win.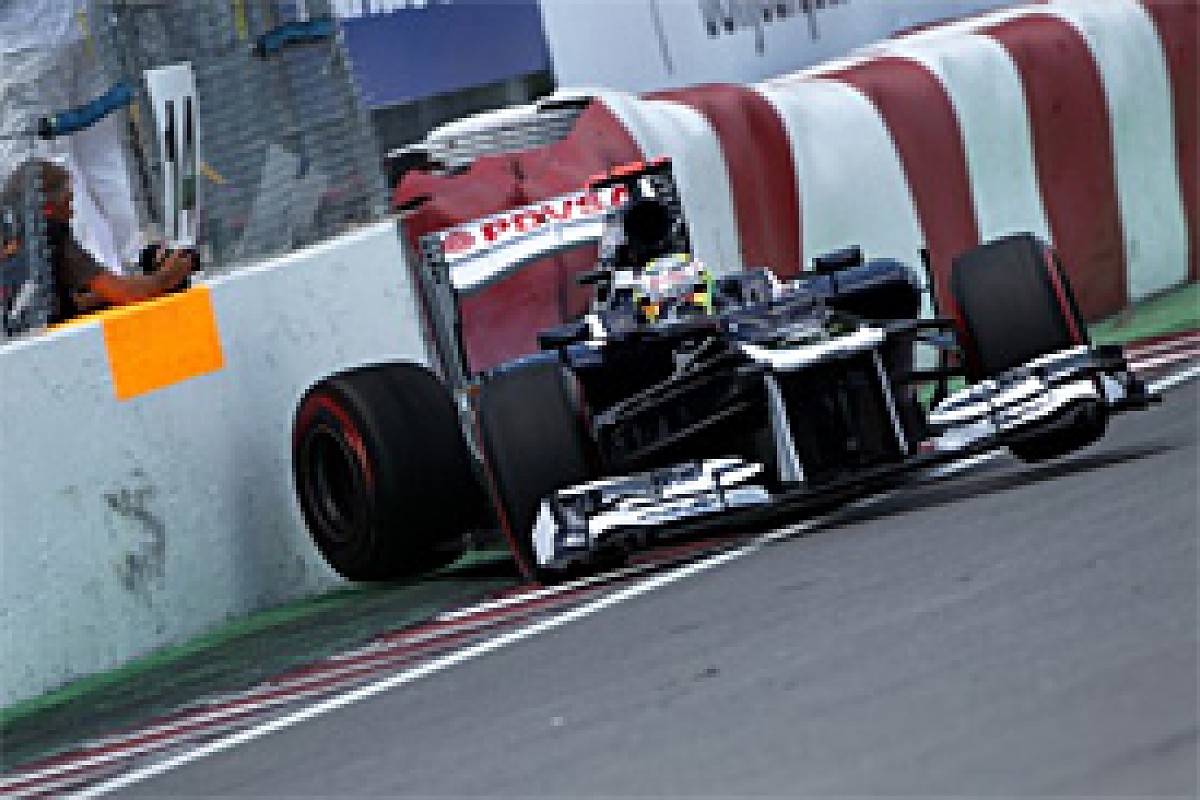 Since his win, Maldonado has not scored a point © LAT
"During free practice, he doesn't give 100 per cent," says Pujolar. "He is seeing what works and doesn't work and we know that, if we put everything together, he'll get the lap. He's a very intelligent driver. He is a champion and wants to win. Maybe like these types of guys, if he doesn't have the equipment to be at the front he tries to make the difference, even if this isn't possible. But it's his second season and he has come a long way. What he did in Barcelona - his tyre management - and what he does in qualifying shows that he definitely understands the car.
"People make much more of that [the incidents] than it really is. These guys are racing and you can't have racing where everything is clean and perfect. If you go over the limit, sometimes it will be a bit too much. But if you don't go with that approach, why compete? We're not here to be 15th. If you look at the world champions out there, at the beginning of their careers they pushed hard, they had crashes and look at where they are now. Pastor will be another of these examples."
This is not merely a close ally of Maldonado pleading his case. The fact is that if he can harness that speed and consistently achieve Barcelona-like levels, then he will genuinely have the quality to push for championships. But that's a huge 'if'.
The first task will be to add to the 29 points (that Spain win plus an eighth place in China) after the August break. Maldonado is under no illusions that he has to start putting together the results, particularly with Williams languishing in seventh in the constructors' championship with an FW34 that should be in the mix for the top five. If he can do that, it won't be long before his run of blunders is forgotten. The ball is in Maldonado's court on that one.
"In this world, when you make a mistake everybody is looking at you, and when you win it's the same," says Maldonado. "Last year it was the same, as I had Rubens Barrichello as a team-mate, no experience and we had a really bad car. I suffered a lot, but I learned a lot. The problems I have had this season are completely different to the ones I had last season. I've had a spell of bad luck. Bad races aren't good for any driver, but I need to be focused on the second half of the season. We need more points."
He's hit the nail on the head. The question is, will he learn? His three clashes in the past four races have all resulted from fundamentally the same error, having to correct the car while alongside a rival, and a good start would probably be to leave a bigger margin for the next few events to get him out of this destructive cycle.
Maldonado says that he doesn't need to do this, but then again he would, wouldn't he? You may want to write him off as an idiot, but a true idiot would be the one who sends smoke signals to his rivals that he's going to be soft in battle for a while - better, instead, to go through this process quietly. How he responds to his new-found villain status will dictate how much of his potential he will realise.