Red Bull chief technical officer Adrian Newey believes that it is natural for Formula 1 teams to push the boundaries of the rules, even if it goes outside the so-called spirit of the regulations.
The spirit of the regulations is often cited by teams objecting to concepts such as the double diffuser, f-duct and double DRS, which have been pioneered in recent seasons. But the reality is that every single team on the grid has design features that could be characterised as being against the intention of the rules.
Red Bull has been under fire recently for the engine mapping it used in Germany, which led to a rules clarification being issued. But Newey insists that as long as the FIA is consistent in its treatment of ideas in the grey areas it is no problem to probe the boundaries of the rules.
"It's extremely difficult, if not impossible, to come up with regulations that don't contain a degree of interpretation," Newey told AUTOSPORT. "It is down to the teams to try and exploit that. If there is an interpretation to be made and it's justifiable, then that's par for the course.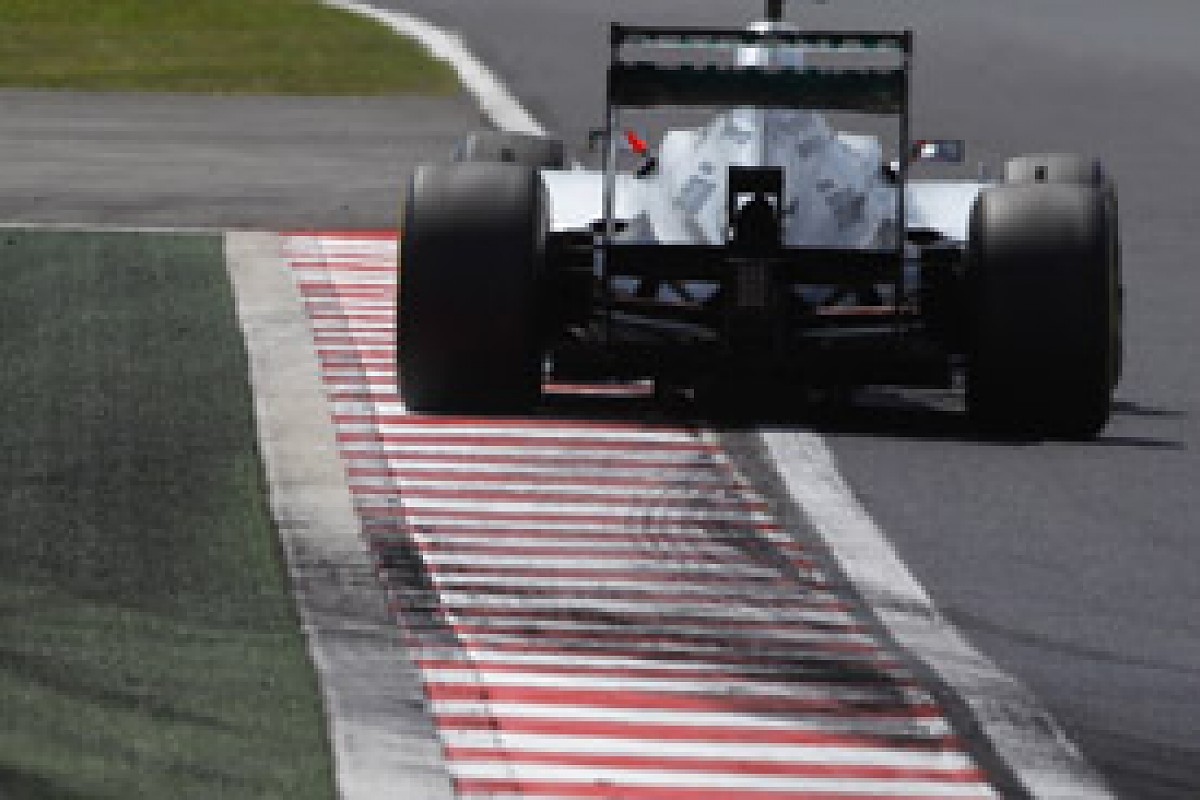 Mercedes's controversial double DRS is to be banned for 2013 © LAT
"What is important is that teams are treated fairly and equally when they come up with things that are in the grey area. For example, the double DRS is in the grey area but has been deemed legal [until the end of the season], which is fine. As long as everything is consistent, then that is the nature of it."
Protests based upon the 'spirit' rarely succeed since it is the wording of the regulations that is decisive. Sauber CEO Monisha Kaltenborn, who comes from a legal background, believes that such a concept has no place in the rules.
"Where do we go hunting spirits?" she said. "That's a hunt which will not get you far. In continental law, you would say that the spirit is always one of the weakest forms of interpretation. Hunting spirits is too vague a thing to do."
McLaren team principal Martin Whitmarsh's designers came up with the f-duct concept two seasons ago and successfully argued its legality despite the intention of the rule to outlaw driver-influenced aero. He believes that the spirit of the rules is relevant even though it's impossible to frame watertight regulations.
When asked if there is such a thing as the spirit of the regulations, Whitmarsh told AUTOSPORT: "Yes, there is. The goal should be to write and agree and operate within unambiguous, clear regulations that give a framework to compete. But you are never going to achieve that because the rules are complex and are subject to some interpretation.
You've just got to say that when you are interpreting a regulation it is normal practice to think what the spirit of the regulation is." Williams chief operations engineer Mark Gillan believes that by and large the regulations are self-policing thanks to regular FIA technical working group meetings.
He thinks that, by definition, any rule that requires the concept of the spirit to be interpreted properly needs to be modified.
Red Bull is always in the spotlight when it comes to controversy with technical innovation © LAT
"We work to the letter of the regulation," said Gillan. "The name of the game is to keep pushing and to try and find performance. The FIA will react accordingly.
"If you have to rely on the spirit, then the regulation needs a bit of tightening. All of the teams collectively have a responsibility as well to ensure that the regulations are clear. We discuss them every couple of months and with the FIA as well. If there are clear areas where teams are exploiting then they will be discussed. That process happens all of the time and works pretty well."
60 seconds with Lotus technical director James Allison on the spirit of the regulations
Q. What is the spirit of the regulations?
James Allison: It would be wrong to say that there is no such thing as the spirit of the regulations because Charlie [Whiting, FIA technical delegate] will often use it when clarifying a regulation. If a rule is ambiguous because we didn't draft it correctly then the teams can exploit that ambiguity for a period. But the original intent will win out in the end.
Q. Do you check such ideas with the FIA in advance?
JA: If they are doing something particularly new, most teams will run it past Charlie beforehand because it's too brave not to. If Charlie doesn't like what they are doing, he will use the original intent to clarify to them that it's not what it means even if you could read the rule that way. So the spirit of the regulations is upheld by reference to the original intent not just on a few occasions, but on very many occasions.
Q. What does that process mean for a technical director's approach?
James Allison © LAT
JA: When you are trying to work out what to do for best advantage to the team, you are completely disregarding the original intent and trying to see the words for what possibilities they offer. It's completely disassociated from how they are written. It's often a disadvantage to have been involved with drafting a rule because you're too caught up in what it's supposed to say to see what it actually says.
Most useful exploitations in this team [Lotus] of what the rules actually say don't come from people like me who are sometimes involved in forming them, they come from people who are presented with the rules just as words and attack them.
That's certainly my team's approach to it and I think if you were to ask most teams up and down the pitlane they would give you the same answer.
Q. So it's a case of balancing up the gains for however long you can run such ideas before they are clarified?
JA: Yes.
To continue reading this feature, subscribe to Autosport Plus today.
Expert opinion. Technical insight. Unbeatable analysis. Subscribe today for unlimited access to the world's best motorsport journalism.
Get unlimited access now
No more monthly limits. Get complete access to all our news and Autosport Plus features.
Subscribe to Autosport Plus
Completely ad-free environment.
Access Autosport Plus - the best motorsport analysis, insight and opinion.
No monthly news limit.
Explore Forix, the world's most comprehensive motorsport stats database.