So was the Hungarian Grand Prix boring? Some people, perhaps disappointed by the lack of overtaking moves, seem to think so. With or without DRS, the circuit has had that characteristic for over a quarter of a century now, so it hardly came as a surprise.
In fact Budapest was a truly fascinating race, with the tension barely relenting throughout the afternoon. Consider that after 69 laps of racing the gap between winner and runner-up was exactly a second, and that for most of the afternoon, it rarely ventured much above double that, with two different drivers taking their turns to pressure the leader.
And while it may have involved one car coming out of the pits rather than a straight fight on the track, the battle between the two Lotus drivers for the right to chase Lewis Hamilton to the flag was as good as motor racing gets. It was aggressive but clean, with the fact that the two guys involved were team-mates adding a little extra frisson to proceedings.
Above all to call the race boring does a disservice to the McLaren team and especially to Lewis Hamilton, who didn't put a foot wrong all afternoon. We may associate Lewis with spectacular moves or charging recovery drivers, but on this occasion he had to grind out 69 precise and tidy laps while never being able to relax for a minute.
Grosjean scored his first front row start in Hungary © XPB
Yet again we saw the benefits of starting from pole in 2012 as Lewis defeated a car that was ultimately quicker. And yet at the same time we saw a guy who was only sixth as late as lap 15 ultimately finish second, showing that anything is possible.
We've been saying all year that if Lotus could qualify better, the black and gold cars had the potential to win. In Hungary Romain Grosjean finally made it onto the front row, although Kimi Raikkonen had a difficult time and had to settle for fifth.
Second was great, but while elsewhere there would have been a serious chance of converting that into a win, Grosjean's options were limited by the nature of the track. This time he really needed to be on pole, but Lewis was in a class of his own.
"On Hamilton's qualifying form it was always going to be impossible," says Lotus director of trackside operations Alan Permane. "On his race form, at a circuit we can overtake at, then yeah, it would have been no problem. Lewis was unbelievable in qualifying, and we couldn't get close to him. Romain did a pretty much perfect lap, and was four-tenths off him. Kimi, who had a bit of a scrap in qualifying, was fifth, so there was no way to get them in qualifying. And if you're not in front in qualifying, it's very difficult."
On Saturday afternoon Lewis expressed his concern about the start, but aside from a bit of a lock-up under braking into Turn 1, he got it just right. Meanwhile Grosjean too managed to avoid the sort of dramas he has unfortunately tended to get wrapped up in.
In fact it was Raikkonen who had problems, a lack of KERS leaving him unable to defend himself from Fernando Alonso on the run down to Turn 1, which dropped him back to sixth.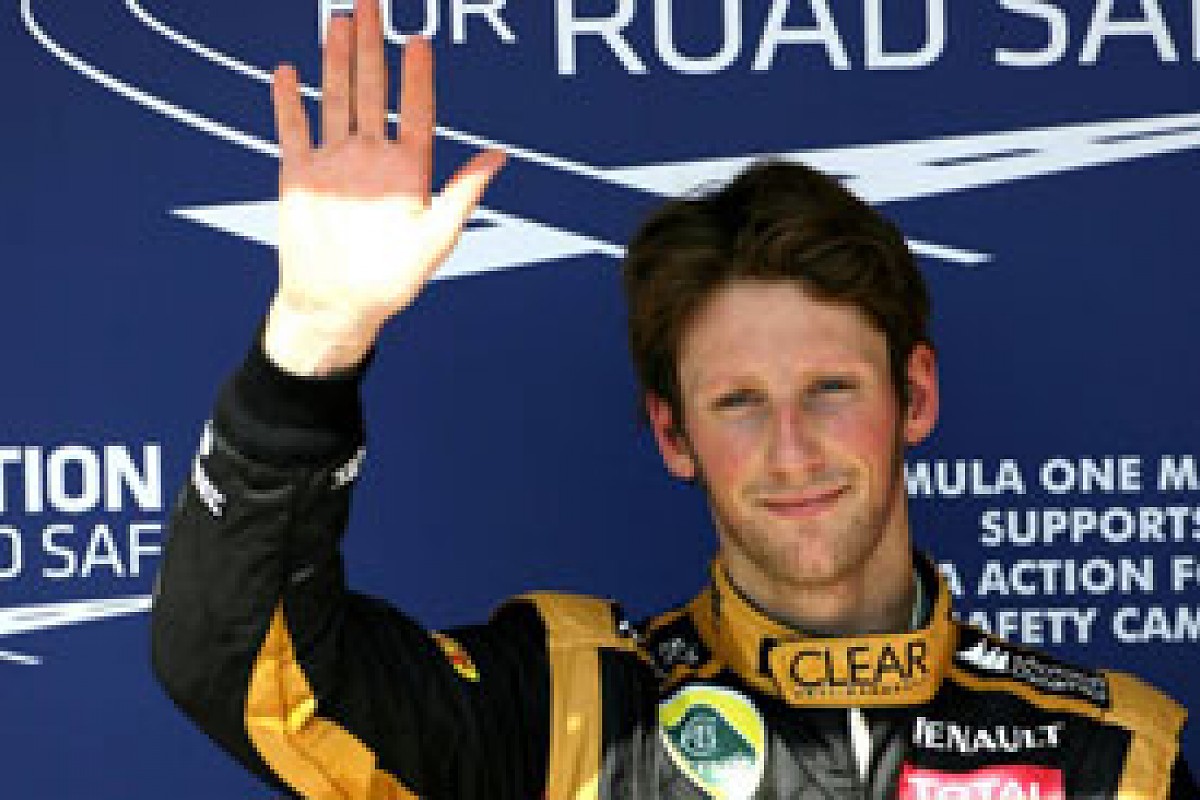 Raikkonen has problems with his KERS in the opening stages © XPB
"We had some problems on the double formation laps," Permane explains. "Basically we lost charge in the battery, and temperatures were going a bit haywire, it was very hot - due to the two starts and things like that. We were really focused on keeping the engine temperatures and stuff under control, and the KERS kind of ran away from us and he lost the use of it. But after a few laps it was back under control."
Meanwhile Grosjean spent the first stint shadowing Hamilton, who got out of DRS range, but could extend his advantage no further. Romain held it at around 2s.
"Ultimately he was quicker than Lewis, honestly. He got very close towards the middle to end of that stint. I think he went off and got a load of marbles, and for two or three laps he dropped back, and then pulled back up again. But you can't overtake anyway."
McLaren has had excellent pitstops lately, but when Hamilton came in on lap 18 the team had an equipment glitch at just the wrong moment, and he lost some vital time - not enough to offer Grosjean a clear chance to jump him, but sufficient to put some pressure on Lewis as he embarked on his out-lap.
However when Grosjean came in just a lap later, Lotus too had a problem at an inopportune moment.
"I don't think he would have been close enough anyway," says Permane. "But then we had a failure with one of our wheel gun indicators. The system that tells the rear jack man that the tyres are done had failed, so the car sat in the air at the rear with both tyres done before the guy realised. If he doesn't get a light then he checks that they are both safe, and then lets it go. It was unfortunate, but we swapped the gun for the next stop."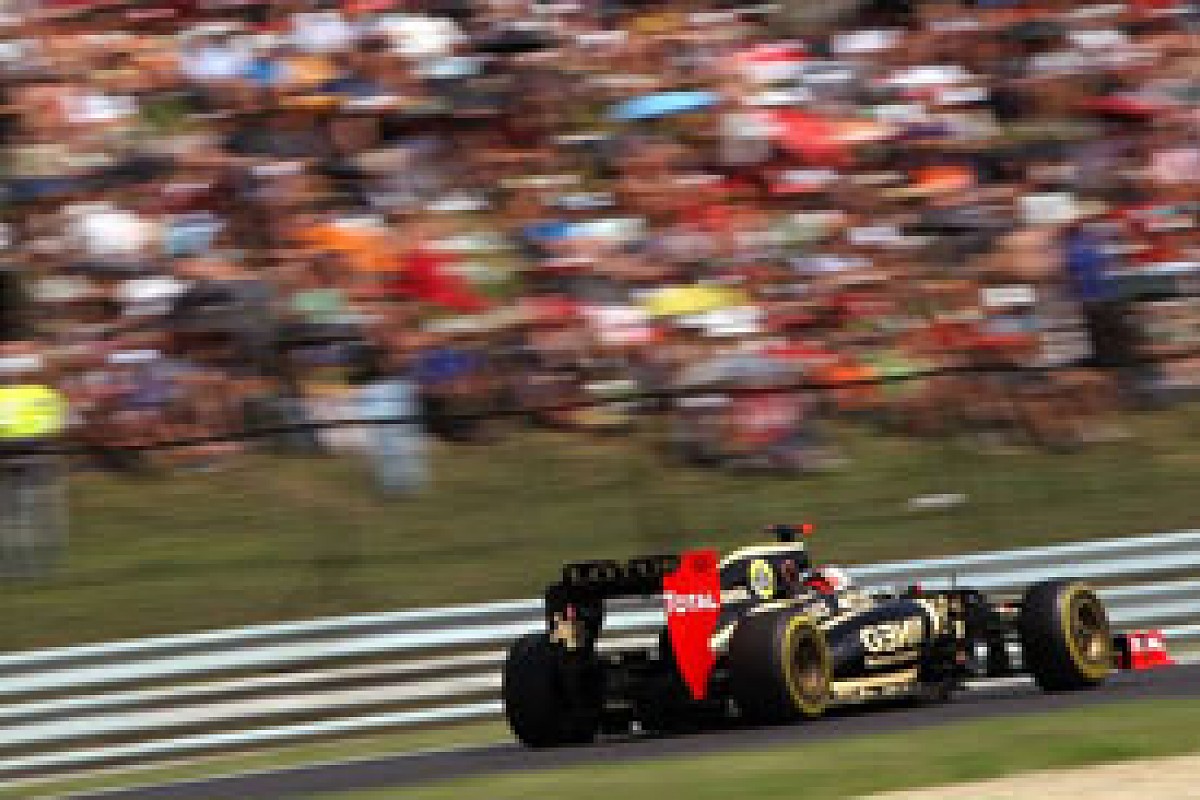 Hamilton opted for fresh prime rubber for his second stint © XPB
The middle stints brought an interesting strategy twist. Grosjean went for used soft tyres, while Hamilton had new primes, so they had different agendas in that part of the race.
Meanwhile by running three laps longer than Alonso in clean air, Raikkonen got himself ahead of the Ferrari to claim fifth place. He too went to softs, Lotus having intended all along to use them for the opening two stints.
"For us it was a very easy decision, the softs, and they were clearly quicker. Maybe some teams couldn't have done option-option-prime, because you had to do a reasonable stint on the middle set of options. The degradation was a bit more than the prime, but it was still quite low. We'd made that decision before the race, that's what we're going to do, and we confirmed it in the first stint with the low deg on the option."
Grosjean continued to track Hamilton through that middle stint, but the real story was developing behind him. Raikkonen had some good speed, and by extending his stint, he opened up some interesting possibilities. Jenson Button dropped out of the picture after his second stop, so Kimi was now fourth and looking at a very real chance of jumping both Sebastian Vettel and his team-mate at the second stops.
"We were comfortably tracking Hamilton with Romain," says Permane. "Vettel was a reasonable step behind, but he had caught up a little bit, then he stopped. At that point we felt we had to cover him with Romain. So we did that, and came out in front of him. Then the pair of them hit a few backmarkers and stuff like that.
"And at the same time Kimi had been conserving his tyres all the stint. In fact at the start of the stint we were a little bit concerned, he was actually going quite slowly, and he said, 'Don't worry, I'm going to save my tyres.' So we left him to it. Then all of a sudden he starts going purple, purple, purple every lap."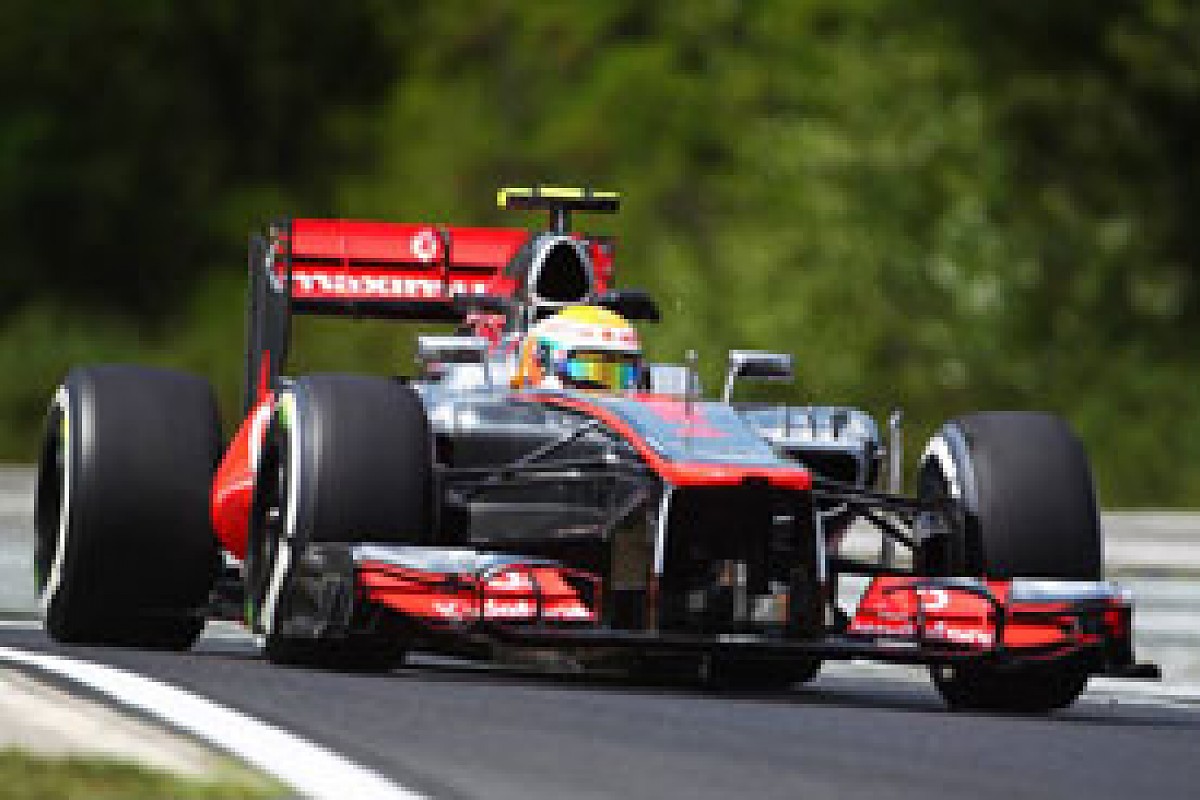 Timing Kimi's second stop was not easy, and he finally came in on lap 45, six laps after Grosjean.
"It was very difficult - Vettel and Romain were neck and neck, and it was very difficult to put him out between the two of them. So we basically did the best job for the team. There was a point when we thought he was going quick enough to overtake Hamilton, but as his laptimes sort of tailed off, Hamilton's primes came in, and they were doing equal laptimes. So we brought him in and he came out in front of Romain and that was that."
It was a moment of high drama. As we heard later on the delayed team radio transmissions, both drivers were told by their engineers that they were racing, and were encouraged to push on and race each other.
"They were exhorting their drivers to get on with it!," says Lotus technical director James Allison. "It's nice that we're prepared to do that."
As he exited his stop Kimi made his life difficult by staying on the pitlane limiter button for longer than he should have, so when he reached Turn 1, he had to use all his racing savvy to keep Grosjean behind. It looked a little marginal, but the team loved it...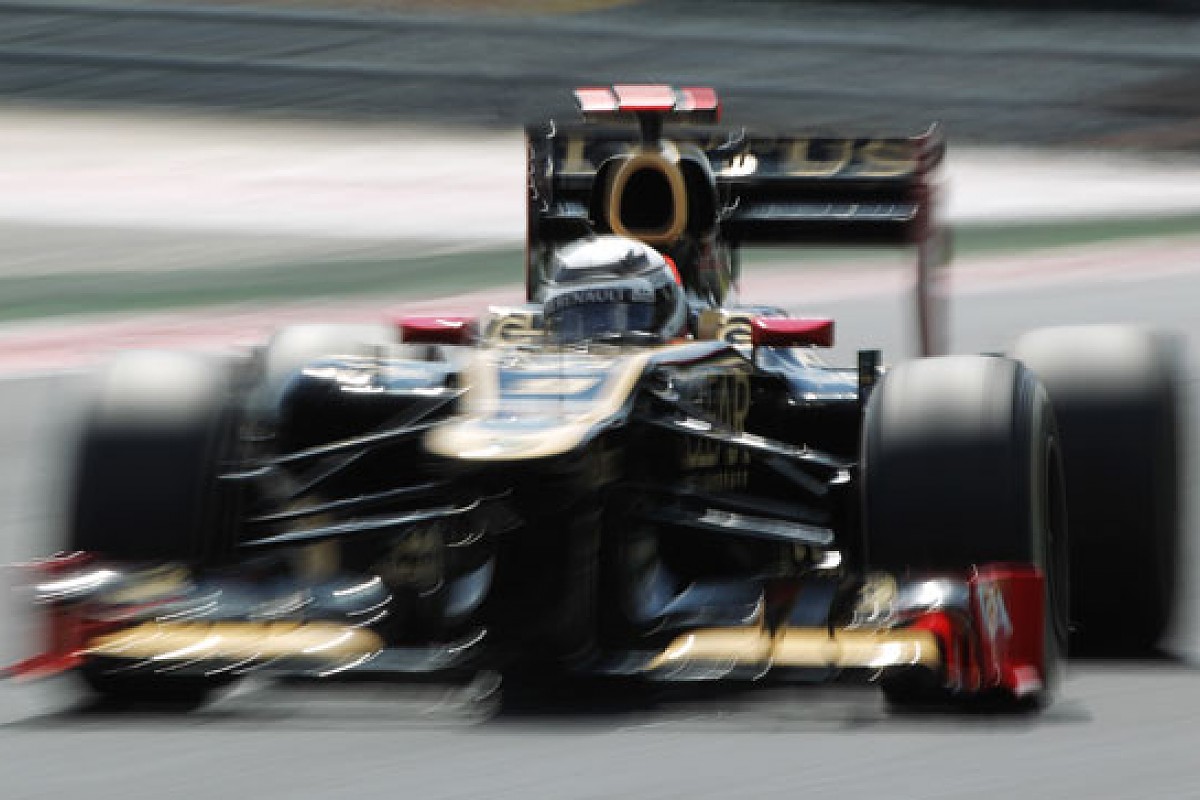 Grosjean and Raikkonen went wheel to wheel as the latter exited the pits © XPB
"We've told them always, unless one is significantly quicker, or unless one is on a completely different strategy, you're racing," says Permane. "There aren't really any team orders. Of course, if you've got a guy who's qualified at the back, and another guy comes out from his first pitstop behind him, that's just normal and sensible.
"But when they're like that and they're racing, as long as they race fairly and they're not holding each other up and losing time to other people, they can race. It was nice, it was good clean racing. They were close, and I think they even touched."
When Hamilton looked in his mirrors he could still see black and gold, but the helmet colour was different. This was like a cycling pursuit race as the team-mates took turns to hassle the leader, and now it was Raikkonen's opportunity to see if he could do anything about Lewis.
What was pretty obvious - and Kimi himself confirmed it to the world by radio - was that he was relying on Hamilton's tyres going off to give him an opening.
Lewis was on new primes as of lap 40 - Kimi had pitted on lap 45, but for used primes. Thus the difference in tyre life wasn't the five laps it may have appeared to be. McLaren had some good info from the middle stint, Lewis having run 22 laps. Now he was asking his second set of primes to do 29, but with a lighter car and more rubber on the track. It would take a dramatic drop-off to create a chance for Kimi, but both teams knew that it was unlikely.
"The only way he could have done it was if Hamilton's tyres had gone off," says Permane. "To have a 50 per cent chance of overtaking here you need to be two seconds quicker. That's what simulations say on the DRS.
"We wanted to push him in case his tyres went off, and we did. But even if you push someone, they've only got to drive the last two corners quickly, and down the straight, and you're not going to overtake them. It's like Monaco.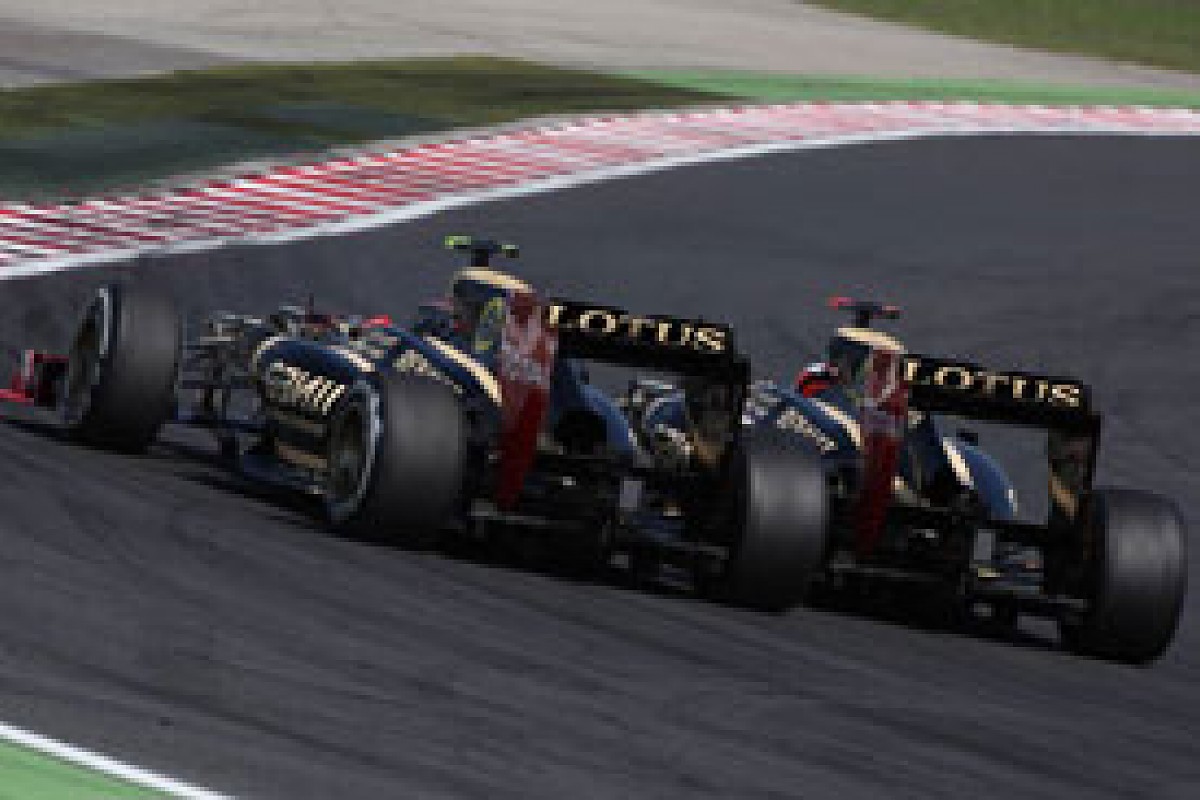 Alonso initially jumped Raikkonen at the start... © XPB
"Kimi drove an awesome race. He didn't do the perfect qualifying, he had a problem at the start with his KERS, so he lost the place to Alonso, and from then on he drove a perfect race."
Raikkonen has been criticised at times this year, but he certainly answered the critics.
"Brilliant, wasn't he?" says Allison. "Romain drove a very fine race as well, but the way at the end of that second stint the backmarkers started to affect the lead runners played right into the hands of Kimi. Nevertheless he really stuck it down everyone's throats when it counted."
Meanwhile in the closing laps Grosjean's focus turned from the car in front to his mirrors after Vettel switched to three stops and gave himself fresh rubber for a short final stint. It was a clever piece of strategy from Red Bull, as his advantage over fifth-placed Alonso was such that he could make the extra stop and retain his fourth place.
It was worth a punt, and had re-caught Grosjean by the flag, but getting past was another story.
"Vettel did a smart thing, he had a free pitstop basically where he could stop and not lose a place, and maybe he would have made up enough and be able to attack him. But it didn't happen.
"I don't think Vettel was ever a threat, although he looked ever so quick. Romain dropped back because he went through a huge amount of backmarkers, and we knew Vettel had to make his way through them as well. We weren't worried at all at any point."
Second and third was another great result for the team, one that generated a huge helping of points in the constructors' table. However, the maiden 2012 victory continues to escape Lotus.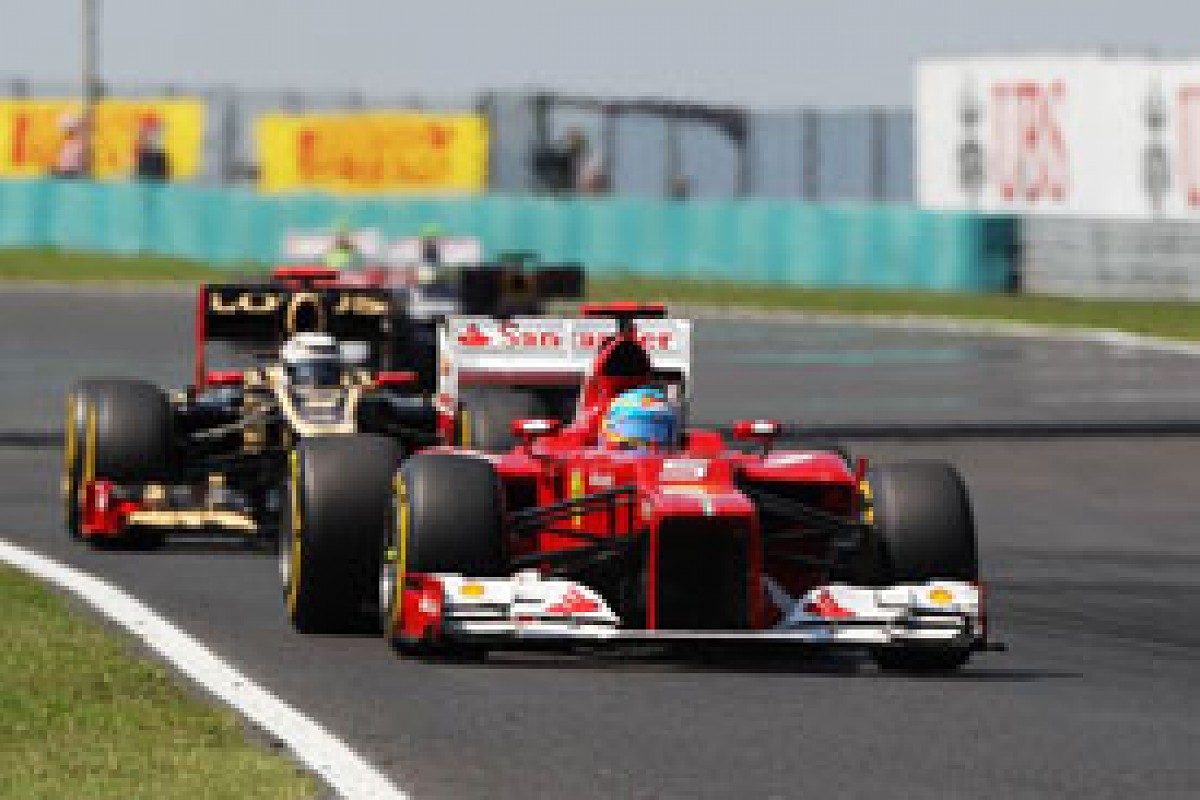 ...but the Finn fought back and beat Romain Grosjean to the second step of the podium © XPB
"The win appears to be a bit elusive," says Permane, "but I've said it before, if we finish second and third for the rest of the season, I'll be very happy to win both championships without winning a race.
"What has hurt us in the last couple of races is the rain in qualifying, and we really do seem to struggle with heavy rain. In normal rain - Hockenheim on Friday afternoon we were fine, we were very quick. When it gets very heavy we do seem to struggle. We were quick there and we were quick at Silverstone in the race, so we can't keep having those sorts of conditions."
Allison is equally relaxed about the lack of a win, knowing that on this particular track, it was always going to be a big ask to get by Hamilton.
"If you don't get past someone at the start you struggle to get past them on the track," he says. "Although having said that Kimi went from sixth to second, and that's not bad! The win does continue to elude us, but it won't for much longer. We've been pretty fierce for some while now, and it's just a matter of time. So we're pretty happy."
A lot of people suggested that a tight track and hot weather would suit Lotus down to the ground, but the car has been fast everywhere recently, although the wet qualifying sessions have tended to disguise that.
"Look at the competitiveness of the car in all the races for a long time back," Allison points out. "There's nothing special about Hungary. It's just quite a good car and driver combo, that's all."
"I don't think going anywhere scares us," adds Permane. "Hungary is as different to Silverstone as you can get. We had first and second fastest laps in the race in Silverstone, and we were quick in Hungary. So anywhere we go, we can be confident.
"I'm not sure if the heat benefits us, or hurts other people, although I guess that's the same thing! Everyone loses a bit when it gets very hot like that, but maybe it hurts us less than other people. The only time we may have struggled was in China, where we saw those quite cool temperatures. We know far more about the tyres now than we did then, so I'd even be confident if we went somewhere very cold."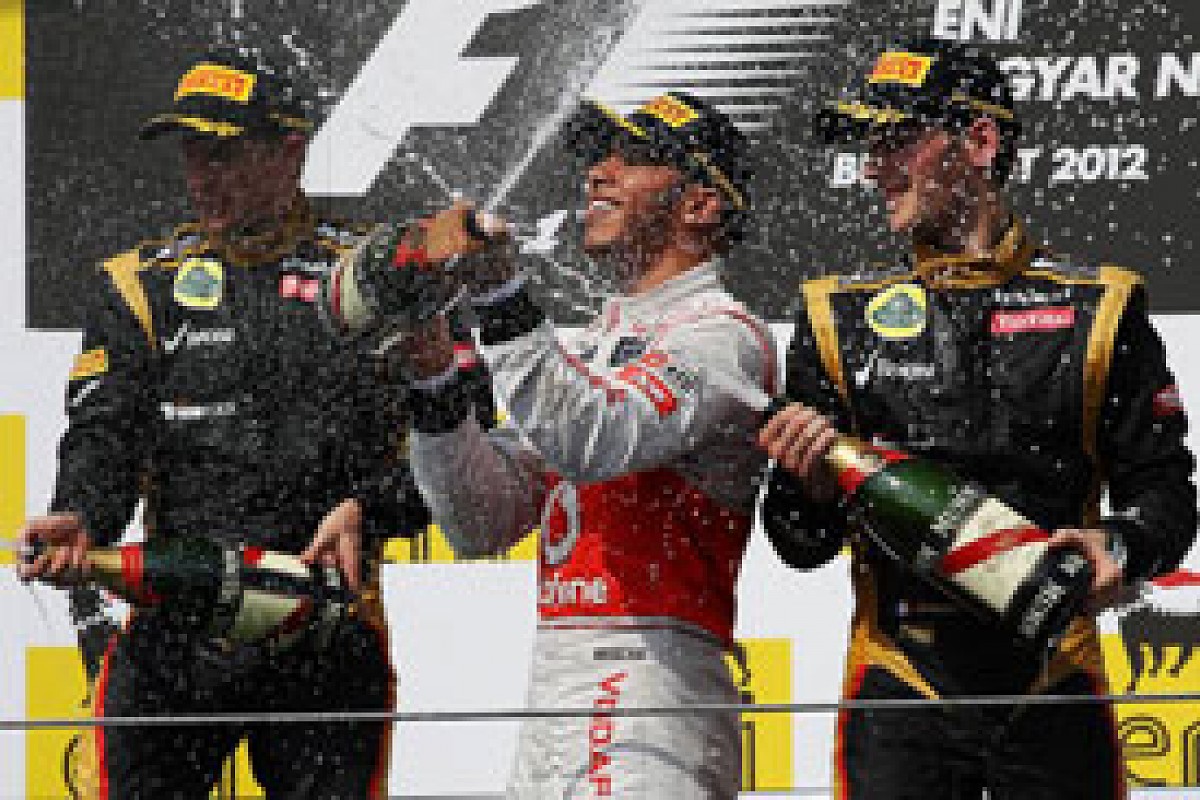 The good news for all at Enstone is that they will head into the break knowing that they have the fastest car, at least in race trim - a situation that will provide everyone with good motivation.
"I'm very motivated to have a couple of weeks on the beach with my kids!" jokes Permane. "But it's great for the race team and everyone back at Enstone as well, the people that are grinding out the hours, week in and week out designing the new bits, producing the new bits, and giving them to us. It's great for them, they are going to go into a nice break."
Inevitably Allison, the man ultimately responsible for making the car go faster, won't be able to relax too much. However, he knows he has a few handy updates up his sleeve: "I'm afraid that the worrying never goes away, But I'll lie on the beach knowing that we're just over halfway through the season, we're in touch with both championships. There's stuff coming, and it's not beyond the bounds of possibility that we could really surprise some people..."