Practice one - Friday AM
If the teams thought they had escaped the rains of Silverstone, P1 made everyone think again as patchy showers intermittently interrupted running. In fact that set the tone for the best part of the weekend.
Button started the weekend on top © LAT
Jenson Button, using McLaren's revised MP4-27, set the pace in the initial session at Hockenheim, but in truth only the McLaren man and Romain Grosjean made use of the track when it was at its driest in the first 20 minutes.
After that, while it became drier later on, it was more a case of gathering data on the various Pirelli rubbers - including its new hard tyre.
Lewis Hamilton ended up second quickest after a quick lap late-on, while world championship leader Fernando Alonso was third.
Interest was also peaked by Lotus introducing its double DRS system to the track in the hands of Kimi Raikkonen. The team reported from its data that the test was a success. Raikkonen ended the session 15th fastest, having completed 14 laps with it.
Practice two - Friday PM
Friday afternoon practice was all about the rain. There was plenty of it from the outset, and the track was never dry enough for slicks to come out.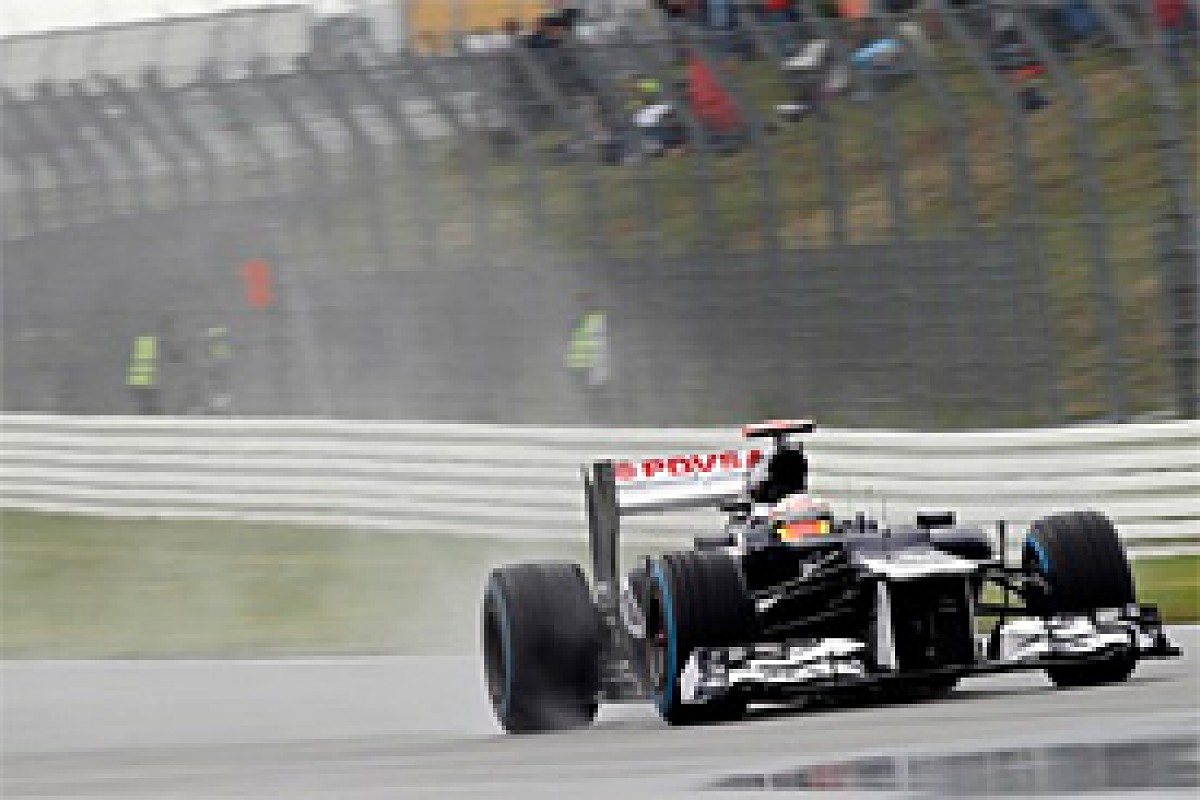 Maldonado got the timing right in FP2 © LAT
There was a better spell of around 25 minutes' duration during the middle of the session, and it was in that time that Williams's Pastor Maldonado set the lap that would stand as the fastest, though no one was taking this particular practice seriously as any kind of form guide given the importance of being on the track at the right moment in the ever-changing conditions.
Fernando Alonso, for instance, may have been only 20th quickest, but his pace when the rain was heaviest left him buoyant about Ferrari's prospects in the wet.
Along with a few spins and abundant visits to the asphalt run-offs, there were two larger incidents. Daniel Ricciardo had to abandon his Toro Rosso in the Sachs Kurve gravel after missing his braking point, and then the red flag came out with four minutes to go when Michael Schumacher speared into the barriers on the way into the stadium section. The local legend admitted his concentration had not been at its peak at that moment...
Practice three - Saturday AM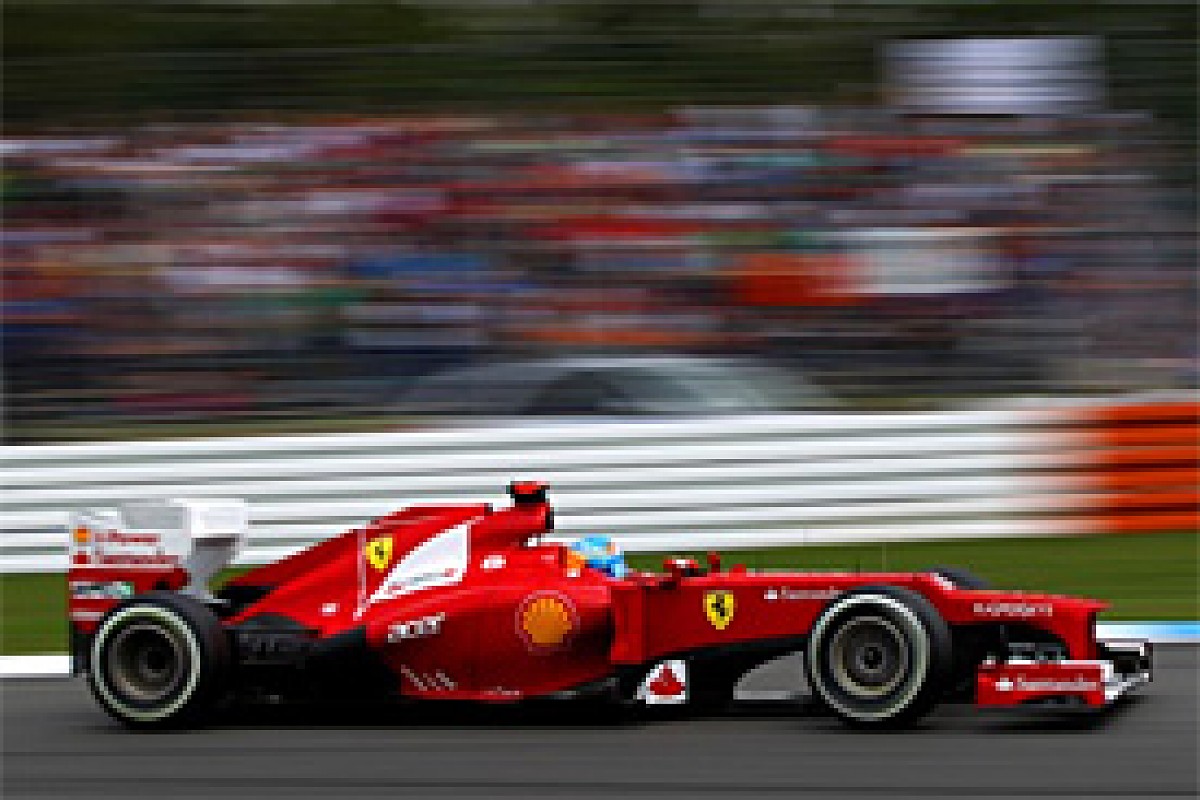 Alonso led the way in final practice © LAT
A dry track greeted the teams at the start of Saturday's action, and it looked like it would last.
Nevertheless, few trusted the clouds given the weather the weekend had delivered so far, and sure enough, a light shower arrived in the final five minutes - and soon became an utter deluge.
That stymied teams' plans for last-gasp single-lap runs on soft tyres. Alonso had got his in relatively early, though, so topped the times ahead of Lewis Hamilton and Sauber's Sergio Perez.
Kimi Raikkonen was fourth for Lotus, followed by the Red Bulls.
Mark Webber was just ahead of Sebastian Vettel, but went into the session having just found out he would be joining Nico Rosberg and Romain Grosjean in receiving a five-place gearbox-change penalty after qualifying.
QUALIFYING
1. Fernando Alonso
"In these conditions there are surprises and moments everywhere. It was not fun. When you have these conditions it's very difficult to put a clean lap together. You need to finish the session and see what you can get. Whatever the position, you are happy because you made the finish."
2. Sebastian Vettel
"I was not happy with my lap. Fernando's strategy was a bit quicker. I could have gone quicker but we don't know if it would have been good enough. Nevertheless we had the pace today to put the car on pole in the end. I think it was possible."
3. Mark Webber
"We wanted to be on the front row but eighth with the penalty is OK and we can race from there. It's not the best position to start from, but we have to aim to come forward and let's see how the race goes. I did a better job than the other guys who got a five-place penalty."
4. Michael Schumacher
"We had been expecting a position between fifth and seventh on the grid, so fourth in qualifying, which will become third place on the grid, is even better. Naturally I'm particularly happy for all the Mercedes colleagues in the grandstands: they support us throughout the year and we wanted to give something back to them."
5. Nico Hulkenberg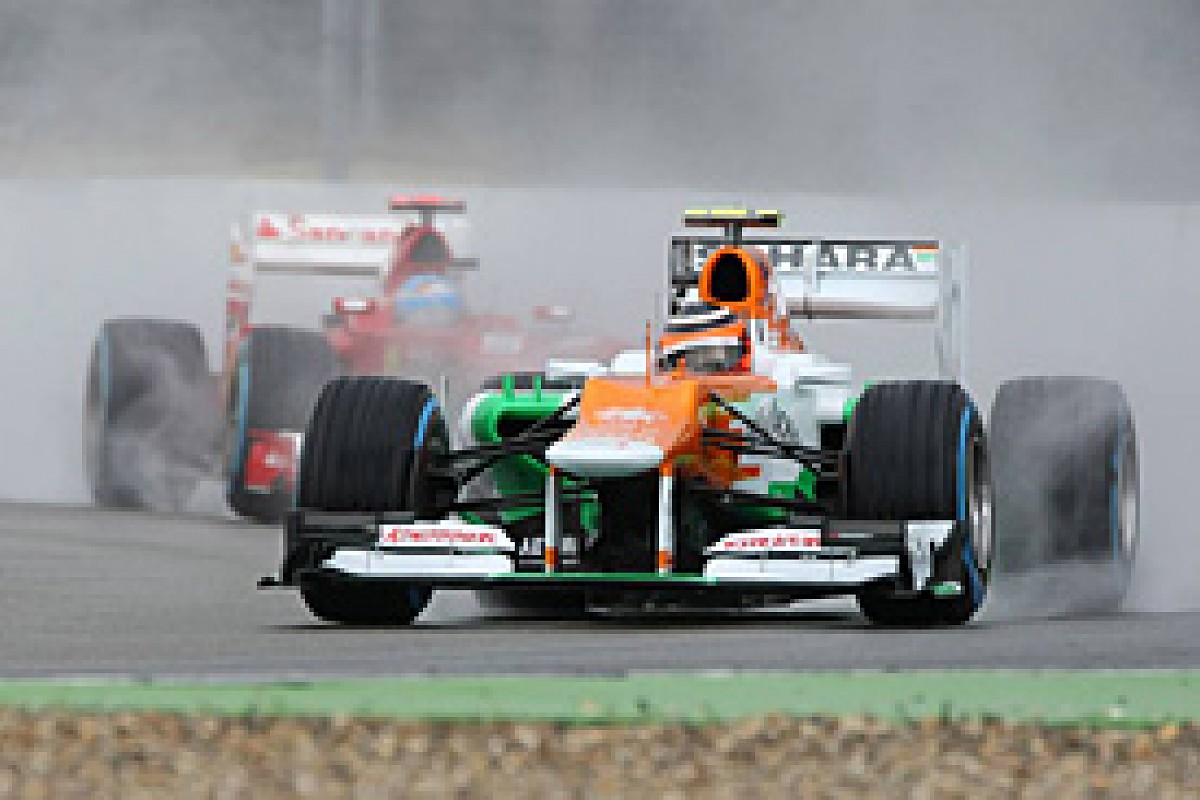 Hulkenberg secured his best result of the season © XPB
"To bring it back home in that position is the challenge tomorrow, and it's quite a big task. We will try to defend as best as we can, but the pressure is always there because is ahead and we are in need to score points. We can only do what we can and get the maximum out of this weekend."
6. Pastor Maldonado
"We had a good balance in Q1 and Q2 but when the rain hit I lost a lot of grip which made it difficult to challenge for a place on the front two rows. On the whole though I'm pretty pleased with where I have qualified and the weather is looking a bit more favourable tomorrow which should suit our car."
7. Jenson Button
"I definitely think we should aim for [a podium] and I think we should aim even higher, in dry conditions we have made some good improvements to the car aerodynamically and mechanically and it is just in the wet where we struggle with tyre temperature."
8. Lewis Hamilton
"It was looking good until it got really wet but I don't know what happened at the end. I was quite quick and then I don't know if the tyres went off or lost temperature. The track was drying up so we should have gone faster but we didn't."
9. Paul di Resta
"I hope the top 10 is possible tomorrow, but there are some quick people behind us. The car seems to be positive though and so it is down to tyre choice and strategy tomorrow. This is one of the tracks where you could overtake before so it should be like that with DRS and KERS."
10. Kimi Raikkonen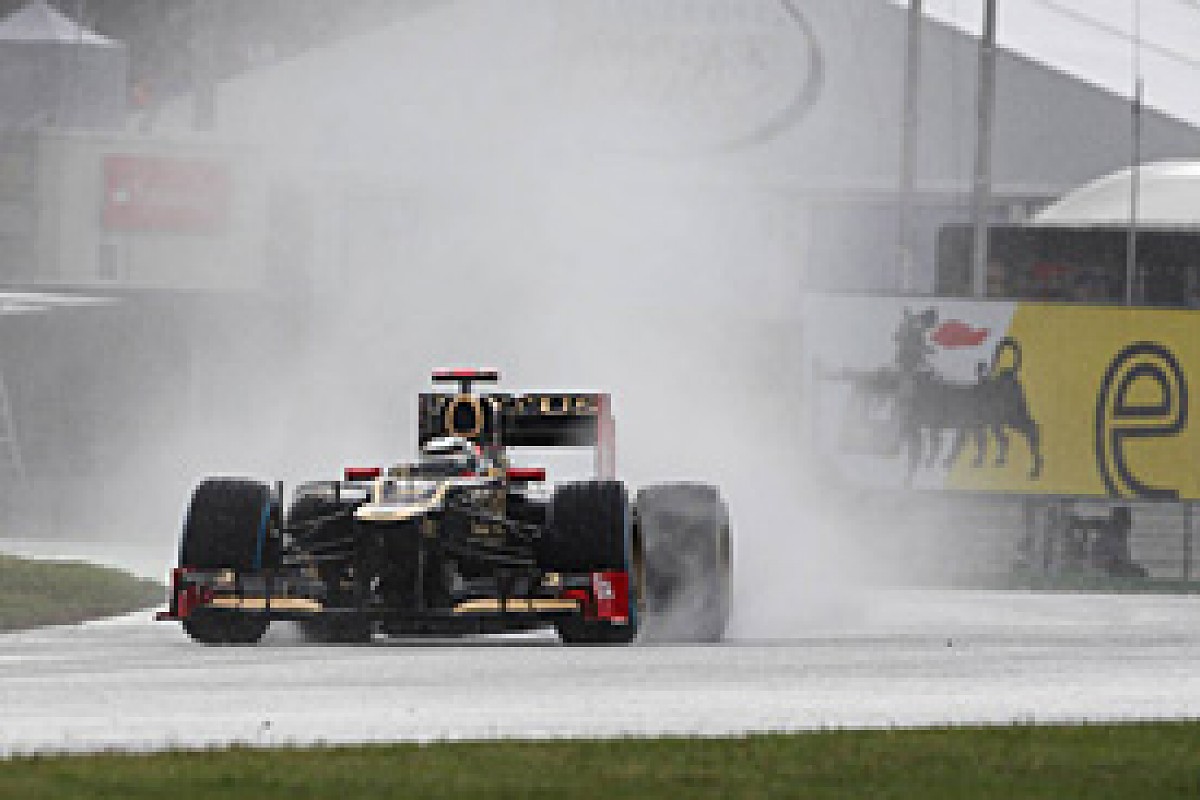 The wet track did not suit Raikkonen's Lotus © XPB
"We weren't fast in the wet today for some reason and we need to look at why that was. I wasn't able to get any grip from the tyres, even when we tried a fresh set of wets half way through the final qualifying session. In the dry the car is very good and in the races our car usually has strong pace."
11. Daniel Ricciardo
"Eleventh is quite good for us, on the edge of Q3. Of course, I'm a little bit disappointed that I missed out on the top ten, but in general this result puts us in a good position for tomorrow and hopefully we can get our nose into the points, even if the race is dry as predicted."
12. Sergio Perez
"It is such a shame. It looked really promising for us until the rain set in. After I changed to soft tyres I ended up second fastest in Q1. Then we went out late on intermediates in Q2 and I was stuck in traffic. I had cars in front of me, but could not back off as there were some behind me as well."
13. Kamui Kobayashi
"In dry conditions my car is really good. In the wet it is a lot better than it was on Friday when I struggled badly. We found something wrong and did some changes, but it is still not completely right."
14. Felipe Massa
"It's a real shame, because the car was and is competitive, both in the wet and in the dry, but tomorrow I will start too far back to fight for the top places. It will be important to choose the right tyres at the right moment. We have some idea, but it's a fact we were unable to do many long runs over these two days."
15. Romain Grosjean
"Kimi was fastest, so his car was good. But we were almost one second behind, which is far too much so we will try to understand it. We need to find the pace. If we want to come back in any way then we have to get the pace in the car. At the moment we don't have it, so hopefully we find it through the night."
16. Bruno Senna
"The smallest difference in temperature can make the biggest difference in laptime, and if you are in the wrong window you are nowhere. I absolutely hate making excuses, but sometimes you have to accept that the window is very, very small, and you need to get that right to do anything competitive."
17. Nico Rosberg
Rosberg struggled in the wet © XPB
"It's a bit surprising to finish so far down in qualifying today, but unfortunately I couldn't get the right temperatures in my first set of intermediate tyres in Q2. I was quite confident in the wet and in the dry so it is frustrating, especially on top of the gearbox penalty. But I will still hope to score some points tomorrow because a lot is possible in the races this year."
18. Jean-Eric Vergne
"Only two tenths between me and P13 in Q1 which is very close and in fact I think I lost two tenths in the final corner, although apart from that, I feel my lap was quite good. I am disappointed that the rain arrived just a bit too late for me. I am still hopeful of having a good race tomorrow as we seem a bit more competitive in the dry than we were two weeks ago."
19. Heikki Kovalainen
"For where we are right now that was pretty much the perfect lap. I didn't make any mistakes, nailed every apex and had a clean lap, so I'm pleased with what I got out of the car today. Closing the gap to the cars ahead is obviously our target and I think we are still finding out how to unlock the real potential of the upgrade package we first ran at Silverstone."
20. Vitaly Petrov
"That was a bit of a difficult session after the rain at the end of FP3 changed the track conditions. We were having some issues warming up the front tyres and that, combined with traffic, meant I couldn't really push as much as I had been in the morning session."
21. Charles Pic
"I have to be very pleased with my qualifying. I only managed three practice laps on the option tyre before qualifying and with the mixed forecast for the Q1 session - we didn't know at what point it would become wet - I felt a little unprepared. I was very comfortable with the car and I think there was quite a bit more to come."
22. Timo Glock
"I have just struggled a bit with the car because there is rear end instability that means I can't push the car with confidence right now. We have tried a few different things since yesterday
to fix it, but we have run out of time a little to understand the problem. We still have the race of course and whatever possibilities that may bring."
23. Pedro de la Rosa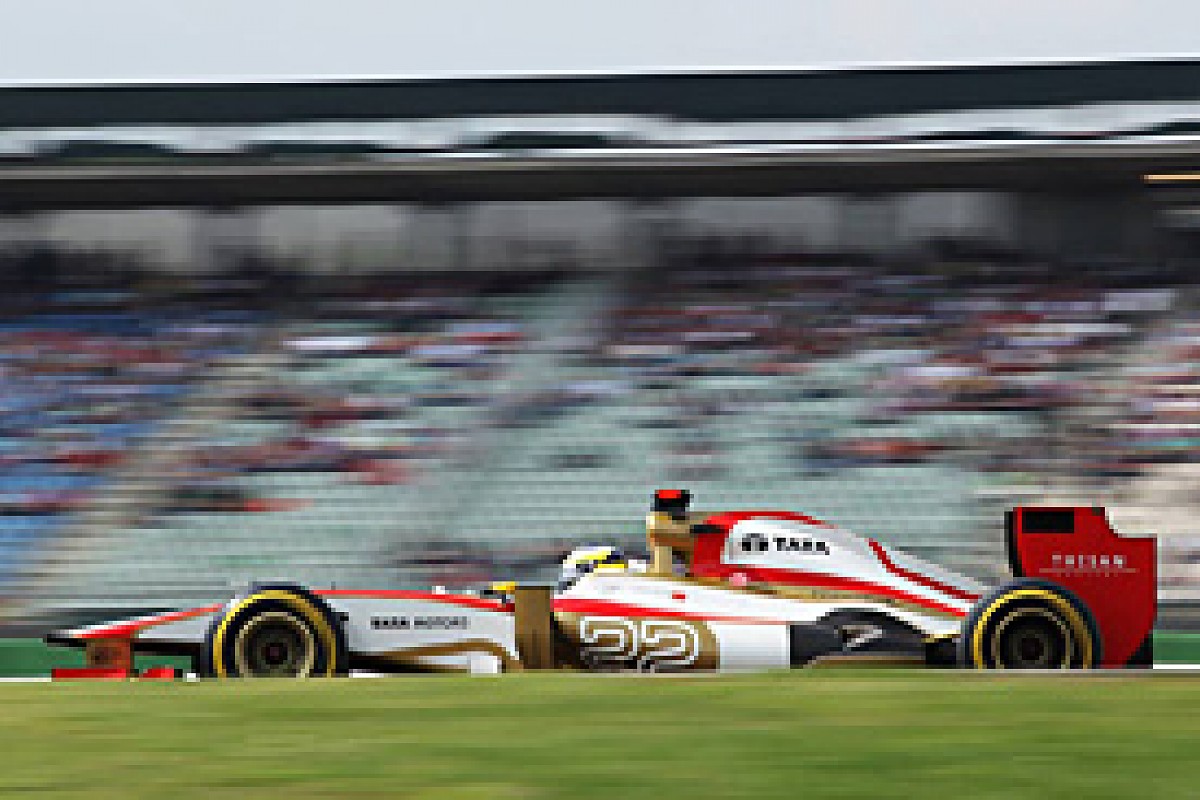 De la Rosa demanded respect from rivals © LAT
"It could have been a very good qualifying session, because towards the end I was nine tenths under my time, but on the last two corners I had another car ahead and we lost two positions. We must all respect each other but now we have to look ahead."
24. Narain Karthikeyan
"It wasn't my best day because I didn't run in the morning and FP2 was wet. It wasn't very productive and if tomorrow is dry I will be facing completely new conditions. But it looks like it's going to rain tomorrow so today's data will be useful. I expect it to be tough tomorrow but I'm ready for the challenge."
Pos  Driver                Team                  
 1.  Fernando Alonso       Ferrari
 2.  Sebastian Vettel      Red Bull-Renault
 3.  Michael Schumacher    Mercedes
 4.  Nico Hulkenberg       Force India-Mercedes
 5.  Pastor Maldonado      Williams-Renault
 6.  Jenson Button         McLaren-Mercedes
 7.  Lewis Hamilton        McLaren-Mercedes
 8.  Mark Webber           Red Bull-Renault *
 9.  Paul di Resta         Force India-Mercedes
10.  Kimi Raikkonen        Lotus-Renault
11.  Daniel Ricciardo      Toro Rosso-Ferrari
12.  Kamui Kobayashi       Sauber-Ferrari
13.  Felipe Massa          Ferrari
14.  Bruno Senna           Williams-Renault
15.  Jean-Eric Vergne      Toro Rosso-Ferrari
16.  Heikki Kovalainen     Caterham-Renault
17.  Sergio Perez          Sauber-Ferrari  **
18.  Vitaly Petrov         Caterham-Renault
19.  Romain Grosjean       Lotus-Renault  *
20.  Charles Pic           Marussia-Cosworth
21.  Nico Rosberg          Mercedes *
22.  Timo Glock            Marussia-Cosworth
23.  Pedro de la Rosa      HRT-Cosworth
24.  Narain Karthikeyan    HRT-Cosworth

107% time: 1m20.991s
* Five-place penalty for gearbox change
** Five-place penalty for impeding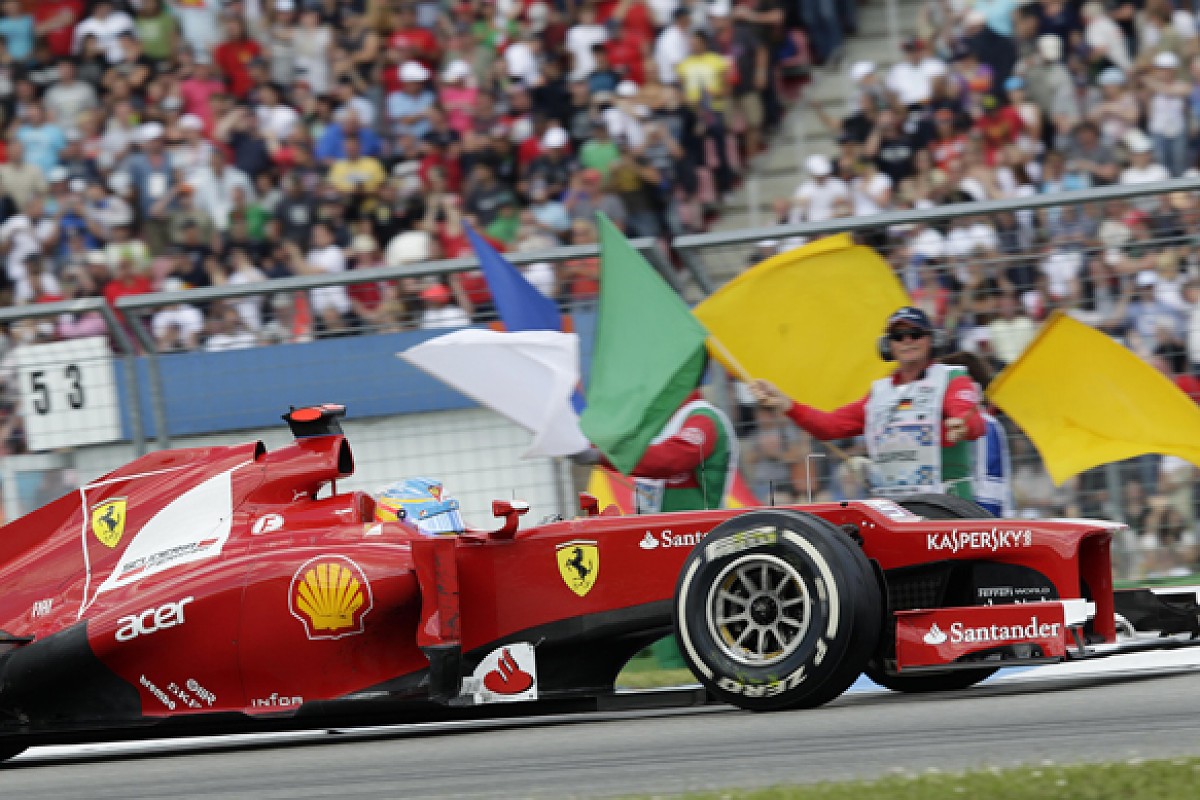 THE RACE
There were three Germans in the top four on the grid for their home race. The current world champion, the man with more world championships than anyone else, and a man who may be world champion one day.
But they were all sat behind a Spaniard, and by the end of the day, that Spaniard was still there, while none of the home drivers made it into the top three, in the official results at least.
In his capacity as legend-of-the-week in Formula 1's quaintly retro new habit of having the drivers interviewed on the podium by star names, Niki Lauda asked Fernando Alonso what it felt like to be a Spaniard in an Italian car winning in Germany - in a light-hearted reference to those nations' differing roles in the Eurozone crisis. The unruffled Alonso quickly pointed out that Ferrari had a Greek design chief...
Whatever its other troubles at present, Spain can currently be very confident in its greatest racing driver's ability to deliver. The Ferrari is clearly now nowhere near as bad as it seemed in winter testing, but no one would claim it is the field's benchmark. Yet Alonso has taken it to three wins and a 34-point championship lead, while his team-mate must struggle to remember what the view from a podium looks like.
Asked before practice if he was in the best form of his career, Alonso agreed - but with the caveat that everyone improves year by year with experience, and that he was in better physical condition than before as well, revealing for the first time that he had struggled with various pains earlier in his Formula 1 life. Perhaps curing the leg and shoulder aches is what has unleashed this extra level of brilliance...
Dominant victories aren't possible with Alonso's current equipment, and he never had more than a few seconds' breathing space at Hockenheim. Sebastian Vettel had his hands full with a challenge from Michael Schumacher in the opening corners, but the Mercedes didn't have the pace to continue the battle of the German legends for long, and soon Vettel was lurking in Alonso's mirrors.
The top three formed a train © XPB
It got particularly close in the middle stint, when the Ferrari had a tougher time on medium Pirellis than its pursuers. And that was now pursuers plural, for Jenson Button was joining in the lead battle.
Button had been increasingly certain in recent weeks that the woes that had kept him off the podium since April were over, and he just needed a change of luck to prove his pace was back with a vengeance. Wet qualifying at Hockenheim brought more tyre issues, but McLaren and its drivers were so confident in the upgraded car's potential, they were still eyeing victory from sixth and seventh on the grid.
An early puncture for Lewis Hamilton meant it was Button who was demonstrating McLaren's gains. He sliced past Nico Hulkenberg and Schumacher early on, then closed in on the leaders after the first pitstops.
He had a little helping hand from Hamilton. A lap down after his dramas, but proceeding rapidly on fresh tyres, Hamilton passed Vettel's Red Bull and spent a while between the two leaders, leaving Vettel peeved.
"That was not nice of him," Vettel complained. "I don't see the point why he's trying to race us. If he wants to go fast he can drop back, find a gap and go fast there. But it's a bit stupid to disturb the leaders."
Alonso admitted having Hamilton as a buffer was pretty handy, and said he would have jumped out of the way and let him go had the McLaren tried a move.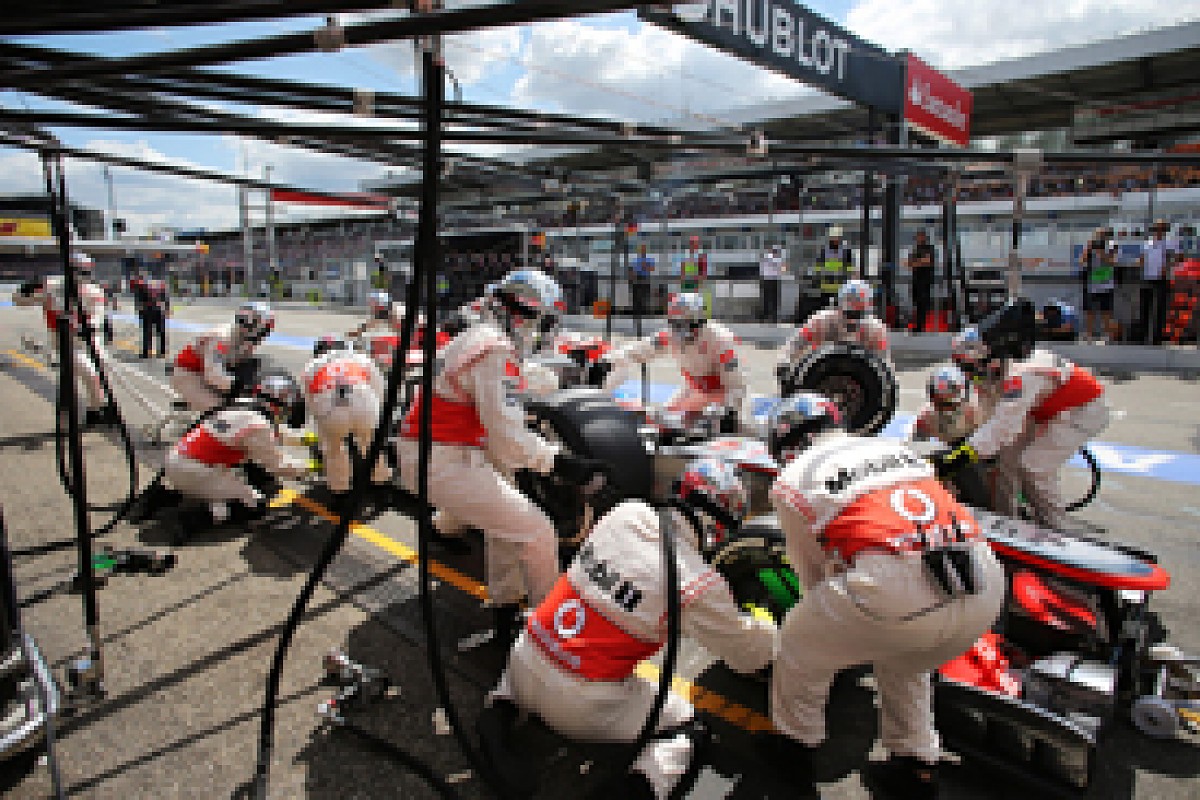 Lightning pit work was crucial for Button © LAT
Button was the first of the leaders to make his final pitstop, coming in on lap 40. Alonso and Vettel both covered him by pitting next time around, but that was not enough to stop Vettel losing out to the McLaren, which left the German cursing Hamilton's earlier presence even more.
Although at first Button closed down Alonso, as the chequered flag neared it was the McLaren coming under heavier pressure. And that would lead to more Vettel/McLaren angst, as the world champion overtook around the outside of the hairpin on the penultimate lap, but made substantial use of the run-off area to do so. Vettel said he wasn't sure where Button was and hadn't wanted to close the door on him, and that he gained an acceleration advantage not through taking a wide line off the track, but because the McLaren was losing traction on worn tyres. Button said nothing... but bore a grimace. The stewards duly ruled that Vettel had gained an unfair advantage and bestowed a time penalty that dropped him to fifth.
That elevated Kimi Raikkonen into the top three after making good progress up the order from 10th on the grid in his Lotus. But the big movers of the race were the Saubers - which hacked through from 12th and 17th to what would become fourth and sixth for Kamui Kobayashi and Sergio Perez respectively, showing great race pace. Given the excitement over Perez's achievements this year, a career-best fourth (after Vettel's penalty) was well-timed for Kobayashi.
Those moving in the other direction included Schumacher and Hulkenberg, neither of whom had the race pace to carry their qualifying achievements forward. Both Mercedes three-stopped, and that helped Schumacher finish on Perez's tail in seventh, and Nico Rosberg come through from 21st to 10th, between the Force Indias of Hulkenberg and Paul di Resta.
Hulkenberg finished right behind the man who won the previous grand prix: Red Bull's Mark Webber. The Australian's assessment was blunt: "I had no pace today and wasn't quick."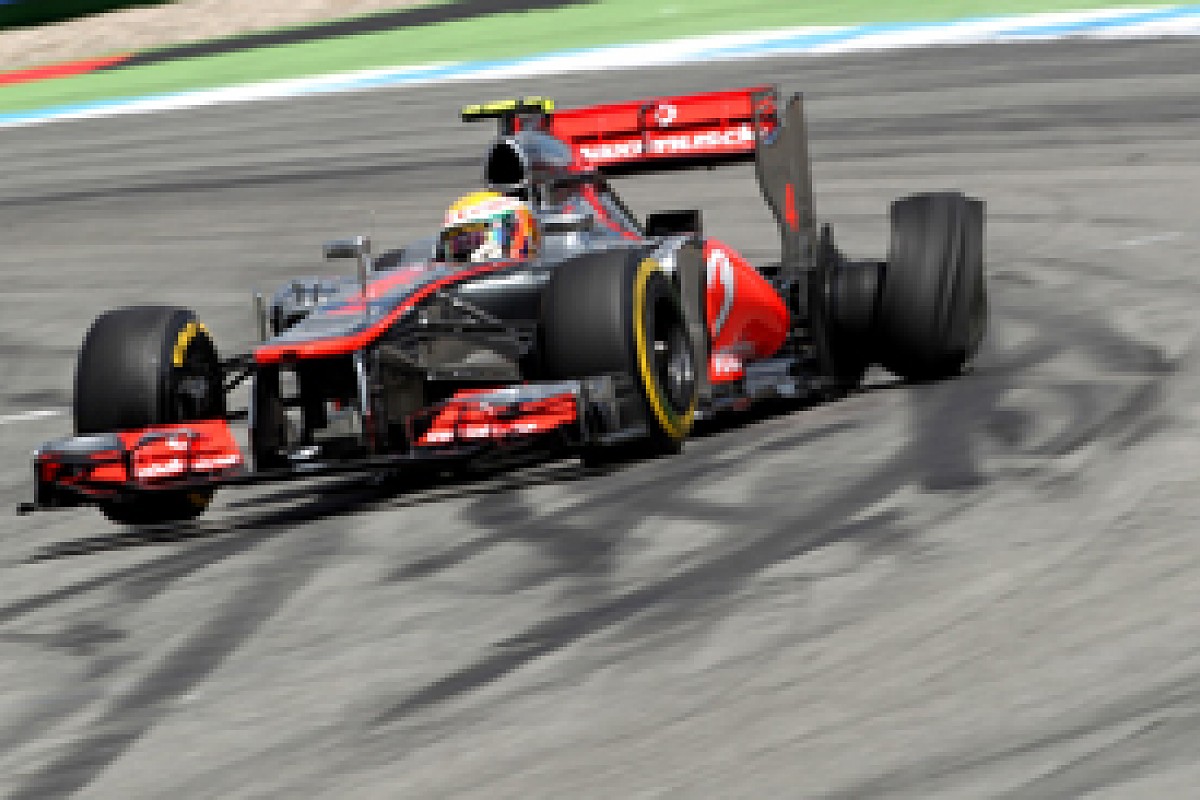 This puncture ruined Hamilton's day © LAT
Hamilton eventually retired due to damage from the puncture, which was sustained on some of the debris from the various first-lap incidents that sent Felipe Massa, Bruno Senna and Romain Grosjean towards the pits for repairs. They rejoined to finish 12th, 17th and 18th. Senna's Williams team-mate Pastor Maldonado also collected debris, sliding from sixth to 15th in his wounded car as a consequence.
Toro Rosso had the sort of race it usually has these days and finished 13th and 14th with Daniel Ricciardo and Jean-Eric Vergne.
Vitaly Petrov's Caterham was quick enough to stay ahead of Senna and Grosjean in 16th, but team-mate Heikki Kovalainen was only 19th after a nose change.
In the tail of the field battle, a tough race for Timo Glock got worse in the closing laps as differential problems developed, and he finished behind Marussia team-mate Charles Pic and HRT's Pedro de la Rosa in 22nd, ahead of only de la Rosa's team-mate Narain Karthikeyan.
Lap-by-lap as it happened on AUTOSPORT Live
RACE RESULTS

The German Grand Prix
Hockenheimring, Germany;
67 laps; 306.458km;
Weather: Sunny.

Classified:

Pos  Driver        Team                       Time
 1.  Alonso        Ferrari                    1h31:05.862
 2.  Button        McLaren-Mercedes           +     6.949
 3.  Raikkonen     Lotus-Renault              +    16.409
 4.  Kobayashi     Sauber-Ferrari             +    21.925
 5.  Vettel        Red Bull-Renault           +    23.732
 6.  Perez         Sauber-Ferrari             +    27.896
 7.  Schumacher    Mercedes                   +    28.960
 8.  Webber        Red Bull-Renault           +    46.900
 9.  Hulkenberg    Force India-Mercedes       +    48.162
10.  Rosberg       Mercedes                   +    48.889
11.  Di Resta      Force India-Mercedes       +    59.227
12.  Ricciardo     Toro Rosso-Ferrari         +  1:11.428
13.  Massa         Ferrari                    +  1:16.829
14.  Vergne        Toro Rosso-Ferrari         +  1:16.965
15.  Maldonado     Williams-Renault           +     1 lap
16.  Petrov        Caterham-Renault           +     1 lap
17.  Senna         Williams-Renault           +     1 lap
18.  Grosjean      Lotus-Renault              +     1 lap
19.  Kovalainen    Caterham-Renault           +    2 laps
20.  Pic           Marussia-Cosworth          +    2 laps
21.  De la Rosa    HRT-Cosworth               +    3 laps
22.  Glock         Marussia-Cosworth          +    3 laps
23.  Karthikeyan   HRT-Cosworth               +    3 laps

Fastest lap: Schumacher, 1:18.275  

Not classified/retirements:

Driver        Team                         On lap
Hamilton      McLaren-Mercedes             58


World Championship standings, round 10:                

Drivers:                    Constructors:             
 1.  Alonso       154        1.  Red Bull-Renault          230
 2.  Webber       120        2.  Ferrari                   177
 3.  Vettel       110        3.  McLaren-Mercedes          160
 4.  Raikkonen     98        4.  Lotus-Renault             159
 5.  Hamilton      92        5.  Mercedes                  105
 6.  Rosberg       76        6.  Sauber-Ferrari             80
 7.  Button        68        7.  Williams-Renault           47
 8.  Grosjean      61        8.  Force India-Mercedes       46
 9.  Perez         47        9.  Toro Rosso-Ferrari          6
10.  Kobayashi     33
11.  Maldonado     29
12.  Schumacher    29
13.  Di Resta      27
14.  Massa         23
15.  Hulkenberg    19
16.  Senna         18
17.  Vergne         4
18.  Ricciardo      2
       
All timing unofficial

TEAM BY TEAM
Red Bull
Having looked unbeatable in Valencia until alternator failure halted Vettel and with Webber taking victory at Silverstone, there seemed a danger that Red Bull could prove too quick for the rest of the field in Germany. But the team was both defeated and found itself amid controversy as the FIA investigated the RB8's engine mapping.
Vettel had the measure of Webber, qualifying ahead of his team-mate in second and saying he felt that pole was possible. Webber on the other hand had to take a five place grid penalty for changing a gearbox. Webber struggled in the race while Vettel challenged Alonso at the front.
Vettel hit out at Hamilton for unlapping himself as Button hunted him down and was then penalised for using the hairpin exit run-off to repass the Briton after he was leapfrogged in the pitstops, meaning he eventually took 10 points for fifth. Webber finished in eighth position.
McLaren
Button took second position after Vettel's penalty while Hamilton ultimately retired having damaged his car when an early puncture relegated him to the back of the field.
The pair struggled in wet conditions in qualifying, grappling to get enough heat into the wet weather tyres, but Button's pace in the dry stood him in good stead for the race, with the Briton commenting on Saturday that he should "aim even higher" than a podium.
Button overcame the Mercedes of Schumacher and Hulkenberg's Force India as he scythed through to third position and was able to pass Vettel in his final pitstop, which McLaren completed in a record 2.4s. However, he was unable to pass Alonso's winning Ferrari after the Spaniard was able to save his tyres.
Ferrari
Alonso ran out of grip in the final stages of the British Grand Prix but was able to look after his tyres better at Hockenheim, fending off Button and Vettel to take his third win of the season.
Alonso took pole position despite appearing to be blocked by Massa in Q2, where Massa fell, and commanded the race from the front after a near faultless drive. Meanwhile Massa was involved in a fracas at the start where he lost his front wing and never recovered thereafter, eventually taking 12th position and no points.
Mercedes
Ross Brawn stated that he was unsure of Schumacher's ability to hold on to his third place starting slot in a dry race, and he proved to be right.
Schumacher, for the second grand prix running, proved his mastery in wet conditions on Saturday while Rosberg failed to reach Q3 and was hit by a five-place grid penalty for a gearbox change. However, the two drivers converged in the race, with Schumacher taking seventh and Rosberg creeping into the points in 10th.
Schumacher's fastest lap owed more to a late pitstop on low fuel than true dry weather speed, with the Mercedes once again proving to be harder on its tyres than its competitors.
Lotus
Lotus had been touted as one of the contenders for victory in Germany, but in the event the team did not show enough pace to win, or even trouble the leaders. Raikkonen may feel lucky to have ended up with third position courtesy of Vettel's penalty.
Grosjean had a day to forget. This was the first race this year that the young Frenachman had finished and failed to score a point, and he never looked like he would after contact on the first lap damaged the floor of the Lotus, which was already down the order due to a gearbox penalty.
Meanwhile Raikkonen, who had crept into the top 10 in qualifying, had a quiet race after he passed Schumacher early on. The Finn could not trouble the leaders but never looked under threat from the Saubers behind him.
Force India
Hulkenberg admitted on Saturday that it would be difficult to hold on to his fourth place grid slot in a race that was unaffected by the weather and that proved to be so. Di Resta had a less impressive qualifying session, although he did make it through to Q3.
In the event Hulkenberg and di Resta both went backwards, with Hulkenberg managing ninth and di Resta finishing out of the points in 11th. The Force India drivers could not match the pace shown by the Sauber or the Lotus.
Vijay Mallya said that while the two points scored by Hulkenberg were valuable the team had been hoping for more after a strong qualifying session.
Sauber
The Sauber C31, especially in the hands of Perez, has shown good race pace this year, and so it proved again at Hockenheim, with Kobayashi finishing in fourth (after Vettel's penalty) with his team-mate two places behind.
Perez was punished for re-entering the track dangerously during qualifying and started in 17th position, but was able to manage his tyres well in order to come back through the field. Kobayashi also felt better on Sunday in the dry and took advantage of a strategy that involved starting on medium compound tyres.
Toro Rosso
The Toro Rosso was another car that looked more competitive in the wet than in the dry conditions on Sunday. In the event Ricciardo and Vergne finished nose to tail in 13th and 14th positions.
Ricciardo was unable to stay with the Saubers and a late bid to catch the Force India of di Resta proved fruitless when his rear tyres gave up. Vergne suffered a puncture which added an extra stop onto his originally planned two-stop strategy, leaving team boss Franz Tost to admit that 13th and 14th positions were the best that could be expected.
Williams
It was the usual 2012 Williams story in qualifying, as Maldonado started fifth after Webber's penalty, and Senna cited a tyre temperature disparity for his 16th place (14th after penalties ahead).
Both suffered damage in the race: Senna in contact with Grosjean, forcing a pitstop for repairs and a 17th-place finish, while Maldonado hit debris and tumbled to 15th in a battered car.
Caterham
Caterham was still desperate for a bit of dry running to understand how to fully exploit its latest upgrades. That meant a standard 19th and 20th on the grid for Kovalainen and Petrov, who were nearly a second apart.
Petrov managed to fend off two of the displaced frontrunners - Senna and Grosjean - to take 16th but Kovalainen needed a new front wing after alarming front tyre wear, and fell to 19th.
HRT
De la Rosa complained that rivals don't show HRT enough respect after being blocked in qualifying, when he was 23rd ahead of Karthikeyan as usual.
Both took encouragement from their race pace, with de la Rosa managing to beat the troubled Glock to 21st.
Marussia
Pic was Marussia's pacesetter as Glock struggled all weekend. The rookie qualified ahead of his team-mate in 21st, and finished 20th.
Glock's lack of pace was compounded by differential problems, and he found himself losing 21st to de la Rosa.
RACE DATA