McLaren went into the British Grand Prix weekend with high hopes of a victory at a track whose fast sweeping curves should have suited the silver cars, Lewis Hamilton having been very fast at Barcelona in May.
And yet at the end of a gruelling afternoon, Hamilton crossed the line in eighth place, while his team-mate Jenson Button was 10th. And it might have looked even worse had other drivers not had problems.
Button has been struggling for a while, and if anything felt more comfortable at Silverstone. But Hamilton's low-key race was somewhat unexpected, given that he's been challenging for wins or has qualified in the top two at so many races this year.
Such a muted performance at McLaren's home race came as a surprise, not just to the team, but also the opposition. Red Bull's Christian Horner admitted he'd expected McLaren to repeat its Spanish GP form, given the track layout.
"I think they suggested that they were expecting Barcelona-type performance!" he said. "I think that's why we err away from making predictions because it's so hard to tell.
"We hoped to be quick here and we delivered a strong performance, but there's still an awful lot of racing to go. They're a strong team, they've got a good car, good drivers, and I'm sure they are going to be a contender at forthcoming races."
An endorsement like that from a key rival might be welcome, but it doesn't make last weekend's performance any easier to bear for McLaren.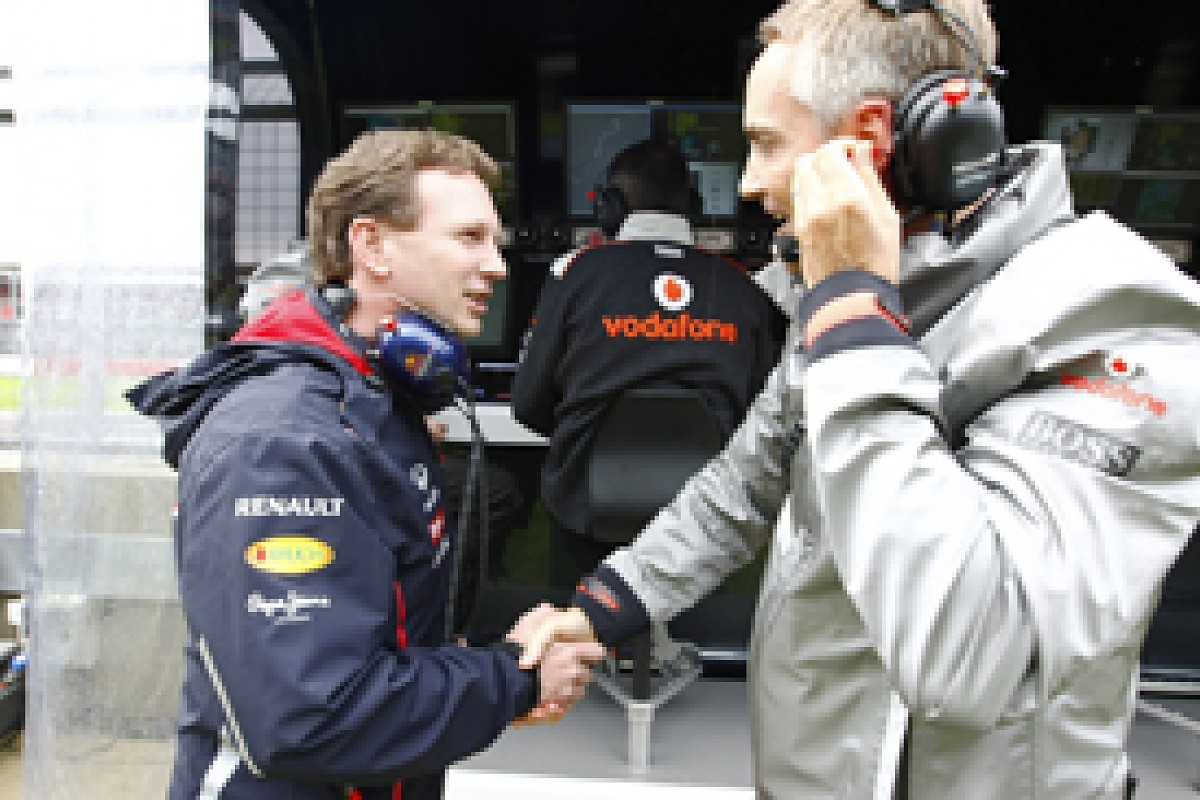 Horner expected Martin Whitmarsh's men to be giving his drivers a hard time in Britain © LAT
"We were expecting it to be a stronger circuit for us," said technical director Paddy Lowe as the post-mortem began. "So it was pretty disappointing really that in the dry conditions, that didn't transpire.
"When we drill into it and look at different parts of the race, we'll find a story there around the particular state of the tyres, and how we set the car up.
"Which I suppose again will prove the criticality of getting everything right. Whether the car is more sensitive than others, I don't know, but it does seem to be proving quite difficult for us to keep it on that knife edge."
Early in the weekend, things looked rather more positive. Hamilton was fastest in the soaking wet free practice two on Friday, and then Button was second, behind only Fernando Alonso, in Saturday morning's sole dry session.
Come qualifying, Lewis was fastest in the restarted Q2 session, so again there was reason for optimism. But when it mattered in Q3 on inters he could not better eighth.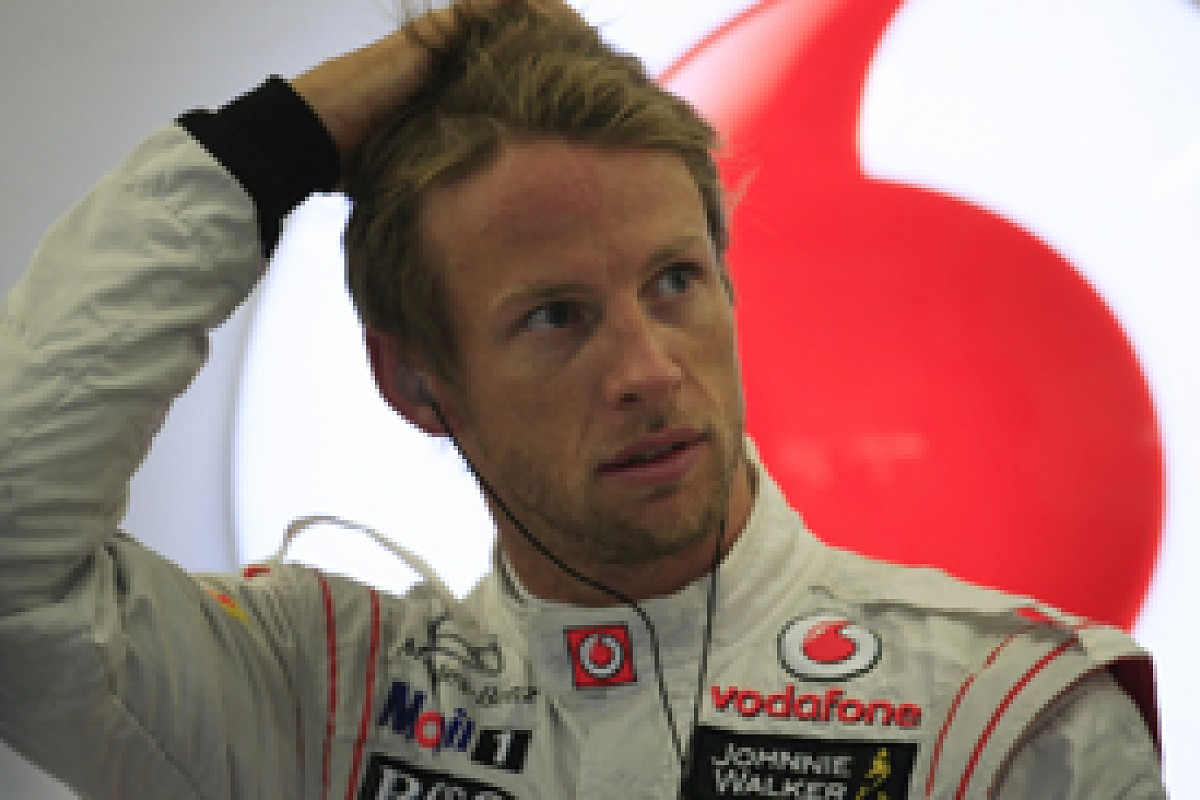 Another tough Saturday for Button © LAT
By then it was academic for Button, of course, who was down in 18th, having failed to make it out of Q1.
For the race the team started both drivers on the hard tyre. Poleman Alonso aside, Lewis was the only other drivers in the top 10 to make that choice, although it was more popular in the back half of the grid, with a total of 10 drivers going for the hard. So McLaren was not alone in thinking it wise to save the less favoured soft for later in the race.
The downside was the slightly weaker performance of the hard off the line compared to the soft, and indeed the usually feisty Lewis finished the first lap where he started, in eighth. And that's where he sat, gaining ground only when the soft runners began to make their stops.
By staying out he worked his way into the lead, and his brief battle with Alonso - who had come out of the pits on new hards - gave fans something to cheer. It was totally meaningless in the context of the race, although it probably did neither man any favours in terms of extending the life of their tyres.
Lewis finally came in on lap 21 after this ultra long opening stint, and unusually went for softs. By now he was in seventh, having gained a spot only because of Pastor Maldonado's clash with Sergio Perez. On his new soft tyres he passed Michael Schumacher at Copse, which was a positive sign, but after just seven laps on that set he was back in for another set of hards.
It was lap 28, with some 24 still to go. He tumbled down the order because this time, he was among the first rather than the last to stop, so he had to wait for others to come in before his true position became apparent.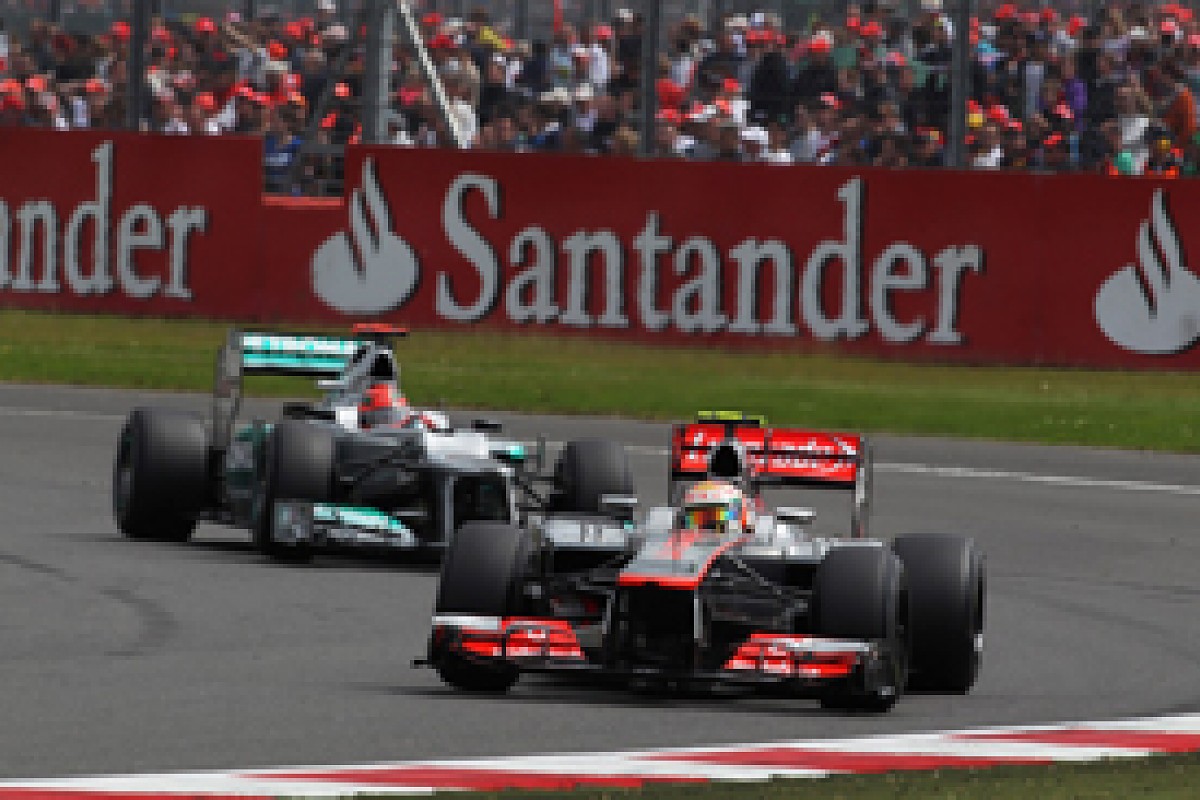 Hamilton would lose seventh to Schumacher © LAT
By the time it had all shaken out he was seventh again, and then with six laps to go he was repassed by Schumacher, the German making full use of DRS to make the move. So there Lewis was at the flag exactly where he started in eighth, except that Romain Grosjean had swapped with Maldonado in the group of cars ahead.
Button meanwhile gained two spots from grid penalties, and then another three on the first lap, when there was some carnage ahead. Helped by dramas for Maldonado, Perez and Kamui Kobayashi, he was in 10th spot by the flag.
After the race McLaren didn't have any regrets about starting on the harder tyre.
"I don't think that particular choice was too bad a strategy," said Lowe. "I think in Alonso's case where he seemed to go wrong was he stopped too early for the final stop. Their second prime seemed to be staying in, and they should have just kept going with it, but they were still covering [Mark] Webber. So I don't think there was a fundamental flaw in the strategy.
"Equally with us in retrospect we should have left Lewis longer on the option in the middle. Actually we could be accused of having been overly defensive to cover Grosjean, when with the benefit of hindsight the fact that the final set of primes were so slow compared to how we would predicted, and where we should have been, the proper defensive strategy would be to defend against Schumacher.
"While we appeared over-defensive in practice we were under-defensive, because if we'd run a longer second stint we would have covered Schumacher, and kept seventh place. But we weren't aiming for seventh..."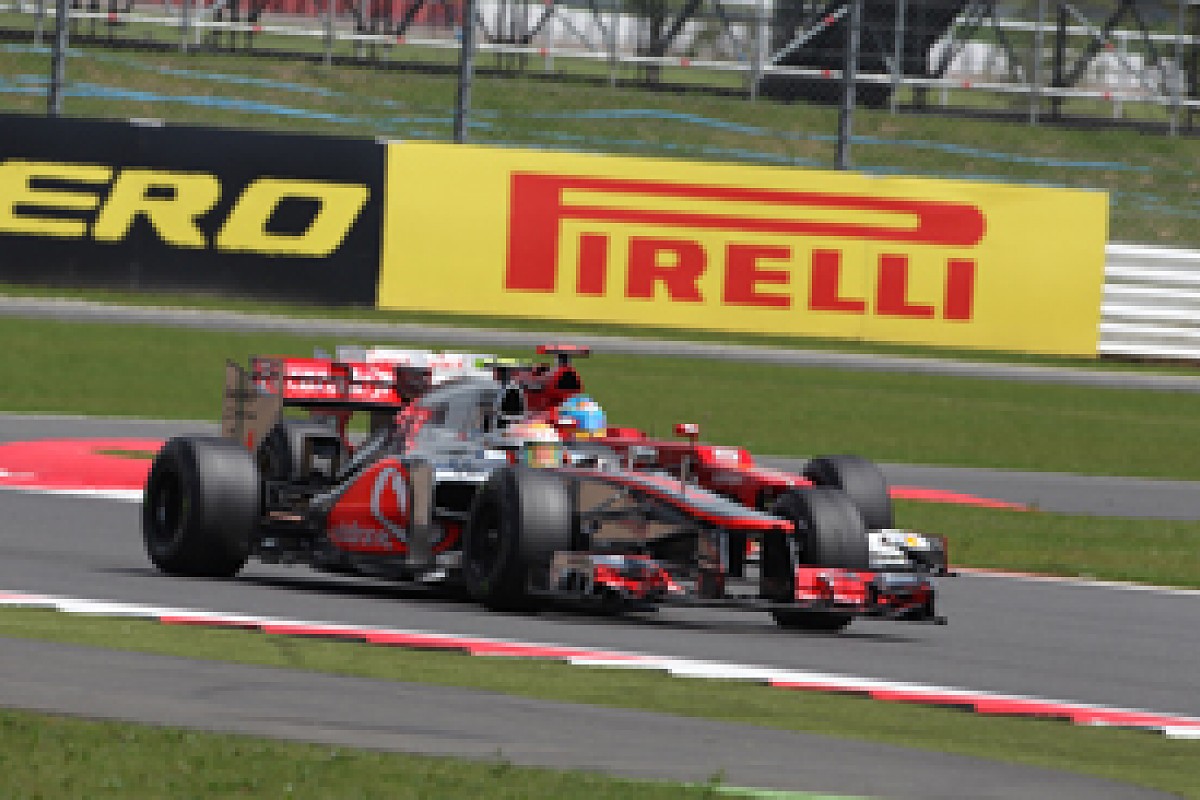 Hamilton battled with Alonso for a while. Both would ultimately struggle on softs © XPB
Paddy did concede that leaving the softs to the end, rather than using them in the middle, might have been worth a try.
"That's the one Alonso took, maybe that would have worked out better. The real problem was the underlying pace wasn't strong, especially on the second and third stint. Really, it seemed to get worse through the race. I think Lewis was reasonably strong in the first stint, but it wasn't good enough.
"Clearly the difference between the first and third stint was huge, and that may have been a factor of the conditions. It had got a lot warmer by then, and that wasn't something we had been predicting or setting up for."
Indeed the team was unprepared for how much Lewis struggled on his second set of primes, which behaved differently from the first.
"I don't think the start on the prime idea was flawed in any way, in some ways it worked quite nicely for Lewis. The big problem was that he didn't really find a lot of extra with the option in the middle stint, then when we put the final prime on... The thing we couldn't have anticipated when we were covering Grosjean was that the car would be so slow on that final set. It was well over a second slower than it should have been.
"It was apparent from the minute he went out there. Lewis actually said, 'This feels like a different kind of tyre to what I had in the first stint.' He was pretty happy with the car actually - he said in an interview 'the car is great, but if mine's great, everybody else's must be awesome!'
"I think on Jenson's side he could have done with a bit better pace, he had glimpses of pace, but then spent a lot of the time stuck behind traffic. Sixteenth to 10th, we would have hoped for better than that, but starting 16th in the dry was never going to be easy. In that respect we were hoping for rain for both sides of the garage."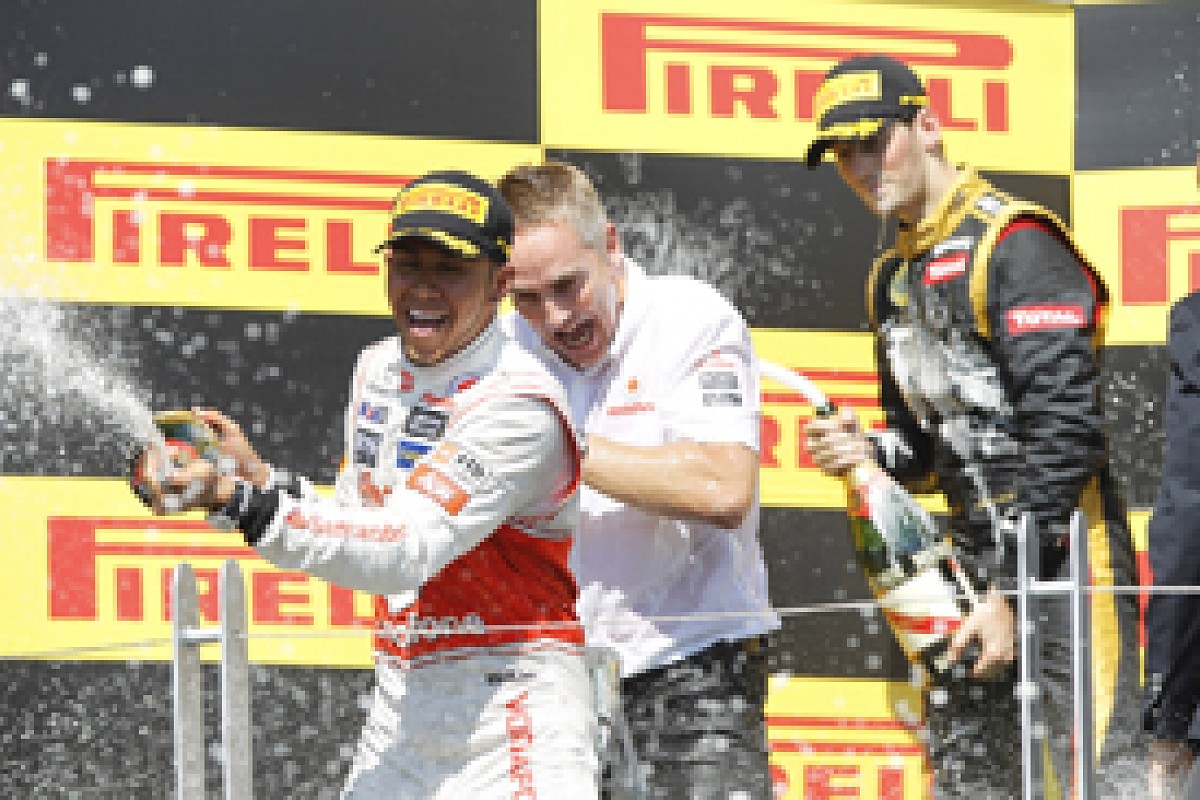 It's only a month since McLaren was winning in Montreal © LAT
So what went wrong? Inevitably the focus is more on tyres than any fundamental flaw with the McLaren, which after all won the Canadian GP on some style just a month before Silverstone.
"I think you'd have to say there's a lot of noise in the system with the tyre variation according to circuits," said Lowe. "But you'd also have to say that through a range of circuits recently we've been shown lacking, really. We were hoping to be strong here, actually, and we weren't strong. That does mean that we need to go back and do a lot more hard work."
Silverstone wasn't an easy weekend for anybody. The lack of dry running on Friday was frustrating, especially for those with new parts to try. McLaren had a new front wing, but the team certainly wasn't alone in struggling to assess its updates.
"It's certainly a factor, losing track time on Friday to do your homework. Fridays are your test sessions, with the lack of track testing, so the wet Friday we lost opportunities. Of course it's the same for everybody, but it's still frustrating."
Then there was the necessity to deal with a wet qualifying session while not knowing what direction the weather would take for the race.
"The other factor is how do you set your car up for the race? I don't think it had been predicted that it would become so warm, and that probably played against us in some respects.
"It's difficult to know how other people played it. But I think certain things you can change under the climactic conditions rules, but certain things not, you can't change your rear wing level, and you'd have been pretty bold in qualifying to put a dry rear wing setting on the car. Maybe other people took more of an optimistic view on the grid with respect to the weather than we did.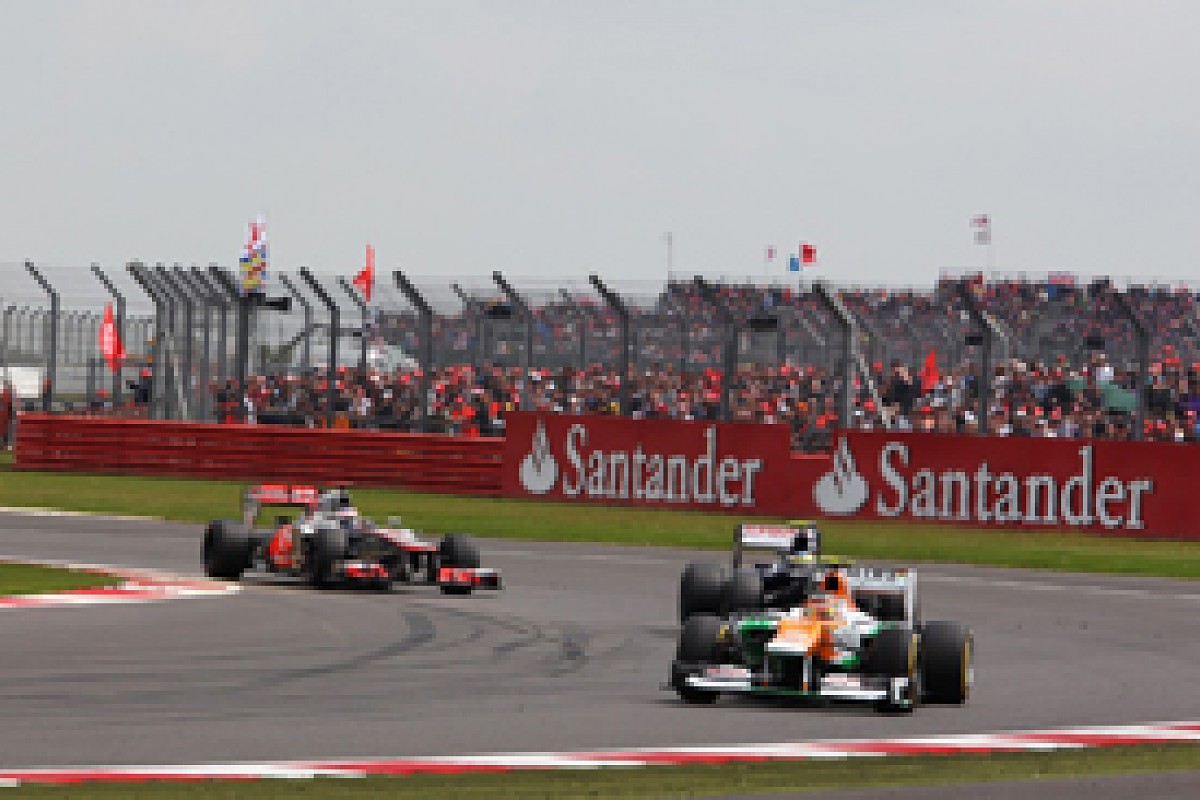 Button eventually made it to 10th © LAT
"It wasn't all bad news, there were good parts of the race. In Jenson's final stint he had good pace initially, in clean air... You don't look at it and say 'OK, the car is a disaster in terms of its fundamentals.'
"It was once again a story how do you get the most out if it all the time? The car was very strong on full wets this weekend, so if you didn't have good downforce you couldn't instantly create that performance. It's a matter of the consistency that we're struggling with."
Lots of people have experiences ups and downs this year, but Silverstone came on the back of a disappointing race in Valencia. However Lowe denies that this sample of two could signal that McLaren isn't improving its car fast enough.
"Of course it's a development race amongst the teams, and we've been bringing updates, and so have other people. Certainly there are a good number of teams that were quicker, and several that didn't make it to the finish. If you were pessimistic you'd say we did well to get eighth and 10th, because we were fortunate with the loss of the Saubers and Maldonado, who I think would have finished ahead of us.
"I struggle to say that all of those teams have put a massive amount of performance onto their cars in the last month relative to us. I think we just have to keep doing the homework with regard to how we're tuning the car."
On the plus side, McLaren has now clearly got on top of the pitstop issues that have bugged the team all season, and its stops at Silverstone were the best in the field. Lowe is proud of that achievement, although he doesn't want to trumpet it too much.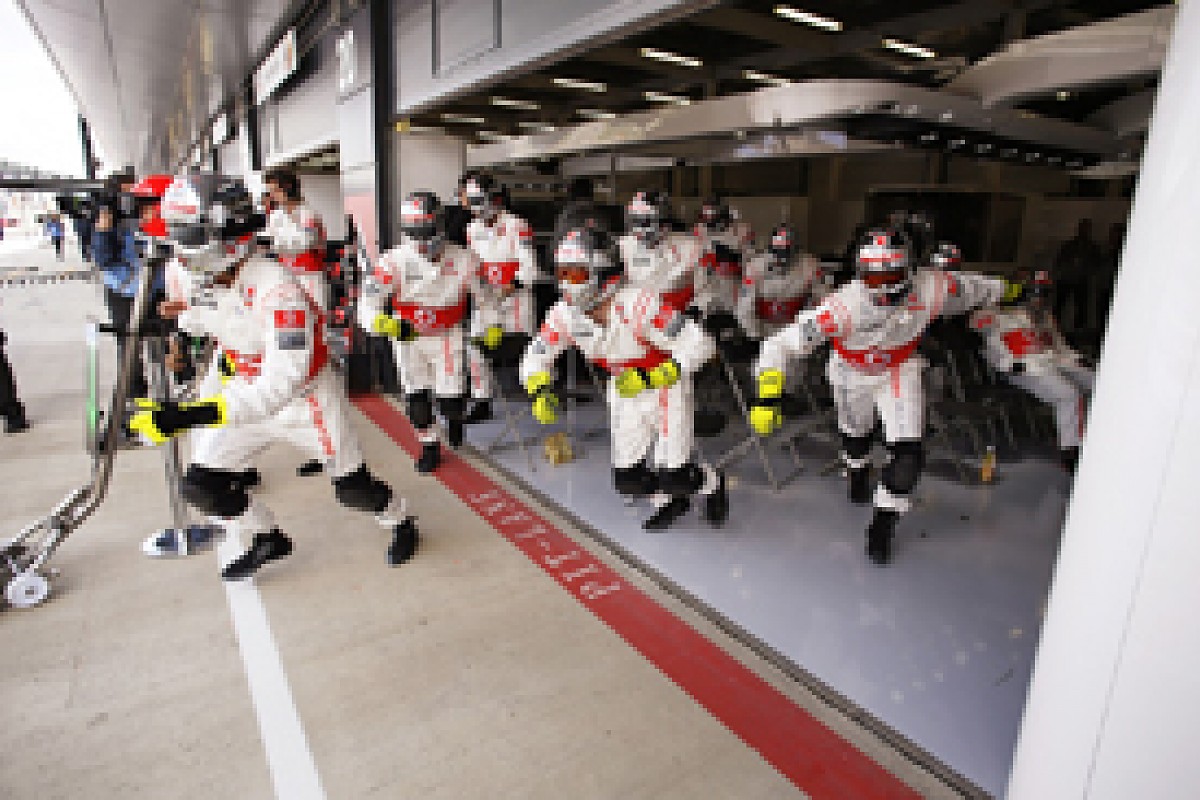 McLaren's pitcrew races into action © LAT
"That's a great achievement. I wouldn't want it to be felt that we won the pitstops, so that's alright then, because that definitely not the thing to win above all else.
"But nevertheless it's a good mark and we should recognise the achievement of the guys in the pits, and not just them but all the engineers who have been working on the equipment and the science behind it for many months.
"We've reached a new milestone in terms of performance, and it hasn't been that easy, we've had a lot of difficult races, including the last one, with a guy injured. That's great to have achieved that."
There's little doubt that there will be a lot of stress in Woking in the coming days, as team build up to the busy double header of Germany/Hungary, where a lot of points can be won or lost in a short time. That's followed by the summer break - McLaren has chosen to start its factory closure immediately after Budapest - so there's a lot to be done in the coming days.
"It will be very hectic, because everybody's gearing up for that push before the break. We have a big programme of upgrades for those two races. That Hungary race is a great one to win, just emotionally. We've won it two out of the three years we've had the summer break. You're only as good as your last race in F1, aren't you?
"So to have your holiday with that under your belt is a great feeling. I'm sure we'll all be trying to make that statistic better..."