We've had some unusual conclusions to races this year, but the way the British Grand Prix ultimately played out added yet another strange twist to this season.
In previous races in 2012 we've seen that stopping late for fresh soft tyres appears to give drivers superpowers and the ability to pass those stranded on older rubber at will. At Silverstone we had the opposite.

In the closing laps Fernando Alonso was on soft tyres that were four laps younger than the hards on Mark Webber's RBR, and yet it was the Ferrari that lost out in the race to the flag.
The teams went into Sunday knowing that the soft tyre was not going to be of much use in race conditions. It was always going to take a pounding over the fast sweeps of Silverstone, and on top of that the lack of dry running during the weekend meant not only did the track not rubber in, but also teams had very little chance to hone their set-ups.
The priority was keeping up with the ever changing wet conditions that made qualifying something of a lottery.
"It has been a very tricky weekend," said Adrian Newey after the flag. "We struggled a bit on Friday, we weren't very happy with the car, which seemed to not be working on the wets. We made some changes overnight which were mainly aimed at trying to get the wets to work.
"We obviously had a mixed day on Saturday in terms of dry P3 and wet qualifying. I think the team and the drivers did a very good job, because when you've got that mixture of conditions through the three qualifying sessions it's easy to drop it somewhere along the line, and to get the cars onto the first and second row was good. And today was really a question of which tyre you went off the line on."
Before Sunday the only dry running came in FP3, where the shortcomings of the soft became apparent. Once it became clear on Sunday that we would have a dry race, the consensus was that the softs had to be used up over as few laps as possible. Then, as Newey said, it was a question of whether to do it at the start or the end of the race, or indeed in the middle, a choice that Lewis Hamilton and McLaren ultimately went for.
It rained a considerable amount on Friday and Saturday at Silverstone © LAT
The fact that qualifying has been wet gave everyone a totally free choice for once, and also meant that they had plenty of brand new hards and softs.
When the blankets came off on the grid, of the top 10 runners only Alonso and Hamilton had gone for the hard tyre, committing themselves to running the softs later on. It clearly was not a straightforward decision for anyone, with a lot of factors to consider, including the soft's superior performance away from the line. In addition it was not clear whether two or three stops would be the ideal route, so that had to be considered as well.
"We decided to run our strategy as if we'd qualified in the dry, and therefore we started both cars on the option tyre," said Christian Horner. "Despite the fact that we knew that it would be wear limited, particularly on a green track. But we felt to have the harder tyre for the back end of the race would be preferable.
"We wanted to make sure we got the option tyre out of the way early without giving too much away, and if there were pace cars or whatever in the early laps - plus there was the start deficit, starting on the prime, getting off the start the softer tyre would be better and on the dirty side of the grid - everything seemed to add up to us to say start on the softs where we were.
"It worked out for us, but it was virgin territory for everybody as it was a green track, and there were no guarantees."
"We thought that the option would probably be quicker initially but slower later in the stint," said Newey. "We just took the view that we would try to be around there at the end."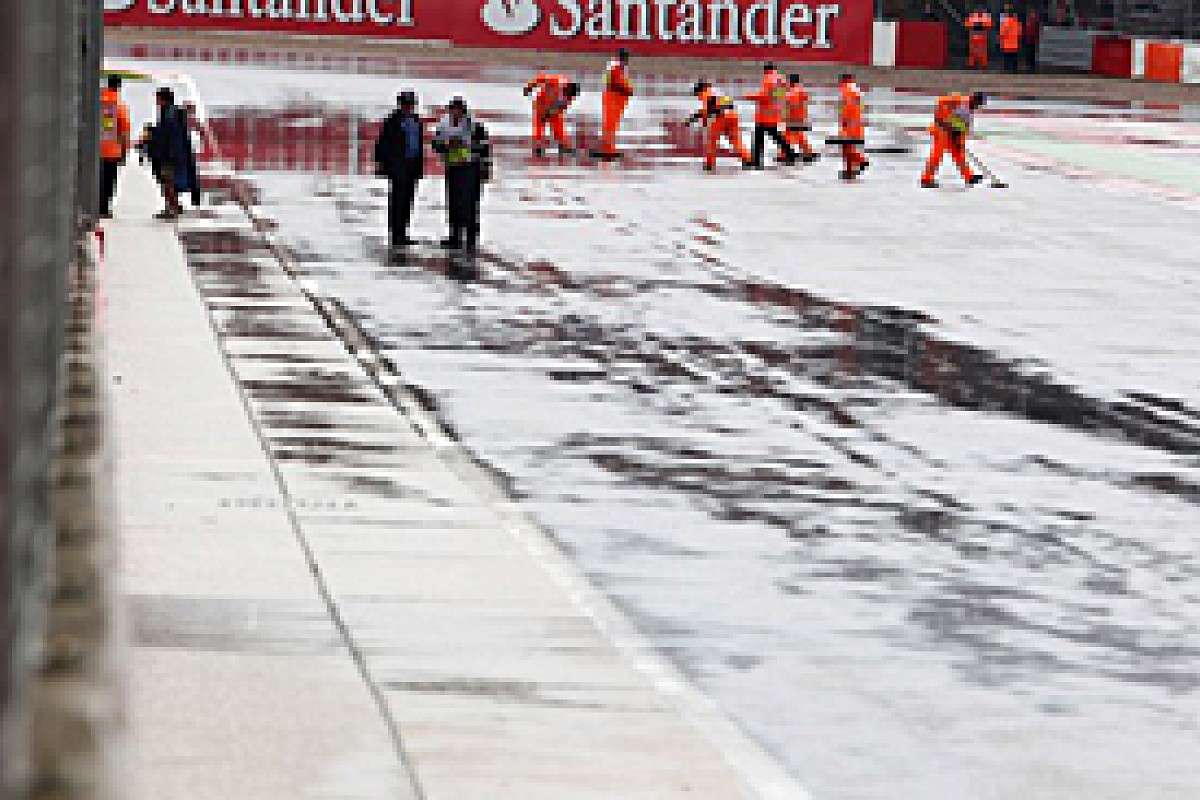 Alonso defended aggressively at the start © LAT
Intriguingly Ferrari had a foot in both camps, putting fifth qualifier Felipe Massa on softs for the start. But there were sound reasons for putting the pole man on hards.
"We had a Saturday morning where we found with Fernando some problems with the soft tyres," said Stefano Domenicali. "And with a much lower fuel [level]. So considering the position we wanted to make sure the first stint was not too short, and that was really the thinking behind that choice.
"I think that was correct, because he was really on a great race pace with the hard. That kind of choice could have opened the window for two or three stops in any case, that was the reason also to consider that solution."
Ferrari was clearly confident that with his good starting form this year Alonso would stay clear of his rivals, even with the slight loss of performance off the line. It worked out in the end, although Webber was so close that when Fernando pulled across the RBR man nearly lost his front wing.
"Probably the start was the biggest worry because with the hard compound you know the start is a little bit worse," said Alonso. "We tried to defend the position there..."
"We hoped that we might be able to use the options to get the place off the line but we obviously didn't," said Newey. "It was close, but once that didn't happen we knew it was going to be a bit tougher, but it was just a matter of sticking with it."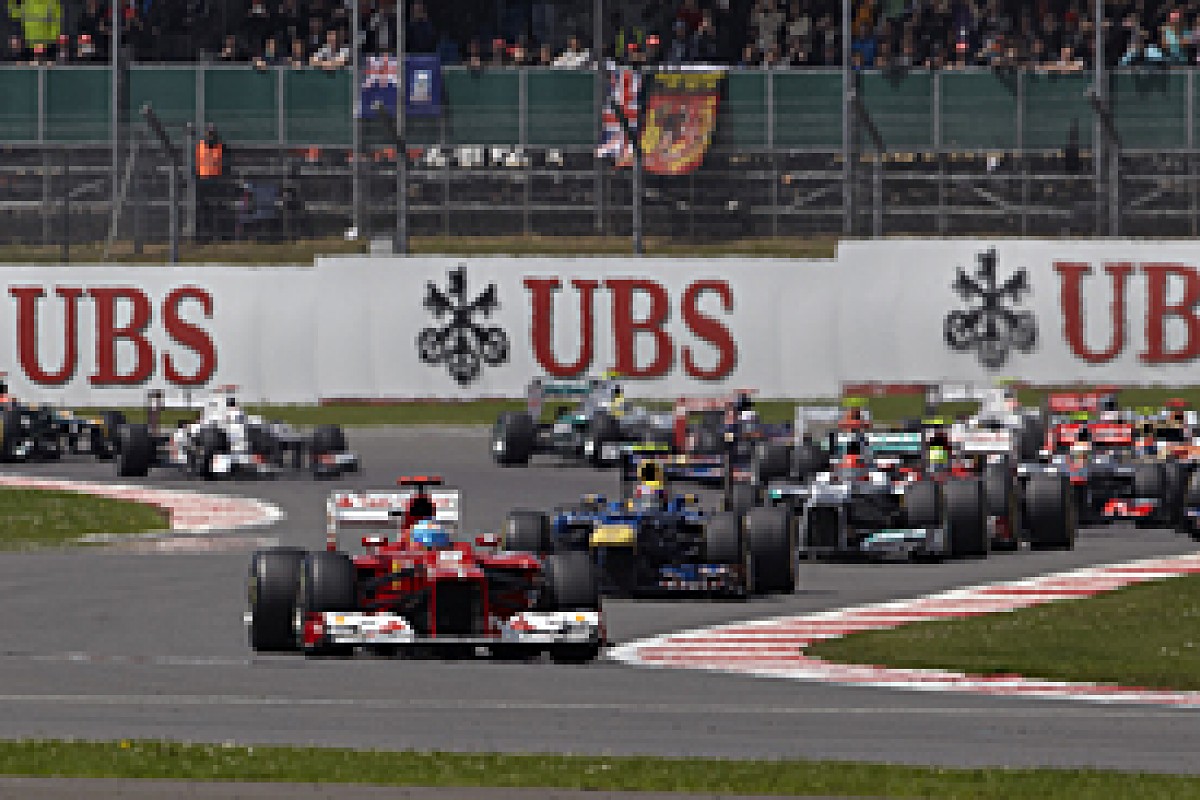 Alonso pits from the lead © LAT
In that first stint Alonso initially opened the gap out by tiny increments. He was 0.6s clear after one lap, 1.3s after five laps, and 3.1s to the good after 10 laps. It was at that point that the front-runners on softs began to stop, led by Sebastian Vettel. The world champion had been stuck behind Michael Schumacher and Massa, and was losing ground to Alonso and Webber up front.
"With Sebastian we had to be more aggressive to get him out of the traffic," said Horner. "So we stopped him pretty early to give him clean air, which got him ahead of Michael and Felipe."
Vettel went onto the hards, and as others followed him in over the ensuing laps, he successfully jumped into third place. Webber came in on lap 14 when some 4s behind leader Alonso. The surprise was that rather than stay out for a few laps - and thus via later first and second stops postpone the switch to softs even further - Alonso came straight in on lap 15.
For this middle stint both Alonso and Webber were thus on the same hard compound, so it was a straight fight. After losing some 1.7s to Mark when caught up in his entertaining but irrelevant battle with Hamilton - who went as far as lap 21 on his hards - Fernando held a stable advantage of around 5s. However hard he tried, Webber only dropped back by a few tenths here and there, before regaining it.
Webber made an interesting observation after the race: "The guys are helping you to work out what level of pace you run at, and also balancing the car at the pit stops was important, working with the guys on the front wing. We made quite a big adjustment at the first stop and then I was much happy with the car in the second and third stints."
Mark came in for his second and final set of hard tyres on lap 33, so now it was a question of how long Alonso would stay out until committing to the softs for the run to the flag. There was certainly no drop in his pace, but he stayed out for just four laps after Webber pitted before coming in on lap 37.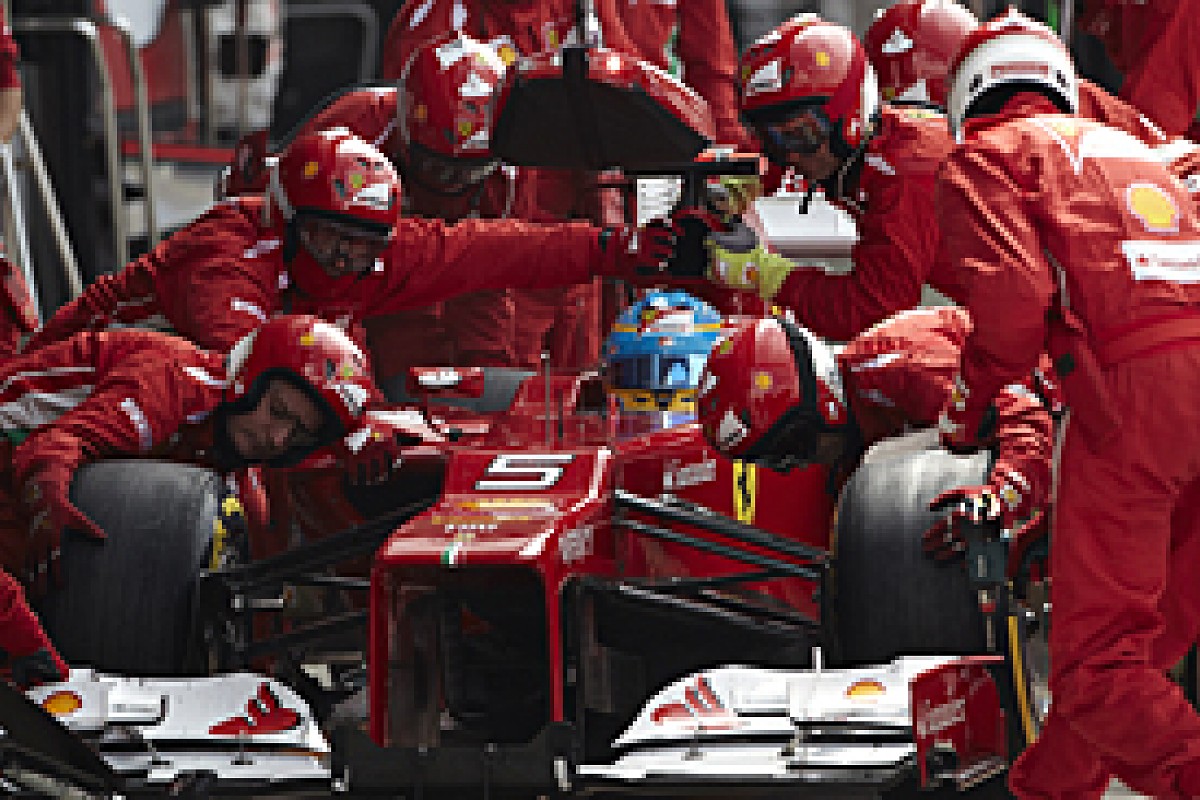 Alonso and Hamilton has an exciting, if inconsequential battle © LAT
In hindsight it's easy to suggest that had he stayed out longer, or had his first stop ensured that his final one was later, he might have been better off in the closing laps. Even Alonso asked the question afterwards: "I think the second was quite close to the limit of the number of laps. Maybe we could have lasted a couple of extra laps in the first one."
The Ferrari boss had no regrets: "We discussed about it," said Domenicali. "We wanted to mark Webber because in this situation you never know what is going to happen, and because we had calculated the length of the stint with the soft would have been OK, because considering what Felipe had in the first stint we were assuming that length was alright. That was the thinking behind that decision."
A 15-lap run to the flag was certainly not too ambitious given that Massa has done 13 at the start, and Webber himself had gone to 14 - and that was with a heavy fuel load and on a track that hadn't yet rubbered in. Nevertheless Alonso was unable to maintain his advantage, as the Aussie reeled him in.
"The key to making Mark's strategy work was making that first stint as long as possible," said Horner. "Not to put too much pressure on ourselves in the final stint. We knew the race should come to us in the final stint. Then we started to eke in and put Fernando under pressure to make sure he put those softer tyres on with numerous laps to go.
"I'd love to say that we were totally confident, but Fernando's pace on the prime tyre was impressive. We were surprised a little bit that he covered us so early in the first stint, and didn't extend that first stint, and then with only 15 laps to go we thought this is going to be tight, but in the last maybe two laps we might be right there.
"So we kept pushing Mark to keep him under pressure and keep pushing, which is exactly what he did. And it turned out that our pace fairly on after Fernando came out after that last stop was better than his, and he closed the gap down very quickly."
Alonso knew it would be tough, but perhaps not as tough as it turned out to be.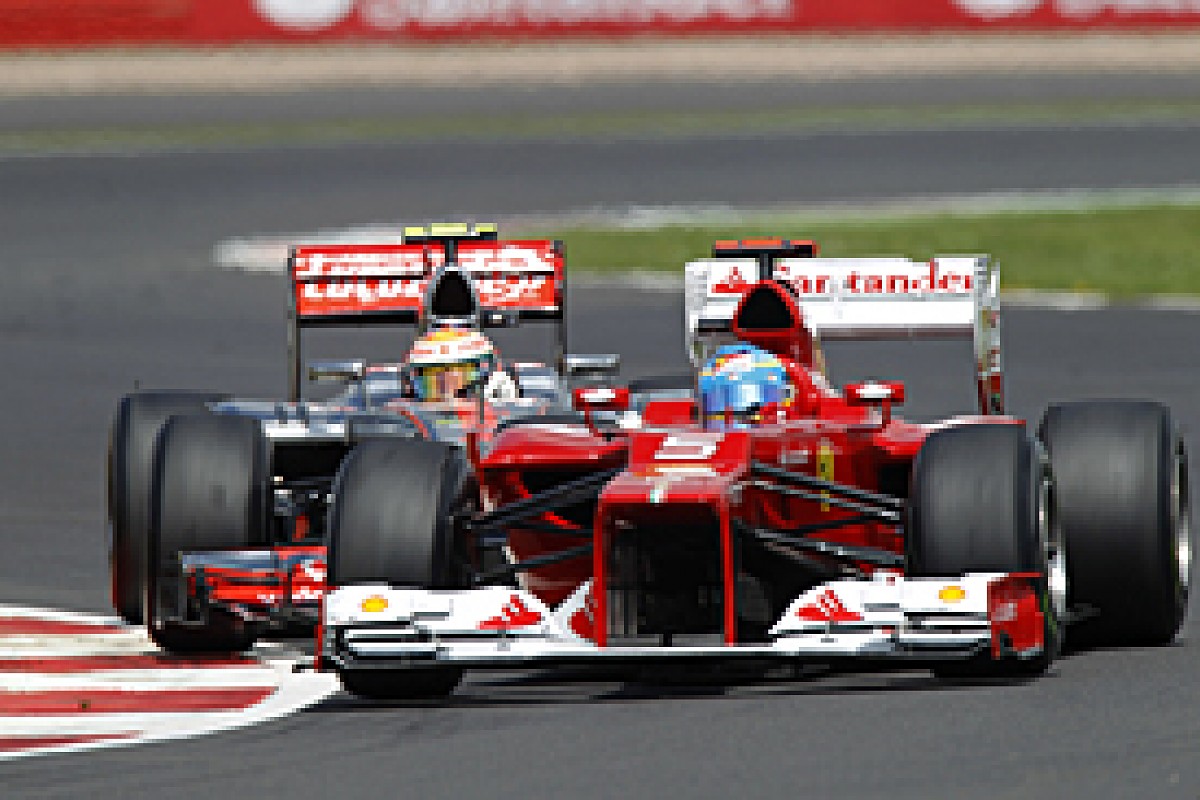 Vettel began to close on Alonso too in the final laps © LAT
"I was confident in the tyres, to be honest, because Felipe used the soft tyre in the first stint and I think he did 14 laps," said Fernando. "So 14 laps with maybe a heavy car in the first stint, and we were 15 laps to the end with a light car. So we were quite convinced the softs were OK. But they were a little bit slower, obviously a little bit too much understeer, so the balance changed and killed the performance of the car a little bit, and we were a bit too slow.
"We knew, more or less, that the soft was a little bit slower, so we needed to open up a gap in the first two stints when we were on different tyres to Mark and we knew that that gap was for sure getting closer and closer at the end when we put on the softs, and what we opened up at the beginning was not enough."
Indeed by lap 45 Webber was on Alonso's gearbox, and three laps after that, he made the inevitable pass. And as one might expect with these two guys, it was hard but fair, with no risk of silly contact.
"We thought we'd catch him," said Newey. "But it's one thing catching him, it's whether you then have enough pace to overtake or not."
"As soon as he got onto that soft tyre we looked quicker," said Horner. "And Mark closed him down and made a great move to win the grand prix. Given another few laps at the rate Sebastian was closing it could have been a one-two finish."
Losing a victory so close to the end is always painful, but to be fair to Ferrari it was pretty close, and Alonso did manage to stay safely clear of Vettel, the man who may ultimately turn out to be his main title rival. And for once the resurgent Massa played a role, beating Vettel at the start and keeping him behind in the first stint, as well as picking up some useful constructors' points.
Alonso himself had no regrets about when he used the option tyre: "You have to put for the first 14 or 15 laps the soft tyres, or in the last 14 or 15, so it was a similar timed race at the end over 52 laps.
"I think tyre choice was a little bit determined by the pace we saw in FP3, the little dry running that we had. We felt more confident on the hards, so it was our preferred choice today. And then, if at any point of the race it had rained and we put on intermediates you didn't have to use the softs any more, so it was a better combination of possibilities that the hard gave us today."
Ferrari is still very much in the hunt, but ominously for the opposition, Red Bull is edging back towards the sort of form we saw over the last couple of seasons, with a car that is quick everywhere.
"We take a lot of comfort from it," said Horner. "Valencia was a very different race to this one, but we've been quick at both types of circuit now. Hopefully that bodes well for the rest of the championship. Ferrari were quick as well today, it seemed that Fernando's pace actually picked up once Mark had passed him.
"We delivered the result today despite tricky conditions yesterday, and it was great to have for the first time this year both drivers standing on the podium."
What's the betting that it won't be the last time?