Fernando Alonso consolidated his position as one of Formula 1's great comeback kings with his superb victory from 11th on the grid in Sunday's European Grand Prix. The Valencia street circuit provided a thrilling race culiminating in the Spaniard taking his second win of 2012.
It's the second time that Alonso has raced from outside the top ten to achieve glory, and only the 26th time in 866 Formula 1 world championship events that a driver has managed such a feat (and three of those were Indianapolis oval races).
The most recent examples of this were:

• The 2012 European Grand Prix; Alonso wins from eleventh thanks to Vettel's and Grosjean's failures, Hamilton tyres fading, and some bold overtaking moves while moving up the field
• The 2008 Singapore Grand Prix; Alonso wins from 15th, but the race was eventually found to have been manipulated by his team, ordering Nelson Piquet Jr to crash at the right time to favour Fernando's strategy
• The 2006 Hungarian Grand Prix; Jenson Button's takes his maiden F1 win in mixed weather conditions from 13th on the grid
• The 2005 Japanese Grand Prix; Kimi Raikkonen, starts no less than 17th in a weather-reshuffled grid to pass Giancarlo Fisichella at the beginning of the last lap and take the win - Alonso also charged through, famously passing Michael Schumacher at high speed into 130R, to go from 16th on the grid to third
Alonso's European Grand Prix may have ended well, but his qualifying equalled his own record of not having got pole for 31 races. Despite achieving 20 poles in his career, none of them fell between the 2007 Belgian Grand Prix and the 2009 German Grand Prix either. But then, come Sunday he charged back superbly and qualifying 11th was history.
Interestingly, before this year's race, only six drivers had ever scored points at Valencia having started outside the top 10. This year, however, three of the first four finishers started the race eleventh or lower - Alonso, Michael Schumacher and Mark Webber.

Adding to the emotion of Alonso's victory was the fact that he hadn't won on home soil since the 2006 Spanish Grand Prix. His win puts him 20 points clear of Webber at the top of the championship chase, and it's his 20th point-scoring finish in a row.
Race notes
• Michael Schumacher put an end to the longest podium drought of his career (47 races) with his third place - which also made him the twelfth oldest driver ever to step on the podium, at 43 years and five months. The all-time record belongs to Luigi Fagioli who was 53, but Michael is the oldest podium finisher since Jack Brabham finished second in the 1970 British Grand Prix when he 44 and 3 months. The German's first podium since his comeback in 2010 is the 155th of his career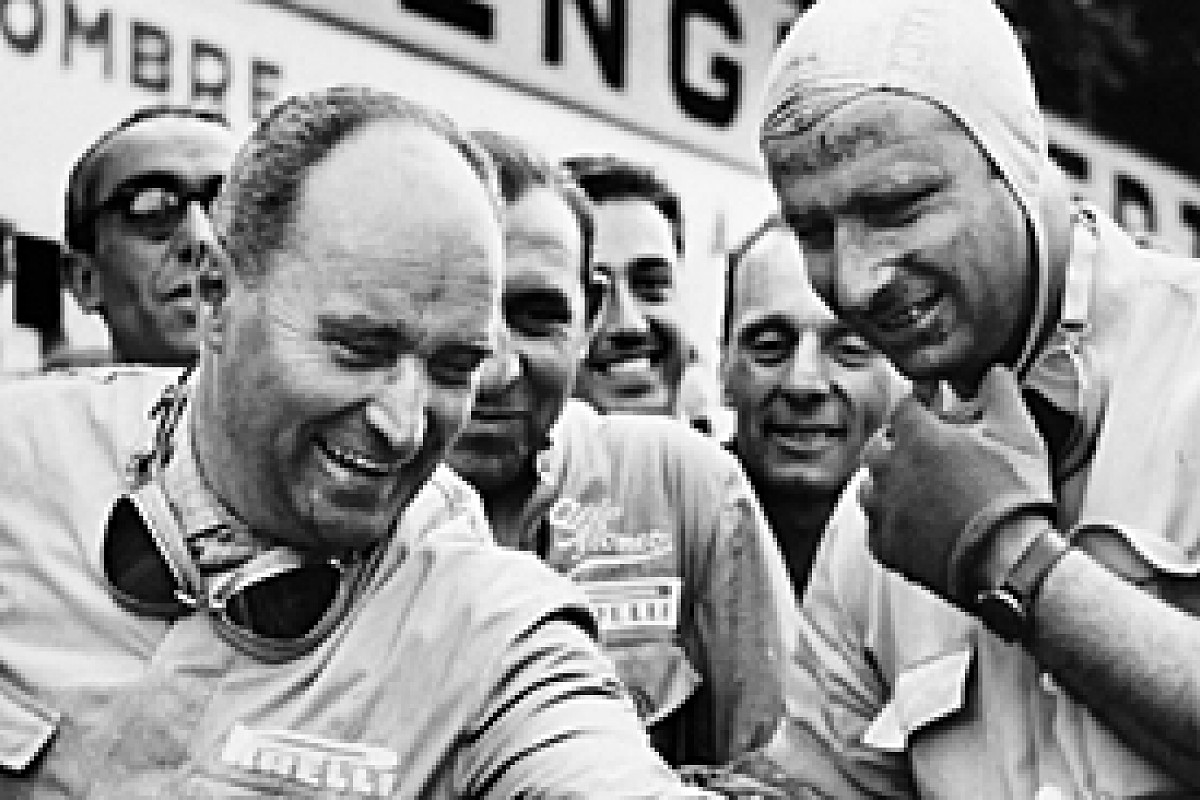 Luigi Fagioli (left) holds the record for the oldest man to stand on an F1 podium © LAT
• The top three in Canada created the sixteenth youngest podium in F1 history, with Lewis Hamilton, Romain Grosjean and Sergio Perez averaging 25 years and three months, all three being former GP2 drivers. The following race in Valencia saw the 59th oldest one, with Alonso, Kimi Raikkonen and Schumacher averaging 35 years and eight months. Not one of them raced GP2, as the series did not even exist before they were in F1. The most recent 'older' podium was the 1994 Australian Grand Prix, where Nigel Mansell, Gerhard Berger and Martin Brundle averaged 37 years and three months.
• Former Brazilian Grand Prix pole-sitter Nico Hulkenberg notched up his best race result in Valencia with fifth place, up from sixth in the 2010 Hungarian Grand Prix. The 16 points scored by the German and his Force India team-mate Paul di Resta represent the team's best points haul in a single event.
• Nico Rosberg recorded fastest lap for the third time in his career, which he'd not done since the 2009 Australian GP. It's also the tenth fastest lap in history for Mercedes.
• Jenson Button has now gone five grands prix without a podium finish. He hasn't recorded such a bad streak since the British to Belgian Grands Prix of 2009. It was Jenson, though, who salvaged McLaren's race after Hamilton's late accident put him out. Button scored the team's 46th consecutive points finish, equalling the second longest all-time record, set by Ferrari from San Marino 2006 to Italy 2008. Ferrari also holds the record of 55 straight points finishes from Malaysia 1999 to Malaysia 2003.
• Sebastian Vettel's retirement marked the first mechanical failure for Red Bull since the 2010 Korean Grand Prix, when the German's engine gave up. That makes two failures for him in 29 races (not including his tyre deflation in last year's Abu Dhabi race). Vettel's team-mate Mark Webber, by contrast, hasn't retired through mechanical issues since the 2009 Singapore Grand Prix. Vettel's evident frustration after retiring on Sunday is well justified though, the last four times he has run into mechanical trouble he was leading the race: Valencia 2012, Abu Dhabi 2011, Korea 2010, Australia 2010.
• Lotus recorded its first mechanical failure of the season, when Romain Grosjean stopped with an alternator problem.
Qualifying notes
Before looking at the Valencia qualifying statistics, consider just how close Q2 has been this season.

In 2010 and 2011 the first ten in Q2 were separated, on average, by 1.1s and 1.5s respectively. This year the average has been 0.533s.

In 2010 and 2011 the minimum gap between first and 11th in Q2 was 0.571s (Europe 2010) and 0.977s (Great Britain 2011) - in both instances that's higher than the average gap for 2012 among the first ten. In Valencia we saw the smallest gap for the last three years, both between first and 10th (0.214s) and between first and 11th (0.218s).

The gap between first and 10th in 2012 has never been higher than 0.850s (Australia), while in 2011 it only once went below a second (Great Britain: 0.948s). And, in the last three races of 2012, the average between first and tenth in Q2 was less than four tenths (average 0.373s),

The knock-out margin has also reduced. The gap between 10th and 11th went from an average of 0.105s in 2011, to 0.069s this year. In the last four races the first of the drivers dropped in Q2 missed out by less than a tenth, and in the last two by less than 0.01s!
• Sebastian Vettel obtained his 33rd pole position in Valencia, equalling Alain Prost and Jim Clark in joint third. Only Michael Schumacher (68) and Ayrton Senna (65) have more.
• Lewis Hamilton obtained his fifth front row start of the year. It was the 14th time the Briton and Vettel have shared the front row.
• Pastor Maldonado recorded his second best career qualifying performance by taking third on the grid. After his maiden pole at Barcelona, the Venezuelan then endured two grid penalties before returning to the top ten last weekend.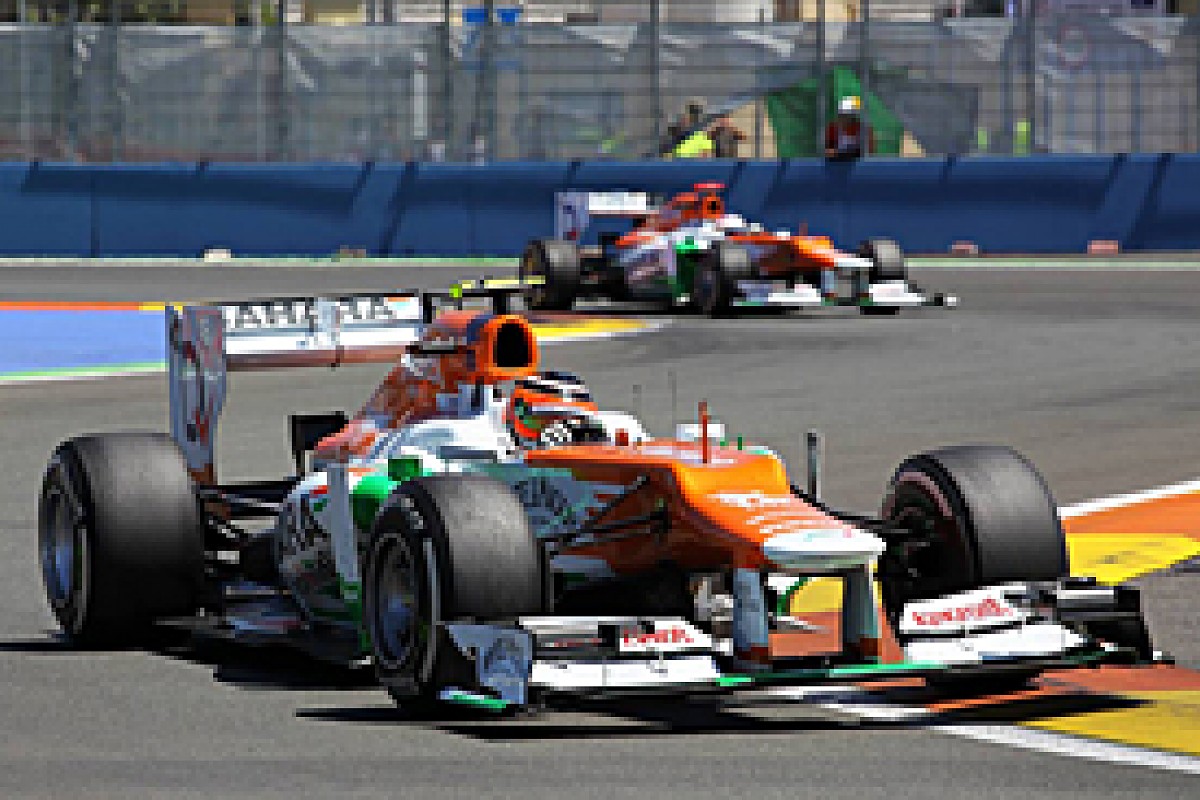 Nico Hulkenberg produced his best qualifying performance since taking pole in Brazil '10 © XPB
• Nico Hulkenberg qualified eighth - which was his best performance of the year and in fact since his pole position in Brazil in 2010. This year the German has only outqualfied his team-mate di Resta if he's reached Q3.
• For the first time in his career, di Resta qualified in the top 10 in back-to-back races.
• Mark Webber started from his worst grid position since the 2009 Japanese Grand Prix (19th). Curiously in the race he performed exactly as he had in China last year, gaining the same number of positions in the race. In Shanghai he went from 18th to third and in Valencia from 19th to fourth.