"This isn't a B-spec car," said a Red Bull team member of the heavily-updated machine the team has brought to Valencia,"it's a D-spec!"
The RB8 has a new front wing, rear suspension, sidepods, floor (with a very trick feature that will be explained in next week's AUTOSPORT magazine), exhaust and lower body profile. It's an amazing feat of productivity from the team which has clearly been flat-out in the two week break since Montreal.

Ostensibly it looks as big a change as that made by the team mid-way through 2009 that found the RB5 a whole chunk of lap time.
The indications from the Friday practices are that the 'D-spec' Red Bull is probably favourite for pole. Sebastian Vettel set the quickest time overall, but this was without ever putting his best sector times together. There were several flashes of sector purples upon the Fan Vision timing screens from both him and Mark Webber, but these laps were invariably then comparatively gentle in the other sectors.
The new car was not without its niggles though, Webber suffering both DRS and downshift problems during his runs.
The real star of the long-runs though was not the Red Bull, but the Lotus - or more specifically that of Romain Grosjean. With the usual qualifications about relative fuel levels, Grosjean regularly lapped 0.5s faster than anyone else. He completed the day with a 13-lap run on the option (soft) tyre and at a time when the Red Bulls, Mercedes', Ferraris, McLarens, Saubers and the much improved Force Indias were lapping in the mid 1m45s, five of Grosjean's laps were in the 44s. The last of those was on his very last lap, showing that the car's usual gentle tyre usage was still very much intact.
Jenson Button and McLaren were hard to gauge in Friday's practice © XPB
Kimi Raikkonen did a similar length run at the same time on the same tyres and though he wasn't quite as quick as Grosjean, he was ahead of everyone else. Raikkonen however was using the old front wing and not the new-spec component on Grosjean's car. It remains to be seen if Raikkonen will now switch to the new wing for qualifying and the race.
The difficult car to place in all this is the McLaren, neither of which did comparable runs to the others. Jenson Button's 13-lap run on the softs was suspiciously slow - too slow for it to be representative. Lewis Hamilton didn't complete a late long run.
Here is the picture from comparable soft-tyred long runs in the second session:
         Vettel  Massa  Schumacher  Grosjean  Hulkenberg  Perez  Maldonado
Laps        9      10       12          13       12          9        8

Avg. 1m:  45.3s   45.3s    45.6s      45.0s    45.5s      45.4s    45.4s
For Lotus the big question is whether the car's qualifying bugbear can be overcome. The forecasted scorching track temperatures for Saturday and Sunday, combined with the relentless loadings on the tyres for this track should in theory suit the car perfectly. But from today's runs there is nothing to suggest the car will be fighting for pole. It is however entirely possible that the car was never run with a genuinely low fuel load on the five-lap runs both drivers did when they set their best times.
Mercedes is taking good advantage of its double DRS system here and had Nico Rosberg got his best lap together better, he was on-course to have set a time that would have bettered Vettel's best (though with the reminder that Vettel could almost certainly have lapped faster than he actually did). But the picture from the race runs doesn't look quite as good and Michael Schumacher has admitted he's slightly pessimistic as to the team's race prospects.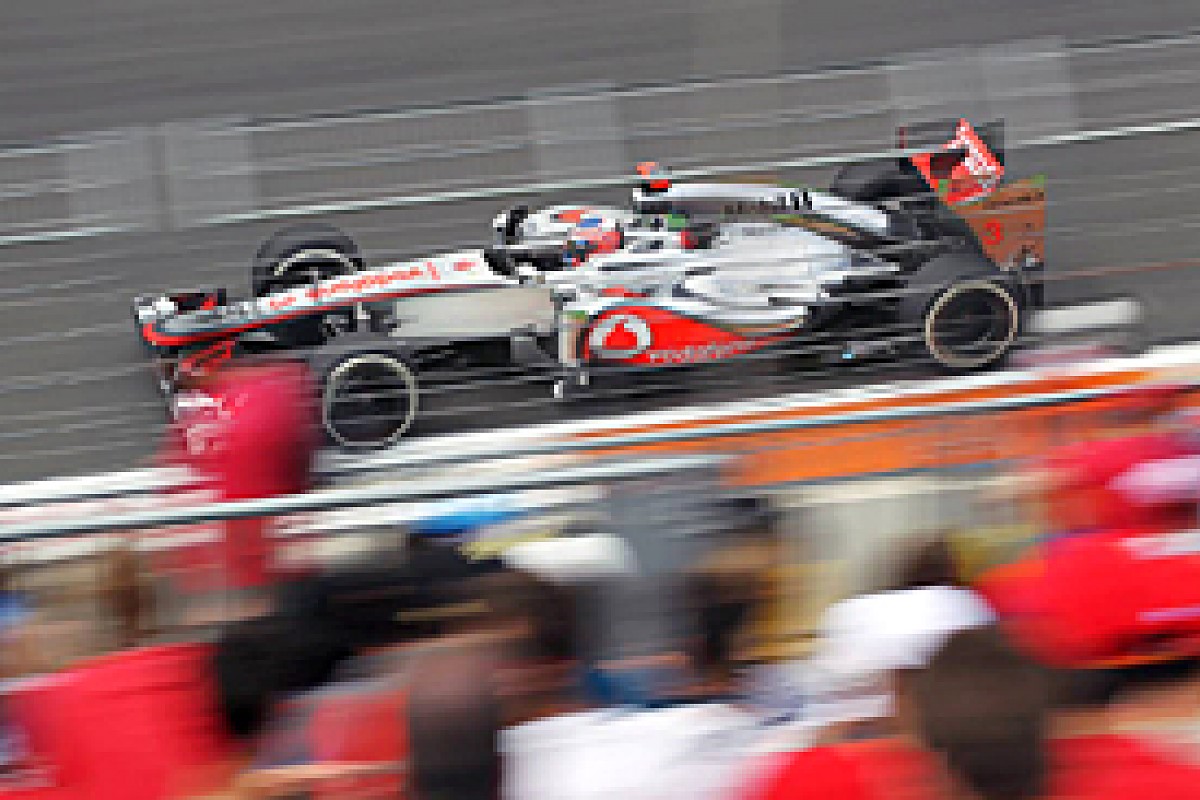 Romain Grosjean's long run times were impressive © LAT
Force India has definitely found something since its difficult race in Montreal and Nico Hulkenberg in particular is in spectacular, attacking form. But his position in FP2 (2nd), together with those of Kamui Kobayashi's Sauber (3rd) and Bruno Senna's Williams (5th) appear to have come from having done their option tyre low-fuel runs when the track was at its quickest, in contrast to several of the ostensibly faster cars behind them.
This is a potentially fascinating race. Of particular intrigue is the suggestion of spectacular performances from Red Bull and Lotus. If it's the latter, we could quite conceivably be looking at the eighth winner from eight.