The Canadian Grand Prix has a tradition of providing excitement, but this time around there was no rain and no safety car intervention to stir up the action.
Nevertheless we still got a fabulous race, in which teams tried a range of strategies with varying degrees of success. The fact that the man on pole finished fourth, while the guy who started 15th managed to beat him in third, demonstrates that this was no ordinary grand prix.
It's worth noting too that in a race devoid of safety cars, Kimi Raikkonen in eighth place was just 15 seconds behind winner Lewis Hamilton at the flag - coincidentally around the length of a Montreal pitstop.
Romain Grosjean and Sergio Perez might have rightly stolen the limelight with their sassy drives onto the podium, but give or take a few laps in traffic here or there, others could have embarrassed Fernando Alonso and Sebastian Vettel in the closing laps.
The race demonstrated just how hard it is even for the established frontrunners to get it right. Not only are they fighting each other, there are others close enough to get into the mix if they can pull off a clever strategy.
For once we saw how different strategies played out. We had a great finish in Monaco a fortnight ago with six cars running nose to tail, albeit with little or no prospect of any overtaking, so the quickest cars in the group couldn't demonstrate their potential.
Clever strategy underpinned Sergio Perez's second podium of 2012 © XPB
This time around the nature of the circuit ensured that anyone with superior performance could pass the car ahead, with the DRS zone combining with traction issues out of the preceding hairpin to leave even the canniest drivers vulnerable to attack from behind.
In the opening stages there was little to suggest that we would ultimately get such a fascinating race. From pole Vettel soon began to open up a gap on Lewis Hamilton, and it all looked much like so many races we've seen over the past couple of seasons.
But as the stint progressed and there was a sniff of pitstops, Lewis closed the gap. Now it was becoming interesting.
"In the first part of the race Seb converted pole into a bit of a lead," says Christian Horner. "I think it got to as much as 2.5 seconds [actually 2.1s], and at that stage we were going OK. We went into the race feeling that a one-stop was more than possible, based on all the information we had from Friday."
It had been a lot cooler on Friday, of course, and come Sunday track temperatures were significantly higher. Horner insists that RBR had done its sums.
"All of that was taken into consideration, and the feedback from Pirelli as well gave us a reasonable confidence that it was possible. And certain cars did make it OK.
"But then towards the back end of the first stint, towards lap 15/16, Sebastian started to lose a bit of pace in the car, which necessitated us to stop."
He came in on lap 16, which was somewhat earlier than Red Bull had anticipated. That meant Vettel now had a marathon 54 laps to run on the soft tyres - a new set, fortunately - if he was to get to the end without stopping.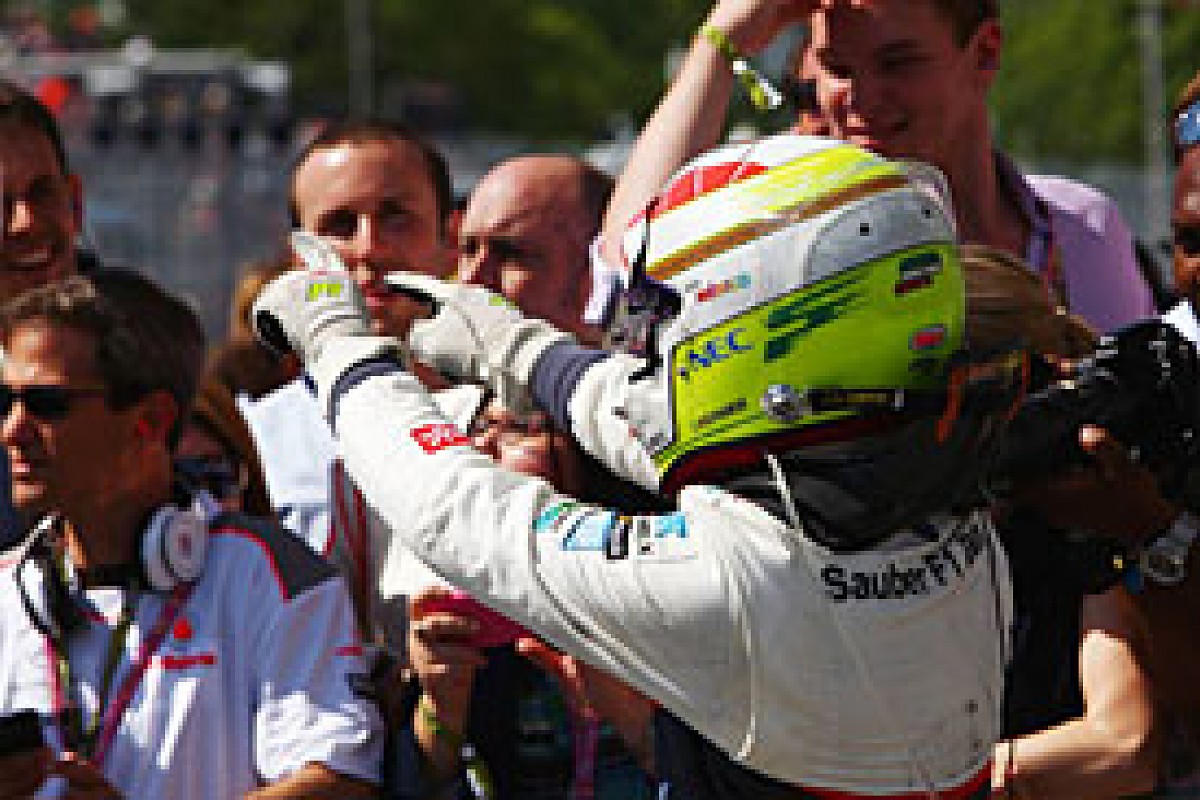 Vettel and Red Bull's attempt at a one-stop proved too ambitious © XPB
And that's why we got the conclusion to the race that we did, for it was to prove a little too ambitious.
"Ultimately we were a bit too hard on the tyre at the end of the first stint; if we'd had another lap or two there and maintained track position, then we'd have been in better condition.
"I think with 20/20 hindsight if you could run that race again you'd probably start on the harder of the tyres and run the soft in the second part of the race. It's very easy to sit here now and say that..."
All of that was for later consideration, because in the meantime the top three teams had plenty to think about. Vettel's stop led Hamilton to respond on lap 17 and Alonso - after putting on a sprint - two laps after that.
We got a significant shake-up in the order due to the fact that to varying degrees everyone had trouble getting their soft tyres switched on as they came out of the pits, and proved slower than rivals still circulating on their old supersofts.
Hamilton jumped Vettel, and then after his two extra laps Alonso in turn jumped Lewis, only to lose out later round the lap as the McLaren man found superior traction on what was his second lap.
Meanwhile Vettel must have been wondering how his lead had been converted into third place.
"The warm-up on the out lap on the harder tyre wasn't fantastic," says Horner. "And that combined with quick in laps for Hamilton and Alonso enabled them both to get the jump on us at the first stop.
"You could see that Alonso got track position, but his warm-up on the prime as well wasn't that great. Unfortunately, the best opportunity Seb had with Fernando was on the first lap, but Fernando had the DRS to Hamilton, and that just kept him away from being able to pass on Fernando's out lap."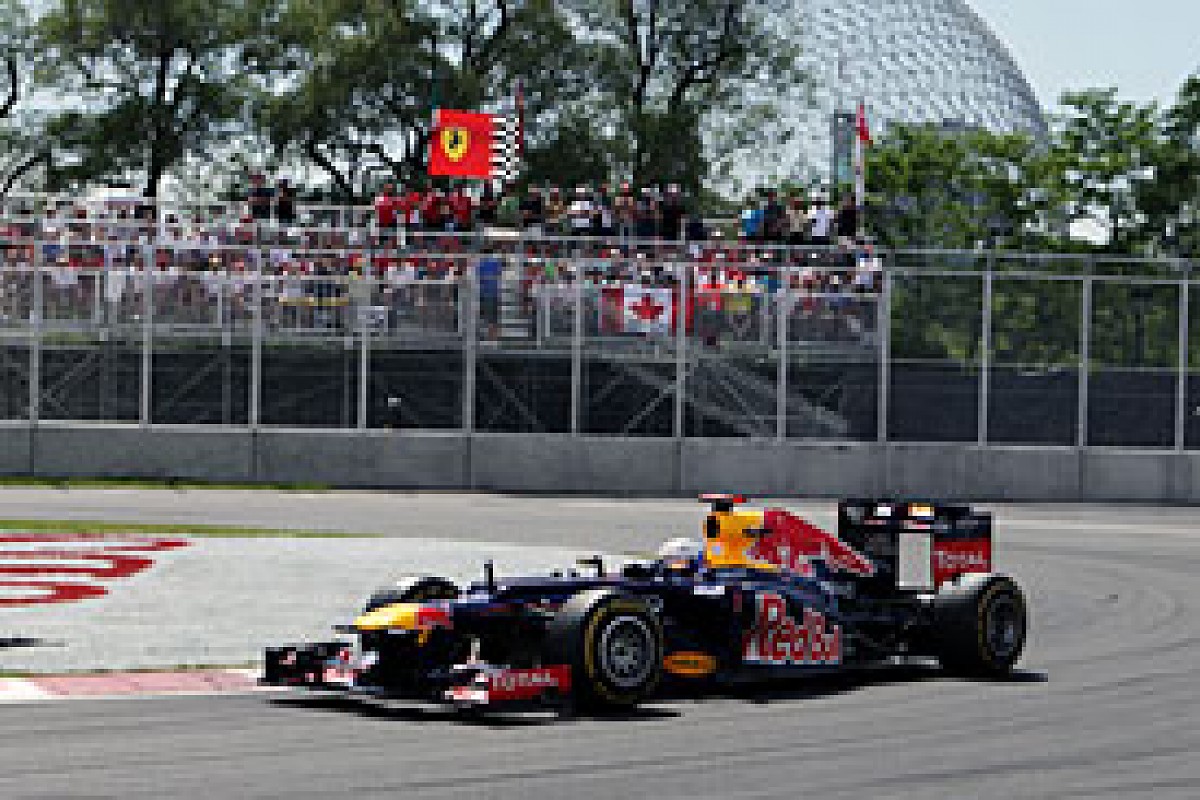 Alonso jumped both Hamilton and Vettel in the first round of stops © XPB
Meanwhile Ferrari had no regrets about pitting Alonso in response to Vettel's stop, and after all, it did get him ahead of the Red Bull, even if he wasn't able to stay clear of the McLaren.
"Honestly when we did the first pitstop, we made the right choice because we jumped a position," says Stefano Domenicali. "It was not clear yet at that moment if it would be one or two stops, because otherwise we could have kept Fernando on the track for longer."
Almost unnoticed in all this, because no one could imagine that he would be a factor, was the progress of Romain Grosjean. With everyone else piling into the pits, he actually led for three laps until coming in on lap 21, one of the last of the leading contenders on supersofts to do so.
That gave him a potential 49-lap run to the flag on new soft tyres, compared to the 54 of Vettel, 53 of Hamilton and 51 of Alonso. Considering that the car is also inherently kinder on its rubber, he clearly had a much better chance of making a one-stop work.
"Honestly, I thought most people would be one-stopping," says Lotus director of track operations Alan Permane. "We did our homework on Friday - did a lot of runs then.
"We knew on Friday temperatures and in Friday conditions we could one-stop, no question. The issue was, with the track temperature almost 15-20C higher, could we still do that?
"We prepared for a one-stop, but we had everything in place should we need to go the other way, and it worked like a dream.
"We would have probably stayed out even longer than lap 21. We were covering Nico Rosberg at the time. He came in and we were then quicker, and I think we came out almost identical to him, and we didn't quite get him. The rest of it worked just perfectly."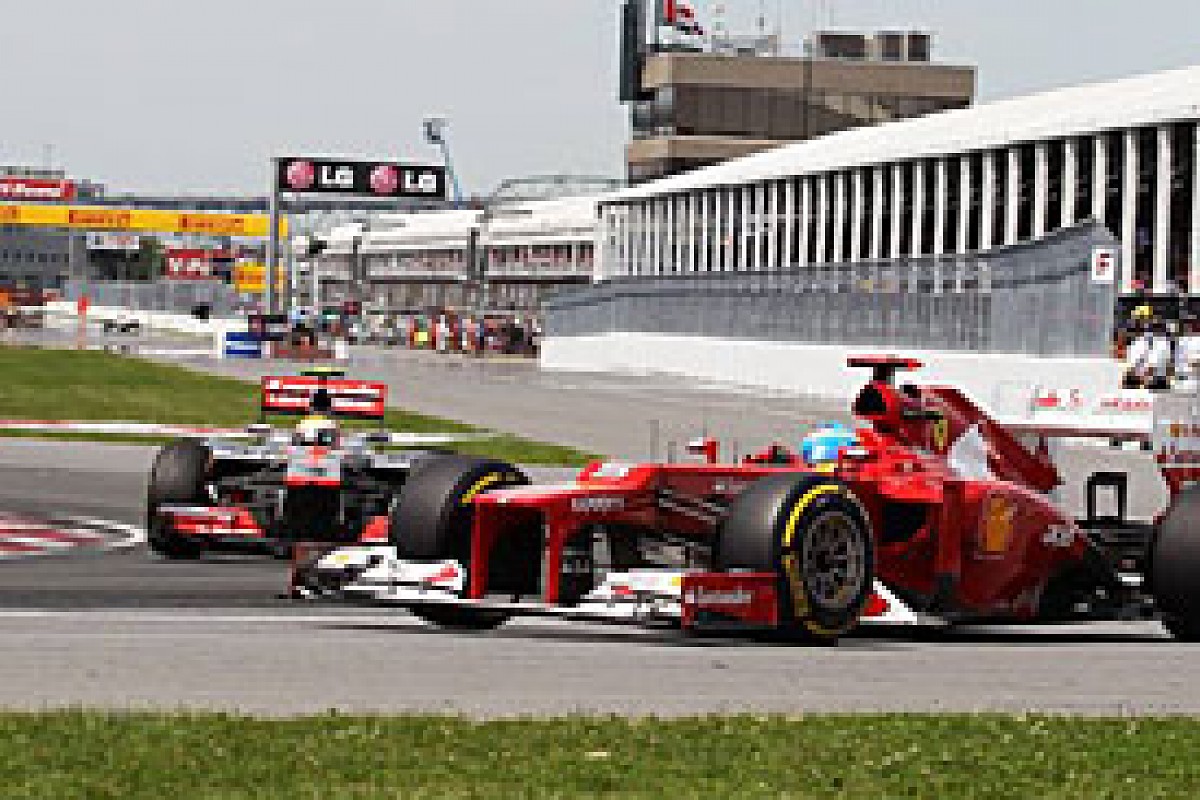 The race settles down
After the flurry of excitement around the first stops, the race cooled down again as Hamilton opened up an advantage on Alonso - remarkably it would remain a little over 3s for some 30 laps as Lewis judged it perfectly - and the Spaniard in turn pulled clear of Vettel.
"Lewis is really on top form with these tyres," says Whitmarsh. "They're particularly difficult. He could turn them on, and you could see at various times he held and controlled the gap with Fernando. We prompted him a bit and he'd suddenly go purple.
"It was classic Lewis, very much in control of his pace and very much in control of the race as a consequence."
Certainly in the middle of the race this didn't look like being a classic, given that the gaps appeared to be big enough to preclude any dramatic shake-up at the second stops (if they happened), even allowing for the tricky tyre warm-up seen at the first stops.
Hamilton was around 3.2s ahead, and still setting very good times, when he pitted on lap 50. Like the first, it was something of a hesitant stop.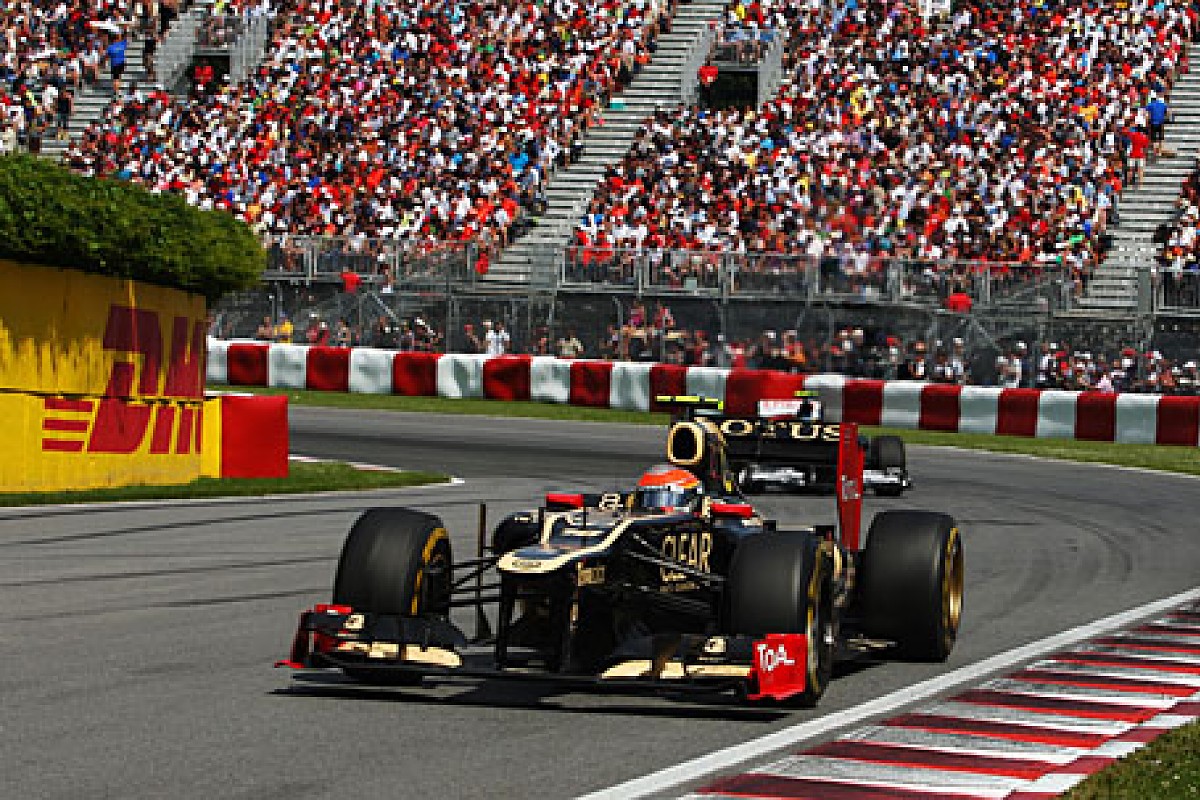 Hamilton had edged away from Alonso and Vettel when he made his second stop... © XPB
"There were a couple of little issues," Whitmarsh concedes. "One was the right rear, but I think that was less than half a second. And it was not just quite engaging the clutch correctly, so there was a little bit of a pick-up problem. In fact on both [stops] it was a little bit imperfect."
But it wasn't too serious, and the first time past the pits he was 14.8s behind new leader Alonso. Again Lewis got his tyres fired up fairly smartly and was able to run fast from the start of the stint.
To the surprise of most observers, there was no immediate response from either Ferrari or Red Bull. And as we heard on the team radio, Hamilton soon began to ask whether the cars ahead were indeed planning to stop. On the pitwall the McLaren management was starting to have a few doubts.
"The normal questions - have we got it wrong, I guess!" smiles Whitmarsh. "Our analysis and data told us that you would have serious degradation at the end, and you just worry that others have got a different view, and they might be right.
"It's a long race. Races that you're leading and are in a strong position always seem a lot longer.
"I was a little bit surprised, and Ferrari and Red Bull appeared to have quite a lot of risk with their strategy, in my view. There are times when you can take a punt like that, but the potential gain was quite small and the risk was quite large. I'm glad they did it, of course..."
It was a bold decision to come in as early as lap 50, when Hamilton was still very comfortable and going quickly, but it was not by chance. It also left him with a little leeway with which to catch up, should his rivals decide not to stop.
"Lewis was still setting purples when we called him in for the last stop," says Whitmarsh. "But we believed it was the right time. We also knew that if they were to try to one-stop, then you need to stop earlier enough that you can make up the time.
"Had Lewis not been able to fire up that last set of tyres, then Fernando might have been able to push. I think if they thought they could open up a gap, they might have tried to stop. It was important at that particular phase of the race to push. He had a long way to go with the tyres, but Lewis fired them up.
"Suddenly, with the second flying lap, he was going purple. Frankly at that point I would have thought Ferrari would have not tried the adventure any more, and they would have seen that they couldn't make up the gap on Lewis and therefore there was a lot of risk in trying to do what they did.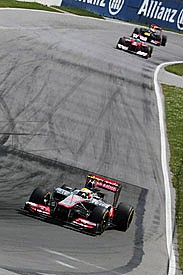 ...although Ferrari rolled the dice and opted not to follow the Briton in © LAT
"They weren't going to win. I was surprised they didn't come in... I was delighted they didn't!
"They had their own data. It's difficult under those circumstances - I think they were in a little bit of a dither between themselves and Vettel. I think you can get transfixed by a skirmish with another car and not see the bigger picture."
To stop or not to stop
So why did Alonso and Vettel stay out? In both cases the teams firmly believed they could get to the end without losing performance on those tyres.
The situation was complicated by the fact that they were also looking at each other and had begun to realise that other cars which might not stop again were creeping into the equation. At the time, staying out seemed the right thing to do.
"We considered the pace and the way that Fernando was using the tyres," says Domenicali. "We discussed it with Fernando, and apparently the tyres were keeping up the pace which was supposed to be good in terms of having a one-stop strategy, then at some point you have to go for one solution or another.
"At that stage all the evidence we had was OK, so we kept going in that direction. I can't say anything more other than in hindsight, of course, it was the wrong thing to do."
Horner agrees that in the laps after Hamilton's pitstop all seemed fine with Vettel's tyres.
"We were going along and we were going OK," he says. "And certainly the feedback from the car was that the tyres were in pretty good shape.
"And then Lewis decided to pit. We were pretty clear, based on bit of communication that was going backwards and forwards with their car, that they were looking at a two-stop.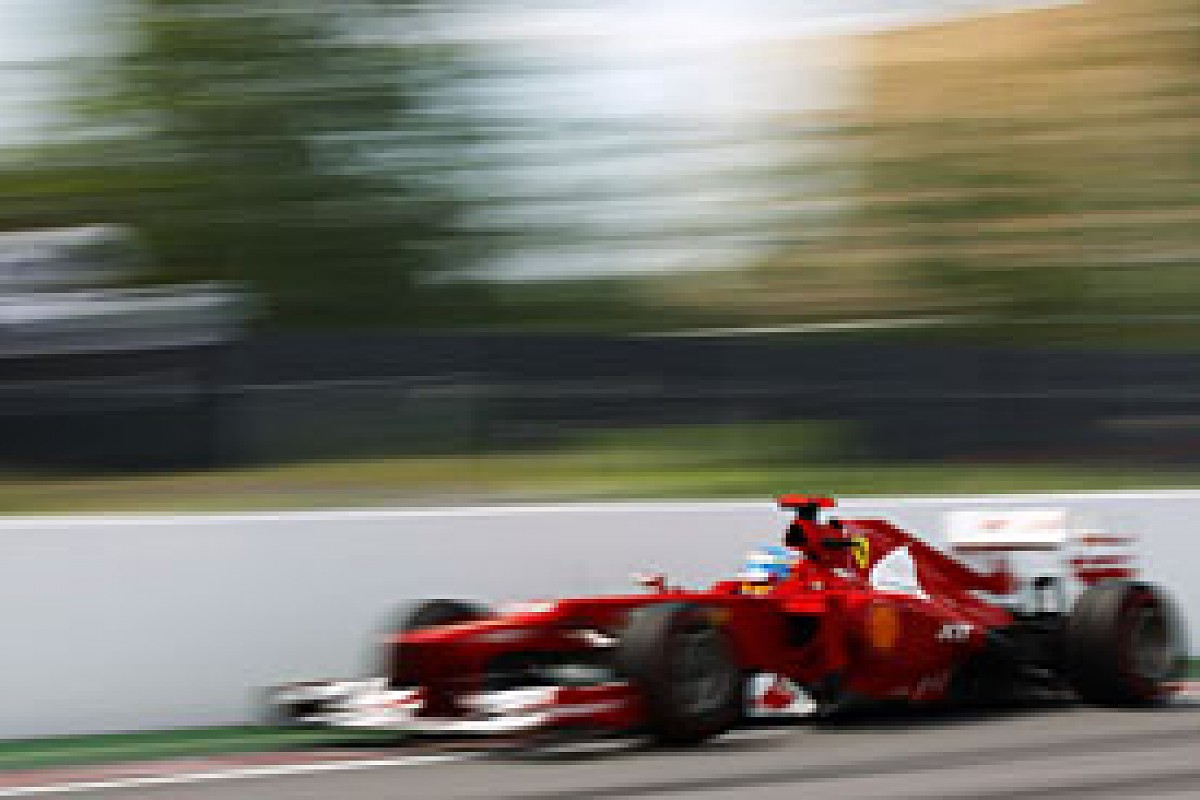 Red Bull and Vettel were happy with their strategy with 19 laps to run © LAT
"At this stage we were pretty happy with the balance, Sebastian was going OK, so on lap 51 with 19 laps left to go we thought our best option was to stay out and do the one-stop. We knew that Lewis would come back pretty quick, but we had track position."
Red Bull had also wised up to the fact that another car was coming into play, namely Grosjean's Lotus. Inevitably the focus had been on the Ferrari and McLaren, but the black and gold car was now a factor, should it not make a second stop. And there was nothing to suggest that it would.
"Halfway through the race he was fighting Raikkonen and Rosberg, and it's difficult at that point [to see if] he's going to be the main contender," says Horner.
"Mark [Webber] was ahead of Grosjean, but the tyres started to go, so Grosjean closed up on him. Theoretically he made the right call to say let's pit and fit another new set to the end of the race, but Grosjean just kept going at the same pace."
"I thought he was going too fast on the prime towards the end!" says Permane. "He was going quicker and quicker, and he didn't need to do that. Having said that, I think Perez was catching him, so I think he judged it just about perfectly."
Quite simply, Grosjean was close enough to Vettel to guarantee that should Seb pit, he would come out behind the Lotus.
"Wherever we were going to pit, we would have come out behind Grosjean, who at this stage of the race was the second quickest car on the track," says Horner. "You give up effectively a podium and you come out behind a car that's going pretty quickly, so at that point in the race and you're going OK and the driver is saying the tyres are not too bad, it's very difficult to say OK, let's do a pitstop."
However, 13 laps after Hamilton's stop, and with only seven laps left, Vettel came in after all, a lap after Lewis passed him on the run from the hairpin to the final corner. At this stage there was more to gain than to lose.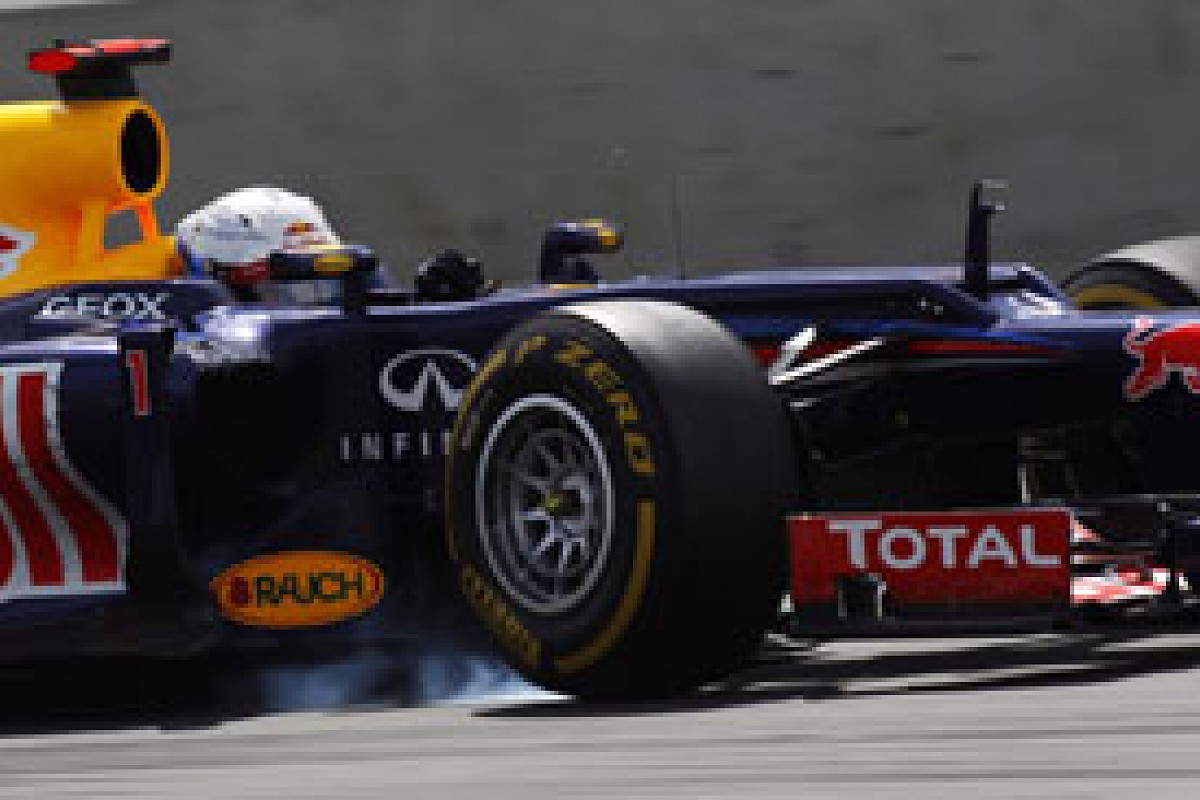 Webber Grosjean Canada 2012 © LAT
"Suddenly we hit a bit of a cliff with tyre grip," Horner explains. "We had basically the option of staying out and hoping we could stay ahead of Grosjean and Perez, which looked unlikely, or making a last-minute call to pit. So we did that and went onto the softer tyre and he was able to come back relatively strong in the end and pass Fernando."
Hamilton disposed of Alonso on lap 64, having in effect gained a second a lap on the Ferrari since his pitstop. By that stage Fernando was in serious trouble, and as his lap times took a dive Grosjean and Perez passed him, followed by Vettel, flying on his fresh rubber and taking an astonishing four seconds a lap off the Spaniard.
In the end Alonso was incredibly fortunate to salvage fifth, as he crossed the line in front of Rosberg, Webber and Raikkonen. One more lap and he would have tumbled to eighth.
Domenicali concedes that Ferrari should have responded to the Red Bull stop: "If you can say there was a mistake it was not to cover Vettel, because we were not expecting him to catch up so quickly, or the other way round, the tyres going off the cliff in such a strong way."
"It was a very difficult strategic race," admits Horner, with some sympathy for Ferrari. "I'm sure Fernando is sitting there thinking, 'I wish I'd pitted with 15 laps to go,' but again, seven laps from the end of the race he was leading."
It was an impressive performance from Grosjean and his team, and went some way to making up for Shanghai, when a similar situation with Kimi Raikkonen ended with frustration as the tyres hit the dreaded cliff.
"I was nervous, I've always got the China debacle in my head, and trying to be a bit cautious here and there," says Permane. "But that was what the data told us to do, and you've got to go with that stuff and try to put those bad experiences behind you.
"We know what we did wrong in China, and if we went back there we could make a two-stop work, I'm sure.
"Stopping in the right place and getting the stint lengths right is part of it, but the car is the main part. I don't want to take anything away from the drivers, but a lot of it is the car. It's no accident that two drivers can make a one-stop work in this car, and two drivers in the Ferrari can't make it work."
He knew how hard it was for Ferrari and Red Bull to make a call in the closing stages: "It's very strange to do pitstops that close to the end of the race, but I've been through it in China. I can sympathise with them - when the tyres go they just disappear, and you're absolutely screwed. Especially if it's only a few laps to go and you're losing 2s a lap, what do you do? It's not an easy one."
It was a great job too by Sauber and Sergio Perez. The Mexican started on the soft tyre, and despite spending a lot of time in traffic, made good progress before pitting on lap 41.
He had a long 29-lap stint on supersofts to the flag, but with a lower fuel load, the track well rubbered-in, and a driver/car combo known to be good on its tyres, it worked perfectly as he worked his way up to an astonishing third.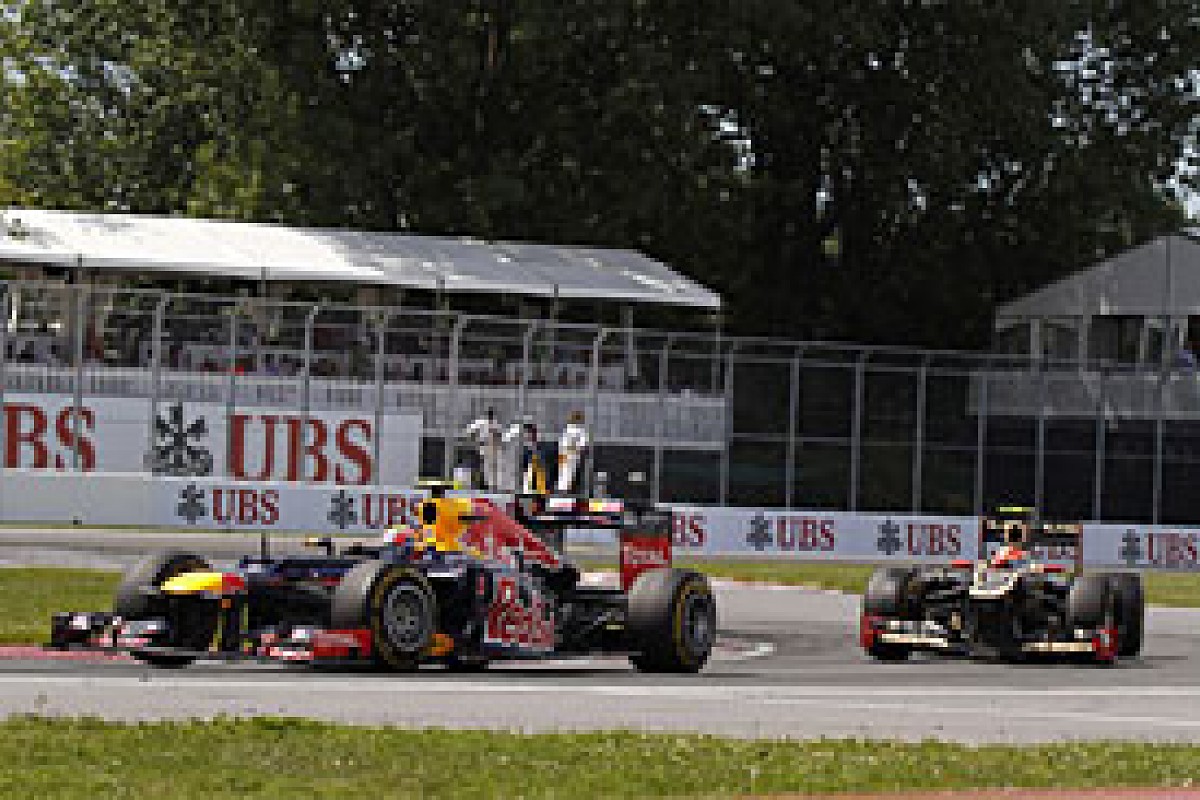 Jenson Button also started on the softs, and he went the other way.
"You can see the Sauber and the Lotus have been classically lighter on their tyres than ourselves, or Red Bull or Mercedes," says Whitmarsh. "You've got to run your strategy on not what you hope you can do, but what your data suggests you can do. That's what we did, and I think our strategy was right.
"They both did a great job of making their tyres last that long, even if their cars are lighter on the tyres than the other top teams, they still had to do a bloody good job to do that, and Perez at the end was massively impressive."
A great race then, but the bottom line was that Hamilton did a superb job all day, and not just when he had the carrot of a couple of cars to chase over those final 20 laps after his pitstop.
"From start to finish Lewis did everything that we asked him to do," says Whitmarsh. "He did everything to look after the tyres, yet the pace was always there. It was a fantastic drive from Lewis. He needed that badly, as we all did."