It's a question of win or be damned in Montreal for Lewis Hamilton, and in 2012 he was very much a winner. As the seventh victor of the year the McLaren ace took the third win of his career win in Canada - a venue at which he has either won (as in 2007 when he scored his maiden triumph, or 2010 and 2012) or crashed out (just as he did in 2008 and 2011).

This was Hamilton's 18th win in Formula 1, which puts him level with Lotus driver Kimi Raikkonen at 14th in the all-time rankings.

Another significant aspect of his success on Sunday is that it brought McLaren back on to the podium after a barren spell of three races. It all means that Hamilton is back at the top of the drivers' championship standings after falling to fourth in the earlier races. The championship lead has also changed hands for the third time in as many races and only Sebastian Vettel has been able to hold it for back-to-back races - between Bahrain and Spain.

Race notes

• The Canadian GP marked Hamilton's first win since last year's Abu Dhabi race. In that race he also started alongside Vettel from the second grid spot, but this time he was able to beat Red Bull to the flag in a straight race, while in Abu Dhabi Sebastian retired with a puncture at the first corner. These are two of nine occasions in which Hamilton has beaten Vettel after starting behind the German.
• Hamilton's win also means the Briton continues his record of securing a pole, win, or podium finish in every season he's raced in.
• Sunday's result culminated in the third consecutive McLaren win in Montreal. Only Ferrari, in 2002-2004, has been able to match this achievement. This was also McLaren's 177th win. It now has just 40 to go to catch Ferrari at the top.
• Hamilton's was the 220th win for a British driver in F1. Britain tops that particular chart ahead of Germany (126).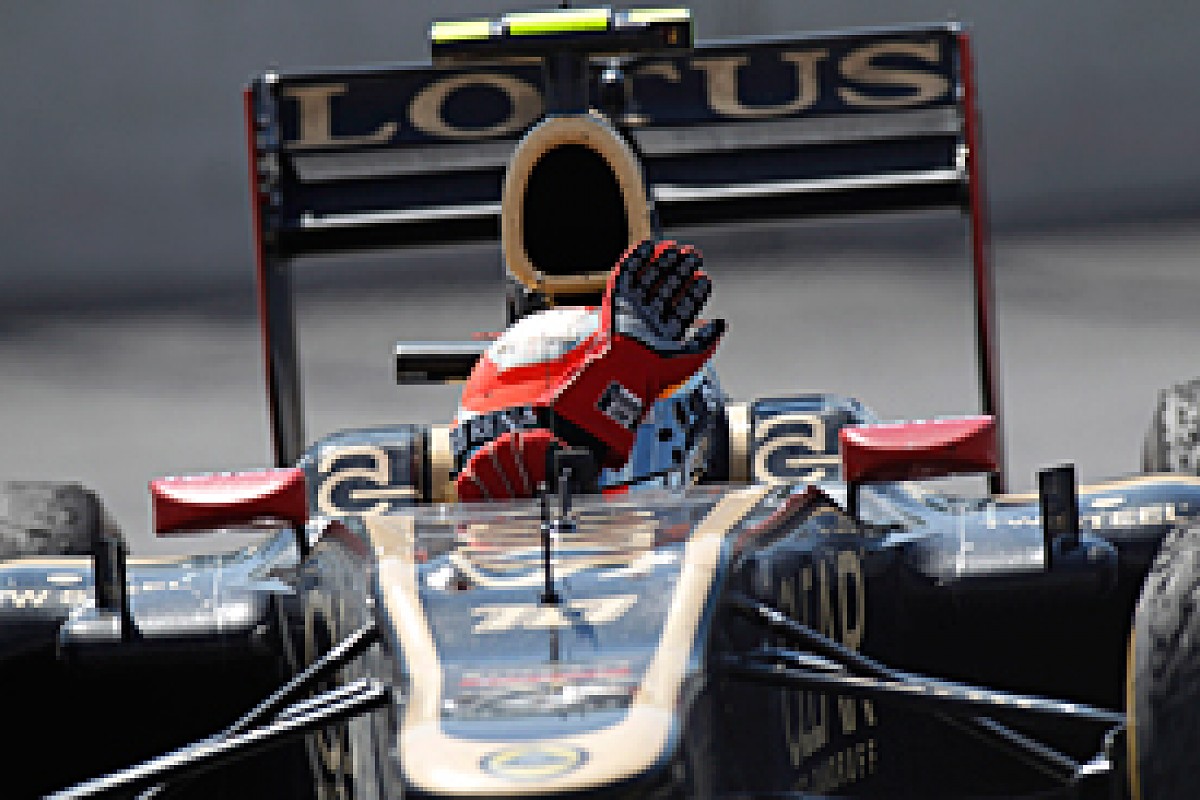 Romain Grosjean took his second podium of the season, the Frenchman has yet to finish lower than sixth © LAT
• When Romain Grosjean hasn't crashed this season he's always finished between second and sixth place. Canada produced his second career podium and his highest finish so far in F1 with second place, one better than the third place he secured in Bahrain. The last Canadian podium for the Enstone-based team came in 2006, when it was still known as Renault - Fernando Alonso winning from pole. As for Lotus, this was the 160th podium for teams using that moniker.
• Sergio Perez hadn't scored points since his maiden podium in Malaysia, until he finished third in Montreal - his second career podium.
• This was the 16th youngest podium in F1 history, with an average age of 25 years, 3 months and 24 days. The record was set at Monza, in 2008, with Vettel, Kovalainen and Kubica averaging 23 years, 11 months and 16 days.
• Montreal appears to be becoming a cursed track for Sebastian Vettel. Last year he lost the lead on the final lap, while this year he dropped from pole to fourth by the flag. Canada remains the only track on the 2012 calendar (other than Austin of course) at which Red Bull has never won.
• Canada marked the first time in 18 races that Fernando Alonso has finished the race in a lower position to that which he started. The last time it happened was in last year's Canadian GP, which was also his most recent retirement.
• Sauber scored its first double points finish since the opening round in Australia.
• Paul di Resta has now gone a full year without a retirement, since spinning off in last year's race. This was his 22nd straight classification, still a long way from Heidfeld's record (41 from France 2007 to Italy 2009).
• For the third time in the past four races Jenson Button hasn't scored points (and was only ninth in Barcelona). This has caused him to slip to eighth in the drivers' standings, his worst position since his last race with Honda in 2008, when he finished the championship in 18th.
Qualifying
• Sebastian Vettel recorded his 32nd career pole, matching Nigel Mansell's mark at fifth in the all-time rankings.
• It was the fourth front row of the season for Lewis Hamilton, and not counting his penalties in China and Spain, he has always qualified in the top three. For the 12th time in the past three years he was second to a Red Bull on the starting grid.
• Fernando Alonso recorded his second-best qualifying performance of the season in Montreal with third position; he was second in Spain. In the first four races he didn't manage any better than eighth, while in the past three races his worst showing was a fifth at Monaco.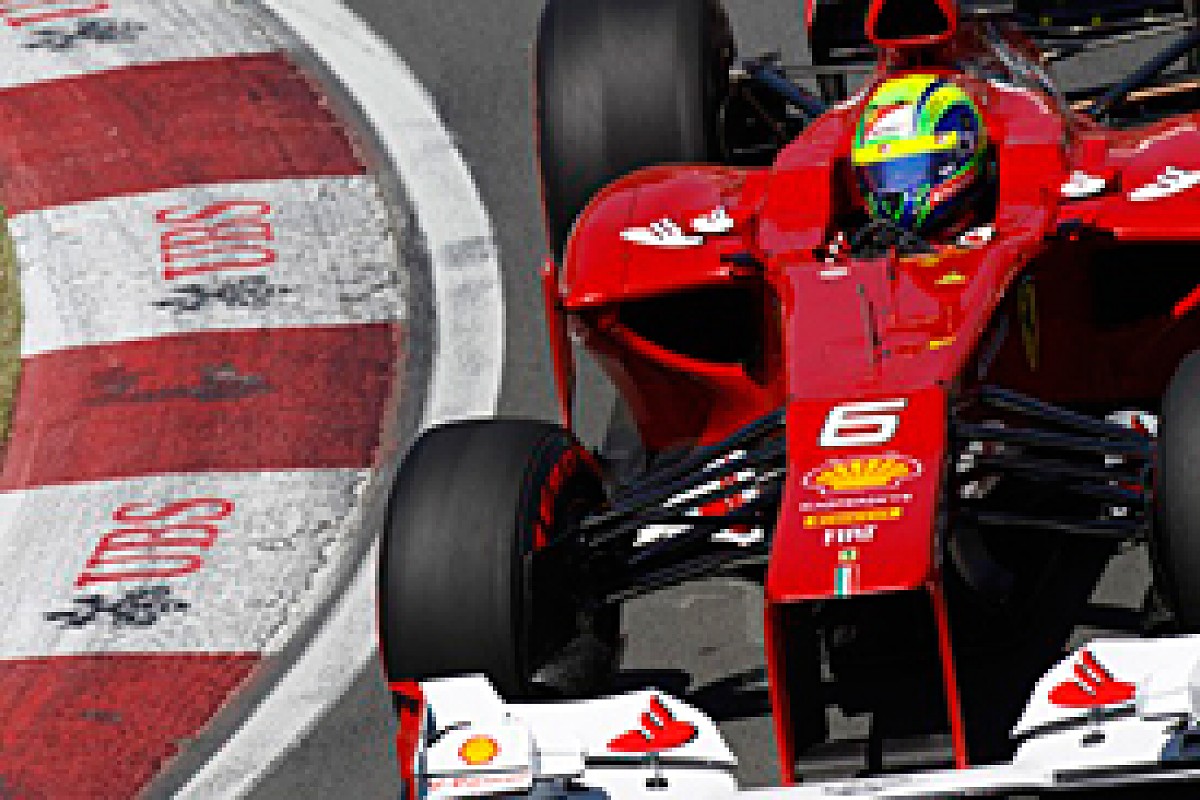 Felipe Massa recorded his best qualifying result of the season; sixth © LAT
• Ferrari's strong form was confirmed by Felipe Massa, whose sixth-placed grid spot marked his best showing this season.
• This was also the best qualifying performance of the season for Paul Di Resta, who was eighth fastest.
• Before his retirement in 2006, Michael Schumacher never qualified lower than sixth in Canada. Since his comeback began in 2010, he has never managed higher than eighth (last year). This year he was ninth.
• Kamui Kobayashi missed out on Q3 by 0.008s. In Monaco the same thing happened and there the margin was 0.08s!
• Saturday was the first time since 2003 that Kimi Raikkonen had qualified outside the top eight in Canada.