The downpour didn't arrive until five minutes after the end of the second session on Friday but the prospect of that thunderous cloudburst had dictated much of the running patterns through both practices.
The expectation had been that it was going to arrive smack in the middle of practice two - and so there was a rush to get any comparative data between the two tyres types - soft and super soft - in the morning. As it happened it remained pretty much dry through the afternoon session. The resultant variation in running programmes between the teams just made comparison yet more difficult than usual.
About the only thing that emerged with real clarity was Lewis Hamilton's habitual ease with shaving the Circuit Gilles Villeneuve walls, as he set fastest time in both sessions. But that raw statistic should not be taken to mean that McLaren will necessarily extend its impressive Montreal roll call. Quite aside from Jenson Button's limited running through a gearbox oil leak, the McLaren does not look the easiest of cars between the walls, its times perhaps owing more to Hamilton than the MP4-27.
We can take the headline times of practice two - where Hamilton headed the two Ferraris, then Sebastian Vettel's Red Bull - as loosely indicative of qualifying pace, but with the proviso that Mercedes, Lotus and Williams ran very different programmes and are therefore not in representative positions on that timesheet.
Mercedes reckoned it was quicker than the results suggested © LAT
Mercedes and Williams did their low fuel running relatively early in the session before the track had edged up from 23 degrees to 26 and cleaned up more. Lotus ran its drivers with a fuel load somewhere between qualifying and race, leaving Romain Grosjean and Kimi Raikkonen down in 14th and 15th.
But in terms of race pace the picture looks slightly different - as usual this year, in fact. The best comparative data the afternoon session provided was the long-runs on the option tyres conducted by Hamilton, Mark Webber's Red Bull, Pastor Maldonado's Williams, Nico Rosberg's Mercedes and Sergio Perez's Sauber. Unfortunately, for the basis of direct comparison, Ferrari and Lotus each elected not to do comparable runs.
But looking at those key five cars on those option tyre runs, we see the following picture.
                McLaren  Mercedes  Red Bull  Williams  Sauber
No. laps        20       20        17        18        13
Losing tyres at 15       16        12        16        -
Av laps*        1m19.43s 19.6      19.6      19.43     19.7

* Average taking out backing-off laps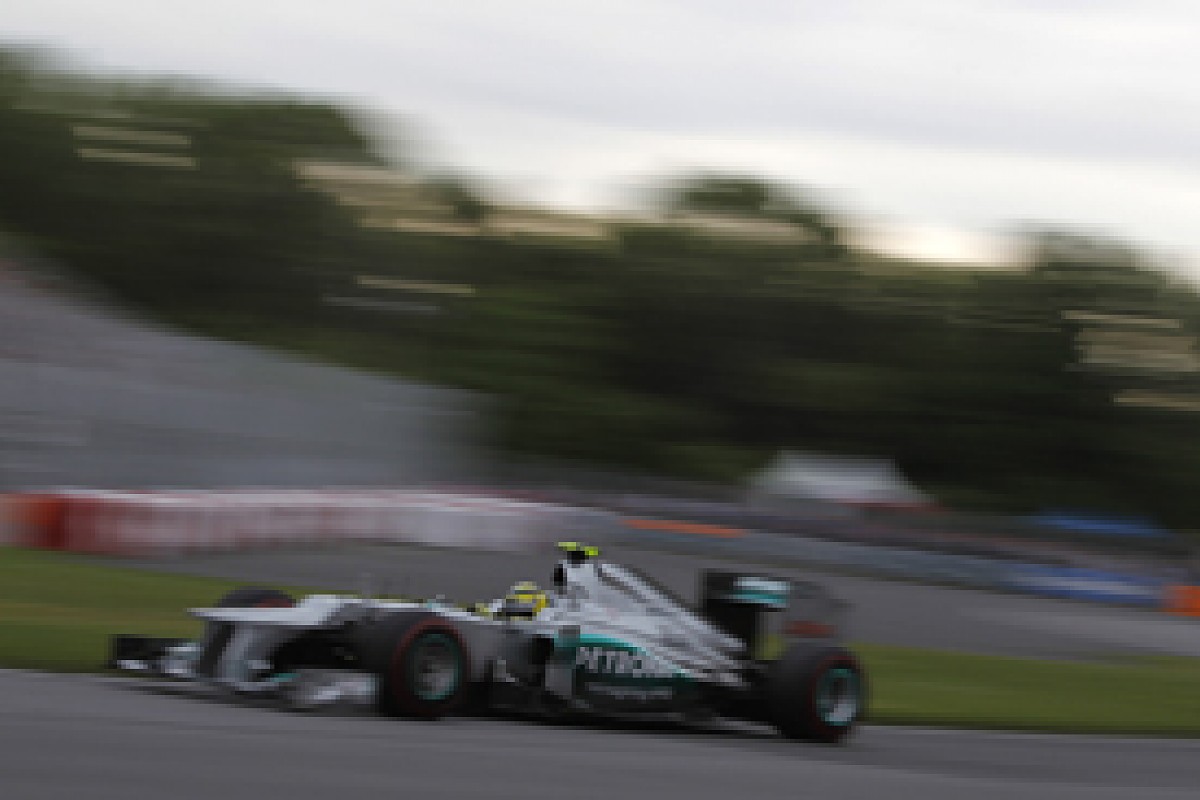 Red Bull's tyres faded faster than some other teams' © LAT
This looks potentially alarming for Red Bull, with Webber having to back off much earlier in his run to keep the tyres alive than the others. It tends to confirm that Mercedes may well have cured its rear tyre degradation issues, for Rosberg was able to run long and consistently. The Williams looks highly promising on race pace, the Sauber not quite as quick as the others even over a shorter run. So where do Ferrari and Lotus fit into this? Impossible to be precise, as Ferrari's late runs on the options were of a much shorter duration and therefore artificially fast relative to those out at the same time. Similarly, Lotus ran several series of six-seven lap runs only, albeit apparently more highly fuelled.
So while Hamilton is a logical favourite for pole, the form of Mercedes, Ferrari and Lotus has been well disguised and could be revealed to be formidable. The Red Bull looks competitive, but with worrying-looking long-runs. The Williams - Maldonado's at least - looks terrific over a stint but there was no indication from Friday practice it can compete at the front on qualifying times.
Then there's the question as to what extent the compromised Button can rescue his weekend - and where he might slot in. A victory from him looks remote this time - but then it looked near-impossible 60 per cent of the way through last year's race, when he was a solid last and had not even caught up to the tail of the pack.
The weather forecast for Sunday suggests that the post-practice thunderstorm was the last of the rain we'll see in Montreal this weekend, so any miracles look less likely. But with Michael Schumacher, Hamilton, Raikkonen and Grosjean all yet to win a race this year, there is every chance that the victor is among that list - and thereby that the 'new winner' run will be extended to seven. The best bet for the Montreal winner to be the first man to twice this year? We'd probably go with Fernando Alonso for that one.