As ever the Monaco Grand Prix was a complex game of chess, with the pieces put in place after qualifying and the teams charged with the job of moving them around the board at the right time on Sunday afternoon.
There might not have been any overtaking at the front - not that there ever is at Monaco - but the 70th edition of the race was a fascinating affair, with four teams involved in the fight at the sharp end.
Ultimately, six cars crossed the line separated by just 6.1 seconds, 75 laps after the only safety car pulled in and the track went green.
That's a remarkable statistic by any standards, and anyone complaining that the race was a procession should have a think about the times Monaco has been won in a solo demonstration run with a winning margin of a minute or more.
They might have had to keep one eye on tyre conservation, but the leading bunch put on a great show, and when they were running nose-to-tail at the end, things really were on a knife-edge, with any mistake likely to lead to a chain-reaction incident.
The rain added an extra dimension, not just the drops that fell in the closing laps but also the earlier threat that focussed the strategists on ensuring they didn't bring their drivers in for a change to new slicks just before a shower soaked the track.
In the circumstances, the victory for Mark Webber and Red Bull was well deserved, as they made the right moves all weekend, albeit benefiting from a little help from Michael Schumacher's grid penalty. And perhaps even more important in the long term, the team also salvaged a useful fourth place for Sebastian Vettel.
Webber was pressured hard by Rosberg © LAT
"The target was to win, and to deliver is the hard part," says Christian Horner. "The team has done a great job today to deliver a victory, a third victory in succession in Monaco.
"Rain, it's Monaco, a tight race - there was a lot of stress. But Mark drove impeccably and raced brilliantly from the front of the field. And Sebastian did a great job as well - when he had clean air he really charged."
The value of starting at the front
DRS and tyre performance might have generated overtaking on other tracks, but at Monaco getting into the first corner in front remains imperative. Webber hasn't always got it right in the past, but he did so this time.
And Nico Rosberg bucked the trend of the man in second losing out by slotting in behind on the sweep to Ste Devote. Third-placed starter Lewis Hamilton must have been pretty confident that he would be able to get Rosberg off the line, which is why he was so frustrated about the launch performance of the MP4-27.
So Webber's main competition was now the Mercedes, which had looked very strong throughout the weekend. The challenge for everyone was the almost total lack of knowledge of how the supersoft tyre would behave on a heavy fuel load, and how far it would go.
Teams were aiming for one stop, but in the back of their minds knew a curtailed first stint could push them to two.
And then there was the weather to consider, with rain expected somewhere around the first stops, and the generally cooler conditions further confusing the tyre issue.
At the end of the first flying lap after the brief safety car period Webber had pulled out 0.760s on Rosberg, and then he steadily built on that, albeit sometimes in tiny increments. After lap 15 the gap stabilised at around 2s.
"He had a great start," says Horner. "We had discussed before the race whether it was likely to be a one-stop or a two-stop. The idea was to try to make the option tyre go as far as possible.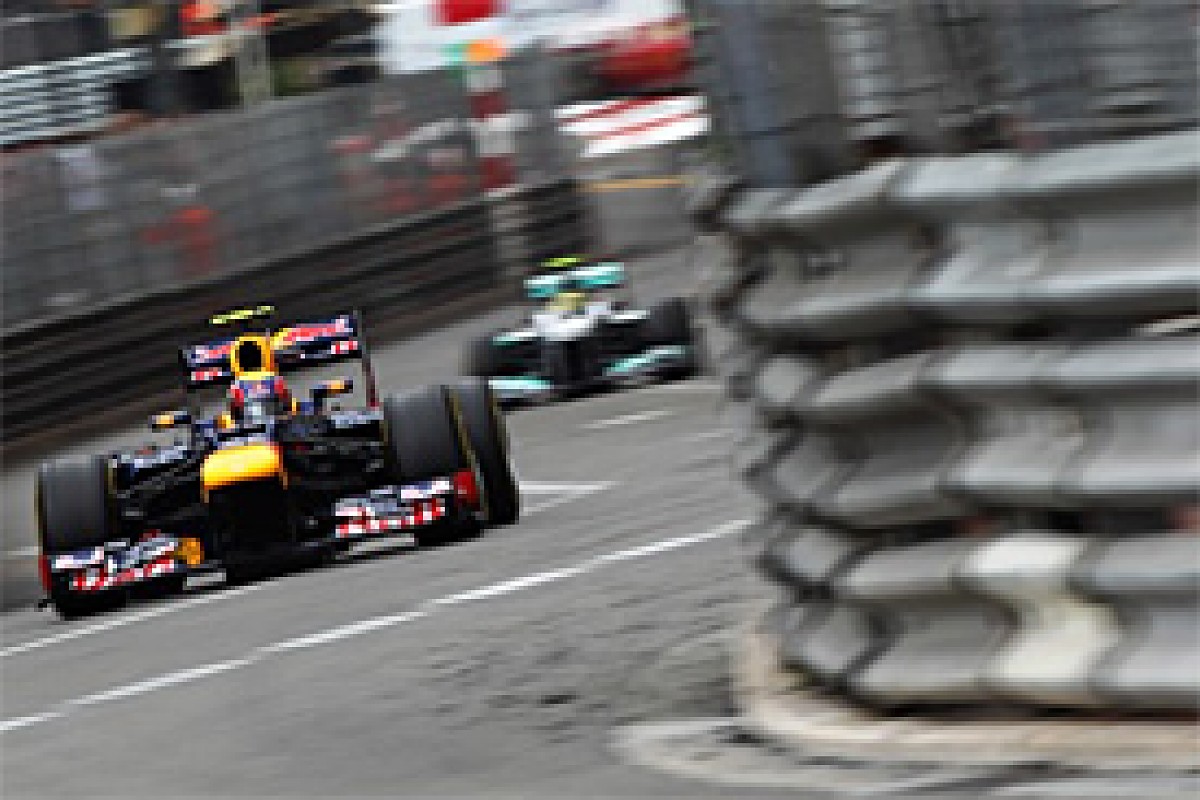 Webber kept the lead at the start © LAT
"Mark did a really super job of doing enough to maintain and break the DRS with Nico but look after the option tyres very well. That enabled us to get into a one-stop window."
It was Rosberg who pitted first, coming in on lap 27 and emerging with a set of the prime, or soft, tyres. It looked like an attacking move.
"It was a little bit," says Ross Brawn. "But going out on the harder tyre, it always takes a little bit of time to warm up, so it wasn't like attacking with the softer tyre. They had to do some banzai laps, so that was as good as it got."
Rosberg's brand new soft tyres were fresher than the supersofts on Webber's car, but he knew they had to last 51 laps - and more importantly as Brawn said they took more time than expected to get up to speed. In other words there was little chance of a super-quick out lap suddenly bouncing him ahead of Webber.
Indeed, Mark stayed out for two more laps before coming in on lap 29 and emerging still safely in front.
"Getting as far as lap 29 was beyond our prediction going into the race, and that made a one-stop entirely feasible," says Horner. "So once Rosberg pitted we covered his move and went onto the prime tyre."
The fascinating twist at this stage was the performance of Vettel, who suddenly came into the mix. He had struggled for pace in qualifying, needing a set of supersofts to get out of Q1, and then just scraped his way out of Q2 in ninth.
Aware that Schumacher and Maldonado had penalties, the team chose to opt out of a proper effort in Q3 and save a set of new supersofts for the race - something we've seen a lot elsewhere, but highly unusual for Monaco, where every position counts.
"To be honest," says Horner, "Seb was very comfortable in the car yesterday morning; he looked very quick. He made some set-up changes that went in the wrong direction for qualifying single-lap performance, and I think he struggled as a result. That's why strategically we took the decision to go a different route."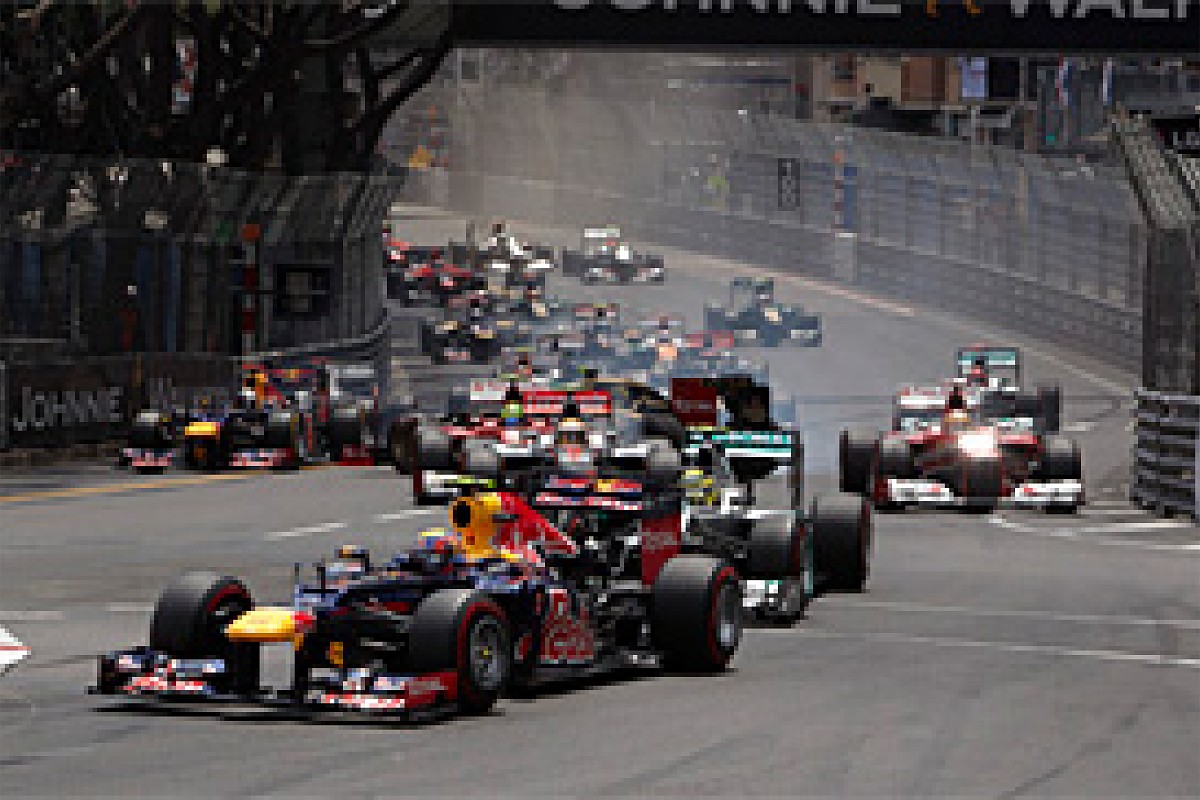 Rosberg was first to pit © LAT
He thus ended up in 10th, which became ninth when Maldonado's penalty was taken into account. Crucially, of course, he was left with a free choice of tyres for the start, and the rather obvious possibility of starting on the prime and using a long first stint to try to jump up the order.
The Schumacher/Romain Grosjean tangle was a bonus, and in the confusion he also got past Kimi Raikkonen. He thus ended the first lap in sixth, something the team could not have counted on. After Webber and the other top guys pitted, Seb was left in the lead and with a clear track.
"The other soft runners also pitted which freed Sebastian, who'd started the race on the harder tyre," says Horner. "Despite having taken quite a lot out of that tyre while following in traffic, he then had approximately 10 laps, if not a little bit more, in fresh air.
"And he really made that work for him to put in some strong lap times on those scrubbed tyres compared to the new tyres that [Felipe] Massa and Hamilton were on, and [Fernando] Alonso."
And also compared to Webber. Vettel was really in the groove and was able to lap significantly faster than Mark, who knew his set had to run some 49 laps to the flag.
The gap opened up at such a rate - 9.7s, 11.6s, 13.0s, 13.8s, 14.7s, 15.8s - that it looked like he might get to the stage of being able to pit and still retain the lead. However, Mark had things under control.
"I think you've got two different strategies going on there: you've got Seb going flat-out and burning up the tyres, and Mark knowing that he'd got to make those tyres last 50 odd laps or however many laps it was," says Horner.
"A 21-second gap was always the magic number, which is the amount of time it takes for a pitstop. And I think the most that Seb got to was within 5s of it."
Vettel finally came in on lap 46, 17 laps after his team-mate. He'd done enough to gain two places and now had 32 laps to do on his new supersofts.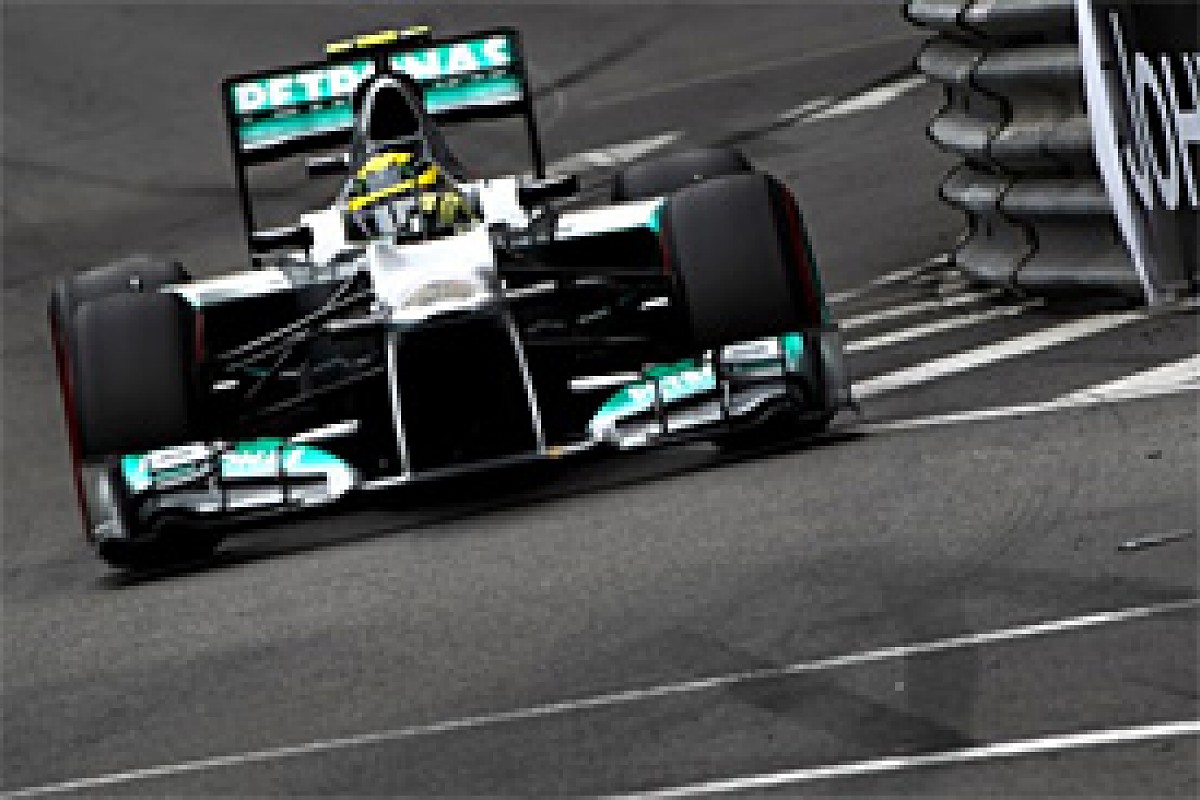 Vettel made his soft tyres last for 46 laps © LAT
"It enabled us, together with a really quick pitstop from the guys, to leapfrog Felipe and Lewis," says Horner. "We just missed out on Alonso. I think he got traffic on his in-lap, otherwise it would have been mighty close with Alonso."
Meanwhile out front Webber still had to bring it home, and he made it look a lot easier than it was. He had Rosberg in his mirrors all the way, and as the leader was the first of the group to experience the drizzle that began to fall after the lap-60 mark. Indeed on lap 70 times dropped by as much as 6s a lap before it eased off again.
"Mark was able settle into a groove. We knew he had a long way to go on those tyres, we knew the threat of rain was always coming, and then it started spitting," says Horner.
"The hardest position to be in is when you're leading a group, especially around Monaco, and it's just starting to get slippy, because everyone else can judge their grip by looking at what you're doing.
"But Mark was completely in control and drove with great skill and maturity to close out the win. It bunched up at the end, but he never put a wheel wrong all afternoon. First and fourth was a really fantastic result, our third consecutive victory in Monaco."
Vettel's fourth place was a good piece of damage limitation on a weekend when he was outfoxed by his team-mate.
Meanwhile, Rosberg had driven an equally strong race in Webber's wheel tracks, but there was little he or Mercedes could do to deal with the car up ahead.
"Nothing really opened up, nothing came to us in the race," says Brawn. "We did everything right and they didn't make a mistake, so that was it. I think it's a nice reflection on the team that we wanted to win, and we thought we could win. But we didn't."
Third was an equally impressive result for Alonso, given that he had a car that was only capable of qualifying sixth. The Schumacher penalty and the Grosjean incident - itself triggered by a tangle with an aggressive Fernando - saw him into fourth at the start, and then he passed a bemused Hamilton in the pitstops.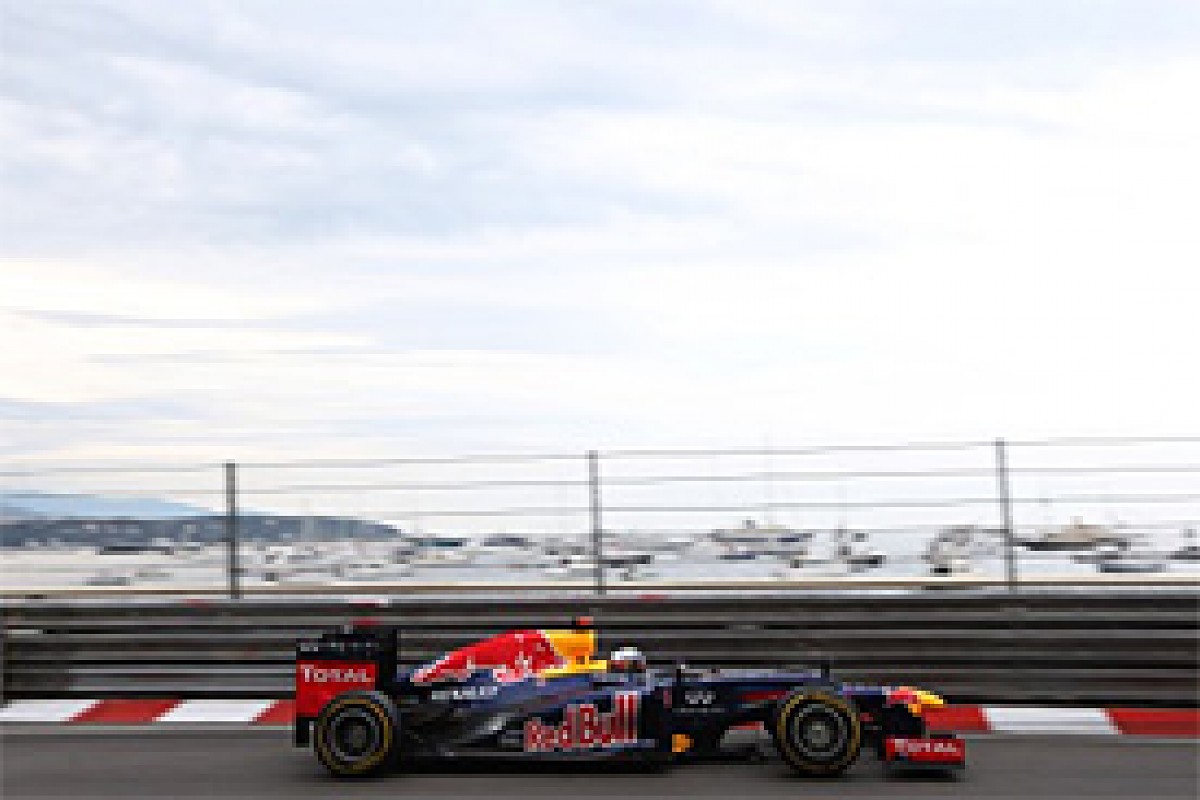 Alonso reached the podium from sixth on the grid © LAT
It was a good helping of points for the Spaniard, who is hanging on there in the lead of the championship while awaiting a better car.
But it could been even better, as the chance was there to get Rosberg for second, for after Nico's relatively early stop Alonso was still doing good times on his old supersofts.
Stefano Domenicali was a little coy when asked if Ferrari made a bad call. "Yes of course, we considered that, but we thought at that stage it was the right thing to do."
"I think at the end of the day he did a perfect in-lap and the team did a perfect pitstop, and we were able to jump him [Hamilton]. It's always easy to... well, it's good to discuss it, because it's the right thing to do at the briefing, in terms of thinking what you could have done differently, but at that moment it was the right decision.
"And maybe if we had more seconds to think about it, waiting for the other intermediate time... but Monaco's very short, so you don't have long to think."
Later, having done the numbers, Ferrari technical director Pat Fry was a little more forthcoming. "Sure, with hindsight it's easy to say that if Fernando had stayed out on track for a few laps more, then maybe he could have also passed Rosberg and got on terms with Webber as well as Hamilton, given the time he did on his in-lap.
"I think this weather was a surprise for everyone, as was the difficulty encountered in getting the softs up to temperature in their first laps. With just a few seconds to react, we took the most logical decision, which still led to a podium finish."
It just goes to show how hard it is to get everything right, and anyone complaining about Pirelli is doing an injustice to the teams and drivers who put it all together on a given weekend. The competition is incredibly intense, and there's no margin for error.
"It's remarkable that there have been six different winners," says Horner. "Obviously the tyres are a factor, but the fact that there are so many [good] drivers as well I think is also crucial.
"And Red Bull has become the first team to win two races this year, which is an achievement in the six events we've seen so far. F1 is different this year, primarily because of teams trying to get on top of understanding the variances in the tyre compounds.
"We've learned an awful lot this weekend; the more information, the more mileage we get on the tyres, the more we start to understand them."
"With such a championship as this we need to make sure we don't lose points," says Domenicali. "And there are so many drivers fighting for the win that you always have to be there."