The 2012 season could hardly have got off to a better start for McLaren when Jenson Button won in Australia, backed by Lewis Hamilton in third. Since then, by its usual high standards, things have rarely gone right for the Woking team.
Like everyone else, McLaren is struggling to come to terms with Pirelli's 2012 tyres, but there have been other problems that were within the team's control. Hamilton in particular has been unlucky, suffering with a gearbox grid penalty in China, various pitstop dramas and, most costly of all, the fuelling error that dropped him to the back of the grid in Spain.
The huge frustration for team and driver is that Lewis has qualified first or second in all five races so far but has yet to finish higher than third. On the plus side, the rollercoaster form of his rivals means that he is still handily placed in third in the championship, only eight points shy of joint leaders Sebastian Vettel and Fernando Alonso.
Nevertheless, the qualifying drama in Spain put a focus on recent dramas at McLaren, especially the much-publicised pitstop glitches. There has been much criticism of the team, although team principal Martin Whitmarsh is not worried.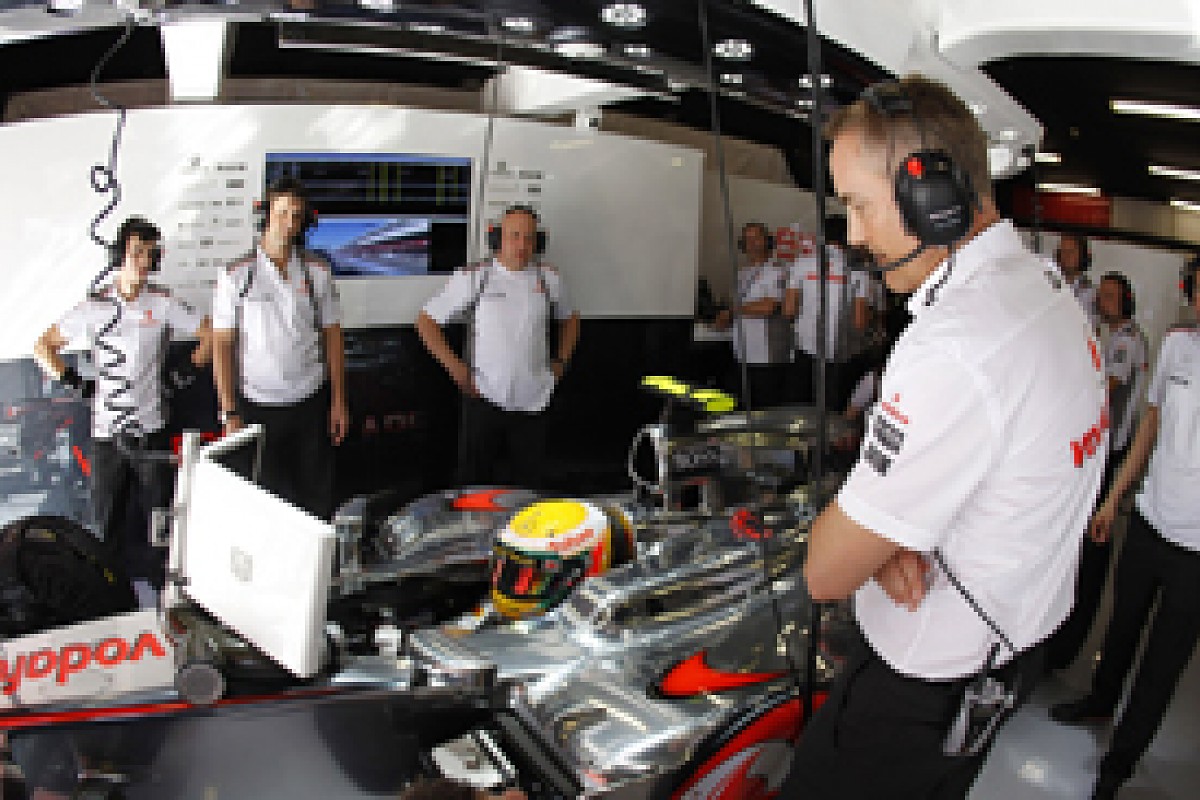 Martin Whitmarsh has had a tough few races since his car won in Australia © LAT
"I just get on with the job," says Whitmarsh. "I've been around long enough, I know when to stop reading the media and just get on with my job, and that's what I'm going to do."
The qualifying problem was one of those things that can happen to any team, at any time. A team member made a tiny mistake that, further down the line, would prove very costly.
Having gone fastest on his first run in Q3 on old tyres, Hamilton went out again at the end on new rubber. After he left the garage, the telemetry suggested that less fuel was in the car than should have been, although only later was the reason discovered.
"It was human errors in a process," Whitmarsh explains. "Frankly, it is complex, if you don't concentrate completely you can make a mistake."
He needed enough for the out lap, the timed lap, the lap back to parc ferme - and he had to have at least a litre left in the tank to satisfy the FIA weight check.
As the team digested the problem, it had two choices. They could abort Hamilton's run and bring him back in, leaving him with his earlier time. Lewis would thus have to start from what would have been a respectable sixth, albeit on soft tyres that had done two runs. Or he could carry on and park on his in-lap, as he did.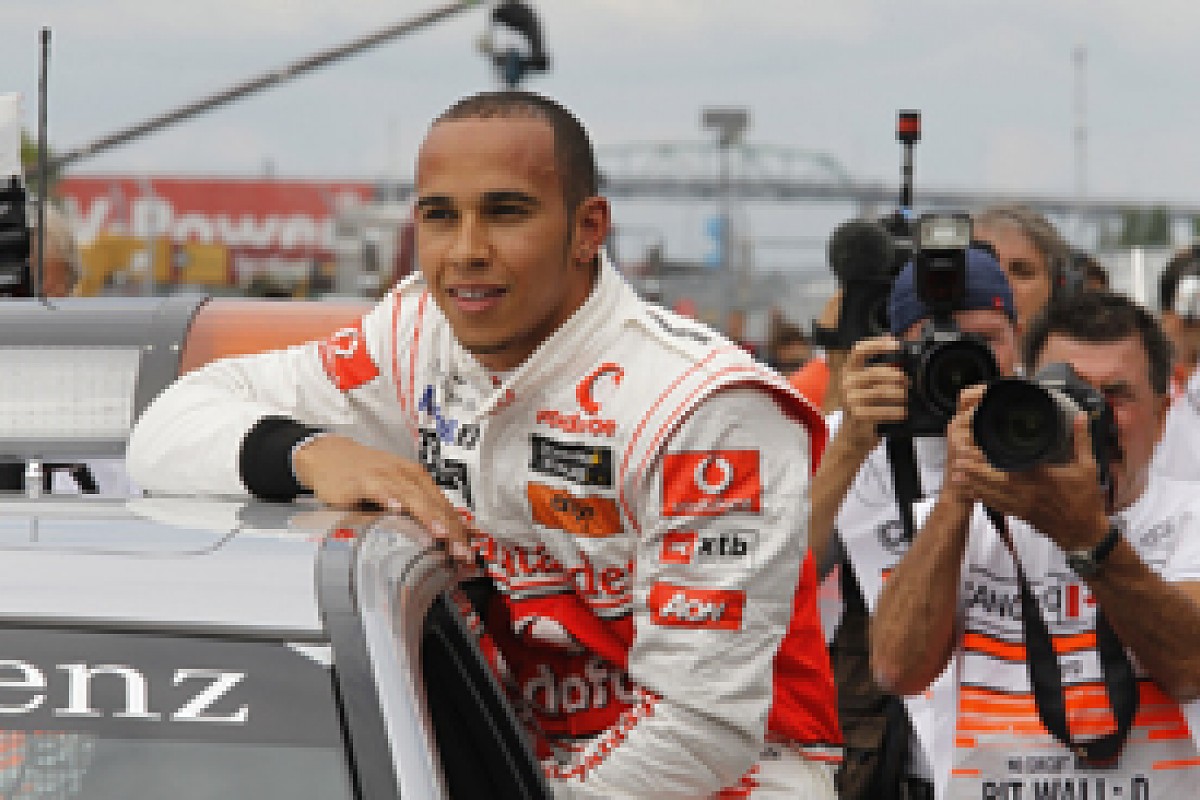 The last time Hamilton ran dry after taking pole: getting a lift back to the pits in Montreal in 2010 © LAT
The problem with that is that after the same thing happened to Lewis in Montreal in 2010, the FIA introduced a rule to stop people cutting things so fine at the end of qualifying and stopping on track (the race is not an issue). You have to get back to parc ferme except in cases of force majeure. Unusually, this particular rule is located in the technical regulations rather than the sporting regs, so a lot of people don't know about it.
The decision on the McLaren pitwall was complicated by the fact that the team had to decide very quickly whether to trust its own data.
"The summary is that on the last qualifying lap the data showed that there was less fuel in the car than we expected," Whitmarsh explains. "We didn't know categorically at that moment that the data was correct. But we realised there may well be a problem.
"I took the decision to complete the lap. This is all happening over a few seconds. There were a lot of voices and opinions, but it was my call. I believed that we might have been OK, and then we decided that there was a black-and-white regulation that says you must provide a litre. I didn't want to risk that one as it's a black-and-white, no-negotiation limit. So we took the decision. We didn't actually know categorically where we were, but we took that decision."
The team knew that there was no way Lewis could return to the pits and still have the one-litre sample. So Whitmarsh took a gamble on being able to convince the FIA that the lack of fuel in the car was down to force majeure, rather than being intentional.
"We didn't know how it had occurred," says Whitmarsh, "we didn't know whether it was for real or not. Obviously when we pumped the fuel out it was 1.3 litres, so he should have got back, but we'd be struggling to make the one-litre sample. He wouldn't have been empty, but I would have thought it would have been 0.7 or 0.8 - it would have been tantalisingly close, but I don't know how much we could have saved. But, anyway, we took that decision. I thought inevitably there's a risk, but that we would at least have a point to negotiate..."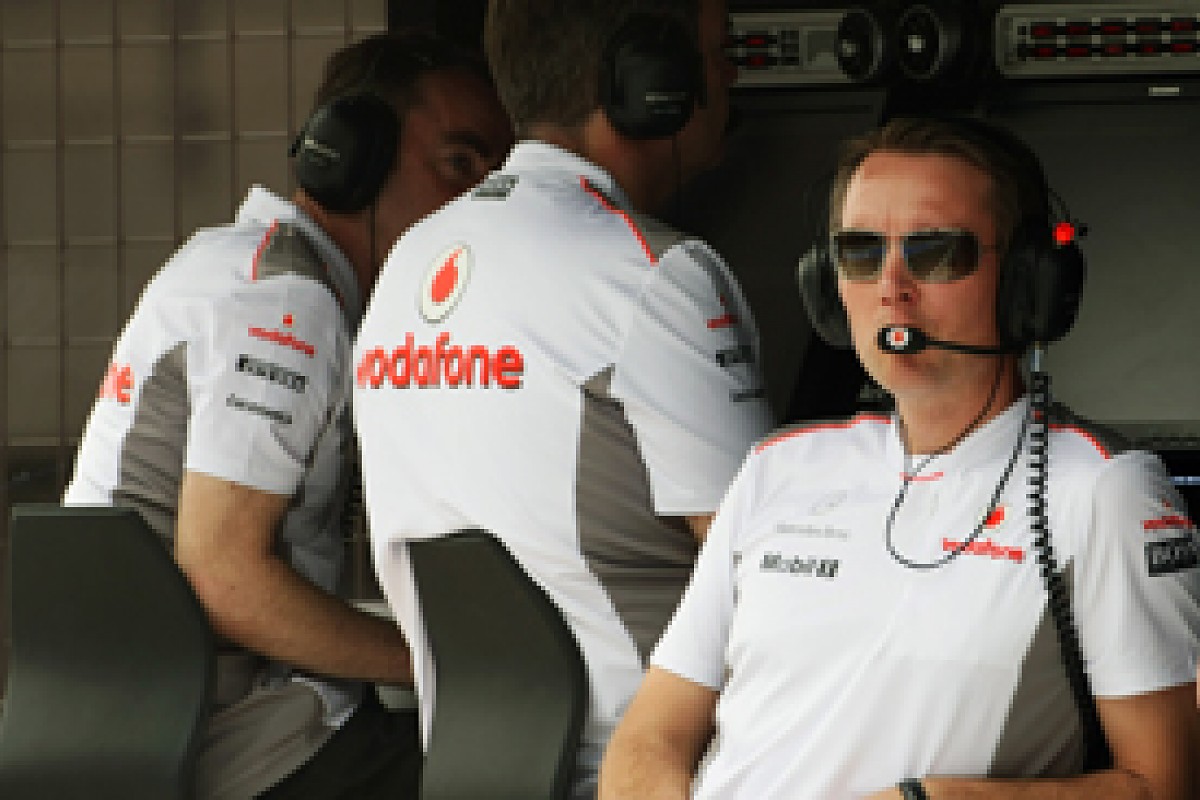 Sam Michael tried to press McLaren's case © XPB
It was a nice try, but despite the best efforts of sporting director Sam Michael, the FIA refused to acknowledge that failing to put enough fuel in the car was force majeure - which usually equates to something like a wheel falling off. And even in a case such as that the FIA would certainly have determined whether there was enough left in the tank to have got the car back...
What McLaren had failed to predict was the severity of the penalty. The consensus in the paddock was that Hamilton might get five places, or lose his Q3 times and start 10th. But a technical infringement like that (remember where the rule is located) means exclusion from the whole of qualifying. The gamble failed to pay off.
"The stewards took a decision. I didn't anticipate the severity of that penalty - I don't think many people did, frankly," admits Whitmarsh. "With hindsight you can revisit your decisions. I stand by what we did. We have to accept that there was less fuel in the car than we anticipated. We were fully open with the FIA.
"There was data, there were a lot of things going on, there was an opinion expressed that we might not have as much fuel in the car as we thought, and we had to react to it. You would have pulled in and had a reasonable time - fifth or sixth, or whatever it was. Hindsight is a great thing, isn't it?
"If we had pumped out three litres, I would have been embarrassed about it, but we might have been able to have a stronger argument about it. The force majeure - we certainly weren't in control of it, and there's many interpretations of force majeure as you know, but that's what we got."
Hamilton has faced similar challenges before, but this was a tough one, given the overall strength of the field. On a two-stop strategy he also had to protect his tyres and thus moderate his feisty style. Progress was torturous in the first couple of laps - his onboard channel even showed Timo Glock briefly re-passing him - but he knuckled down, and gradually moved up the order.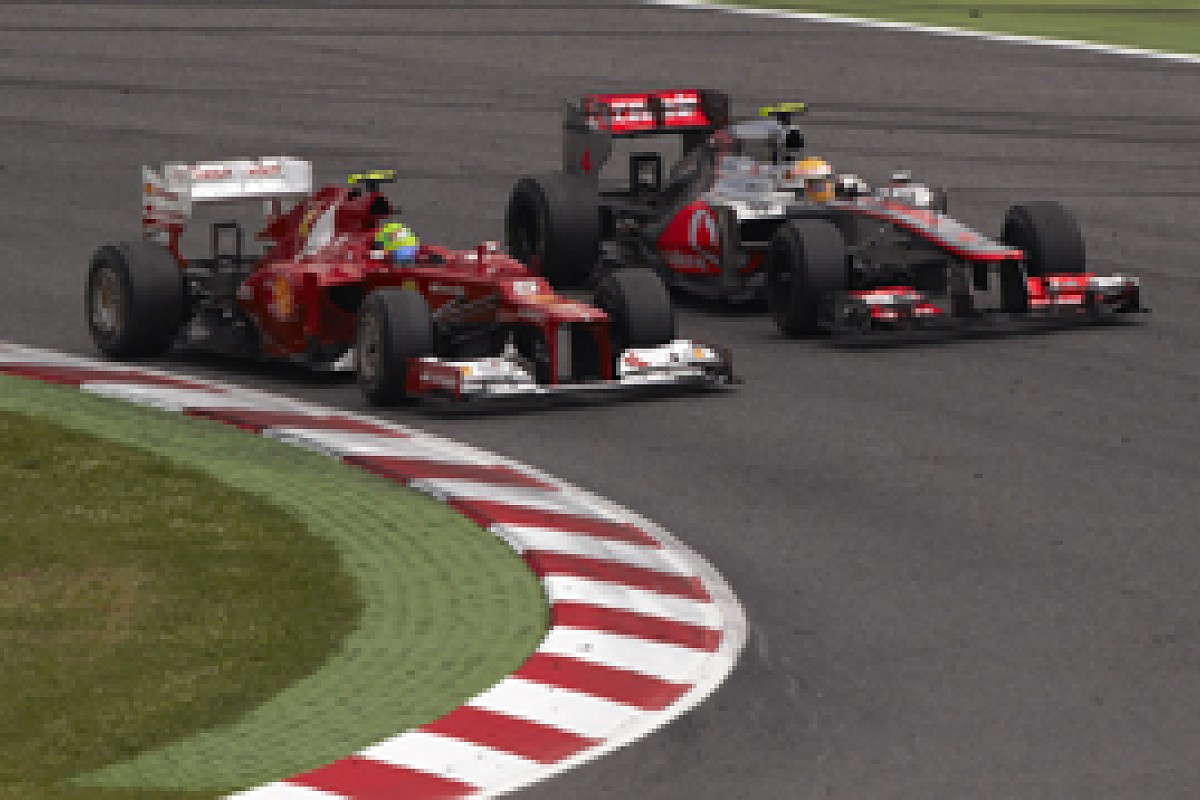 Hamilton battles up the order © LAT
"It was only about 10 laps before the end of the race that I realised that Maldonado was still leading," says Whitmarsh, "because I hadn't been paying attention to that end of the field. You tend to get immersed in what you're doing. It was hard, but I think we've got to take some positives out of it.
"Lewis did an extraordinary job. People will say, 'Is he the person to look after his tyres, and have the discipline to run a strategy like that?' The proof is that at the end of the race he'd done 31 laps on a set of tyres, and given another 100 metres would have passed Nico [Rosberg]. He had to hustle, he had to overtake, he had to be aggressive on a few occasions."
Whitmarsh insists that the two-stopper was worth doing, even if it did, to some degree, tie Hamilton's hands.
"We had that in mind as a strategy to try to get up there. He had to then moderate his driving and control himself for the whole duration, which is very difficult for a driver to do. He should be proud of what he did in qualifying, he was head and shoulders above everybody else, and he should be proud of what he did in the race.
"Had he been on a three-stop I am sure we would have seen him setting fastest laps in the race, but he had to do the right thing on a two-stop strategy, and bring it home and score valuable points.
"DRS wasn't very powerful, and there was also a long period of the race where they had a yellow flag smack in the middle of it - well two periods, one in which people transgressed, and one in which people didn't! So that didn't help. Passing wasn't that easy with DRS, and really tyre degradation was more significant. That being the case, a two-stop strategy doesn't give you a tyre advantage on people in front very often, does it?"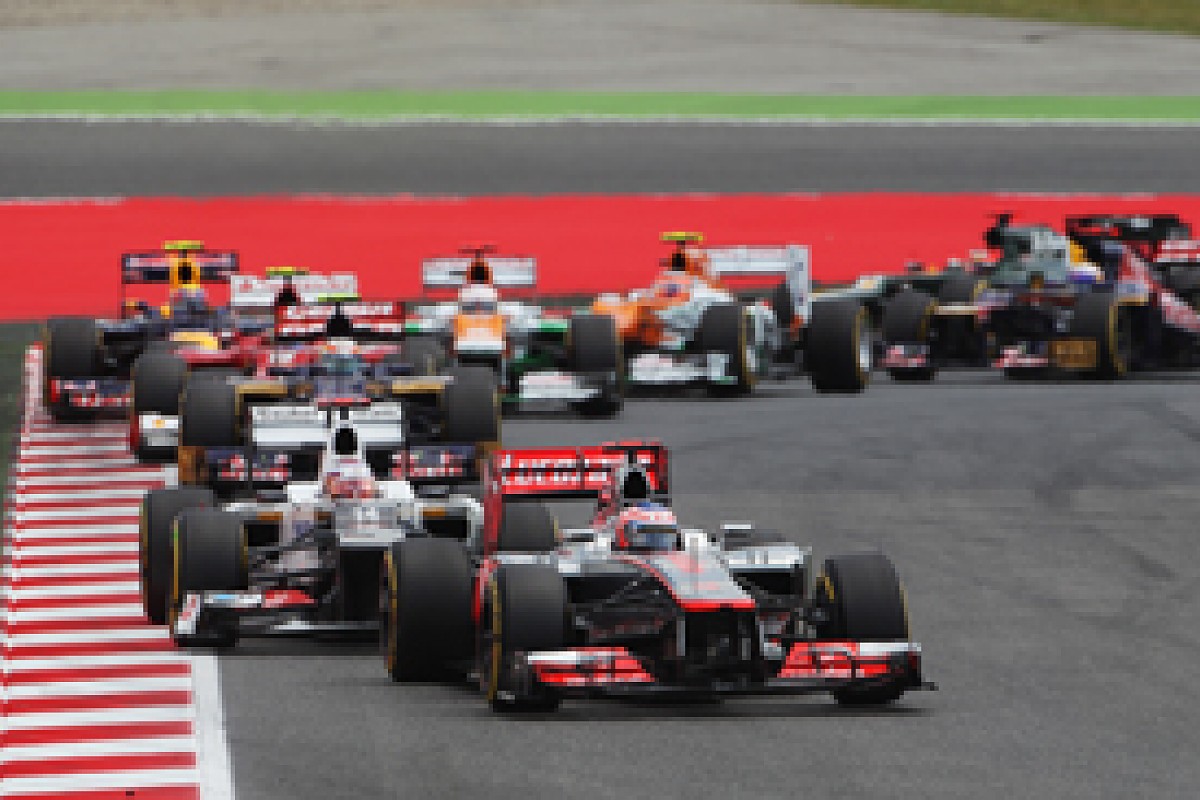 Button spent the race in the pack © XPB
The Spanish GP weekend was another frustrating one for Button, who had already endured poor races in Malaysia and Bahrain. He was quick in Barcelona on Friday on the soft tyre, but struggled to get heat into the hard fronts.
The team made a change of brake supplier for Saturday - Carbone Industrie discs run hotter than Hitco - in an attempt to address the problem, but he still struggled in the race. He ultimately ended up behind his team-mate in a lowly ninth after starting 10th.
"It was difficult for Jenson, but he did a professional job," adds Whitmarsh. "I think he did what he had to do. This championship is clearly going to be one where you've got to score the points when you can get them.
"My view is that it is very difficult to get these tyres and the balance of the car right. From being in great shape on Friday and frankly being the quickest and the strongest there, it went away from him on Saturday, so therefore I think he had an incredibly difficult afternoon. He dealt with it, and did a great job."
Inevitably there has been speculation that Hamilton is well hacked off with the team, and that he might now be reconsidering his future options. But Whitmarsh insists that his driver remains fully committed, and it's certainly true that after the race he was in a fairly upbeat mood, despite finishing only eighth.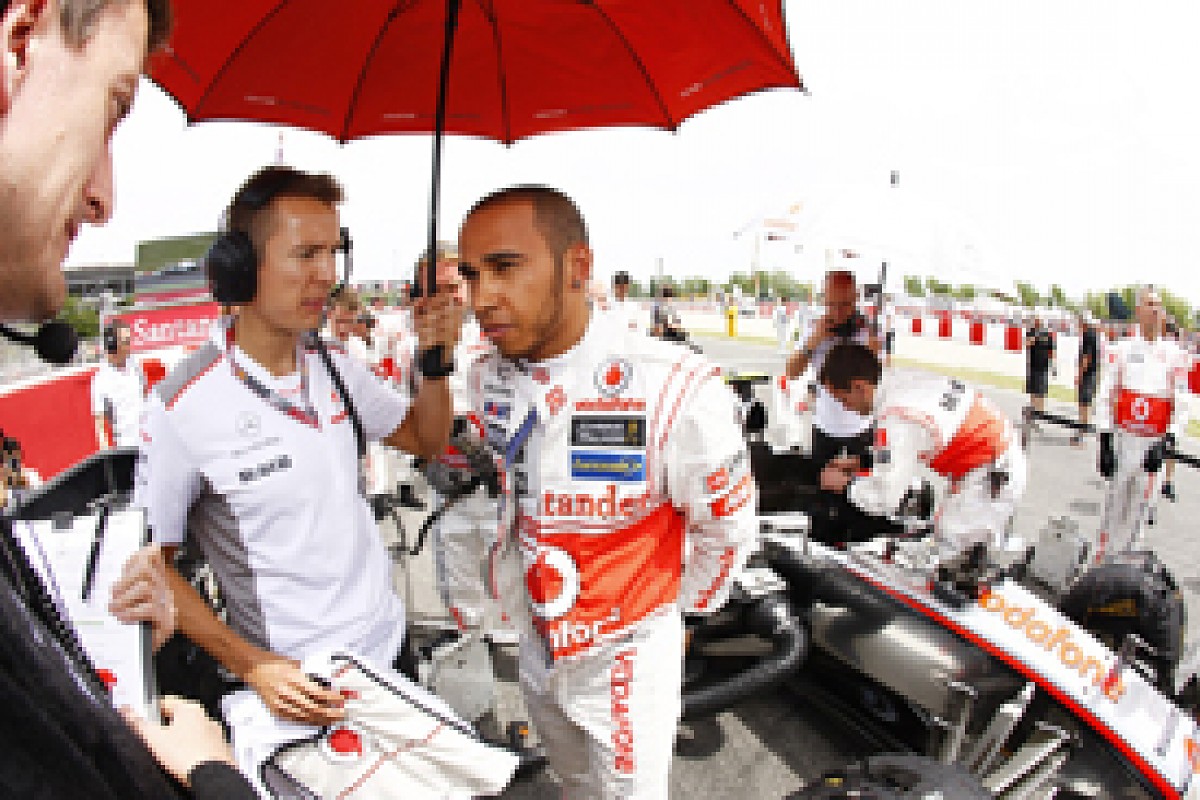 Hamilton prepares to start from the back © LAT
"Lewis was incredible," says Whitmarsh. "On Saturday night, the discipline that he showed, the encouragement and support, how maturely he dealt with a frustrating situation - to start from the back and deal with all the challenges of a two-stop strategy and the traffic and everything else and do the fantastic job that he did just demonstrated what psychological shape he is in. He knows he can win the next race. He knows he's got a good car, he knows he's got a good team. Things happen, and he knows he can overcome them."
Getting the most out of the Pirellis remains the single biggest factor to get on top of: "If anyone understands how we exploit and turn on these tyres at the moment, they are not demonstrating it out there on a consistent level.
"And that's the challenge. Understandably, drivers and teams can get frustrated about it. It's the same for all of us, and as it happens it is actually contributing to a remarkable season. It's great for the fans, but it's painful for us on occasion, and for the drivers.
"However, it's an extraordinary season. We're eight points away from the top of the drivers' championship, which shows what a strange season it is, and a decent result at the next race and you can come out leading. It's all to play for."
Indeed Monaco could be Hamilton's chance to make it six winners in six races, at least in terms of drivers. He is sublime around the streets of the Principality, and if he can stay out of trouble - and get the supersoft rubber to work on the MP4-27 - he is obviously going to be a serious contender.
"Monaco is a great race. We've got two great drivers, and if anyone can predict how fast we'll be and who's going to win it... We've now had five races, five winning constructors. I hope we don't add to that tally! I hope we can win it, but I also know that making predictions at the moment is a pretty ridiculous affair..."