Earlier this year Sergio Perez nearly turned the Formula 1 world on its head when he came close to winning the Malaysian Grand Prix, the young Mexican just failing to pip Fernando Alonso's Ferrari at the end of a dramatic wet race.
In Spain Pastor Maldonado - Perez's former GP2 rival and fellow second-year F1 driver from Latin America - went one better by scoring a remarkable win, and doing it on pure performance. And by a strange twist the man he had to beat was none other than Alonso.

Veteran Williams team manager Dickie Stanford had a huge smile on his face as he stood on the podium, and no wonder. As someone who lived through the glory days he's soaked up a lot of disappointment in recent times.
"It must be 10 years since I've been up there!" he said after returning to the team's garage celebrations. "We knew we were going to be reasonably quick here. We were not being over-confident about it, but we thought we'd have good pace.
"We were surprised to be at the top of the times, and then it was just a case of doing a race where you manage the tyres. Alonso got close, and then I presume his tyres started to go off. We were telling Pastor all the time, 'Drive to the tyres, drive to the tyres.'"
Perez and Sauber fell short in Malaysia, letting a chance to win slip through their hands. In contrast Maldonado and Williams displayed the sort of confidence and decisiveness that was perhaps missing from their fellow outsiders at Sepang. They believed they could win, and made the right calls at the right time.
Neither team nor driver were at all fazed about taking on Alonso, along with Lewis Hamilton perhaps the wiliest and feistiest racer in the field.
As if pre-ordained, the win coincided with the celebrations for Sir Frank's 70th birthday, and then just to add to the emotion, the team was hit badly by the garage fire shortly after the race. That was a serious blow, but there's no doubt that Williams has finally got its winning mojo back.
"You normally have it, you don't lose it," smiled Stanford. "But being in the middle of the pack, it doesn't always pay off..."
Qualifying the key
Maldonado's speed was obvious in qualifying © XPB
Coming into the weekend on the back of the Mugello test even Williams could not have imagined that a victory was on the cards.
"We thought we could be in the top 10," says Maldonado's race engineer Xevi Pujolar. "We'd made some progress with the car. We didn't expect to win the race, but with the change of regulations and new tyres, everything is very tight. So one race you can be P1, the next race you can be P10, and it makes things more interesting for everybody."
In the early races of 2012 the true potential of the FW34 was hidden by disappointing qualifying form, but the signs were there. Maldonado was a charging sixth when he crashed on the last lap in Australia (while chasing Alonso), and then Bruno Senna finished sixth in Malaysia.
In China the Brazilian was seventh, and his team-mate eighth. Most of the time race pace was impressive, but such is the strength of the field these days, it's not easy to fight your way through. The key was to improve the qualifying performance.
The FW34 didn't look too bad over one lap in Australia, where Maldonado qualified eighth. In Malaysia he just missed Q1 in 11th, and then in China he was 13th. In Bahrain a technical problem meant that he didn't get a lap in Q2, and Senna was left to fly the flag in 15th. If anything it looked like things were slipping away a bit.
The team did some good work at the Mugello test, especially on tyres, and there were also some new parts for Barcelona. There were positive signs from the beginning when Valterri Bottas was fifth in FP1 in Senna's car.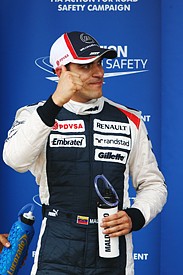 Bottas' Friday pace was a good sign © XPB
Of course in the scheme of things that session means very little, but then Maldonado popped up in a surprise second place in FP3 on Saturday morning, beaten only by Sebastian Vettel. He appeared to have genuine pace as everyone dialled their cars in for the afternoon.
The key to qualifying these days is to get to Q3 with the minimum of fuss and the minimum tyre usage. Fifth in Q1, Pastor then beat everyone in Q2. Admittedly he did his time right at the end, after several top runners had finished their running, but rivals stood up and took notice, as it was obvious he was now a serious contender.
Like everyone bar Hamilton, Maldonado made only one run in Q3, and he timed it well. He crossed the line to go fastest with only Lewis still to come, despite a slightly scrappy lap.
Lewis went faster, and by a substantial margin, but Maldonado had beaten everyone else fair and square. And crucially, like Vettel, he had managed the whole session with only soft tyres - leaving himself with three brand new sets of hards for Sunday.
"We have been working a lot on what we can do for qualifying," says Pujolar. "And also in some races the tyres have been quite sensitive on low fuel, so you have to hit the right operational window of the tyre. And we managed to qualify well.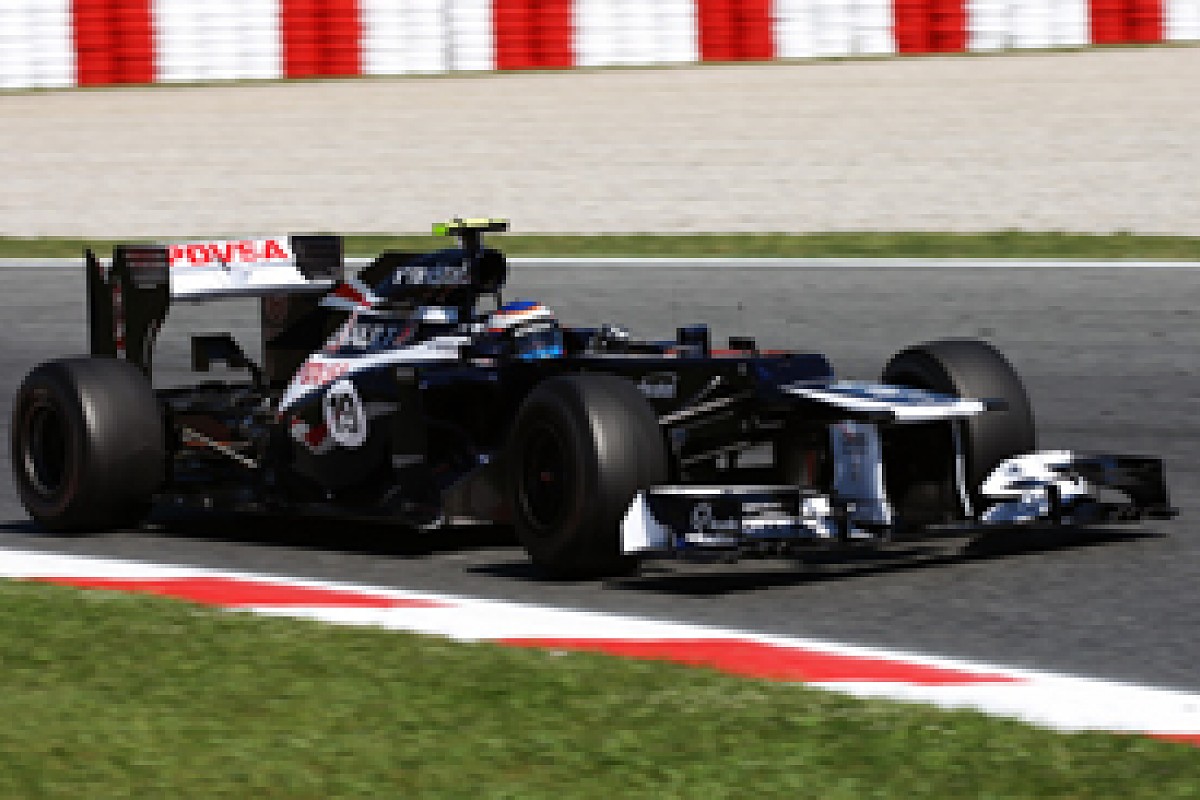 Maldonado with the Williams crew © LAT
"We knew our race pace was good, so then starting from the front is much easier. If you qualify P13, P14, even if you have good pace, it's more difficult to make progress.
"It's how it all pulls together. Barcelona is very technical, and if a driver gets everything out of the car, it makes a difference. And I think Pastor and Fernando managed to do that."
The Hamilton exclusion, confirmed during Sir Frank's birthday bash on Saturday evening, was of course the perfect present. The fact that it was Lewis who punted Pastor out of last year's Monaco GP raised a few wry smiles...
Getting the start right
Into Sunday morning there was a strong consensus in the paddock that Maldonado had little chance of staying in front. Not only did he have local hero and first-lap specialist Alonso alongside him on the grid, but the two Lotuses were lined up behind, and their long-run performance looked good.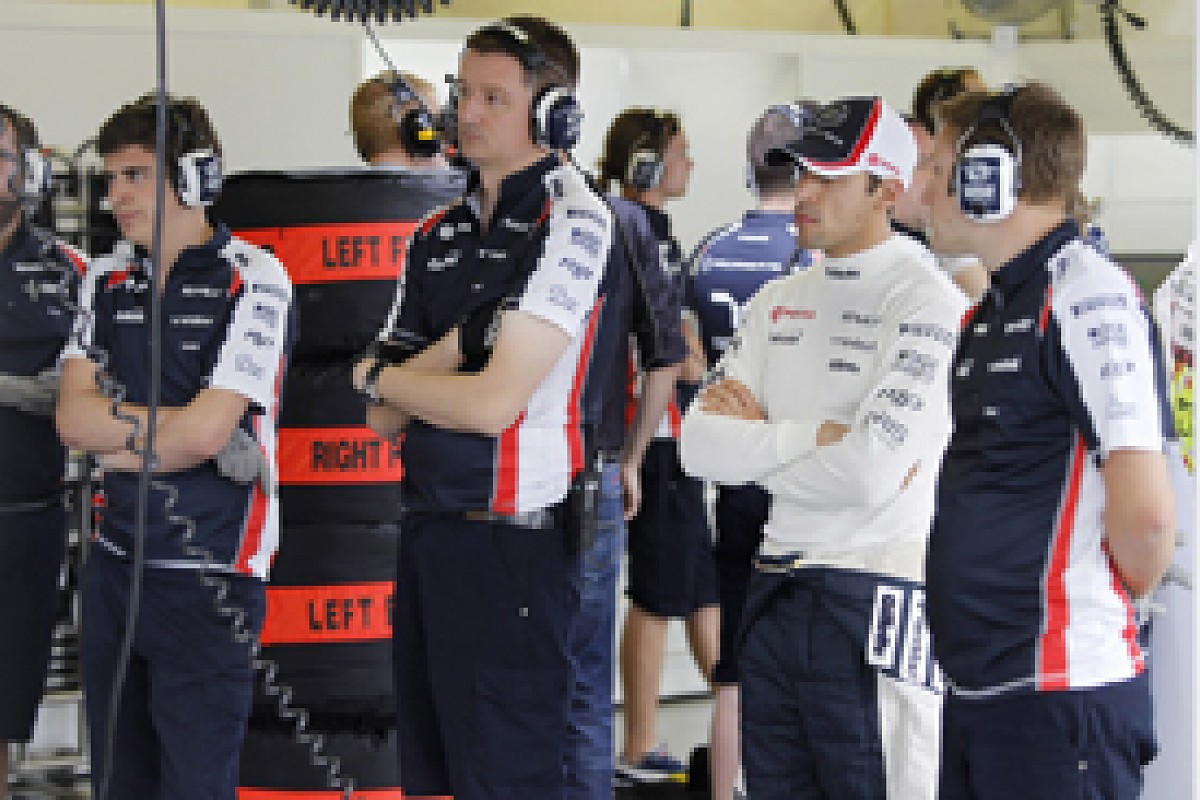 Last time Maldonado was on pole at Catalunya, he stalled...
Indeed, Kimi Raikkonen to win was a common suggestion - and the Finn's job would be made easier if Maldonado got tangled up with Alonso, or made some sort of mistake. More than one person pointed out that the Venezuelan had once stalled on pole for the Barcelona GP2 race...
In the event he made a pretty good start, but even a Hamilton or a Vettel would find it hard to keep a very motivated Alonso behind in Spain, and the Ferrari found its way through at Turn 1. Maldonado didn't make it easy for him, but he knew when to back out.
"We were expecting that Fernando would be very aggressive," says Pujolar. "We had a Plan B, even if we were falling five or six places. If we were just behind Fernando we knew our plan would still work, anticipating the pitstops and driving long stints. It was a bit on the limit, but we just managed it..."
Pastor settled into second place, and the position looked increasingly solid as somewhat unexpectedly, Raikkonen drifted away in third.
Alonso was 1.1s clear the lap before he pitted for the first time on lap 10, and Maldonado came in a lap later. A great out-lap gave Alonso a healthy margin, but he couldn't build on it. Instead through the second stint the gap came down from 3.4s to 1.4s, Pastor taking full advantage of his first set of new hard tyres, while Alonso had to make do with an ex-qualifying set.
It was on lap 24 that Williams made the brilliant call to pull Maldonado into the pits, even though his tyres were fresher than those of Alonso and logic suggested he might try to run a longer stint and leaves himself less mileage on his later sets of tyres.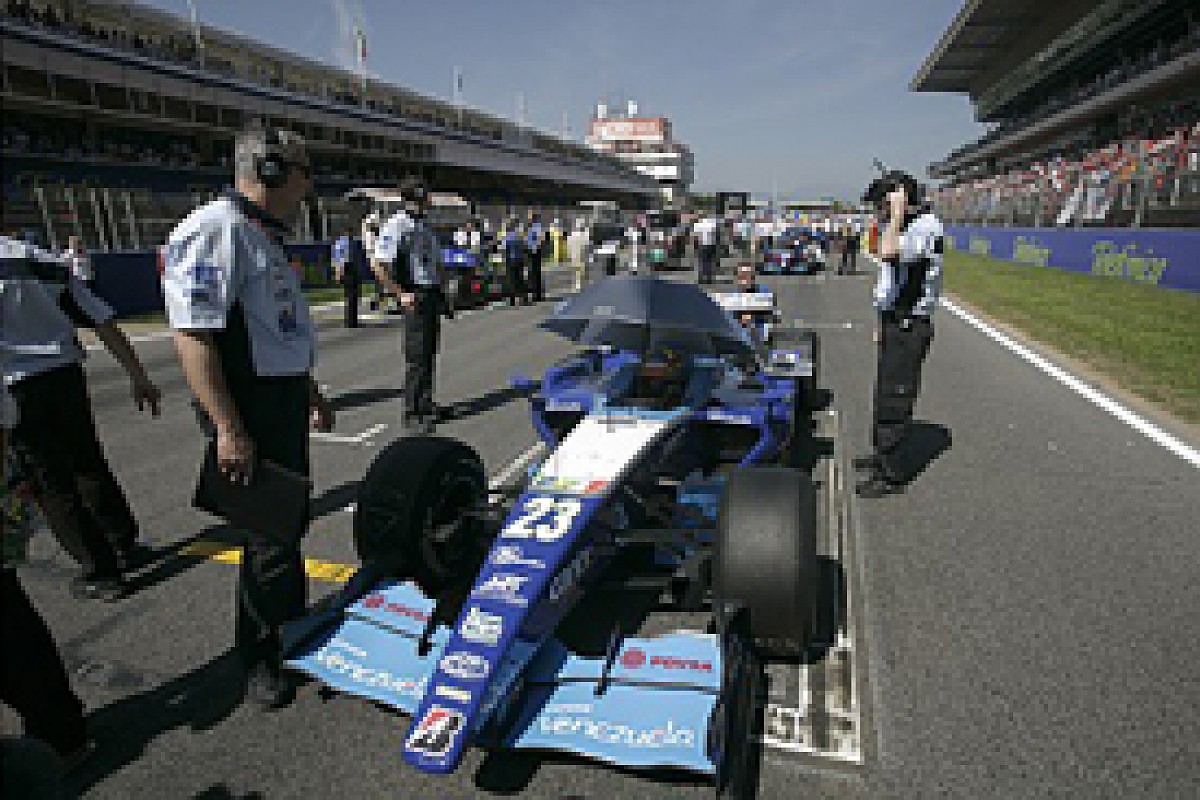 Alonso lost out during the second pit sequence © LAT
Luck played a part, for at the same time Alonso got caught up with Charles Pic and lost some momentum. On that lap Ferrari realised that, with Pastor on a quick out-lap with another set of new tyres, the lead was lost.
Rather than bring Alonso straight in in a futile response, they kept him out for an extra lap in an attempt to in turn push back the third and final stop, and thus give Fernando a chance to run the last stint on fresher tyres.
Sure enough when Fernando came in on lap 26 he was still trundling down the pitlane when Maldonado blasted past, having done his part by setting the fastest lap of the race - and he had new hards, while once again Alonso had to make do with used hards. In an extraordinary turnaround, Maldonado suddenly had a lead of over 6s.
"We wanted to jump Fernando, which would leave us having to make long stints," explains Pujolar. "We thought we could do it, but we would have to really manage the tyres. At that point maybe Ferrari changed strategy.
"They thought that we went early and we would struggle with the tyres and then they could attack at the end."
Through the third stint the lead initially stabilised at 6-7s as Ferrari came to terms with having to find a way to regain the lead. Alonso picked up his pace and brought the margin down to just over 4s before Maldonado again anticipated the third (and intended to be final) pitstop, coming in on lap 41.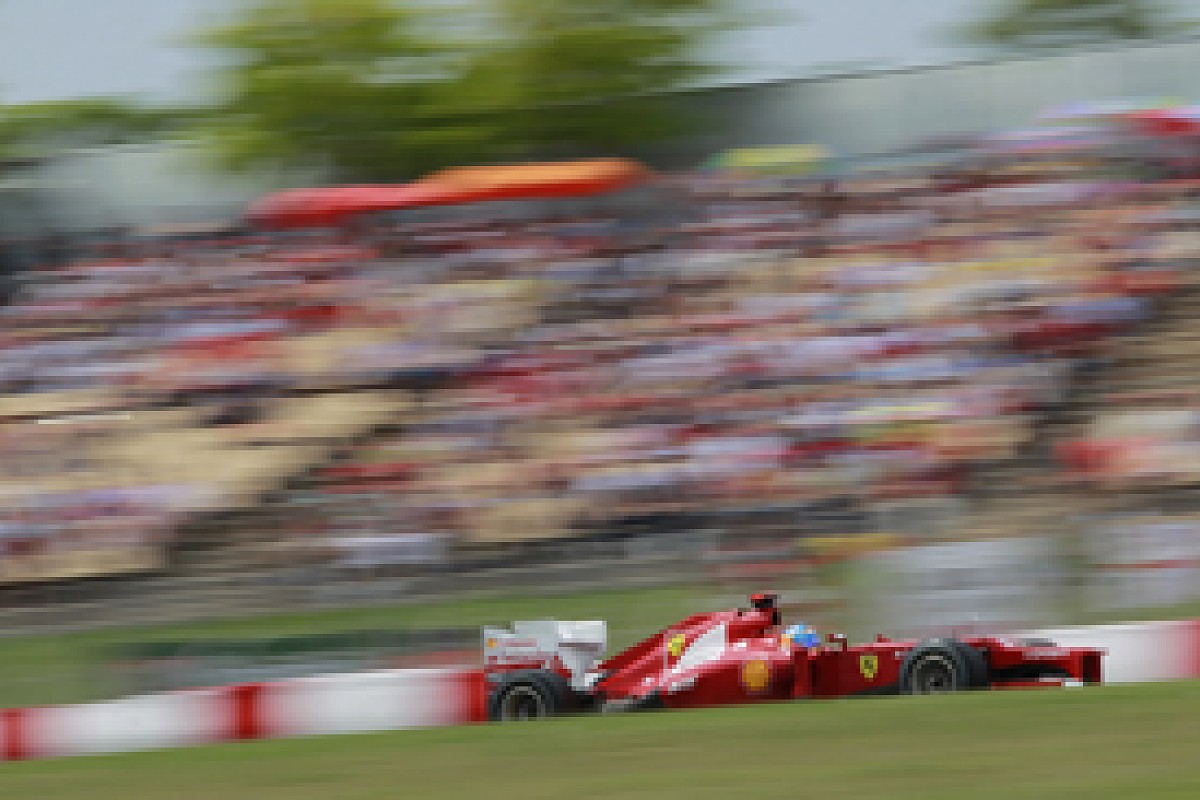 Tense moments as the Williams crew urges its man to hang on © LAT
Unfortunately there was a glitch on the left rear, and a priceless 2.5s seconds was lost. That gave Alonso a fighting chance, but the only way he could still win was to stay out on his old tyres while Pastor circulated on his new set, so as to reduce the length of his final stint.
Alonso eventually came in on lap 44 - taking a set of used hards for a third time. Meanwhile on his new rubber Maldonado had more than made up for the pitstop glitch. After the stops the gap was 3.1s, and then on his first flying lap Alonso banged in an awesome time to bring it down to 1.4s on lap 46, while Pastor found himself briefly caught behind leader Raikkonen.
With his fresher tyres Maldonado quickly passed the Lotus, and he left Alonso to deal with the Finn, whose rubber was by now well past its best. Crucially Fernando lost 2s on that lap before he got past, and Raikkonen pitted. The Ferrari man then banged in another super-quick lap to close the gap once more.
The margin from Pastor to Fernando thus went 1.4s, 2.9s (behind Kimi) to 1.4s on consecutive laps. However, the damage had been done - having to close the gap a second time may well have taken too much too soon out of Alonso's tyres. Although he continued to edge closer, he'd saved himself problems for later in the race.
Keeping the tyres alive
Throughout the afternoon Pujolar had reminded his driver of the need to save tyres, and not just in general terms. Around the lap 50 mark we heard him tell Pastor, "We need to save tyre energy in Turns 3, 10 and 11." The first is all about the front left, and the latter two the rears, which take a battering under traction.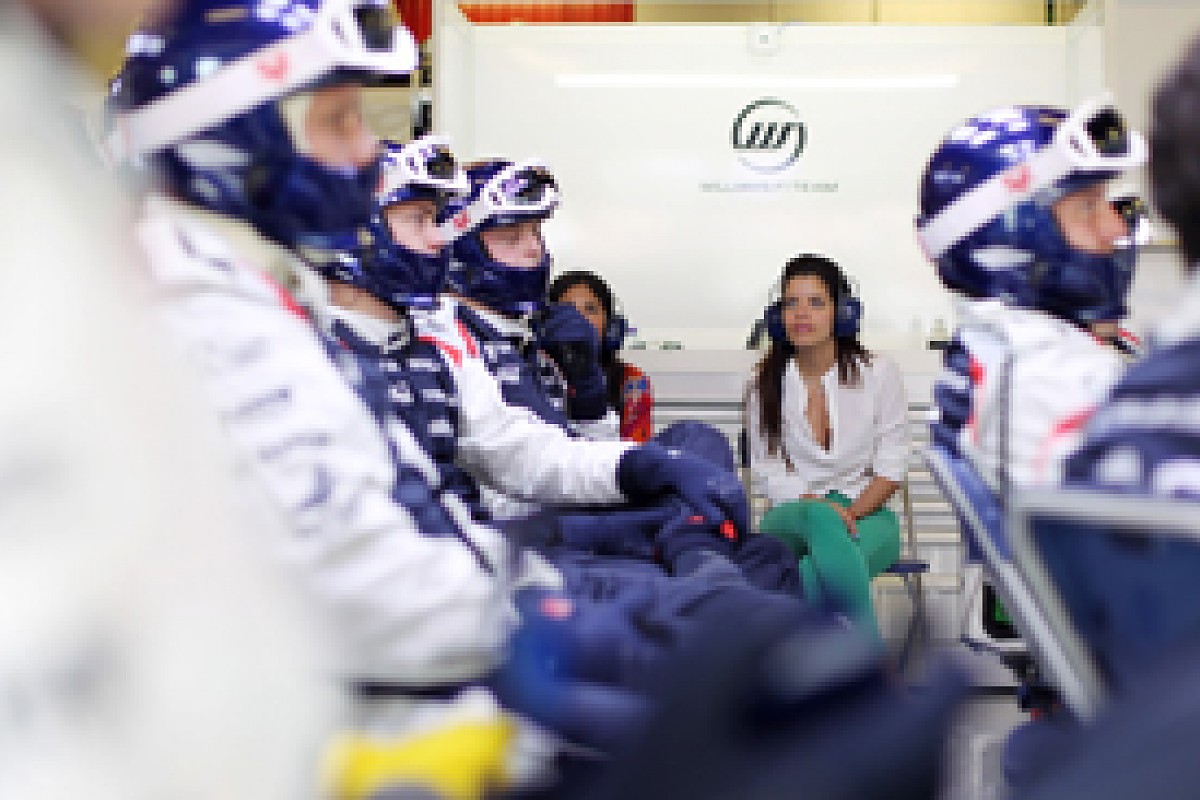 Alonso got very close... © LAT
"We discussed it before the race," says Pujolar. "We knew the points to save tyres, and keep the guy behind. So I just reminded him, and he really did it."
We couldn't know from the outside, but in the cockpit Maldonado was demonstrating extraordinary skill under the most enormous pressure. To win in 2012 you need to be pretty switched-on, able to deal with tyre management and process a whole host of scenarios.
The very top drivers have the capacity to do that, and helped by a little extra polishing from Williams driver advisor Alex Wurz, Maldonado is in that league.
"It's so tight, you need to be working on your car and also trying to think what's happening around you," says Pujolar. "It's something that Fernando is very good at. And I think because he has so much experience from GP2, Pastor has that advantage too. He's very smart."
In the latter part of the race observers speculated about whether either of the top guys might need a fourth stop, and while that didn't happen, it was certainly a consideration at Williams, especially around lap 57. Alonso was just 0.6s behind, firmly in the DRS zone, and seemed to be poised to pass.
"At one point when Fernando was so close we thought we might pit and still try to get a podium or P4, because when it goes, it really goes. We were just prepared, but he was doing a very good job towards the end. He was driving very smoothly."
It was on lap 58, with eight laps to go, that the race was decided. From 0.6s the gap suddenly went out to 1.4s, and then 1.7s, 2.0s, 2.3s over subsequent laps. Initially it seemed that Alonso might be taking a breather, trying to save his tyres for a dramatic final push, but once he slipped out of DRS range it was obvious he had shot his bolt.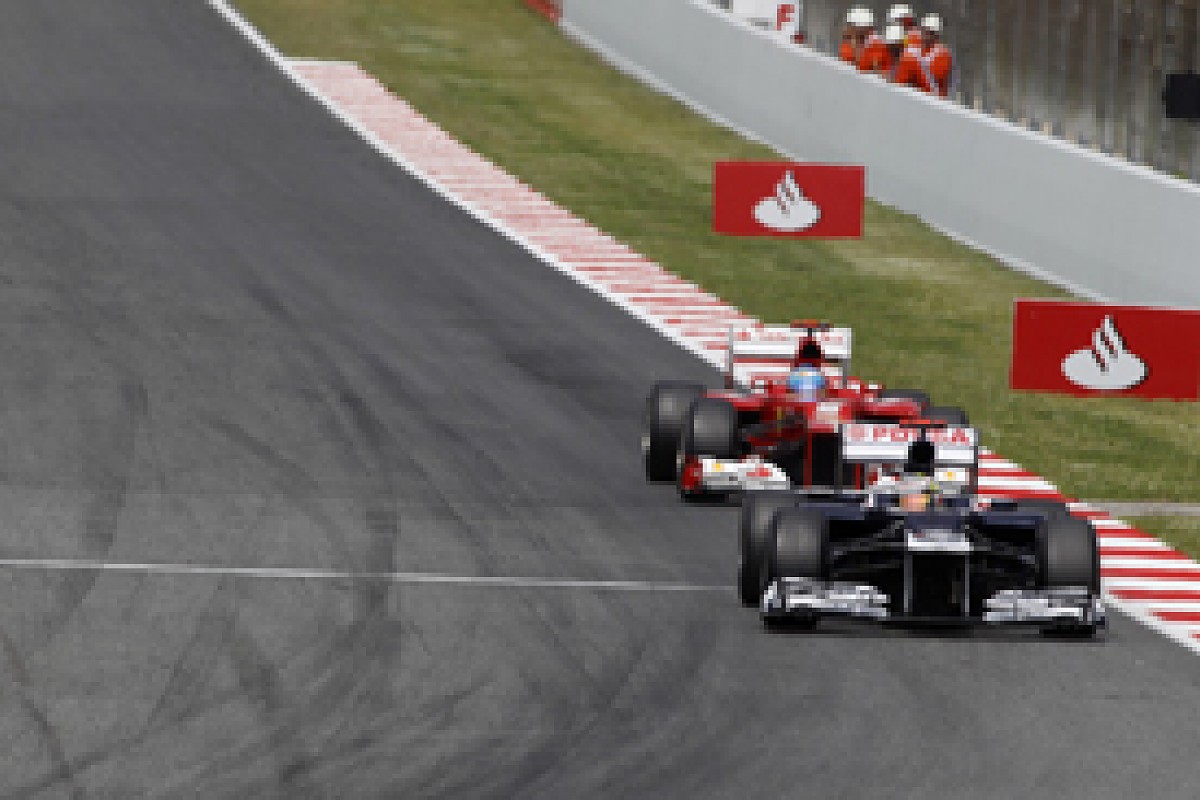 Raikkonen nearly stole second © XPB
In the closing laps Alonso had to switch his focus to hanging on to his second place. Having lacked pace early on, Raikkonen had made a very late final stop with the express intention of having fresher rubber, and the possibility to charge, in the final stint. Some 17s behind Alonso as he started his charge, he was getting ever closer.
Alonso found himself struggling for grip, so much so that he suspected there was some aero damage on the car.
"We were attacking Pastor and closing to within one second," said Alonso after the race. "But then in the last seven or eight laps we lost grip, around Turn 7, I think. I informed the team a few corners after, in Turn 9, to check if everything was OK - maybe we lost some aerodynamic part of the front wing or under the floor or something, because we had no grip. So, from that point I was monitoring the gap with Kimi."
Meanwhile out front Maldonado continued to go like a train. It still wasn't quite over, and given the pace at which he had run, there was a risk that it could all go wrong for him even in the last couple of laps.
"I kept saying to him we need to save tyres," says Pujolar, "and he was not really backing off. But he did a good job near the end of the race, even if he could see that Fernando was getting close. He knew he needed to save the tyres for the end. In the last five laps Fernando was struggling, and we could still push, so that was good."
Ultimately he held the gap at just over 3s in the final laps after a race in which he didn't put a foot wrong. It was a truly extraordinary performance from someone who had never finished higher than eighth in a grand prix.
It's rare for a driver's first podium to be a win - Vettel was the last one to manage that - but to never be in the top six and then stand on the top step? This was one unusual result...