On Tuesday Jacques Villeneuve marked the 30th anniversary of the death of his legendary father Gilles by driving a 1979 Ferrari 312T4 at Fiorano. I would have loved to have been there to see it, but instead I did the next best thing and dropped into Zolder, where Gilles lost his life on May 8 1982.
I had no idea if anything had been planned to mark the anniversary, and it was pretty quiet when I arrived in the afternoon. The Villeneuve memorial sculpture behind the pits was getting a quick coat of paint, which unfortunately meant it was under a tent, albeit still visible. Apparently, a local Ferrari club planned to do something at 5pm, which explained why it was being spruced up.
I couldn't stay for the ceremony, but while I was wandering around the paddock a handful of fans dropped by, like me, to see if anything was happening, and to pay their respects. There was even an English guy who had apparently been to the Villeneuve museum in Canada.
A friendly chap called Dirk, who had brought a 1/43rd Ferrari 126C2 with him, drew my attention to the fact that there was a second memorial - a marble plaque located just behind the marshals' post close to where Gilles came to rest. It was placed there to mark the 20th anniversary in 2002, although few people know about it since the spot is inaccessible to spectators, and can only be reached via the actual circuit.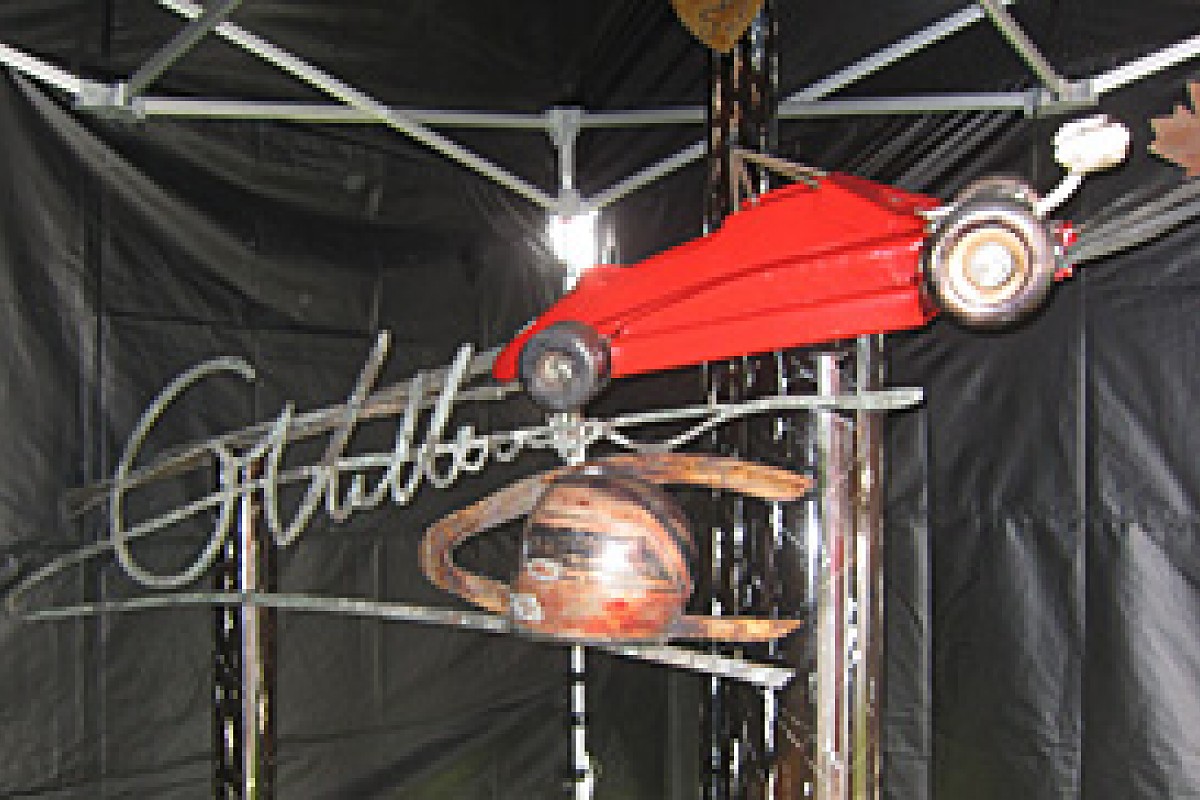 The Villeneuve memorial sculpture © autosport.com
Keen to see it, I took a punt and drove out to the public road that runs outside the track, and parked close to where I thought the memorial was. Fortunately, behind the fence a couple of Zolder workmen were busy trimming trees.
Realising what I was looking for, one of them gestured to me and unbolted a small gate to let me in, so I was able to see the memorial, which could not have been more badly placed. Alongside it were some past-their-best flowers in an ugly plastic bucket - a little tacky, but better than nothing.
Later, on the other side of the track, I discovered some red roses freshly attached to the debris fence. It was a nice gesture by an anonymous fan, and it somehow made the visit worthwhile.
My pilgrimage simply seemed like the thing to do, given that I was at Zolder back in 1982 as a spectator - a young one, I hasten to add!
That was my third coach trip to the Belgian GP. In those days one could buy a paddock pass, and each year I had a glorious time taking pictures and, more importantly, chasing autographs. One that had always eluded me was Gilles Villeneuve. I was not a particular fan - at least not in the way that I had been a follower of James Hunt and Ronnie Peterson - but of course he was one of the biggest stars of the era, and as a keen reader of AUTOSPORT I'd been aware of him from his Formula Atlantic days.
Over the course of my three visits to the Zolder paddock I collected autographs of just about everybody - including guys who are no longer with us, such as Patrick Depailler and Manfred Winkelhock - but I had never even spotted Gilles, never mind got close enough to get him to sign anything.
Then, during the lunch break on Saturday May 8, I saw him striding purposefully towards me. He didn't look very welcoming - qualifying was about to start, and we'd all read about the stress in the Ferrari camp after Imola - but I took my chance and approached him with my notebook and pen. He brushed past me, but I didn't give up, and I followed him up a makeshift ladder behind the Ferrari pit. He darted into the garage, the door slammed, and a smiling marshal blocked my way. Oh well, I thought - maybe next time.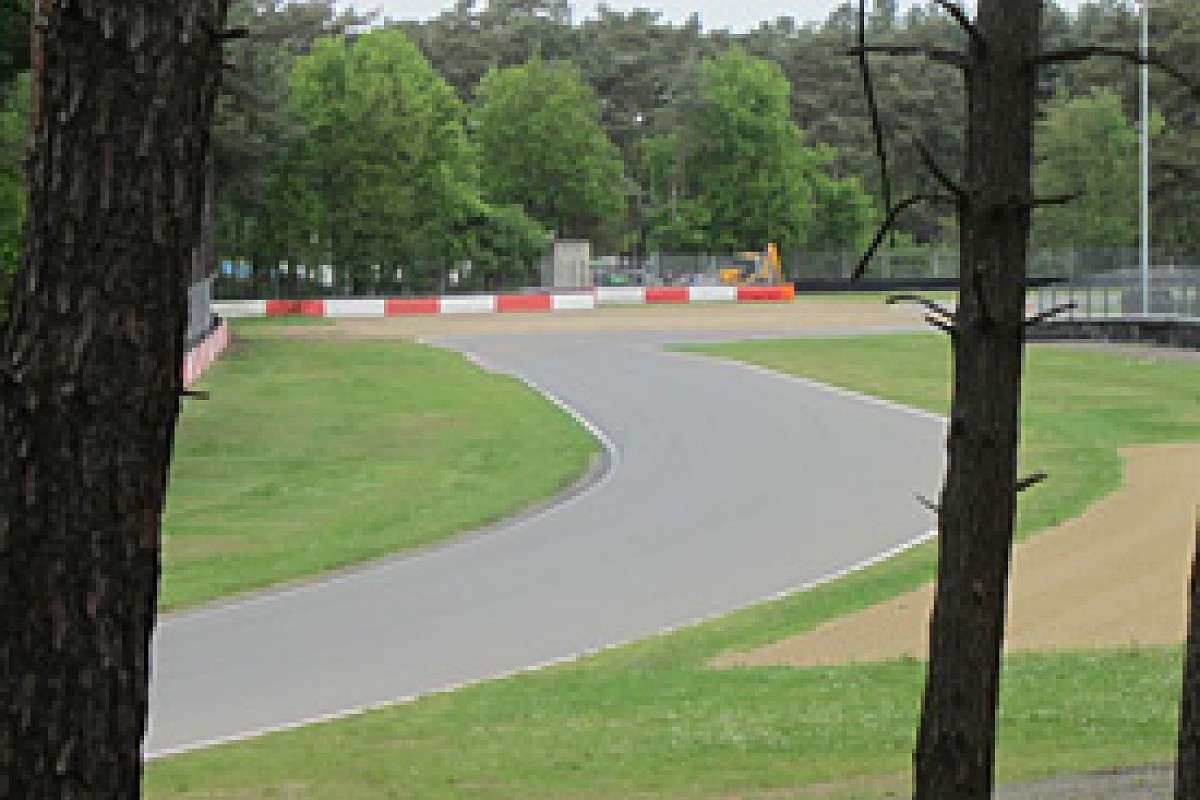 The turn where Gilles lost his life, today © autosport.com
The action was about to resume, so I left the paddock and found a spot at the first corner to watch qualifying. At one point Gilles locked up a front tyre, so he was clearly pushing on. And then later came an excited description over the PA of an accident involving a Ferrari.
There were no giant TVs so we didn't see anything, but then Didier Pironi motored past, so it was clearly not him. I've never seen it written anywhere, but I've always been under the impression that the Frenchman had somehow managed to exit the pits after the red flag - if he didn't, he must have just beaten it.
With the session stopped, I wandered back to the paddock in search of information. I was close to the back of Ferrari pits when I saw a red faced Pironi striding towards me. In one hand he held both his helmet, and that of Gilles. The latter was badly scratched and dented, as if someone had been using it as a football. Pironi climbed the steps to the Ferrari transporter and slammed the door shut.
Heading back to the hotel on the coach that evening there was much chatter about the accident, some people having evidently been close to the scene. It was only on arrival at the hotel that confirmation came on the TV news that Gilles was dead, and that I saw the video for the first time.

I had no idea then that 10 years later as a journalist I would get to know his son Jacques when he was competing in Japanese F3 and we were both living in Tokyo. Inevitably the subject of Gilles came up in interviews or in conversation, but JV was always reluctant to go there. F1 history buff Roland Ratzenberger was hugely disappointed that he seemed to know more about Villeneuve Sr's career than Jacques himself did.
Jacques was only 11 when he father died, and you don't have to be a psychologist to work out that it was difficult for him to deal with the weight of the legend, especially now that he was trying to make his own way in the same sport. And while he had a famous name to help open doors, he didn't have the advantages that come with it, in other words the sort of moral and financial support that the likes of Michael Andretti, Nico Rosberg and Nelsinho Piquet enjoyed on the way up.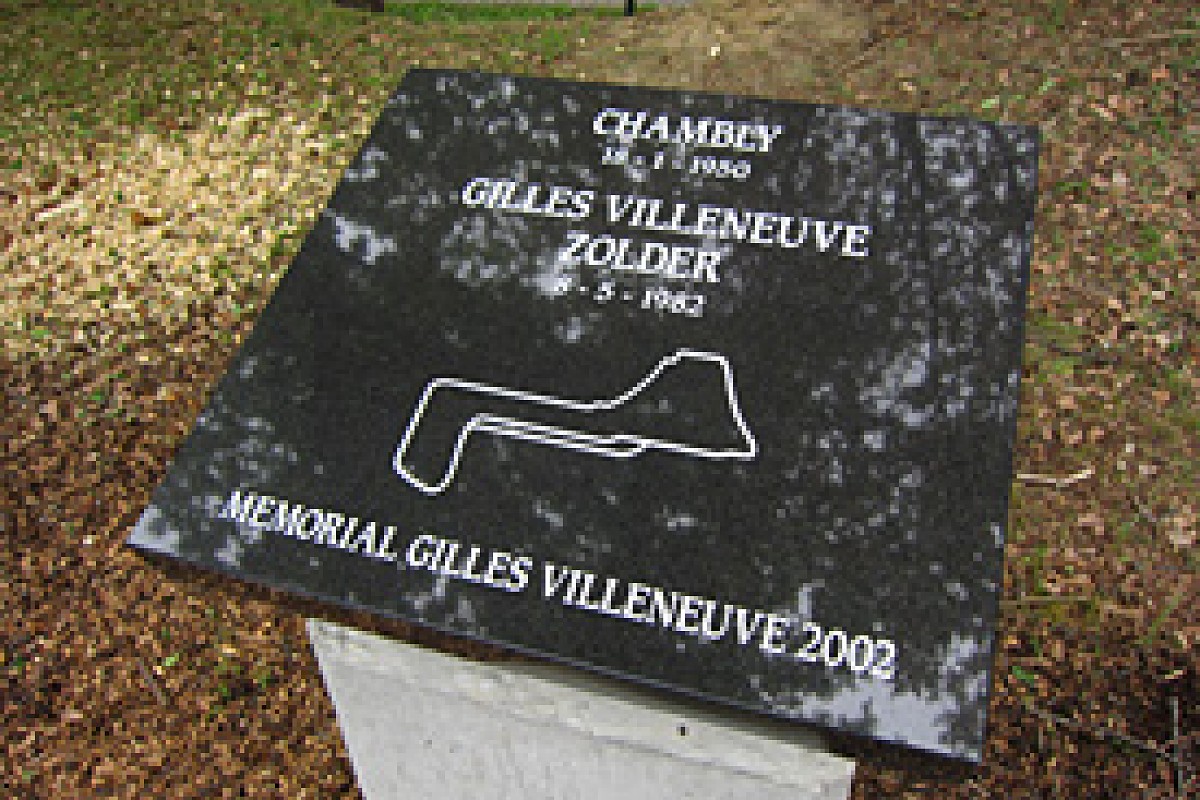 Another memorial sculpture at Zolder © autosport.com
Over time JV has chilled out. His outing in the 312T3 at Goodwood a few years ago, followed by Tuesday's event at Fiorano, demonstrate that he is keen to embrace his father's memory, and to do so very publicly. A dad himself now, he is almost a decade older than Gilles was when he died.
As far as I know Jacques has never visited Zolder, although I did suggest it a few years ago when for a brief time he had a Belgian girlfriend, and found himself a base in Brussels.
As for me, I've been there many times since 1982 for everything from FIA GTs to DTM, and I even saw F1 cars of the Villeneuve era race there in a historic event, which brought back some memories as I sat on the bank at Turn One.
Even before the Villeneuve accident soured their views, a lot of F1 folk never liked Zolder, but now almost 50 years old, the place has its charms. The pine trees and sandy terrain around the back of the track, where the accident happened, resemble a little bit of the Nurburgring. Albeit rather less so since the run-off was expanded, and ugly concrete walls introduced.

That part of the facility also has some unusual landmarks in the form of a couple of little chapels or shrines, one of which - a WW2 memorial with a statue of the Virgin Mary - overlooks the spot where Gilles crashed. Standing there on Tuesday, with only the birds for company as I contemplated the passage of 30 years, was a slightly surreal experience. But one that I'm very glad I had.