Villeneuve outshone the big name guests in Formula Atlantic © LAT
VICTORY AT TROIS RIVIERES
The sight of Gilles Villeneuve winning a Formula Atlantic race in 1976 wasn't unusual. When he won the late-season race on the Trois Rivieres street circuit, it was his eighth win in nine starts that year. But what was very different was the quality of the entry in Canada, with Alan Jones, James Hunt, Vittorio Brambilla and Patrick Tambay all gunning for the prize money.
Villeneuve put his March 76B on pole position by 0.360s ahead of Atlantic regular (and two-times Trois Rivieres winner) Tom Klausler and took the lead at the start. He would never be headed. As Tom Waddell wrote in his AUTOSPORT report, this was a big surprise.
"Surely this wasn't supposed to happen; there must have been an error somewhere," wrote Waddell. "Indeed Villeneuve had won his [previous] races by slowly building a lead to about 10 seconds and then holding it to the finish. But these were Formula 1 drivers he was racing against, and he wasn't supposed to do the same against them. Someone must have forgotten to tell him."
Although Jones was able to close the gap from 10.7s to 7.5s, Villeneuve responded in the final five laps to establish a winning margin of almost 10 seconds. His performance didn't go unnoticed and convinced Hunt, who finished third, of the Canadian's potential. In fact, this race played its part in Villenueve getting his F1 break in a McLaren the following year.
"I remember racing against him [and losing] at Trois Rivieres in Canada last year and being very impressed with his obvious talent and his professional approach," wrote Hunt in his AUTOSPORT column after Villeneuve's Formula 1 debut at the 1977 British Grand Prix.
Without that spectacular Trois Rivieres performance, it might have taken Villeneuve a lot longer to gain international attention.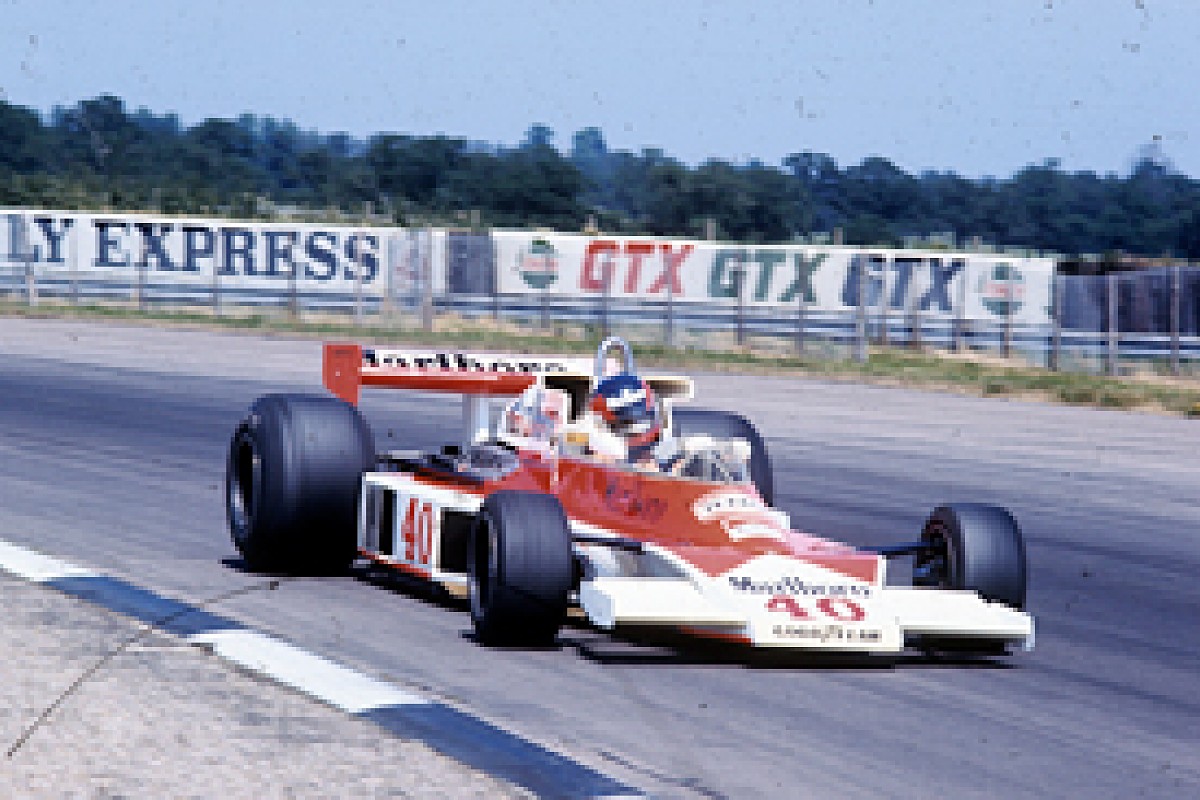 The British Grand Prix was his sole appearance in a McLaren © LAT
GRAND PRIX DEBUT
Mention the 1977 British GP, and the first thing that will spring to mind for most will be Villeneuve's stunning F1 debut (if not the appearance of the turbocharged Renault). Driving a third McLaren, an older-specification M23 as opposed to the latest M26 used by Hunt and Jochen Mass, he breezed through what were effectively pre-qualifying trials on the Wednesday before the race and went on to take ninth on the grid, just eight-tenths of a second off Hunt's pole position.
"Throughout the Wednesday sessions, Villeneuve pushed hard, looking for the limits, the car's and his own," wrote AUTOSPORT's Nigel Roebuck. "It seems apparent that Grand Prix racing has discovered an unusual talent here. Gilles had several spins, in both testing and practice, but by the end he was quick, polished and smooth."
His race performance proved that his pace was no flash in the pan. After 169 laps of practice at Silverstone, he climbed to seventh early in the race and stayed there, according to Roebuck "with no apparent problem". But for pitting with concerns about lost oil pressure, the result of a faulty gauge, he would likely have finished fifth or even fourth rather than a twice-lapped 11th.
McLaren's chief mechanic that day was AUTOSPORT's Gary Anderson, who reckons that what happened at Silverstone played a defining role in Villeneuve's approach.
"He came in during the race complaining that he had no oil pressure," said Anderson. "But it was still running and he was told, in no uncertain terms, that if the car is still running you must keep driving. That's why you see so many shots of him with three wheels on his wagon. If it ran, he kept going. The lesson was never to give up. It was still running and the dial was faulty, and he remembered that in the future no matter what fell off!
"We were impressed by his performance. He had that total commitment and never knew he was going fast enough until he spun. It's true that he spun more or less at every corner, although he was clever enough not to do it at the corners where he might have a big accident. That's how he found the limit of the car."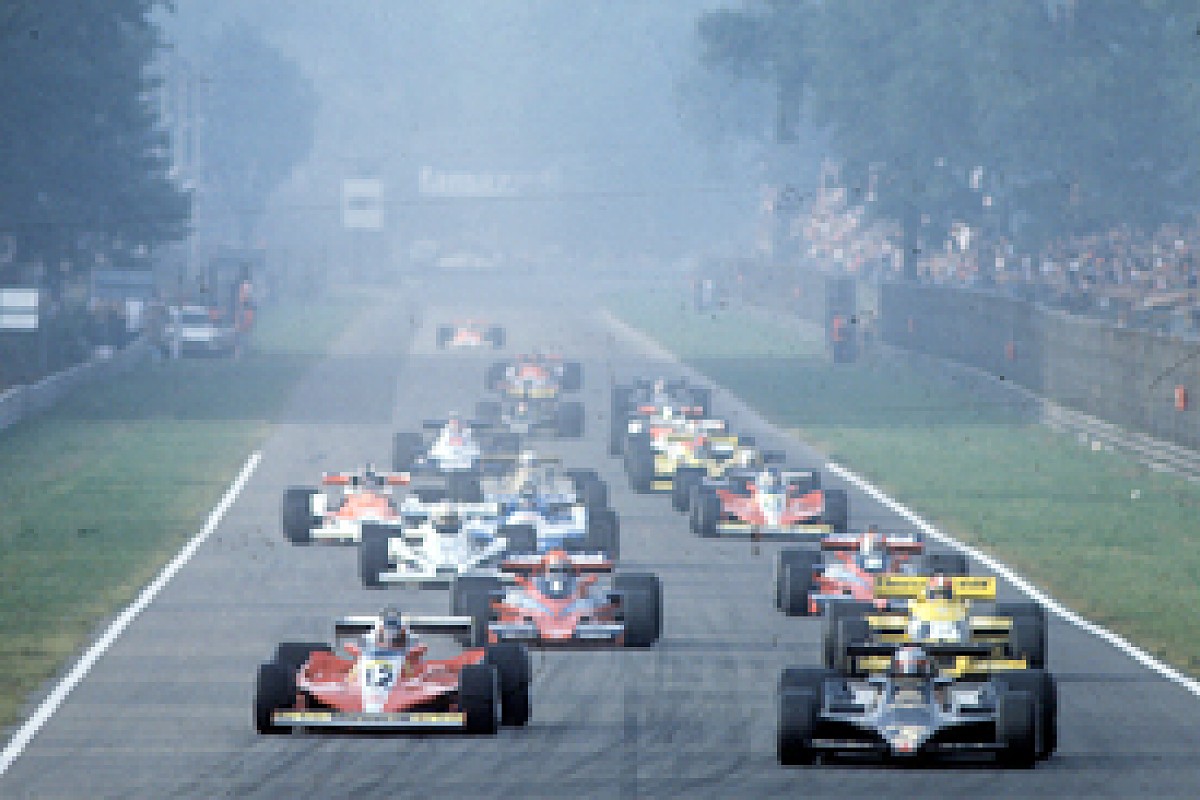 Few now remember Villeneuve's performance in the tragic 1978 Italian Grand Prix, but it cemented his place at Ferrari © LAT
EMBRACED BY THE TIFOSI
Villeneuve was signed by Ferrari with two races to go in 1977 and it's fair to say that the famous tifosi, while loving his maximum-attack approach, still remained to be convinced. He headed to the 1978 Italian Grand Prix with 15 Ferrari starts under his belt and just one podium. Rumours persisted that Ferrari could drop him, with Riccardo Patrese among those touted as a potential replacement.
That race has gone down in infamy, as Ronnie Peterson lost his life because of complications arising from injuries sustained in a start crash. Villeneuve finished the race second on the road to Lotus driver Mario Andretti after leading much of the distance, with both then hit with a one-minute penalty for a jumped-start. But Saturday was an altogether happier day.
As Gerald Donaldson puts it in his biography of the Canadian ('Gilles Villeneuve: The Life of the Legendary Racing Driver'), "the tide of public opinion had definitely turned in Villeneuve's favour". This was as a result of Villeneuve posting a time just 0.346s off Andretti, over a second faster than team-mate Carlos Reutemann, who had committed to a switch to Lotus for the following year.
As Roebuck put it in his AUTOSPORT report, Villeneuve "was a new hero".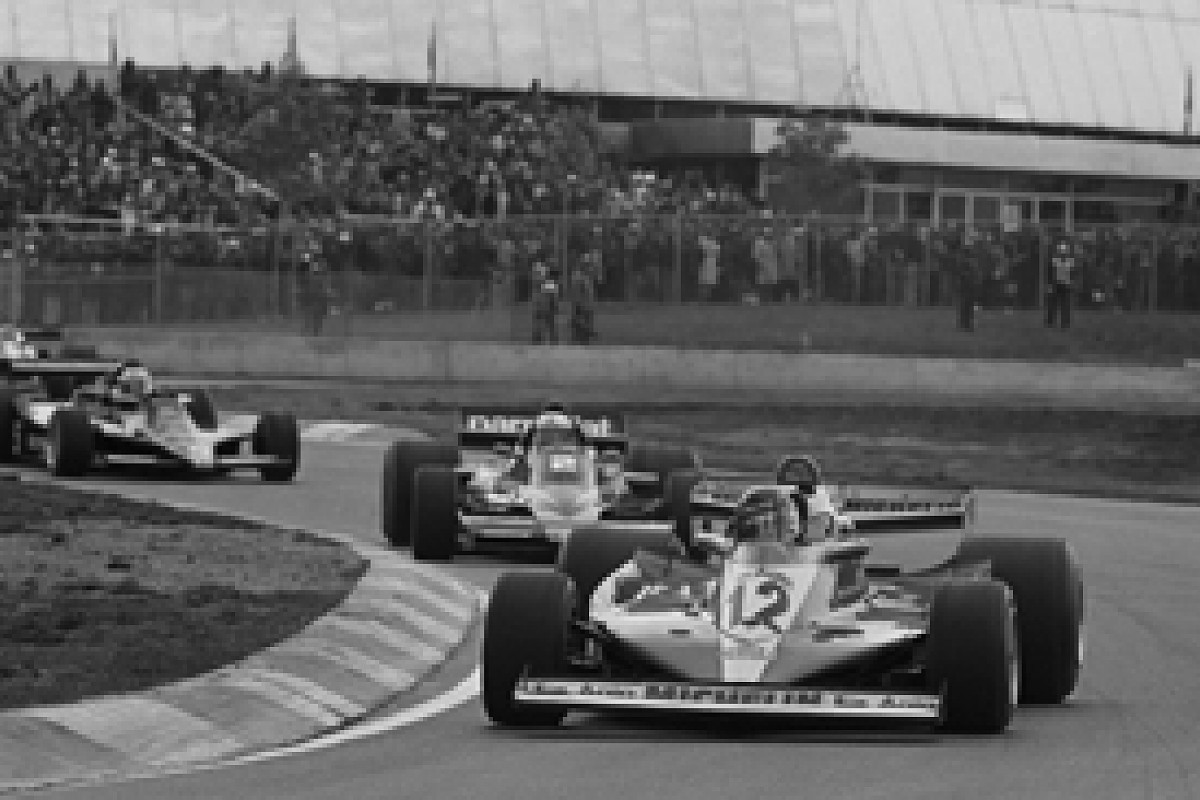 The first F1 victory came on home ground at the 1978 Canadian Grand Prix © LAT
HOME HERO
Villeneuve headed into the final race of the 1978 season with just eight points to show for his first season in a Ferrari. The Canadian Grand Prix was the first to be held in Montreal on the track that was later to be dubbed the 'Circuit Gilles Villeneuve'.
The stage was set for the home hero and he delivered, although not without relying on some terrible misfortune for Frenchman Jean-Pierre Jarier, who led for Lotus until suffering an oil leak around 20 laps from home. This gave Villeneuve the lead and, unusually for his greatest moment, he chose to take it easy.
"Those last laps were torture," he is quoted as saying in Donaldson's biography. "I could hear all kinds of noises in the car. And I didn't like it because I was having to drive like an old woman, shifting at 10,000rpm and being careful not to break anything."
Fortunately, the car held together and Villeneuve, then officially aged 26 (but actually 28), had taken his first world championship race victory in the perfect place.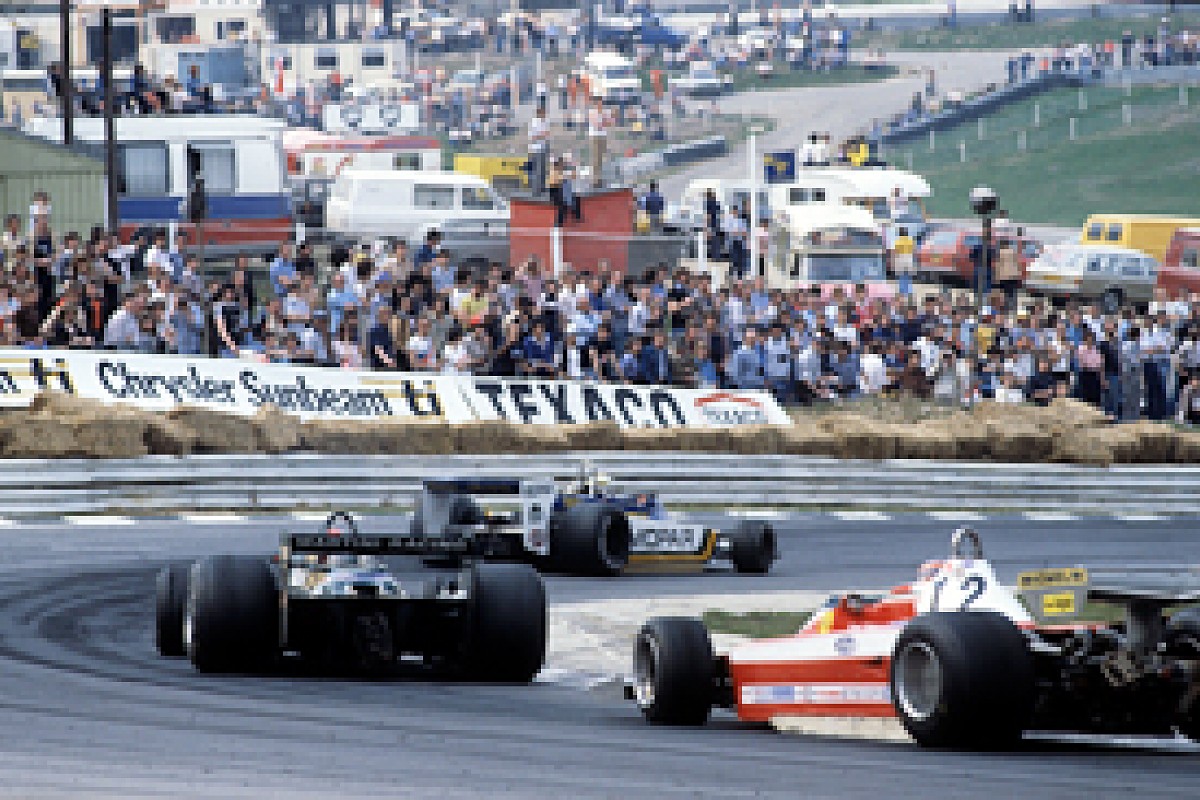 The Race of Champions at Brands Hatch - Villeneuve's 'forgotten' seventh F1 win © LAT
VICTORY AT EUROPE'S 'NICEST' CIRCUIT
Villeneuve is usually credited with six F1 wins, and that's absolutely correct if you are only interested in world championship races. But there was one more, less-heralded win, which came in the 1979 Race of Champions at Brands Hatch.
The entry for the Aurora F1 Championship round was relatively modest, with only seven world championship regulars entered. But this still meant that Villeneuve had to take on Brabham driver Niki Lauda and reigning world champion Mario Andretti's Lotus. What's more, he had to drive the old Ferrari 312T3 rather than the latest T4 in which he had taken victory in the South African and Long Beach Grands Prix.
Andretti started from pole ahead of Lauda, but a slow start meant the Lotus lost out to the Austrian, who took the lead ahead of Villeneuve. Tyre troubles knocked Lauda out of the equation, but Villeneuve threw away the lead with a grassy moment on the Grand Prix loop, allowing Andretti past. The Canadian repassed Andretti at Paddock Hill Bend with 13 laps to go, winning by 14 seconds from Brabham's Nelson Piquet.
"The man who can do no wrong at present is Gilles Villeneuve," wrote Roebuck in AUTOSPORT's report. "It is a long time since anyone won three Formula 1 races on the trot, and one is left more and more with the thought that here may be the 1979 world champion."
And all this at a track that Villeneuve dubbed "the nicest circuit in Europe".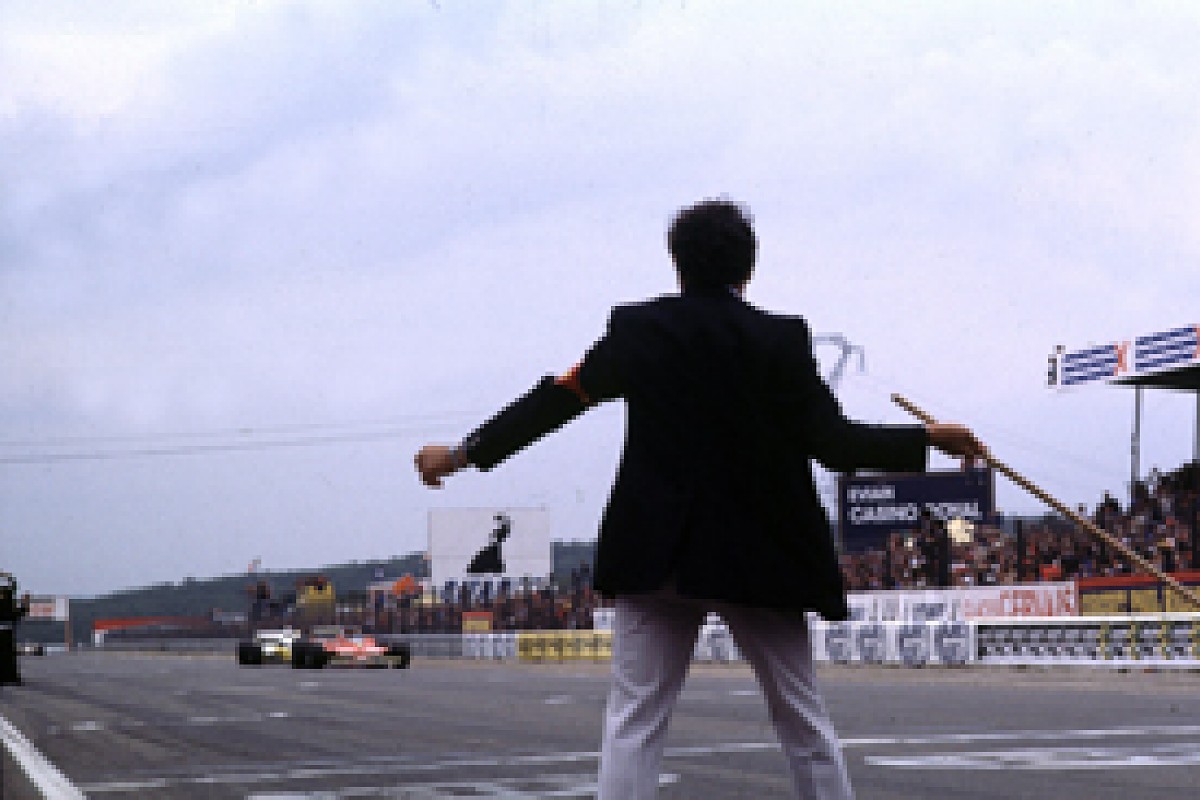 Villeneuve and Arnoux cross the line after arguably F1's most famous duel © LAT
VILLENEVE v ARNOUX
The 1979 French Grand Prix at Dijon-Prenois is remembered not for the driver who won - Renault's Jean-Pierre Jabouille - but for the incredible late-race battle for second between Villeneuve and Jabouille's team-mate, Rene Arnoux.
Villeneuve appeared to have second in the bag but was struggling on shot tyres, allowing Arnoux to reel him in. With five laps to go, it seemed inevitable that the Frenchman would make it a Renault one-two. But Villeneuve was in no mood to give up.
Roebuck, in his AUTOSPORT report, described it as "desperate in a manner we have not seen in Grand Prix racing for a great many years". It stands as some of the most spectacular footage ever captured from a circuit.
Mere words can't do it justice, so check out the remarkable battle here. Once you've watched this, you will see why Arnoux admitted after the race that "I am not sad to be third".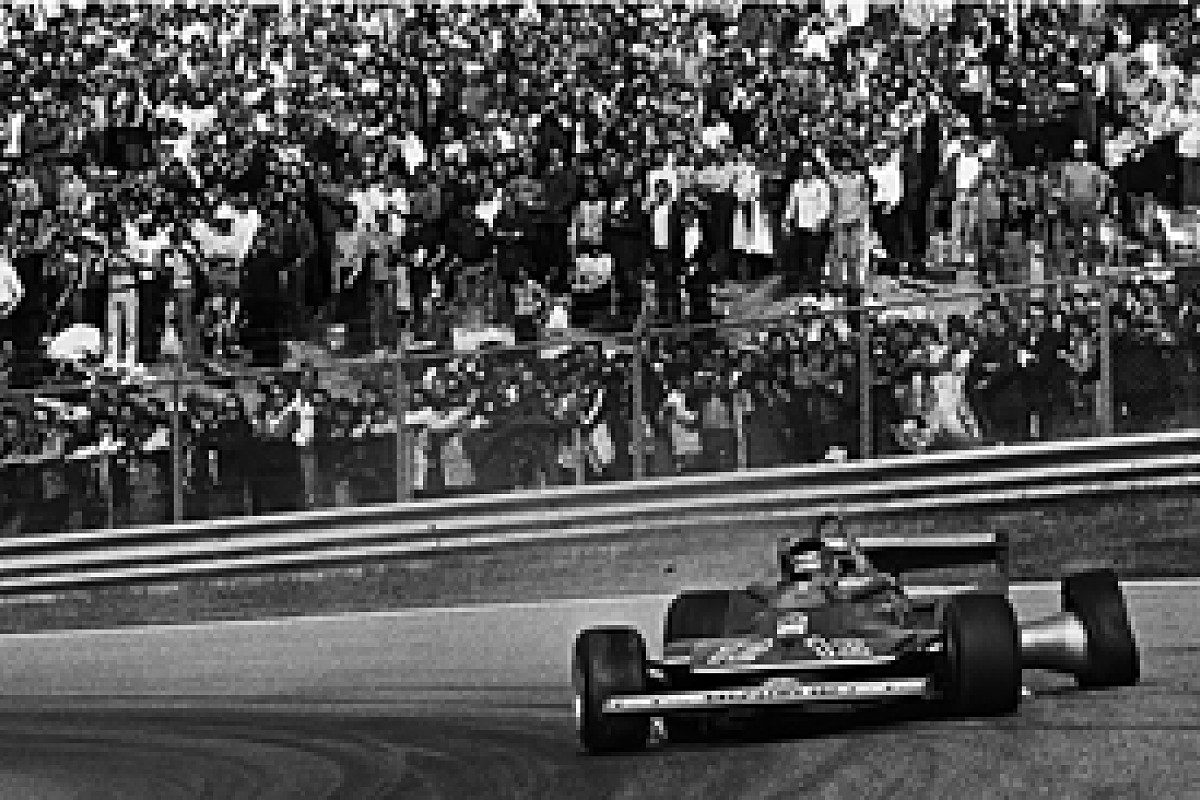 Villeneuve's 'never say die' approach in action at Zandvoort © LAT
PRESS ON REGARDLESS
It's typical of the capacity of Villeneuve to create motorsport mythology that one of the defining images of his career, that of him hauling his Ferrari back to the pits with the left-rear corner hanging off, was in a lost cause. The record books state that Villeneuve retired from the 1979 Dutch Grand Prix at Zandvoort, but what he did there lives large in the memory.
Roebuck picks up the story in his AUTOSPORT report, with Villeneuve unwittingly suffering from a slow puncture of the left-rear "on lap 47. At the new chicane, the Ferrari got out of line through the right-hand section and was gone, spinning several times up the road, wreathed in tyre smoke. Immediately [Alan] Jones provided some of his own as he hit the brakes to avoid the gyrating T4. Villeneuve controlled it all extraordinarily well, avoiding contact with anything and keeping the engine running. Quickly, he resumed, still in second place, but the Williams was beyond reach now.
"A lap and a half later, the damaged Michelin could take no more. As Villeneuve blasted by the pits, the tyre suddenly lost all its air and came apart. Somehow the little man kept the car straight, but there was no way he was going to get around Tarzan. On the approach to the corner, therefore, he spun the car, slithered down the road in a welter of sparks, sound and fury. The car finished up on the grass, just short of the catch fencing."
Famously, Villenueve backed the car back onto the track and made it back to the pits with the left-rear hanging off. But the damage was too severe for him to continue.
"Afterwards, there was understandable criticism of his three-wheeled lap, but thank God there will always be a few people in this world who simply know not how to give in," wrote Roebuck. "It was foolhardy, yes, but it came from the same pure competitiveness and spirit which has characterised all his races this year. Coast and collect is not Villeneuve's way. He likes to win, rather than not lose."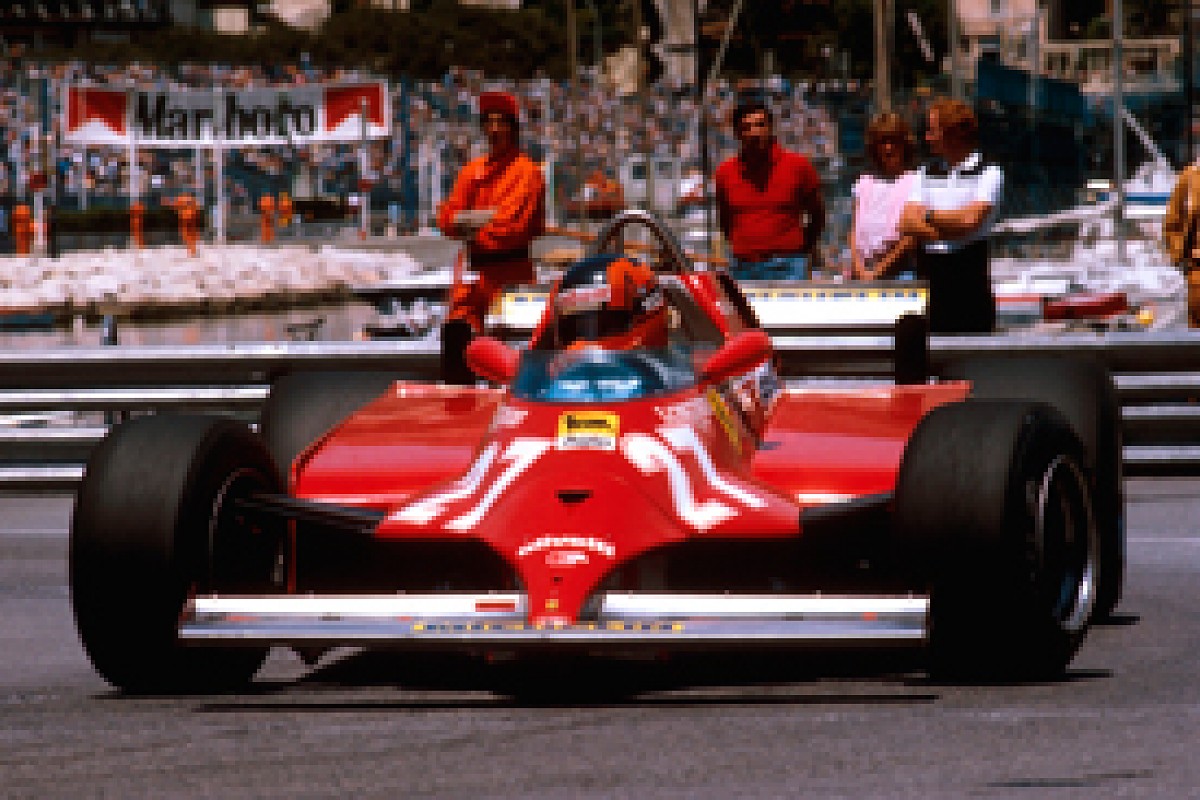 Getting this Ferrari onto the Monaco front row was a miracle © LAT
THE GREATEST QUALIFYING LAP
Villeneuve's victory in the 1981 Monaco Grand Prix was remarkable enough, but it was his astonishing qualifying lap that laid the foundations for it. The Ferrari 126CK wasn't the car to have around the streets of the Principality, yet Villeneuve turned in a stunning performance to end up within a tenth of poleman Piquet's Brabham.
Team-mate Didier Pironi's lap, almost 2.5s slower, showed what miracles Villeneuve was performing. It wasn't so much the time that illustrated the point, but the fact that the Frenchman, who had claimed pole for Ligier in Monaco a year earlier, shunted three times trying to match Villeneuve.
What better way to celebrate signing a new Ferrari contract that would keep him at Maranello until at least the end of 1982 and, Villenueve reckoned at the time, beyond?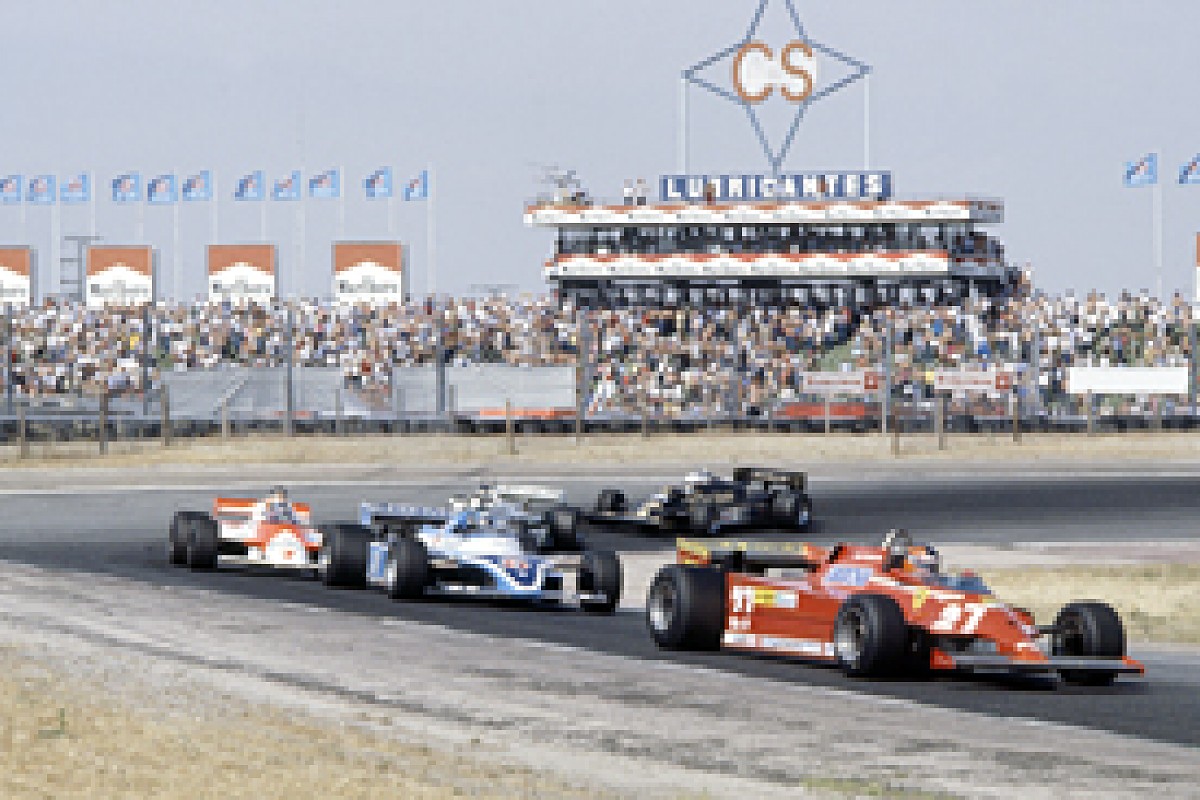 Villeneuve resisted his pursuers for lap after lap in what would be his final F1 win © LAT
THE GREATEST WIN
As Roebuck's introduction to the AUTOSPORT race report highlights, "this one was against the run of play". The theory was that the unwieldy Ferrari 126CK didn't have a hope at Jarama, where horsepower was less important than corner speed. And from seventh on the grid, Villeneuve surely had no chance of repeating his sensational Monaco victory.
Villeneuve made a flying start, taking to the dirt off-track to run third behind Williams pairing Jones and Reutemann at the first corner. Before long, he had dispatched Reutemann around the outside of the first corner on lap two to take second. Then, on lap 14, Jones spun off into the catch-fencing at the first corner, handing Villeneuve the lead.
In the closing stages, Villeneuve was put under severe pressure. First Reutemann closed in, then Jacques Laffite in his Ligier joined the queue. Several times Reutemann pulled alongside, only for Villeneuve to reassert himself. Laffite picked up the fight after passing Reutemann around the outside but could do nothing about the leading Ferrari.
McLaren driver John Watson also joined the train of cars, followed by the Lotus of Elio de Angelis. Villeneuve defended staunchly and won the race, with the top five covered by 1.24s.
"This is my most public victory," said Villeneuve after the race. "But I don't feel it was any better than the others I've had. It's nice, of course, because I really didn't think I had much chance of winning here."
Brabham designer Gordon Murray had a different view: "Villeneuve was absolutely brilliant because that chassis is evil. He was under pressure the whole time in a difficult car, and he never made a mistake that I saw. It's the most impressive win for a long time."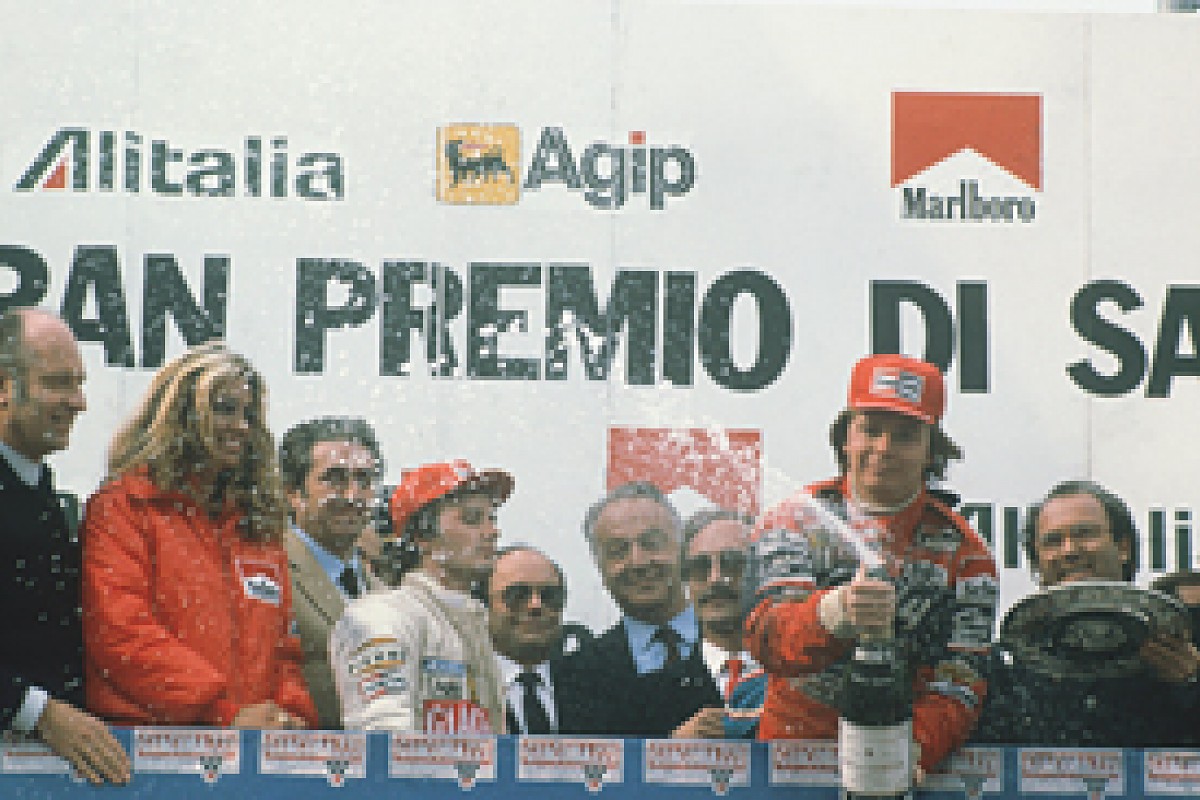 The tense scene on the Imola podium © LAT
FALLOUT AT IMOLA
The 1982 San Marino Grand Prix was supposed to be a damp squib. With the race boycotted by the FOCA teams, only 14 cars participated. But with two Ferraris entered, one for Villeneuve and one for team-mate Pironi, the tifosi still turned out in their droves. What they witnessed has gone down in infamy.
After the demise of the Renaults of Prost and Arnoux, Villeneuve and Pironi had it all their own way up front. The order went out for the pair to ease off, which they did to the tune of a couple of seconds per lap. But while Villeneuve reckoned that team orders should have kicked in to allow him to win with Pironi behind, the pair swapped positions a few times and the Frenchman took the chequered flag.
"After the race, I thought everyone would realise what had happened, but no," Villeneuve is quoted as saying in 'Life of the Legendary Racing Driver'. "Pironi says that we both had engine problems and there were no team orders. What really pissed me of was that [Ferrari team manager Marco] Piccinini confirmed that to the press, saying there were no team orders. My engine was perfect and there were team orders.
"People seem to think we had the battle of our lives! Jesus Christ! I'd been ahead of him most of the race, qualified a second and a half ahead [1.303s to be precise] of him. Where was my problem? I was coasting those last 15 laps. He was racing. I think I've proved that, in equal cars, if I want someone to stay behind me, he stays behind."
Pironi claimed he was leading when Ferrari's pitboard instructed them to hold position, but Villeneuve remained furious with the Frenchman until the day he died at Zolder two weeks later.