Whether Lotus can maintain its victory-challenging Bahrain Grand Prix form to become a true contender at the front in Formula 1 is one of the fascinating aspects of the 2012 season as the teams head to Europe.
Kimi Raikkonen and Romain Grosjean finished second and third at Sakhir, leaving McLaren, Mercedes and Ferrari in their wake. Over the three races before Bahrain, the closest a Lotus had been to a race winner was in Malaysia, where Raikkonen finished 29.5 seconds behind Fernando Alonso. So the Middle-East race really was a step forward.
There appears to be no reason to suspect that the team will fade away - as long as it can keep up with its main rivals in the development race that will last all the way to the finale in Brazil.
Bahrain was the definitive proof for the outside world, but everyone in the camp is adamant that the potential was there all along. For one reason or another, it had simply not been realised. Grosjean's first-lap mishaps in Australia and Malaysia didn't help, and in China the strategy didn't play out too well, Raikkonen sliding down the order as his tyres gave out.
"The winter testing showed us that the car was very good," said Grosjean last week. "The first qualifying, in Melbourne, was quite amazing, being third on the grid. Then we didn't put everything together in the next races to get the results we deserved.
"But we knew we had a very good car, and the team is working very hard to keep some improvements coming and doing some updates - that will be the key of the season."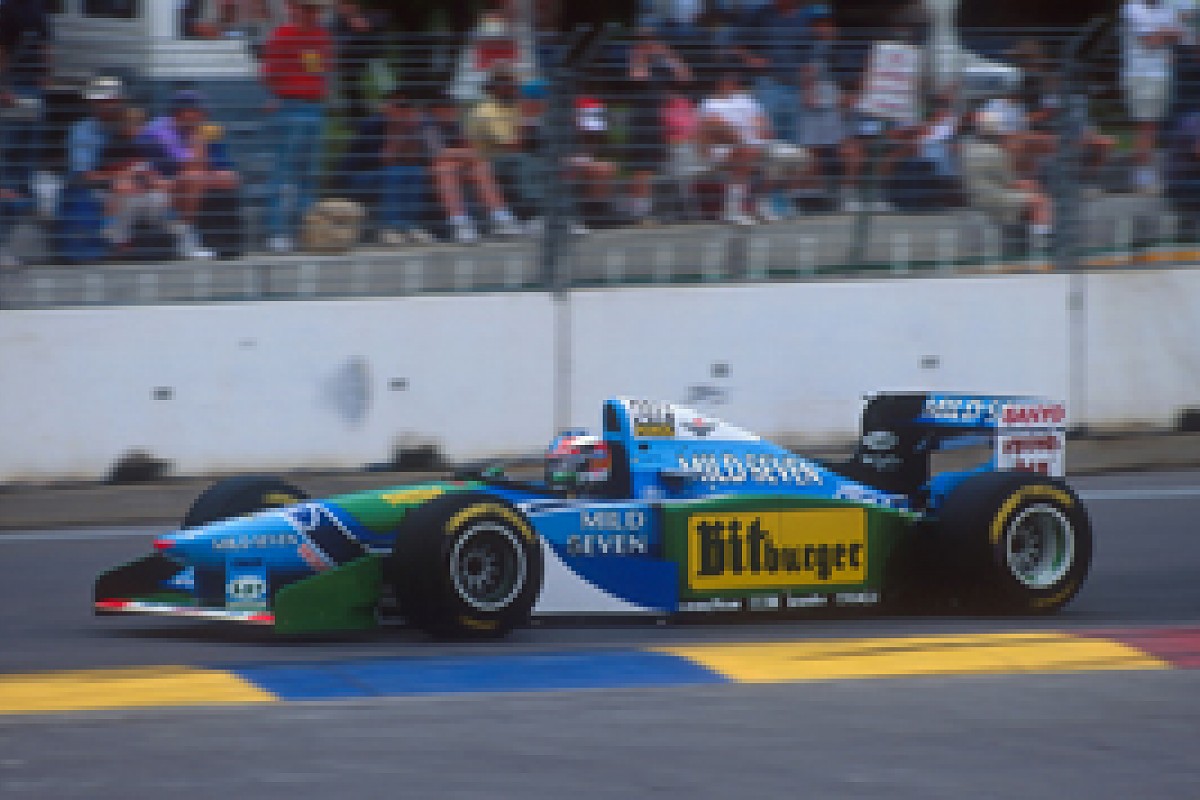 The team now known as Lotus had its first title success with Michael Schumacher's maiden drivers' crown in 1994 © LAT
There's no escaping the fact that Lotus does not have the financial resources of Red Bull or McLaren, but historically the former Toleman/Benetton/Renault team has done a lot with what it has. Last year's side-exhaust experiment ultimately proved a dead end, but it was a bold effort, and showed that this was still a team with ambition.
This year we've already seen the team make good progress from the launch spec of the E20, and the update package for China, honed further with a new floor in Bahrain, was a useful step.
This week's Mugello test provided all the teams with a chance to catch their breath and try new parts away from the stresses of a race weekend as they get set for the upcoming Spanish GP.
"Who knows what other people will have done?" says engineering head Alan Permane. "At Mugello we've got a huge programme, actually too much to do in three days, as everyone will have. We've also got a test in America in a full-sized windtunnel, so I'm sure we'll get some bits and bobs out of that.
"We'll go to Barcelona very confident. It's a high-speed track and the higher-speed stuff certainly seems to favour us. It will suit us down to the ground."
What has been apparent is that the E20 has no real vices. Some cars appear more competitive in qualifying than races, and vice versa. The Lotus may lack ultimate one-lap pace, but it's been there or thereabouts in all circumstances, even if the race results have been relatively modest.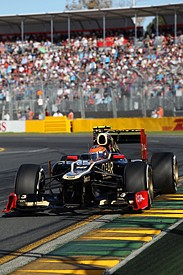 Grosjean's Melbourne qualifying pace hinted at Lotus's potential © XPB
So far the margin between the quickest Lotus and pole has been 0.380s (third, Australia), 0.439s (sixth, Malaysia), 0.777s (fourth, China) and 0.586s (sixth, Bahrain). Those are not insignificant gaps - note too that Sauber and Toro Rosso have both qualified ahead - but the consistency has been there. Ferrari can only dream about that sort of form at the moment.
And we've seen that in 2012 qualifying doesn't always have much bearing on what happens on Sundays. Raikkonen's brilliant charge from 11th in Bahrain, where the team consciously opted not to use new tyres chasing a higher grid position, was a perfect example of that.
It's obvious that to be successful in 2012 you need a car that is kind on its tyres come the race, although that's just part of the package that the team sought over the winter.
"F1 is about having everything right, isn't it?" says technical director James Allison. "We've got two drivers who are getting the job done, we've got a car that happily is kind to its tyres, we've got a car that's got reasonable aerodynamic efficiency, and it's going all right.
"Every team tries to put as much downforce on the car as possible, and they try to make that downforce manageable by having it flat across a wide operating spectrum. Everyone tries to design a suspension that doesn't have too much load variation at the contact patch, and everyone hopes that they get drivers who are sympathetic. Sometimes you do a better job than others."
Permane says that the E20 works well on its Pirellis: "The car is definitely good on tyres - we knew that in the winter - and we know it's got good pace. It wasn't even super-hot track temperatures [in Bahrain] - it was 31/32C at the start. It wasn't cold, which is where it seems we go more into Mercedes territory, but Kimi made our tyres work. In China we could obviously have done a much better job, but honestly the car was kind on tyres."
Raikkonen and Grosjean celebrate with their crew in Bahrain © LAT
On the drivers' side, Raikkonen's experience has been useful.
"Both drivers are good on tyres, and there's no doubt Romain has learned from Kimi," adds Permane. "Kimi was straight on top of it, and Romain's a smart enough guy to be able to look at data, understand it, be told what to do by his engineers, and respond to that."
That's an interesting insight into the relationship between the two drivers, with Raikkonen in the role of the veteran, and Grosjean the eager youngster. It's an intriguing combination - the only new one among the top teams. Things can only get better at Lotus as its two drivers become more settled.
"As always in F1, there's never one thing," says Permane. "We're racing against Mercedes, Red Bull, Ferrari and McLaren, who've all had their driver pairings for a long, long time, and they're very comfortable with them.
"We've got a rookie and a driver who's been out of the sport for two years. It's difficult to work out how much that it's worth, but people shouldn't underestimate that - drivers being comfortable in the team is worth a hell of a lot."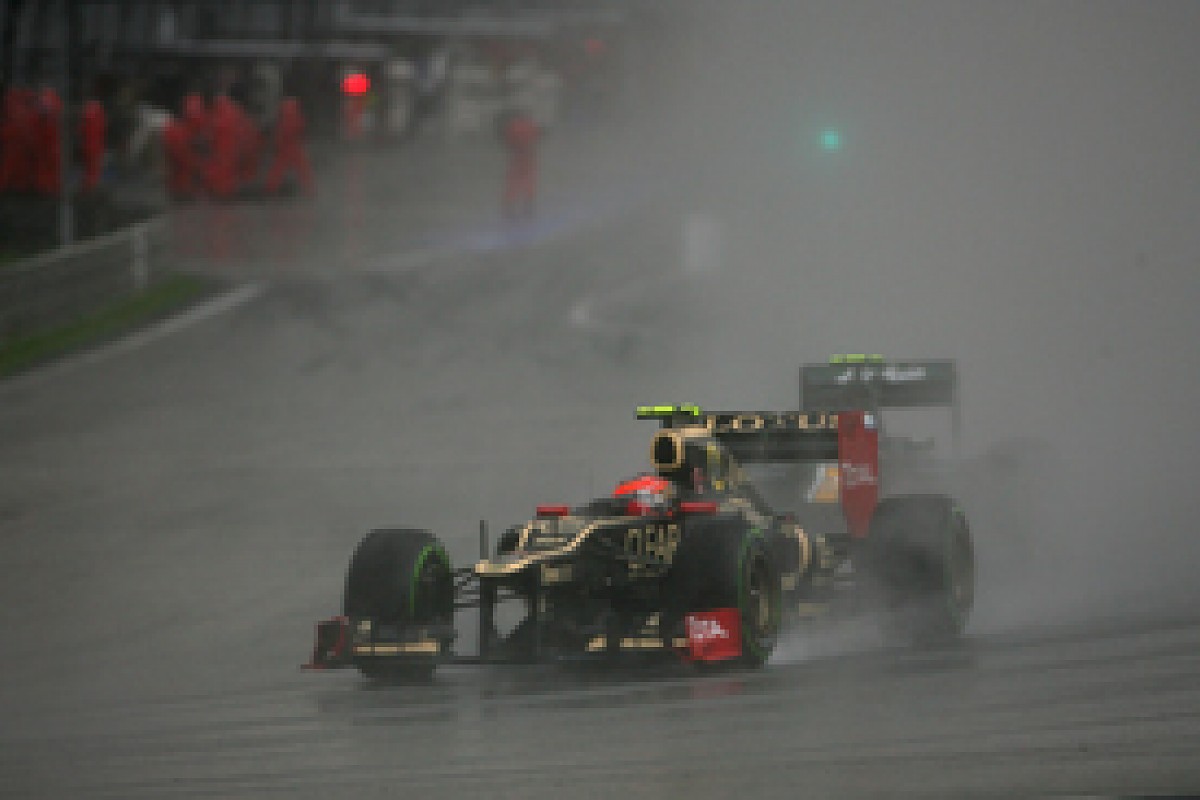 Grosjean would put a messy start to the year behind him © XPB
Already known in the camp after his brief-but-frustrating stint with Renault in 2009, Grosjean has really impressed the team on his 'second coming'. Crucially, he was able to shrug off the frustration of those disastrous early laps in Australia and Malaysia and follow up with two solid results.
Allison is pleased with the way both drivers have performed: "Kimi isn't letting us down, is he? And Romain, after a couple of races of maybe slight overexuberance, has had two very strong results now. And I think he'll just improve."
It's an understatement to say that Grosjean is keeping Raikkonen on his toes - he's been faster than the 2007 world champion on more than one occasion this year. Kimi may have earned the headlines in Bahrain, but his team-mate also had pace.
"A new set is worth about eight seconds over a stint," says Allison. "So each time you're running new tyres versus their scrubbed, that's eight seconds in the bag. Kimi had two new sets to Romain's used, so Romain was pretty creditable to finish where he did."
Grosjean himself made it clear last week that he believes he can win races this year.
"We knew we had something in our hands which was pretty good and working very well," he said. "So now we're trying to make it even better in testing at Mugello and the next races in Barcelona and Monaco. If we get everything right, then we may win before the end of the season."
There's certainly a spring in the step of everyone in the camp, and the Bahrain result will have done wonders for morale.
Allison is the man who has to provide the drivers with a good enough car. Is he confident that the updates for Barcelona and beyond will be enough to get the job done?
"No, I'm not confident," he smiles. "You live your whole life scared in this business, because everyone's trying hard and they're all good. We just try and do our best, and everyone at the factory pushes upgrades through as fast as they can.
"It's cliche crap, but everyone puts so much effort in, both at the track and at the factory. The first three races we've known it was good, but we just didn't manage to show it. Hopefully now we can keep showing it. The car has been good everywhere so far."