The Bahrain Grand Prix turned out to be another thriller, and in Sebastian Vettel and the Red Bull RB8 it gave us our fourth different winner in four races so far this year.

And after Sauber came so close in Malaysia, with Lotus completing the Bahrain podium we now have two other teams that have been knocking on the door of the ultimate success. But while Sauber's big moment came in a rain-affected race, Lotus now looks like it might be able to challenge for victories anywhere.

Until now incidents and other misfortunes have to some degree hidden the potential of the black and gold car, although Kimi Raikkonen's feisty performance in China demonstrated that both driver and team are quite capable of mixing it with the top guys.

Kimi's race might have unravelled in Shanghai, but that weekend provided some good lessons for the team, and not just in terms of strategy. Indeed, one of the key factors in the Lotus performance in Bahrain was the addition of the new floor to the E20 package that was raced in China. The floor was available in Shanghai, and was tried on Friday morning. But after a difficult first session there, the team took the decision to remove it.

"We knew from Malaysia we were competitive," says Lotus engineering chief Alan Permane. "We were very uncertain of our aero numbers in China, and we were very uncompetitive on Friday, so we were cautious and took it off."
Alan Permane said Lotus knew it was competitive following Malaysia © LAT
"We were rather spooked on Friday in China by the pace of the car," adds technical director James Allison. "We were very uncompetitive on Friday morning, only because our tyres were just too cold - they weren't in the window. Just out of total caution we went back to a baseline.

"We had used it on both cars in the morning, but we were rubbish, so for Saturday we went back to the other package. For Bahrain we had a chance to see that it was working alright.

"It's just part of the upgrades we're going to keep bringing. It's probably worth one and a half tenths, something like that - but you know what the grid's like now."

Only Raikkonen had the latest floor on Friday in Bahrain, and it was immediately apparent that it was working well. Kimi was ninth in FP1 and on paper an unspectacular 13th in FP2 - half a second off ninth-placed Romain Grosjean in that session - but the team knew what fuel loads both guys had been running, and after doing the numbers was hugely encouraged.

"We spent Friday morning looking at aerodynamics and stuff that we didn't think had worked in Shanghai," says Permane. "We looked at it closer and in a few different ways and managed to convince ourselves that we were happy with it.

"Kimi had the new floor fitted on Friday, and that was a major part of our upgrade. Romain stayed with the old floor, and Kimi was much more competitive. That gave us the first clue, and the aero numbers looked good.

"Friday afternoon we basically spent on high fuel. We did one run on low-ish fuel, but the rest of the session was done on high fuel. We were actually surprised; we knew then we had a good car on high fuel.

"It almost looked too good, and we were worried that we didn't have enough fuel and other people had more.

"We calculated stuff out and looked at the quickest Mercedes lap - because they were very fast on their long-run pace. We worked out what fuel they were on and we were fairly confident then."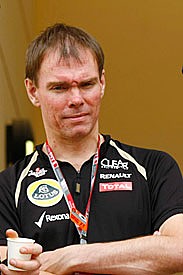 A new floor for Grosjean resulted in improvements on Saturday © LAT
The decision was made to give Grosjean the new floor for Saturday and he soon found an improvement in FP3 and qualifying, and in fact looked more competitive than his team-mate.

"We had the new floor on both cars for Saturday," says Permane. "We spent the morning doing our normal qualifying prep. From Friday to Saturday Romain went from being three tenths behind to three or four tenths in front of Kimi.

"We were incredibly quick on the prime tyre in Q1, and then struggled a bit on the option - struggled a lot on the option, to be honest. With Romain after his first option run we knew he wasn't into Q3, so we elected to run again with him.

"With Kimi there was a chance he could have gone through, but he had been a bit slower than Romain all of Saturday morning, once they both had the new floor.

"We thought he could go through, but if he finishes up 11th with two sets of new options and two sets of new primes for the race, with the degradation in Bahrain, that was really going to help him."

Permane took a bold decision. Here was Raikkonen, ready to go out and with two sets of options to blast his way into Q3 and then - with luck - perhaps land a spot in the first three rows. But Permane told him to stay put.

"He was sitting there expecting to go out and I said, 'No, we're not going out.' It was a very, very tough decision, but I said, 'Let's go for it, and let's see what happens.'"

Grosjean duly made it through to Q3 and wound up in seventh, at the expense of having used up all of his option tyres.

"Kimi didn't go through," says Permane, "and honestly to be 11th, I wasn't pissed off at all, I was happy.

"When he got out of the car there was a little bit of, 'Maybe we could have done better' but when we looked at it and talked about it afterwards with him, he was happy to be there.

"It's easy to say now it was the right decision, but honestly after qualifying I said to him it's the right decision. I said if our Friday long-run pace is anything to go by, we're going to be fighting right at the front..."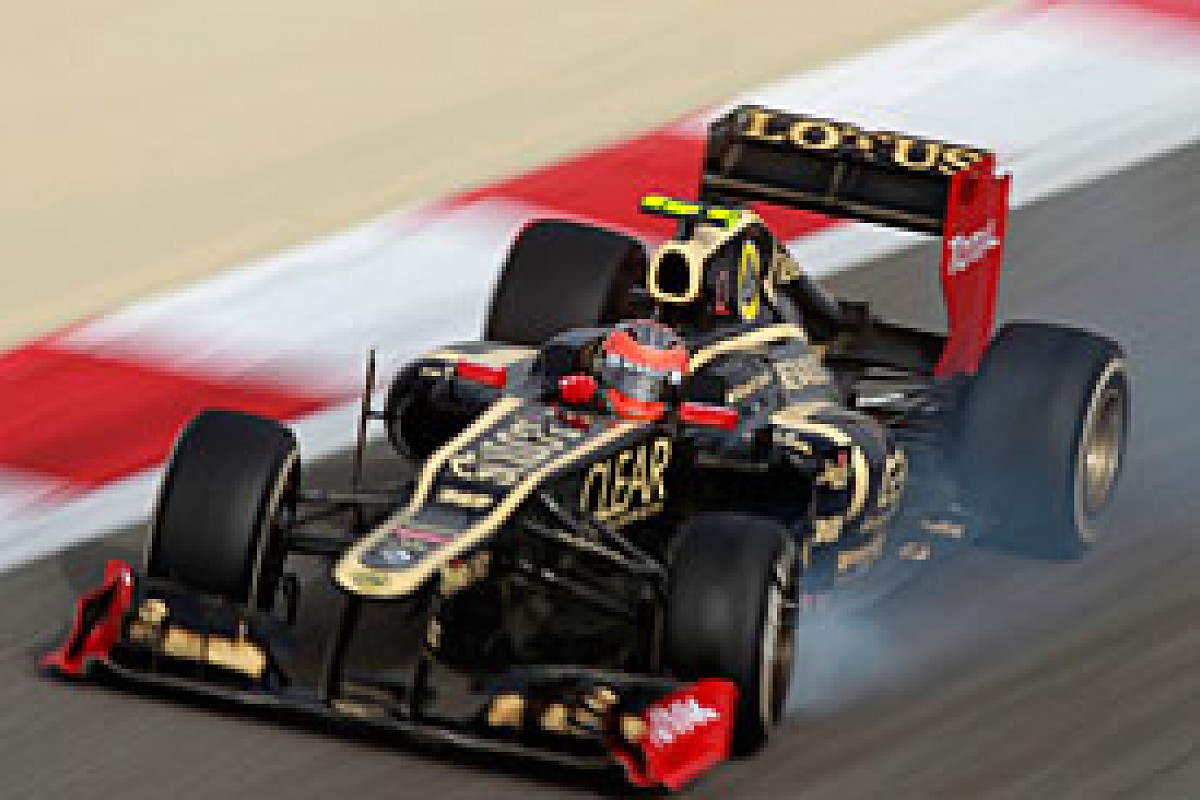 A brilliant first lap for Lotus
Raikkonen was well set, for with a three-stop strategy he would potentially have new tyres for every one of his four stints.

In the Pirelli era there's been much talk about top drivers failing to emerge from Q1 and starting from 18th or lower with such a stockpile - indeed Michael Schumacher was in a similar position last weekend - but to have that advantage and be starting as high as 11th with a free choice for the start is relatively unusual.

Clearly any places gained with a good start and strong first lap would be a massive bonus and make Kimi's race even more competitive. And his new options would do him no harm either getting off the line or in the scrabble round the first few corners.

It couldn't have gone much better for Lotus as Grosjean - on old options like those around him - managed to get past Daniel Ricciardo, Jenson Button and Nico Rosberg to shoot up into fourth. Raikkonen also passed the Toro Rosso and Mercedes, plus Sergio Perez and Paul di Resta, to claim seventh. On lap 3 the Finn lost a spot to Felipe Massa, but he soon gained it back.

Grosjean meanwhile was flying, passing both Mark Webber and Lewis Hamilton fair and square in the early laps, despite everyone being on tyres of equal age.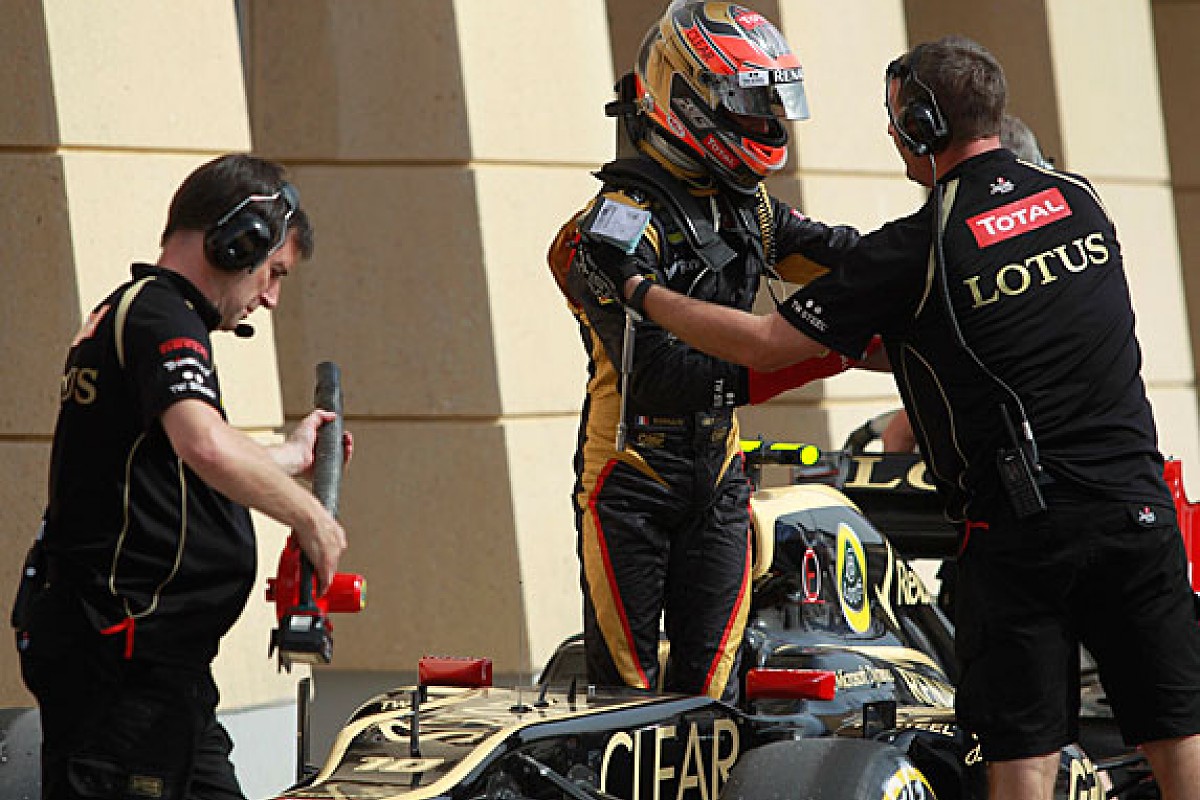 Both Grosjean and Raikkonen made gains at the start © LAT
His new tyres not only gave Raikkonen good pace in the first stint, but guaranteed that he could run longer and stronger than his rivals to the first stops, which began on lap eight. As others peeled into the pits, Kimi was briefly second on the road before he followed leader Vettel in on lap 11.

When he emerged and late-stoppers Di Resta and Kobayashi were discounted he was third, with only Vettel and Grosjean ahead. Raikkonen was now on his second set of new options while most of his rivals had gone to primes, so again he had good pace.

Permane says it wasn't a hard choice to use that second new set of options early rather than save them for later: "Not with Kimi, not at all. We'd done all the sums. It was a relatively short stint anyway, followed by two longer stints.

"As it was the tyres held up better, so we pushed both those stints out. We pushed the first stint out with Kimi and we pushed the second stint out, just to make it easier.

"The plan was to do two short-ish stints to get track position, but we actually got track position on the track, so we didn't need to take any risks. We pushed to a much more conservative strategy."

Inevitably Raikkonen soon began to close on Grosjean, who had gone for used primes for the second stint to save his two new prime sets for later.

The gap came down from an initial 4.2s on lap 12 just after the stops. By the start of lap 24 Raikkonen was able to slip past at Turn 1 to take second place before pitting at the end of that lap.

"The second set of new options was where he did the damage to people, I think," says Permane. "But if you look at Romain, on scrubbed options he overtook Hamilton in the first stint, so the pace was there in the car.

"I wouldn't say it was an easy strategy, but when you've got a car like that... When you're a second a lap quicker than all those people it's not actually too fraught."

Raikkonen took on the first of his sets of new primes for his third stint. Meanwhile, RBR made the call to put Vettel on scrubbed options for that crucial stint - or rather Seb himself made the call, deciding that they would give him the best chance of defending himself.

"We gave Sebastian the choice," says Christian Horner. "What would you like at the next stop? And he elected to take the soft, and it gave us one new set of primes [for the end]. And it was a question of how early dare you go for that final stop..."

"Vettel had scrubbed options and we had new primes," says Permane. "And I think we caught up on him then. But we knew he had a new set of primes in his pocket..."

Raikkonen chases Vettel down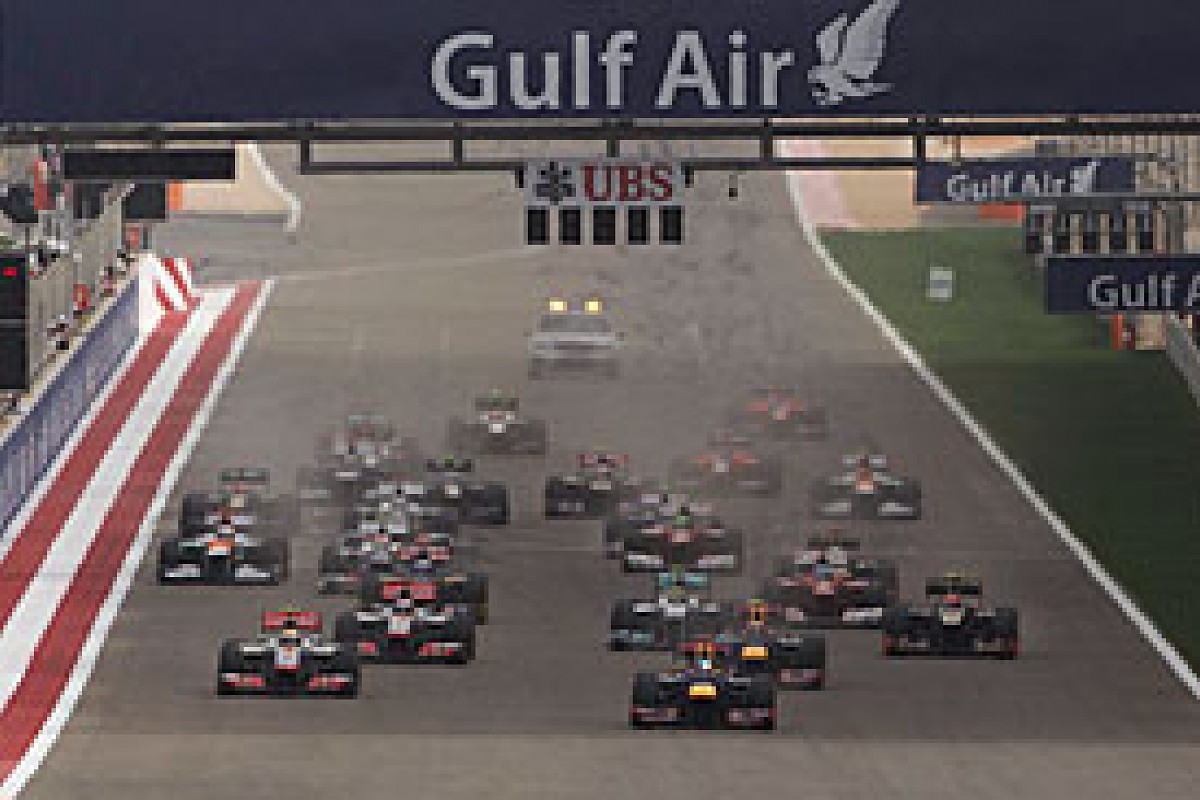 Raikkonen gradually reduced the gap to Vettel during the second half of the race © LAT
This was now a fascinating battle as the Lotus on fresh primes proved faster than the Red Bull on used options - which had a limited lifespan and thus had to be nursed.

Raikkonen gradually brought the gap down to the point where it looked like he would be able to make a pass fair and square. From 2.2s on lap 26 the margin shrank to 0.6s on lap 34. Kimi had the use of DRS for several laps, but while he came close, he couldn't quite squeeze by.

"You need be a second a lap quicker than someone to overtake them with DRS," says Permane. "A lot of people have the misconception that DRS is just for overtaking. It makes overtaking easier, but you've still got to have the lap time on someone. We had maybe one or two tenths on him, but we weren't that much quicker than him."

It was now all about the final stop - and both teams knew that the other had a set of new primes ready and waiting, so neither driver would have any tyre advantage.

"From around lap 30 to the final stops it was a matter of maintaining track position," says Horner. "And making sure that we pitted at the right time to get to the end of the race."

Horner admits that RBR was nervous: "We could see that Kimi, if he got close in the DRS zone, was driving fast on either the left or the right, because their car is quick in a straight line.

"I would say there were fairly clenched buttocks on the pitwall for those four laps, but Sebastian knew what he needed to do and he delivered perfectly, and then he actually broke the DRS zone on the last lap before the stop, so that gave us a little bit of breathing space to go an extra lap effectively."

In the end they both came in together on lap 39, and RBR even managed to service Webber on the same lap: "We stopped both the guys on the same lap which opened up the track position to Seb. The boys have been superb in the pitstops. All their stops have been unbelievable - I think we did one 2.5s stop in the race on our timing."

Permane admits it was always going to be hard to outfox RBR. "We were trying to win it right up until that last stop, but it's very difficult to beat those guys," he says.
Raikkonen couldn't quite overhaul Vettel, but second was still 'labelled' fantastic by Lotus © LAT
"We were slightly quicker than them, until Vettel got on new tyres on the last stint. There was nothing we could have done. We thought about undercutting him, but I was very conscious of what we'd done at the last race, and stopping too early. There was a little bit of, 'Let's not be too greedy...'
"We were planning on stopping that lap anyway. We thought about stopping the lap before, but they would have just covered us. They can react ever so quickly, Red Bull; you see them fly out for a pitstop.
"We're not as confident in our pitstops as they are, and we knew he had a set of new tyres for the last stint. That would have been the only way to do it: stop earlier, but then we ran the risk of it going wrong at the end."

In fact Vettel gained time coming into the pits, spent less time stationary with a typically polished Red Bull stop, and then banged in a couple of super-quick laps on the fresh tyres to ensure he was well clear of the DRS threat.

"At that stage they've gone onto the same tyre," says Horner. "We've turned the car round a second quicker at the pitstop - they've come in together and Seb's come round on the first lap 2.3s ahead. And then he got his head down.

"We wanted to make sure, and he knew exactly that he needed to manage those tyres to the end of the race. And then he maintained the gap, which was pretty much static at 3s.

"It was important to make the right calls on strategy and important to make great stops, and that's exactly what we had."

"Vettel went mad on his first two laps," says Permane. "He just set two crazily quick laps. At that point we thought, 'He's going to hammer his tyres, maybe we can get him.'

"But at the end of the day we played safe. Second and third is still a fantastic result for us, so we're very happy."

A great day for Lotus
Indeed it was a superb outcome, and it showed that Lotus is really in the game. Grosjean's performance should not be underestimated - given the fact that he had older tyres for the first two stints he was much closer to his team-mate at the flag than the numbers say he should have been.

"To get two on the podium is a massive sigh of relief," Permane says. "No one believes it when you say, 'It's coming it's coming.' It is coming, and it has come, and I think that will just calm us all down and give us the belief that we can do it."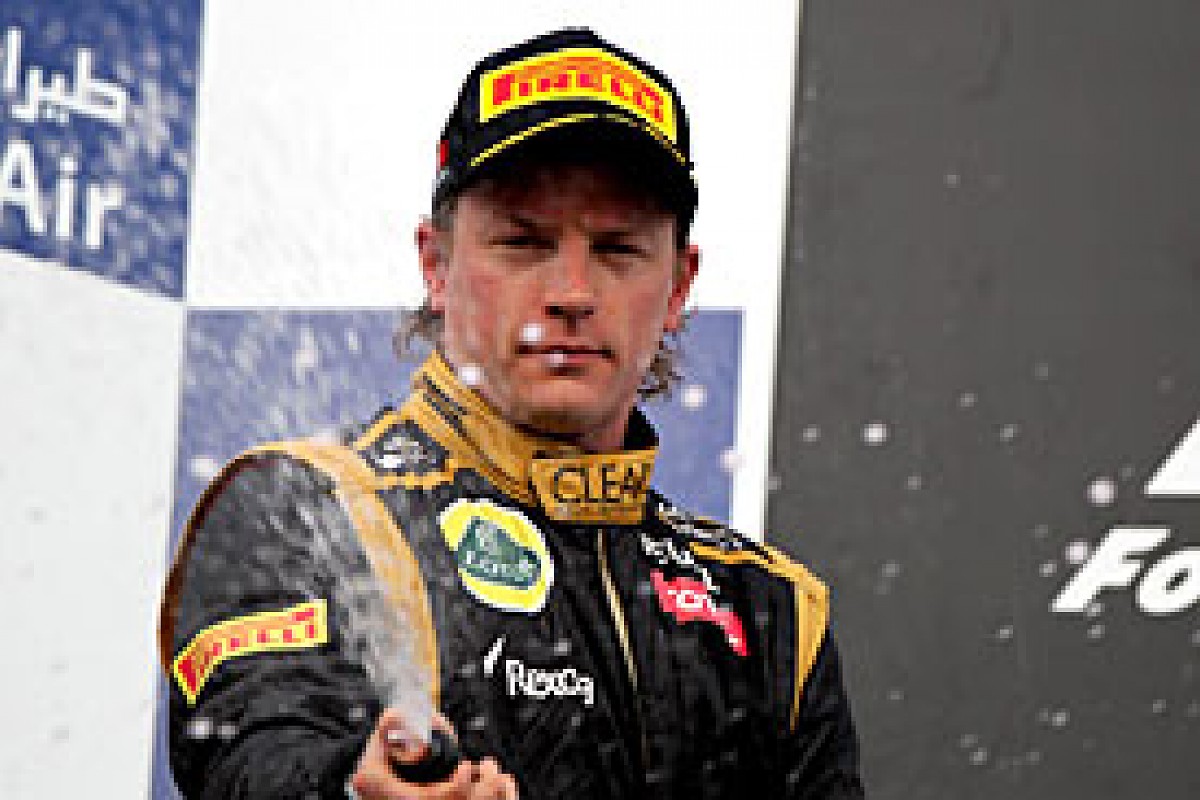 Meanwhile, Allison concedes that a little extra qualifying pace won't do Lotus any harm. "We haven't been on pole yet, have we? We needed clean starts in order to be able to deliver what we delivered. We got them, which was lovely to see, but ideally we want to get into a position where we just go from the line and win.

"Sebastian was pretty quick, and it would have been nice to have beaten him. But I think we'll have a reasonable chance that we'll have some more good results."