PRACTICE
Practice one - Friday am
A Formula 1 practice session took place at Sakhir on Friday morning, but not many noticed, as the controversy over whether this grand prix should be taking place at all raged on.
Lewis Hamilton led the way on Friday morning © LAT
Perhaps fittingly, the on-track action was quite muted, as the early part of the session saw little activity while the top teams waited for the desert dust to clear, and Lewis Hamilton putting his McLaren on top with plenty of time to spare.
Sebastian Vettel was second for Red Bull, but the presence of Paul di Resta in third was part of a much bigger story. After some of its crew were caught up in an unnerving incident while travelling on Wednesday, Force India elected to get its Friday programme done early so it could skip practice two and head away from the track before darkness. That meant early soft-tyre runs and third and sixth places for di Resta and Nico Hulkenberg.
Practice two - Friday pm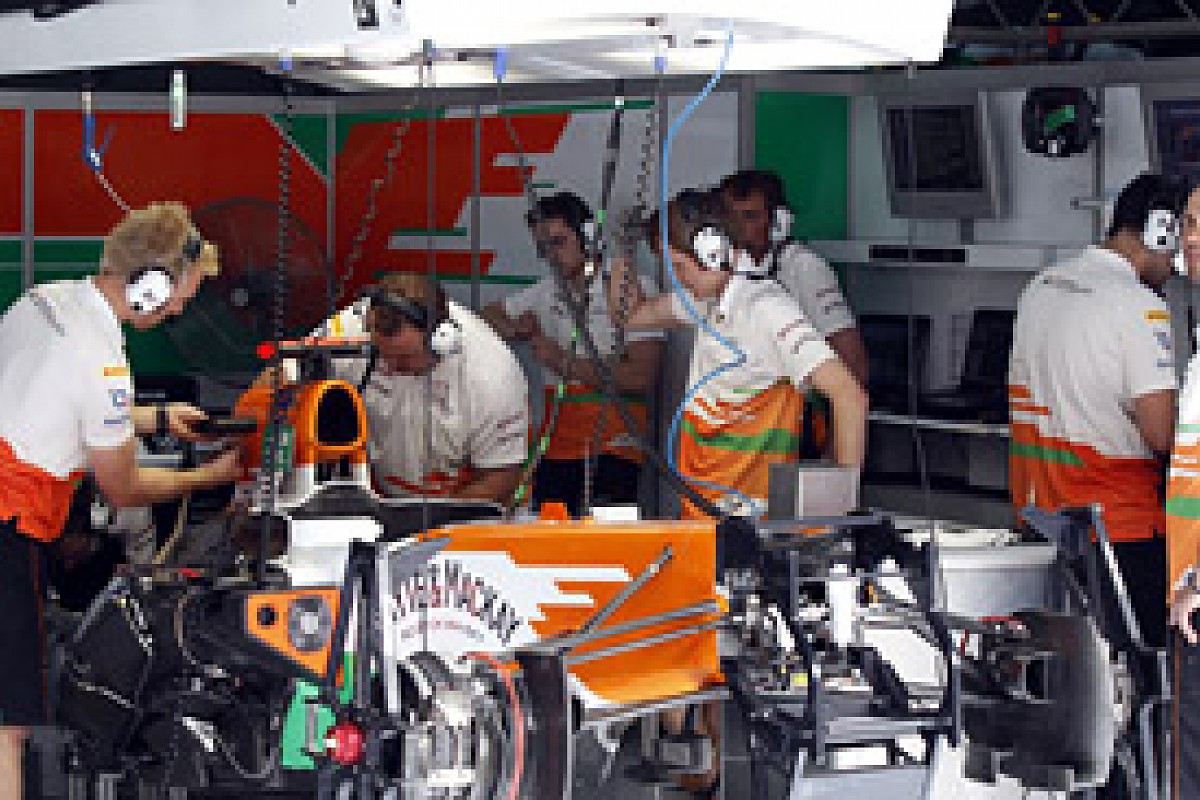 While its rivals were on track, Force India was preparing for Saturday and packing up © LAT
While the Force Indias underwent an early conversion to Saturday spec, the 22 cars still in action were led by a Mercedes in practice two, as Nico Rosberg resumed his Shanghai form.
A 1m32.816s a third of the way into the session was good enough to give Rosberg Friday bragging rights. The German was very concerned about tyre overheating, but Pirelli said this was a challenge for everyone, not just Mercedes, as the tyre firm continued its efforts to keep Formula 1 entertaining.
The second Mercedes of Michael Schumacher was a second down on Rosberg in fifth, behind the two Red Bulls and Hamilton's McLaren.
Practice three - Saturday am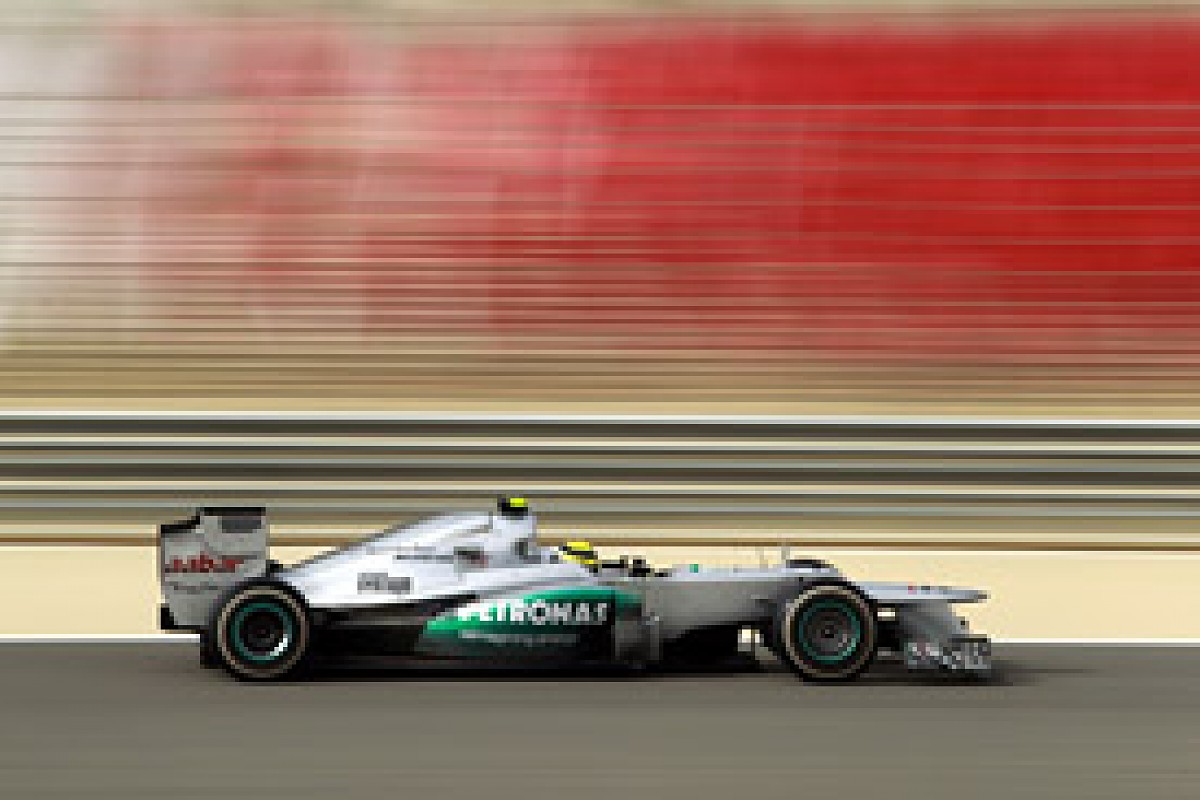 Nico Rosberg set the pace again on Saturday morning © LAT
Rosberg remained on top in final practice, and like the Friday sessions, there would be no last-gasp squabble at the top. The Mercedes hit the front on a relatively early soft-tyre run, and stayed there while others tried in vain to beat its benchmark.
Again it was Red Bull that came closest, with Vettel and Mark Webber second and third, and the McLarens sandwiching Schumacher in the remaining top six places.
Force India had been adamant that skipping practice two would not hold it back on Saturday. The morning session suggested it might be at a disadvantage though, as its cars were only 15th and 18th.
QUALIFYING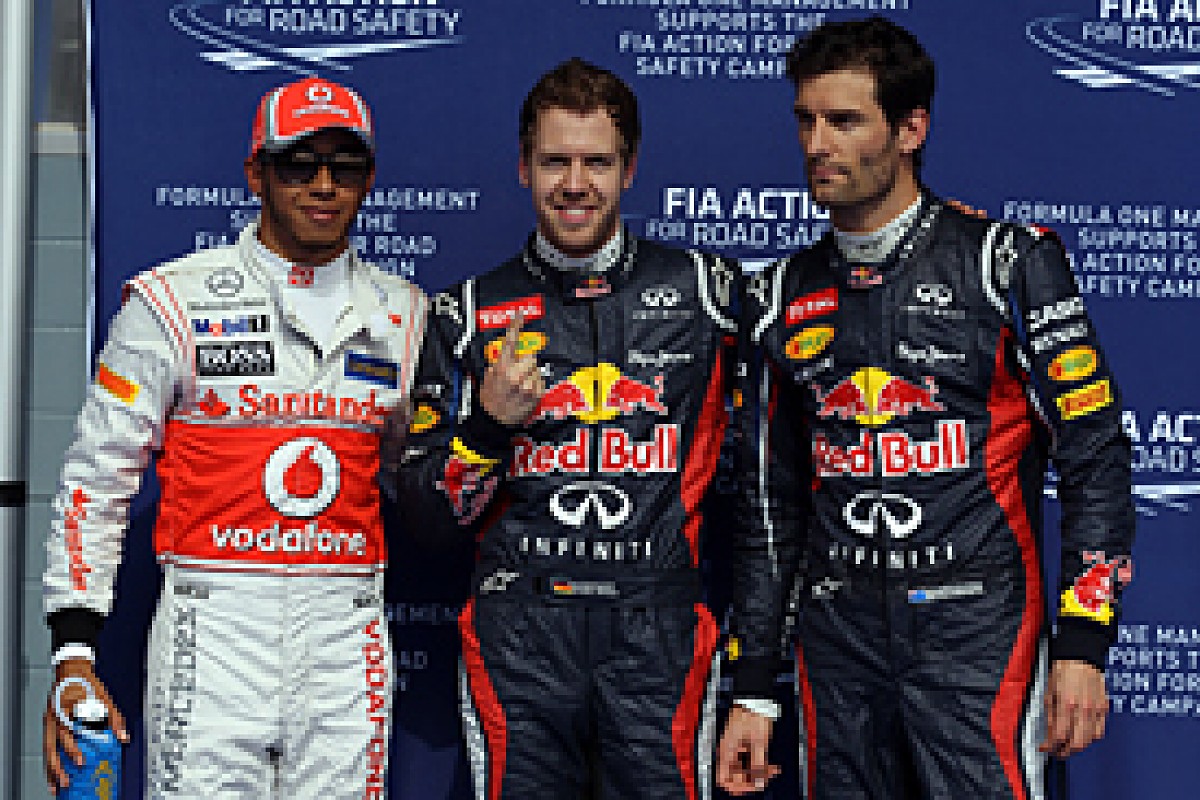 Sebastian Vettel returns to a familiar spot © LAT
1 Sebastian Vettel
"The car felt much better all weekend. I didn't have the smoothest qualifying. I was nearly out in Q1 and nearly out in Q2 but then I knew that when I get the lap in - I nail it - then we should be in a better place. It's great to see that we've beaten Lewis for pole."
2 Lewis Hamilton
"I'm very happy with the job that we've done. That was probably one of my best qualifying sessions. The first lap was great and the second lap was great so I'm happy with that. We've just got to keep on pushing."
3 Mark Webber
"Seb did a good lap and in the end we're satisfied to be towards the front. We're pretty surprised to be as competitive as we are. I didn't leave enough of a gap to Paul di Resta and caught him a bit and lost a bit there. That's the only thing I'd have liked to have done better."
4 Jenson Button
"It was not so bad. Yesterday wasn't such a good day for me. I really did struggle trying to find the balance. It was much more promising after P3, we made some changes in a direction that should help us tomorrow. We can race well from there."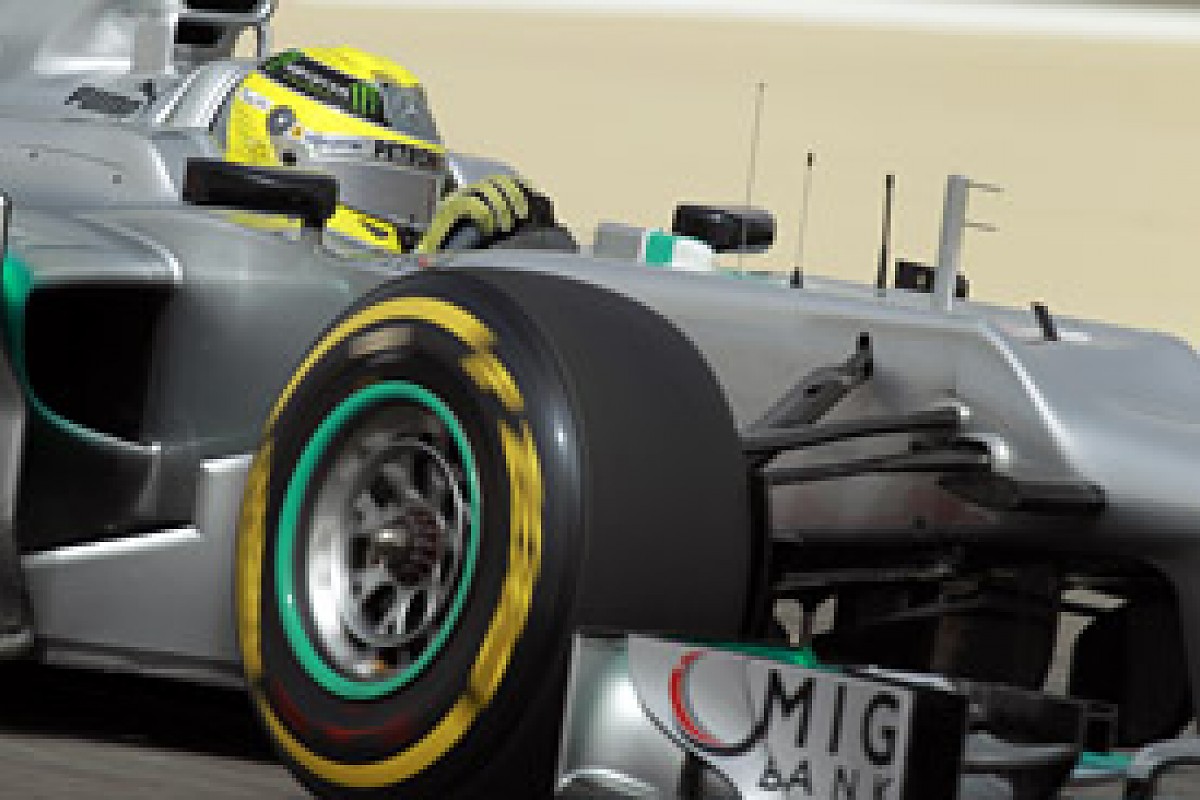 Rosberg was pole favourite but ended up fifth © LAT
5 Nico Rosberg
"I felt very comfortable during qualifying today. However, as we have been focusing on our race pace, there is always a compromise in the qualifying set-up. I think that I'm in a good position for the race for tomorrow. I am the only driver in the top five who has a set of new option tyres."
6 Daniel Ricciardo
"We exceeded our expectations. I felt good in the car, but even when we broke the 1m33s bracket, that was pretty cool. Then I saw the quick guys do 1m32s and I thought I'd love to be in the 1m32s. When I crossed the line in a 1m32.9s, I thought that this was a good day!"
7 Romain Grosjean
"After Q1 and even Q2 I was thinking that we could be in the top five. I made a little mistake on my lap at Turn 4 which cost me two tenths. That would have been P5. I think the wind changed a little and it got me. But it wasn't good enough to fight for pole position."
8 Sergio Perez
"Today was a very good qualifying. The result is a lot better than we expected after free practice. We really managed to maximise the car's potential today."
9 Fernando Alonso
"We didn't save tyres, we didn't have any left as we used one set of softs in Q1 and two sets in Q2. So we arrived in Q3 and doing a lap with used tyres is a waste of time. Doing this, we now have a couple of hours to think about what tyres to start the race with."
10 Paul di Resta
"I wouldn't say I'm shocked to be in Q3, I'm relatively neutral on it! We took the decision to concentrate on getting the tyres working right. The track came towards the car during qualifying and we managed to put in a good lap in Q2. We took a strategic decision not to run in Q3."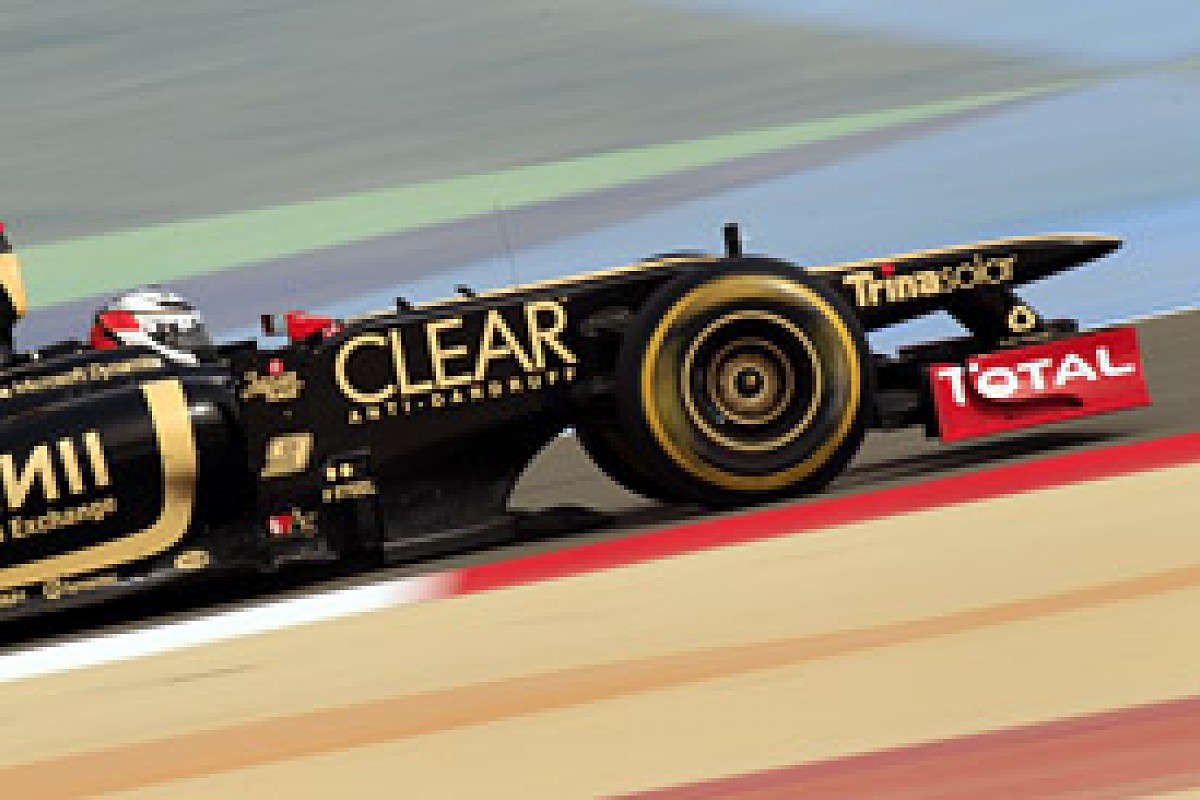 Raikkonen's tyre gamble left him outside Q3 © LAT
11 Kimi Raikkonen
"We had the speed today and we could easily have gone through to the final session with another run, but we thought it was worth taking the risk to only do one lap in Q2 and save fresh sets of tyres for the race."
12 Kamui Kobayashi
"I expected more as our target is Q3. I missed it by a tenth-and-a-half so it wasn't enough for Q3. This morning, I wasn't really confident in the car and this is the result. Yesterday I was more confident, but since we changed for long-run set-up the car became more unbalanced."
13 Nico Hulkenberg
"I wouldn't say I made a mistake. It's just so close in qualifying that if you drive at the limit, you are fighting the car. My lap was pretty equal to Paul up to Turn 12 when I lost the rear of the car a little and touched the kerb and lost the three tenths."
14 Felipe Massa
"It's not exactly a brilliant position, but at least I have a new set of softs for the race. I can't say if using two sets of softs in Q2 would have seen me get through into Q3. It would have been very difficult."
15 Bruno Senna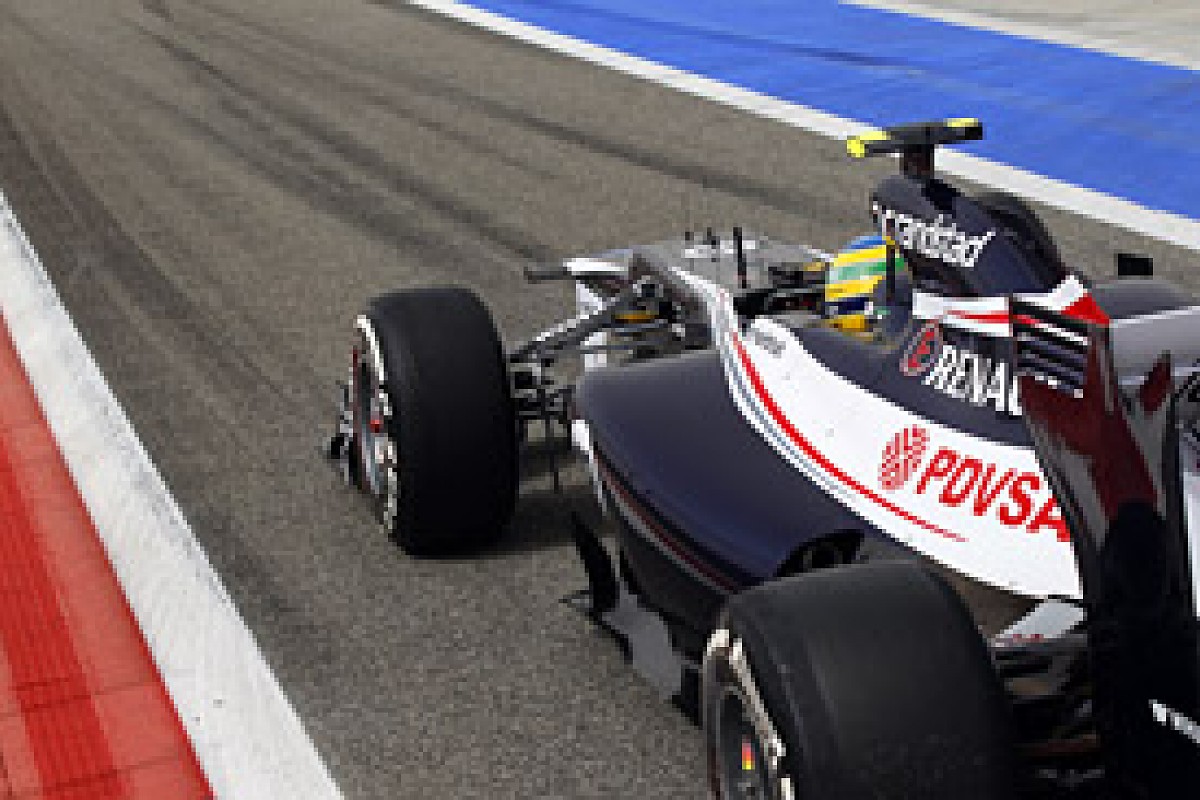 Once again, Williams lacked qualifying pace © LAT
"It was really difficult today. Once again, a few tenths of a second make a big difference in grid position. It's going to be a big challenge tomorrow but I think we can have a good race from where we are."
16 Heikki Kovalainen
"We got a good lap out of the car and had a good balance. We've been working a lot with trying to understand the tyres, because the last few races they haven't been correct. It seems like we made progress because now we understand it better. I was able to take full advantage of that."
17 Michael Schumacher
"Unfortunately on my fast lap, which was looking quite good, my DRS broke in the last sector. We tried to fix it in the garage but were not able to go out again. Trying for a lap without DRS on different tyres would not have made sense."
18 Jean-Eric Vergne
"I would like to know what went wrong. I was just really slow. This morning, the pace was good but without making a mistake in the lap I'm a lot slower. I have no answer for this. Maybe I had something bad for lunch? I had a lack of grip."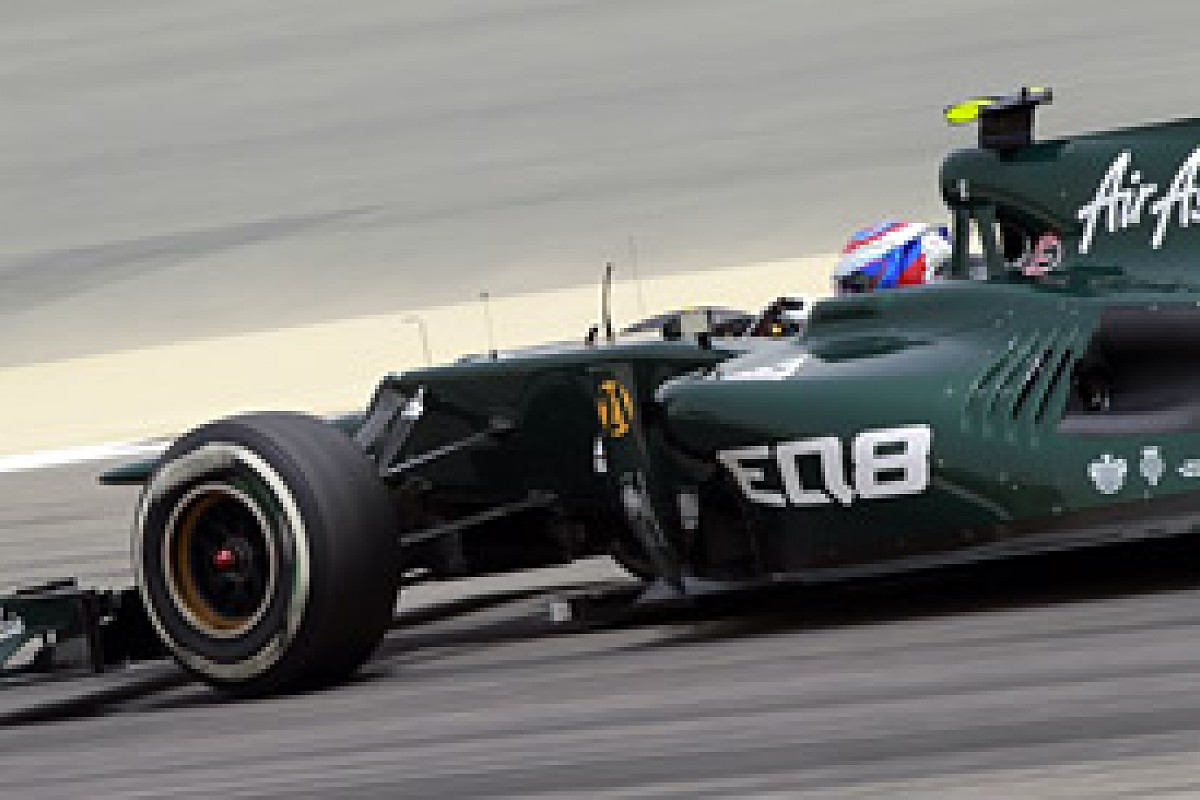 While his team-mate flew into Q2, Petrov was left trailing © LAT
19 Vitaly Petrov
"In qualifying we put on a new floor after damage in practice. On the prime tyre it worked well but when I put the option tyre on something went wrong and I had low grip. It was much easier to drive on primes with less oversteer."
20 Charles Pic
"It was not an easy day today, but I am quite happy with the result. This afternoon, it was much hotter and the tyre degradation was maybe a little worse with the rears. It has been good to get to grips with this track again and a good day."
21 Pedro de la Rosa
"We came from not qualifying in Australia not long ago, so when I saw the times we posted, I was glad. For us, it's an important jump and, sincerely, at such a complicated track for us, we didn't expect to finish ahead of one Marussia, so that's satisfying."
22 Pastor Maldonado * five-place penalty for gearbox change
"We had a KERS issue in the car, which we will fix for tomorrow. The pace is good and it will be realistic to be in the points again with the right strategy. The aim was to be in Q3 and it was certainly possible for us."
23 Timo Glock
"It was not a good qualifying for us today. We struggled with the balance of the car from Friday to Saturday. Yesterday it was much better. The car started to be unbalanced with too much oversteer and a lot of stability problems under braking. Unfortunately, we carried 12kg more fuel because of a problem, which is at least a couple of tenths."
24 Narain Karthikeyan
"For some reason, we're closer to the pace this weekend even though we haven't got any updates, which is good. But I couldn't get the option tyres to work during qualifying, which is something that we need to work on."
Starting grid:

Pos  Driver              Team/Car
 1.  Sebastian Vettel    Red Bull-Renault
 2.  Lewis Hamilton      McLaren-Mercedes
 3.  Mark Webber         Red Bull-Renault
 4.  Jenson Button       McLaren-Mercedes
 5.  Nico Rosberg        Mercedes
 6.  Daniel Ricciardo    Toro Rosso-Ferrari
 7.  Romain Grosjean     Lotus-Renault
 8.  Sergio Perez        Sauber-Ferrari
 9.  Fernando Alonso     Ferrari
10.  Paul di Resta       Force India-Mercedes
11.  Kimi Raikkonen      Lotus-Renault
12.  Kamui Kobayashi     Sauber-Ferrari
13.  Nico Hulkenberg     Force India-Mercedes
14.  Felipe Massa        Ferrari
15.  Bruno Senna         Williams-Renault
16.  Heikki Kovalainen   Caterham-Renault
17.  Jean-Eric Vergne    Toro Rosso-Ferrari
18.  Vitaly Petrov       Caterham-Renault
19.  Charles Pic         Marussia-Cosworth
20.  Pedro de la Rosa    HRT-Cosworth
21.  Pastor Maldonado    Williams-Renault *
22.  Michael Schumacher  Mercedes *
23.  Timo Glock          Marussia-Cosworth
24.  Narain Karthikeyan  HRT-Cosworth

* Five-place grid penalty for gearbox change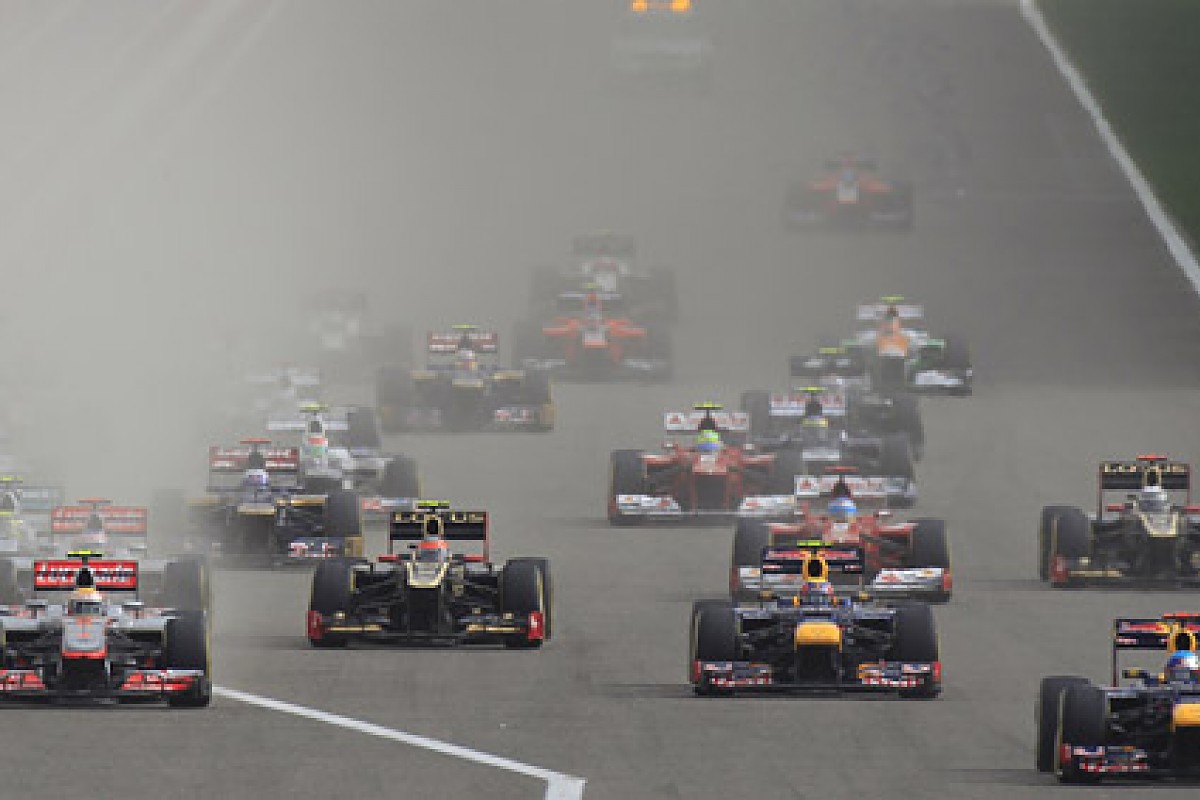 RACE
For well over a year, there had been debate about whether Formula 1 should be in Bahrain. As the teams fly home, there will doubtless be even more debate about whether it should have been, and how it should handle such sensitive situations in the future.
But as the cars lined up on the grid, the focus really was on the race. It was too late to rethink being here and the next ruminations could wait for now.
And the grand prix delivered plenty to talk about - most notably that pre-weekend favourites Mercedes and McLaren proved irrelevant in race trim, that Red Bull and Sebastian Vettel were back in business, and that when Lotus puts together a trouble-free race performance, it is very, very fast.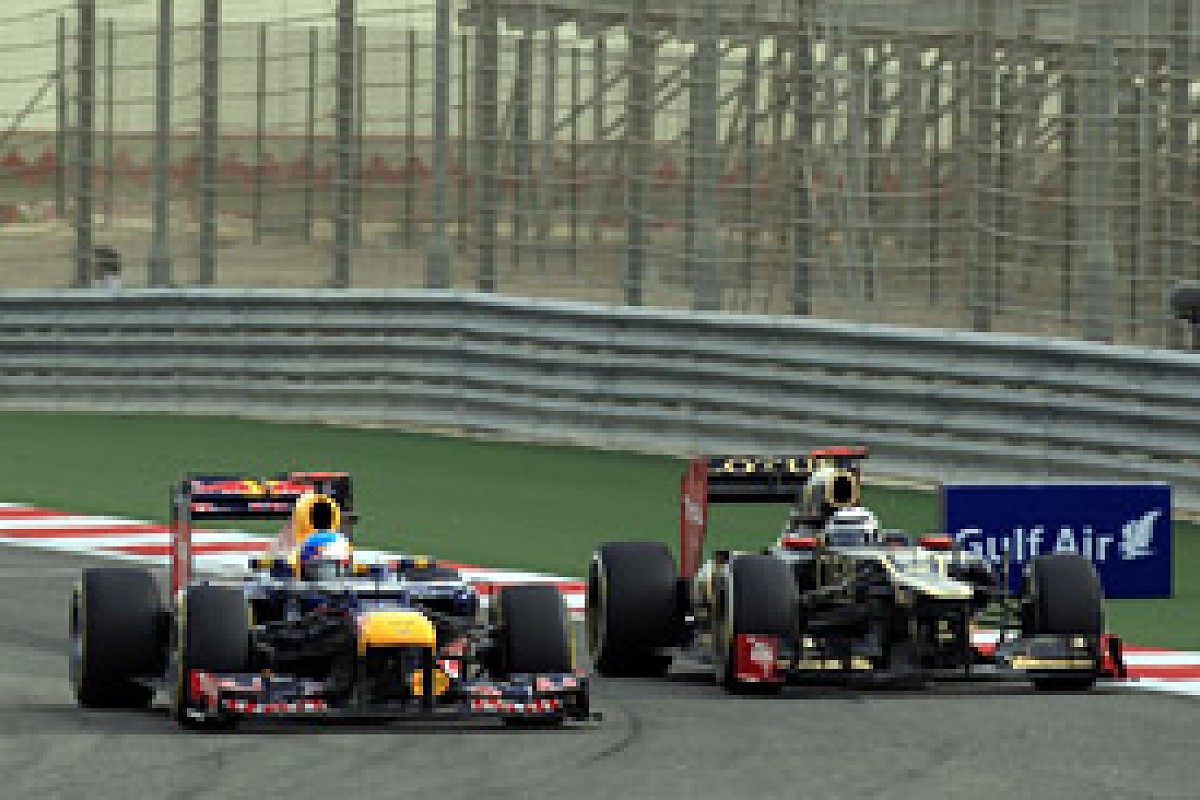 Raikkonen chases down Vettel © LAT
We were firmly back in 2011 territory at first, as Vettel stormed away from the field and led by five seconds after as many laps. But where the script firmly deviated from last year's narrative was that somewhere back in the dust, two black-and-gold cars - driven by men who weren't even in F1 last season and had reputations to rehabilitate - were briskly dismissing the likes of McLaren, Mercedes, Ferrari and Mark Webber, and setting their sights on Vettel.
Both Lotus-Renaults got off the line well, Romain Grosjean jumping from seventh to fourth and Kimi Raikkonen from 11th to seventh, although he then spent a couple of laps battling back and forth with Felipe Massa's Ferrari before getting ahead of his former team-mate for good.
It seemed nothing could hold a Lotus back today: Grosjean sliced past Webber's Red Bull on lap four, then Lewis Hamilton's McLaren on lap seven, while Raikkonen was overtaking Jenson Button's McLaren and Fernando Alonso's Ferrari with similar efficiency, before gaining from a slow first pitstop for Hamilton and overtaking Webber on-track soon after.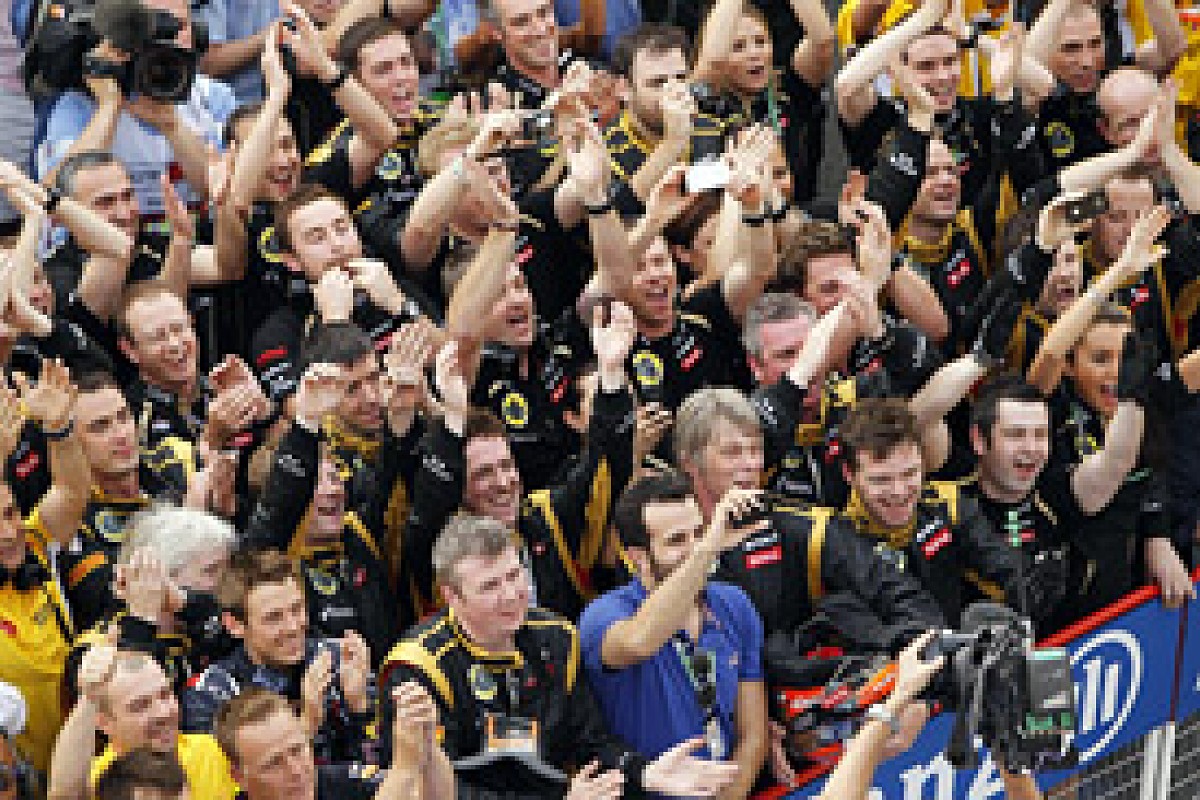 Lotus celebrates its double podium © LAT
Now only Vettel stood between Lotus and a win - and the black cars were lapping faster than the blue one up front. Missing Q3 meant Raikkonen had a new set of softs for stint two, in which he caught and passed the medium-Pirelli-shod Grosjean for second, though overall, regardless of tyres and tactics, the 2007 world champion was generally slightly the quicker of the Lotus team-mates in the race.
After the second pitstops, the gap between Vettel and Raikkonen was a mere 2.2 seconds. Now there was no doubt - a victory for Raikkonen in only his fourth race back was a very real possibility. By lap 36, they were together and Raikkonen was in the DRS zone, forcing Vettel to defend the line into Turn 1. At that moment, it seemed like only a matter of time before the lead changed hands, but actually it proved to be as close as Raikkonen got. Vettel was never able to relax, but he did manage to tease out enough of a cushion to ensure Raikkonen never had another sniff of getting alongside, to the German's slight surprise.
"I thought he would make his way past pretty easily," Vettel admitted. "I tried to defend, one time it was really close and after that it seemed that he was running into the same kind of problems with the tyres and we were able to... not pull away but we could open a bit of a gap."
Raikkonen confirmed that he was struggling to keep his tyres quite as sharp thereafter, but also reckoned if he had got on with despatching Massa a bit quicker in their early battle, he might have been able to catch and pass Vettel when his rubber was still in better shape.
"I had to re-overtake [Massa] and it took a little time. I got past the people quite easily but if you look in the end I think we still took too long and we couldn't win the race," said Raikkonen.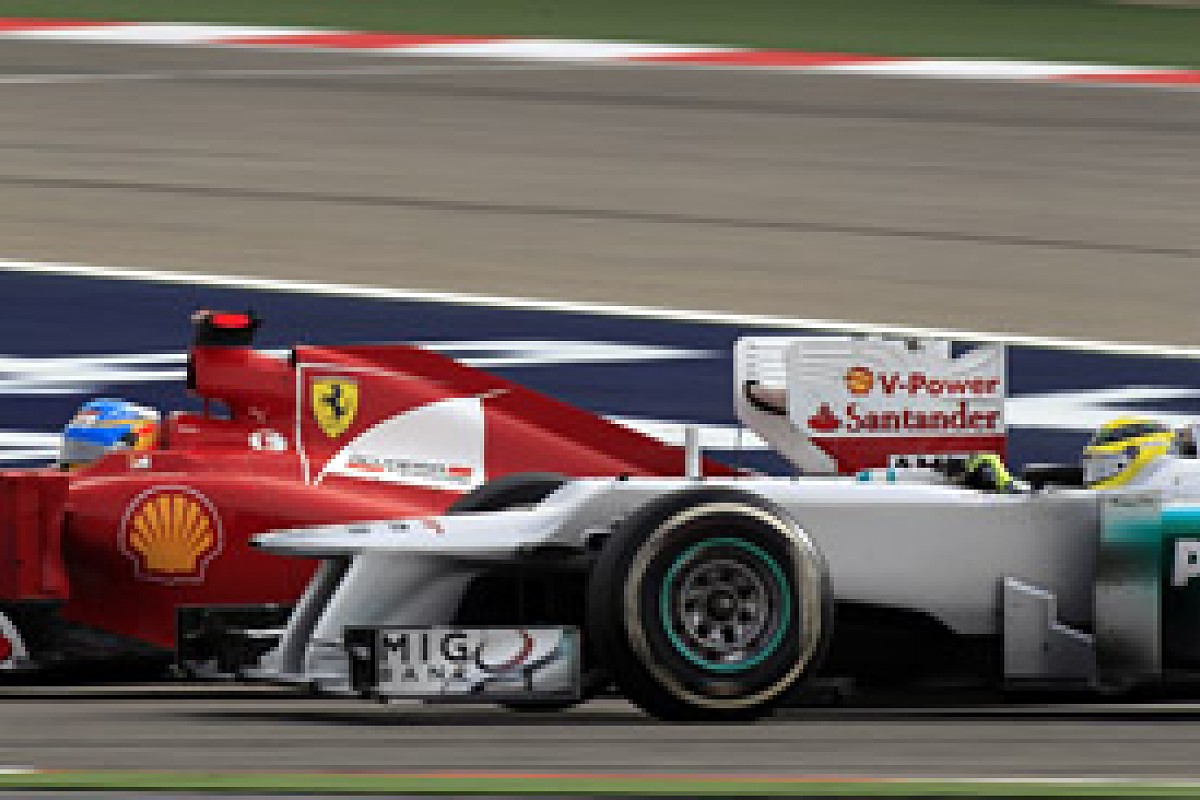 A week after his maiden win, Rosberg spent the race battling to salvage decent points - upsetting Alonso along the way © LAT
Some wondered if Lotus had shot itself in the foot by not immediately getting Grosjean out of Raikkonen's way in the second stint. The pair spent several laps nose to tail before Raikkonen made it through.
"There are no team orders and we know the rules," said Raikkonen. "I try to get past as quickly as I can but it's not easy with two similar cars. It's always easy to say afterwards 'if we had done that' but in the end we were not fast enough to win and we have to take the second."
Going into Bahrain, Lotus looked like a team that couldn't deliver on its evident promise, and Vettel looked like a man on the ropes, yet they ended up crushing the opposition. But their rise meant some others were falling - particularly the silver cars that had appeared to be the 2012 pacesetters.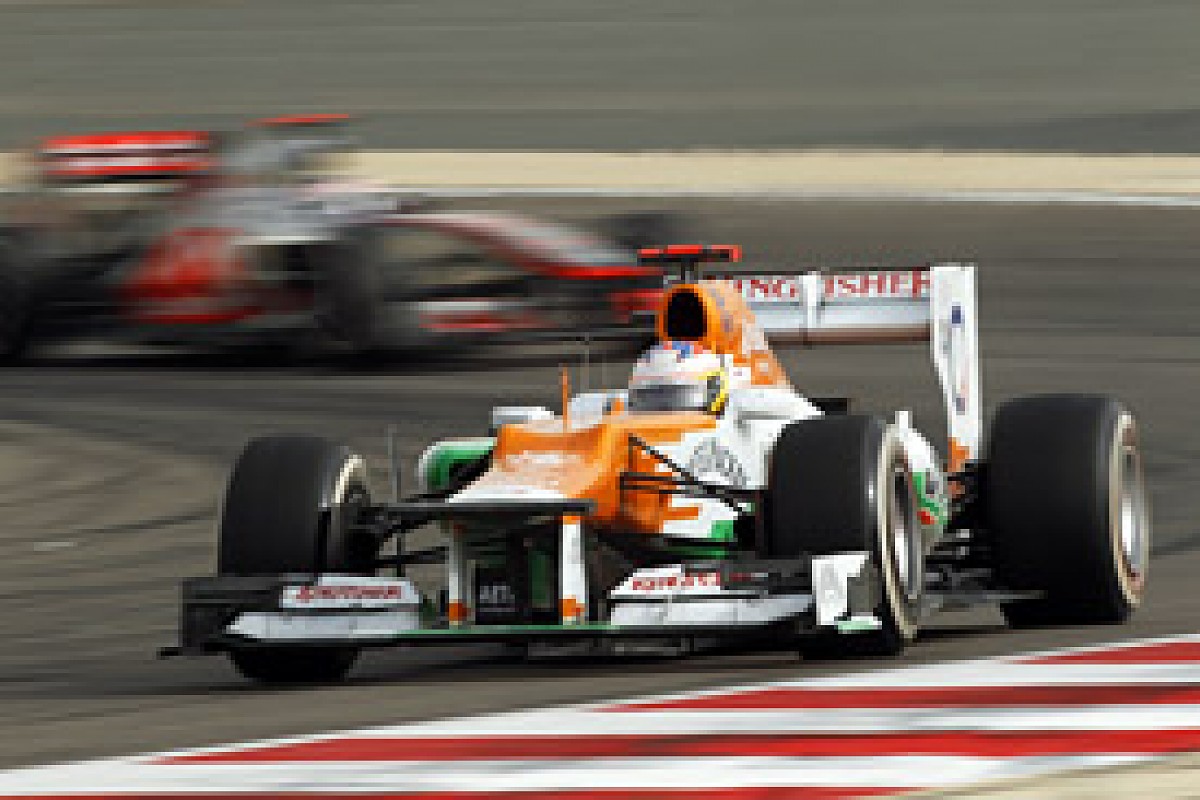 Di Resta took a superb sixth © LAT
Hamilton lost ground at both his first two pitstops due to problems with the left rear wheel, leading to a change of mechanic on that corner for the final stop.
Team boss Martin Whitmarsh stressed that this did not mean human error was necessarily to blame: "We'll review lots of things but I don't think it's a criticism of him as an individual. He's taken it very badly and it's our job to support him at the moment."
The delays meant Hamilton could only finish eighth, while team-mate Button had only been on course for a muted seventh before the triple whammy of an exhaust failure, a puncture and a differential problem caused him to retire. Whitmarsh was certain that the race was not a sign of McLaren going into decline, just that it hadn't got things right today.
"My view is that we were just too hard on the rear tyres and that really gave a great challenge to both of our drivers," he said. "Now we know that the tyres have got a very small sweet spot and you have got to be operating within that, if you're outside of it then you are really giving yourself a big, big challenge.
"With the pace of the car, we've been effectively on the front row everywhere, so there is no magic. We didn't lose 50 points of downforce from yesterday to today. Clearly we are beating the tyres much too hard here, we need to understand that and do a better job at the next race."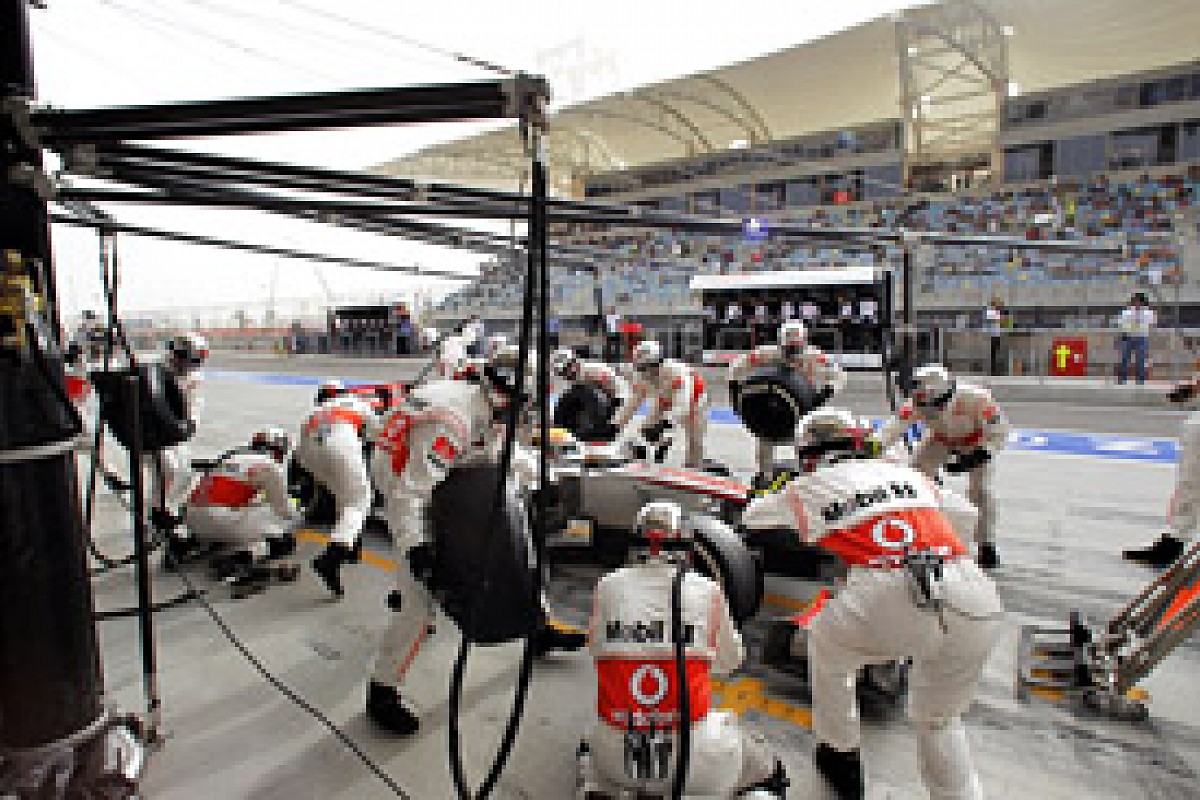 Pitstops cost Hamilton dear © LAT
Also slumping was Mercedes. Nico Rosberg may have declared that he felt even more confident in his race pace for Bahrain than he had before dominating in China, but it didn't show as he was elbowed down to eighth on lap one, then did his own bit of elbowing in separate incidents with Hamilton and Alonso, resulting in a stewards' investigation into his defensive driving. The eventual decision not to penalise the German received a sardonic Twitter response from Alonso.
"I think you are going to have fun in future races! You can defend position as you want and you can overtake outside the track! Enjoy!" the Ferrari driver wrote.
By the end of the race, Rosberg had made his way back up to fifth - which he insisted was still a good result compared to where Mercedes had been prior to China. But it was also surely something of an anti-climax... Team-mate Michael Schumacher took a gearbox change before the race and started 22nd, then made less rapid progress than might have been expected through to a 10th-place finish. Afterwards he claimed that the 2012 Pirellis had hampered his charge.
"The main thing I feel unhappy about is that everyone has to drive well below a driver's, and in particular, the car limits to maintain the tyres," he said.
"I just question whether the tyres should play such a big importance, or whether they should last a bit longer - and that you can drive at normal racing car speed and not cruise around like we have a safety car."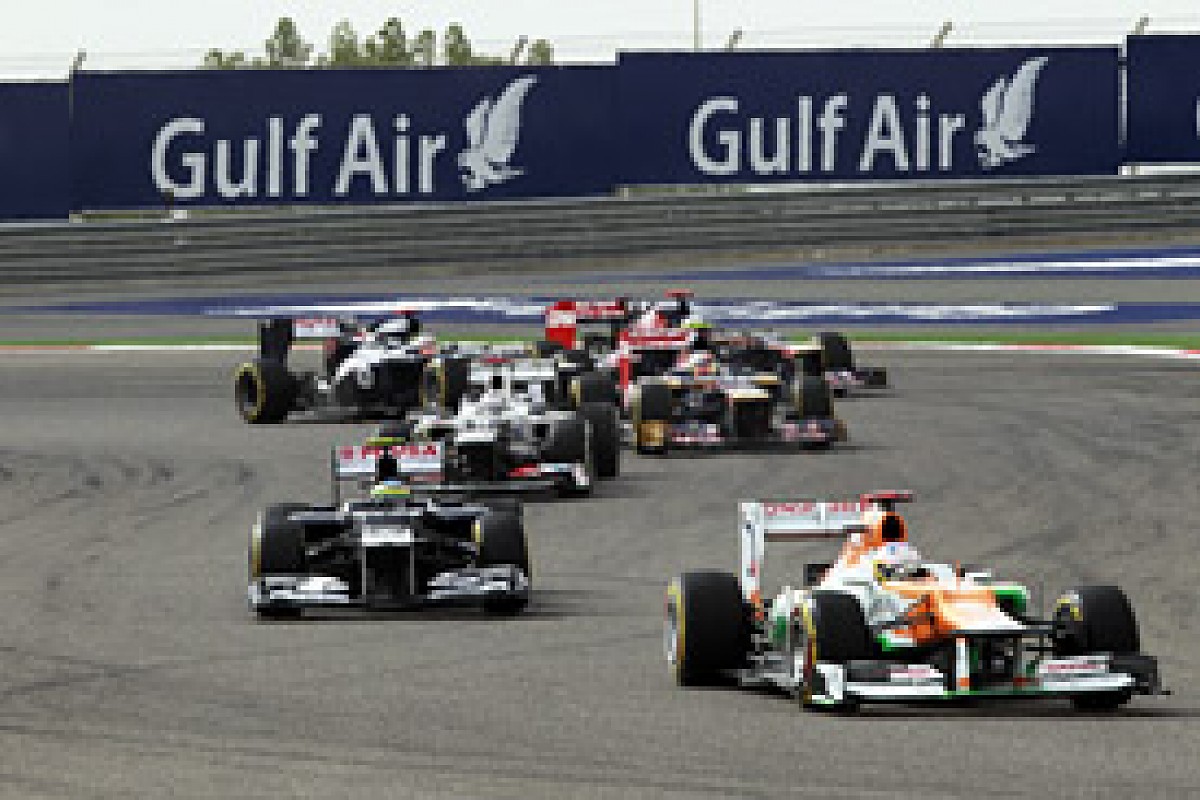 While one Force India managed to lead, Hulkenberg spent the race trying to make up for a slow start © LAT
Rosberg was sandwiched between Webber in fourth (again) and Paul di Resta in sixth. This was an outstanding performance by the Force India driver, the only frontrunner to successfully pull off a two-stop strategy. That allowed him to lead for a while, and to hold fifth until Rosberg made it past late on.
While McLaren and Mercedes lost form, and Lotus and Red Bull picked up pace, Ferrari stayed static. Alonso and Massa both gained ground with assertive starts, then slipped back, with Alonso having to settle for seventh, though given his abject start to the year, the two points Massa earned for ninth were very welcome.
Sauber also went into something of a decline, both drivers feeling their car simply wasn't quick enough to do better than their 11th (Sergio Perez) and 13th (Kamui Kobayashi) places. Kobayashi had to abandon a two-stop strategy and make a late third tyre stop.
They were split by the second Force India of Nico Hulkenberg, who spent the afternoon recovering from a clutch-related bad start. Also on the disappointed list were Toro Rosso and Williams. A scruffy first lap for Daniel Ricciardo saw him tumble into the midfield and pick up front wing damage, after which he could only get back to 15th, just behind team-mate Jean-Eric Vergne. Both Williams parked: Bruno Senna with a brake vibration and Pastor Malonado, who had looked like he might score, with damage following a puncture.
A first-lap puncture meant Heikki Kovalainen's qualifying heroics went to waste, though both Caterhams showed good pace on the way to 16th and 17th, Vitaly Petrov ahead, thereafter. Timo Glock was the only Marussia home as an air valve problem stopped Charles Pic, and the HRTs again completed the finishers.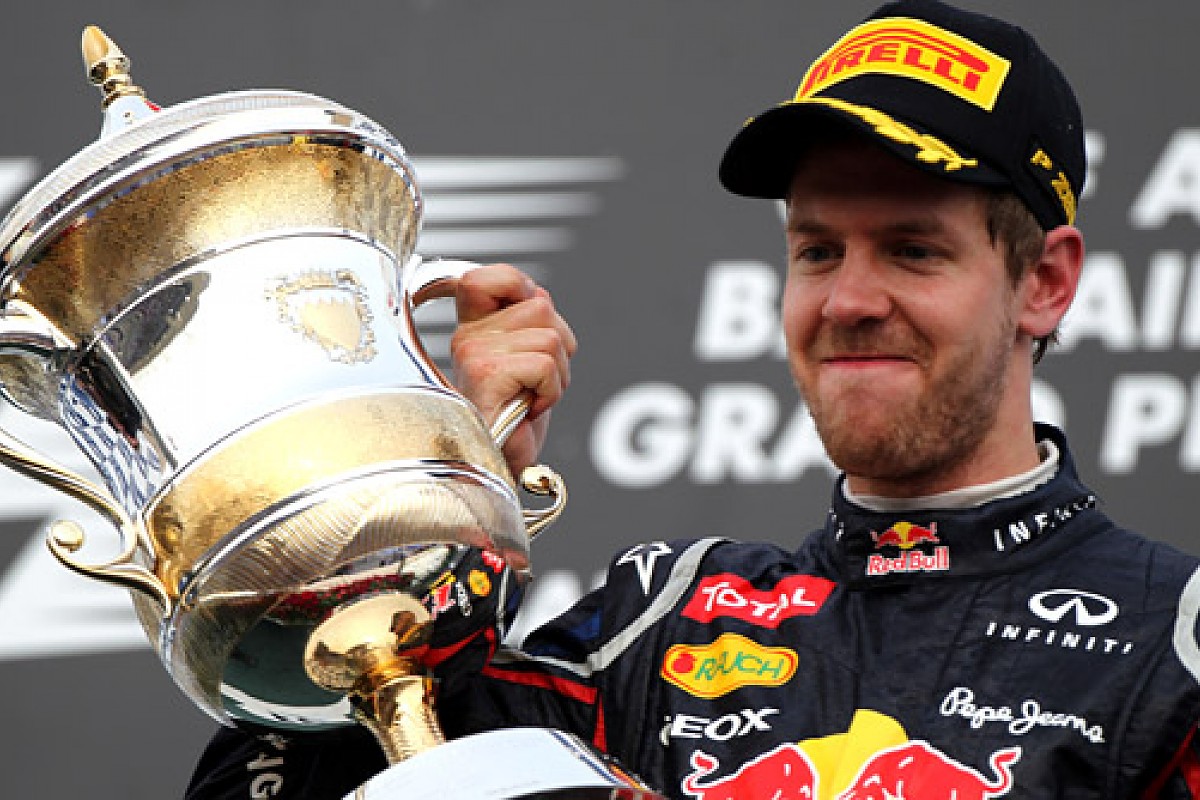 Lap-by-lap as it happened on AUTOSPORT Live
RACE RESULTS

The Bahrain Grand Prix
Sakhir, Bahrain;
57 laps; 308.405km;
Weather: Dry.

Classified:

Pos  Driver        Team                       Time
 1.  Vettel        Red Bull-Renault           1h35:10.990
 2.  Raikkonen     Lotus-Renault              +     3.333
 3.  Grosjean      Lotus-Renault              +    10.194
 4.  Webber        Red Bull-Renault           +    38.788
 5.  Rosberg       Mercedes                   +    55.460
 6.  Di Resta      Force India-Mercedes       +    57.543
 7.  Alonso        Ferrari                    +    57.803
 8.  Hamilton      McLaren-Mercedes           +    58.984
 9.  Massa         Ferrari                    +  1:04.999
10.  Schumacher    Mercedes                   +  1:11.490
11.  Perez         Sauber-Ferrari             +  1:12.702
12.  Hulkenberg    Force India-Mercedes       +  1:16.539
13.  Vergne        Toro Rosso-Ferrari         +  1:30.334
14.  Kobayashi     Sauber-Ferrari             +  1:33.723
15.  Ricciardo     Toro Rosso-Ferrari         +     1 lap
16.  Petrov        Caterham-Renault           +     1 lap
17.  Kovalainen    Caterham-Renault           +     1 lap
18.  Button        McLaren-Mercedes           +     1 lap
19.  Glock         Marussia-Cosworth          +    2 laps
20.  De la Rosa    HRT-Cosworth               +    2 laps
21.  Karthikeyan   HRT-Cosworth               +    2 laps
22.  Senna         Williams-Renault           +    3 laps

Fastest lap: Vettel, 1:36.379

Not classified/retirements:

Driver        Team                         On lap
Maldonado     Williams-Renault             26
Pic           Marussia-Cosworth            25


World Championship standings, round 4:                

Drivers:                    Constructors:             
 1.  Vettel        53        1.  Red Bull-Renault          101
 2.  Hamilton      49        2.  McLaren-Mercedes           92
 3.  Webber        48        3.  Lotus-Renault              57
 4.  Button        43        4.  Ferrari                    45
 5.  Alonso        43        5.  Mercedes                   37
 6.  Rosberg       35        6.  Sauber-Ferrari             31
 7.  Raikkonen     34        7.  Williams-Renault           18
 8.  Grosjean      23        8.  Force India-Mercedes       17
 9.  Perez         22        9.  Toro Rosso-Ferrari          6
10.  Di Resta      15       
11.  Senna         14       
12.  Kobayashi      9       
13.  Vergne         4       
14.  Maldonado      4       
15.  Hulkenberg     2       
16.  Schumacher     2       
17.  Massa          2       
18.  Ricciardo      2       
       
All timing unofficial

TEAM BY TEAM
Red Bull
Vettel announces his return to form with a first pole and victory of 2012, the latter coming after resisting pressure from Raikkonen.
Webber qualified third, was pushed back by the Lotus charge, but benefited from Hamilton's pit problems to end up fourth.
McLaren
Hamilton topped the weekend's opening practice session and came closest to denying Vettel pole. But he lacked the race pace to challenge the Red Bull, even before left rear wheel problems at both his first two stops cost him ground. Eighth was not what he had hoped for.
Button was never quite happy enough with his car, qualifying fourth and sliding back to seventh in the race before an exhaust issue, puncture and differential problem in quick succession made him a late retirement.
Ferrari
Damage limitation continued, as Alonso made it to ninth on the grid and Massa qualified 14th.
Both charged forward at the start then found it hard to keep hold of the places they had gained - falling back to finish seventh and ninth, Alonso ahead but Massa much closer than of late.
Mercedes
Another win was expected as Rosberg set the pace in practice two and three, but he could only manage fifth on the grid and the same position in the race after a slightly scrappy afternoon.
Schumacher was a shock Q1 departure, a DRS problem meaning his first flying lap wasn't quick enough and he was then stuck in the garage as others pushed him back. Mercedes also elected to change his gearbox before the start. The former champion got up to 10th in the race, but felt tyre degradation compromised his charge.
Lotus
When Grosjean and Raikkonen qualified seventh and 11th, it didn't look like an especially stunning Sunday was in prospect. But their form in race trim was spectacular, and both were soon charging forwards, reaching second and third soon after the first pitstops.
Raikkonen then passed Grosjean and hunted down leader Vettel, coming thrillingly close to victory, while Grosjean completed the podium.
Force India
Force India was the centre of attention on Friday for an unusual reason after electing to skip practice two to ensure its crew could travel in daylight following an unsettling incident on Wednesday.
The loss of running certainly didn't hold di Resta back, as he qualified 10th then made brilliant use of a two-stop strategy to lead and finish sixth.
Hulkenberg was overshadowed, blaming a small error in Q2 for his 13th place on the grid, then losing ground at the start with a clutch problem. The German recovered to 12th.
Sauber
Perez impressed again in qualifying with eighth on the grid, as a Q2 error left Kobayashi 12th.
They were in the top 10 action in the race, but not quite quick enough to make progress. Perez slid back to 11th by the end of the grand prix, and Kobayashi's bid to get through the distance on two tyre stops failed, with an extra pit visit dropping him to 13th.
Toro Rosso
Contrasting fortunes on Saturday at Toro Rosso, as Ricciardo starred with a brilliant run to sixth on the grid, and a dejected Vergne was only 19th.
They were together within half a lap of the start - but unfortunately for Toro Rosso, that was because Ricciardo had an awful first lap, rather than Vergne moving forward. They finished 14th and 15th, Vergne ahead as Ricciardo had to pit for a new front wing.
Williams
A tough weekend for Williams. Maldonado knew by Saturday he would be taking a penalty for a gearbox change, and then a Q2 KERS problem left him 17th even before his grid drop. Senna could only qualify 15th.
It was Maldonado who moved forward in the race, and was running eighth (albeit amid a pitstop sequence) when a puncture sent him spinning and caused race-ending damage. Senna was on course for a low-key 14th before parking as a precaution due to a brake vibration.
Caterham
Genuine signs of progress for Caterham in qualifying, as a spectacular lap from Kovalainen got him through to Q2 and 16th on the grid. Petrov was a second slower and 20th quickest.
A first-lap puncture wasted all Kovalainen's good work, but he caught up well and finished 17th. Petrov battled with the Toro Rossos and was 16th.
HRT
There was plenty of optimism in the Spanish camp on Saturday, when de la Rosa beat Glock to 22nd on the grid, with Karthikeyan not much slower in 24th.
Keeping Marussia at bay in the race, where they struggled for both speed and tyre longevity, finishing nose to tail in 20th and 21st, with de la Rosa ahead.
Marussia
A poor Saturday for Glock saw him not only outqualified by Pic for the first time, but behind de la Rosa as well.
Glock wasn't much happier in the race either, where he finished 19th. Pic was ahead until an air valve issue forced him to retire.
RACE DATA