"You're talking to the wrong person if you want an opinion on politics," said Jenson Button in response to the inevitable barrage of questions about the rights or wrongs of Formula 1 being in Bahrain this weekend. "I'm here as a racing driver and you wouldn't be interviewing me if I wasn't a racing driver. So all I'm going to talk about is racing."
So as a bigger picture unfolds, here's the detail of preparations for a race that, as of Friday evening, was very much of a secondary concern.

This is Pirelli's second visit to the track following its test there, with a very demanding sequence of low-gear acceleration zones and a super-high track temperature. Its choice of soft and medium compounds is quite an aggressive one. There is very little likelihood of the soft being a good race tyre in these conditions, and the trick among the frontrunners will be to get onto the medium as early as possible without losing valuable track position.
This of course depends on what the opposition does, and we are therefore into the realms of game theory. It will almost certainly be a three-stop race for most cars, but it's likely to be strategically complex.
Getting Button onto a more comfortable topic, he said: "This year is not shaping up like others of recent seasons. I really don't think there is one team that's out ahead of the rest. Get it just a little bit wrong and you can fall a long way down. It's all about how you get the tyres working and that's far from straightforward."
What seems clear from Friday practice is that Mercedes is not in any more tyre trouble than anyone else - and that its qualifying pace looks every bit as strong as in China last week. Nico Rosberg was quickest by a significant margin in the rubbered-in track of practice two, although team-mate Michael Schumacher abandoned a lap that was 0.2s quicker at the end of the first sector. The double DRS is again working very powerfully in qualifying format.
Jenson Button is having trouble with tyres © LAT
Unusually, Mercedes' closest rival for outright pace was not McLaren. Emphasising what Button had said on Thursday, apparent difficulty in getting a balance meant wild variations in handling from one run to the next. In trying to rectify this, the team got out of sequence with Mercedes and Red Bull in the timing and duration of its runs, making direct comparison very difficult.

The second session began with track temperatures in the region of 40-deg C, and was still hovering around there when Rosberg and the two Red Bulls set their low-fuel times (Mark Webber around 0.45s off Rosberg, Sebastian Vettel a further 0.3s adrift). At this point both McLaren drivers were trying to refine a better set-up, one that gave better braking stability - both Button and Lewis Hamilton suffered many lock-ups. By the time they each did their low-fuel runs the track temperature had fallen by a full six degrees. It could well be that the McLaren set-up woes were exacerbated by the sequence of runs they were forced into by that very problem.
The soft tyre is as much as one second faster than the medium over a single lap, but its heat degradation means its performance falls off sharply after around eight laps. Over a stint the medium is a significantly faster tyre. Nico Rosberg did a 12-lap stint on the soft and a later 10-lap run on the medium. Over 10 laps the medium was an average of 0.7s per lap faster and still holding up very strongly by the end.
Making a direct comparison of the long runs, the Red Bull's numbers are the best. But Red Bull has tended to run this phase of practice with a lighter fuel load than Mercedes or McLaren and therefore those numbers should be treated with caution. Mark Webber suffered a KERS failure five laps into his long run on softs, but in the previous four laps he would have built up a 2.5s margin over Rosberg's Mercedes.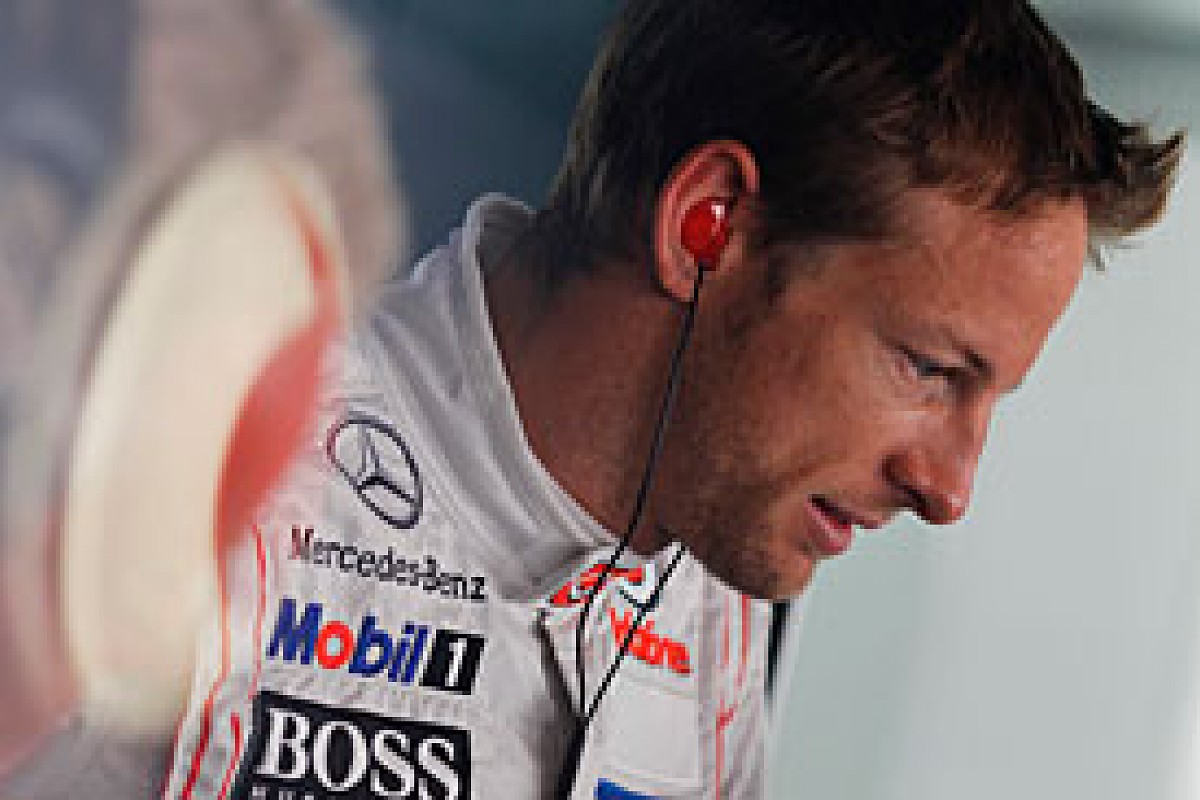 The Red Bull, seen here in the hands of Sebastian Vettel, looks stronger in Bahrain © LAT
That average of 0.625s/lap difference - if the cars were in reality performing identically - would suggest a fuel-load difference of around 20kg (about seven laps' worth). Comparing Vettel's laps (now in the same, later-spec, car as Webber) during the same phase suggests that the Mercedes may have actually been hanging onto its tyres slightly better than the Red Bull.
Button at this stage was complaining of low-speed corner instability and high-speed understeer, while Hamilton continued locking up but appeared to have an edge over Button of a couple of tenths. But the timing of their runs made it impossible to make a definitive comparison with Mercedes and Red Bull.
At worst, McLaren appears to be 0.5s away on qualifying pace but to have similar race pace to both Mercedes and Red Bull.
With Mercedes looking favourite for pole and looking perfectly reasonable on tyre management, are we about to see a repeat of China? And how will the performances of the two Mercedes drivers compare? Let's hope something like this - and not the more important issues that no-one in F1 is prepared to talk about - emerges as the big story on Sunday.