Mercedes GP has been a clear fourth in the pecking order over the past two years, and for that reason it's been easy to forget that it's a team of proven winners. It was just a question of getting the car right - as it did so spectacularly as Brawn GP in 2009.
And since that amazing season Mercedes has added the likes of Bob Bell, Aldo Costa and Geoff Willis, all men who have won with teams up and down the pitlane and, like team principal Ross Brawn, know exactly what's needed.
All that experience has created what is clearly a great car in the Mercedes W03, one that features an inspired, if cheeky, bit of innovation in the Double DRS, which was confirmed legal by the FIA just a few days before Nico Rosberg's win. The real value of that clever piece of kit is hard to quantify - but it would be wrong to assume that it has little impact on Sundays, because there are potential set-up benefits that can be carried over into the whole race.
Its very presence on the car, along with the confident manner in which Brawn and his men both introduced it and defended its legality, are clear signs this is a team that has really found its mojo.
Mercedes' season had not got off to a great start, despite encouraging speed © LAT
And that's been emphasised over the past few weeks by the way it has turned around its race performances. There's no denying that Australia and Malaysia were both total disasters for the team. It found itself struggling to get on top of the tricky 2012 Pirellis, which are clearly sensitive to temperature - a trait that is more apparent on some cars than others.
Mercedes was so far out of the ball park in the first two races that it devoted considerable resource to resolving its problems, and the team came to China feeling much more confident that it knew what it was doing. And that homework paid off in spades last weekend.
Brawn gave us some interesting insight into that focus shortly after qualifying on Saturday afternoon, having seen his two cars lock out the front row, albeit with a little help from Lewis Hamilton's penalty. Up and down the paddock people were assuming that it would all fall apart again in the race for the Silver Arrows, but Ross made it clear that such a scenario was far from a given.
"We've made a fair commitment this weekend to try to get the car in the best shape we can for the race," he explained. "And then qualifying - as with all teams I think - comes as a second consideration. If we can carry over what we saw with our high-fuel run then we can have some confidence that we can have a better race tomorrow. I'm not so confident that we can enjoy the advantage we had today, particularly with Nico, but I'm certainly optimistic that we can have a decent race tomorrow.
"One of the things we have to achieve with the car going forward is a broader sweet spot for the car. I think today we managed to get the car right in those conditions, with the tyres and the low fuel, and we've got to find ways of translating that into the race."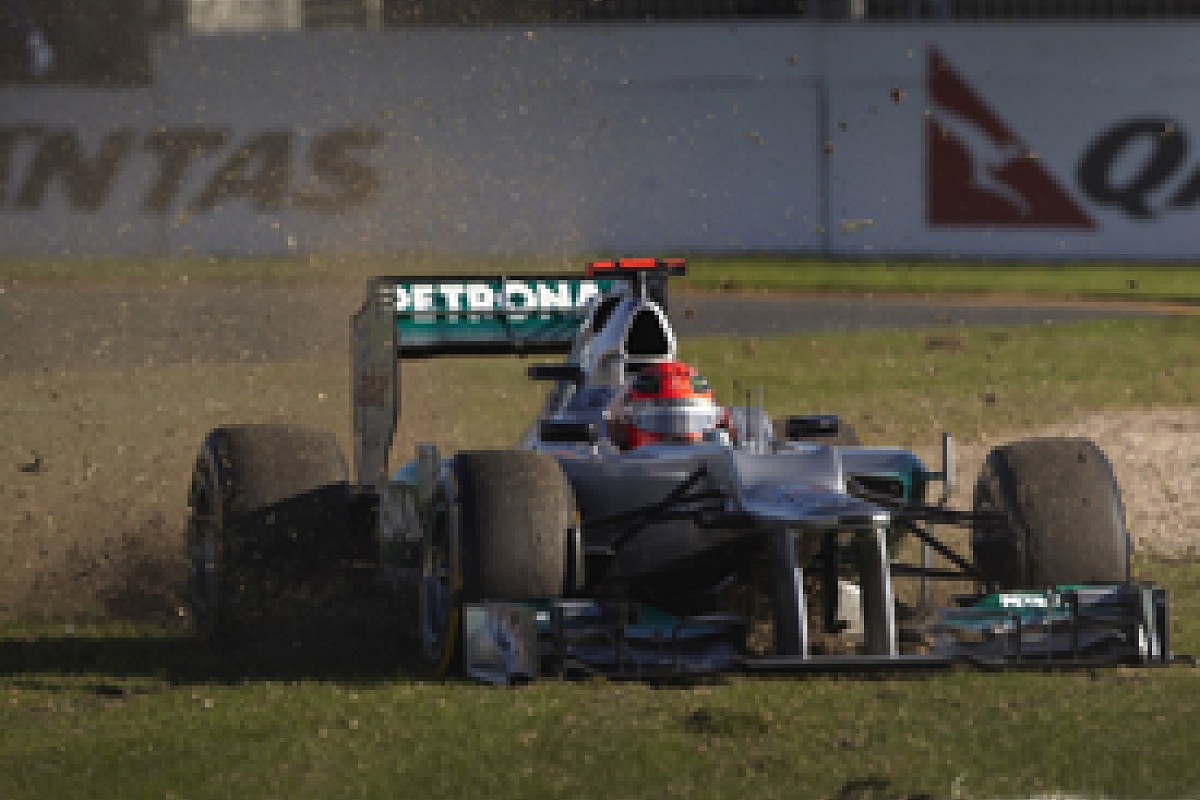 Qualifying was superb for Mercedes, but nerves remained tense given its race-day strife so far in 2012 © XPB
The critical thing was to anticipate race day temperatures. In the first two races there were big changes between Saturday and Sunday, and a car that worked well in qualifying was suddenly in trouble.
"It is tricky, and you almost have to follow it and track it," admits Brawn. There's very little you can change before or during a race. Tyre pressures are free, front-wing settings you're allowed to change. There's nothing else you can change on the car, so with the very small adjustments that you can make you have to try to get the tyres to work properly. You've got no feedback. You've got nothing that tells you exactly the right range.
"I think we've got a better chance because the conditions tomorrow are going to be more consistent than we've had for the past couple of days. We've had a couple of days of setting the car up. Both Melbourne, with a much hotter race day, and Malaysia, with a much colder race day, presented some challenges. We were not on the top of the job in those two races, and there were changing conditions."
Rosberg does his part
Having finally nailed it in qualifying, Nico Rosberg now had to get the job done in the race, which meant getting safely away and - above all else - not getting involved in a tangle with his team-mate.
He managed the start to perfection, and had a clean run into Turn 1. At the end of the first lap he was 0.727s ahead of Michael, and by the end of the second he was safely clear of any DRS threat from the other W03, which was also an important consideration.
Then he just got his head down and went for it. As Sebastian Vettel often proved last year, the way races unfold these days there is no substitute for being out front in clean air, able to run your own pace, control the race, and manage your tyres to the optimum.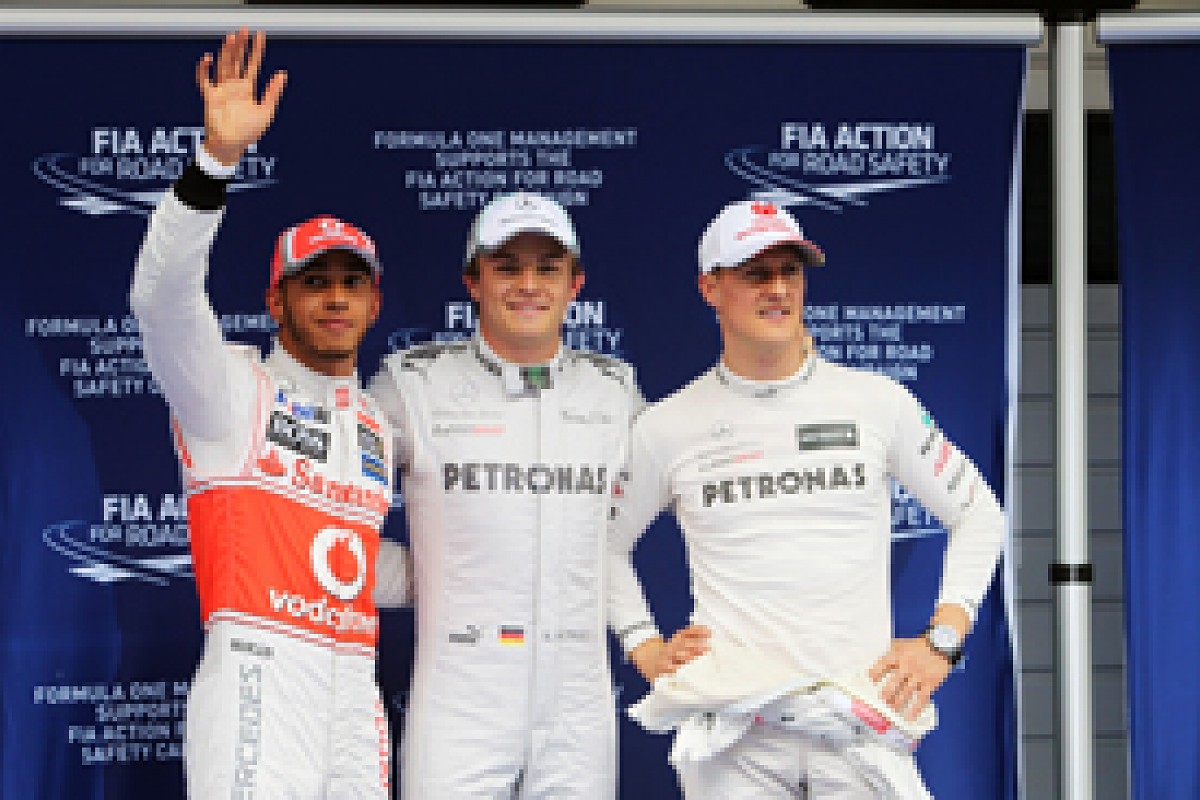 Rosberg made an early break © XPB
"It's easier, it's true," said Brawn shortly after the flag on Sunday. "It's easier because you can run a pace you want and haven't got the disturbed air of the car in front. It's really why Michael fell back a bit, just to make sure that he could look after the tyres."
Schumacher gradually slipped away as the first stint unfolded, the gap extending to as much as 5.259s by lap 10. In effect Nico was repeating in metronomic fashion the half-second advantage he had in qualifying.
Meanwhile, the team had plenty of food for thought. Bruno Senna, Felipe Massa, Daniel Ricciardo and Jean-Eric Vergne had all started on new primes (hard), so their progress was of obvious interest, given that Merc was planning to switch to primes at the first stop. And of course the strategy options of the main contenders had to be tracked.
Mark Webber set the ball rolling with an astonishingly early first stop on lap six that found him some clean air. He was followed by team-mate Vettel on lap nine, Kimi Raikkonen and Lewis Hamilton on lap 10, and Jenson Button and Romain Grosjean on lap 11.
Just to confuse the issue, the McLaren drivers both went for a second set of options (soft), while everyone else, preparing for the long haul, went for primes. All of this information had to be taken on board, but Mercedes already had its preferred strategy mapped out.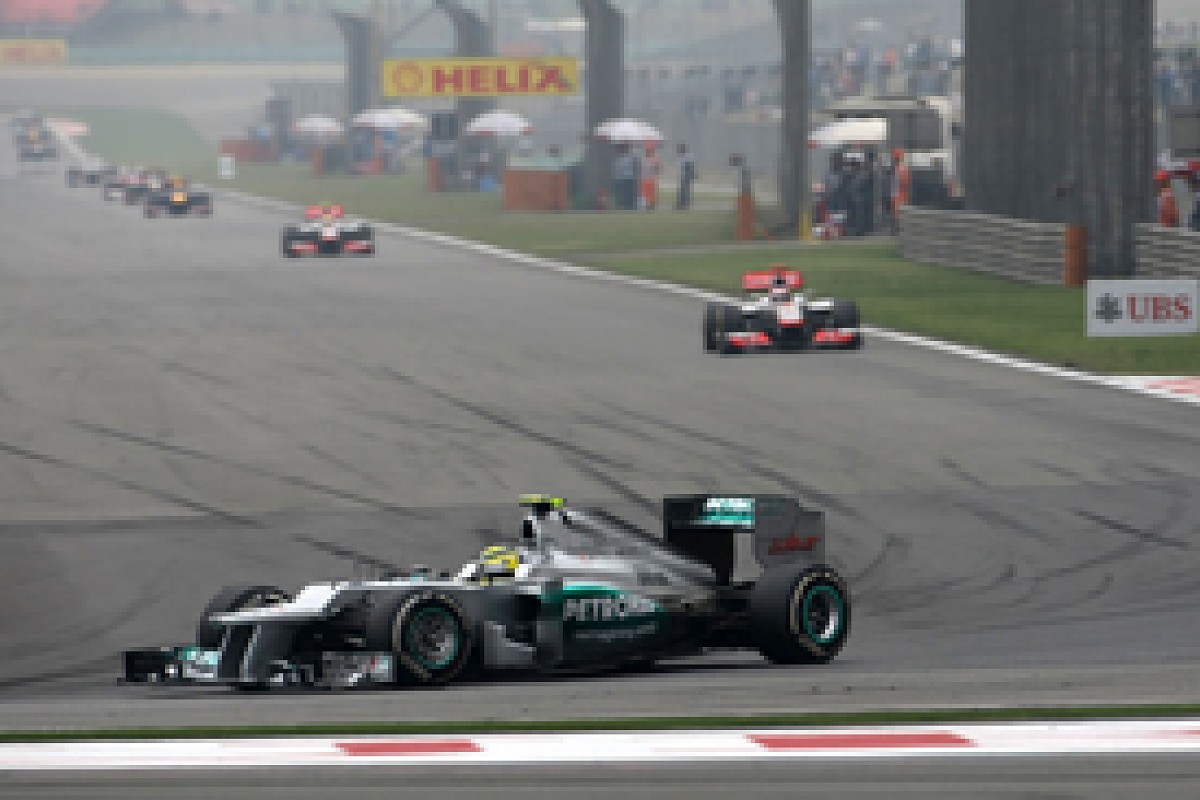 Rosberg ran the distance on two pitstops © XPB
"We had to kind of try and make our own plan and stick with it," said Brawn. "From what we saw, the information we had and the work we'd done we had to stay with what we thought was best. It's very easy to get distracted and diverted during a race if you're not careful."
The plan was to make it to the end on two stops, as long as the first stint could be stretched out far enough to make it viable.
"We always planned to do two, that was always the strategy, and we had to get to lap 13 or 14 to make it work. The tyres naturally are going to start going away, and it's important that they don't collapse, that they just ease away a little bit, and that's what both drivers were able to do."
There was also encouraging news to be gleaned from guys further down the field: "It seemed by then that the primes that people had started on were looking pretty good, and we planned to go to the prime."
A disaster for Michael
Schumacher was marginally on the early side but the team had to get his stop out of the way and give Rosberg the ideal slot. And then it all went wrong for Michael. As he came out of the pits he felt that the right front was loose, and he had no choice but to pull over and stop, which is what the rules call for these days after Fernando Alonso lost a wheel in Budapest a few years ago. It was a devastating blow for the Mercedes crew, always among the most efficient in the pits.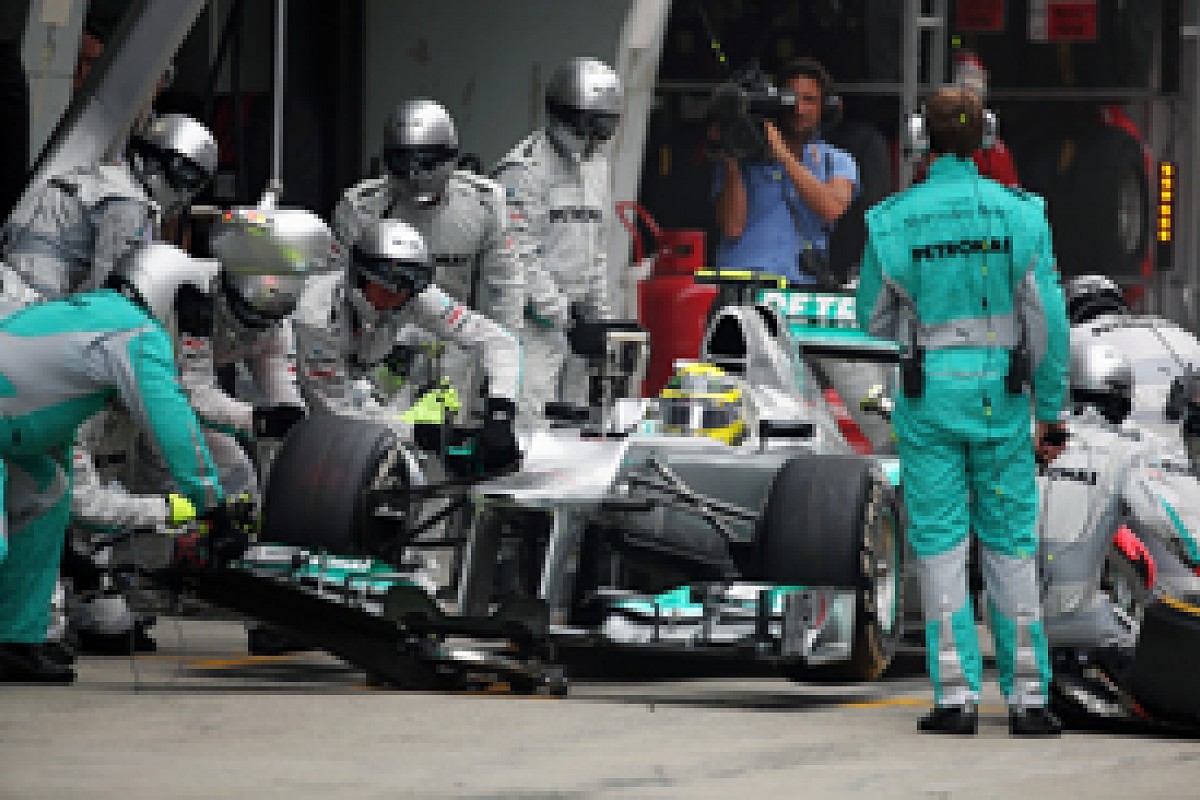 Schumacher had to spend most of the afternoon watching his team-mate get the glory © LAT
"I'm very frustrated for him because he obviously would have been in great shape as well," said Brawn. "It's pretty rare for our team, I have to say. It was disappointing, but these things happen. We'll have to find out what happened and try to prevent it."
An investigation revealed what had unfolded. The Mercedes air guns have a button that the operator presses when the job is done, and when all four are finished, the traffic light system is triggered automatically.
After the guy on the right front withdrew the gun and pressed the button he then saw that the nut was not fully in place and the retaining device not properly located - two fluorescent dots were showing that shouldn't have been. But in that instant, the car was on its way, and that's why we saw the poor guy banging his hands on the pitroad in frustration. It was not an airgun problem - the wheels go onto the car with the nuts already attached to them, but this one was somehow misaligned.
If nothing else it did at least allow Brawn and his crew to focus on a single car in what was already turning into a massively complex race.
The next challenge was to have an effective middle stint on the first set of new primes. To get an overall feel for how the W03 was coping, the team examined the old options that had come off Nico's car, which gave some useful data even if a different tyre was now on the car.
"You don't know until you get to the first stint," admitted Brawn. "Once you get past the first stint then you've got that set of tyres to look at and measure and see where they are. Although we'd gone from the option to the prime we had some comparisons that we could use. Once we could get to 13-14 on the option, we had reasonable confidence."
Meanwhile Rosberg ploughed on in that middle stint, running his own race and ensuring that he could carry the tyres far enough to make his second stop at the optimum time. The crucial thing was to make it as late as possible. The danger was that Nico would be vulnerable if that final set went past its best, and others had the chance to catch up on fresher rubber.
Last year we saw Sebastian Vettel attempt to go the distance on two stops only for Lewis Hamilton on three to successfully chase him down. McLaren was well aware of how that strategy could pan out.
And that is how it unfolded, albeit with different players. It became clear that Button, clearly on a three-stopper, was a serious threat. Indeed, after his second stop on lap 24 Jenson had tyres that were 11 laps younger than Nico's. As of lap 25, just after that stop, the gap was 23.4s, and both men now had a single stop to come, so it was all about pace on the track. It was nicely poised...
As he approached the end of that middle stint Nico began to lose huge chunks of time, the gap tumbling by two seconds a lap at one point. However to make the strategy work he had to stay out and minimise the length of his final stint.
"We knew they [McLaren] had another stop to do," said Brawn. "We knew they were going for three stops, once that pattern started to evolve. It would have been a more interesting final stint, for sure."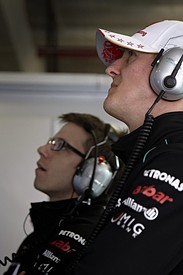 Button emerged as Rosberg's main threat © LAT
Just prior to Nico's second stop on lap 34 the gap had come down to 12.3s, and things were getting interesting. Nico had to run 22 laps on that set, and although for a few laps he was able to take advantage of being on new tyres while Jenson's were 10 laps older, he had to take care of them. He gained around 3s in the five laps before Jenson came in for his crucial last stop on lap 39.
Any shot Button had of chasing down Rosberg was ruined by the pitstop delay that not only cost a clear 6s in the pitlane, but also put him back in the pack and left him with a lot of fighting to do before he made it into clean air. After all the tension while of Nico's advantage shrinking a few laps earlier, Brawn and his guys could relax just a little.
"It was a bit nerve-wracking, and no doubt we were helped by the fact that Jenson had a slow pitstop," he said. "If he'd come out in front of that group, I think it would have been a much closer race. Having said that I think Nico had a reasonable amount in his hand, particularly in the last stint. He was running to the lap times we were telling him."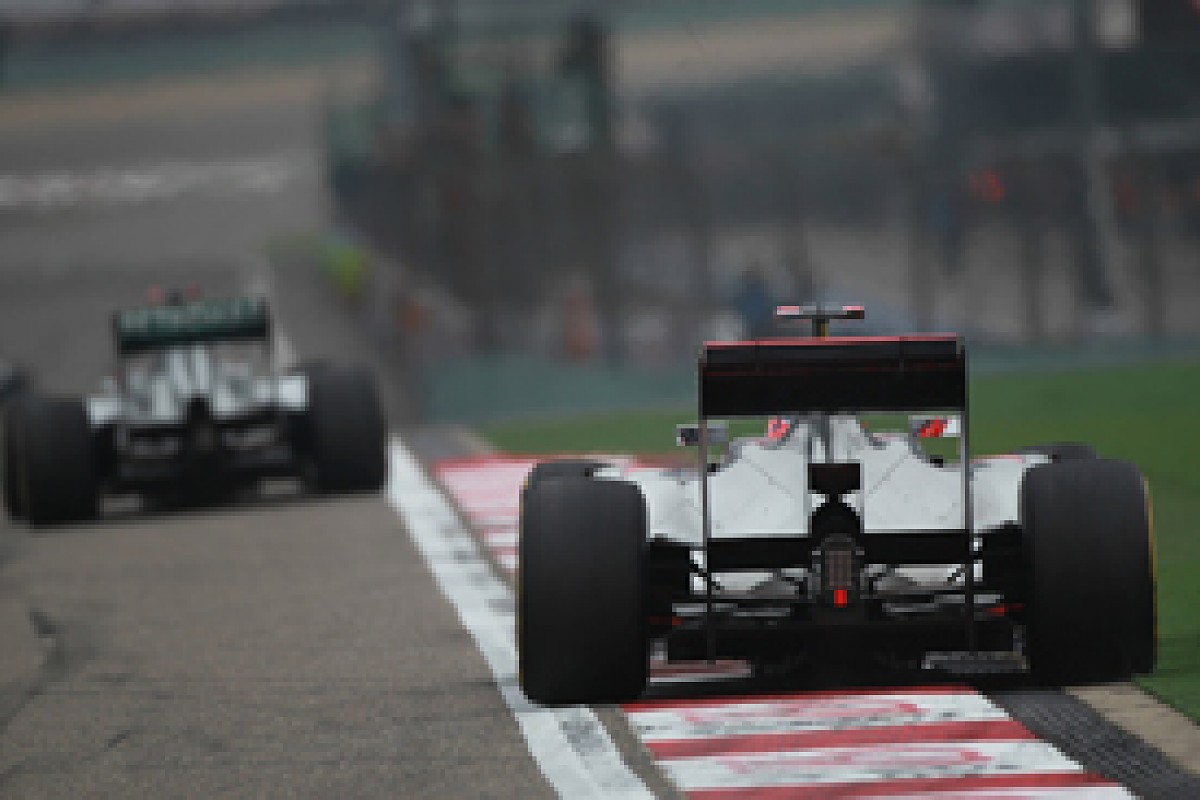 Rosberg kept Button under control © XPB
We'll never know if Jenson could have caught Nico, never mind pass him. Martin Whitmarsh was keen to point out that he didn't want to blame the pit delay for costing the team victory, and clearly felt it was a long shot, if not impossible. While it's true to say that Nico had something in hand, if Jenson had been catching and the leader had been forced to use his tyres a little harder, it might not have been so straightforward.
In the end Rosberg had a very comfortable margin, crossing the line 20.6s clear after a sublime performance. It was a brilliant job too by the team, which could take some quiet satisfaction after the frustrations of the first two races. The tyre homework paid dividends, and the weather played its part.
"We didn't want it to get too cold, funnily enough," said Brawn, "because when it gets cold the rubber can sometimes start to grain and you can struggle and fall out of the window. We were anticipating that it would be a little but warmer and we'd set the car up for that. In fact, the tyres worked perfectly. James, who is our strategy guy, called the race absolutely perfectly in terms of it being a two-stop. Our tyres were just starting to ease off when we came in the pits.
"The weekend has been reasonably consistent, that's the important thing for us. We had to get the car set-up, take it through Friday and Saturday, and not have to change. For us it worked out, and I think there will be other races, as we demonstrated in the first two, where you can get it awfully wrong."
Full credit too should go to Rosberg, the man who for so many years has been lined up to join the elite of superstars who can lead a top team to wins and titles, but had not yet had an opportunity to do so.
"He was exceptional, absolutely exceptional," said Ross. "And it's going to be fascinating to see how things develop with Nico now he's won a race. I think it will be a great boost for him."
The other intriguing fact is that six years after he retired, a 43-year-old Michael Schumacher, a master of managing tyres and complex strategy, has his hands on a winning car once again. Will it be his turn next?