Rosberg took a fine win in China © LAT
Nico Rosberg finally ended Mercedes' long wait for a grand prix win with his superb drive in China. The German's win - his first in Formula 1, and at the 111th attempt - is the manufacturer's first since the 1955 Italian Grand Prix.
The victory is an important one for the sport, as Rosberg becomes the first new winner for 49 races - the longest spell between maiden successes in the sport's history. The last first-time winner was Mark Webber, at the 2009 German Grand Prix.
His win also breaks the top-three domination of McLaren, Red Bull and Ferrari, which won each of the previous 44 races between them. The last man to break the trend was Rubens Barrichello, who won for Brawn (which became Mercedes) at Monza in '09.
Significantly for Mercedes, the team had not scored a podium finish since the 2010 British Grand Prix (also Rosberg), prior to last weekend. Shanghai also gives Rosberg his first points of the year.
Chinese milestones
Rosberg took his maiden pole position in F1. Only three other polesitters have taken longer to take their first. The record holder is Mark Webber (132), followed by Jarno Trulli (119) and Thierry Boutsen (116).
For the first time in F1 history, two Germans (Rosberg and Schumacher) shared the front row in German cars.
Michael Schumacher's front row start was his first since his F1 comeback in 2010 and the 116th of his career. At 43 years, three months and 12 days, he is also the 10th oldest man to start a world championship grand prix from the front row. Luigi Fagioli holds the record at 52 years of age. The last time an over-40 started on the front row was at the 1994 Australian Grand Prix. On that occasion, 41-year-old Nigel Mansell took pole.
Mercedes took its first front-row lock-out since the 1955 Italian Grand Prix. On that occasion, with each row containing three cars, Juan Manuel Fangio, Stirling Moss and Karl Kling were the drivers.
The last time two Germans filled the front row in F1 was at the 2010 Brazilian Grand Prix, Nico Hulkenberg putting his Williams on pole ahead of Sebastian Vettel's Red Bull.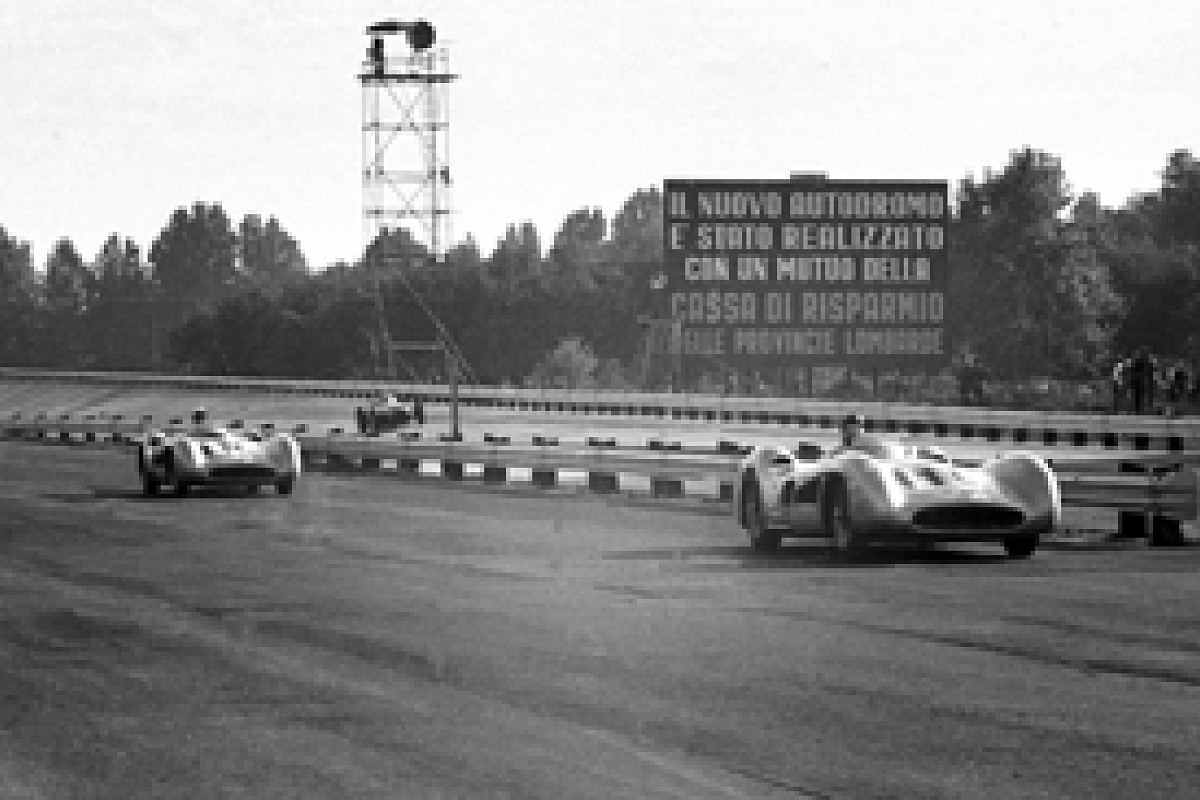 Mercedes last locked out the front row at Monza in 1955 © LAT
Both Williams finished in the points in China, the first time that's happened since Hulkenberg and Rubens Barrichello in Korea in 2010.
Race notes
• Jenson Button and Lewis Hamilton each scored their 45th F1 podium finishes in China, equalling Carlos Reutemann in 13th place on the all-time list.
• As happened last year, 23 drivers finished in China. The record is the 24 that finished in Valencia last year.
• Romain Grosjean's sixth place gave him his first F1 points finish as well as his first finish of 2012.
• Pastor Maldonado took the best result of his F1 career in eighth. It was the Williams driver's first points finish since Belgium last year.
• Kamui Kobayashi took the first fastest lap for a Japanese driver since the 1989 Australian Grand Prix. On that occasion it was Lotus driver Satoru Nakajima. It was also the first for a Sauber as a non-manufacturer entrant.
• Only once before have Button, Hamilton and Rosberg featured on the same podium - at Shanghai in 2010 when Button beat Hamilton and Rosberg. That race was only the second in F1 history when Mercedes-engined cars filled the podium. Last weekend's was the third.
• Mark Webber finished fourth for the third straight race. He has finished there five times in the past six races and now has 12 of them in his career. He is still some way short of Gerhard Berger's record of 26.
• Force India's Shanghai curse hit again as the team once more failed to score a point. It had scored in each of the previous six grands prix.
• The race contained 72 passing moves (based on end-of-lap positions), putting it fourth in the all-time list. The record is held by last year's Canadian Grand Prix with 89.
Qualifying notes
• Mercedes became only the fourth team to take a front row start since the 2010 Abu Dhabi Grand Prix. Until last weekend in China, Red Bull (27), McLaren (16) and Ferrari (1) had dominated proceedings.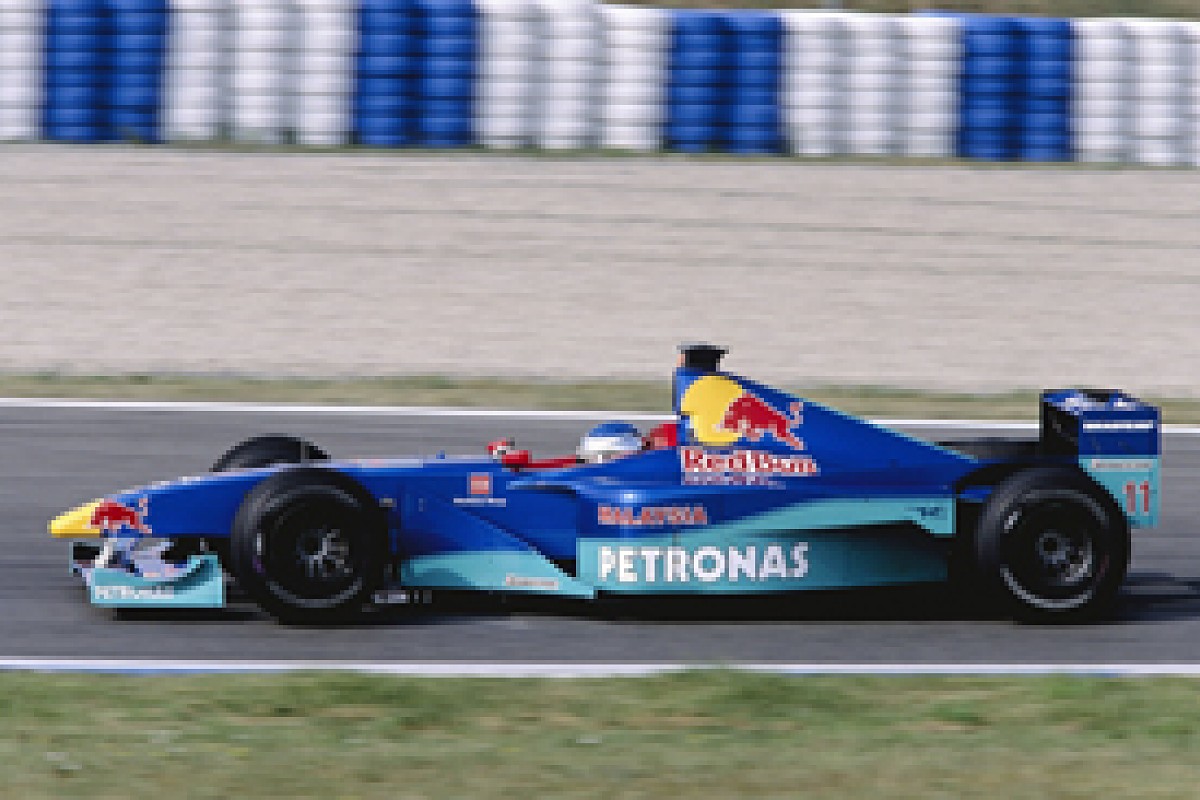 Sauber's last non-Sauber top three grid spot came in 1999 through Jean Alesi © LAT
• Both Sauber drivers recorded career-best starting positions, with Kamui Kobayashi third and Sergio Perez eighth on the grid.
• Without BMW works support, Sauber recorded only its fourth top-three starting spot in F1. Jean Alesi was second on the grid in Austria '98 and France '99 while Heinz-Harald Frentzen was third in Japan '94.
• Kimi Raikkonen has improved in every qualifying session since his F1 comeback. He was 18th on the grid in Australia, 10th in Malaysia and fourth in China. His team-mate Grosjean has gone backwards: third, sixth and 10th.
• McLaren endured its worst qualifying performance for 10 races. Button's fifth spot was his worst since Belgium last year (13th), while Hamilton's seventh (second before a five-place grid penalty for a gearbox change was applied) was his worst since he started 10th at Silverstone last year.
• Webber's sixth on the Shanghai grid was the best for a Red Bull. The last time the highest-starting Red Bull was lower than fifth was at Monza in 2009 when Webber was 10th and Vettel one place ahead. The 2009 season was also the last when Red Bull went three races without a pole. Webber has outqualified Vettel three times in a row this year.
• Vettel's last time starting outside the top 10 before last weekend was at the 2009 Brazilian Grand Prix - 43 races ago.
• Once again Alonso was more than a second from pole. This is the third straight race where this has happened. The last time this happened to Alonso was early in the 2004 season.
• For the first time since joining Ferrari, Felipe Massa has failed to qualify inside the top 10 for three races in a row. The last time it happened to him was in the 2005 British, German and Hungarian grands prix, when he drove for Sauber.